By Jim Gurley
Winona County, Minnesota has placed a total ban on the strip-mining of frac sand, a necessary component of fracking. This is thought to be the first such countywide ban in the nation.
The Winona County Board of Commissioners on Nov. 22 voted 3-2 to ban the mining, processing or trans-loading of frac sand in the county, which is located in the environmentally delicate and beautiful Mississippi River bluff lands of southeast Minnesota.
Frac sand being transported by barge in the Upper Mississippi River between Iowa and Wisconsin. Ric Zarwell
Frac sand is an essential ingredient in fracking, which fractures shale deep underground. The frac sand (also known as silica sand) props open those fractures so that bubbles of oil or gas can flow to the surface. Fracking, a type of extreme energy extraction, cannot take place without this special silica sand. (Although there are more expensive alternatives such as imported ceramic beads or resin-coated sand.)

The sand we're familiar with (sand boxes or beach sand) is angular and variable in size, whereas frac sand is almost pure quartz and must be spherical, extremely crush-resistant and uniform in size.
The best type of this valuable sand is found in the Upper Midwest, with Wisconsin holding 75 percent of the nation's frac sand market. But the industry has been somewhat stymied in Minnesota due to intense and organized citizen opposition by such groups as Winona County's Citizens Against Silica Mining (CASM) and Minnesota's Land Stewardship Project which spearheaded the ban campaign.
Frac sand mining from the sky in Wisconsin, October 2013. Ted Auch
This ban applies only to rural areas, not to the city of Winona—which already has a half-dozen operations, including a mine within the city limits. City leaders, working behind the scenes, enabled the industry to get a substantial foothold in Winona in 2011 prior to public discussion, debate or significant local media coverage.

As the central transport hub (rail and barge) for the region, the city of Winona has seen intense controversy and protest. Citizens took direct action in 2012 when they dumped frac sand on the steps of city hall. In 2013, more than 100 people blocked the trucks with their bodies and shut down two large operations simultaneously, resulting in 35 arrests.
Citizens shut down two frac-sand facilities April 29, 2013 in the city of Winona, Minnesota, resulting in 35 arrests. Here citizens block frac-sand trucks from unloading at the city's port on the Mississippi River. Andrew Link / Winona Daily News
Ban supporters cite several concerns. Frac sand is a known carcinogen leading to cancer and silicosis (a fatal and incurable lung disease). Frac-sand trucks emit diesel exhaust, which is linked to lung cancer. Chemicals used in settling ponds are concerning, as are the threats to groundwater from the leaching of heavy metals.
Citizens block trucks carrying frac sand during the 2013 Winona, Minnesota protest by locking arms at the Hemker processing facility.
People near frac sand operations suffer a loss of a sense of place, as entire bluffs are obliterated with mountain-top removal; stress and sickness from the 24/7 bright stadium lights and noise, and the hundreds of 80,000-pound semis that pass their houses daily.
Economically, tourism dollars are jeopardized, property values are often devalued for those who refuse to sell, roads are degraded or destroyed, and taxpayers are burdened with the added costs of monitoring and enforcement. (The industry has often flagrantly ignored regulations.)
When applying for a permit, the industry promises "reclamation" of the land afterwards, sometimes saying it will be better than before for native plants or crops. But experts warn that soil is a living organism that takes many years to form. And extractive industries have a history of declaring bankruptcy once they've taken the resource, leaving the residents to deal with the resulting problem.
The two commissioners who opposed a ban warned of impending lawsuits, saying that regulating the industry made more sense than banning it. They offered an alternative ordinance that would have limited the number of mines. But the county attorney, Karin Sonneman found that such a ban, with proper findings of fact, would be defensible in court.
Ban opponents also cited property rights, saying that taking away the possibility for a landowner to strip-mine constituted a "taking" under the U.S. Constitution, and interfered with interstate commerce. County Attorney Sonneman disagreed.
"I cannot control anyone who wants to sue this board, but I can certainly make darn well sure that the board's decisions are supported by the law and the facts," she said.
An average of 80 percent of citizen comments received on this issue favored a ban. Commissioner Greg Olson said the case is strong. Referring to an industry attorney who threatened a lawsuit, Olson said, "I'd put more weight on the public who has spoken at that podium ... than I do on a letter from an attorney in Minneapolis. We represent the citizens of Winona County as a whole and I think they've been clear."
Johanna Rupprecht, an organizer with the Land Stewardship Project, reflected on the victory. "I'm really pleased that a majority of the county board listened to the will of the citizens and followed through on passing the ban even in the face of threats and pressure of outside interests," Rupprecht concluded.
EcoWatch Daily Newsletter
A resolution calling for a ban on frac-sand mining and a halt to attacks on local democracy has been sent to Gov. Walker (R-WI), members of the Wisconsin Legislature and state and federal environmental regulators.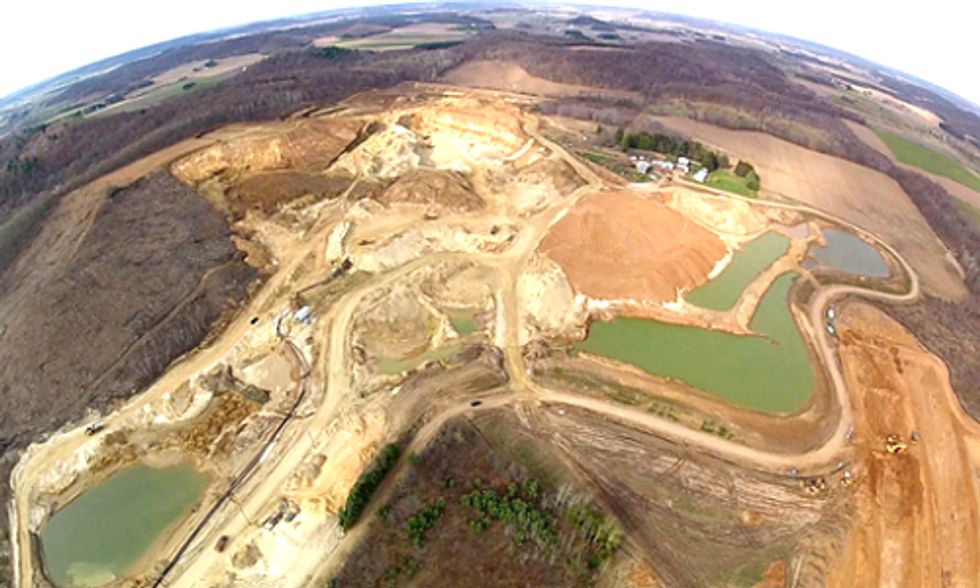 The resolution was created by the Wisconsin Network for Peace and Justice's Environmental Working Group and has been endorsed by more than 75 civic and environmental organizations, including 49 Wisconsin groups and 29 groups from seven other states where Wisconsin sand is used for fracking.
An additional online petition with the same language currently has 165 individual signers.
It calls for the rejection of SB 349, a bill introduced last fall that would outlaw local ordinances from regulating frac-sand mining, local air and water quality, or blasting. The bill impacts communities facing water contamination from factory farms and potential iron mining in addition to frac-sand areas. Although the legislation raised an outcry from democracy advocates, it is likely to be reintroduced in the new session.
The number of frac-sand mines in the state has more than doubled in the past two years, to more than 140 facilities in operation or planned, according to data from the Wisconsin Center for Investigative Journalism. The industry has been exempted from environmental impact studies despite numerous complaints from nearby residents of 24-hour noise, heavy truck and train traffic, and cancer-causing silica dust.
The Wisconsin Center for Investigative Journalism reported in March that 80 to 90 percent of frac-sand sites receive letters of noncompliance from the Wisconsin Department of Natural Resources (DNR), and up to one-fifth of active sites have been cited for environmental violations, but the DNR can't keep up with all of the industry's problems. The resolution asks federal agencies to step in with tougher environmental enforcement, and ultimately seeks a statewide ban on frac-sand mining.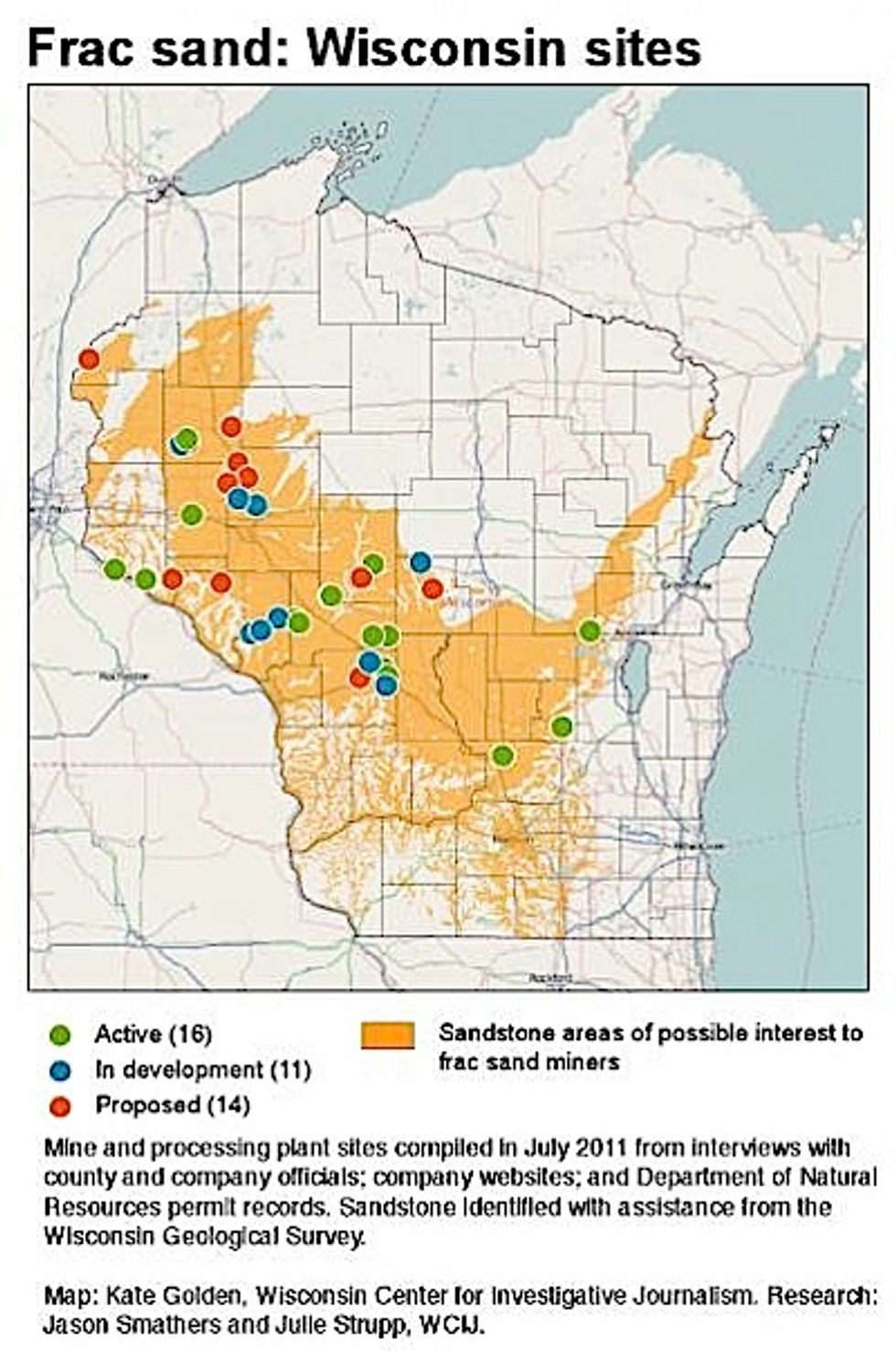 "Since 2011, Legislative efforts have undermined Wisconsin's democratic tradition and conservation heritage by weakening environmental protections, eroding the authority of the [DNR] to make science-based rules, preventing DNR enforcement staff from doing their jobs, and reducing public involvement in the iron mine permitting process," the resolution says."Wisconsin has historically used strong regulation to ensure that a clean environment is preserved for future generations because our well-informed citizens have stood up to demand it."
The resolution's endorsers are connected by struggles to protect the water, air and small farming economy from frac-sand mining in Wisconsin and fracking for natural gas in other states, for which the sand is used. The resolution cites methane leaks from fracking that contaminate local aquifers and contribute to global warming.
The resolution also goes beyond local agitation to demand broader solutions to the underlying driver of the industry, U.S. dependence on fossil fuels. It calls for improvements to the state's "Focus on Energy" program and a shift in national priorities to "energy efficiency and the development of local, clean, renewable energy sources."
The Wisconsin Network for Peace and Justice is awaiting a response to the resolution from state lawmakers and regulators. 
Visit EcoWatch's FRACKING page for more related news on this topic.

waterlust.com / @tulasendlesssummer_sierra .
Each product featured here has been independently selected by the writer. If you make a purchase using the links included, we may earn commission.
The bright patterns and recognizable designs of Waterlust's activewear aren't just for show. In fact, they're meant to promote the conversation around sustainability and give back to the ocean science and conservation community.
Each design is paired with a research lab, nonprofit, or education organization that has high intellectual merit and the potential to move the needle in its respective field. For each product sold, Waterlust donates 10% of profits to these conservation partners.
Eye-Catching Designs Made from Recycled Plastic Bottles
waterlust.com / @abamabam
The company sells a range of eco-friendly items like leggings, rash guards, and board shorts that are made using recycled post-consumer plastic bottles. There are currently 16 causes represented by distinct marine-life patterns, from whale shark research and invasive lionfish removal to sockeye salmon monitoring and abalone restoration.

One such organization is Get Inspired, a nonprofit that specializes in ocean restoration and environmental education. Get Inspired founder, marine biologist Nancy Caruso, says supporting on-the-ground efforts is one thing that sets Waterlust apart, like their apparel line that supports Get Inspired abalone restoration programs.
"All of us [conservation partners] are doing something," Caruso said. "We're not putting up exhibits and talking about it — although that is important — we're in the field."
Waterlust not only helps its conservation partners financially so they can continue their important work. It also helps them get the word out about what they're doing, whether that's through social media spotlights, photo and video projects, or the informative note card that comes with each piece of apparel.
"They're doing their part for sure, pushing the information out across all of their channels, and I think that's what makes them so interesting," Caruso said.
And then there are the clothes, which speak for themselves.
Advocate Apparel to Start Conversations About Conservation
waterlust.com / @oceanraysphotography
Waterlust's concept of "advocate apparel" encourages people to see getting dressed every day as an opportunity to not only express their individuality and style, but also to advance the conversation around marine science. By infusing science into clothing, people can visually represent species and ecosystems in need of advocacy — something that, more often than not, leads to a teaching moment.

"When people wear Waterlust gear, it's just a matter of time before somebody asks them about the bright, funky designs," said Waterlust's CEO, Patrick Rynne. "That moment is incredibly special, because it creates an intimate opportunity for the wearer to share what they've learned with another."
The idea for the company came to Rynne when he was a Ph.D. student in marine science.
"I was surrounded by incredible people that were discovering fascinating things but noticed that often their work wasn't reaching the general public in creative and engaging ways," he said. "That seemed like a missed opportunity with big implications."
Waterlust initially focused on conventional media, like film and photography, to promote ocean science, but the team quickly realized engagement on social media didn't translate to action or even knowledge sharing offscreen.
Rynne also saw the "in one ear, out the other" issue in the classroom — if students didn't repeatedly engage with the topics they learned, they'd quickly forget them.
"We decided that if we truly wanted to achieve our goal of bringing science into people's lives and have it stick, it would need to be through a process that is frequently repeated, fun, and functional," Rynne said. "That's when we thought about clothing."
Support Marine Research and Sustainability in Style
To date, Waterlust has sold tens of thousands of pieces of apparel in over 100 countries, and the interactions its products have sparked have had clear implications for furthering science communication.
For Caruso alone, it's led to opportunities to share her abalone restoration methods with communities far and wide.
"It moves my small little world of what I'm doing here in Orange County, California, across the entire globe," she said. "That's one of the beautiful things about our partnership."
Check out all of the different eco-conscious apparel options available from Waterlust to help promote ocean conservation.
Melissa Smith is an avid writer, scuba diver, backpacker, and all-around outdoor enthusiast. She graduated from the University of Florida with degrees in journalism and sustainable studies. Before joining EcoWatch, Melissa worked as the managing editor of Scuba Diving magazine and the communications manager of The Ocean Agency, a non-profit that's featured in the Emmy award-winning documentary Chasing Coral.