This website uses cookies to ensure you get the best experience while browsing it. By clicking 'Got It' you're accepting these terms.
By Jim Gurley
Winona County, Minnesota has placed a total ban on the strip-mining of frac sand, a necessary component of fracking. This is thought to be the first such countywide ban in the nation.
The Winona County Board of Commissioners on Nov. 22 voted 3-2 to ban the mining, processing or trans-loading of frac sand in the county, which is located in the environmentally delicate and beautiful Mississippi River bluff lands of southeast Minnesota.
How is mining related to fracking? 
Well, the process of hydraulic fracturing forces fluid into the rock at extremely high pressure. This pries open natural pre-existing cracks (fractures) in the bedrock, and also causes new cracks (induced fractures) to form. This network of enhanced and induced fractures is what allows gas and oil to flow out of the rock and into the well. To keep these fractures from snapping shut when the fracking operation is completed and the pressure is eased, you need to prop them open with something. That's why fracking fluid—a highly engineered fluid that is mostly water by volume, but can contain dozens of different chemicals—always includes a "proppant." The drilling industry has developed manufactured proppants, but often the proppant of choice is a clean, consistent, well-rounded, tough, fine-grained sand. A typical fracking operation in the Eagle Ford Shale in Texas, for example, can use 4 million pounds or more of sand.
Where is all the sand coming from? As you might expect, Texas is one place where sand-mining is booming. But surprisingly, most of this sand comes from a place more famously associated with beer and brauts: Wisconsin. The rapid proliferation of sand-mining operations is getting a lot of attention there and raising concerns about public health and safety, property values, quality of life and environmental impacts.
Responding to these concerns, the Wisconsin Department of Natural Resources (DNR) just published an interactive map showing the locations of all the facilities, active and inactive, involved in the mining and processing of sand in that state. Their map doesn't have imagery, so you can't actually "see" any of these mining operations. But when we asked, the DNR promptly gave us the facilities data (updated as of May 1, 2014), so we could make our own map using Google Maps Engine: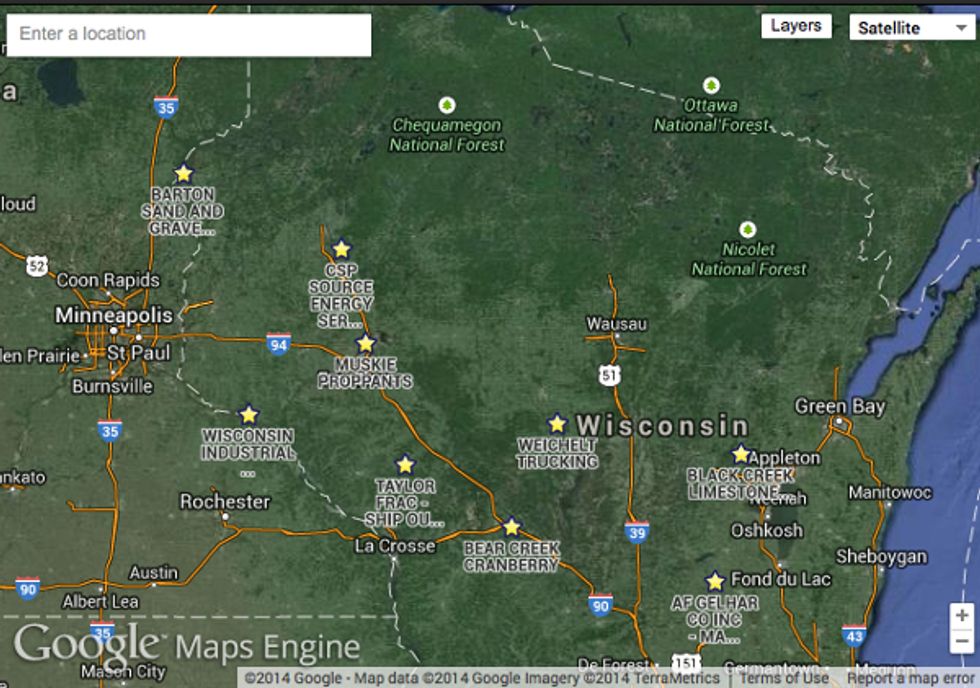 Voila! Here is our map of the Wisconsin frac-sand operations. We decided to only include "active" facilities on this map. Now you can explore and zoom in on any facility, and see the latest high-resolution imagery available through Google (July 2011 in the example shown below).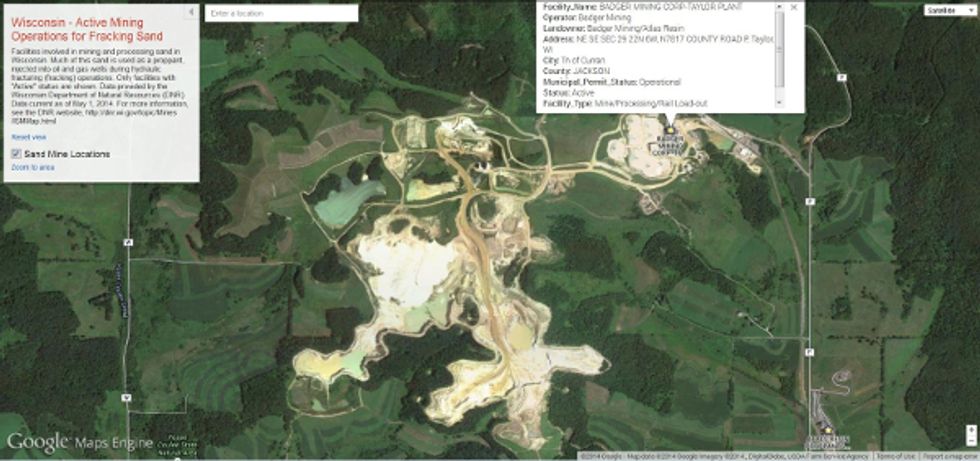 You Might Also Like
SkyTruth Tracks Fracking From the Edge of Space
SkyTruth's Satellite Surveillance Keeps Close Watch on Polluters
Groups Call for Ban on Frac-Sand Mining in Wisconsin
EcoWatch Daily Newsletter
By Andy Rowell
Barely a day now goes by without further evidence of the harm of fracking.
Last Thursday scientists reported new compelling evidence of the link between fracking and earthquakes. The scientists argue that, due to fracking, U.S. earthquakes have become approximately five times more common in recent years.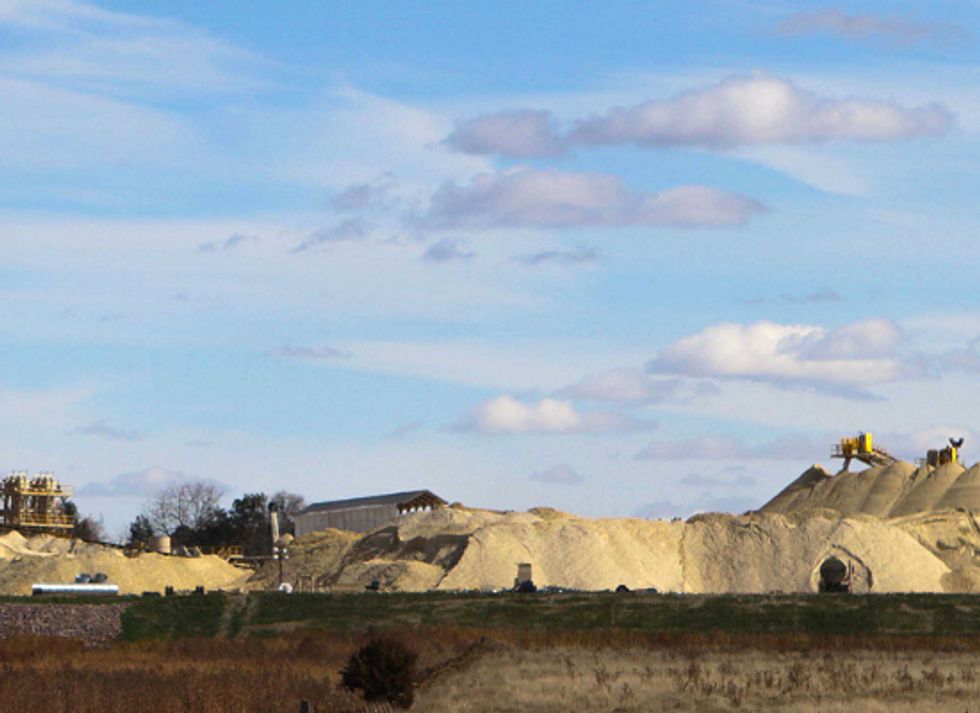 The journal Science reported that there have been more than 300 earthquakes above magnitude three on the Richter scale, which are therefore deemed significant, from 2010 to 2012. This equates to 100 a year—which is compared with a past average of 21 per year.
It appears that the huge volumes of wastewater are putting pressure on fault lines deep underground, causing the earth tremors. Inadequate monitoring of fracking's dark downside has once again been highlighted and scientists argue that much greater seismic monitoring is needed.
But fracking is also having other ecological effects too. It has also transpired that millions of gallons of water used in fracking, which are contaminated with toxic chemicals, are currently being used for consumption by wildlife and livestock.
This is happening with the formal approval from the U.S. Environmental Protection Agency (EPA), despite this being against its own regulations.
"Under the less than watchful eye of the EPA, fracking flow-back is dumped into rivers, lakes and reservoirs," argues Public Employees for Environmental Responsibility, Executive Director, Jeff Ruch. Ruch argues the EPA is ignoring its own rules, requiring that it list "the type and quantity of wastes, fluids or pollutants which are proposed to be or are being treated, stored, disposed of, injected, emitted or discharged."
Finally an article in Dallas News explores another, relatively ignored, effect of fracking: the boom in sand mining.
We often think of fracking as mainly using chemicals and water, but the process consumes vast amounts of sand that is injected down wells, helping to fracture the rocks. In turn, this sand mining also consumes a vast amount of water, pitting the sand mining industry versus local communities too.
As the Dallas News reports: "From the northern banks of the Mississippi to the Red River, the flow of sand to drilling operations has created what geologists say amounts to a mining boom."
The paper reports that, although the exact nature of the industry is unknown, the U.S. Geological Survey released a study earlier this year that estimated that nearly 50 million tons of sand were mined in 2011. This is a whopping increase of over 60 percent from two years earlier and still is probably an underestimate.
"I think you'd have to go back to the industrial revolution to see that sort of change," Mark Ellis, president of the National Industrial Sand Association tells the paper. "Horizontal drilling and shale gas has completely changed the landscape."
You cannot mine that amount of sands without meeting some resistance. In North Texas, residents near the Red River have been pressing state environmental regulators to block EOG's Resources, a Houston oil and gas driller, from sand mining a thousand acres near the Oklahoma border.
EOG intends to use some 3,700 gallons a minute once the mine is in operation. Critics say the mine will compete with local landowners for the water and, if the mine goes ahead, it could dry up local wells.
In one of the comments below the Dallas News article, a commentator adds:
Silica turns out to be a whole new air pollution problem tied to fracking. In June of 2012, an arm of the Center for Disease Control issued a 'Hazard Alert' concerning exposure to Silica pollution at fracking drilling sites. This came after nationwide tests by the National Institute for Occupational Safety and Health at 11 of 10 well pads showed alarmingly high Silica levels in the air. This was for worker exposure. No one has done any monitoring or studies concerning off-site effect of silica pollution.
The commentator finishes by saying: this is "one more example of the little-known, and under-regulated, harmful impacts of fracking that begin adding up."
Indeed they are adding up, day by day.
Visit EcoWatch's FRACKING page for more related news on this topic.
——–

Last month, I visited Wisconsin's booming silica sand mining region and saw sandstone bluffs strip-mined for sturdy quartz sand that's essential for the horizontal hydraulic fracturing process used to extract oil and gas from underground shale formations. I saw how residents there had little protection against silica dust exposure since Wisconsin has no regulatory standards for this relatively new mining industry.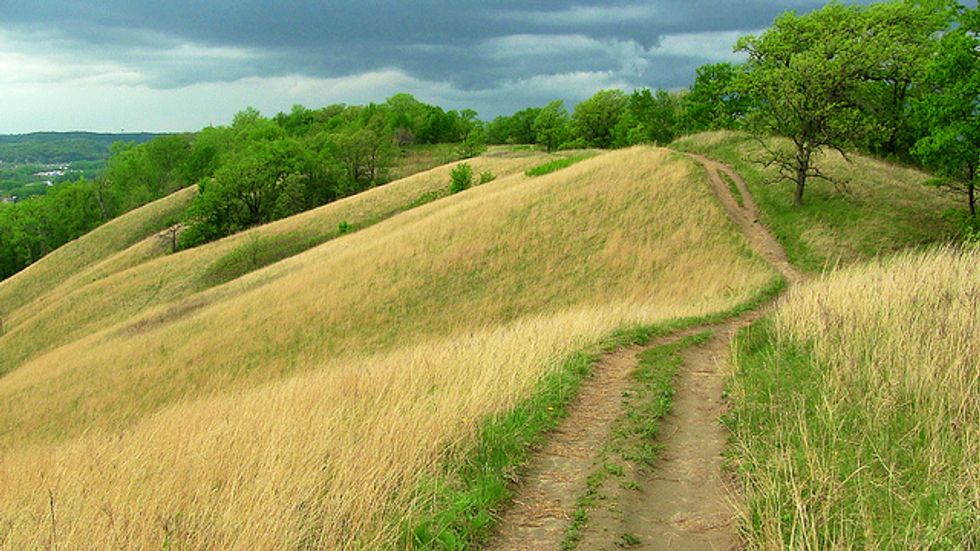 thepriceofsand.com
After Wisconsin, I headed across the Mississippi River to the southeastern corner of Minnesota. The industry is pretty active here too, with several existing mines and loading facilities and many more proposed, but so is the citizenry, which has been pushing the state to regulate frac-sand mines and processing facilities.
While I was there, I met with the Land Stewardship Project's (LSP) staff and members from four counties across Minnesota's Driftless Area. LSP has been fighting for sustainable agriculture and communities in Minnesota for over 30 years, and has been warily watching the boom in frac-sand mining across the river in Wisconsin. After traveling through the same counties I visited last month, lifelong resident of Winona County, Minnesota and LSP organizer Johanna Rupprecht said, "What I saw in Wisconsin made me even more certain that this industry is absolutely wrong for our rural communities."
Johanna was not alone. Everywhere we went, Minnesotans were determined to protect their communities' health and environment from frac-sand mining.
In Wabasha, MN, city council member Lynn Schoen described the city's efforts to prevent a new frac-sand transportation loading facility that aims to take advantage of the town's location by the rail line adjacent to the Mississippi River, which would carry frac-sand north and west to the booming Bakken Shale in North Dakota and into Canada. Last week, the small town was sued by a trucking company that wants to haul sand to the loading facility. The facility developer, Superior Sand Systems of Canada, is also threatening to sue. Both companies claim that the proposal to ship frac sand should be exempt from environmental review because railroads are regulated federally. The town of Wabasha maintains that it has the right to require a permit for the influx of as many as 600 daily truck trips through town.
Wabasha is home to lovely bluffs terracing down to a bend in the river that attracts bald eagles, golden eagles, and a hundred thousand tourists annually to the National Eagle Center to see rescued bald eagles up close and to watch wild eagles hunting fish in the wide river. Schoen is very concerned about the impacts of the frac-sand facility, with hundreds of daily truck trips, noise from trucks and trains and the ubiquitous silica dust blowing, on the town's existing tourist economy.
A similar frac-sand facility lies 30 miles south in the town of Winona, MN, which is now home to a new landmark known as "Mt. Frac." The Winona facility includes both rail loading as well as barges on the river which carry frac-sand south to the Barnett and Eagle Ford Shales in Texas. Dozens of protestors have been arrested at Mt. Frac in several actions since early 2012. The state does not have a health impact study for silica in the air from such a sand loading operation for either humans or eagles.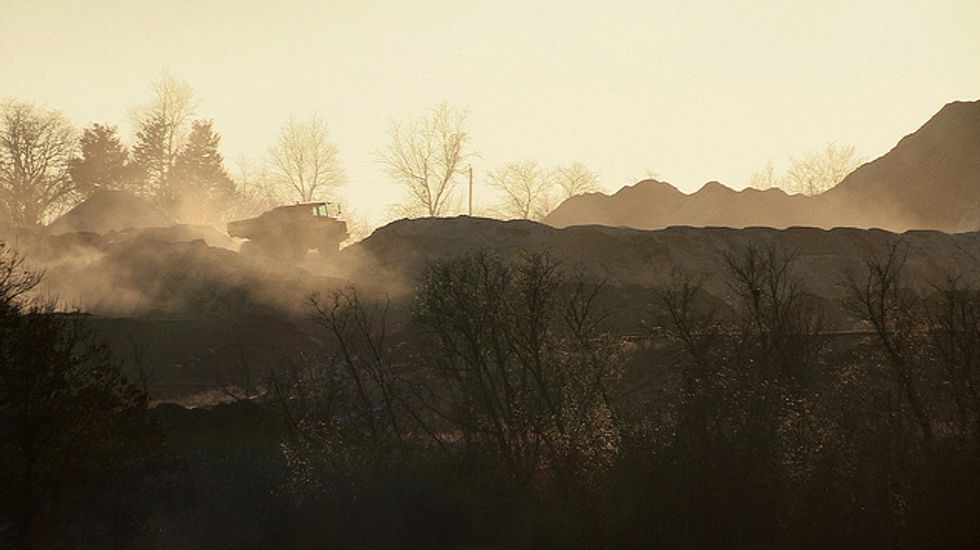 From Wabasha, we traveled to Winona, Houston and Fillmore counties, meeting with residents campaigning to slow or stop the demand for silica sand from destroying the region's picturesque sandstone bluffs.
In Winona County's Saratoga Township seven separate silica sand mines are proposed, with five of them grouped on County Road 6. The concentration of mining in one area limits impacts in the rest of the township. But for neighbors along County Road 6, including nearby Amish farmers, the mines would mean rapid industrialization, increased truck traffic and the health impacts of quartz silica sand blowing through the neighborhood.
Many Minnesota residents who have visited frac-sand mines in Wisconsin or have heard about the negative impacts are concerned that that local government zoning ordinances aren't strong enough to keep up with the pace and scale of the frac-sand mining boom. So they've been pressuring the state government to take action.
During the last legislative session, a diverse collection of local government officials called on Gov. Mark Dayton to implement a moratorium in Minnesota on new industrial silica sand mining and processing facilities until an in-depth study was done on the cumulative impacts of the industry. They asked for regulations that would ensure that trout streams, wildlife and communities were protected from impacts.
Minnesota didn't pass a moratorium, but in May the state legislature passed a law with strong rules that advanced the interests of Minnesotans over the frac-sand mining industry.
Minnesota now prohibits frac-sand mines within a mile of a trout stream unless granted a permit by the state Department of Natural Resources. The state will soon be setting overall environmental quality rules for the frac-sand industry, including rules for silica dust management and an ambient air quality standard. frac-sand mines will also be required to post a reclamation bond and will have to follow a statewide reclamation standard.
Most importantly, under the new rules, local governments can enact moratoria on frac-sand mining and facilities until 2015. In Minnesota, local governments are arguing strenuously to maintain local control over large-scale silica mining for fracking within their communities. Since the state confers power to counties, townships and cities to pass zoning ordinances that are in the best interests of each community, many communities already had moratoria on frac-sand mining in place. This new law will help build momentum in counties that want to ban frac-sand mining altogether.
Although the state didn't put a moratorium on frac-sand mining, it did empower local governments to slow or stop the impacts of this harmful industry. And that, in itself, is heartening.
Superior Sand Systems has not yet sued the town of Wabasha, though it has threatened to do so. However, a local trucking company has sued the town. This article has been corrected to reflect this information.
Visit EcoWatch's FRACKING page for more related news on this topic.
——–
SHARE YOUR THOUGHTS BELOW: Does the destruction of U.S. freshwater and environmental resources justify unconventional natural gas extraction?
——–