This website uses cookies to ensure you get the best experience while browsing it. By clicking 'Got It' you're accepting these terms.
A defunct coal-fired power station near Johnson City, New York. DUNCAN RAWLINSON / Flickr
It seems like every day there is a new story of a pipeline spilling crude oil or an oil refinery exploding. How do fossil fuel companies continue to operate such hazardous infrastructure in communities despite the immediate and long-term harm they cause? One piece of the answer is the coverage and financial support they get from insurance companies.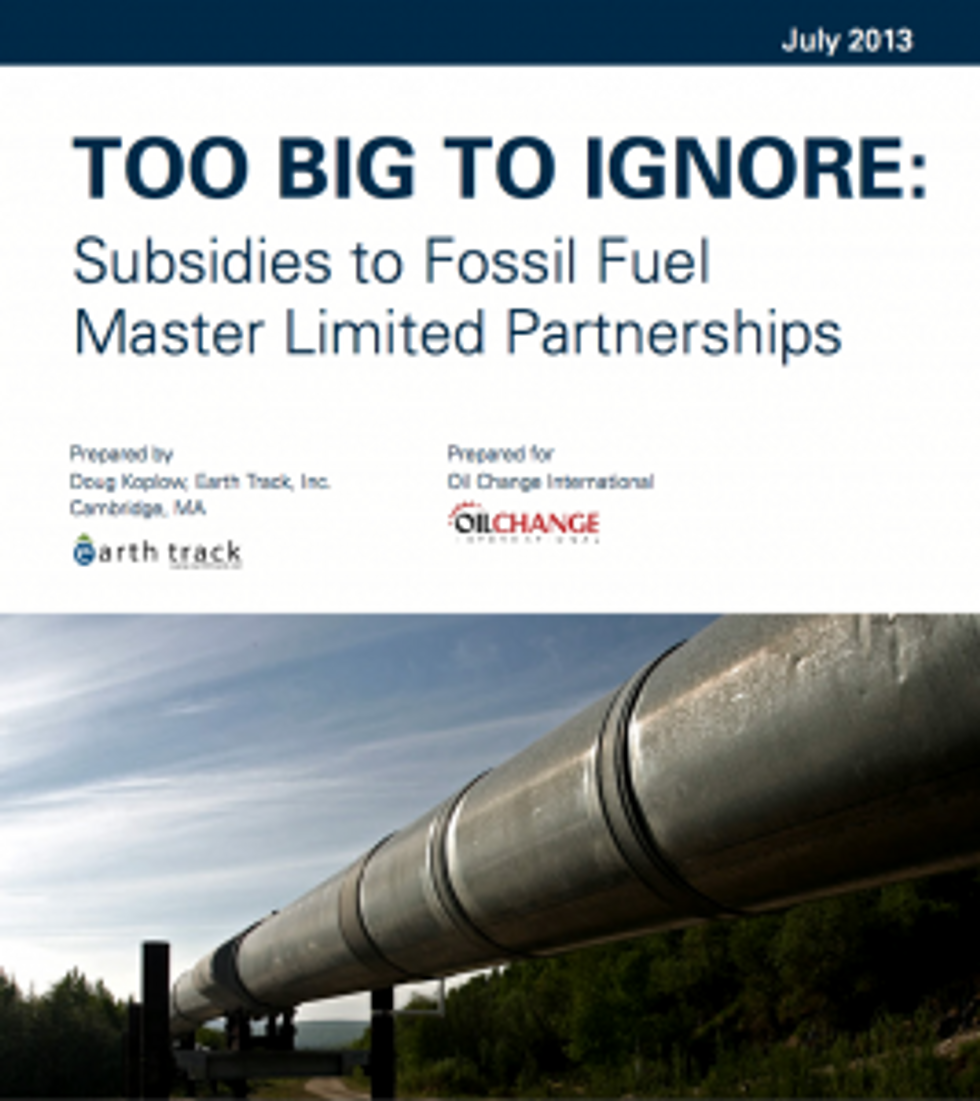 A new report released today by Oil Change International and Earth Track exposes a largely unaccounted for subsidy to the fossil fuel industry, valued at roughly $4 billion per year and growing.
New analysis quantifies the value of tax avoidance by the fossil fuel industry through a corporate structure called "master limited partnerships (MLPs)." Though eliminated for most U.S. industries more than a quarter century ago, special rules protected eligibility for fossil fuels, and have allowed a growing range of oil and gas activities to escape corporate income taxes entirely.
The report, Too Big to Ignore: Subsidies to Fossil Fuel Master Limited Partnerships, finds that the oil, gas and coal sectors have increasingly dominated the MLP universe, now comprising well over three-quarters of the total. Existing estimates of the taxpayer costs associated with fossil fuel MLPs are deceptively low, reducing the pressure to end this tax break once and for all.
MLPs, such as those created by Enbridge, Sunoco and TransCanada, not only enable firms to escape corporate income taxes on profits, but also to delay most tax payments on distributions to partners by many years. As Forbes has said, MLPs are an "income and a tax shelter rolled into one investment."
The MLP structure, according to the new report, cost the U.S. treasury as much as $13 billion in lost tax revenue between 2009 and 2012, a figure six times larger than previous estimates. Fossil fuel interests continue to convert to MLPs at an alarming rate through asset spin-offs, mergers and by seeking expanded eligibility granted not only by Congress, but also through rather secretive Internal Revenue Service (IRS) rulings.
"Not only does the U.S. oil boom imperil our communities and climate, but the increasing use of master limited partnerships allows the industry to pay even less of its share of the taxes needed to support those same communities," said David Turnbull, campaigns director of Oil Change International. "The fossil fuel industry is busy destroying our air, water, land and climate, all the while finding new ways to avoid taxes."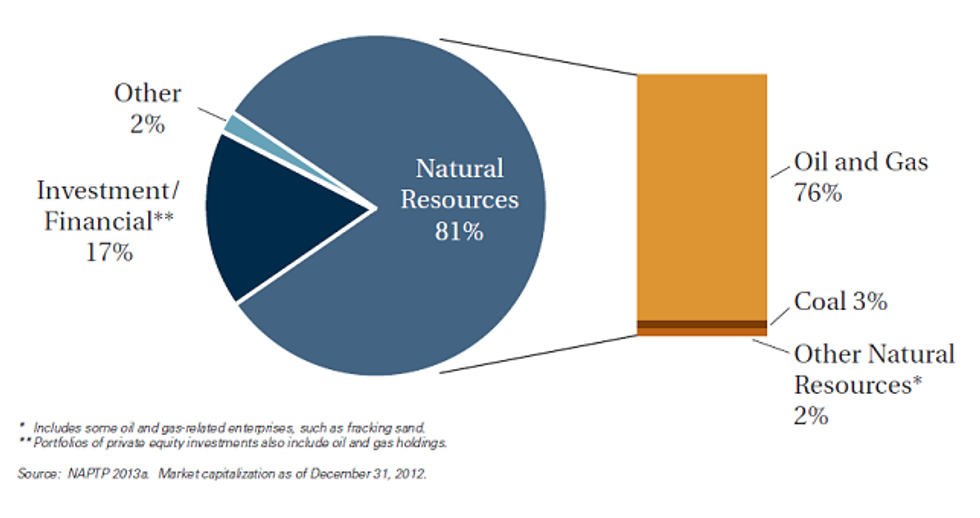 "Tax subsidies to fossil fuels through master limited partnerships go against both the fiscal and environmental interests of our country, yet are repeatedly overlooked in most federal oversight reports on subsidies," said Doug Koplow of Earth Track, the report's author. 
"Though recent efforts have looked to expand master limited partnership subsidies to some renewable energy resources, the evidence suggests that the fossil fuel sector will continue to capture the vast majority of the MLP subsidies even with an expansion," Koplow continues. "In the context of the climate crisis we face, the continuation of this subsidy to fossil fuels is inappropriate regardless of any potential benefits to new industries."
Visit EcoWatch's ENERGY page for more related news on this topic.
——–
SHARE YOUR THOUGHTS BELOW: Should these subsidies be applied to the renewable energy industry as well, or eliminated all together?
——–
EcoWatch Daily Newsletter
By Andy Rowell
President Barack Obama tweeted on Saturday that "we owe it to our kids to do something about climate change."
The tweet and its accompanying video lay the ground for Obama's major and long-awaited speech on climate tomorrow at Georgetown University.
In the video, Obama argues that: "There's no single step that can reverse the effects of climate change. But when it comes to the world we leave our children, we owe it to them to do what we can."
As the most powerful person in the free world, Obama can do more than most. His words in the video are not really new: he has made similar positive statements before, such as in his inauguration and State of the Union address. But despite the positive rhetoric, political action to tackle climate change has been limited due to the gridlock in Washington with open hostility to climate policies from the Republicans.
Due to this, the U.S. media are reporting that Obama is intending to introduce a series of executive actions, which do not need Congress's approval to be made into law. These measures will reportedly include tighter regulation of coal-fired power plants, increased energy efficiency standards and the promotion of renewable energy on public lands.
The good news is that Obama could undertake all of these policies without congressional approval. But while reducing pollution from power plants would be a welcome first step, there are other decisions that Obama can no longer duck.
First up, of course, is the pressing decision on Keystone XL (KXL). This is now seen by millions in the U.S. and abroad as the true litmus test of Obama's stance on climate. Approve the pipeline and all his positive rhetoric counts for nothing—but by rejecting it, the President would send a powerful message that we cannot afford to burn the highly polluting tar sands.
But just as important as saying no to KXL is moving away from Obama's "All of the Above" energy plan, which advocates a continued use of fossil fuels.
In that respect, as I have covered before, the President's "All of the Above" energy plan is misguided. In reality it is little more than "Drill Baby Drill" by another name. The science is telling us that we cannot have all of the above. We cannot carry on relentless oil and gas drilling.
Moreover, As Steve Kretzmann and I have written before, "The President cannot simultaneously fight climate change and support an All of the Above/Drill Baby Drill energy strategy. It would be like launching a war on cancer while promoting cheap cigarettes for kids. Leadership on climate requires understanding this."
Tomorrow the President clearly wants to show climate leadership. His intervention is welcome, but this time he must not fluff his lines. And that means no more "All of the Above," as well as no KXL.
Moreover the President could set out a clear radical vision. Over in public health, tobacco control advocates have started talking about an "endgame" for eliminating cigarettes for society, with some countries, such as New Zealand, setting definitive time-scales to do so. It is time for politicians to do the same with fossil fuels. It is time to think about becoming fossil-free and setting a timescale to achieve that goal.
Visit EcoWatch's CLIMATE CHANGE page for more related news on this topic.
——–
Click here to tell Congress to Expedite Renewable Energy

The core talking points for the supporters of TransCanada's Keystone XL pipeline center around U.S. domestic energy security and economic growth. However, Keystone is an "export pipeline" that will take tar sands oil from Alberta, Canada, and pump it down to a tax-free zone in Texas and out to foreign markets.
In other words, the European Union, China and Latin America get the oil, the foreign-owned oil companies get the cash and North Americans get a few jobs and oil spills!
It's a complicated issue for sure, so I've tried to break out the main points in an infographic. Please feel free to download and share it, use it and tear it apart. All the information has been fact-checked and verified by energy policy experts.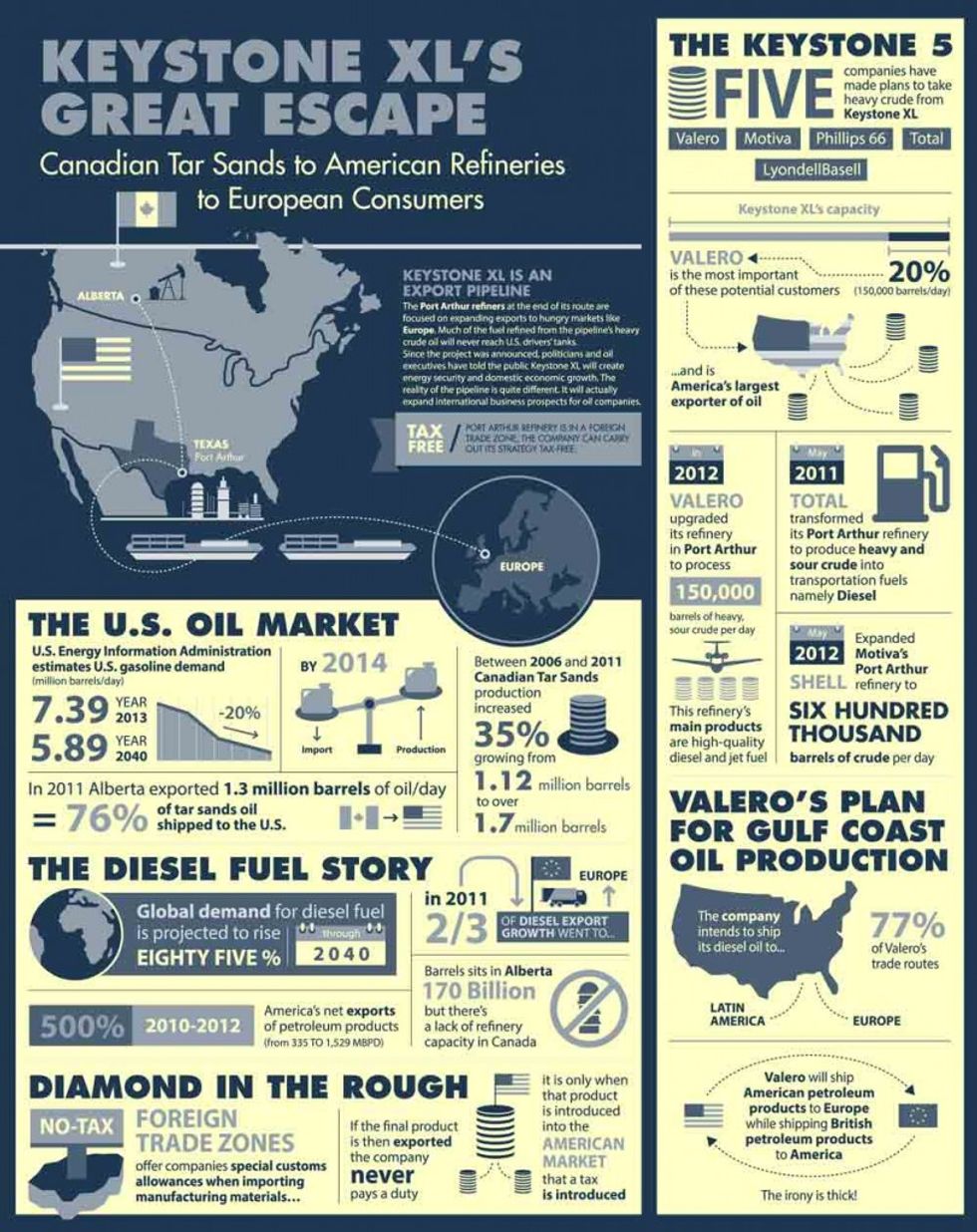 Taking into account the fundamental data from the U.S. and global oil markets, the end location of the Keystone XL, the infrastructure being built at refineries processing the bitumen and the commitment of oil companies to selling their product for the best price, it is easy to see Keystone XL offers greater energy security and economic growth, just not in America.
Europe and Latin America will have more energy security thanks to a massive fuel pipeline they can tap as long as they're willing to pay.
Additionally, oil companies will have a new bounty of profit to play with. Yes, some of that will fall back into American hands, but not as much as it would if the majority of the products to be processed in Port Arthur were sold in America, or if the refineries were not located in a Foreign Trade Zone and had to pay a tax on their products.
As for the promise of new jobs, there is a short-term influx on cash for constructing the pipeline, but the latest estimates find that there will only be about 35 permanent jobs over the long term. These pipelines, once built, demand very little maintenance. That is, of course, until there is an oil spill.
In making the final decision on whether to approve the Keystone XL pipeline, it comes down to whether President Obama is comfortable with making more cash for foreign oil companies—that are already the most wealthy companies in the world—for the long-term pay off of 35 permanent jobs and the oil spills that will inevitably occur.
Seems like a no-brainer to me.
Visit EcoWatch's KEYSTONE XL page for more related news on this topic.
——-

Today, Food & Water Europe launched a new website, NGSFacts.com, to challenge the fossil fuel industry's spin on NGSFacts.org that shale gas can be safely extracted. NGSFacts.com will redirect visitors to the Food & Water Europe website to offer a fact-based assessment of the environmental and health impacts of large-scale hydraulic fracturing. Food & Water Europe takes issue with industry's denial of strong links between shale gas extraction and water contamination in the U.S. In addition, self-regulation and voluntary disclosure mechanisms for chemicals used in fracking fluids are insufficient to monitor a high-risk activity such as hydraulic fracturing in a densely populated continent like Europe. Food & Water Europe works in Brussels, Belgium, on a campaign to ban fracking.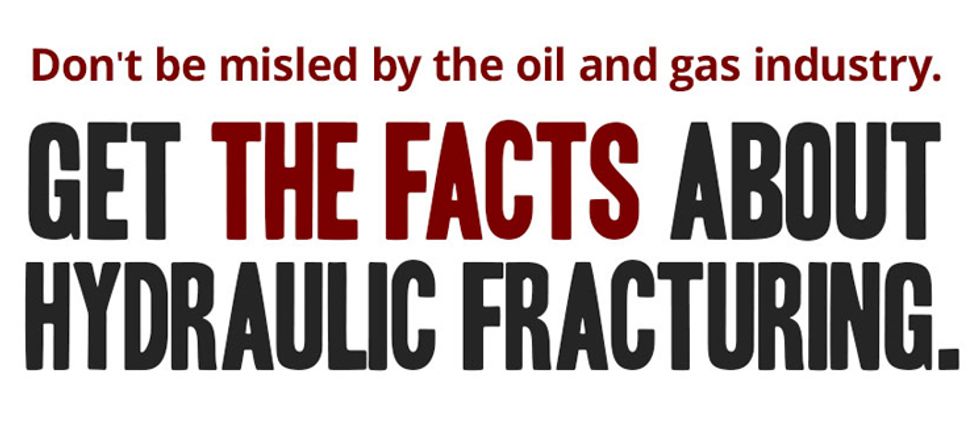 "The oil and gas industry has no credibility to dismiss the negative impacts of shale gas given its poor record on environmental issues and transparency," said Food & Water Europe policy officer Geert De Cock. "This is why we decided to launch NGSFacts.com. It is our role as NGOs to offer unbiased information to European citizens about the negative implications of large-scale shale gas extraction."
Peer-reviewed scientific evidence, industry publications and hundreds of cases all point to the same conclusions: The oil and gas industry continues to struggle with securing the integrity of its wells. As a result of poor cementing practices and casing failures, toxic fracking fluids and methane have migrated to nearby aquifers and will continue to do so.
With regard to the chemicals used in fracking, shale gas operators launched FracFocus, a voluntary chemicals disclosure registry, in response to public concerns in the U.S. However, FracFocus continues to allow trade-secret exemptions to conceal the exact composition of the chemical mixtures used and impedes easy analysis of the information provided (e.g. bulk download of data is not possible).
"Europeans need a better understanding of the risks involved in hydraulic fracturing and public authorities have a key role to play in guaranteeing high environmental and public health standards," said De Cock. "Voluntary measures such as NGSFacts.org and self-regulation will not be sufficient for monitoring the beginning of this high risk industrial activity in Europe."
Visit EcoWatch's FRACKING page for more related news on this topic.
——–
Sign the petition today, telling President Obama to enact an immediate fracking moratorium:

The International Energy Agency (IEA) released today a major new report warning that nothing short of an energy sector revolution is required to protect the world from runaway climate change and a global temperature rise beyond two degrees Celsius.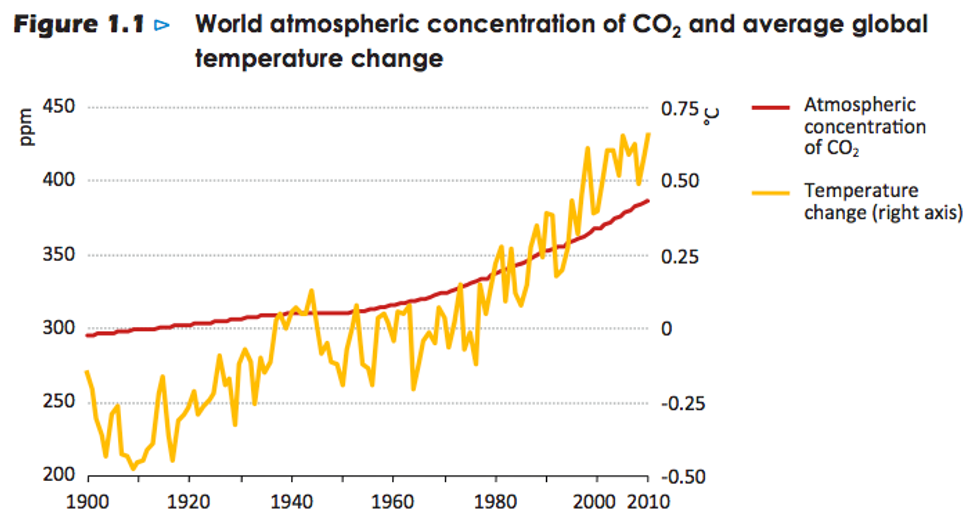 In what is the IEA's most urgent call for climate action yet, the World Energy Outlook Special Report 2013: Redrawing the Energy Climate Map advocates a "reorientation of an energy system currently dominated by fossil fuels," and proposes near-term action to clean up the power sector and halt the increase of global emissions by 2020.
It also calls for "transformational" change in energy generation worldwide in the longer term.
IEA Executive Director Maria van der Hoeven said:
Climate change has quite frankly slipped to the back burner of policy priorities. But the problem is not going away—quite the opposite.

This WEO [World Energy Outlook] Special Report is a timely reminder that climate change must remain a permanent and prominent item on the policy agenda. It seeks to outline the intensive action which we need to start implementing today, without waiting to 2020 or later for a global agreement to take effect.
Compared to 2011, energy-related carbon dioxide emissions in 2012 have increased by 1.4 percent.
A new global agreement aimed at meeting this target will not emerge before 2015 and is not likely to be implemented before 2020.
Meanwhile, the world is drifting further towards dangerous levels of average temperature rise and runaway climate change; the IEA projects an increase of 3.6 to 5.3 degrees Celsius by the end of the century. Scientists warn this level of warming could threaten civilization as we know it.
In its "4-for-2 degrees Celsius" scenario, the report proposes four near-term "pragmatic and achievable" measures to put the world on track to limiting warming to safer levels and could reduce emissions by eight percent on levels otherwise expected by 2020 without harming economic growth.
Targeted energy efficiency measures in buildings, industry and transport would account for nearly half of these savings by 2020 while limiting the construction and use of the least-efficient coal-fired power plants could deliver another 20 percent of these savings—while helping to curb local air pollution.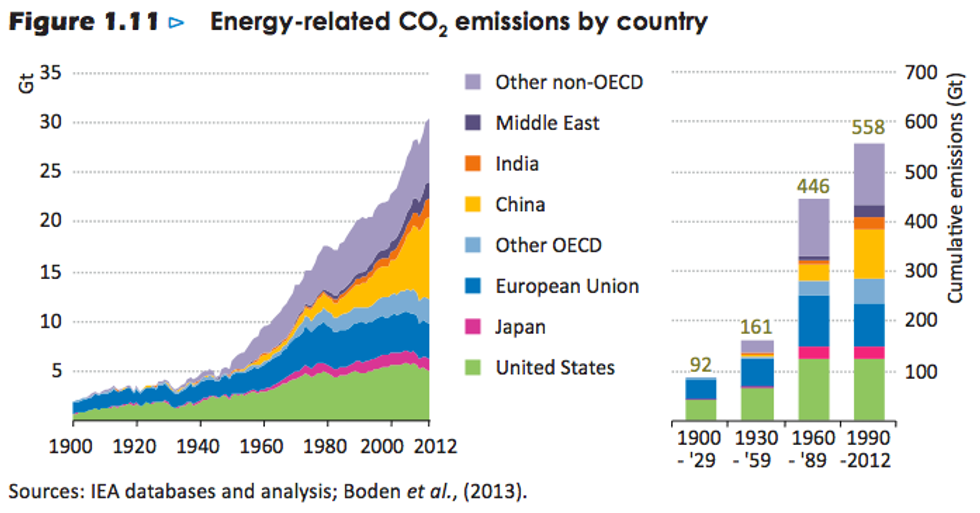 The report estimated renewable energy generation would increase from around 20 percent to 27 percent over the same period to fill the void created.
Halving methane releases from flaring in the oil and gas industry could provide another 18 percent of the savings and implementing a partial phase of out fossil fuel consumption subsidies would account for 12 percent, according to the report.
The IEA also makes the economic case for avoiding a looming 2017 lock-in for long-term warming above 2ºC. While delaying climate action across the entire energy system till 2020 would save $1.5 trillion, the report estimates that an additional $5 trillion will be needed in low-carbon investment after this date.
Fossil fuel power plants have long life cycles and are therefore exposed to serious risks in a carbon-constrained world, facing early and costly retirement or retrofitting, or even becoming "stranded assets."
In a report last year, the IEA warned that—to stay below two degrees Celsius—about two-thirds of proven global fossil fuel reserves have to stay in the ground. Yet companies spend vast amounts not only digging up known fossil fuel reserves but by looking for and developing new fossil fuel reserves.
A recent report from the Carbon Tracker Initiative found that the financial industry invested $674 billion in such projects last year alone, and warned that $6 trillion could be pumped into a "carbon bubble" over the next decade.
In response to this dire outlook for carbon-intensive utilities, the IEA promotes a strong global carbon market and carbon capture and storage (CCS) technologies as possible ways to avoid problems and to create a role for fossil fuels in the future energy mix of a carbon-constrained world.
However, in the same report the IEA also warns that the use of CCS "remains distant" as the technology has yet to be deployed at scale, and it could still be many years before the power sector could rely on it, if full-scale deployment ever becomes a reality.
Greenpeace also warns that power plants fitted with the technology require 11-40 percent more fuel and thus boost dependence on fossil fuels even further.
While generally welcoming the IEA's call to action, environmental groups have upped the stakes.
Samantha Smith, leader of the World Wildlife Fund (WWF) Global Climate & Energy Initiative said:
This is a welcome intervention by the IEA, particularly the focus on energy efficiency standards for lighting, cars and appliances as well as cutting methane losses in oil and gas production. Unfortunately, the other policies are incomplete, not ambitious enough or regionally biased. With the world on track for catastrophic levels of global warming, as the IEA says, these stop-gap proposals simply don't go far enough.
Building on IEA arguments they argue that the IEA should set a target to cut emissions from coal power 20 percent by 2020—targeting all power stations.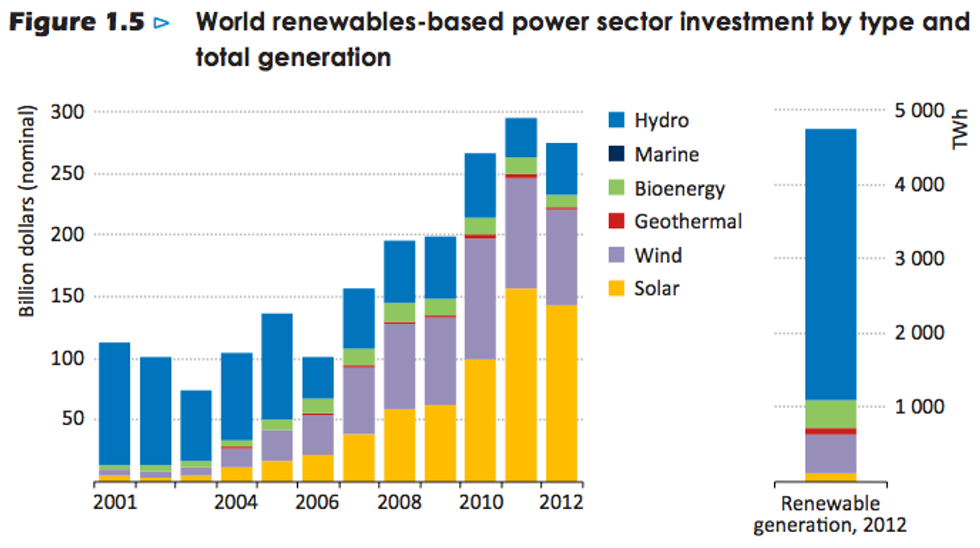 They also call for deeper cuts in fossil fuel subsidies, phasing out both consumption subsidies and production subsidies—those providing incentive for exploring for new reserves—in both developed and developing countries.
According to the IEA, $523 billion was spent globally in 2011—up 30 percent from 2010 and huge in comparison to the $88 billion spent on subsidising clean renewables.
WWF says governments should instead use taxpayer money to boost renewables and fight energy poverty.
Visit EcoWatch's CLIMATE CHANGE page for more related news on this topic.
——–
Click here to tell Congress to Expedite Renewable Energy