This website uses cookies to ensure you get the best experience while browsing it. By clicking 'Got It' you're accepting these terms.


The best of EcoWatch, right in your inbox. Sign up for our email newsletter!
Zinke tours Paradise, Calif. Nov. 14 with Governor Jerry Brown and FEMA Administrator Brock Long. Justin Sullivan / Getty Images
In an interview with Breitbart News on Sunday, Secretary of the Interior Ryan Zinke blamed "radical environmentalists" for the wildfires that have devastated California in recent weeks, The Huffington Post reported.
"I will lay this on the foot of those environmental radicals that have prevented us from managing the forests for years. And you know what? This is on them," he said in the interview.
You can listen to the whole thing here:
The remarks come as California has suffered the deadliest blaze in the state's history. The death toll from the Camp Fire, which destroyed the town of Paradise in Northern California, has now risen to 79. Around 1,000 people are still listed as missing, and the fire is now 70 percent contained, according to an Associated Press report Monday.

California Governor Jerry Brown blamed climate change in a statement made last weekend.
"Managing all the forests everywhere we can does not stop climate change, and those who deny that definitely are contributing to the tragedies that we are witnessing and will continue to witness," Brown said.
Regardless, Zinke has remained consistent in pointing the finger at forest management. His current criticisms echo his remarks following other fires this August, in which he said the increasingly frequent and violent blazes were the result of inadequate forest management, and not climate change. He continued in that vein during Sunday's interview:
"In many cases, it's these radical environmentalists who want nature to take its course. We have dead and dying timber. We can manage it using best science, best practices. But to let this devastation go on year after year after year is unacceptable, it's not going to happen. The president is absolutely engaged."
President Donald Trump has indeed vehemently blamed forest mismanagement ever since the recent batch of fires broke out, even threatening at one point to withhold federal funding if the forests weren't managed properly. During a visit to California Saturday to survey damage, Trump brought up forest management again, suggesting that the problem in California was that the forests were not raked enough.
"You look at other countries where they do it differently, and it's a whole different story," he said, as CNN reported. "I was with the president of Finland, and he said: 'We have a much different [sic] ..., we're a forest nation.' And they spent a lot of time on raking and cleaning and doing things, and they don't have any problem," he added.
Finnish President Sauli Niinistö, however, told a Finnish newspaper he did not recall suggesting raking to Trump.
"I mentioned [to] him that Finland is a land covered by forests and we also have a good monitoring system and network," he said.
Finnish people have taken to Twitter to poke fun at the U.S. President's statement using the hashtag "Raking America Great Again."
Despite Trump and Zinke's criticisms, the fact remains that the federal government controls almost 60 percent of the forests in California while the state controls only three percent. Paradise was surrounded by federal, not state, forests. Further, the fires in Southern California spread in suburban and urban areas, The Huffington Post reported.
Some think the emphasis put by Zinke and Trump on forest management is not about preventing fires at all but rather an attempt to justify opening more public forests to private logging interests.
U.S. Department of Interior Secretary Ryan Zinke speaks with land managers, private landowners, university staff, and the media about federal forestry and land management at Boise State University on June 2, 2017. USDA photo by Lance Cheung
From Your Site Articles
Related Articles Around the Web
Musician Neil Young, who lost his Malibu home to the devastating Woolsey fire, is urging the world to come together to fight climate change—especially since the president of the U.S. seems "unfit" to take care of the problem, as the icon said.
On Sunday, the legendary rocker posted a letter on his website, the Neil Young Archives, blasting Donald Trump's infamous denial of climate science and his Saturday tweet that blamed California's wildfires on "gross mismanagement of the forests" even though most of the fires are burning on federal land.
EcoWatch Daily Newsletter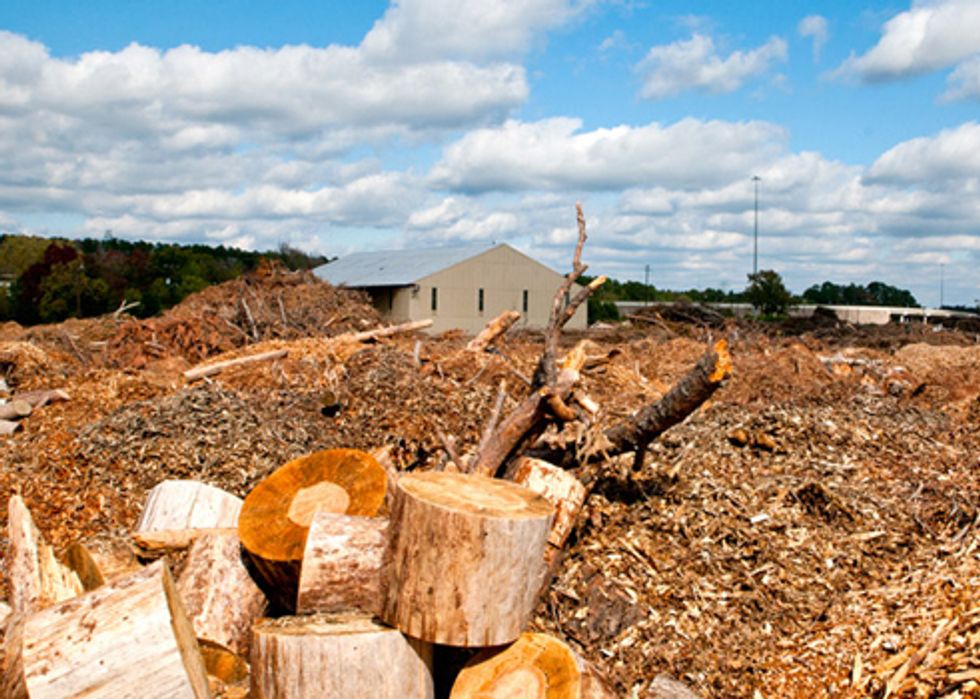 A new study of southeastern forests in the U.S. finds that in the long run, burning wood instead of fossil fuels to make electricity can reduce heat-trapping carbon dioxide in the atmosphere, but not soon enough to prevent worsening the conditions leading to global climate change.  
 
The study also shows that as the industry expands in the Southeast, biomass energy will increasingly come from cutting standing trees instead of using wood residues from sawmills and other sources, emphasizing the need to balance forest ecosystem health and related values, such as drinking water and wildlife habitat, with renewable energy objectives.
Based on current trends in using wood for large-scale power plants and exporting fuel pellets to Europe, biomass energy in the Southeast is projected to produce higher  levels of atmospheric carbon for 35 to 50 years compared to fossil fuels. After that, biomass will result in significantly lower atmospheric levels as regrowing forests absorb carbon from previous combustion.
The study, Biomass Supply and Carbon Accounting for Southeastern Forests, was conducted by the Biomass Energy Resource Center in partnership with the Forest Guild and Spatial Informatics Group on behalf of the National Wildlife Federation and the Southern Environmental Law Center, and was funded by a grant from the Doris Duke Charitable Foundation.
The study analyzed 17 existing and 22 proposed biomass facilities in seven states—Alabama, Florida, Georgia, North Carolina, South Carolina, Tennessee and Virginia. Researchers developed a new analytical framework that integrates life-cycle carbon accounting with forest growth and management, as well as supply zone (or "landscape woodshed") data specific to the region. The results are specific to biomass electric power in the Southeast, and different regions and technologies will have different effects on atmospheric carbon. 
"This study brings us to the crux of the matter regarding biomass electric power and atmospheric carbon, which is that consideration of near-term tipping points versus long-term carbon reductions must be assessed as we develop climate and energy policy," said Andrea Colnes, policy director for the Biomass Energy Resource Center.  "For example, using wood to produce heat through clean technologies has a much shorter payback period than producing electric power, and can yield climate benefits in five to ten years."
"While biomass offers some environmental benefits, any expanded use of logging residue and live trees will affect forest structure and nutrient cycling," said Robert Perschel, eastern forests director with Forest Guild. "This raises questions of long-term forest health and other environmental factors, such as water quality and wildlife habitat, that need to be addressed by further study and reasonable guidelines for the industry."
The Southeast is seeing rapid growth in new and retrofitted power plants that will burn woody biomass to make electricity, as well as a major expansion of the wood-pellet industry, largely for export to Europe. The short-term spike followed by the long-term drop of carbon levels from these facilities poses challenging questions for decision makers in addressing both energy and climate change policy, particularly when factoring in a projected climate change "tipping point."
 
If carbon emissions continue unabated for the next three to five decades, the planet will likely warm an average of 3.8 degree Fahrenheit, a threshold that scientists and the international community have identified as resulting in irreversible interference with the climate system. This could have significant impacts; for example, the destructive power of hurricanes and severity of droughts could increase, and up to one-third of the world's species could face extinction.
"The timing problem is central to this issue, since adding even more carbon from biomass to the atmosphere over the next 35 to 50 years could accelerate global warming stressors," said Julie Sibbing, director of agriculture and forestry with National Wildlife Federation. "We run the compounded risk of losing forests to severe weather events triggered by climate change, such as droughts and flooding, undermining their ability to sequester carbon over the long run."
"Just because wood is a renewable resource doesn't mean it's automatically carbon neutral," said David Carr, senior attorney at the Southern Environmental Law Center. "How biomass is obtained, burned, and regrown determines its carbon footprint and impact on forest health. To do this right, EPA must require a 'forest-to-furnace' accounting of the biomass carbon cycle to ensure it doesn't hasten climate change." 
The choice of combustion technology matters greatly in the carbon footprint of biomass. Previous studies have shown that burning biomass for thermal energy is 70 percent to 80 percent efficient, as opposed to electricity generation which is just 25 percent efficient. Also, the BERC study shows that most of the wood pellets produced in the Southeast are shipped to Europe. The EU assumes that all biomass burned for power is carbon neutral, providing extra incentive for the use of wood pellets from the Southeast. "The EU, like EPA, must require a full carbon accounting that  identifies and discourages biomass that worsens global climate change," Carr said.
Overall, the study's results point to the need for state and federal policies to incentivize efficient uses of woody biomass that maximize the benefits and minimize the near-term spike in atmospheric carbon.
A map of existing and proposed biomass facilities in the Southeast is available by clicking here.
For more information, click here.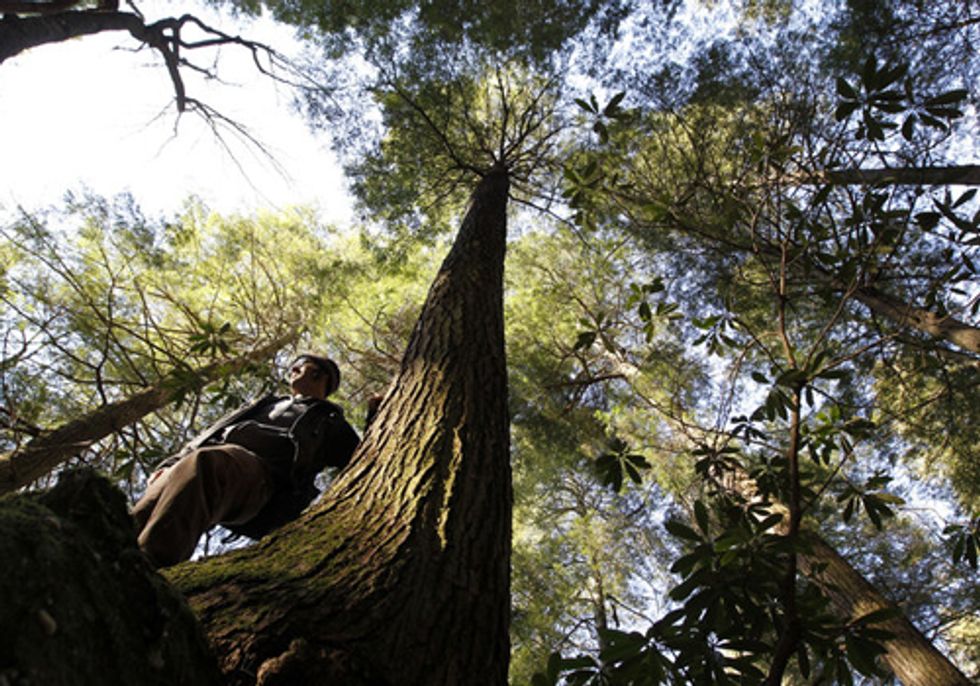 By Jim Scheff
The Nov. 27 editorial was correct in asserting that Kentucky needs to diversify its energy portfolio and take meaningful steps toward joining other states in capitalizing on renewable sources of energy and the jobs that come with them.
However, generating electricity by burning wood is not how to do it.
Burning waste wood and low-quality timber for electricity sounds like a great idea. And the stated goals of ecoPower, the Lexington-based company struggling to build a 50-megawatt power station in Hazard, are admirable—Create jobs and renewable electricity while supporting sustainable forest management. Unfortunately, those goals and reality are in disagreement, and the results could be disastrous.
The ecoPower plant will need to burn about 500,000 tons of wood a year to keep running. That's over 400 semi-trucks of wood chips each week. One quarter of this will be supplied by Pine Mountain Lumber, ecoPower's sister company.
However, with small mills and manufacturers increasingly using their wood waste in on-site boilers, ecoPower will most certainly need to turn to wood coming directly from the forest to keep their power plant operating.
In May, just a month before awarding ecoPower $250,000 as part of an initiative to support renewable energy projects, the U.S. Forest Service released The Southern Forest Futures Project Summary Report, stating, "Energy forecasts show wood use for bioenergy starting with and then quickly exhausting harvest residuals and other available wood waste. As a result, bioenergy demand would lead to additional harvesting of raw material."
Biomass harvesting relies heavily on what is called "whole-tree harvesting." This is different than traditional forestry, which leaves the tops of trees, known as "slash." Leaving that slash on the ground is important in limiting erosion and returning vital nutrients back to the soil.
Again quoting the Southern Forest Futures Project Summary Report, "Forecasted levels of woody-biomass harvests could lead to a reduction of stand productivity, deterioration of biodiversity, depletion of soil fertility, and a decline in water quality."
The recently released Recommendations for the Harvesting of Woody Biomass, produced by the Kentucky Division of Forestry, echoes these concerns, stating that removing this extra material "could result in possible impacts to soil productivity, soil compaction, water quality and quantity, wildlife habitat, and other environmental influences tied to forest sustainability."
Further, dragging whole trees through the forest to a central chipping and loading site, as is common with biomass harvesting, scars the soil, damages native seedlings, and creates conditions known to promote the establishment of non-native invasive plants such as Tree-of-Heaven and Japanese stiltgrass.
And then there's the issue of carbon neutrality. It's simply not honest to say that logging is carbon neutral, as many biomass proponents insist. Peer-reviewed studies, including those that factor in long-lived wood products, have offered inconsistent conclusions on whether forest regrowth captures all of the carbon released.
But this is beside the point. With new studies suggesting a 3- to 6-foot increase in sea level by the end of the century, we simply can't wait 70 or 100 years for the forest to recapture the carbon released from logging and burning.
Smart, sustainable forestry is important to Kentucky's future, and the well-meaning people at ecoPower know this. Creating a market to support thinning forests that are recovering from prior mismanagement could help promote forest health in some places.
However, in the absence of appropriate regulations or binding purchasing agreements, a woody-biomass market will too easily lead to damage that outweighs potential benefits. Future generations deserve to inherit productive, diverse forests that can sustain families and communities. An under-regulated wood-burning biomass economy puts this at risk.
The sad irony is that if the ecoPower facility never opens, it will be for all of the wrong reasons. It won't be because of a commitment toward sustainable forestry. It will be the perennial Kentucky story of the influence of the coal industry dictating not only policy, but our futures.
Moving away from fossil fuels will require large-scale efficiency and innovation, including wind, solar and micro-hydro, but is completely possible if our legislators are willing to stop subsidizing the big polluters that fund their campaigns and instead create incentives to promote a truly sustainable energy economy.
For more information, click here.