With more good news on jobs deflating their attacks on President Obama, Republican politicians and their media allies have gone into overdrive hyping high gas prices and falsely assigning blame to the president.
Core Message:
If Republicans really cared about high gas prices, they wouldn't keep us hooked on Big Oil.
Connect: Americans want relief from the pain they're feeling at the pump—not political games.
State of play: After protecting Big Oil profits and letting Wall Street speculators get away with driving up gas prices, Republicans are now trying to shift the blame. 
Define: They're using false claims to blame the president—and promoting false solutions that won't lower gas prices for Americans, but will bankroll big profits for Big Oil.
Discredit: It's no surprise they'd protect Big Oil and Wall Street every step of the way and cheer when gas prices are high—they'd rather see Obama lose than America win.
ATTACKS AND RESPONSES

Attack: "Gas prices have doubled since Obama took office."
Response:
After protecting Big Oil profits and letting Wall Street speculators get away with driving up gas prices, Republicans are now trying to shift the blame.
The truth is that U.S. oil production is the highest in years and gas prices are lower than at the end of Bush's term.
The recession Republicans helped cause sank gas prices just as Obama took office—so of course that's the misleading starting point they'd use.

Attack: "The Keystone XL pipeline will lower gas prices."
Response:
Actually, Keystone would allow Big Oil to manipulate the supply of oil in the region—driving up prices.
An independent analysis not funded by the oil industry shows the pipeline could raise gas prices in the Midwest by 10 to 20 cents more per gallon.
Even TransCanada, the company sponsoring Keystone XL, admits that the pipeline will enable foreign oil companies to make an extra $2 billion to $4 billion per year off of the U.S. economy, thanks to higher oil prices in the Midwest.
With Keystone, Big Oil gets billions, foreign countries get the oil, and Americans get all the risks—plus higher gas prices.
Attack— "Drill here. Drill now. Pay less."
U.S. oil production is the highest it's been in years—and gas prices have still gone up.
Oil companies are still raking in record profits, charging us $4 a gallon, and collecting billions every year in taxpayer handouts.
The only way to protect American families and businesses—the entire American economy—from volatile gas prices is to kick our dependence on oil.
So instead of protecting Big Oil at the expense of taxpayers, let's invest in cleaner, safer sources of energy that will put millions of Americans back to work and won't ever run out.
For more information, click here.
We develop messaging by aggregating, analyzing and distilling polling, tested messaging, and expert recommendations, and monitoring the media to identify what is and isn't working. See here for some of the experts and organizations we draw on.
EcoWatch Daily Newsletter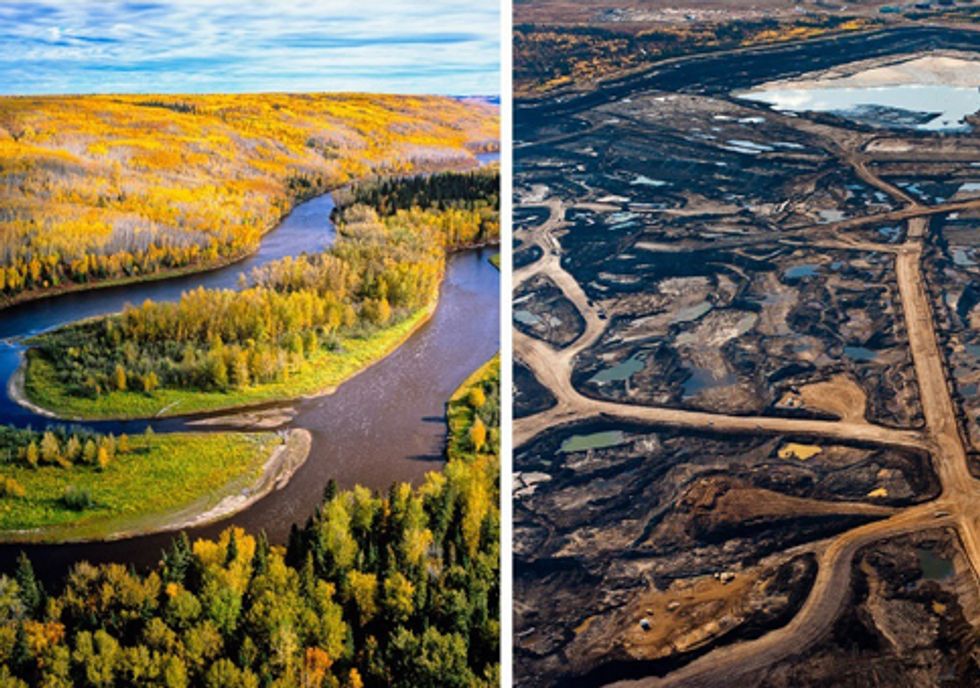 By Jill Fitzsimmons & Emilee Pierce
In the media storm surrounding TransCanada's proposed Keystone XL pipeline, news outlets have largely focused on the employment impacts of the project, often parroting discredited industry statistics in the process. But jobs are only a part of the story. A review of recent testimonies, tax records and local news reports shows that, on many other important issues at stake, TransCanada has been advertising one thing to its stakeholders and delivering another. What follows is a list of stories that many national news outlets missed:
1. TransCanada Used Aggressive Tactics With Landowners. TransCanada touts a commitment to "treating all landowners who may be affected by our project honestly, fairly and with mutual respect." But while the permit application for the Keystone XL pipeline was still pending, TransCanada sent letters to landowners along the pipeline route threatening to use eminent domain to seize their land if they did not agree to sign easements within 30 days. Landowners reportedly found this approach to be "very intimidating" and felt "bullied" by TransCanada. The Nebraska Farmers Union has repeatedly spoken out against TransCanada's "less than ethical" tactics, and, according to The New York Times, East Texas landowners said "they had never seen a company behave as aggressively as has TransCanada." Additionally a U.S. government official called the use of eminent domain "presumptuous" because the pipeline had not yet been approved. This story has been reported by the local press but largely ignored by the national media.  
2. TransCanada Didn't Deliver On Previously Promised Tax Revenue. TransCanada has promised that Keystone XL will generate $5.2 billion in property tax revenue for the U.S. states located along its route. But the company made similar promises about the first leg of the Keystone pipeline, and 2010 tax records show that it failed to deliver. In its first year of operation, Keystone 1 generated less than half ($2.2 million) of the $5.5 million projected for Nebraska, and only a third ($2.9 million) of the estimated $9 million in state property taxes for South Dakota. In Kansas, TransCanada is exempt from property taxes for a decade, which will cost the state $50 million in public revenue, according to local officials.

3. TransCanada Reversed Its Position On Rerouting. In response to concerns about the environmental impact of the Keystone XL pipeline on Nebraska's ecologically sensitive Sandhills region, TransCanada initially claimed that rerouting the project would be "impossible." But the next month, following the Obama administration's announcement that a decision on the pipeline would be delayed, TransCanada changed its tune. On Nov. 14, TransCanada announced that "the route will be changed and Nebraskans will play an important role in determining the final route."
4. TransCanada Will Import Much Of The Steel For The Pipeline. TransCanada has claimed that the Keystone XL pipeline would create 7,000 manufacturing jobs in the U.S. But an independent analysis called that figure "unsubstantiated and misleading" because TransCanada has already signed contracts to purchase "almost half" of the pipeline materials from companies abroad. TransCanada has acknowledged that it has already spent $1.9 billion on 100 miles of pipe, which is now being stored in yards and warehouses. After receiving information from pipeline company Welspun Tubular that some of the steel pipe for the project was produced in India, Democrats on the House Energy and Commerce Committee asked TransCanada to "immediately disclose where the steel to be used in Keystone XL is manufactured." Citing TransCanada's history of using low-quality, foreign-made steel to build U.S. pipelines—even as unemployed American manufacturers sat idly by—the United Steelworkers union also said it would only support TransCanada's application for the Keystone XL pipeline if steps were taken to ensure "a domestic supply chain." 
5. TransCanada Said Its Pipeline Would Increase Oil Prices In The Midwest. In the U.S., TransCanada has advertised the Keystone XL pipeline as a path to energy security. But a 2010 analysis prepared for the Department of Energy concluded that the Keystone XL pipeline will not have a significant impact on U.S. dependence on oil from the Middle East. Furthermore, even if the oil stayed here it would not protect the U.S. from price volatility since "the oil market is globally integrated," in the words of the Congressional Research Service. In fact, despite promises of a stable, affordable U.S. energy supply, TransCanada told Canada's National Energy Board that the pipeline would increase crude oil prices in the Midwest. "The resultant increase in the price of heavy crude is estimated to provide an increase in annual revenue to the Canadian producing industry in 2013 of U.S. $2 billion to U.S. $3.9 billion," TransCanada said.
For more information, click here.
waterlust.com / @tulasendlesssummer_sierra .
Each product featured here has been independently selected by the writer. If you make a purchase using the links included, we may earn commission.
The bright patterns and recognizable designs of Waterlust's activewear aren't just for show. In fact, they're meant to promote the conversation around sustainability and give back to the ocean science and conservation community.
Each design is paired with a research lab, nonprofit, or education organization that has high intellectual merit and the potential to move the needle in its respective field. For each product sold, Waterlust donates 10% of profits to these conservation partners.
Eye-Catching Designs Made from Recycled Plastic Bottles
waterlust.com / @abamabam
The company sells a range of eco-friendly items like leggings, rash guards, and board shorts that are made using recycled post-consumer plastic bottles. There are currently 16 causes represented by distinct marine-life patterns, from whale shark research and invasive lionfish removal to sockeye salmon monitoring and abalone restoration.

One such organization is Get Inspired, a nonprofit that specializes in ocean restoration and environmental education. Get Inspired founder, marine biologist Nancy Caruso, says supporting on-the-ground efforts is one thing that sets Waterlust apart, like their apparel line that supports Get Inspired abalone restoration programs.
"All of us [conservation partners] are doing something," Caruso said. "We're not putting up exhibits and talking about it — although that is important — we're in the field."
Waterlust not only helps its conservation partners financially so they can continue their important work. It also helps them get the word out about what they're doing, whether that's through social media spotlights, photo and video projects, or the informative note card that comes with each piece of apparel.
"They're doing their part for sure, pushing the information out across all of their channels, and I think that's what makes them so interesting," Caruso said.
And then there are the clothes, which speak for themselves.
Advocate Apparel to Start Conversations About Conservation
waterlust.com / @oceanraysphotography
Waterlust's concept of "advocate apparel" encourages people to see getting dressed every day as an opportunity to not only express their individuality and style, but also to advance the conversation around marine science. By infusing science into clothing, people can visually represent species and ecosystems in need of advocacy — something that, more often than not, leads to a teaching moment.

"When people wear Waterlust gear, it's just a matter of time before somebody asks them about the bright, funky designs," said Waterlust's CEO, Patrick Rynne. "That moment is incredibly special, because it creates an intimate opportunity for the wearer to share what they've learned with another."
The idea for the company came to Rynne when he was a Ph.D. student in marine science.
"I was surrounded by incredible people that were discovering fascinating things but noticed that often their work wasn't reaching the general public in creative and engaging ways," he said. "That seemed like a missed opportunity with big implications."
Waterlust initially focused on conventional media, like film and photography, to promote ocean science, but the team quickly realized engagement on social media didn't translate to action or even knowledge sharing offscreen.
Rynne also saw the "in one ear, out the other" issue in the classroom — if students didn't repeatedly engage with the topics they learned, they'd quickly forget them.
"We decided that if we truly wanted to achieve our goal of bringing science into people's lives and have it stick, it would need to be through a process that is frequently repeated, fun, and functional," Rynne said. "That's when we thought about clothing."
Support Marine Research and Sustainability in Style
To date, Waterlust has sold tens of thousands of pieces of apparel in over 100 countries, and the interactions its products have sparked have had clear implications for furthering science communication.
For Caruso alone, it's led to opportunities to share her abalone restoration methods with communities far and wide.
"It moves my small little world of what I'm doing here in Orange County, California, across the entire globe," she said. "That's one of the beautiful things about our partnership."
Check out all of the different eco-conscious apparel options available from Waterlust to help promote ocean conservation.
Melissa Smith is an avid writer, scuba diver, backpacker, and all-around outdoor enthusiast. She graduated from the University of Florida with degrees in journalism and sustainable studies. Before joining EcoWatch, Melissa worked as the managing editor of Scuba Diving magazine and the communications manager of The Ocean Agency, a non-profit that's featured in the Emmy award-winning documentary Chasing Coral.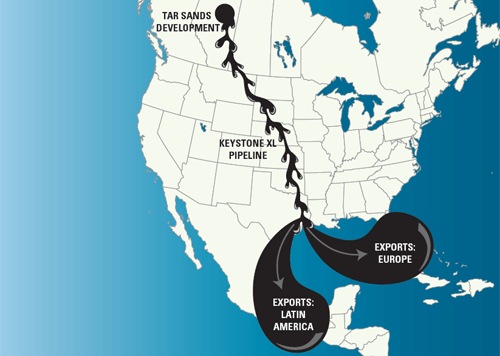 Sen. Mitch McConnell (R-KY) claimed recently that the Keystone XL Pipeline "doesn't require a penny of our taxpayer money—all the president has to do is approve it." But our research reveals many places that the pipeline project benefits from many taxpayer subsidies.
The refineries that are linked to the Keystone XL tar sands pipeline as committed shippers will receive between $1 billion and $1.8 billion in tax breaks. They are paid specifically for investing in equipment to process the heavy sour oil the pipeline promises to deliver.
The largest of these refineries, Motiva, is half owned by Saudi Refining Inc., and will receive between $680,000 and $1.1 billion in U.S. taxpayer support.
Keystone XL, like all oil industry projects, is enabled by substantial taxpayer subsidies. Three of the refineries that are planning to process the pipeline's oil have invested in special equipment to handle the extra heavy tar sands oil. According to our conservative estimates, the U.S. taxpayer is subsidizing these investments to the tune of $1.0-1.8 billion. Here's how it works.
Tar sands oil is not like most other crude oil. It is a semi-solid bituminous sludge that has to be diluted with much lighter oil in order to be transported by pipeline. Once it arrives at a refinery, the diluent is removed and the bitumen is refined into petroleum products using special equipment. The equipment required includes cokers and hydrocrackers.
In anticipation of the Keystone XL pipeline, three refineries in Port Arthur, Texas have added this equipment in order to be able to profitably process the bitumen. Their goal is to maximize their production of high value fuels such as gasoline and diesel rather than be left with less valuable fuels such as residual oil (for shipping and industrial burners) and Petroleum Coke, a coal like substance that is burned in aluminum smelters and the like. Heavy oil yields high proportions of these less valuable fuels if you do not have the specific equipment to increase the higher value yield.
Special tax rules apply to these investments that are unique to the refining industry. Title 179C of the tax code allows the refining companies to deduct the value of these investments from their tax returns at a highly accelerated rate. Rather than spread the expense over the lifetime of the equipment, say 20-30 years, the refiners are allowed to expense (i.e., deduct from their taxable income) 50 percent in the first year and expense the rest through the next 9 years. This is tantamount to a massive interest free loan from the taxpayer to big oil refiners, making it cheaper for them to process a particularly dirty form of foreign oil. In the case of the three Port Arthur refineries preparing to process Keystone XL crude, we calculate this to cost the taxpayer between $1.0 billion and $1.8 billion.
In the case of the Valero Port Arthur refinery's hydrocracker project, the company has described the project to investors as one that will enable the refinery to process Canadian heavy oil into diesel and jet fuel for the export market. See below.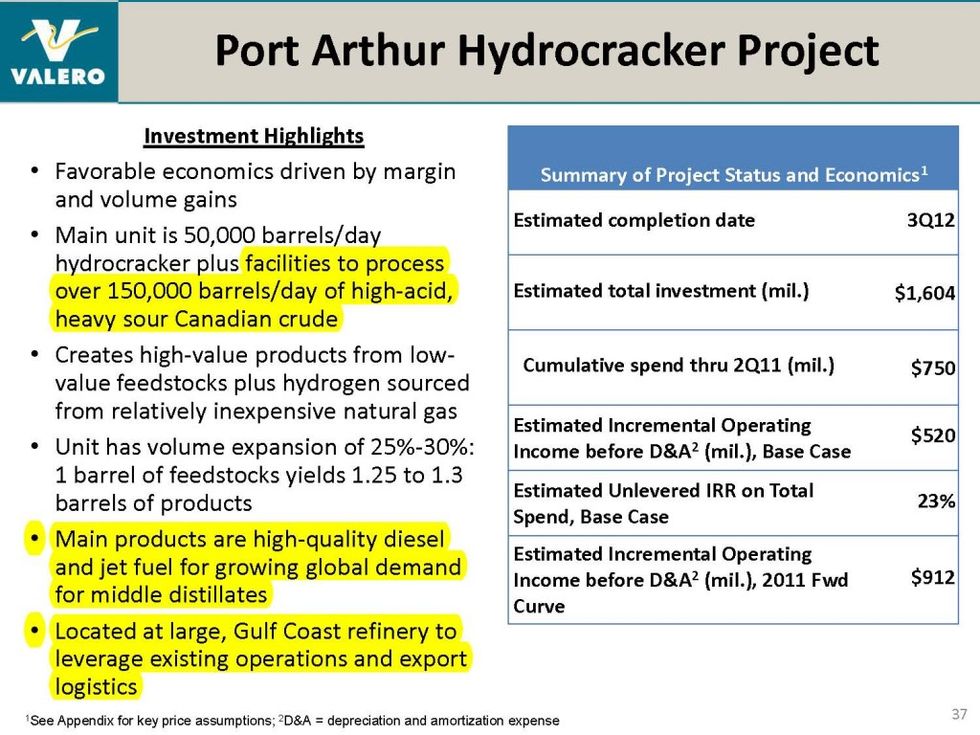 Does that look like the 'national interest' to you?
Of the three refineries involved, two of them, Valero Port Arthur and Total Port Arthur made these investments explicitly to process Canadian heavy oil that would be delivered by Keystone XL. Both companies are committed shippers on the pipeline, meaning they have signed contracts committing them to a specific proportion of the pipeline's capacity.
The other refinery, Motiva Port Arthur, jointly owned by Shell and Saudi Aramco, is expected to take some Keystone XL oil but it is also expected to use the new equipment to process large quantities of heavy sour oil imported from Saudi Arabia.
When the work finishes later this year, this refinery will become the largest in the U.S. It will have the capacity to process up to 325,000 barrels per day of heavy sour oil. The U.S. is not a significant producer of heavy sour oil. Countries that are expected to increase their production of this difficult-to-process crude include Canada (tar sands), Venezuela, Colombia, Saudi Arabia and Kuwait among others. So the subsidy received by this refinery is directly to enable the processing of a particularly dirty form of oil that is not produced in America.
Hmm, what was it pipeline proponents, including the owners of these refineries, were saying about reducing dependence on oil from hostile and unstable countries?
The special tax treatment of refinery investments that allows the 50 percent accelerated depreciation was introduced in the 2005 Energy Policy Act and was targeted at refinery investments that expand the capacity of the refinery. However, in August 2011, the act was amended specifically to extend the tax break to refinery investments that enable the refinery to process tar sands oil or enable an increase in capacity to refine tar sands oil if the new equipment is commissioned between 2008 and 2014. All of these projects qualify.
We have calculated the value to these three companies of this accelerated depreciation for the investments listed in the table below. These investments were made specifically to process heavy sour oil in refineries closest to the terminus of the proposed Keystone XL pipeline and owned by companies who are known committed shippers on the pipeline.
Finally, all the refineries that will receive Keystone XL tar sands crude operate in a Foreign Trade Zone (FTZ), which gives tax benefits to companies that use imported components to manufacture items within the U.S. (FTZ Act – 19 USC 81a-81u). Usually, refineries importing oil tax-free will still pay taxes when selling the refined products into the U.S. market. By both importing into and exporting from foreign trade zones the companies will avoid paying tax on the product sales. In other words, it's a great deal for the oil industry, and a raw deal for the taxpayer.
Nobody in the oil industry can claim that Keystone XL, or any other oil and gas project, is free of taxpayer support. The subsidies we have revealed here are just a few examples among many forms of fiscal support to Keystone XL and the tar sands industry. Further, the full costs of our oil addiction in terms of health, environment and security are never included in an official analysis of these projects.
The public has the right to both know how our money supports Big Oil and see a thorough evaluation of any proposal the oil industry has for expanding its infrastructure. Such an examination would throw light on the true costs of expanding fossil fuel infrastructure at a time when we need to reduce our dependence on oil, rather than simply trumpeting the short term benefits to companies involved. Now that the project has been stopped, the true cost of Keystone XL is only just coming to light.
For full details of our analysis, click here.
For more information, click here.
Table—Three refinery refit projects intended for processing Keystone XL oil
| | | | |
| --- | --- | --- | --- |
| Project | Company | Investment ($millions) | Value of accelerated depreciation ($millions) |
| Port Arthur Hydrocracker Project | Valero | 1,604 | 156-273 |
| Port Arthur Coker | Total S.A. | 2,200 | 214-375 |
| Port Arthur Expansion | Motiva Enterprises (Shell and Saudi Aramco) | 7,000 | 680-1,192 |
| Total |   | 10,804 | 1,050-1,840 |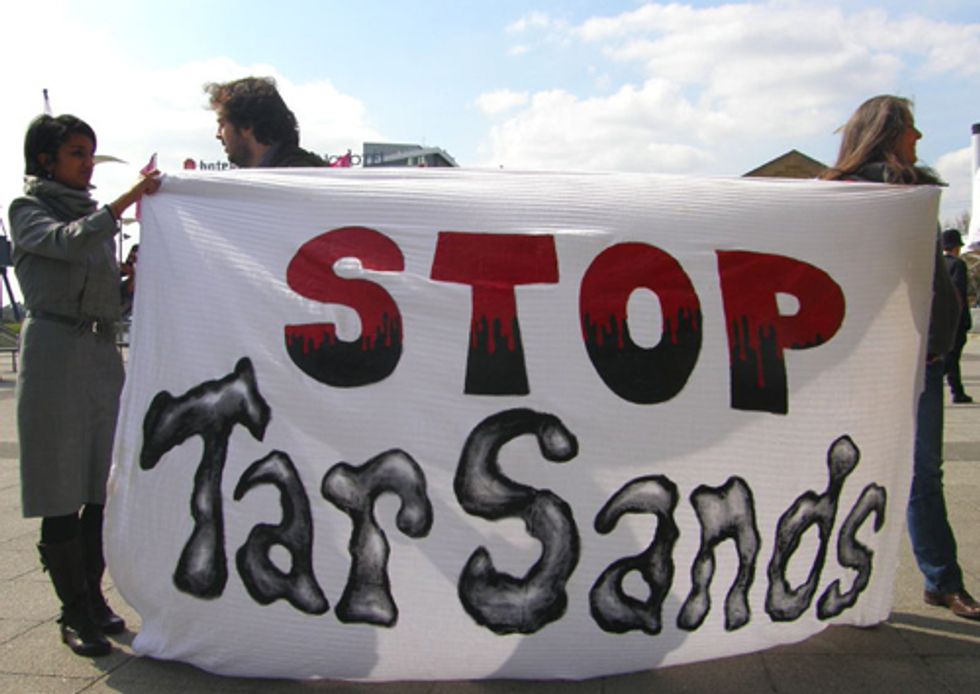 There's breaking—and disturbing—news about the Keystone XL pipeline. Big Oil is bringing it back, and with a vengeance.
The Senate may vote as early as this week to force construction of the dirty tar sands oil pipeline—and once again, it's up to you to stop this bill.
Last month, President Obama rejected the Keystone XL tar sands pipeline, which TransCanada spent $1.3 million lobbying for in 2011. We knew Big Oil wouldn't give up, and sure enough, they're still at it, using their money to force the pipeline down our throats, thwart the president, and pass this bill.
Email your senators today and tell them to oppose any legislation that would approve the Keystone XL pipeline.
With Big Oil and the lawmakers they've bought and paid for allied against us, we face a tough fight. This bill could pass. But by standing together, we beat their millions in round one, and we can do it again in round two.
It's obvious that Big Oil will do almost anything to buy influence and get their way on Capitol Hill—they have to, since no project as dangerous as Keystone XL could ever pass on the merits alone.
This pipeline would carry the world's dirtiest fossil fuel, tar sands oil, from Canada to Texas, where it would be shipped overseas. To build the pipeline, TransCanada has to seize private land from ranchers and farmers, and then expose what's left to the threat of oil spills and leaks. Clean water, clean air, agriculture, and our shared climate would all be put at risk for what have been greatly exaggerated benefits.
There's no reason the public should sacrifice so much just so Big Oil can increase their already-record profits. We may not have $1.3 million to lobby Congress—but we do have 1.4 million members and supporters like you.
Take thirty seconds to tell Sen. Scott Brown (R-MA) and Sen. Rob Portman (R-OH) to put our public health before Big Oil profits. Oppose this and any other attempt to approve the Keystone XL pipeline.
Big Oil is used to getting their way, no matter what that means for the rest of us. But together, we can send a powerful message—write your senators today.
For more information, click here.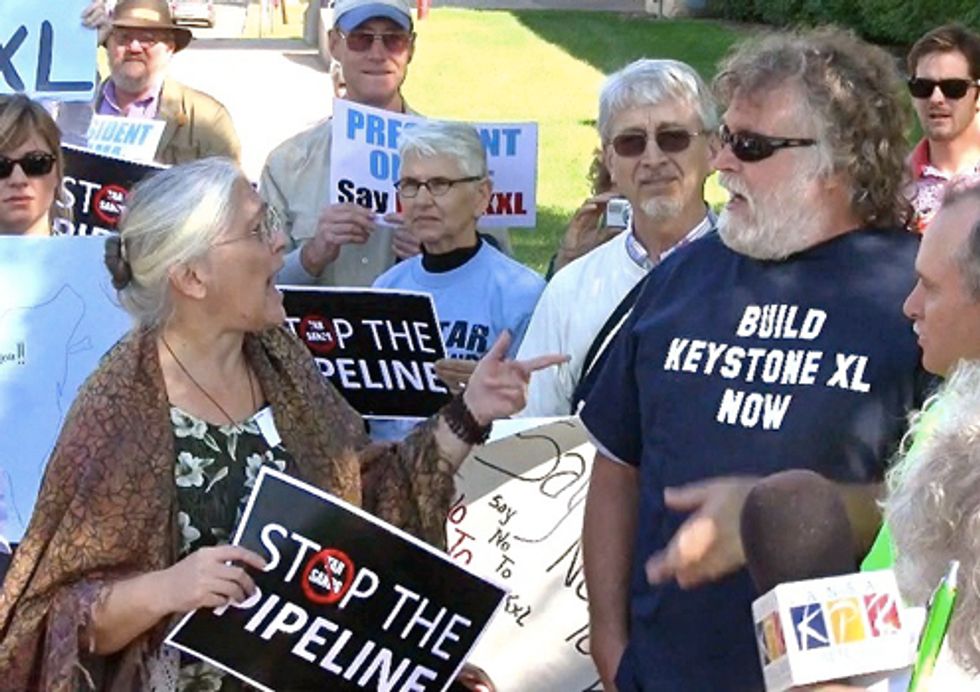 By Andy Rowell
On Jan. 30 the Republican Sen. John Hoeven (R-ND) will try to introduce legislation seeking to bypass President Obama and empower Congress to approve the highly controversial Keystone XL pipeline.
Sen. Hoeven's bill, that would seek to take control of the Keystone decision, looks like a political non-starter. To become law it would have to be approved by the Democratic-controlled Senate.
And for some crazy reason, if this does happen, the president himself would still have to approve it.
But still Hoeven is pushing ahead. "We've been working with (the Republican) leadership in the Senate and all our colleagues, and we believe Sen. Hoeven's bill has support from a lot of people in the Senate," said Ryan Bernstein, an energy advisor to Hoeven.
One of the main reasons the pipeline is rapidly becoming a key election issue is over jobs. The oil industry and its friends in the GOP maintain that the pipeline is a huge job creator, but the pipeline's critics have always maintained that those figures are highly inflated and misleading.
And now Greenpeace has upped the game in this department and written to the Chairman of the U.S. Securities and Exchange Commission (SEC) alleging that TransCanada "is using false or misleading statements about the proposed Keystone XL pipeline project," especially in relation to the numbers of jobs the pipeline would create.
The letter argues that TransCanada has "has consistently used public statements and information it knows are false in a concerted effort to secure permitting approval of Keystone XL from the U.S. government. In the process, it has misled investors, U.S. and Canadian officials, the media, and the public at large in order to bolster its balance sheets and share price."
Greenpeace is arguing that TransCanada's statements violate U.S. securities disclosure laws. The environmental group maintains that TransCanada has asserted that each mile of the pipeline constructed in the U.S. would create American jobs at a rate that is 67 times higher than job creation totals given by the company to Canadian officials for the Canadian portion of the pipeline.
"These false and misleading job creation numbers are part of TransCanada's lobbying and public relations campaign designed to create congressional pressure on the U.S. government to issue a Presidential Permit approving construction of Keystone XL," argues Greenpeace, which has asked the SEC to make TransCanada correct its figures.
At the heart of the jobs propaganda is a report commissioned by TransCanada from economist Ray Perryman, entitled The Impact of Developing the Keystone XL Pipeline Project on Business Activity in the U.S. Based on Perryman's report, TransCanada has claimed that the pipeline would create more than 20,000 high-wage manufacturing jobs and construction jobs in 2011-2012 and more than 118,000 "spin-off" jobs.
But Greenpeace argues these "claims are false and in conflict" with TransCanada's own filings to Canadian and U.S. regulators, and is exaggerated by possibly more than 350 percent.
The Greenpeace letter concludes that it is "clear that TransCanada has consistently used public statements and information it knows are false in a concerted effort to secure permitting approval of KXL from the U.S. government. In the process, it has misled a large number of people—investors, U.S. and Canadian officials, state officials, the media, and the public at large—in order to bolster its balance sheets and share price. This is a direct violation of SEC public disclosure regulations and must be addressed."
Greenpeace and many others will be watching closely to see how the SEC responds.
For more information, click here.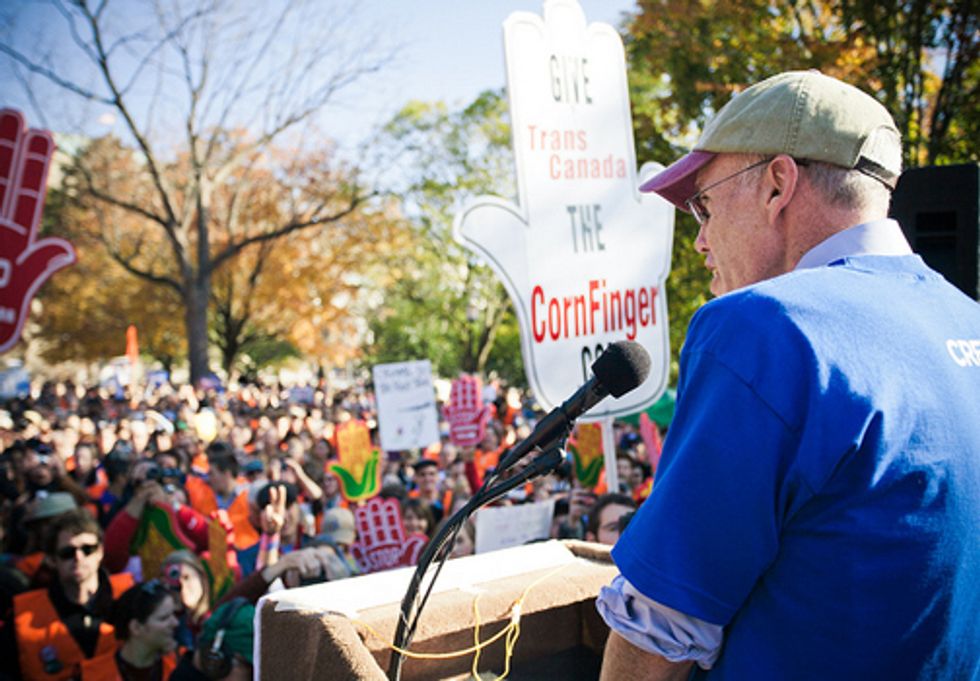 By Jamie Henn
350.org founder and Keystone XL protest leader, Bill McKibben, had the following reaction to the news that the State Department is expected to reject the permit for the Keystone XL pipeline later this afternoon:
"Assuming that what we're hearing is true, this isn't just the right call, it's the brave call. The knock on Barack Obama from many quarters has been that he's too conciliatory. But here, in the face of a naked political threat from Big Oil to exact 'huge political consequences,' he's stood up strong. This is a victory for Americans who testified in record numbers, and who demanded that science get the hearing usually reserved for big money.
"We're well aware that the fossil fuel lobby won't give up easily. They have control of Congress. But as the year goes on, we'll try to break some of that hammerlock, both so that environmental review can go forward, and so that we can stop wasting taxpayer money on subsidies and handouts to the industry. The action starts mid-day Tuesday on Capitol Hill, when 500 referees will blow the whistle on Big Oil's attempts to corrupt the Congress."
For more information, click here.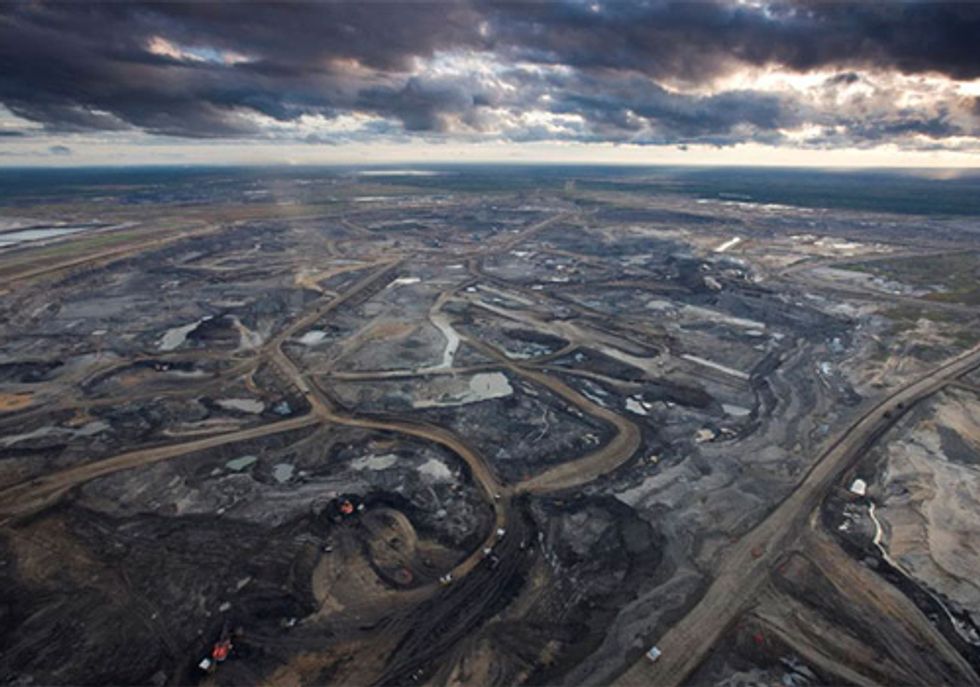 By Andy Rowell
Canada's Prime Minister, Stephen Harper, threw down the gauntlet Dec. 19 to anti-Keystone XL campaigners when he said Canada would sell its oil to China and other overseas markets if the controversial pipeline does not get approval.
In his year-end television interview, Harper said, "I am very serious about selling our oil off this continent, selling our energy products off to Asia. I think we have to do that."
Harper's comments came the day after the Obama administration indicated it might kill the pipeline if it is forced by Republicans to make a decision on the project in 60 days.
Harper appears to have run out of patience with the Obama administration. "When I was down in the United States recently it was interesting. I ran into several senior Americans who all said, 'Don't worry, we'll get Keystone done. You can sell all of your oil to us.' I said, 'Yeah we'd love to,' but I think the problem is now that we're on a different track."
The bad news for Harper is that to get his oil to the Chinese market he has to force through the Northern Gateway pipeline, which is far from a certainty. Our report released last week discusses how all current pipeline proposals face unprecedented challenges and none of them are going to be straight forward to implement. In fact, Gateway faces so much opposition from First Nations whose land it would potentially cross, and coastal communities who fear a tanker spill, that it may be even more difficult to push through than Keystone XL.
Supporting the tar sands opposition's position, that the tar sands is clearly unsustainable, is this week's revelation that Canadian internal government documents state that Canada lacks "credible scientific information" to support its claims that tar sands production is environmentally responsible.
Briefing material prepared for the government back in June said that "Environment Canada also advised that the absence of scientific evidence supporting their claims was affecting the industry's ability to raise capital from and sell into [the] foreign market." Environment Canada is Canada's federal environment ministry.
We discuss this in the report mentioned above.
The substantial environmental impacts of tar sands production appear to only place a constraint on production if the Albertan government acts to force the industry to internalize those costs. However, the midstream infrastructure that carries the production to market is vulnerable to a number of polities and societal pressures. The industry may yet find that these pressures place constraints on growth that are not so easily overcome.
In other words, while Alberta may choose to overlook the impact of tar sands production in order to cash in on the bonanza, outside of Alberta these impacts are not so easily overlooked. From the First Nations of British Columbia to the ranchers of Nebraska and on to the European Commission, people are neither impressed nor fooled.
For more information, click here.