By Andrew Gunther
Forgive me if you don't see me jumping for joy at the U.S. Food and Drug Administration's (FDA) recent announcement that it intends to limit the use of a specific group of antibiotics in livestock production.
While the FDA's decision to curb the use of cephalosporins in food animal production beginning April 2012 has been hailed as positive step in the right direction, I'd say it's more a shuffle forwards—and a very reluctant one at that.
"We believe this is an imperative step in preserving the effectiveness of this class of important antimicrobials that takes into account the need to protect the health of both humans and animals," said Michael R. Taylor, the FDA's deputy commissioner for foods, in the FDA press release. Now, as regular readers of my post will already know, I am passionate about the urgent need to curb the misuse of antibiotics in intensive farming systems. So what's my problem with the FDA's recent actions? After all, surely this is good news?
As various commentators—including Tom Philpott and Mary McKenna—have already pointed out, I am afraid that cephalosporins are nothing but small fry when it comes to overall antibiotic use in intensive farming. During 2009 alone, the FDA revealed that 80 percent of all antibiotics produced in the U.S. were used for animals—that's an incredible 28,820,000 pounds out of the 36,080,000 pounds produced. Yet cephalosporins amounted to just over 91,000 pounds of this total—less than half of one percent of all antibiotics used in the U.S. The FDA's latest figures also reveal that cephalosporin use has decreased even further during 2010 to just over 51,000 pounds. To make matters even worse, the FDA's announcement is actually a (less strict) rehash of proposals that were first announced in 2008, and which were immediately recalled after the usual uproar from the intensive farming industry lobby.
So what's the real outcome of the FDA's recent action? Well, certainly some positive media fluff for the FDA for appearing to take a stand by banning a minor antibiotic that was clearly already losing favor within the industry, yet a minimal impact on the day-to-day workings of the intensive farming industry. A cozy coincidence? I wish it was.
This rather insignificant move forward comes after a preemptive, giant leap backwards made Dec. 22, 2011, just as most of us were focusing on the upcoming holiday period. Notably without any accompanying press release or media fanfare in this instance, the FDA quietly announced in the Federal Register that it was withdrawing its long-standing intention to compel intensive farms to limit certain uses of the key antibiotics penicillin and tetracyclines for food-producing animals—an objective originally set in motion more than 30 years ago when government FDA scientists first began to fully appreciate the risks to human health from the laissez-faire non-therapeutic use of antibiotics in industrial farming.
We all know the story since then—over the years, the FDA has time and again cowed down to powerful political and legal pressure from the multi-billion dollar intensive farming industry lobby and its paid-up politicians, as antibiotic use in farming continued to spiral out of control in the pursuit of ever-cheaper protein and ever-increasing profit—not to mention the impact of intensification on animal welfare, our health and the environment. In its recent announcement the FDA warns that while it has not "ruled out" future regulatory action, it will instead "focus its efforts for now on the potential for voluntary reform and the promotion of the judicious use of antimicrobials in the interest of public health." I bet Big Ag's CEOs are quaking in their boots.
Voluntary reform? Call me a cynic, but the FDA has got to be kidding. Despite decades of mounting evidence and the emergence of a global scientific consensus that the routine non-therapeutic use of medicinally important antibiotics on industrial farms across the world is leading to the development of life-threatening multiple antibiotic-resistant bacteria, the powerful U.S. intensive farming lobby continues to aggressively dismiss the science and deny any possible risks to human health—just as the tobacco industry did in the 1970s.
While the FDA's announcement of limitations for the use of cephalosporins in food animal production might well be a small step in the right direction, the FDA continues to show that it has no teeth when it comes to ensuring that the intensive farming industry puts human health before profit, so that these vital medicines can remain effective for as long as possible. Even the Government Accountability Office recently concluded that key government agencies—including the FDA—are simply not doing enough to combat the growing threat of antibiotic resistant bacteria to public health, and that "antibiotic use in food animals contributes to the emergence of resistant bacteria that may affect humans." Far from being the proud industry watchdog working on behalf of U.S. citizens, the sad reality is that the FDA is happy to play the role of Big Ag's lapdog.
For more information, click here.
EcoWatch Daily Newsletter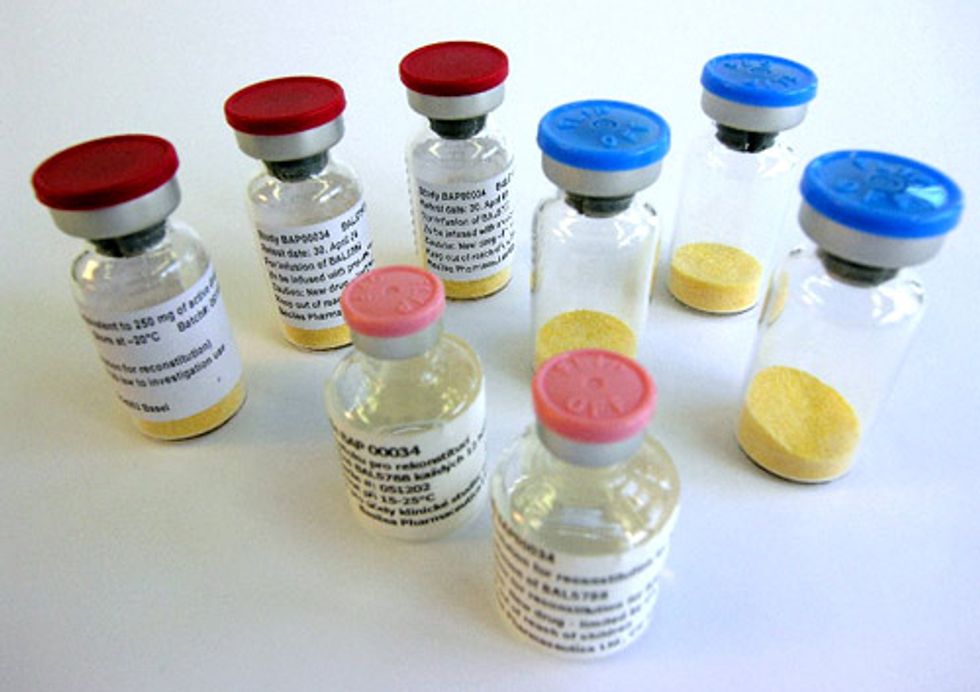 The Center for Food Safety (CFS) applauded the U.S. Food and Drug Administration (FDA) Jan. 4 for pre-releasing its long awaited prohibition on the extra-label use of cephalosporin drugs in food-producing animals. Cephalosporin drugs are an essential tool in both human and animal medicine, but mounting evidence has linked extra-label use of these drugs to the development and spread of cephalosporin-resistant organisms.
"This is a critical win for consumers, food safety advocates and the medical community," said Andrew Kimbrell, executive director for the Center for Food Safety. "But it's high time that FDA wakes up to the dangers that non-therapeutic uses of all antibiotics pose to our health and the safety of our food supply," Kimbrell said.
Cephalosporins are a vitally important class of antibiotics used most often in the treatment of serious Salmonella infections but also used to treat many other serious infections. The announcement Jan. 4 comes more than three years after the FDA first published an order prohibiting for the extra-label uses in food-producing animals of these drugs. That order was then withdrawn by the FDA before it could go into effect, citing the need for additional review of the public comments it received.
In its notice Jan. 4, FDA said that it plans to publish the Final Rule in the Federal Register on Jan. 6 announcing the prohibition of the extra-label use of cephalosporin drugs in food-producing animals. The Final Rule will go into effect 90 days from being published in the Federal Register and FDA will accept public comments for 60 days following the Federal Register notice. FDA's Final Rule will continue to allow approved label uses of these drugs for food producing animals as long as they are done in a safe and effective manner.
"The extra-label ban is just the first of many actions that FDA must make in order to better protect the public from the dangers of antibiotic-resistance," said Paige Tomaselli, staff attorney for the CFS. "Losing the effectiveness of critically important antibiotics as a result of our own misuse would be a catastrophic loss for modern medicine," added Tomaselli.
In August 2010, more than 180,000 citizens sent letters to the FDA responding to the agency's request for comments on rules governing the judicious use of antibiotics on industrial farms. Those letters joined dozens of scientific experts and public interest organizations calling on FDA to tighten oversight and curtail misuse and overuse of antibiotics on industrial farms. In its comments to the FDA, CFS thanked FDA for initiating discussion on the critical issue but expressed deep concern that its measures would not be voluntarily implemented and that regulation mandating immediate action is required instead. Further, in the absence of a clear timeline and strict goals, CFS stressed that the agency's approach lacked the urgency that this critical issue demands.
For more information, click here.
Like many other plant-based foods and products, CBD oil is one dietary supplement where "organic" labels are very important to consumers. However, there are little to no regulations within the hemp industry when it comes to deeming a product as organic, which makes it increasingly difficult for shoppers to find the best CBD oil products available on the market.
<p>Here you can learn about the importance of organic hemp oil, why it's better for the environment, and which CBD companies actually make trustworthy products with sustainable farming processes. origins which weigh heavily on many consumers who want to buy a product that's produced in the best way possible for not only themselves to ingest, but for the environment as well through sustainable farming methods. </p><h2>What Is CBD Oil?</h2><p>First things first, CBD stands for cannabidiol, and it's a cannabinoid found within cannabis sativa plants. This plant compound is believed to have many potential benefits, and it is primarily derived from hemp plants via a CO2 extraction process. </p><p>Since CBD is extracted from industrial hemp, which contains only trace amounts of THC (the psychoactive component in cannabis plants), this means that CBD won't make you feel high like marijuana, which has much higher levels of THC that causes psychoactive effects. Instead, the effects of CBD are much more subtle and promote a general sense of calm and relaxation in most users.</p><h2>What Makes a CBD Oil Organic?</h2><p>In terms of organic labels, perhaps the most important (and prominent) certification comes from the United States Department of Agriculture (USDA). This government organization has been labeling foods as "organic" for many years, but what exactly does this certification entail? Essentially, a label indicating that a product is "USDA Organic" or "Certified Organic" means that at least 95% of the ingredients are obtained from organic sources.</p><p>For a crop to be considered organic by the USDA, it must be grown without the use of industrial solvents, irradiation, genetic engineering (GMOs), synthetic pesticides, or chemical fertilizer. Instead, farmers rely on natural substances and <a href="https://www.usda.gov/media/blog/2012/03/22/organic-101-what-usda-organic-label-means" rel="noopener noreferrer" target="_blank">mechanical, physical, or biologically based farming</a> techniques to cultivate healthy and organic crops.</p><p>Before the passage of the 2018 Farm Bill, no hemp-derived products could be dubbed as "certified organic" since the hemp plant and its extracts were still categorized as a Schedule I Controlled Substance. However, it's still difficult for CBD companies to obtain a USDA certified organic label for their products due to the legal grey area that still surrounds CBD extracts. </p><p>Because of these challenges, and due to the fact that industrial hemp has only recently become an agricultural crop, very few CBD oils are USDA certified organic. Rather, many CBD products contain hemp extracts from plants that were grown in organic conditions but may not be federally certified.</p><h2>What are the Best Organic CBD Oil Brands?</h2><p><em>Each product featured here has been independently selected by the writer. If you make a purchase using the links included, we may earn commission.</em></p><em><br></em>