This website uses cookies to ensure you get the best experience while browsing it. By clicking 'Got It' you're accepting these terms.


The best of EcoWatch, right in your inbox. Sign up for our email newsletter!
Kraig Scarbinsky / DigitalVision / Getty Images
By Caroline Cox
Many parents cheered about 10 years ago when Michelle Obama took on the important task of improving school meals. Of course, every child should have a healthy lunch and breakfast. Most of us have school cafeteria stories; I still remember the feeling of failure I had decades ago when I realized my daughters never had time to eat more than their dessert before joining the stampede for recess.
Ms. Obama's work—and the work of many other concerned parents, teachers and staff—sparked significant improvements in school menus, some of which are now being undone by the current administration (allowing children to eat food with more salt and less whole grain). Schools must once again take another step forward.
Monsanto has finally agreed to be purchased by Bayer AG in a historic $66 billion all-cash takeover. The agreement, which both corporations have confirmed, will form the largest seed and pesticide company in the world.
The German pharmaceuticals and chemicals giant had been courting the St. Louis-based seed maker for roughly four months, with the aspirin-maker sweetening the pot with ever-growing sums of money. Bayer finally plans to pay $128 a share for Monsanto, up from its initial May offer of $122 a share.

Not only is this the largest foreign corporate takeover ever by a German firm, it's the largest cash bid on record, as Reuters reported. A successful merger would create the world's largest agrichemical firm, which will control more than one-fourth of the combined global market for seeds and pesticides.
According to Bloomberg, "The deal gives Bayer more than 2,000 varieties of seeds for crops such as corn, soybeans, and wheat. Adding that portfolio to its own vegetable, rice, cotton and oilseed offerings give Bayer a virtually unassailable position at the head of the market."
The Monsanto-Bayer combination is yet another example of the rapidly consolidating agricultural industry, with only a handful of companies controlling the sector. Alongside slumping crop prices, DuPont Co. and Dow Chemical Co. have agreed to merge, as did China National Chemical Corp. and Syngenta AG.
Bayer CEO Werner Baumann and Monsanto Chairman and CEO Hugh Grant, appeared in a joint announcement of the proposed combination on their "Advancing Together" website. In their statements, both chiefs echoed Big Ag's oft-repeated sentiment that biotechnology helps increases crop yields in an environmentally friendly way and is one solution to feeding a growing global population.
"We are fully committed to helping solve one of the biggest challenges of society, and that is how to feed a massively growing world population in an environmentally sustainable manner," Baumann said. "What we do is good for consumers. We help produce efficient, safe, healthy and affordable food. It is also good for our growers because they have better choices to increase yields in a sustainable way."
Dave Murphy, the executive director of Food Democracy Now!, refutes this belief. "Agricultural biotechnology has never been about 'feeding the world,' but enriching the bottom line of toxic chemical corporations that have had a long history of producing chemicals that are deadly to human populations and the environment," he told EcoWatch.
Monsanto, the world's largest producer of genetically modified (GMO) crops and maker of the glyphosate-based herbicide Roundup, has faced mounting controversy and numerous lawsuits in recent years over the health and environmental impacts of its products.
Bayer has also been subject to criticism over its widely used insecticide, imidacloprid, which belongs to a controversial class of chemicals called neonicotinoids that's linked to widespread deaths of pollinators.
On today's landmark news, Murphy said: "Now the most evil company in Europe has absorbed the most evil company in America. Monsanto and Bayer's new corporate motto should be 'Killing bees and butterflies for fun and profit.'"
The Monsanto takeover is an interesting move for the German company. Although GMOs are widely grown in the U.S. and in other countries, the topic is fraught with contention in Europe. Many European Union countries have strict laws against GMOs due to public health and environmental concerns. Germany itself discourages the cultivation of GMO crops.
The BBC reported that farming groups are concerned that the deal could lead to fewer choices and higher prices for farmers.
"Bayer's acquisition of 'Frankenstein' crop producer Monsanto could be a horror story for both Bayer and its customers: the farmers," professor John Colley of Warwick Business School in England told the publication. "The farmers will lose out as product ranges are rationalized and attempts are made to increase prices."
Several consumer advocates and environmental organizations have denounced the acquisition for similar reasons.
"Today, Bayer announced it has agreed to buy Monsanto, another devastating merger that's bad for farmers, the environment and consumers," Wenonah Hauter, the executive director of Food & Water Watch, said. "Consolidation in the agrochemical industry means that farmers get paid less for their crops, more pesticides are used and there are fewer options for consumers at the grocery store. It's past time for the Department of Justice to do its job and enforce anti-trust measures to support healthy competition in the ag industry."
"With this deal Big Biotech gets bigger; it means monopoly power for Bayer-Monsanto, just like the previous mergers of Dow and DuPont and Syngenta and ChemChina," Ken Roseboro, the editor and publisher of The Organic & Non-GMO Report, told EcoWatch. "These three companies will dominate the global seed and pesticide markets and will likely drive up costs for farmers. The Justice Department should stop these mergers because they are bad farmers, bad for agriculture, and bad for consumers."

Critics of the tie-up have noted that Monsanto's poor image was a factor in its decision to be bought.

"The merger of Bayer and Monsanto should make the connection between Big Pharma, Big Biotech and Big Food all the more apparent to consumers," Ronnie Cummins, the international director of the Organic Consumers Association, told EcoWatch. "This may be a move to take pressure off the manufacturer of glyphosate, the most profitable pesticide in the world. But it really doesn't matter who manufactures or sells glyphosate, or any other dangerous chemical. The damage to human health and the environment remains the same, as does our commitment to getting these chemicals out of our food system."

Dr. Vandana Shiva, the executive director of the Navdanya Trust, recently wrote about the controversial histories of both companies.
"MoBay supplied ingredients for Agent Orange in the Vietnam War. Around 20 million gallons of MoBay defoliants and herbicides were sprayed over South Vietnam. Children are still being born with birth defects, adults have chronic illnesses and cancers, due to their exposure to MoBay's chemicals," she wrote. "Monsanto and Bayer's cross-licensed Agent Orange resistance has also been cross-developed for decades. Wars were fought, lives lost, nations carved into holy lands — with artificial boundaries that suit colonization and resource grab—while Bayer and Monsanto sold chemicals as bombs and poisons and their brothers provided the loans to buy those bombs."
"More recently, Bayer CropScience AG and Monsanto are believed to have entered into a long-term business relationship," Shiva continued. "This gives Monsanto and Bayer free access to each other's herbicide and paired herbicide resistance technology. Through cross-licensing agreements, mergers and acquisitions, the biotech industry has become the I.G. Farben of today, with Monsanto in the cockpit."
Monsanto and Bayer intend to file relevant materials with the U.S. Securities and Exchange Commission. Analysts are now turning their attention to the legality of the purchase and whether or not it could escape regulatory hurdles. Bayer, which expects to close the deal by the end of 2017, will pay Monsanto a break-up fee of $2 billion if the deal is not completed.

According to Reuters, Bernstein Research analysts believe that the merger has only a 50 percent chance of securing regulatory clearance. However, they cited a survey among investors that pushed the likelihood to roughly 70 percent.
"We believe political pushback to this deal, ranging from farmer dissatisfaction with all their suppliers consolidating in the face of low farm net incomes to dissatisfaction with Monsanto leaving the United States, could provide significant delays and complications," they wrote in a research note.
Meanwhile, Monsanto's tribunal at The Hague next month is still on deck. The Organic Consumers Association, IFOAM International Organics, Navdanya, Regeneration International and Millions Against Monsanto, joined by dozens of global food, farming and environmental justice groups are putting the transnational corporation on trial for crimes against nature and humanity and ecocide.
"The proposed buyout of Monsanto by Bayer does nothing to alter or weaken the upcoming Monsanto Tribunal, which will take place Oct. 15-16 in The Hague," Cummins said. "The buyout won't be completed by then. More important, the advisory opinions that will be issued by the five international judges will be applicable to all agribusiness companies, including Bayer."

EcoWatch Daily Newsletter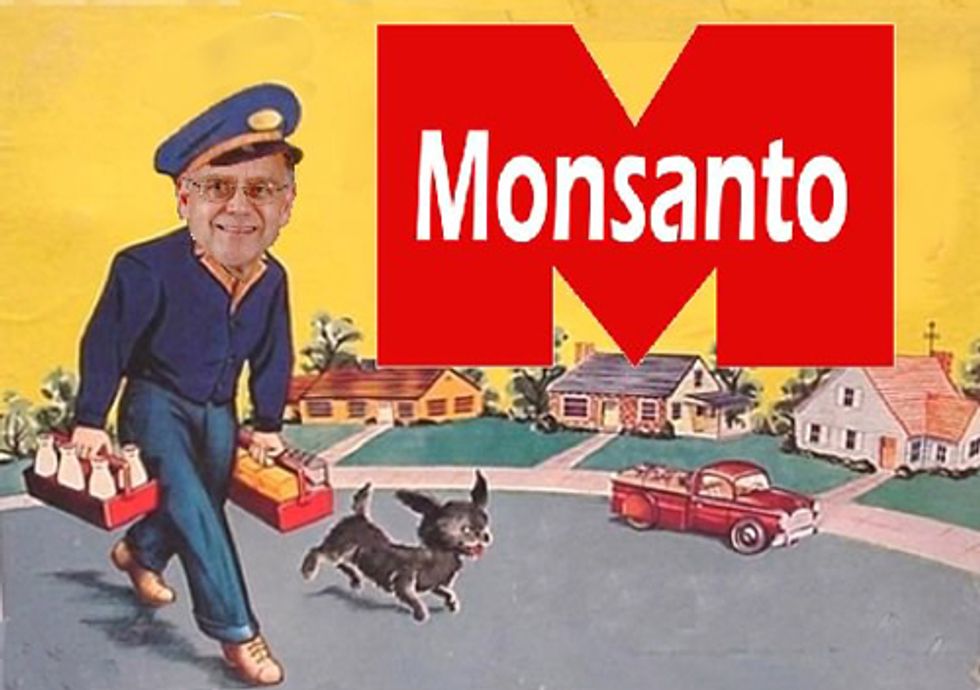 Why is a former Monsanto lobbyist currently serving as the U.S. Food and Drug Administration's (FDA) food safety czar waging war on small dairy farms that produce fresh milk?
While factory farm operators are getting away with serious food safety violations, raw milk dairy farmers and distributors across the country have been subjected to armed raids and hauled away in handcuffs.
The FDA is running sting operations followed by "guns-drawn raids usually reserved for terrorists and drug lords" as part of a crackdown on unpasteurized milk.1 Meanwhile, the FDA is letting the highly consolidated industrial meat and factory farm industry off the hook despite growing problems.
Not surprisingly, the person responsible for prioritizing armed raids on small dairies over holding agribusiness accountable is a former Monsanto attorney and chief super lobbyist. Monsanto's Michael Taylor is the second highest-ranking official at the FDA, and as food safety czar is responsible for implementing the day-to-day policies that govern the food safety laws for the U.S. 2
Tell President Obama to fire Monsanto's Michael Taylor from his job as food czar at the FDA.
Whether or not you think unpasteurized milk is a good idea, it's clear that the FDA under Michael Taylor has its priorities wrong. When industrial agribusiness sickens thousands of people, it's absurd for the FDA to target Amish farmers producing fresh milk, much less to engage in "guns drawn" enforcement raids.
CREDO is joining our allies at Food Democracy Now! in calling on the president to fire Monsanto's Michael Taylor from the FDA. Midwestern farmers will play an important symbolic role in President Obama's reelection campaign. We need to let the president know that we stand with small farmers and not Monsanto.
Michael Taylor seems focused on entirely the wrong aspects of food safety enforcement. Rather than making sure that food safety inspections are done properly at our nation's largest factory farms, where antibiotic resistance has run amuck, Taylor has been leading a departmental crusade against small raw milk dairy producers. So far several dairy farmers have been subject to a year-long undercover sting operation from the East Coast to California.
Incredibly, Michael Taylor and FDA inspectors have not arrested or fined the Iowa agribusinessman—Jack DeCoster—who was wholly responsible for the more than 500 million eggs that were recalled in 2010 salmonella-tainted egg recall.3 Though this industrial agribusinessman endangered the health of millions, Michael Taylor thinks Amish farmers producing fresh milk are more deserving targets of his FDA enforcement raids with guns drawn.
While CREDO recognizes the inherent risks that are involved in food production, it's time that the U.S. government start responsibly looking into the real origins of our nation's largest food safety recalls and stop harassing family farmers trying to survive in the excessively consolidated food and agricultural sectors.
Thanks for standing up for small farmers and taking our government back from Monsanto.
For more information, click here.
—————
1. Food Safety Chief Defends Raw Milk Raids, San Francisco Chronicle, June 7, 2011
2. Monsanto's Man Taylor Returns to FDA in Food-Czar Role, Grist, July 8, 2009.
3. DeCoster Gets Warning, Hillandale Sales OK'd, Food Safety News, October 19, 2010.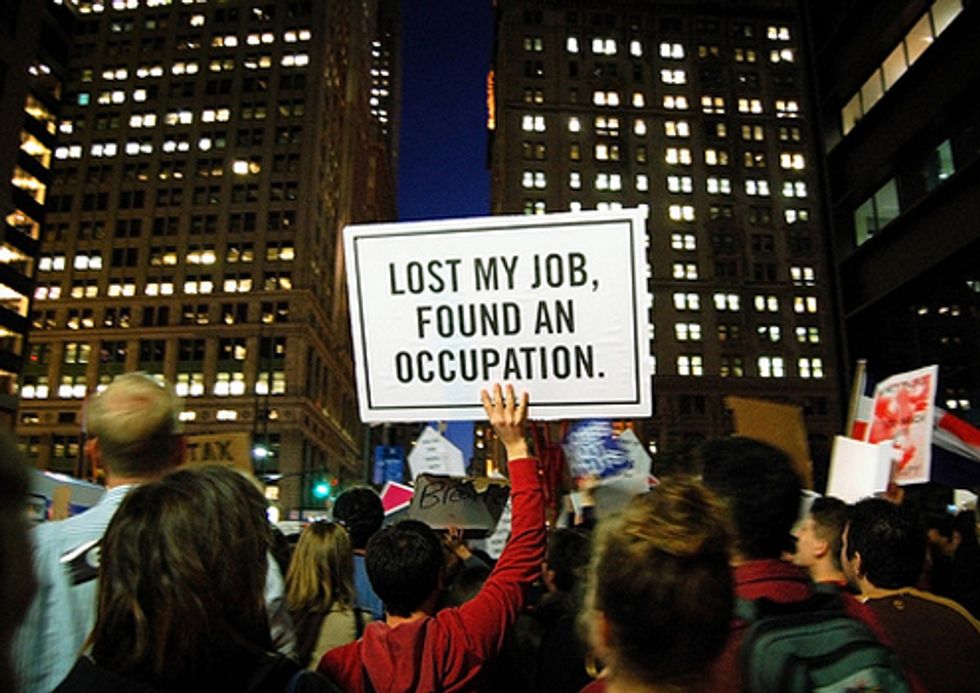 By Michele Simon
Given all the defeats and set-backs this year due to powerful food industry lobbying, the good food movement should by now be collectively shouting—I am mad as hell and I'm not going to take it anymore.
If you feel that way, I have two words of advice—get political.
I don't mean to ignore the very real successes—increases in farmers markets, innovative and inspiring programs such as Food Corps, and an increasingly diverse food justice movement, just to name a few. But lately, at least when it comes to kids' and junk food, we've been getting our butts kicked.
And it's not just because corporations have more money to lobby—of course they do. It's that too often, we're not even in the game. Or, we tend to give up too easily. While I know many food justice advocates who understand this is a political fight over control of the food system, sadly I cannot say the same thing about some of my public health colleagues. Too many nonprofits, foundations and professionals are playing it safe, afraid to take on the harder fights.
A politician from Maine I interviewed for my book was complaining to me about how food industry lobbyists were in his state capital every single day, while public health sent the occasional volunteer. His sage advice to us advocates—"You may be out-gunned, but you have to bring a gun."
Moreover, many groups have shown that you don't always even need a bigger gun. The small but impressive organization, Campaign for a Commercial-Free Childhood, proved that this summer when it won an important victory against Scholastic regarding its corporate-sponsored materials. How did they do it? A combination of smart campaigning and effective media. Not by playing nice.
Many public health folks I know are more comfortable with research and data than politics and lobbying. But if we are to make real progress, that has to change. Back in May, after a series of defeats, my colleague Nancy Huehnergarth wrote a great call-to-action. She noted how public health advocates and its funders are "very genteel" and that when industry lobbying beats us back, advocates just want more science, believing that the new data "will finally convince policymakers and the public to take action." But it doesn't work that way, as she explains:
The reality is that when going up against deep-pocketed, no-holds barred opponents like Big Food, Big Beverage and Big Agriculture, public health's focus on science and evidence is easily trumped by money and messaging. If public health advocates don't start rolling up their sleeves and using some of the same tactics used by industry, progress in this fight to create a safe, healthy, sustainable food system is going to move very slowly.
Now for some good news. We are already seeing positive signs that indeed, the food movement is getting more political. Recent defeats are helping to mobilize people even more, as folks realize the food industry is not playing nice, so we can't either. Here then, are just a few signs of hope for 2012:
1) The growing political movement opposing genetically-engineered foods, which includes a huge Just Label It campaign with an impressive list of supporters. Stay tuned also for the 2012 ballot initiative in California to label GMOs.
2) Powerful nonprofit organizations (who don't shy away from politics) getting involved for the first time in nutrition policy. For example, the Environmental Working Group's (EWG) recent report on sugary cereals called out the utter failure of Big Food's voluntary nutrition guidelines on marketing to children. Given EWG's one million-plus supporters, I can't wait to see where they go with this issue in 2012.
3) Increasing coverage in mainstream media that food industry marketing (and not just personal responsibility) bears much of the blame for the nation's public health crisis. Examples include a front page story in a recent Sunday edition of the San Francisco Chronicle and Mark Bittman's weekly Opinionator column in the New York Times, which is consistently smart and hard-hitting.
4) Speaking of media, as traditional investigative journalism outlets have become more scarce, a new breed of reporters may be born from an innovative project just launched in November—Food and Environmental Reporting Network. Its mission is to "produce investigative journalism on the subjects of food, agriculture, and environmental health in partnership with local and national media outlets." Judging from its first in-depth report on dairy CAFOs (concentrated animal feeding operations) in New Mexico, I am looking forward to more in 2012.
5) Finally, the Occupy movement, while still very young, has already inspired a number of food politics offshoots. As I wrote after Food Day, several others have penned calls to action showing the deep connections between corporate control of the food supply and economic injustice. (If you read just one, Tom Philpott's Foodies, Get Thee to Occupy Wall Street should convince you.) Also, the amazing grassroots organization Food Democracy Now (based in Iowa) recently organized an "Occupy Wall Street Farmers' March" to bring the message that family farmers are also the 99 percent. (Read organizer Dave Murphy's moving account of the successful event and watch the videos of the passionate speakers.)
There are many other amazing groups, farmers and eaters organizing all over the country (and the world) to take back our food supply from corporate profiteers. We've got plenty of challenges ahead, with the farm bill up for renewal and more school food nutrition standards to fight for, just for starters. I am hopeful that next year we will see the food movement get even more political. I just hope I can also say, by the end of 2012, that it was the year more of my public health colleagues joined in.
For more information, click here.