This website uses cookies to ensure you get the best experience while browsing it. By clicking 'Got It' you're accepting these terms.
By Sandra Eskin
Three days before 2018 arrived, officials from the Centers for Disease Control and Prevention (CDC) announced they were investigating a foodborne E. coli outbreak that ultimately resulted in one death and sickened at least 25 people in 15 states. "Leafy greens" were identified as the likely source, but the Food and Drug Administration (FDA) continues to work with state and local partners to determine the specific products that made people ill and where they were grown, distributed and sold, all with the goal of finding points where the E. coli contamination might have occurred.
EcoWatch Daily Newsletter
By Sophie Linden
A recent report from the World Health Organization (WHO) describes the dangers humanity faces from overprescription of critical infection-fighting drugs, which has led to both superbugs and antibiotics' dwindling efficacy, making humans vulnerable to infections doctors otherwise regarded as benign. While overprescription in humans is a viable issue, recent statements from WHO express heightened concern over the ramifications from their misuse in the meat industry.

By Will Fantle
From the U.S. Department of Agriculture (USDA) to foreign policy, Congress, state governments, elections and the courts, the feverish politics of genetically modified foods (GMOs) have infected decision making and dramatically tilted policies towards the desires of Monsanto and the biotech industry.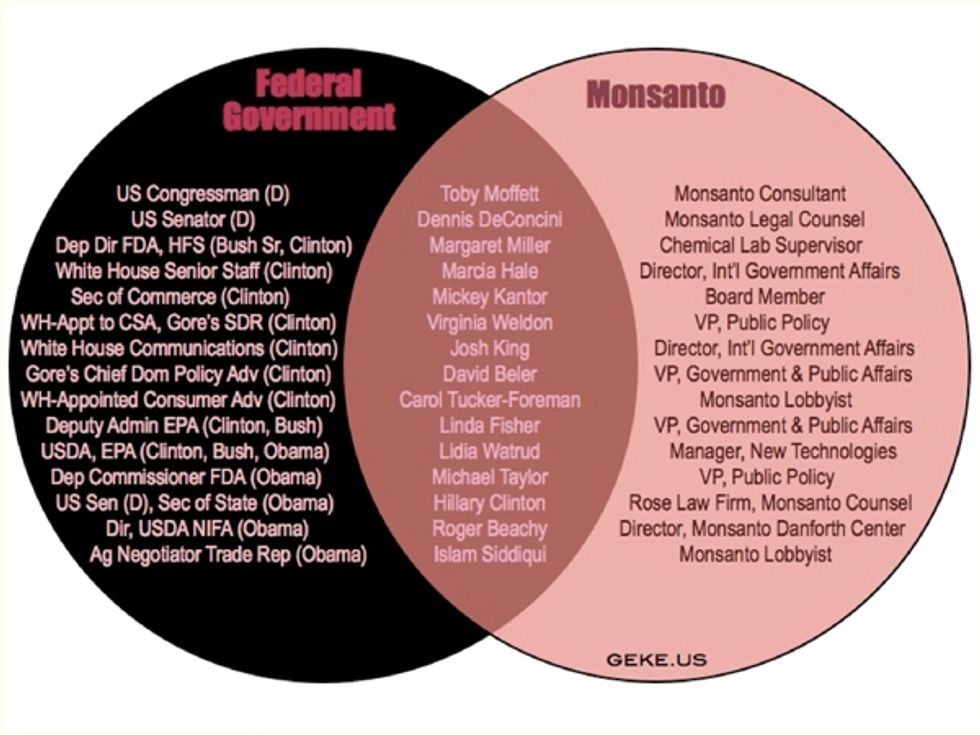 Candidate Barack Obama in 2008 promised change. However, when he came to Washington he appointed former Iowa Governor Tom Vilsack as USDA Secretary. The one-time award winning "Biotech Governor of the Year" has presided over a rapid roll out of new GMO crops and foods. Change he implemented included a series of agency adjustments designed to speed up the approval process for GMOs. Under Vilsack's watch, the agency has never denied the approval of one GMO crop.
Yes, the USDA also brought more attention to the National Organic Program—professional, knowledgeable management, more staffing, more resources. But it's small potatoes compared to the attention afforded biotech. And Vilsack's team has pushed hard for the organic community to swallow a policy of co-existence, the strange view that pollen and DNA recognize fence rows, that rain, winds, birds, insects and other natural forces will refrain from carrying GMO contaminants to non-GMO plants and crops.
Millions of Americans are suspicious of GMO foods for assorted health and environmental reasons. Polling conducted last year by the Mellman Group indicated that nearly 90 percent of Americans would like GMO foods labeled so they can make a choice about what kinds of foods they purchase in the marketplace. Sixty other countries require such labeling.
But Vilsack says no, telling the Farm Bureau at their annual meeting in January, "I know of no health reason connected to GMOs that would require labeling under our current labeling philosophy."
Monsanto and the biotech industry allies spent mightily to narrowly defeat last November's state referendum calling for the labeling of GMO foods sold in California. While labeling advocates decried the misleading and deceptive advertising conducted against the referendum, they were unable to weather the deluge of dollars. Still, the seeds of discontent are spreading. Washington state's voters will have a labeling referendum on the ballot later in 2013. Vermont has passed GMO labeling legislation; Connecticut's Senate overwhelmingly did so as well, as has Maine. Nearly 20 other state legislatures have similar proposals in the works.
"To try to oppose this state by state, that is unsustainable," says Cathy Enright, the executive vice president for food and agriculture for the Biotechnology Industry Organization (BIO), of which Monsanto, DuPont, and Dow Chemical are members.
Seeking to douse the prairie fire, Monsanto—which spends about $6 million annually on lobbying—and its allies are working the fields in Washington, D.C. Their target? The nation's reauthorization of the Farm Bill. Currently winding its way through Congress (as of this writing), an amendment attached to the House Agriculture committee's version, and authored by Rep. Steve King (R-IA), would strip the rights of states to enact labeling laws. The Farm Bill is an essential piece of national legislation that is reauthorized every five years. Once an item gets in the bill, it becomes very difficult to remove. The House and Senate will reconcile differences in their bills, but it is far from certain that either will consider the amputation of state's GMO labeling rights a deal breaker. [Since this was written, the Farm Bill failed to pass the U.S. House.]
Monsanto and their allies also prevailed in a vote in the Senate on an amendment by Sen. Bernie Sanders (I-VT), who wanted to make it clear that states "have the authority" to require the labeling of foods produced through genetic engineering. Sanders' amendment failed 71-27.
While some of the no-votes in the Senate may have come from officials who believe that a national-level regulation is more appropriate, the effort to have the Food and Drug Administration (FDA) do just that is mired axle deep in the muck. The FDA has already said that genetic modification does not materially change the food. But when the deadline passed last year for the agency to respond to a petition requiring GMO food labeling—a petition that contained the signatures of well over a million citizens—their response was that they needed more time to study the matter. Fourteen more months have since passed.
And just so no stone goes unturned, Monsanto is actively pushing state-level legislation in Oregon and elsewhere to override any labeling laws passed by county and municipal governments.
The suppression of dissent in the fertile ground of Washington, D.C., yielded another reward for Monsanto when they snuck a policy rider into an essential appropriations bill earlier this year. Dubbed the Monsanto Protection Act, it swatted down the ability of Monsanto's pesky critics to use judicial review as a brake on questionable regulatory decisions. It allows full speed ahead on the unrestricted sale and planting of genetically modified seeds even when a court finds that they were not properly examined for their impact on farmers, the environment, and human health.
Sen. Roy Blunt (R-MO), from Monsanto's home state of Missouri, authored the controversial rider and then blocked efforts by Sen. Jon Tester (D-MT) and Sen. Jeff Merkley (D-OR) to remove it from the critical governmental operations funding bill.
Tester later told a reporter, "Not only does this ignore the constitutional idea of separation of powers, but it also lets genetically modified crops take hold across this country, even when a judge finds it violates the law." He added that giant multinational agribusiness corporations are treating farmers as "serfs."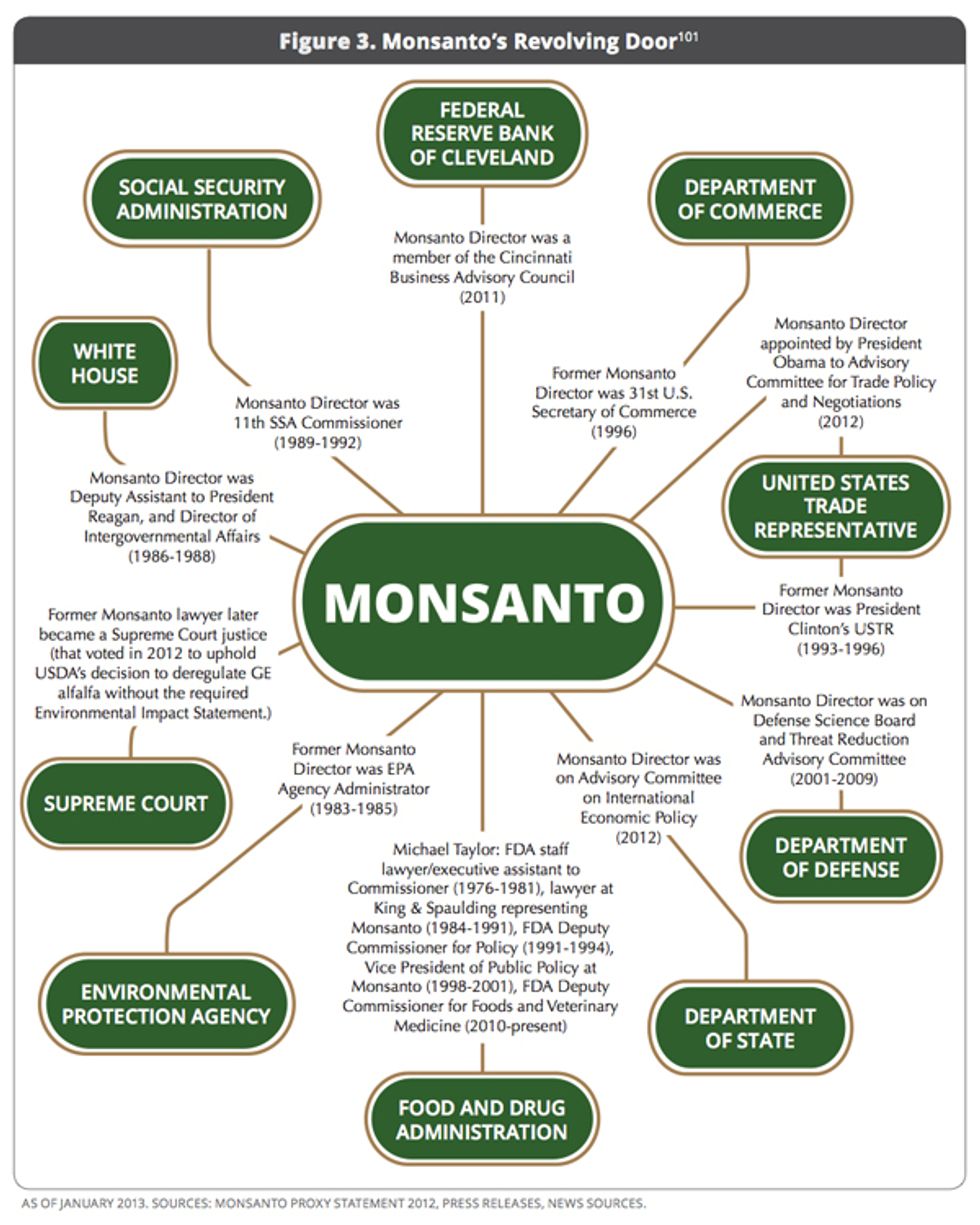 Perhaps it should come as no surprise that Monsanto's power at the federal level is so pervasive. As a recent Food & Water Watch report detailed, board members from the $12 billion company "have worked for the EPA, advised the U.S. Department of Agriculture [USDA] and served on President Obama's Advisory Committee for Trade Policy and Negotiations." Company staff and former employees enjoy a revolving door relationship with jobs and advisory positions in the federal government, at public universities and with trade groups. Even one sitting Supreme Court justice, Clarence Thomas, once worked for Monsanto.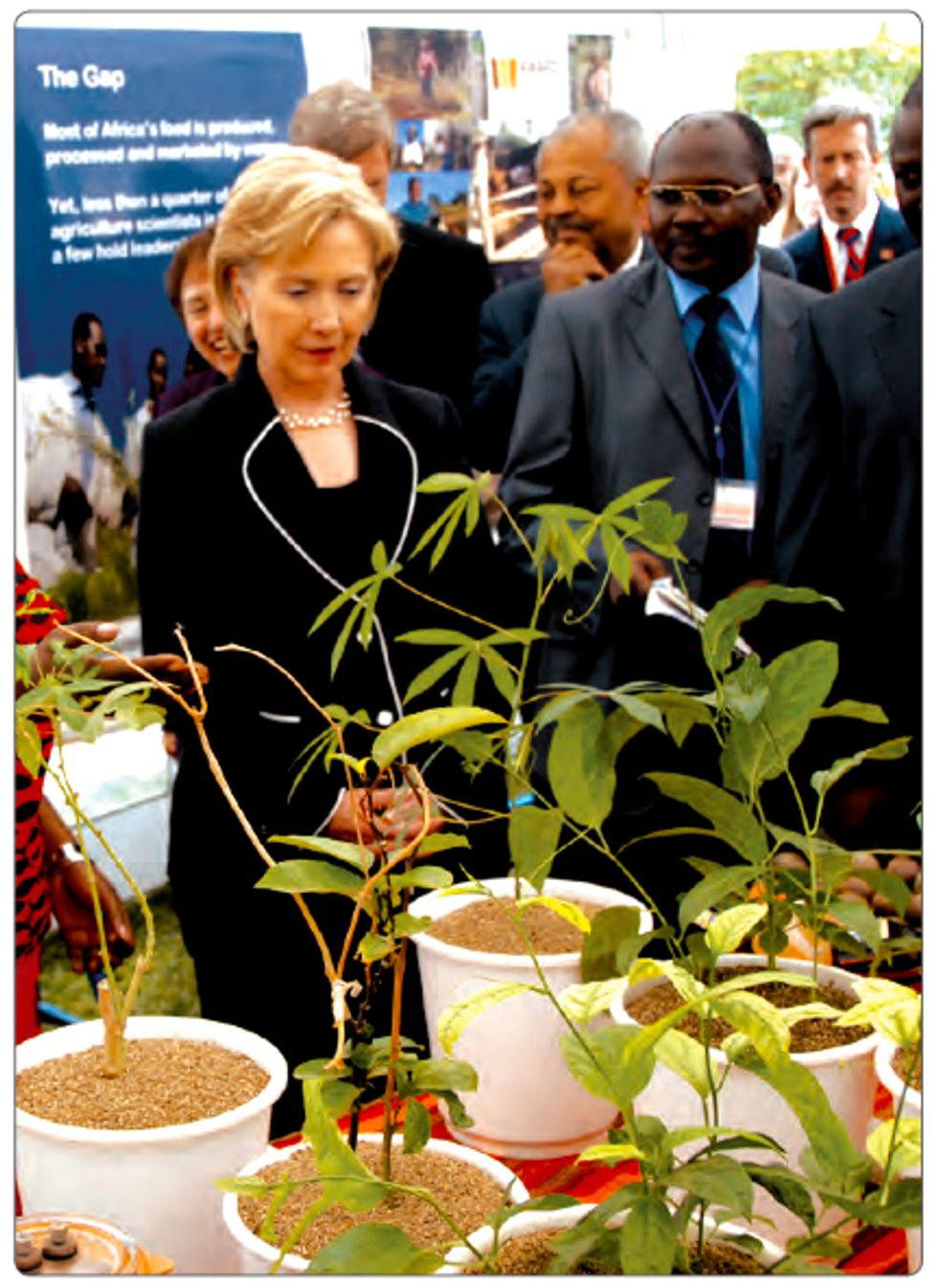 Former Secretary of State Hillary Clinton listens to a presentation on the "genetic improvement" of local crops hosted by the Kenya Agriculture Research Institute. Photo credit: USAID.
Their reach extends far beyond America's shores. Again, according to Food & Water Watch, the State Department works with trade officials to promote GMO crop exports and to force unwilling nations to accept GMO crops and foods. The State Department has engaged in pro-GMO lobbying campaigns in foreign countries, promoted foreign cultivation of GMOs and targeted foreign opinion-makers and reporters with junkets and public events.
Yet signs of cracks in the GMO empire are visible. On May 25, two million people joined March Against Monsanto rallies that were held in more than 400 cities in 52 countries. The growing consumer awareness of GMO foods and crops in the U.S. has sprouted vigorous labeling campaigns across the country with widespread public support for labeling. Even though 90 percent of all corn and soy grown in the U.S. is GMO, with a variety of other crops in the ground or under development, much of the rest of the world has yet to fall under the influence. In fact, just five countries account for 90 percent of total GMO crop production—the U.S., India, Canada, Argentina and Brazil.
The USDA also recently reversed itself and decided to conduct a full environmental impact statement assessing the health and environmental impacts of the next generation of GMO crops. These include, as proposed by Dow and Monsanto, 2,4-D-resistant corn and soybeans and Dicamba-tolerant soy and cotton crops. Still, notes the Center for Food Safety's Andrew Kimbrell, "it remains to be seen whether the agency will undertake the required hard-look analysis of the environmental and economic impacts of these crops."
Reflecting on the importance of a true choice in the marketplace for consumers, the Cornucopia Institute's Codirector Mark Kastel says that "organic food and agriculture offers the only available and verifiable alternative with regulatory oversight from seed to table prohibiting genetically modified organisms in farming and food production."
"Given the astounding influence of Monsanto and their GMO allies on all aspects of our government, it makes Cornucopia's work protecting the integrity of the organic label even more imperative," adds Kastel.
Visit EcoWatch's GE FOODS page for more related news on this topic.
——–

Check out this latest video from the Just Label It! campaign to encourage the U.S. Food and Drug Administration to label genetically engineered food. Labels Matter, part of a new project by director of Food, Inc., Robert Kenner, tells the story of three consumers who share a belief in the right to know the truth about the production of their food.
Take action against unlabeled genetically engineered foods by clicking here to sign the Just Label It! petition.
For a teaser of Robert Kenner's new project, check out the video below.
For more information, click here.
By Andrew Gunther
Forgive me if you don't see me jumping for joy at the U.S. Food and Drug Administration's (FDA) recent announcement that it intends to limit the use of a specific group of antibiotics in livestock production.
While the FDA's decision to curb the use of cephalosporins in food animal production beginning April 2012 has been hailed as positive step in the right direction, I'd say it's more a shuffle forwards—and a very reluctant one at that.
"We believe this is an imperative step in preserving the effectiveness of this class of important antimicrobials that takes into account the need to protect the health of both humans and animals," said Michael R. Taylor, the FDA's deputy commissioner for foods, in the FDA press release. Now, as regular readers of my post will already know, I am passionate about the urgent need to curb the misuse of antibiotics in intensive farming systems. So what's my problem with the FDA's recent actions? After all, surely this is good news?
As various commentators—including Tom Philpott and Mary McKenna—have already pointed out, I am afraid that cephalosporins are nothing but small fry when it comes to overall antibiotic use in intensive farming. During 2009 alone, the FDA revealed that 80 percent of all antibiotics produced in the U.S. were used for animals—that's an incredible 28,820,000 pounds out of the 36,080,000 pounds produced. Yet cephalosporins amounted to just over 91,000 pounds of this total—less than half of one percent of all antibiotics used in the U.S. The FDA's latest figures also reveal that cephalosporin use has decreased even further during 2010 to just over 51,000 pounds. To make matters even worse, the FDA's announcement is actually a (less strict) rehash of proposals that were first announced in 2008, and which were immediately recalled after the usual uproar from the intensive farming industry lobby.
So what's the real outcome of the FDA's recent action? Well, certainly some positive media fluff for the FDA for appearing to take a stand by banning a minor antibiotic that was clearly already losing favor within the industry, yet a minimal impact on the day-to-day workings of the intensive farming industry. A cozy coincidence? I wish it was.
This rather insignificant move forward comes after a preemptive, giant leap backwards made Dec. 22, 2011, just as most of us were focusing on the upcoming holiday period. Notably without any accompanying press release or media fanfare in this instance, the FDA quietly announced in the Federal Register that it was withdrawing its long-standing intention to compel intensive farms to limit certain uses of the key antibiotics penicillin and tetracyclines for food-producing animals—an objective originally set in motion more than 30 years ago when government FDA scientists first began to fully appreciate the risks to human health from the laissez-faire non-therapeutic use of antibiotics in industrial farming.
We all know the story since then—over the years, the FDA has time and again cowed down to powerful political and legal pressure from the multi-billion dollar intensive farming industry lobby and its paid-up politicians, as antibiotic use in farming continued to spiral out of control in the pursuit of ever-cheaper protein and ever-increasing profit—not to mention the impact of intensification on animal welfare, our health and the environment. In its recent announcement the FDA warns that while it has not "ruled out" future regulatory action, it will instead "focus its efforts for now on the potential for voluntary reform and the promotion of the judicious use of antimicrobials in the interest of public health." I bet Big Ag's CEOs are quaking in their boots.
Voluntary reform? Call me a cynic, but the FDA has got to be kidding. Despite decades of mounting evidence and the emergence of a global scientific consensus that the routine non-therapeutic use of medicinally important antibiotics on industrial farms across the world is leading to the development of life-threatening multiple antibiotic-resistant bacteria, the powerful U.S. intensive farming lobby continues to aggressively dismiss the science and deny any possible risks to human health—just as the tobacco industry did in the 1970s.
While the FDA's announcement of limitations for the use of cephalosporins in food animal production might well be a small step in the right direction, the FDA continues to show that it has no teeth when it comes to ensuring that the intensive farming industry puts human health before profit, so that these vital medicines can remain effective for as long as possible. Even the Government Accountability Office recently concluded that key government agencies—including the FDA—are simply not doing enough to combat the growing threat of antibiotic resistant bacteria to public health, and that "antibiotic use in food animals contributes to the emergence of resistant bacteria that may affect humans." Far from being the proud industry watchdog working on behalf of U.S. citizens, the sad reality is that the FDA is happy to play the role of Big Ag's lapdog.
For more information, click here.