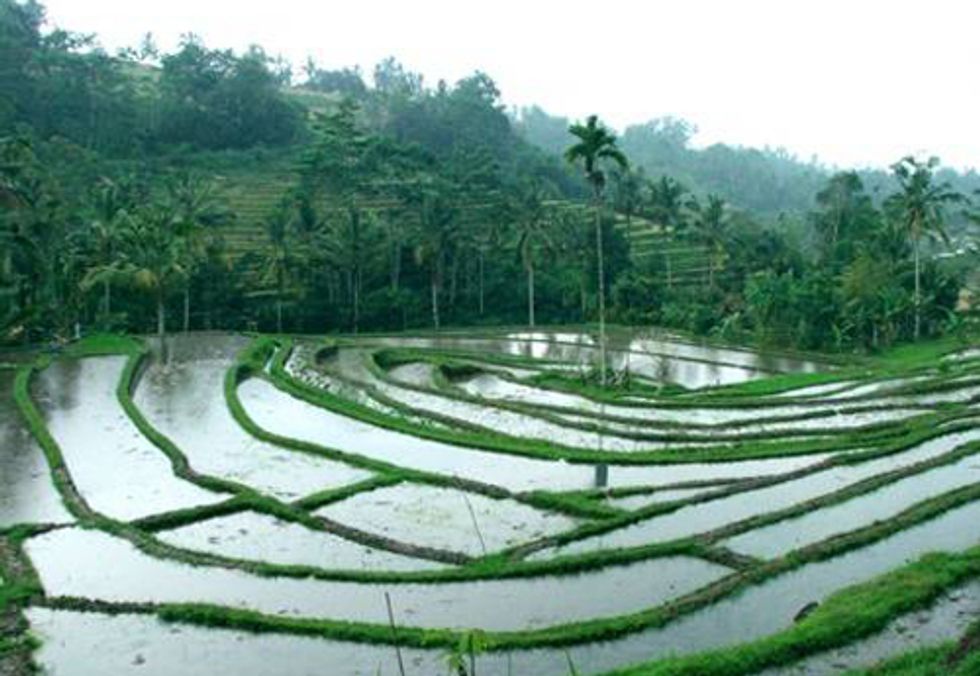 The Food and Agriculture Organization of the United Nations (FAO) and the European Commission announced a new €5.3 million project Jan. 16 aimed at helping Malawi, Vietnam and Zambia transition to a "climate-smart" approach to agriculture.
Agriculture—and the communities who depend on it for their livelihoods and food security—are highly vulnerable to climate change impacts. At the same time agriculture, as a significant producer of greenhouse gases, contributes to global warming.
"Climate-smart agriculture" is an approach that seeks to position the agricultural sector as a solution to these major challenges.
It involves making changes in farming systems that achieve multiple goals—improving their contribution to the fight against hunger and poverty, rendering them more resilient to climate change, reducing emissions, and increasing agriculture's potential to capture and sequester atmospheric carbon.
"We need to start putting climate-smart agriculture into practice, working closely with farmers and their communities," said FAO Assistant Director-General for the Economic and Social Development Department, Hafez Ghanem. "But there are no one-size-fits-all solutions—better climate-smart farming practices need to respond to different local conditions, to geography, weather and the natural resource base," he added.
"This project will look closely at three countries and identify challenges and opportunities for climate-smart agriculture and produce strategic plans tailored to each country's own reality," Ghanem said. "While not all solutions identified will be universally applicable, we can learn a lot about how countries could take similar steps and begin shifting to this approach to agriculture."
Tailor-made solutions

The European Union is providing €3.3 million to support the effort. FAO's contribution is €2 million.
Working closely with agriculture and other ministries in each of the partner countries, and collaborating with local and international organizations, the three-year project will:
Identify country-specific opportunities for expansion of existing climate-smart practices or implementation of new ones
Study the constraints that need to be overcome to promote wider adoption of climate-smart agriculture, including investment costs
Promote integration of national climate change and agricultural strategies to support the implementation of climate-smart agriculture
Identify innovative mechanisms for linking climate finance with climate-smart agriculture investments
Build capacity for planning and implementing climate-smart projects capable of attracting international investments
FAO will take the overall lead on the project, working in partnership with national policy and research institutions, as well as global organizations such as the Global Crop Diversity Trust.
By tackling the urgent need to incorporate climate change concerns into agricultural development planning, this new project represents a concrete step forward, said Ghanem. "The problems of climate change are increasingly being felt on the ground, and thus early actions to address the problem are needed, even as international negotiations continue in the search for a global climate agreement," he said.
For more information, click here.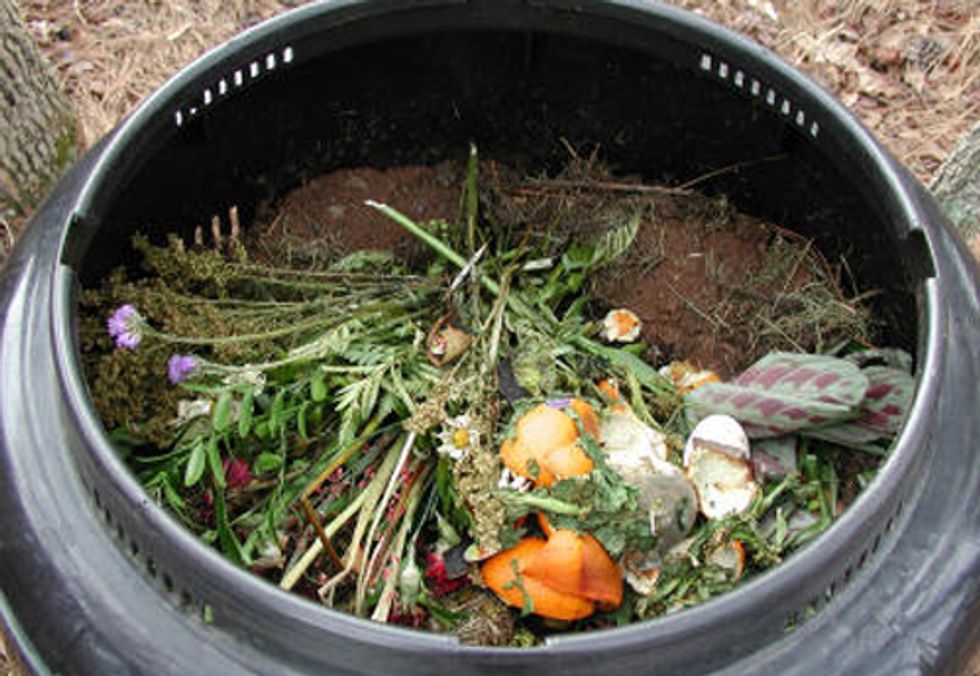 By Graham Salinger
The United Nations Food and Agriculture Organization (FAO), reports that an estimated one-third of the food produced worldwide for human consumption is wasted annually. In the U.S., an estimated 40 percent of edible food is thrown away by retailers and households. In the United Kingdom, 8.3 million tons of food is wasted by households each year. To make the world more food secure consumers need to make better use of the food that is produced by wasting less.
Today, Nourishing the Planet presents five ways that consumers can help prevent food waste.
1. Compost—In addition to contributing to food insecurity, food waste is harmful to the environment. Rotting food that ends up in landfills releases methane, a potent greenhouse gas, that is a major contributor to global climate change and can negatively affect crop yields. Composting is a process that allows food waste to be converted into nutrient rich organic fertilizer for gardening.
Compost in Action—In Denver, the city contracts with A1 Organics, a local organic recycling business, to take people's waste and turn it into compost for local farmers. Similarly, a new pilot program in New York City allows patrons to donate food scraps to a composting company that gives the compost to local farmers.
2. Donate to food banks—Donating food that you don't plan to use is a great way to save food while helping to feed the needy in your community.
Food Banks in Action—In Atlanta, Ga., the Atlanta Community Food Bank relies on food donations to supply 20 million pounds of food to the poor each year. In Tennessee, the Second Harvest Food Bank works to reduce waste resulting from damaged cans by testing the cans to make sure that they don't have holes in them that would allow food to spoil. For more on how you can donate food that would otherwise go to waste, visit Feed America, a national network of food banks.
3. Better home storage—Food is often wasted because it isn't stored properly, which allows it to mold, rot or get freezer burn. By storing food properly, consumers can reduce the amount of food they waste.
Better storage in Action—The National Center for Home Food Preservation is a great resource for consumers to learn a range of techniques to increase the shelf life of food. For example, they recommend blanching vegetables—briefly boiling vegetables in water—and then freezing them. They also stress canning fruits and vegetables to protect them against bacteria.
4. Buy less food—People often buy more food than they need and allow the excess food to go to waste. Reducing food waste requires that consumers take responsibility for their food consumption. Instead of buying more food, consumers should buy food more responsibly.
Buying Less Food in Action—Making a shopping list and planning meals before shopping will help you buy the amount of food that is needed so that you don't waste food. There are a number of services that help consumers shop responsibly—Mealmixer and e-mealz help consumers make a weekly shopping list that fits the exact amount of food that they need to buy. Eating leftovers is another great way to reduce the amount of food that needs to be purchased. At leftoverchef.com, patrons can search for recipes based on leftover ingredients that they have.  Similarly, Love Food Hate Waste offers cooking enthusiasts recipes for their leftovers.
5. Responsible grocery shopping—Consumers should make sure that they shop at places that practice responsible waste management. Many grocery stores are hesitant to donate leftovers to food banks because they're worried about possible liabilities if someone gets sick. But consumers can encourage grocery chains to reduce food waste by supporting local food banks in a responsible manner.
Responsible grocery shopping in Action—Safeway and Vons grocery chains donate extra food to Feeding America. Additionally, Albertsons started a perishable food recovery program that donates meat and dairy to food banks. The Fresh Rescue program, which partners with various national supermarkets, has also helped food banks with fundraising in 37 states.
For more information, click here.
EcoWatch Daily Newsletter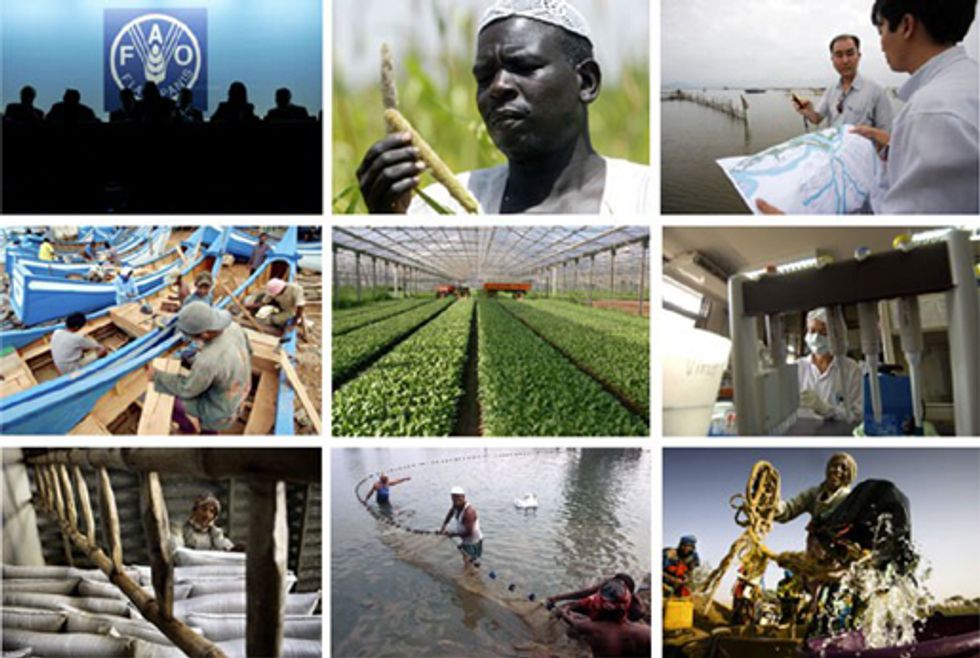 In 2011, volatile food prices and the tragedy of another famine in East Africa forced world attention to focus on issues of food and agriculture.
As the Food and Agriculture Organization of the United Nations (FAO) moved to support farmers and pastoralists in the Horn of Africa and rally international support for long-term measures for reducing vulnerability in the region, it also continued to work on a number of other fronts as well.
One spot of good news—and a bright one at that—was the final eradication of rinderpest, a livestock disease that had plagued farmers for millennia.
2011 also saw the unveiling of FAO's new Save and Grow paradigm for sustainably, increasing food production by the world's millions of smallholder farmers. And a new edition of The State of World Agriculture highlighted how the gender gap in agriculture handicaps millions of women farmers and undermines the fight against hunger. FAO research shed light on the vast scale of food waste around the world, and a groundbreaking new study provided a unique look at the status of the land and water resources on which global food production depends. In 2011, FAO also provided updates on the status of key global fish stocks and improved information on world deforestation rates.
Read about these developments and more in this year-end wrap up.
FAO highlights from 2011

November

Satellite technology yields new forest loss estimates
A new, satellite-based survey by FAO provided new, and more accurate, information on changes in the world's forest cover, showing that forest land use declined between 1990 and 2005.
Scarcity and degradation of land and water represent growing threat to food security, reports major new FAO study
In November, FAO released the first edition of a new flagship publication, The State of Land and Water Resources for Food and Agriculture. According to the report, widespread degradation and deepening scarcity of land and water resources have placed key food production systems around the globe at risk, posing a profound challenge to the task of feeding a world population expected to reach 9 billion people by 2050.
October
World Food Day focuses on swinging food prices
World leaders and international celebrities gathered in Rome to mark World Food Day 2011 with a call for greater investment in agriculture, more support for women farmers, and improved transparency in international agricultural commodity markets.
World hunger report 2011 warns that high, volatile prices set to continue
Food price volatility featuring high prices is likely to continue and possibly increase, making poor farmers, consumers and countries more vulnerable to poverty and food insecurity, according to the 2011 edition of The State of Food Security in the World report. The heads of the three Rome-based U.N. food agencies called for concerted international action to address the problem.
September

Global Soil Partnership for Food Security launched at FAO
FAO spearheads a new effort to safeguard soil resources critical to farmers and food producers.
August

Horn of Africa—Funding for agricultural recovery lagging, FAO warns
As world governments met in Ethiopia for an international pledging conference aimed at winning more aid for the Horn of Africa, FAO issued a warning that efforts to keep farmers and pastoralists on their feet, prevent the crisis from worsening, and speed progress toward recovery had not yet received adequate support.

July

Meeting on Horn of Africa calls for tackling root causes of famine
In July and August, FAO convened emergency meetings of governments, U.N. agencies and international organizations to rally support for life saving operations in the Horn of Africa and also stress the need to support farmers and herders in the region to prevent the situation from getting worse.
New fund for livestock biodiversity management launched
A new support fund designed to help developing countries conserve and sustainably use their livestock breeds under the auspices of the internationally-agreed Global Plan of Action for Animal Genetic Resources was launched by FAO in July.
June

Rinderpest eradicated
In a historic victory of veterinary science, FAO and World Organization for Animal Health (OIE) announced that thanks to a decades-long international cooperative effort, the cattle disease known as rinderpest had successfully been eradicated in the wild. The disease had been the bane of farmers for thousands of years, wiping out the farm animals on which their livelihoods depended.
FAO's next director-general selected
FAO Member countries elected José Graziano da Silva of Brazil as the next FAO director-general, starting in January 2012. Current FAO Director-General Jacques Diouf set to step down after 17 years of service.
Drought in Horn of Africa threatens millions
As the situation in East Africa continued to deteriorate, FAO again warned that the number of people facing severe food shortages was set to increase as the impact of drought, along with high food and fuel prices, continued to grip the region.
Putting nature back into agriculture—FAO launches its new Save and Grow initiative
In June, FAO announced a new initiative intended to produce more food for a growing world population in an environmentally sustainable way. The new approach calls for targeting mainly smallholder farmers in developing countries. Helping low-income farm families in developing countries—some 2.5 billion people—economize on cost of production and build healthy agro-ecosystems will enable them to maximize yields and invest the savings in their health and education.
May

Stemming post-harvest waste crucial to African food security
Grain losses in sub-Saharan Africa could total $4 billion, FAO and the World Bank report.

Cutting food waste to feed the world
Roughly one third of the food produced in the world for human consumption every year—approximately 1.3 billion tonnes—gets lost or wasted, an FAO-commissioned study reveals.
March

Closing the gender gap in agriculture
In the 2011 edition of its annual State of Food and Agriculture report, FAO focused on the "gender gap" in agriculture. The report's key finding—if women in rural areas had the same access to land, technology, financial services, education and markets as men, agricultural production could be increased and the number of hungry people reduced by 100-150 million.
World food prices hit historic peak
January saw food prices spiking to a historic high, as FAO continued to track trends through its monthly Food Price Index updates.
January

Fish consumption reaches all-time high
A new edition of FAO's The State of World Fisheries and Aquaculture report found that while fisheries production reached a new-time high—thanks mainly to the growth of fish farming—the status of important fish stocks in the wild remained a cause for concern.
For more information, click here.