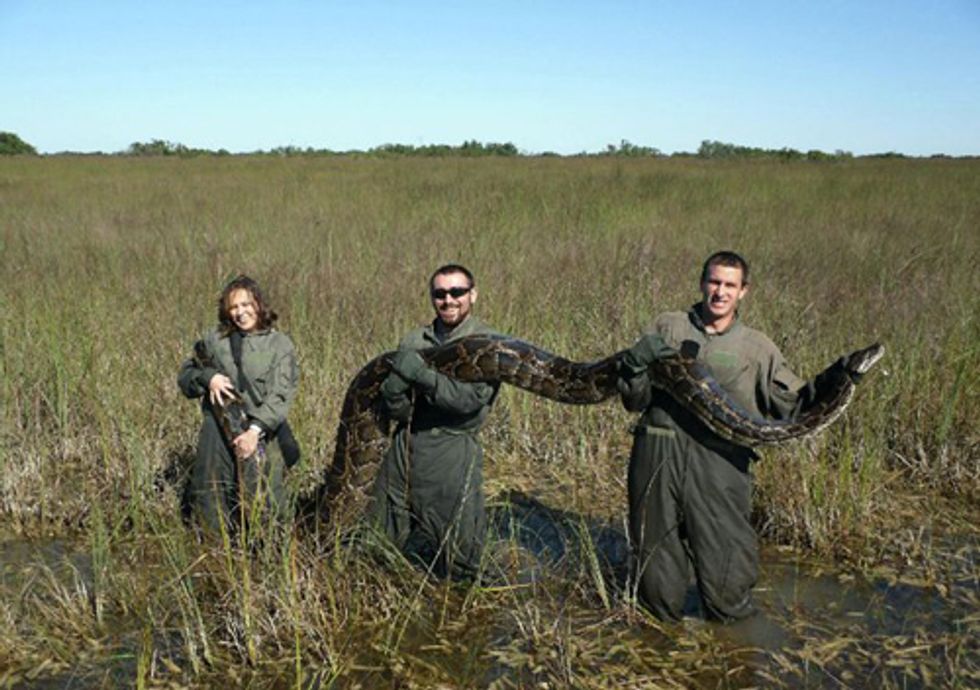 Florida Nature Conservancy Scientist Kris Serbesoff-King called the drastic loss of common mammals in the Everglades due to Burmese pythons, reported by the Florida Academy of Sciences, "really scary" and worries about the repercussions for all wildlife and for Everglades restoration.
The Nature Conservancy not only trains responders through the Python Patrol to capture pythons in an effort to contain the spread but is also working with national partners to develop U.S. policies designed to fend off the next big invasion.
"Right now imported species are innocent until proven guilty," Serbesoff-King said. "As a nation, we need to focus on pre-importation screening—that is to say looking at what will likely be a small number of non-native imported wildlife that could go on to be harmful to the lands and waters life depends on."
Nature Conservancy scientists for years have been working on "risk assessments" for plants and animals coming into the U.S., a series of questions that determines an import's probable impact on native species. It's already been shown with plants that accurate results are possible with little interruption to trade.
"For example, the U.S. Department of Agriculture has just started in the right direction for plants," she said. "There is no pre-screening right now for wildlife."
The Florida Academy of Sciences report, called The Effect of Burmese Pythons on the Mammals of South Florida, was released Jan. 30.
"Prevention is critical as this report clearly shows," Serbesoff-King said. "We have to figure out what the next Burmese python could be. Unfortunately, it might already be out there."
For more information, click here.
—————
The Nature Conservancy is a leading conservation organization working around the world to protect ecologically important lands and waters for nature and people. The Conservancy and its more than 1 million members have protected nearly 120 million acres worldwide.
EcoWatch Daily Newsletter
Like many other plant-based foods and products, CBD oil is one dietary supplement where "organic" labels are very important to consumers. However, there are little to no regulations within the hemp industry when it comes to deeming a product as organic, which makes it increasingly difficult for shoppers to find the best CBD oil products available on the market.
<p>Here you can learn about the importance of organic hemp oil, why it's better for the environment, and which CBD companies actually make trustworthy products with sustainable farming processes. origins which weigh heavily on many consumers who want to buy a product that's produced in the best way possible for not only themselves to ingest, but for the environment as well through sustainable farming methods. </p><h2>What Is CBD Oil?</h2><p>First things first, CBD stands for cannabidiol, and it's a cannabinoid found within cannabis sativa plants. This plant compound is believed to have many potential benefits, and it is primarily derived from hemp plants via a CO2 extraction process. </p><p>Since CBD is extracted from industrial hemp, which contains only trace amounts of THC (the psychoactive component in cannabis plants), this means that CBD won't make you feel high like marijuana, which has much higher levels of THC that causes psychoactive effects. Instead, the effects of CBD are much more subtle and promote a general sense of calm and relaxation in most users.</p><h2>What Makes a CBD Oil Organic?</h2><p>In terms of organic labels, perhaps the most important (and prominent) certification comes from the United States Department of Agriculture (USDA). This government organization has been labeling foods as "organic" for many years, but what exactly does this certification entail? Essentially, a label indicating that a product is "USDA Organic" or "Certified Organic" means that at least 95% of the ingredients are obtained from organic sources.</p><p>For a crop to be considered organic by the USDA, it must be grown without the use of industrial solvents, irradiation, genetic engineering (GMOs), synthetic pesticides, or chemical fertilizer. Instead, farmers rely on natural substances and <a href="https://www.usda.gov/media/blog/2012/03/22/organic-101-what-usda-organic-label-means" rel="noopener noreferrer" target="_blank">mechanical, physical, or biologically based farming</a> techniques to cultivate healthy and organic crops.</p><p>Before the passage of the 2018 Farm Bill, no hemp-derived products could be dubbed as "certified organic" since the hemp plant and its extracts were still categorized as a Schedule I Controlled Substance. However, it's still difficult for CBD companies to obtain a USDA certified organic label for their products due to the legal grey area that still surrounds CBD extracts. </p><p>Because of these challenges, and due to the fact that industrial hemp has only recently become an agricultural crop, very few CBD oils are USDA certified organic. Rather, many CBD products contain hemp extracts from plants that were grown in organic conditions but may not be federally certified.</p><h2>What are the Best Organic CBD Oil Brands?</h2><p><em>Each product featured here has been independently selected by the writer. If you make a purchase using the links included, we may earn commission.</em></p><em><br></em>