Toxic flame retardants have been making headlines again this year—from a chemical company suing California over its new flame retardant law to Coca-Cola removing chemicals linked to flame retardants from its beverages.
Always of concern is the presence of these toxic chemicals in products designed and manufactured for babies, from mattresses to swings—basically the major objects children come in contact with every day. Recognizing that a parent's highest priority is the safety of their children, the Center for Environmental Health (CEH) released a report card today to provide parents with the information they need to make informed decisions when purchasing national-brand baby products to avoid exposure to harmful flame retardant chemicals.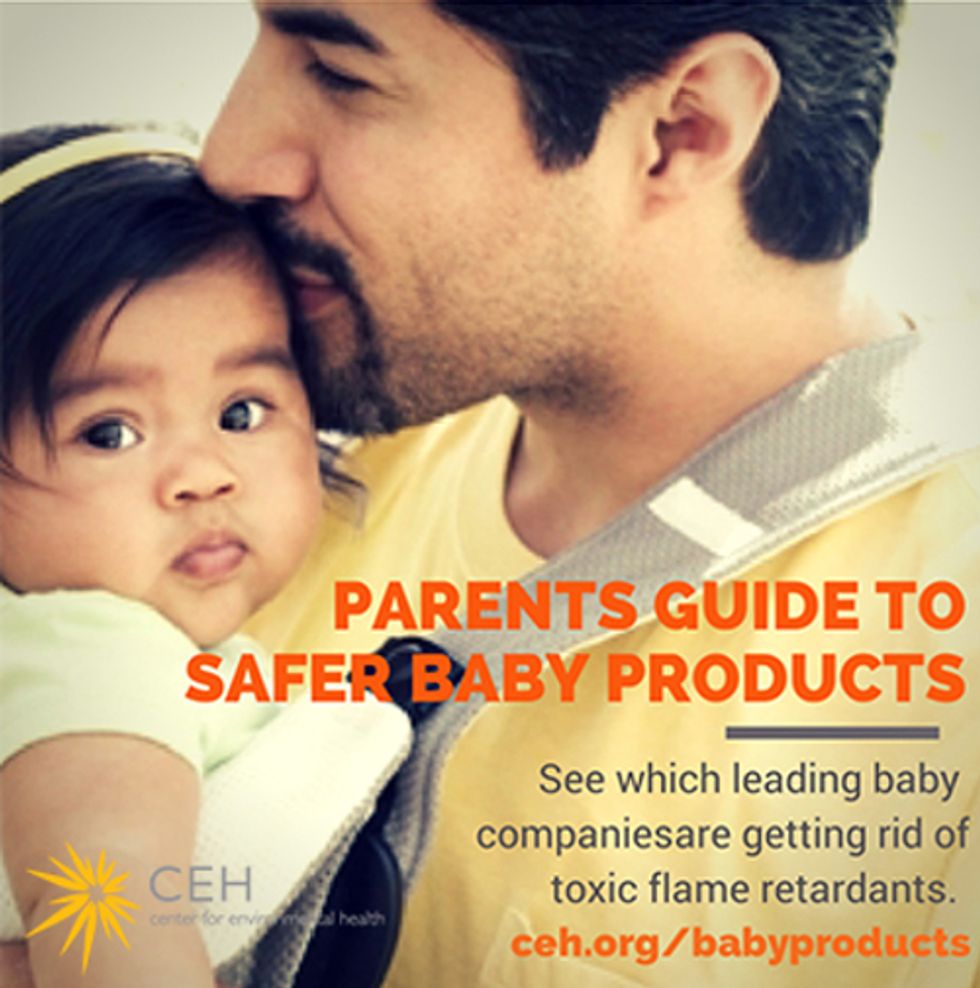 The report card looks at the progress made by 17 companies, including Carters, Graco and Fisher Price, towards eliminating flame retardants in their products, as well as their transparency in making information available to consumers.
"There is no reason that any baby products company should use harmful flame retardant chemicals that can contaminate children's bodies," said Judy Levin, CEH pollution prevention co-director. "Companies that have removed the flame retardant chemicals and labeled their products as flame retardant free are to be commended for their leadership.  We call upon all baby products companies to follow suit."
For nearly 40 years, manufacturers of baby products were subject to a California flammability standard that promoted toxic (and ineffective) flame retardants in foam-filled products, many of which are linked to serious health problems. On Jan. 1, California's new flammability standards went into effect, which allows companies to produce fire-safe products without the use of these chemicals.
Fifteen baby products, from highchairs to bassinets, were found by regulators to not pose a fire safety risk and hence are exempt. Because of this exemption, companies can make safer products without flame retardants. However, while companies may avoid using these chemicals under the standards, their use is not prohibited in such products.
CEH's report card shows which companies have eliminated flame retardants from their products and which use labels to notify consumers of this change, to helps parents identify safer products for their babies.
Company responses to CEH's survey are graded as follows:
Green: Products do not contain flame retardants and are labeled online and at the point-of-purchase.
Yellow: Products do not contain flame retardants, but are not labeled.
Orange: Some products still contain flame retardants, companies are in the process of eliminating flame retardants.
Red: Products may contain flame retardants (no response).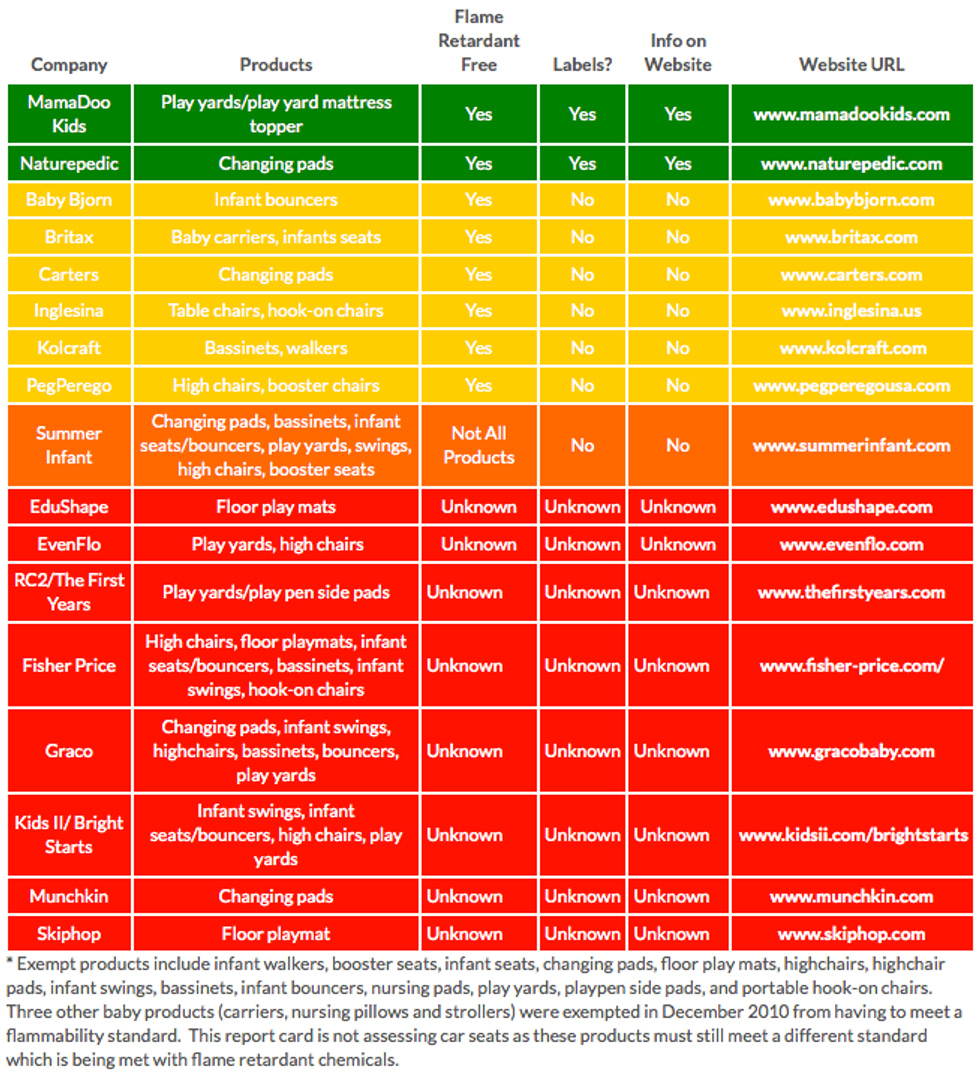 ——–
YOU MIGHT ALSO LIKE
Groundbreaking Legal Agreement to End Use of Toxic Flame Retardant in Foam Furniture and Children's Products
10 Environmental Health Questions to Ask When Choosing Childcare
——–
EcoWatch Daily Newsletter
State and federal governments must institute new policies to protect the public from exposure to flame retardants, says a recent research report from Environment and Human Health, Inc. (EHHI).
The report closely examines the health risks that flame retardants pose to the general population and recommends sweeping policy changes to protect the public.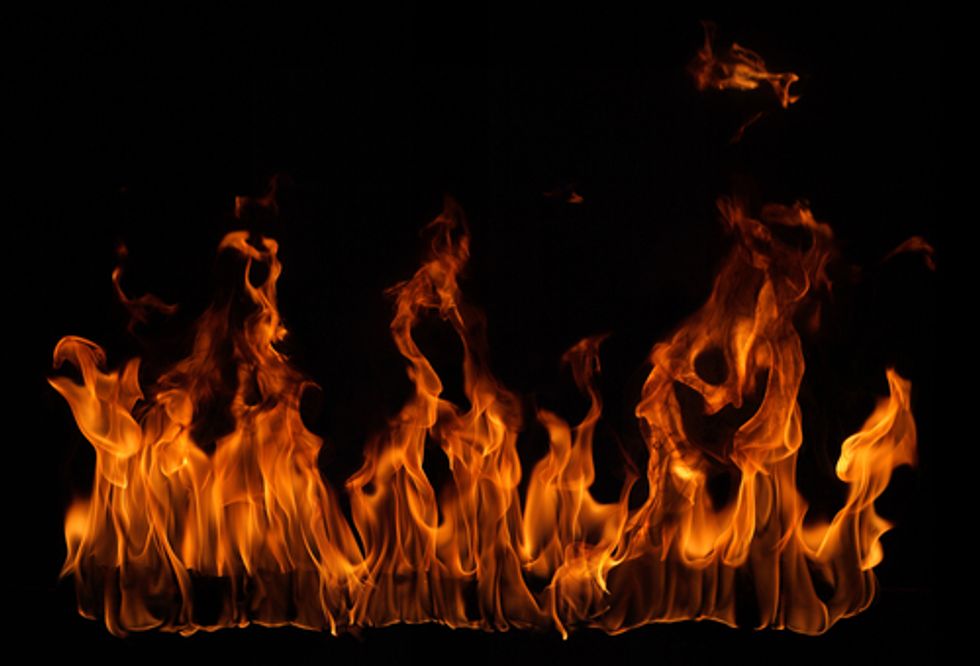 Shutterstock
Flame retardants are now ubiquitous in the environment. They are found in almost all consumer products and pose health risks to fetuses, infants, children and the entire human population.
The report examines the history of flame retardants and demonstrates the enormous scope of the problem. Flame retardants are persistent and accumulate in human bodies. They are in the bodies of most U.S. residents and have even been found in the polar bears and whales, which illustrate how far they have spread.
"Because exposures to flame retardants carry health risks, they should only be used when the risk of fire outweighs the risk from flame retardant exposures," said John Wargo, Ph.D., first author of the report and the Tweedy-Ordway Professor of Environmental Health and Political Science at Yale University. "When risk from fire is high, such as in airplanes, then the use of flame retardants is warranted. When the risk from fire is low, flame retardants should not be used."
Moreover, flame retardants are not required to undergo health and environmental testing in the U.S., and they are not required to be labeled on the products that contain them.
"Manufacturers should start labeling their products so that consumers can understand when flame retardants have been added," said Dr. Andrea Asnes, associate professor of pediatrics at the Yale School of Medicine. 
The history of flame retardant use in the U.S. is a story of substituting one dangerous flame retardant for another, the report says. For decades, asbestos was used as a fire retardant. Then when asbestos was proven too dangerous, the country switched to polychlorinated biphenyls (PCBs). Five decades later, when PCBs were deemed too dangerous, the country began using chlorinated and brominated flame retardants.
In the 1970s, a flame retardant called Tris was added to children's sleepwear. Tris later was found to be carcinogenic and capable of being absorbed through the skin. Tris was finally banned in children's sleepwear in 1977. Unbelievably, however, Tris is still used in many other infant products, such as crib mattresses, changing tables, nap mats and infant car seats.
"There is ample evidence concerning the health risks from Tris to conclude that it should be removed from all infant products," said Dr. D. Barry Boyd, an oncologist at Greenwich Hospital and affiliate member of the Yale Cancer Center.
Recent toxicological studies demonstrate that flame retardants pose the greatest risk to the normal growth and development of fetuses, infants and children.
"Many flame retardants are endocrine-disrupting compounds that can affect a number of hormonal systems, including thyroid function," said Dr. Hugh Taylor, chair of the Department of Obstetrics, Gynecology and Reproductive Sciences at the Yale School of Medicine. "Many flame retardants are capable of crossing the placenta and therefore pose a health risk to fetuses and the ensuing child."
EHHI is calling for a certification program in which manufacturers would certify the absence of flame retardants, just as organic food programs certify the absence of pesticides.
"It has become clear that flame retardants are proving to be a health risk to both the human population and the environment," said Nancy Alderman, EHHI president. "It is time for flame retardants to be removed from all low fire-risk situations and products."
Visit EcoWatch's HEALTH page for more related news on this topic.

waterlust.com / @tulasendlesssummer_sierra .
Each product featured here has been independently selected by the writer. If you make a purchase using the links included, we may earn commission.
The bright patterns and recognizable designs of Waterlust's activewear aren't just for show. In fact, they're meant to promote the conversation around sustainability and give back to the ocean science and conservation community.
Each design is paired with a research lab, nonprofit, or education organization that has high intellectual merit and the potential to move the needle in its respective field. For each product sold, Waterlust donates 10% of profits to these conservation partners.
Eye-Catching Designs Made from Recycled Plastic Bottles
waterlust.com / @abamabam
The company sells a range of eco-friendly items like leggings, rash guards, and board shorts that are made using recycled post-consumer plastic bottles. There are currently 16 causes represented by distinct marine-life patterns, from whale shark research and invasive lionfish removal to sockeye salmon monitoring and abalone restoration.

One such organization is Get Inspired, a nonprofit that specializes in ocean restoration and environmental education. Get Inspired founder, marine biologist Nancy Caruso, says supporting on-the-ground efforts is one thing that sets Waterlust apart, like their apparel line that supports Get Inspired abalone restoration programs.
"All of us [conservation partners] are doing something," Caruso said. "We're not putting up exhibits and talking about it — although that is important — we're in the field."
Waterlust not only helps its conservation partners financially so they can continue their important work. It also helps them get the word out about what they're doing, whether that's through social media spotlights, photo and video projects, or the informative note card that comes with each piece of apparel.
"They're doing their part for sure, pushing the information out across all of their channels, and I think that's what makes them so interesting," Caruso said.
And then there are the clothes, which speak for themselves.
Advocate Apparel to Start Conversations About Conservation
waterlust.com / @oceanraysphotography
Waterlust's concept of "advocate apparel" encourages people to see getting dressed every day as an opportunity to not only express their individuality and style, but also to advance the conversation around marine science. By infusing science into clothing, people can visually represent species and ecosystems in need of advocacy — something that, more often than not, leads to a teaching moment.

"When people wear Waterlust gear, it's just a matter of time before somebody asks them about the bright, funky designs," said Waterlust's CEO, Patrick Rynne. "That moment is incredibly special, because it creates an intimate opportunity for the wearer to share what they've learned with another."
The idea for the company came to Rynne when he was a Ph.D. student in marine science.
"I was surrounded by incredible people that were discovering fascinating things but noticed that often their work wasn't reaching the general public in creative and engaging ways," he said. "That seemed like a missed opportunity with big implications."
Waterlust initially focused on conventional media, like film and photography, to promote ocean science, but the team quickly realized engagement on social media didn't translate to action or even knowledge sharing offscreen.
Rynne also saw the "in one ear, out the other" issue in the classroom — if students didn't repeatedly engage with the topics they learned, they'd quickly forget them.
"We decided that if we truly wanted to achieve our goal of bringing science into people's lives and have it stick, it would need to be through a process that is frequently repeated, fun, and functional," Rynne said. "That's when we thought about clothing."
Support Marine Research and Sustainability in Style
To date, Waterlust has sold tens of thousands of pieces of apparel in over 100 countries, and the interactions its products have sparked have had clear implications for furthering science communication.
For Caruso alone, it's led to opportunities to share her abalone restoration methods with communities far and wide.
"It moves my small little world of what I'm doing here in Orange County, California, across the entire globe," she said. "That's one of the beautiful things about our partnership."
Check out all of the different eco-conscious apparel options available from Waterlust to help promote ocean conservation.
Melissa Smith is an avid writer, scuba diver, backpacker, and all-around outdoor enthusiast. She graduated from the University of Florida with degrees in journalism and sustainable studies. Before joining EcoWatch, Melissa worked as the managing editor of Scuba Diving magazine and the communications manager of The Ocean Agency, a non-profit that's featured in the Emmy award-winning documentary Chasing Coral.