Today, Oceana released a new report exposing nine of the dirtiest fisheries in the U.S. These nine fisheries combined throw away almost half of what they catch and are responsible for more than 50 percent of all reported bycatch in the U.S., injuring and killing thousands of protected and endangered species every year.
Bycatch is defined as of non-target fish and ocean wildlife that are caught in commercial fishing gear and discarded dead or dying once the fishermen reach their quota. © Naomi Blinick /Marine Photobank /Oceana report
In the report, Wasted Catch: Unsolved Bycatch Problems in U.S. Fisheries, Oceana explains that despite significant progress in the last decade, the catch of non-target fish and ocean wildlife, or "bycatch," remains a significant problem in domestic fisheries. In fact, researchers have estimated that approximately 20 percent of the total U.S. catch is thrown away each year. 
"Anything can be bycatch," said Dominique Cano-Stocco, campaign director at Oceana. "Whether it's the thousands of sea turtles that are caught to bring you shrimp or the millions of pounds of cod and halibut that are thrown overboard after fishermen have reached their quota, bycatch is a waste of our ocean's resources. Bycatch also represents a real economic loss when one fisherman trashes another fisherman's catch."
Though some fishing methods are more harmful than others, researchers, fisheries managers and conservationists all agree that bycatch is generally highest in open ocean trawl, longline and gillnet fisheries. These three gear types alone are responsible for the majority of bycatch in the U.S. and are used by these nine dirty fisheries.
Below, is a slideshow featuring some of the National Marine Fisheries Service images of marine life injured and killed in drift gillnets off the coast of California, obtained by Oceana though a Freedom of Information Act request:
[blackoutgallery id="326125"]
"Hundreds of thousands of dolphins, whales, sharks, sea birds, sea turtles and fish needlessly die each year as a result of indiscriminate fishing gear," said Amanda Keledjian, report author and marine scientist at Oceana. "It's no wonder that bycatch is such a significant problem, with trawls as wide as football fields, longlines extending up to 50 miles with thousands of baited hooks and gillnets up to two miles long. The good news is that there are solutions—bycatch is avoidable."
Unfortunately, the bycatch problem in the U.S. is likely much worse than realized, because most fisheries do not have adequate monitoring in place to document exactly what and how much is caught and subsequently discarded. In some fisheries, as few as one in 100 fishing trips carry impartial observers to document catch, while many are not monitored at all, leading to large gaps in knowledge and poor quality data.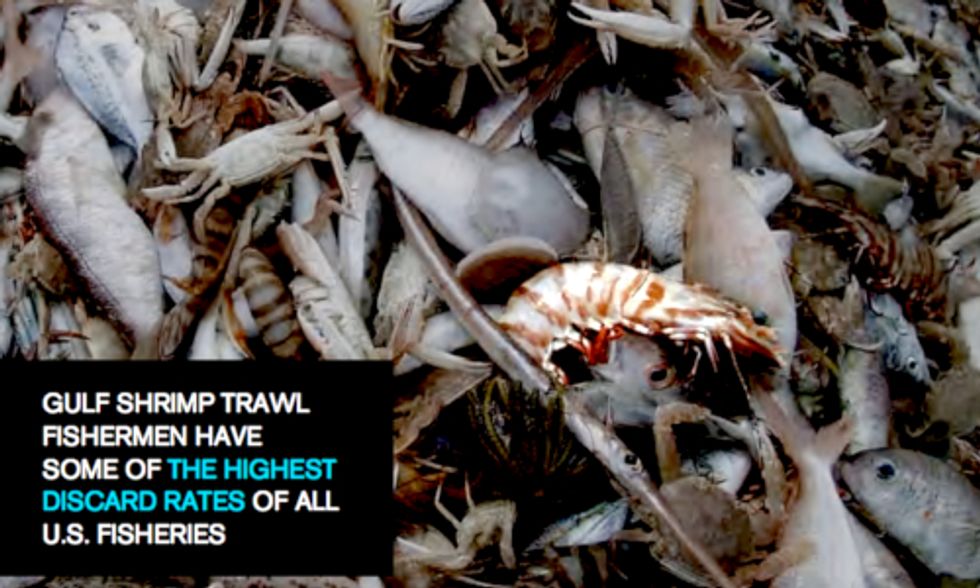 Nine Dirty Fisheries (based on data published by the National Marine Fisheries Service):
Southeast Snapper-Grouper Longline Fishery (66 percent discarded)—More than 400,000 sharks were captured and discarded in one year
California Set Gillnet Fishery (65 percent of all animals discarded)—More than 30,000 sharks and rays as well as valuable fish were discarded as waste over three years
Southeast Shrimp Trawl Fishery (64 percent discarded)—For every pound of shrimp landed, 1 pound of billfish is discarded; thousands of sea turtles are killed annually
California Drift Gillnet Fishery (63 percent of all animals discarded)—Almost 550 marine mammals were entangled or killed over five years
Gulf of Alaska Flatfish Trawl Fishery (35 percent discarded)—More than 34 million pounds of fish were thrown overboard in one year, including 2 million pounds of halibut and 5 million pounds of cod
Northeast Bottom Trawl (35 percent discarded)—More than 50 million pounds of fish are thrown overboard every year
Mid-Atlantic Bottom Trawl Fishery (33 percent discarded)—Almost 200 marine mammals and 350 sea turtles were captured or killed in one year
Atlantic Highly Migratory Species Longline Fishery (23 percent discarded)—More than 75 percent of the wasted fish in this fishery are valuable tuna, swordfish and other billfish targeted by the fishery
New England and Mid-Atlantic Gillnet Fishery (16 percent discarded)—More than 2,000 dolphins, porpoises and seals were captured in one year
"Reducing bycatch is a win/win for fishermen and conservationists," said Cano-Stocco. "By eliminating wasteful and harmful fishing practices we can restore and maintain fish populations that are essential to renewed abundance and healthy oceans, while also preventing the deaths of whales, dolphins, seals and sea turtles."
Divers work to untangle a turtle caught in fishing gear. © David Burdick/ Marine Photobank/ Oceana report
"The solution can be as simple as banning the use of drift gillnets, transitioning to proven cleaner fishing gears, requiring Turtle Excluder Devices in trawls, or avoiding bycatch hotspots," said Dr. Geoff Shester, California program director at Oceana. "Proven solutions and innovative management strategies can significantly reduce the unnecessary deaths of sharks, sea turtles, dolphins and other marine life, while maintaining vibrant fisheries." 
In order to reduce the amount of wasted catch and the number of marine animals killed in U.S. fisheries, Oceana is calling on the federal government to do three things:
1. COUNT everything that is caught in a fishery, including bycatch species.
2. CAP the amount of wasted catch in each fishery using scientifically based limits.
3. CONTROL and avoid bycatch by making improvements such as using cleaner fishing gear and enhanced monitoring.
Visit EcoWatch's BIODIVERSITY page for more related news on this topic.

EcoWatch Daily Newsletter
Ever think about where your seafood comes from? You might be surprised to learn that much of the seafood sold in the U.S. is imported—frequently from places where health, safety and environmental standards are weak or non-existent. And less than 2 percent of seafood imports to the U.S. are inspected for contamination.
Sadly, many popular wild fish populations have been managed poorly and are depleted, are caught using gear that can hurt their habitat and other wildlife, or could contain substances like mercury or PCBs that can cause serious health problems.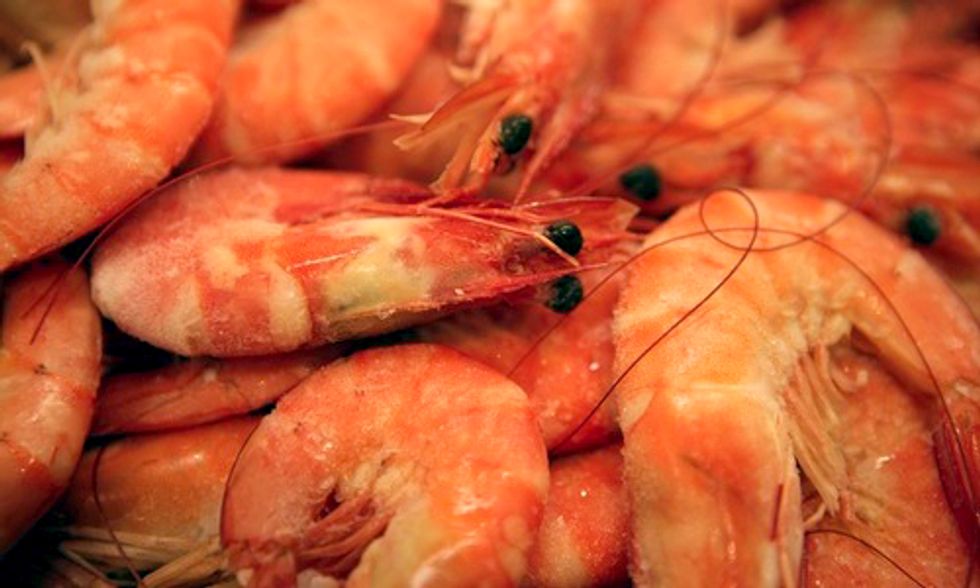 Shutterstock
Fortunately, there are still good domestic seafood options.
Food & Water Watch has analyzed more than 100 fish and shellfish to create the Smart Seafood Guide, the only guide that assesses the human health and environmental impacts of eating certain seafood, as well as the socio-economic impacts on coastal and fishing communities. The guide can help you make healthier and more eco-friendly choices.
Here's an excerpt from the guide of five things to consider the next time you are considering buying seafood at the grocery store or ordering it in a restaurant.
1. Local fish are few and far between. While diners at coastal restaurants often look forward to ordering seafood, much of the fish at restaurants and in stores is not local. Because of high demand, seafood on these menus often comes from other states or countries, so always remember to ask rather than assume that seafood is local and sustainable.
2. Atlantic salmon is farmed salmon. While Alaskan wild-caught salmon can be a healthy, sustainable option, farmed salmon is associated with environmental and social problems. One red-flag is salmon labeled Atlantic. As wild Atlantic salmon populations have been driven close to extinction, salmon from this ocean are almost surely farmed.
3. Seafood labeled organic is not what it seems: There are no legal organic standards for seafood in the U.S., so fish labeled organic are imported, usually from northern Europe. And seafood labeled organic is farmed, not wild-caught.
4. Beware of imported shrimp: Although the U.S. has many healthy shrimp fisheries that support coastal communities, about 90 percent of the shrimp consumed in the U.S. is imported. Much of it comes from farms that are associated with heavy chemical use, environmental destruction and negative impacts for local communities.
5. Bivalve shellfish are often good options: In some cases, bivalve shellfish, like mussels, oysters and clams, are the most likely seafood items at restaurants or markets to be sustainably sourced. These fish are filter feeders, which means that even when farmed they can help to improve local environments by cleaning up water. Just remember to ask about local contaminant warnings, and in the case of clams, whether they are hand-raked or dredged.
For more information and many more detailed recommendations on specific kinds of seafood to buy, see the Smart Seafood Guide.
Visit EcoWatch's FOOD page for more related news on this topic.

By Janet Larsen and J. Matthew Roney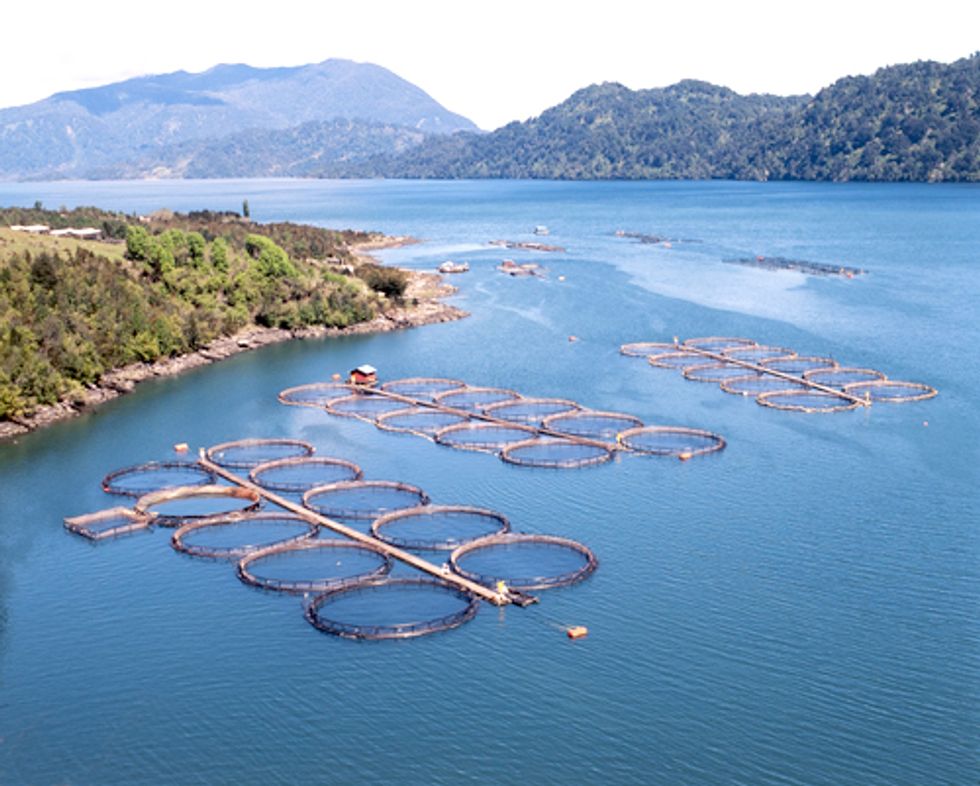 Photo courtesy of Shutterstock
The world quietly reached a milestone in the evolution of the human diet in 2011. For the first time in modern history, world farmed fish production topped beef production. The gap widened in 2012, with output from fish farming—also called aquaculture—reaching a record 66 million tons, compared with production of beef at 63 million tons. And 2013 may well be the first year that people eat more fish raised on farms than caught in the wild. More than just a crossing of lines, these trends illustrate the latest stage in a historic shift in food production—a shift that at its core is a story of natural limits.
As the global demand for animal protein grew more than fivefold over the second half of the twentieth century, humans began to press against the productivity constraints of the world's rangelands and oceans. Annual beef production climbed from 19 million tons in 1950 to more than 50 million tons in the late 1980s. Over the same period, the wild fish catch ballooned from 17 million tons to almost 90 million tons. But since the late 1980s, the growth in beef production has slowed, and the reported wild fish catch has remained essentially flat.
The bottom line is that getting much more food from natural systems may not be possible. Much of the world's grassland is stocked at or beyond capacity, and most of the world's fisheries are fished to their limits or already crashing. Overstocked rangelands become obvious as the loss of protective vegetation leads to soil degradation, which at its worst can cause punishing dust and sand storms. Overexploited fisheries are less readily visible, but fishing patterns over time reveal that more effort is required to achieve the same size catch as in years past. Boats are using more fuel and traveling to more remote and deeper waters to bring in their haul. Anglers are pulling up smaller fish, and populations of some of the most popular food fish have collapsed.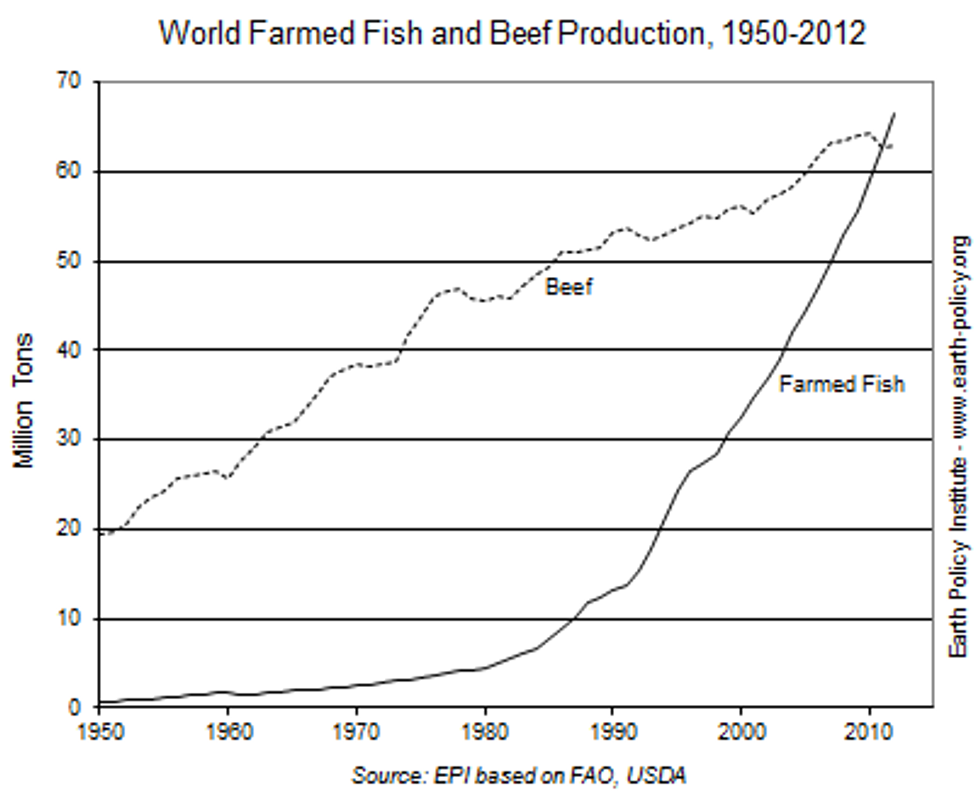 Historically, people's taste in eating animal protein was largely shaped by where they lived. In places with extensive grasslands, like in the U.S., Brazil, Argentina and Australia, people gravitated toward grazing livestock. Along coasts and on islands, as in Japan, wild fish tended to be the protein staple. Today, with little room for expanding the output from rangelands and the seas, producing more beef and fish for a growing and increasingly affluent world population has meant relying on feedlots for fattening cattle and on ponds, nets and pens for growing fish.
While open waters and grasslands can be self-sustaining if managed carefully, raising fish and livestock in concentrated operations requires inputs. Grain and soybeans have been inserted into the protein production food chain. Cattle consume seven pounds of grain or more to produce an additional pound of beef. This is twice as high as the grain rations for pigs, and over three times those of poultry.
Fish are far more efficient, typically taking less than two pounds of feed to add another pound of weight. Pork and poultry are the most widely eaten forms of animal protein worldwide, but farmed fish output is increasing the fastest. Average annual growth rates over the last five years have mirrored the relative efficiency of feed use, with the global production of farmed fish growing by nearly six percent a year, poultry by four percent, and pork by 1.7 percent—fast outpacing beef, which barely increased at all.
As grain and soybean prices have risen well above historical levels in recent years, the cost of producing grain-eating livestock has also gone up. Higher prices have nudged consumers away from the least-efficient feeders. This means more farmed fish and less beef. In the U.S., where the amount of meat in people's diets has been falling since 2004, average consumption of beef per person has dropped by more than 13 percent and that of chicken by five percent. U.S. fish consumption has also dropped, but just by two percent.
Beyond economic considerations, health and environmental concerns are also leading many people in industrial countries to reduce their beef intake. Meanwhile, fish are touted as healthy alternatives (save for the largest types, which have accumulated mercury from environmental pollution). Diets heavy in red meat have been associated with a higher risk for heart disease and colon cancer, among other ailments. Beef production has garnered a negative reputation for having a large carbon footprint and for destroying habitat, notably in the Brazilian Amazon. And excess nitrogen fertilizer applied to the fields of feed corn grown to satisfy the world's livestock runs off into streams and rivers, sometimes flowing to coastal waters where it creates large algal blooms and low-oxygen "dead zones" where fish cannot survive.
While it is only recently that the limitations of natural systems have emerged on a global scale, the practice of aquaculture dates back millennia. China, which accounts for 62 percent of the world's farmed fish, has long cultivated different types of carp that eat different things—phytoplankton, zooplankton, grass or detritus—together in a mini ecosystem. Today carp and their relatives are still the mainstay of Chinese aquaculture, making up nearly half the country's output. Filter-feeding mollusks, like clams and oysters, account for close to a third. Carp, catfish and other species are also grown in Chinese rice paddies, where their waste can fertilize the grain crop. This is also practiced in Indonesia, Thailand and Egypt.
Unfortunately, not all aquaculture works this way. Some of the farmed fish that are quickly gaining popularity, like salmon and shrimp, are carnivorous species that eat fishmeal or fish oil produced from forage fish from the wild. Yet most forage fish stocks (think anchovies, herrings and sardines), which typically make up about a third of the world oceanic fish catch, are dangerously overharvested. Fish farmers are working to reduce the amount of fish meal and oil in their rations, but in the rush to meet ever-expanding world demand, the share of farmed fish being fed has increased because they can reach market size quickly. Norway, the world's top farmed salmon producer, now imports more fish oil than any other country. China, the world's leading shrimp producer, takes in some 30 percent of the fishmeal traded each year.
As cattle ranches have displaced biologically rich rainforests, fish farms have displaced mangrove forests that provide important fish nursery habitats and protect coasts during storms. Worldwide, aquaculture is thought to be responsible for more than half of all mangrove loss, mostly for shrimp farming. In the Philippines, some two thirds of the country's mangroves—more than 100,000 hectares—have been removed for shrimp farming over the last 40 years.
Another problem with intensive confined animal feeding operations of all kinds, whether for farmed fish or for cattle, is not what gets extracted from the environment but what gets put in it. On a small-scale farm with livestock, animal waste can be used to fertilize crops. But putting large numbers of animals together transforms waste from an asset into a liability. Along with the vast quantities of waste, the antibiotic and parasite-killing chemicals used to deal with the unwanted disease and infestations that can spread easily in crowded conditions also can end up in surrounding ecosystems. The overuse of antibiotics in livestock operations can lead to antibiotic-resistant bacteria, threatening both human and animal health. In the U.S., for instance, 80 percent of antibiotics use is in agriculture—and often not for treating sick animals but for promoting rapid weight gain.
Thus the solutions to our collision with the limitations of the natural systems that have long provided food have created their own host of problems. On a per person basis, beef consumption—now averaging less than 20 pounds (8.9 kilograms) each year globally—is unlikely to rebound to the 24 pounds eaten in the 1970s. But annual world fish consumption per person of 42 pounds—up from 25 pounds in the 1970s—is set to keep rising. With the additional fish coming from farms rather than the seas, the urgency of making aquaculture sustainable is clear.
On the fish feed front, fishmeal producers are incorporating more seafood scraps into their products; today roughly a third of fishmeal is made up of food fish trimmings and other by-products. And some fish farmers are substituting livestock and poultry processing wastes and plant-based feeds for fishmeal and oil, which does not sound particularly appetizing, but does reduce pressure on wild stocks. From a sustainability standpoint, however, it would be preferable to shift the balance back in favor of farmed fish raised without feeds based on food grains, oilseeds and protein from other animals.
Our global population of seven billion people, growing by nearly 80 million per year, cannot escape the limits of nature. To live within Earth's natural boundaries requires rethinking meat and fish production practices to respect ecology. Most important, it means reducing demand by slowing population growth and, for those of us already living high on the food chain, eating less meat, milk, eggs and fish.
Visit EcoWatch's FOOD and FACTORY FARMING pages for more related news on this topic.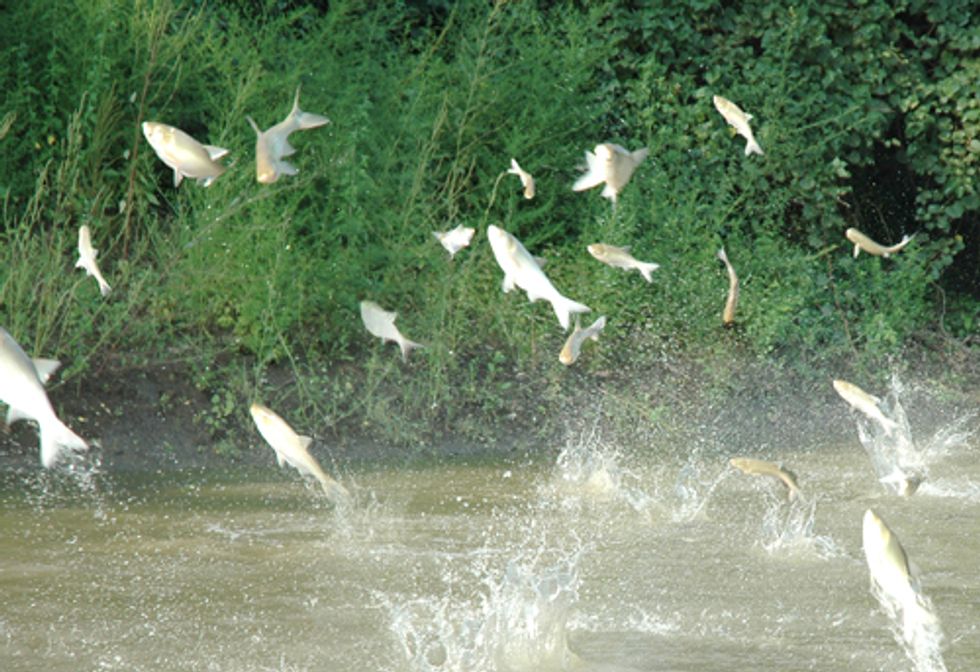 By Jeff Alexander
The federal government is winning the battle to keep Asian carp from reaching the Great Lakes, according to an Obama administration official.
Cameron Davis, the Obama administration's point person on Great Lakes issues, told a group of conservation leaders this week that the government has stopped the advance of Asian carp, which—depending on whom you believe—are either 50 miles from Lake Michigan or already in the lake.
"We're winning the war on Asian carp," Davis said on Feb. 29 during a White House Great Lakes Summit, which was held in conjunction with Great Lakes Days in Washington, D.C.
Government crews are "beating back" the advance of Asian carp in the Chicago Waterway System, the network of manmade canals that form an artificial link between the Mississippi River and Lake Michigan, Davis said.
His claim was met with a stunned silence from the group of scientists and conservation leaders (including several from National Wildlife Federation) who were invited to participate in the Great Lakes Summit.
The reason—Researchers have repeatedly found traces of Asian carp DNA in Chicago-area waters with direct connections to Lake Michigan. Those findings suggest Asian carp have breached an electric fish barrier in the Chicago Waterway System and reached the southern fringe of Lake Michigan.
Faster action needed on separating Great Lakes, Mississippi River basins
The Obama administration has spent more than $100 million over the past two years to fight Asian carp and plans to spent another $50 million this year. That level of support is commendable.
Asian carp—which eat like hogs, breed like mosquitoes and leap out of the water when disturbed by the sound of boat motors—could decimate the $7 billion Great Lakes fishery and pose potentially lethal hazards to boaters in the region.
If the president wants to pull out all the stops in the fight against Asian carp, he must speed up efforts to separate Lake Michigan from the Mississippi River basin.
The U.S. Army Corps of Engineers is currently moving at a snail's pace as it studies how best to prevent Asian carp in the Mississippi River system from invading the Great Lakes. The Corps plans to study the issue for at least three more years before recommending solutions.
Experts have said that separating Lake Michigan from the Mississippi River is the only sure way to prevent Asian carp and other harmful invasive species from moving between the two basins.
The Great Lakes Commission produced a report in January that offered three options for breaking the artificial connection between Lake Michigan and the Mississippi River basin.
The looming threat
Currently, there are no reproducing populations of Asian carp in the Great Lakes. But individual Asian carp have been found in Lake Erie, Lake Huron and Chicago-area waters connected to Lake Michigan.
Given the mounting evidence of Asian carp lurking in southern Lake Michigan, it's premature for government officials to claim they are winning the war against this menacing species of fish. Worse, it's tempting fate.
For more information, click here.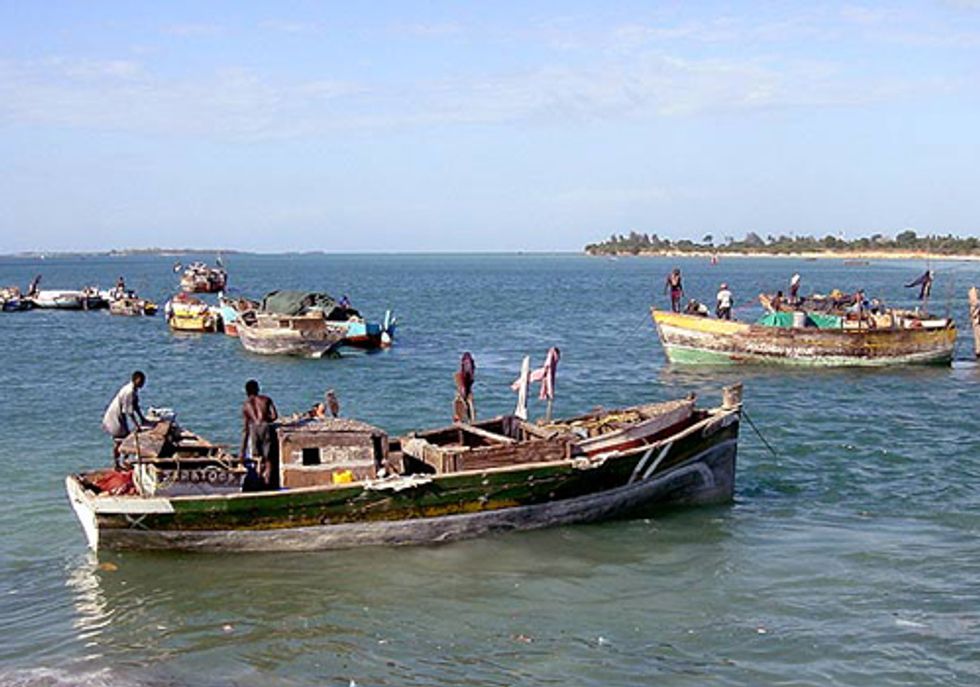 Half of fishermen will not give up their livelihood in the face of drastically declining catches according to research led by the University of East Anglia (UEA).
A new report, published Feb. 6 by PLoS ONE, challenges previously held notions about poverty and adaptation by investigating why fishermen in developing countries stick with their trade.
 "We found that half of fishermen questioned would not be tempted to seek out a new livelihood—even if their catch declined by 50 percent," said Dr. Tim Daw, lead author  from UEA's School of International Development. "But the reasons they cling on to their jobs are influenced by much more than simple profitability."
Fisheries are challenged by the combined effects of overfishing, climate change, deteriorating ecosystems and conservation policies. Understanding how fishermen respond to these changes is critical to managing fisheries.
The research project is the largest of its kind and was undertaken as a joint project with the Wildlife Conservation Society, the School of Marine Science and Technology at Newcastle University, and the ARC Centre of Excellence for Coral Reef Studies at James Cook University in Australia.
Researchers surveyed almost 600 fishers across Kenya, Tanzania, the Seychelles, Mauritius and Madagascar about how they would respond to hypothetical catch declines.
They then investigated how social and economic conditions, such as local culture and socioeconomic development, influenced whether fishermen were willing to give up their trade.
"Surprisingly, fishermen in the more vibrant and developed economies were less likely to give up their trade—despite having more economically fruitful opportunities open to them," said co-author Dr. Joshua Cinner from the ARC Centre of Excellence for coral reef Studies in Australia.
"This is the reverse of the common belief that poor communities are less likely to adapt than wealthy ones. We suspect that this may be in part due to the perverse impacts of subsidies in more developed countries encouraging people to stay in the fishery even when it is not profitable."
"But reduced profitability was certainly not the only deciding factor," said Dr. Daw. "Fishers often have an occupational attachment, job satisfaction, family tradition, culture, and a sense of identity, which makes them reluctant to stop fishing—even when it would be an economically rational decision."
The research demonstrates the complexity of decision making and how willingness to adapt is influenced by a range of factors.
"We have found that willingness to adapt to change is influenced by cultural, as well as economic, factors—with differing scales of importance," said Dr. Daw. "Undertaking such a large-scale analysis has helped to untangle the complexity of the situation."
"Previous studies have been too small to offer insights into larger scale factors," Dr. Daw continued. "This is the first large-scale study to evaluate the willingness of fishers to exchange their livelihoods for a new trade—and how this decision is influenced by factors operating at different scales," he added.
"This is very important research which helps us understand why and when fishers will leave a fishery," said Tim McClanahan from the Wildlife Conservation Society. "Some of the findings are unexpected and contrary to many arguments about the impacts of management and climate change on poor people. They will be a surprise to many people working in this field and the policies associated with resource and disaster management.
"A surprising finding was that fishermen in a poor country like Madagascar would leave the fishery sooner than those in wealthy countries such as the Seychelles. This indicates that the poor do have alternatives to fishing and lower investments that allow them flexibility in the face of environmental and management changes.
"So, the poor can adapt to climate change and temporary losses in fishing grounds as long as the alternatives are productive, which helps when trying planning for improvements in fisheries management in poor countries," added McClanahan.
The findings add to a growing raft of literature which identifies multiple interlocking and dynamic factors which affect people's capacity to deal with environmental change. It is hoped they will help identify points of intervention for conservation policies that aim to reduce fishing effort. They could also help communities become more adaptive to change.
It also highlights the importance of understanding resource-based livelihoods, such as fishing and farming, in the context of the wider economy and society.
For more information, click here.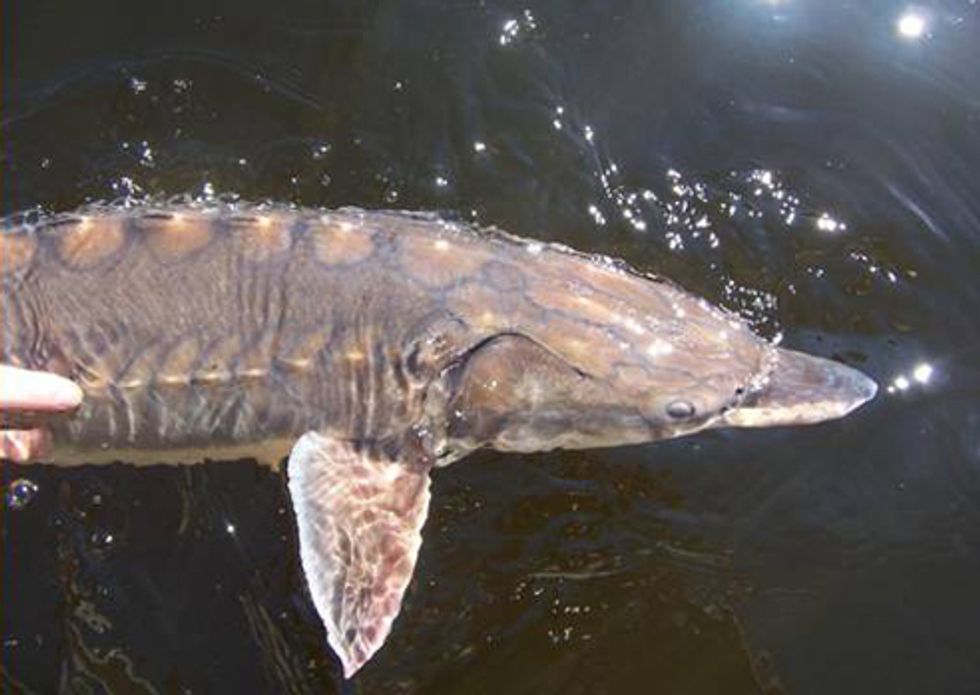 The National Marine Fisheries Service (NMFS) announced Jan. 31 that it will list the Atlantic sturgeon in the Delaware River as an endangered species under the federal Endangered Species Act, because the species is presently in danger of extinction. The Atlantic sturgeon of the Delaware River are listed as part of the New York Bight distinct population segment, which includes all Atlantic sturgeon that spawn in watersheds draining to coastal waters from Chatham, Mass. to the Delaware-Maryland border on Fenwick Island.
NMFS believes there are fewer than 300 spawning adults in the Delaware River population. Just over 100 years ago there were estimated to be 180,000 spawning adult females. Although NMFS recognizes a number of threats, including fisheries bycatch and degraded water quality, imperiling the Atlantic sturgeon, NMFS explicitly identifies the Delaware River Main Channel Deepening Project as a threat to the species—"[T]he location and scope of the project in the Delaware River, coupled with the lack of information on the precise location of spawning and other important habitat in the Delaware River, indicate that the project could be very harmful to the Delaware River riverine population of Atlantic sturgeon." NMFS also identified the increased risk of vessel strikes resulting from more and/or larger ships on the Delaware River as a factor in its listing decision.
 
"Experts have identified our Delaware River Atlantic Sturgeon as being genetically unique, found nowhere else in the world but our River," said Maya van Rossum, the Delaware Riverkeeper. "The National Marine Fisheries Services has stated multiple times that the Delaware River Deepening project is a direct threat to their spawning habitat and the species. We used to have so many sturgeon in our river that the Delaware was known as the caviar capital of the nation. Now we risk losing them forever. We simply have too few to spare for a make-work boondoggle like the Delaware River deepening. Morally speaking, extinguishing the Delaware River unique genetic line is wrong. Economically it makes no sense either—if we were to restore the sturgeon population to historic levels, we could generate an estimated $400 million a year of economic income for the region. Why throw our tax dollars at a deepening project that is an economic loser for the region and that the ports don't need?" van Rossum said.
 
Jane Davenport, senior attorney at the Delaware Riverkeeper Network, said—"As of today, federal agencies like the Army Corps of Engineers, as well as private parties like shipping companies, are on notice that each and every Atlantic sturgeon in the Delaware River will be protected by the ESA's wide-ranging prohibitions against killing or harming it or degrading its habitat. Congress gave public interest groups like the Delaware Riverkeeper Network the explicit right to enforce these protections through citizen suits in federal court, a right we fully intend to exercise as necessary to protect this ancient fish."
 
The Atlantic sturgeon, Acipenser oxyrinchus oxyrinchus, is a large, long-lived, late-maturing, slow-reproducing migratory fish with a distinctive long snout and armor-like plates. It spawns in rivers such as the Delaware and migrates hundreds of miles to the ocean and back again. Mature adults may live as long as 60 years, reach lengths up to 14 feet, and weigh more than 800 pounds. The Delaware River once supported the largest known population of Atlantic sturgeon in the world.
 
For more information on the listing, click here.
For more information, click here.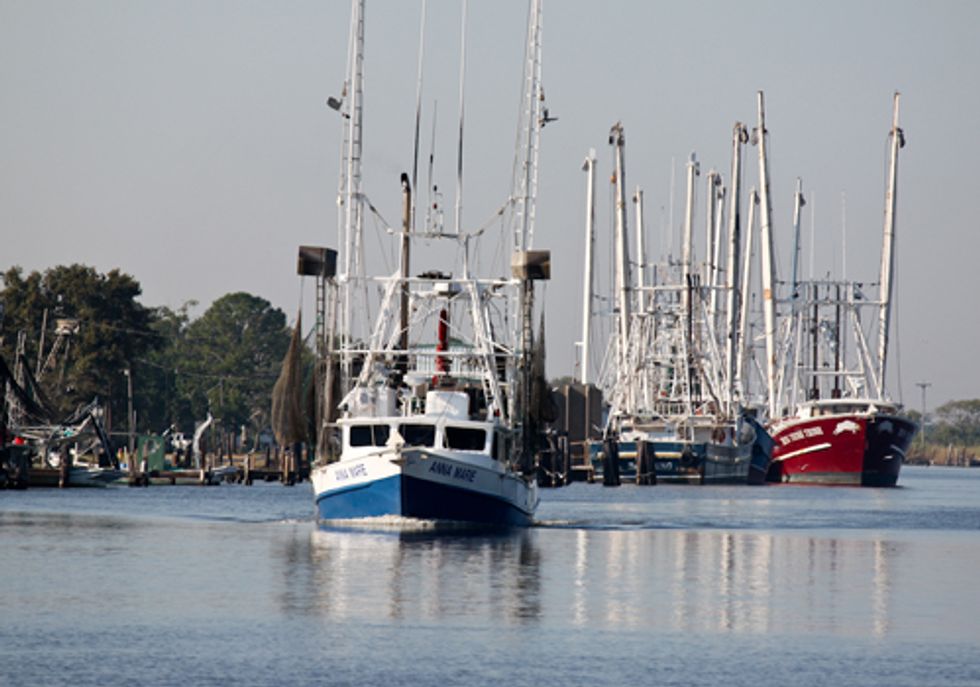 National Oceanic and Atmospheric Administration (NOAA) Fisheries announced the approval of Gulf of Mexico fishery management plans Jan. 30 which, for the first time, include science-based catch limits and accountability measures to ensure that catch is kept within those limits for all federally managed fish species. In response, Ocean Conservancy issues the following statement from Chris Dorsett, director of fish conservation and Gulf restoration:
"This bodes well for a long future of good fishing and healthy fish populations in the region. Today's action is an essential step in securing healthy and abundant fish populations that will in turn ensure fishing opportunities for generations of fishermen to come.
"This is the culmination of years of work by NOAA fisheries, the Gulf of Mexico Fishery Management Council, and fishing stakeholders and fulfills key requirements of the Magnuson-Stevens Fishery Conservation and Management Act which were added in 2007 with bipartisan support and the approval of a broad array of stakeholders.
"This approach is proven to work. Across the nation there are numerous examples of how science-based management coupled with accountability has ended overfishing of important commercial and recreational fish populations and allowed them to successfully begin recovery. In the Gulf of Mexico, this approach has dramatically improved the health of red snapper, supporting increasing catch levels over the last five years. The catch is poised to increase yet again in 2012.
"While the historic measures go into effect in the Gulf of Mexico today, by May they are expected to be in place nation-wide to prevent overfishing for all federally managed fisheries. This milestone follows on the heels of last week's NOAA announcement of improved methods for estimating the amount of fish caught by marine recreational anglers. Taken together, the U.S. is well positioned to continue making significant strides in achieving healthy fisheries.
"Despite this progress, there are currently efforts in Congress to weaken key protections that prevent overfishing. The Gulf of Mexico is currently on the right track for a long future of good fishing and healthy fish populations because the law is working. Now isn't the time for exemptions—these proven techniques must be allowed to keep working. Fully rebuilding our nation's fisheries is expected to add $31 billion to the U.S. economy and an additional 500,000 jobs."
For more information, click here.
—————
Ocean Conservancy is the world's foremost advocate for the oceans. Through science-based advocacy, research, and public education, we inform, inspire and empower people to speak and act for the oceans. Ocean Conservancy is headquartered in Washington, DC, and has offices in Florida, the Gulf of Mexico, and the Pacific, with support from more than half a million members and volunteers.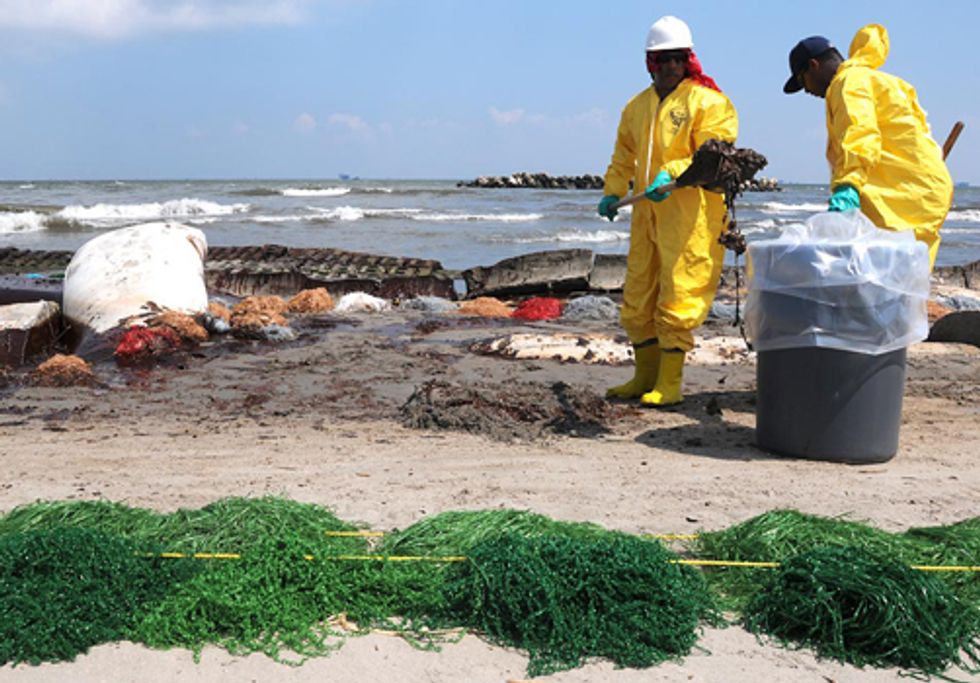 By Tammy Herrington
During the summer of 2010, the nation watched in horror as gallons of oil spewed into the Gulf of Mexico. While many outside the Gulf region are hearing that we are back to normal, we continue to find tarballs on our beaches, mats of tar beneath the surface of local waters and fish with lesions, leading to questions about long-term impacts.
The RESTORE Act, or Senate Bill 1400, was introduced by Gulf Coast Senators as an effort to send 80 percent of the fines BP will pay from this disaster back to the Gulf Coast for environmental and economic recovery. It has passed through committee, but we now need it to pass a vote of the full Senate. Sending this money to the region that suffered can make a huge impact on Gulf economies and make the area more resilient to future disasters. The Gulf produces nearly half of the U.S. domestic energy supply, holds seven of the nation's ten largest ports, and produces two-thirds of the nation's shrimp and oysters. The health of these resources truly impacts the entire nation.
What we need from you:
Mobile Baykeeper, in conjunction with the Women of the Storm, needs friends in non-Gulf Coast states to fax and/or phone their two U.S. senators. Ask for the staffer on environmental or governmental affairs, and urge the senator to support the RESTORE Act. You can find the names and contact information from Senators in all 50 states here. Our goal is to make contact with Senators by Feb. 3, 2012.
Message:
The Gulf Coast provides energy independence, commerce, ecotourism, and national security to the entire nation. Restoration of Gulf resources is critical for the region as well as the nation.
If most of the fine dollars are not designated to environmental and economic recovery of the Gulf Coast, they will disappear into the federal budget. Applying BP fine dollars to Gulf restoration will create thousands of jobs and make the area more resilient to future disasters.
When a disaster of this magnitude strikes, the entire nation must support the affected area. The Gulf Coast's environment, economy, and communities bore the brunt of this disaster, and these fines should go back to the Gulf Coast to fix what has been broken. The next disaster could be in that Senator's state. We would want citizens of that state to get fair and reasonable support.
Sample content for fax or phone call:
"Senator (NAME), I support the RESTORE Act because I know the importance of the Gulf Coast to (Senator's state), the U.S. and around the world. I hope you will support it too." Then add a version of the message points above.
Feedback:
Email me at therrington@mobilebaykeeper.org the states in which you have made contact with friends to call their senators and the information you and your friends have received about senatorial positions on the RESTORE Act so we can keep track of our activity. Thank you for your help. We are grateful to have your support and hopeful that we can work together to pass the RESTORE Act in 2012.
For more information, click here.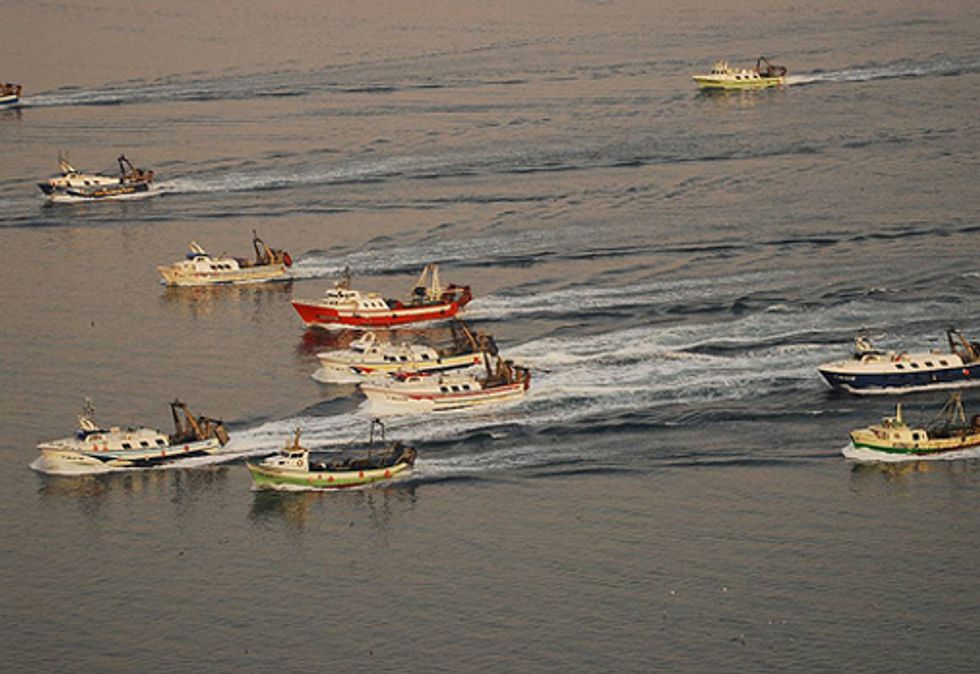 Trade Ministers Tim Groser of New Zealand and Dr. Craig Emerson of Australia joined officials from a diverse group of countries Dec. 16 at the Eighth Ministerial Conference of the World Trade Organization (WTO) to release a statement reaffirming the need for and their commitment to establishing strong trade rules on subsidies that lead to overfishing. The other countries included Argentina, Chile, Colombia, Ecuador, Norway, Peru and the U.S.
The statement also highlighted the dangers of fishing subsidies to trade, jobs and food security, and called for all countries to take timely action on this problem both collectively and individually. Environmental groups—including Oceana—applauded the statement.
"Countries cannot use other trade problems as an excuse for not addressing fisheries subsidies," said Courtney Sakai, senior campaign director at Oceana. "The world's fisheries continue to deteriorate and there is no time for countries to wait to take action on subsidies."
Well-known and loved advocate Finley the Fish made a special guest appearance Dec. 16 to shake fins and show support for his WTO friends. Earlier this week, Finley met with officials at the WTO. Finley also met with Minister Groser and other Ambassadors and delegates at an Oceana reception in Geneva.
"Don't let Finley be the last fish in the sea," said Sakai. "Finley's friends everywhere can join together to create a global effort to turn the tide for the world's fish."
Background Information
The WTO is the 153-country organization responsible for negotiating the rules governing international trade and settling related disputes. In 2001, the WTO initiated a dedicated negotiation on fisheries subsidies as part of its Doha trade agenda and continues to work to address the issue today.
According to the United Nations Food and Agriculture Organization (FAO), 85 percent of the world's fisheries are fully exploited, overexploited, depleted, or recovering from depletion—the highest percentage since FAO began keeping records, and a 10 percent increase from four years ago.
Many governments continue to provide significant subsidies that push their fleets to fish longer, harder and farther away than otherwise would be possible. Destructive fisheries subsidies are estimated to be at least $16 billion annually, an amount equivalent to approximately 20 percent of the value of the world catch. The scope and effects of these "overfishing subsidies" are so significant that eliminating them is the single greatest action that can be taken to protect the world's oceans.
For more information about Oceana's campaign to stop overfishing subsidies, click here.
For more information, click here.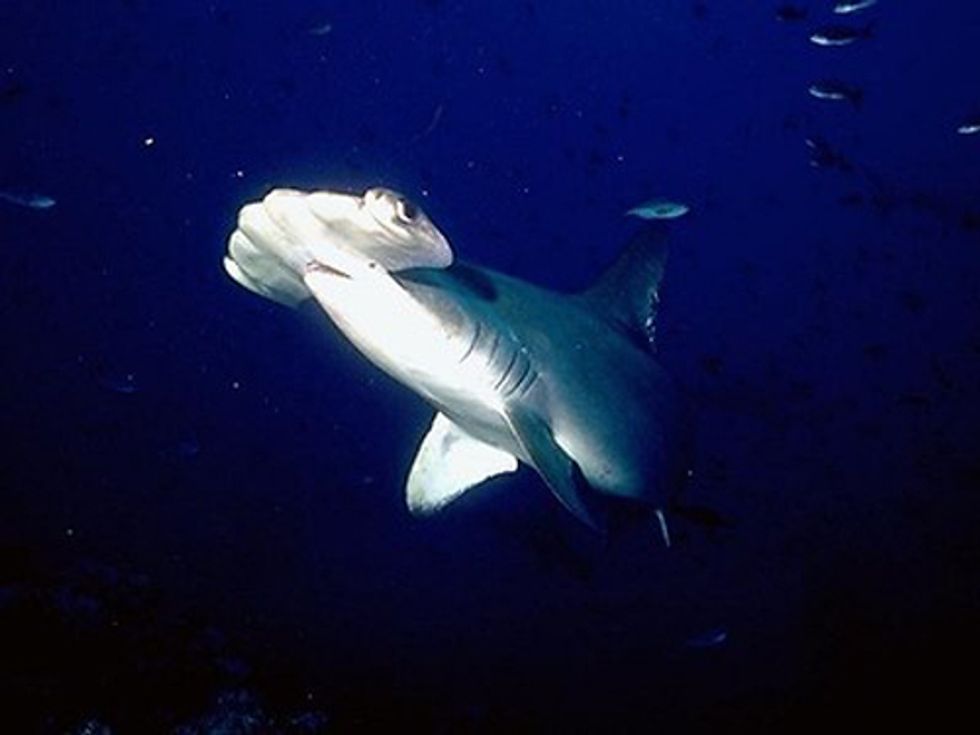 The National Marine Fisheries Service announced a positive preliminary finding on a petition WildEarth Guardians and Friends of Animals submitted to list scalloped hammerhead sharks as "threatened" or "endangered" under the Endangered Species Act (ESA). The agency found that the primary threat to these sharks—capture and finning—is jeopardizing the species. The agency will conduct a 12-month review of the species to determine if listing is warranted.
"This is an important first step to protection for these 'wolves of the sea,'" said Taylor Jones, endangered species advocate for WildEarth Guardians. "More than 99 percent of plants and animals listed under the act persist today. We hope that the hammerhead can escape extinction under the strong protections of the ESA."
The hammerhead's name describes its characteristic elongated, flattened head, which on the scalloped hammerhead has distinctive, curved indentations along the front edge. Scalloped hammerhead sharks can live to 30 years. Adults usually travel alone or in pairs, but juveniles gather in large schools. Most sharks, including scalloped hammerheads, play an important role as apex predators in maintaining ocean bio-communities. Ecosystem stability and biodiversity, congressional priorities for the ESA, could seriously suffer from the loss of these top predators. Listing species with global distribution can both protect the species domestically, and help focus U.S. resources toward enforcement of international regulation and recovery of the species.
The International Union for Conservation of Nature lists the scalloped hammerhead species as "endangered" on its Red List. These sharks live in coastal waters in portions of the Atlantic, Pacific and Indian Oceans. All scalloped hammerhead populations are threatened by fish commerce—the main cause of population declines.
Scalloped hammerhead sharks have very high commercial value. While scalloped hammerheads are especially coveted for their fins, which are used in dishes such as shark-fin soup, the shark's flesh is also sold in various forms as food, the hides are commercially valued, and the remainder is used for vitamins and fishmeal for agribusiness use. The commercial value of the species, combined with the sharks' slow rate of reproduction, makes them highly vulnerable to exploitation.
"Shark exploitation must be confronted if scalloped hammerheads and other sharks are to survive and thrive," said Lee Hall, vice president of Legal Affairs for Friends of Animals.
The practice of finning is of particular concern for scalloped hammerheads and other sharks. In this practice, crews land the sharks and remove only their fins, disposing of the remainder of the animals overboard and leaving disabled sharks to drown or die of starvation. By taking only the fins, crews catch and kill many more sharks than their boats could otherwise hold—and many more than can be officially recorded as losses to the bio-community.
Hong Kong is a primary hub for the shark fin trade, and as China's economy strengthens, demand for the expensive shark-fin soup rises. Fortunately for the sharks, international campaigns to ban the shark fin trade have begun to raise awareness of the predators' imperilment.
For more information, click here.