This website uses cookies to ensure you get the best experience while browsing it. By clicking 'Got It' you're accepting these terms.


The best of EcoWatch, right in your inbox. Sign up for our email newsletter!
Aquaculture Stewardship Council
By Ronnie Cummins
Factory farming and fish production are now a multi-trillion-dollar monster with a growing and devastating impact on public health, animal welfare, small farmers and farmworkers, rural and fishing communities, ocean marine life, water quality, air pollution, soil health, biodiversity and last but not least, global warming.
Salmon have been swimming in Pacific Northwest waters for at least 7 million years, as indicated by fossils of large saber-tooth salmon found in the area. During that time, they've been a key species in intricate, interconnected coastal ecosystems, bringing nitrogen and other nutrients from the ocean and up streams and rivers to spawning grounds, feeding whales, bears and eagles and fertilizing the magnificent coastal rainforests along the way.
EcoWatch Daily Newsletter
By Janet Larsen and J. Matthew Roney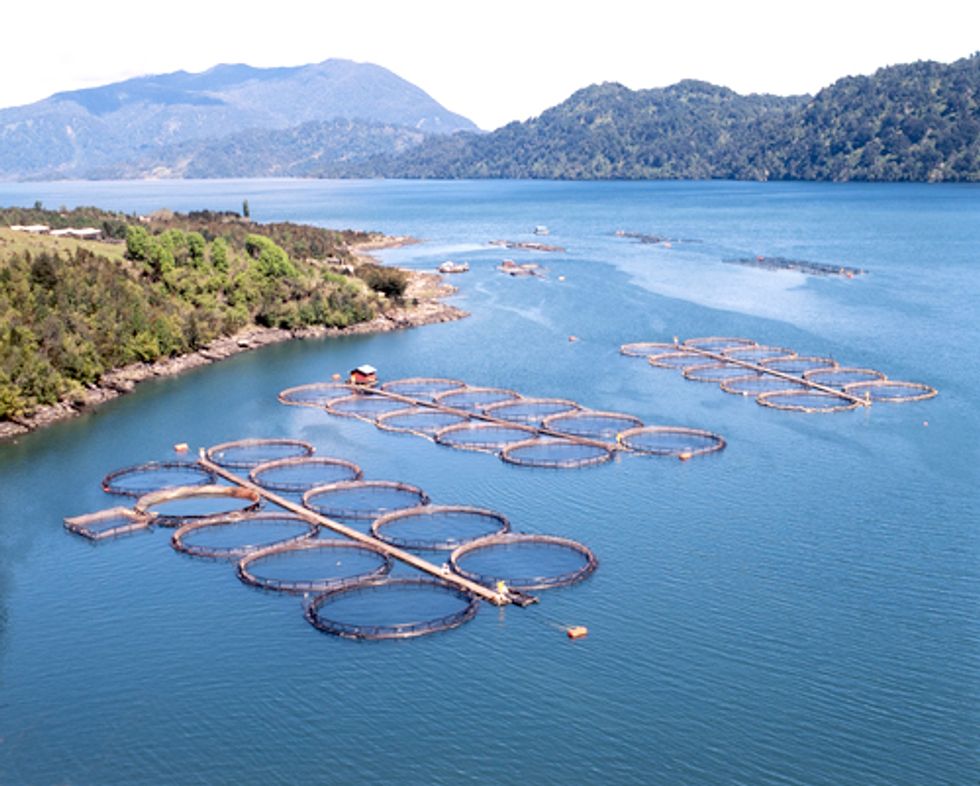 Photo courtesy of Shutterstock
The world quietly reached a milestone in the evolution of the human diet in 2011. For the first time in modern history, world farmed fish production topped beef production. The gap widened in 2012, with output from fish farming—also called aquaculture—reaching a record 66 million tons, compared with production of beef at 63 million tons. And 2013 may well be the first year that people eat more fish raised on farms than caught in the wild. More than just a crossing of lines, these trends illustrate the latest stage in a historic shift in food production—a shift that at its core is a story of natural limits.
As the global demand for animal protein grew more than fivefold over the second half of the twentieth century, humans began to press against the productivity constraints of the world's rangelands and oceans. Annual beef production climbed from 19 million tons in 1950 to more than 50 million tons in the late 1980s. Over the same period, the wild fish catch ballooned from 17 million tons to almost 90 million tons. But since the late 1980s, the growth in beef production has slowed, and the reported wild fish catch has remained essentially flat.
The bottom line is that getting much more food from natural systems may not be possible. Much of the world's grassland is stocked at or beyond capacity, and most of the world's fisheries are fished to their limits or already crashing. Overstocked rangelands become obvious as the loss of protective vegetation leads to soil degradation, which at its worst can cause punishing dust and sand storms. Overexploited fisheries are less readily visible, but fishing patterns over time reveal that more effort is required to achieve the same size catch as in years past. Boats are using more fuel and traveling to more remote and deeper waters to bring in their haul. Anglers are pulling up smaller fish, and populations of some of the most popular food fish have collapsed.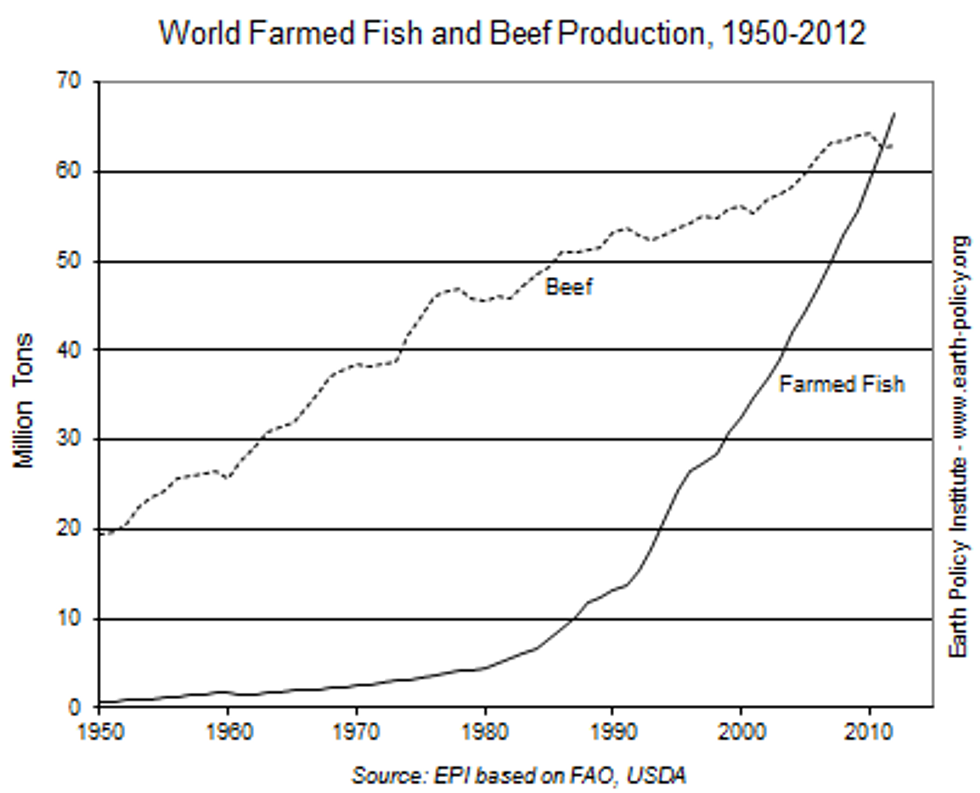 Historically, people's taste in eating animal protein was largely shaped by where they lived. In places with extensive grasslands, like in the U.S., Brazil, Argentina and Australia, people gravitated toward grazing livestock. Along coasts and on islands, as in Japan, wild fish tended to be the protein staple. Today, with little room for expanding the output from rangelands and the seas, producing more beef and fish for a growing and increasingly affluent world population has meant relying on feedlots for fattening cattle and on ponds, nets and pens for growing fish.
While open waters and grasslands can be self-sustaining if managed carefully, raising fish and livestock in concentrated operations requires inputs. Grain and soybeans have been inserted into the protein production food chain. Cattle consume seven pounds of grain or more to produce an additional pound of beef. This is twice as high as the grain rations for pigs, and over three times those of poultry.
Fish are far more efficient, typically taking less than two pounds of feed to add another pound of weight. Pork and poultry are the most widely eaten forms of animal protein worldwide, but farmed fish output is increasing the fastest. Average annual growth rates over the last five years have mirrored the relative efficiency of feed use, with the global production of farmed fish growing by nearly six percent a year, poultry by four percent, and pork by 1.7 percent—fast outpacing beef, which barely increased at all.
As grain and soybean prices have risen well above historical levels in recent years, the cost of producing grain-eating livestock has also gone up. Higher prices have nudged consumers away from the least-efficient feeders. This means more farmed fish and less beef. In the U.S., where the amount of meat in people's diets has been falling since 2004, average consumption of beef per person has dropped by more than 13 percent and that of chicken by five percent. U.S. fish consumption has also dropped, but just by two percent.
Beyond economic considerations, health and environmental concerns are also leading many people in industrial countries to reduce their beef intake. Meanwhile, fish are touted as healthy alternatives (save for the largest types, which have accumulated mercury from environmental pollution). Diets heavy in red meat have been associated with a higher risk for heart disease and colon cancer, among other ailments. Beef production has garnered a negative reputation for having a large carbon footprint and for destroying habitat, notably in the Brazilian Amazon. And excess nitrogen fertilizer applied to the fields of feed corn grown to satisfy the world's livestock runs off into streams and rivers, sometimes flowing to coastal waters where it creates large algal blooms and low-oxygen "dead zones" where fish cannot survive.
While it is only recently that the limitations of natural systems have emerged on a global scale, the practice of aquaculture dates back millennia. China, which accounts for 62 percent of the world's farmed fish, has long cultivated different types of carp that eat different things—phytoplankton, zooplankton, grass or detritus—together in a mini ecosystem. Today carp and their relatives are still the mainstay of Chinese aquaculture, making up nearly half the country's output. Filter-feeding mollusks, like clams and oysters, account for close to a third. Carp, catfish and other species are also grown in Chinese rice paddies, where their waste can fertilize the grain crop. This is also practiced in Indonesia, Thailand and Egypt.
Unfortunately, not all aquaculture works this way. Some of the farmed fish that are quickly gaining popularity, like salmon and shrimp, are carnivorous species that eat fishmeal or fish oil produced from forage fish from the wild. Yet most forage fish stocks (think anchovies, herrings and sardines), which typically make up about a third of the world oceanic fish catch, are dangerously overharvested. Fish farmers are working to reduce the amount of fish meal and oil in their rations, but in the rush to meet ever-expanding world demand, the share of farmed fish being fed has increased because they can reach market size quickly. Norway, the world's top farmed salmon producer, now imports more fish oil than any other country. China, the world's leading shrimp producer, takes in some 30 percent of the fishmeal traded each year.
As cattle ranches have displaced biologically rich rainforests, fish farms have displaced mangrove forests that provide important fish nursery habitats and protect coasts during storms. Worldwide, aquaculture is thought to be responsible for more than half of all mangrove loss, mostly for shrimp farming. In the Philippines, some two thirds of the country's mangroves—more than 100,000 hectares—have been removed for shrimp farming over the last 40 years.
Another problem with intensive confined animal feeding operations of all kinds, whether for farmed fish or for cattle, is not what gets extracted from the environment but what gets put in it. On a small-scale farm with livestock, animal waste can be used to fertilize crops. But putting large numbers of animals together transforms waste from an asset into a liability. Along with the vast quantities of waste, the antibiotic and parasite-killing chemicals used to deal with the unwanted disease and infestations that can spread easily in crowded conditions also can end up in surrounding ecosystems. The overuse of antibiotics in livestock operations can lead to antibiotic-resistant bacteria, threatening both human and animal health. In the U.S., for instance, 80 percent of antibiotics use is in agriculture—and often not for treating sick animals but for promoting rapid weight gain.
Thus the solutions to our collision with the limitations of the natural systems that have long provided food have created their own host of problems. On a per person basis, beef consumption—now averaging less than 20 pounds (8.9 kilograms) each year globally—is unlikely to rebound to the 24 pounds eaten in the 1970s. But annual world fish consumption per person of 42 pounds—up from 25 pounds in the 1970s—is set to keep rising. With the additional fish coming from farms rather than the seas, the urgency of making aquaculture sustainable is clear.
On the fish feed front, fishmeal producers are incorporating more seafood scraps into their products; today roughly a third of fishmeal is made up of food fish trimmings and other by-products. And some fish farmers are substituting livestock and poultry processing wastes and plant-based feeds for fishmeal and oil, which does not sound particularly appetizing, but does reduce pressure on wild stocks. From a sustainability standpoint, however, it would be preferable to shift the balance back in favor of farmed fish raised without feeds based on food grains, oilseeds and protein from other animals.
Our global population of seven billion people, growing by nearly 80 million per year, cannot escape the limits of nature. To live within Earth's natural boundaries requires rethinking meat and fish production practices to respect ecology. Most important, it means reducing demand by slowing population growth and, for those of us already living high on the food chain, eating less meat, milk, eggs and fish.
Visit EcoWatch's FOOD and FACTORY FARMING pages for more related news on this topic.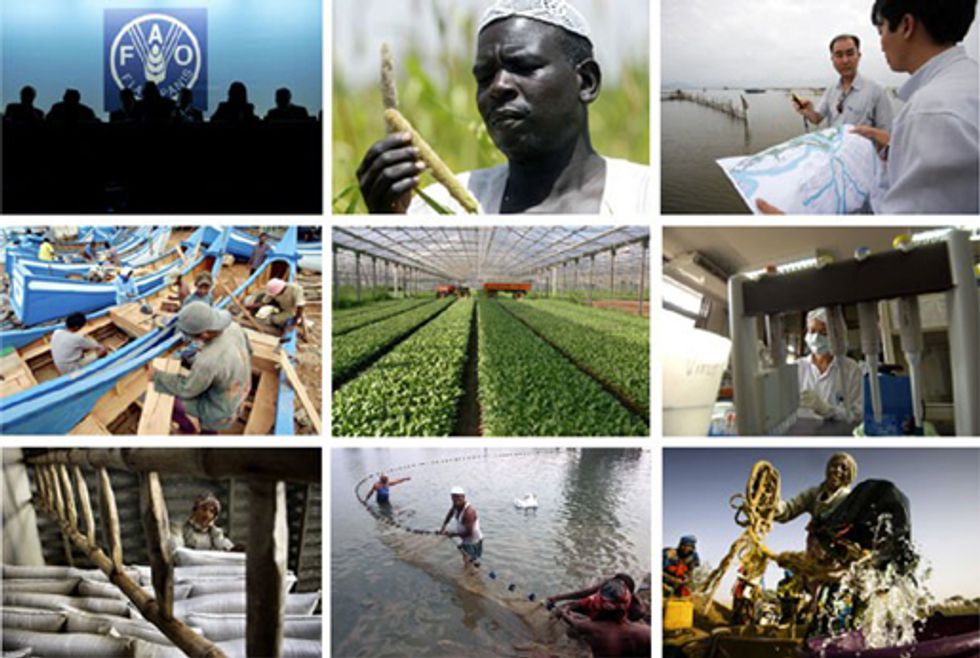 In 2011, volatile food prices and the tragedy of another famine in East Africa forced world attention to focus on issues of food and agriculture.
As the Food and Agriculture Organization of the United Nations (FAO) moved to support farmers and pastoralists in the Horn of Africa and rally international support for long-term measures for reducing vulnerability in the region, it also continued to work on a number of other fronts as well.
One spot of good news—and a bright one at that—was the final eradication of rinderpest, a livestock disease that had plagued farmers for millennia.
2011 also saw the unveiling of FAO's new Save and Grow paradigm for sustainably, increasing food production by the world's millions of smallholder farmers. And a new edition of The State of World Agriculture highlighted how the gender gap in agriculture handicaps millions of women farmers and undermines the fight against hunger. FAO research shed light on the vast scale of food waste around the world, and a groundbreaking new study provided a unique look at the status of the land and water resources on which global food production depends. In 2011, FAO also provided updates on the status of key global fish stocks and improved information on world deforestation rates.
Read about these developments and more in this year-end wrap up.
FAO highlights from 2011

November

Satellite technology yields new forest loss estimates
A new, satellite-based survey by FAO provided new, and more accurate, information on changes in the world's forest cover, showing that forest land use declined between 1990 and 2005.
Scarcity and degradation of land and water represent growing threat to food security, reports major new FAO study
In November, FAO released the first edition of a new flagship publication, The State of Land and Water Resources for Food and Agriculture. According to the report, widespread degradation and deepening scarcity of land and water resources have placed key food production systems around the globe at risk, posing a profound challenge to the task of feeding a world population expected to reach 9 billion people by 2050.
October
World Food Day focuses on swinging food prices
World leaders and international celebrities gathered in Rome to mark World Food Day 2011 with a call for greater investment in agriculture, more support for women farmers, and improved transparency in international agricultural commodity markets.
World hunger report 2011 warns that high, volatile prices set to continue
Food price volatility featuring high prices is likely to continue and possibly increase, making poor farmers, consumers and countries more vulnerable to poverty and food insecurity, according to the 2011 edition of The State of Food Security in the World report. The heads of the three Rome-based U.N. food agencies called for concerted international action to address the problem.
September

Global Soil Partnership for Food Security launched at FAO
FAO spearheads a new effort to safeguard soil resources critical to farmers and food producers.
August

Horn of Africa—Funding for agricultural recovery lagging, FAO warns
As world governments met in Ethiopia for an international pledging conference aimed at winning more aid for the Horn of Africa, FAO issued a warning that efforts to keep farmers and pastoralists on their feet, prevent the crisis from worsening, and speed progress toward recovery had not yet received adequate support.

July

Meeting on Horn of Africa calls for tackling root causes of famine
In July and August, FAO convened emergency meetings of governments, U.N. agencies and international organizations to rally support for life saving operations in the Horn of Africa and also stress the need to support farmers and herders in the region to prevent the situation from getting worse.
New fund for livestock biodiversity management launched
A new support fund designed to help developing countries conserve and sustainably use their livestock breeds under the auspices of the internationally-agreed Global Plan of Action for Animal Genetic Resources was launched by FAO in July.
June

Rinderpest eradicated
In a historic victory of veterinary science, FAO and World Organization for Animal Health (OIE) announced that thanks to a decades-long international cooperative effort, the cattle disease known as rinderpest had successfully been eradicated in the wild. The disease had been the bane of farmers for thousands of years, wiping out the farm animals on which their livelihoods depended.
FAO's next director-general selected
FAO Member countries elected José Graziano da Silva of Brazil as the next FAO director-general, starting in January 2012. Current FAO Director-General Jacques Diouf set to step down after 17 years of service.
Drought in Horn of Africa threatens millions
As the situation in East Africa continued to deteriorate, FAO again warned that the number of people facing severe food shortages was set to increase as the impact of drought, along with high food and fuel prices, continued to grip the region.
Putting nature back into agriculture—FAO launches its new Save and Grow initiative
In June, FAO announced a new initiative intended to produce more food for a growing world population in an environmentally sustainable way. The new approach calls for targeting mainly smallholder farmers in developing countries. Helping low-income farm families in developing countries—some 2.5 billion people—economize on cost of production and build healthy agro-ecosystems will enable them to maximize yields and invest the savings in their health and education.
May

Stemming post-harvest waste crucial to African food security
Grain losses in sub-Saharan Africa could total $4 billion, FAO and the World Bank report.

Cutting food waste to feed the world
Roughly one third of the food produced in the world for human consumption every year—approximately 1.3 billion tonnes—gets lost or wasted, an FAO-commissioned study reveals.
March

Closing the gender gap in agriculture
In the 2011 edition of its annual State of Food and Agriculture report, FAO focused on the "gender gap" in agriculture. The report's key finding—if women in rural areas had the same access to land, technology, financial services, education and markets as men, agricultural production could be increased and the number of hungry people reduced by 100-150 million.
World food prices hit historic peak
January saw food prices spiking to a historic high, as FAO continued to track trends through its monthly Food Price Index updates.
January

Fish consumption reaches all-time high
A new edition of FAO's The State of World Fisheries and Aquaculture report found that while fisheries production reached a new-time high—thanks mainly to the growth of fish farming—the status of important fish stocks in the wild remained a cause for concern.
For more information, click here.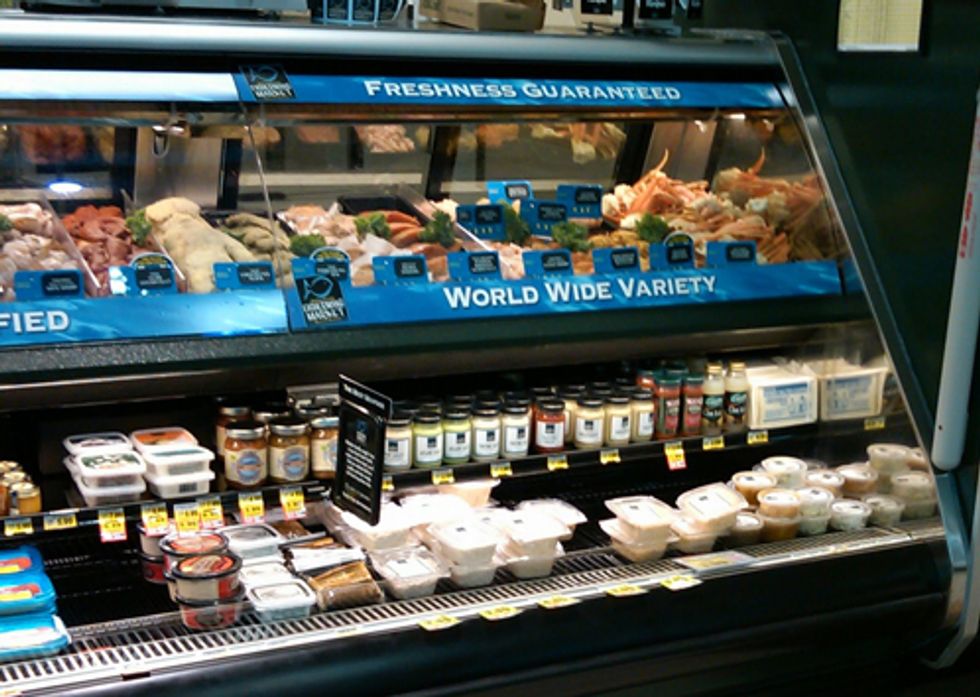 A new report released Dec. 7 by the University of Victoria ranks eco-labels intended to distinguish seafood produced with less damage to the environment. It is the first study to evaluate how eco-labels for farmed marine fish compare to unlabeled options in the marketplace.
"How Green is Your Eco-label?" is designed to help seafood buyers sort through competing sustainability claims and better identify those labels that result in farming methods with less damage to the ocean. Key findings include:
Organic labels lead the pack, although a few fall noticeably short
Many eco-labels are not much better than conventional farmed seafood options when it comes to protecting the ocean environment
Scale is a big challenge for eco-labels—For the most part, eco-labels are awarded based on an individual farm's environmental footprint. However, the cumulative environmental effects of many farms can quickly overwhelm the benefits of reductions in impacts by a single farm or small group of certified farms.
"Our research shows that most eco-labels for farmed marine fish offer no more than a 10 percent improvement over the status quo," said John Volpe, Ph.D., a marine ecologist at the University of Victoria and lead author of the report.
"With the exception of a few outstanding examples, one-third of the eco-labels evaluated for these fish utilize standards at the same level or below what we consider to be conventional or average practice in the industry."
Supported by the Pew Environment Group, the study, which was reviewed by several independent experts, uses a well-established quantitative methodology derived from the 2010 Global Aquaculture Performance Index to determine numerical scores of environmental performance for 20 different eco-labels for farmed marine finfish, such as salmon, cod, turbot and grouper. These scores were used to rank performance among the various eco-labels. The assessment did not look at eco-labels for freshwater farmed fish, such as tilapia or catfish.
The authors used 10 environmental factors to assess the eco-labels, including antibiotic use, the ecological effect of farmed fish that escape from pens, sustainability of the fish that serve as feed, parasiticide use, and industrial energy needed in aquaculture production.
"Eco-labels can help fish farmers produce and consumers select environmentally preferable seafood, but only if the labels are based on meaningful standards that are enforced," said Chris Mann, director of Pew's Aquaculture Standards Project. "Seafood buyers at the retail or wholesale level should demand that evidence of sustainability be demonstrated, not merely asserted."
The report concludes that government policies and regulations, as well as effective eco-labels, are necessary to limit the environmental impacts of production.
For more information, click here.