Wisdom is seen with her chick in Feb. 2021 at the Midway Atoll National Wildlife Refuge. Jon Brack / Friends of Midway Atoll National Wildlife Refuge /
Flick
r /
CC 2.0
Wisdom the mōlī, or Laysan albatross, is the oldest wild bird known to science at the age of at least 70. She is also, as of February 1, a new mother.
EcoWatch Daily Newsletter
FWS biologist Susan Wynn releases an endangered butterfly in San Diego County in 2016. Joanna Gilkeson / USFWS

By Taryn MacKinney
First, the bad news: An analysis by the Union of Concerned Scientists reveals that federal agencies like the Environmental Protection Agency (EPA) and Fish and Wildlife Service (FWS) have lost hundreds of scientists since 2017. The good news: With the Biden administration already acting on its pledge to lead with science, a new day has dawned, and it's time to get to work.
Science Under Attack
Since the birth of the National Academies of Sciences more than 150 years ago, US federal science has fueled many of the nation's and the world's great achievements. Federally funded scientists have mapped the human genome, created the World Wide Web, protected species from extinction, and saved countless lives through revolutionary vaccine campaigns—against polio and smallpox in years past, and today, against COVID-19.
At the heart of these triumphs stand the government scientists. Whether chemist or physician, economist or engineer, each has dedicated their career to the American public and its interests: clean air and water, safe homes, a healthy future for all.
But cracks have formed in the foundations of government science. Especially since 2017, political officials have stunted or stalled scientific research, retaliated against scientists, weakened science advisory committees, left scientific positions vacant, and undermined career staff. Some federal offices, battered by political attacks, have hemorrhaged scientific experts.
Now that the sun has set on the Trump administration, questions remain. How have federal scientists fared in the last four years? How many work in government today? And how can the Biden administration repair what was broken?
The Hunt for Numbers
To answer these questions, we needed government information and lots of it. Last autumn, we requested, via the Freedom of Information Act (FOIA), two decades of staffing records from nearly 30 federal science agencies, from the FWS to the Census Bureau.
We're still waiting on a lot of data, but the results we have gotten are revealing. In the last four years, five of the seven agencies we analyzed collectively lost more than 1,000 scientists.
This figure shows the percent change in the number of scientists from 2016 to 2020 across seven federal agencies. Percent change is useful, but it can also mask the human scale of loss. Here's an example: By 2019, the EPA and the Bureau of Ocean Energy Management (BOEM) had both lost 6% of their scientists compared to 2016. But the EPA is far larger than BOEM. A 6% loss is 28 scientists at BOEM — and nearly 750 scientists at the EPA. And while BOEM regained many scientists between 2019 and 2020, the EPA did not.
A Blow to Science at the EPA
The losses at the EPA weren't random. Between 2016 and 2020, the EPA lost 550 environmental protection specialists — 1 in 4. These specialists implement air and water quality programs and track environmental law violations, tasks that the last administration spurned.
The EPA lost hundreds of highly specialized scientists, too. For example, environmental engineers work to prevent pollution, recover natural resources, and protect public health; the EPA lost 126 of them. 12 hydrologists, 22 geologists, and 18 statisticians were also lost — about a third of jobs in each category—as were 44 chemists (1 in 10), 27 ecologists (1 in 5), and 18 microbiologists (nearly 1 in 4).
Scientists nationwide felt the crunch. Many staffers in the EPA's 10 regional offices work on the ground in communities and states to implement Agency programs. These offices are scattered across the country, and every single one lost scientific staff between 2016 and 2020, especially offices in the West, Southwest, Great Plains, and Midwest.
Staff also disappeared from programmatic offices. The Office of Research and Development (ORD), the EPA's research powerhouse, lost 12% of its scientific staff — more than 180 people.
But wait, you ask — could these just be retirements? Good point. But if 20 people retire, we'd expect most of them to be replaced, their roles filled via a robust pipeline of early-career scientists. The result: a net loss of zero, or close to it. Instead, we're seeing a net loss of hundreds of scientific staff, indicating that many lost employees weren't replaced. We know from surveys that losses like these hinder vital scientific work.
Losses Beyond the EPA
Other agencies also lost experts between 2016 and 2020. The FWS lost 231 scientific staff, a nearly 4% decline. This includes a net loss of 68 wildlife biologists (about 1 in 8) and 48 staff in wildlife refuge management (about 1 in 12). The US Geological Survey, meanwhile, lost 118 hydrologists (1 in 10), 55 geologists (1 in 10), 45 wildlife biologists (1 in 4), and myriad others.
The Department of Education's research branch, the Institute of Education Services, lost 33 scientific staff—a staggering 19 percent decline. More than half were education researchers.
BOEM — a young agency with fewer than 600 employees — steadily gained scientists through the last quarter of the Obama administration, when it reached a high of 450 scientific staff. But then this number began declining, falling to 403 in Q2 2019. As with the EPA, many of BOEM's losses were highly specialized scientific staff, including 10 geologists (-10%) and 7 oceanographers (-29%).
On the flip side, the National Science Foundation (NSF) has gained scientific staff since 2016, continuing a trend that dates to at least 2010. NASA gained 91 scientific experts — a modest 0.7% increase. We're heartened to see this, but don't be fooled: all is not well in government science.
The Humans Behind the Data
These numbers validate what many civil servants have long witnessed: the decline of federal science. We've tracked nearly 190 attacks on science since 2017, and stories abound of scientists being ignored, defunded, and pushed out. In our 2018 survey, majorities of scientists across agencies reported seeing workforce reductions.
Dr. Joel Clement, a Senior Fellow at UCS and former Department of Interior (DOI) scientist, witnessed these attacks firsthand. At the DOI in 2017, he was reassigned from a senior scientific role to an unrelated role in an accounting office. "I believe I was retaliated against for speaking out publicly about the dangers that climate change poses to Alaska Native communities," he said.
Dr. Clement is one of many to face these assaults. When the Department of Agriculture announced it would move its research arm from Washington, DC to Kansas City, two-thirds of Economic Research Service staff jumped ship — as did 8 in 10 staff in the National Institute of Food and Agriculture. Even when scientists stayed, they faced censorship, funding cuts, and the dissolution of crucial offices and projects. "It feels like a wholesale attack," said Dr. Betsy Smith, a 20-year veteran of the EPA whose research on climate change was abruptly canceled in 2017.
The Path Forward
Still, have hope. Already, President Biden has given the microphone back to federal scientists like Dr. Anthony Fauci, assembled a team of qualified science advisors, and, in rejoining the Paris climate agreement, did what his predecessor never could: recognized the truth of climate change and vowed to work with the world to solve it.
But rebuilding is not enough. Federal science must be fortified. In the coming months, the Biden administration must do all it can to invite more early-career scientists into government—for example, by bolstering fellowship programs and expanding recruitment to underrepresented communities. The administration must also work to keep these vital staff, by strengthening mentorship of early-career scientists and, of course, funding them (a robust White House science and technology budget is a great start).
President Biden must also support policies that promote and protect scientists and their work. We at UCS have a lot of recommendations, and we're thrilled to see many of them already in the administration's latest memorandum on scientific integrity.
The United States is a divided country, cleaved by rival realities and bitter partisanship. But as our leaders brace themselves for the rocky seas ahead, science must be their lighthouse. We implore the Biden administration, and all those elected by the people, to "lead with science and truth." The nation depends on it.
Taryn MacKinney is an investigative researcher for the Center for Science and Democracy at the Union of Concerned Scientists.
Reposted with permission from the Union of Concerned Scientists.
waterlust.com / @tulasendlesssummer_sierra .
Each product featured here has been independently selected by the writer. If you make a purchase using the links included, we may earn commission.
The bright patterns and recognizable designs of Waterlust's activewear aren't just for show. In fact, they're meant to promote the conversation around sustainability and give back to the ocean science and conservation community.
Each design is paired with a research lab, nonprofit, or education organization that has high intellectual merit and the potential to move the needle in its respective field. For each product sold, Waterlust donates 10% of profits to these conservation partners.
Eye-Catching Designs Made from Recycled Plastic Bottles
waterlust.com / @abamabam
The company sells a range of eco-friendly items like leggings, rash guards, and board shorts that are made using recycled post-consumer plastic bottles. There are currently 16 causes represented by distinct marine-life patterns, from whale shark research and invasive lionfish removal to sockeye salmon monitoring and abalone restoration.

One such organization is Get Inspired, a nonprofit that specializes in ocean restoration and environmental education. Get Inspired founder, marine biologist Nancy Caruso, says supporting on-the-ground efforts is one thing that sets Waterlust apart, like their apparel line that supports Get Inspired abalone restoration programs.
"All of us [conservation partners] are doing something," Caruso said. "We're not putting up exhibits and talking about it — although that is important — we're in the field."
Waterlust not only helps its conservation partners financially so they can continue their important work. It also helps them get the word out about what they're doing, whether that's through social media spotlights, photo and video projects, or the informative note card that comes with each piece of apparel.
"They're doing their part for sure, pushing the information out across all of their channels, and I think that's what makes them so interesting," Caruso said.
And then there are the clothes, which speak for themselves.
Advocate Apparel to Start Conversations About Conservation
waterlust.com / @oceanraysphotography
Waterlust's concept of "advocate apparel" encourages people to see getting dressed every day as an opportunity to not only express their individuality and style, but also to advance the conversation around marine science. By infusing science into clothing, people can visually represent species and ecosystems in need of advocacy — something that, more often than not, leads to a teaching moment.

"When people wear Waterlust gear, it's just a matter of time before somebody asks them about the bright, funky designs," said Waterlust's CEO, Patrick Rynne. "That moment is incredibly special, because it creates an intimate opportunity for the wearer to share what they've learned with another."
The idea for the company came to Rynne when he was a Ph.D. student in marine science.
"I was surrounded by incredible people that were discovering fascinating things but noticed that often their work wasn't reaching the general public in creative and engaging ways," he said. "That seemed like a missed opportunity with big implications."
Waterlust initially focused on conventional media, like film and photography, to promote ocean science, but the team quickly realized engagement on social media didn't translate to action or even knowledge sharing offscreen.
Rynne also saw the "in one ear, out the other" issue in the classroom — if students didn't repeatedly engage with the topics they learned, they'd quickly forget them.
"We decided that if we truly wanted to achieve our goal of bringing science into people's lives and have it stick, it would need to be through a process that is frequently repeated, fun, and functional," Rynne said. "That's when we thought about clothing."
Support Marine Research and Sustainability in Style
To date, Waterlust has sold tens of thousands of pieces of apparel in over 100 countries, and the interactions its products have sparked have had clear implications for furthering science communication.
For Caruso alone, it's led to opportunities to share her abalone restoration methods with communities far and wide.
"It moves my small little world of what I'm doing here in Orange County, California, across the entire globe," she said. "That's one of the beautiful things about our partnership."
Check out all of the different eco-conscious apparel options available from Waterlust to help promote ocean conservation.
Melissa Smith is an avid writer, scuba diver, backpacker, and all-around outdoor enthusiast. She graduated from the University of Florida with degrees in journalism and sustainable studies. Before joining EcoWatch, Melissa worked as the managing editor of Scuba Diving magazine and the communications manager of The Ocean Agency, a non-profit that's featured in the Emmy award-winning documentary Chasing Coral.
A young male monk seal was rescued in the reefs of the Northwestern Hawaiian Islands. Monk seals are listed as an endangered species. Koa Matsuoka / NMFS
Senate Republicans will hold a hearing Wednesday to begin attempting to gut and repeal the Endangered Species Act. This is the first hearing on the act to be chaired by Sen. John Barrasso (R-Wyo), who has voted against the Endangered Species Act and protecting endangered species at every opportunity since 2011.
10 Endangered Species and How Trump Can Prevent Their Extinction https://t.co/10mDxor5tX @CenterForBioDiv @endangered @NWF @Wilderness

— EcoWatch (@EcoWatch)1482358859.0
"The clear intent of this hearing is to begin the process of gutting the Endangered Species Act," said Brett Hartl, government affairs director at the Center for Biological Diversity. "Senator Barrasso's callous attack on this crucial environmental law is totally out of step with the strong majority of Americans who support the Endangered Species Act. Without the Act we wouldn't have bald eagles, grizzly bears or many other wildlife species we all cherish."
The Endangered Species Act has saved more than 99 percent of species under its protection from extinction and put hundreds more on the road to recovery. Scientists estimate that without the act, 227 species would have gone extinct by 2006.
The act's impressive track record of success is even more remarkable given that Congress only provides approximately 3.5 percent of the funding that the Fish and Wildlife Service's own scientists estimate is needed to recover these species. Meanwhile Sen. Barrasso's war chest has been enriched by the oil and gas industry to the tune of $1.72 million since 2012.

"With 1 in 4 endangered species receiving less than $10,000 a year toward their recovery, the Endangered Species Act needs more funding, not baseless attacks from Senate Republicans," said Hartl. "Oil companies may be keen to gut and repeal this vital protection for imperiled wildlife, but the American people don't want our nation's most effective conservation law shredded to profit the petroleum industry."

Since Republicans retook the House of Representatives in January 2011, they have launched more than 230 legislative attacks on endangered species. In just the past two years, congressional Republicans have introduced more than 133 separate pieces of legislation and amendments designed to eliminate protections for endangered species or weaken the act itself. Most recently Rep. Rob Bishop (R-Utah), chairman of the House Natural Resources Committee, admitted to the public that his goal was to invalidate the Endangered Species Act in its entirety.
Two in three Americans want the Endangered Species Act strengthened or left alone, according to a 2013 poll.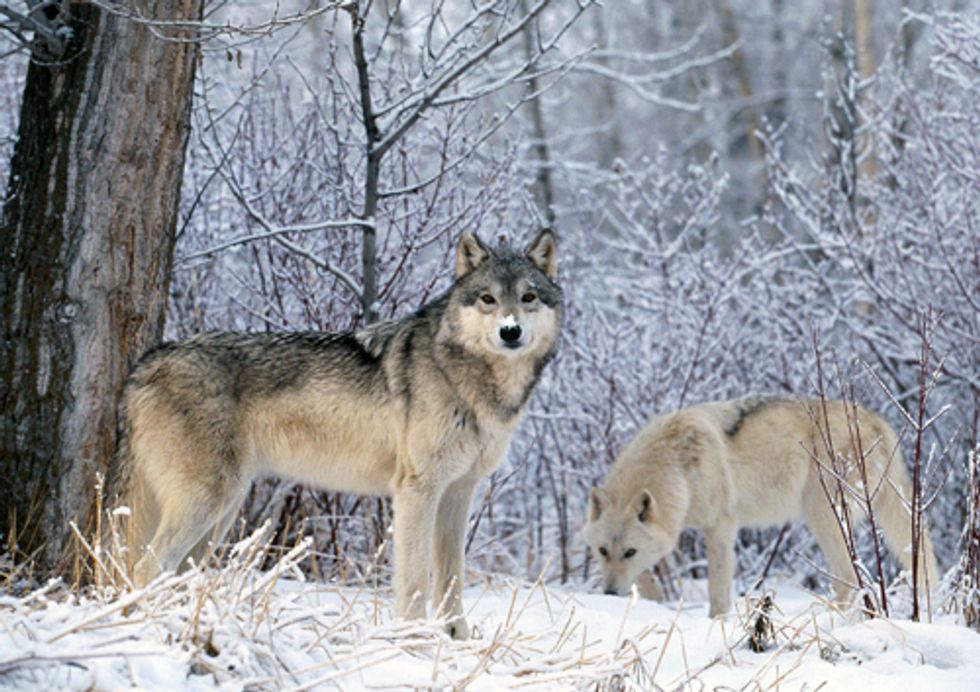 by Doug Honnold
The U.S. Fish and Wildlife Service recently proposed to remove wolves in Wyoming from the endangered species list. This deadly proposal would allow unlimited, shoot-on-sight killing of wolves in nearly 90 percent of the state.
Under intense political pressure from Wyoming state officials, the U.S. Fish and Wildlife Service cut a deal that would hand wolf management over to the state, allowing politics—not science—to decide the fate of wolves in the region.
Independent scientists say that 2,000 to 3,000 wolves are needed for a sustainable, fully recovered population. But at the end of last year, only an estimated 1,650 wolves were living in the Northern Rockies—with just 343 wolves in Wyoming.
The federal government has spent 16 years and millions of dollars to restore wolves to the West. This proposal combined with the recent congressional delisting and hunting of wolves in Idaho and Montana threatens their very survival. Help us fight back against this deadly proposal.
Take action and speak out for strong wolf protections and a plan that supports a full recovery for the species. Urge U.S. Fish and Wildlife to save Wyoming's remaining wolves and oppose any plan that allows politics to decide the fate of an imperiled species.
For more information, click here.