This website uses cookies to ensure you get the best experience while browsing it. By clicking 'Got It' you're accepting these terms.


The best of EcoWatch, right in your inbox. Sign up for our email newsletter!
Greta Thunberg, a 15-year-old activist from Sweden, addressed a crowd at what campaigners say was Finland's largest ever climate demonstration on Saturday.
Svante Thunberg / Twitter
By Jessica Corbett
Addressing some 10,000 people in Helsinki on Saturday at what some campaigners are calling Finland's largest ever climate demonstration, 15-year-old Greta Thunberg urged marchers to fight for the major systemic changes that experts have said are necessary to limit greenhouse gas emissions and avert a looming climate catastrophe.
The Finnish government has announced plans to stop using coal, one of the the dirtiest fuels on the planet, by 2030.
EcoWatch Daily Newsletter
By Nicole D'Alessandro
Worldwide, a trillion single-use plastic bags are used each year, nearly 2 million each minute. Usage varies widely among countries, from more than 400 a year for many East Europeans, to just four a year for people in Denmark and Finland. Plastic bags, made of depletable natural gas or petroleum resources, are often used only for a matter of minutes. Yet they last in the environment for hundreds of years, shredding into ever-smaller pieces but never fully breaking down.

By Noam Chomsky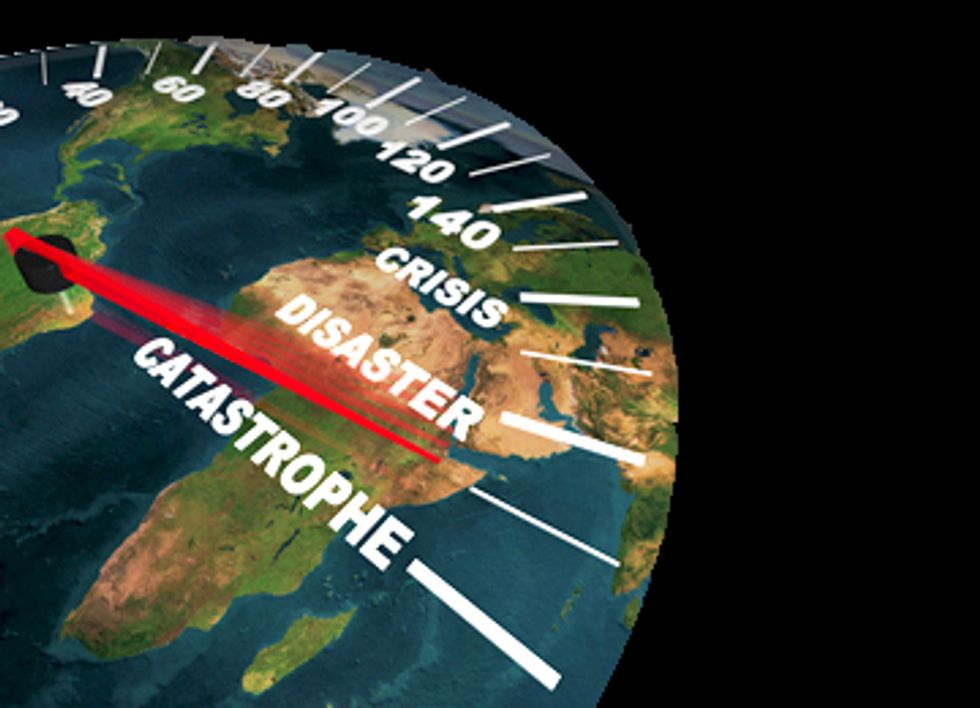 What is the future likely to bring? A reasonable stance might be to try to look at the human species from the outside. So, imagine that you're an extraterrestrial observer who is trying to figure out what's happening here or, for that matter, imagine you're an historian 100 years from now—assuming there are any historians 100 years from now, which is not obvious—and you're looking back at what's happening today. You'd see something quite remarkable.
For the first time in the history of the human species, we have clearly developed the capacity to destroy ourselves. That's been true since 1945. It's now being finally recognized that there are more long-term processes like environmental destruction leading in the same direction, maybe not to total destruction, but at least to the destruction of the capacity for a decent existence.
And there are other dangers like pandemics, which have to do with globalization and interaction. So there are processes underway and institutions right in place, like nuclear weapons systems, which could lead to a serious blow to, or maybe the termination of, an organized existence.
How to Destroy a Planet Without Really Trying
The question is: What are people doing about it? None of this is a secret. It's all perfectly open. In fact, you have to make an effort not to see it.
There have been a range of reactions. There are those who are trying hard to do something about these threats, and others who are acting to escalate them. If you look at who they are, this future historian or extraterrestrial observer would see something strange indeed. Trying to mitigate or overcome these threats are the least developed societies, the indigenous populations, or the remnants of them, tribal societies and first nations in Canada. They're not talking about nuclear war but environmental disaster, and they're really trying to do something about it.
In fact, all over the world—Australia, India, South America—there are battles going on, sometimes wars. In India, it's a major war over direct environmental destruction, with tribal societies trying to resist resource extraction operations that are extremely harmful locally, but also in their general consequences. In societies where indigenous populations have an influence, many are taking a strong stand. The strongest of any country with regard to global warming is in Bolivia, which has an indigenous majority and constitutional requirements that protect the "rights of nature." 
Ecuador, which also has a large indigenous population, is the only oil exporter I know of where the government is seeking aid to help keep that oil in the ground, instead of producing and exporting it—and the ground is where it ought to be.
Venezuelan President Hugo Chavez, who died recently and was the object of mockery, insult and hatred throughout the Western world, attended a session of the United Nations General Assembly a few years ago where he elicited all sorts of ridicule for calling President George W. Bush a devil. He also gave a speech there that was quite interesting. Of course, Venezuela is a major oil producer. Oil is practically their whole gross domestic product. In that speech, he warned of the dangers of the overuse of fossil fuels and urged producer and consumer countries to get together and try to work out ways to reduce fossil fuel use. That was pretty amazing on the part of an oil producer. You know, he was part Indian, of indigenous background. Unlike the funny things he did, this aspect of his actions at the UN was never even reported.
So, at one extreme you have indigenous, tribal societies trying to stem the race to disaster. At the other extreme, the richest, most powerful societies in world history, like the U.S. and Canada, are racing full-speed ahead to destroy the environment as quickly as possible. Unlike Ecuador, and indigenous societies throughout the world, they want to extract every drop of hydrocarbons from the ground with all possible speed. 
Both political parties, President Obama, the media and the international press seem to be looking forward with great enthusiasm to what they call "a century of energy independence" for the U.S. Energy independence is an almost meaningless concept, but put that aside. What they mean is: We'll have a century in which to maximize the use of fossil fuels and contribute to destroying the world.
And that's pretty much the case everywhere. Admittedly, when it comes to alternative energy development, Europe is doing something. Meanwhile, the U.S., the richest and most powerful country in world history, is the only nation among perhaps 100 relevant ones that doesn't have a national policy for restricting the use of fossil fuels, that doesn't even have renewable energy targets. It's not because the population doesn't want it. Americans are pretty close to the international norm in their concern about global warming. It's institutional structures that block change. Business interests don't want it and they're overwhelmingly powerful in determining policy, so you get a big gap between opinion and policy on lots of issues, including this one.
So that's what the future historian—if there is one—would see. He might also read today's scientific journals. Just about every one you open has a more dire prediction than the last.
"The Most Dangerous Moment in History"
The other issue is nuclear war. It's been known for a long time that if there were to be a first strike by a major power, even with no retaliation, it would probably destroy civilization just because of the nuclear-winter consequences that would follow. You can read about it in the Bulletin of Atomic Scientists. It's well understood. So the danger has always been a lot worse than we thought it was.
We've just passed the 50 year anniversary of the Cuban Missile Crisis, which was called "the most dangerous moment in history" by historian Arthur Schlesinger, President John F. Kennedy's advisor. Which it was. It was a very close call, and not the only time either. In some ways, however, the worst aspect of these grim events is that the lessons haven't been learned.
What happened in the missile crisis in October 1962 has been prettified to make it look as if acts of courage and thoughtfulness abounded. The truth is that the whole episode was almost insane. There was a point, as the missile crisis was reaching its peak, when Soviet Premier Nikita Khrushchev wrote to Kennedy offering to settle it by a public announcement of a withdrawal of Russian missiles from Cuba and U.S. missiles from Turkey. Actually, Kennedy hadn't even known that the U.S. had missiles in Turkey at the time. They were being withdrawn anyway, because they were being replaced by more lethal Polaris nuclear submarines, which were invulnerable.
So that was the offer. Kennedy and his advisors considered it—and rejected it. At the time, Kennedy himself was estimating the likelihood of nuclear war at a third to a half. So Kennedy was willing to accept a very high risk of massive destruction in order to establish the principle that we—and only we—have the right to offensive missiles beyond our borders, in fact anywhere we like, no matter what the risk to others—and to ourselves, if matters fall out of control. We have that right, but no one else does.
Kennedy did, however, accept a secret agreement to withdraw the missiles the U.S. was already withdrawing, as long as it was never made public. Khrushchev, in other words, had to openly withdraw the Russian missiles while the U.S. secretly withdrew its obsolete ones; that is, Khrushchev had to be humiliated and Kennedy had to maintain his macho image. He's greatly praised for this: Courage and coolness under threat, and so on. The horror of his decisions is not even mentioned—try to find it on the record.
And to add a little more, a couple of months before the crisis blew up, the U.S. had sent missiles with nuclear warheads to Okinawa, Japan. These were aimed at China during a period of great regional tension.
Well, who cares? We have the right to do anything we want anywhere in the world. That was one grim lesson from that era, but there were others to come.
Ten years after that, in 1973, Secretary of State Henry Kissinger called a high-level nuclear alert. It was his way of warning the Russians not to interfere in the ongoing Israel-Arab war and, in particular, not to interfere after he had informed the Israelis that they could violate a ceasefire the U.S. and Russia had just agreed upon. Fortunately, nothing happened.
Ten years later, President Ronald Reagan was in office. Soon after he entered the White House, he and his advisors had the Air Force start penetrating Russian air space to try to elicit information about Russian warning systems, Operation Able Archer. Essentially, these were mock attacks. The Russians were uncertain, some high-level officials fearing that this was a step towards a real first strike. Fortunately, they didn't react, though it was a close call. And it goes on like that.
What to Make of the Iranian and North Korean Nuclear Crises
At the moment, the nuclear issue is regularly on front pages in the cases of North Korea and Iran. There are ways to deal with these ongoing crises. Maybe they wouldn't work, but at least you could try. They are, however, not even being considered, not even reported.
Take the case of Iran, which is considered in the West—not in the Arab world, not in Asia—the gravest threat to world peace. It's a Western obsession, and it's interesting to look into the reasons for it, but I'll put that aside here. Is there a way to deal with the supposed gravest threat to world peace? Actually, there are quite a few. One way, a pretty sensible one, was proposed a couple of months ago at a meeting of the non-aligned countries in Tehran. In fact, they were just reiterating a proposal that's been around for decades, pressed particularly by Egypt, and has been approved by the UN General Assembly.
The proposal is to move toward establishing a nuclear-weapons-free zone in the region. That wouldn't be the answer to everything, but it would be a pretty significant step forward. And there were ways to proceed. Under UN auspices, there was to be an international conference in Finland last December to try to implement plans to move toward this. What happened? 
You won't read about it in the newspapers because it wasn't reported—only in specialist journals. In early November, Iran agreed to attend the meeting. A couple of days later President Obama cancelled the meeting, saying the time wasn't right. The European Parliament issued a statement calling for it to continue, as did the Arab states. Nothing resulted. So we'll move toward ever-harsher sanctions against the Iranian population—it doesn't hurt the regime—and maybe war. Who knows what will happen?
In Northeast Asia, it's the same sort of thing. North Korea may be the craziest country in the world. It's certainly a good competitor for that title. But it does make sense to try to figure out what's in the minds of people when they're acting in crazy ways. Why would they behave the way they do? Just imagine ourselves in their situation. Imagine what it meant in the Korean War years of the early 1950s for your country to be totally leveled, everything destroyed by a huge superpower, which furthermore was gloating about what it was doing. Imagine the imprint that would leave behind.
Bear in mind that the North Korean leadership is likely to have read the public military journals of this superpower at that time explaining that, since everything else in North Korea had been destroyed, the Air Force was sent to destroy North Korea's dams, huge dams that controlled the water supply—a war crime, by the way, for which people were hanged in Nuremberg. And these official journals were talking excitedly about how wonderful it was to see the water pouring down, digging out the valleys, and the Asians scurrying around trying to survive. The journals were exulting in what this meant to those "Asians," horrors beyond our imagination. It meant the destruction of their rice crop, which in turn meant starvation and death. How magnificent! It's not in our memory, but it's in their memory.
Let's turn to the present. There's an interesting recent history. In 1993, Israel and North Korea were moving towards an agreement in which North Korea would stop sending any missiles or military technology to the Middle East and Israel would recognize that country. President Clinton intervened and blocked it. Shortly after that, in retaliation, North Korea carried out a minor missile test. The U.S. and North Korea did then reach a framework agreement in 1994 that halted its nuclear work and was more or less honored by both sides. When George W. Bush came into office, North Korea had maybe one nuclear weapon and verifiably wasn't producing any more. 
Bush immediately launched his aggressive militarism, threatening North Korea—"axis of evil" and all that—so North Korea got back to work on its nuclear program. By the time Bush left office, they had eight to 10 nuclear weapons and a missile system, another great neocon achievement. In between, other things happened. In 2005, the U.S. and North Korea actually reached an agreement in which North Korea was to end all nuclear weapons and missile development. In return, the West, but mainly the U.S., was to provide a light-water reactor for its medical needs and end aggressive statements. They would then form a nonaggression pact and move toward accommodation.
It was pretty promising, but almost immediately Bush undermined it. He withdrew the offer of the light-water reactor and initiated programs to compel banks to stop handling any North Korean transactions, even perfectly legal ones. The North Koreans reacted by reviving their nuclear weapons program. And that's the way it's been going.
It's well known. You can read it in straight, mainstream American scholarship. What they say is: It's a pretty crazy regime, but it's also following a kind of tit-for-tat policy. You make a hostile gesture and we'll respond with some crazy gesture of our own. You make an accommodating gesture and we'll reciprocate in some way.
Lately, for instance, there have been South Korean-U.S. military exercises on the Korean peninsula which, from the North's point of view, have got to look threatening. We'd think they were threatening if they were going on in Canada and aimed at us. In the course of these, the most advanced bombers in history, Stealth B-2s and B-52s, are carrying out simulated nuclear bombing attacks right on North Korea's borders. 
This surely sets off alarm bells from the past. They remember that past, so they're reacting in a very aggressive, extreme way. Well, what comes to the West from all this is how crazy and how awful the North Korean leaders are. Yes, they are. But that's hardly the whole story, and this is the way the world is going.
It's not that there are no alternatives. The alternatives just aren't being taken. That's dangerous. So if you ask what the world is going to look like, it's not a pretty picture. Unless people do something about it. We always can.
Visit EcoWatch's ENERGY page for more related news on this topic.
——–
Click here to tell Congress to Expedite Renewable Energy.

By Martin Williams and Erika Rosenthal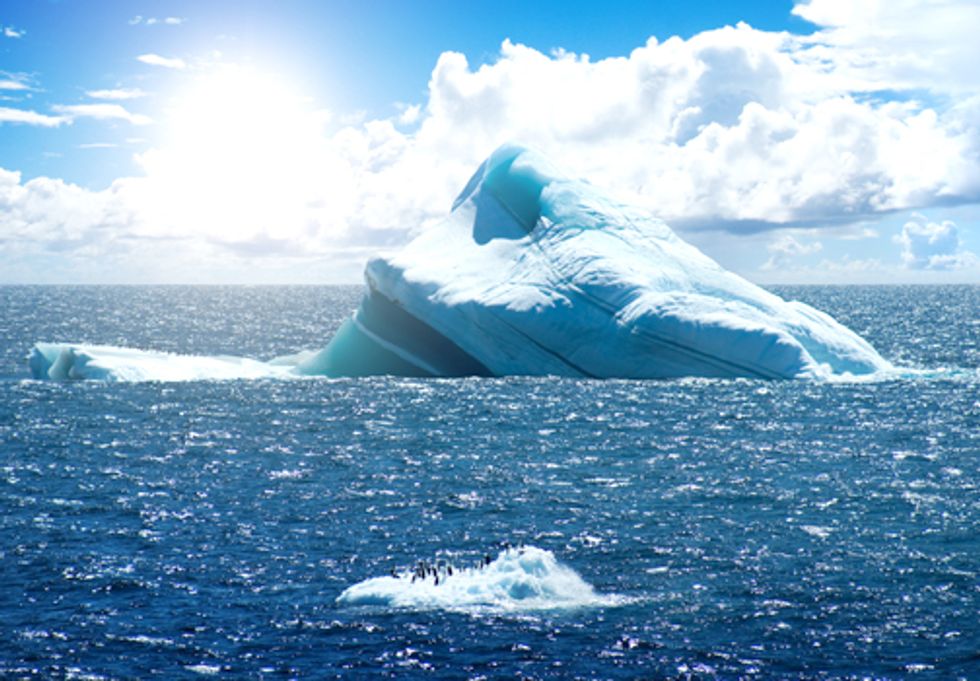 Photo courtesy of Shutterstock
Arctic nations have an extraordinary opportunity to show global leadership to slow regional warming and melting by embracing a proposal to launch talks on an agreement to reduce emissions of the climate pollutant black carbon. Arctic environment ministers have the power to send a strong signal to the Arctic Council when they gather Feb. 5 and Feb. 6 in Jukkasjärvi, Sweden—only the second time ever—acknowledging black carbon reductions as a priority for regional environmental protection.
The Arctic is warming twice as fast as the rest of the planet. Last year was a record melt year for both summer sea ice and land glaciers, e.g. the Greenland Ice Sheet, with grave implications for Arctic peoples and biodiversity, and for low-lying nations and communities around the world. Scientists named 2012 the "Goliath melt year" observing melting on more than 90 percent of the mammoth Greenland Ice Sheet's surface; sea ice retreated to half the size it was when measurements began in 1979.
While carbon dioxide (CO2) reductions remain the backbone of efforts to limit the long term consequences of climate change in the Arctic and globally, its 100-year atmospheric lifespan means CO2 reductions alone cannot avert further potentially devastating warming and melting in the Arctic in the near term. Rapid reductions in emissions of short-lived climate forcers, including black carbon, a component of fine particle pollution, and methane have been identified as the most effective strategy to slow warming and melting in the Arctic over the near term, giving the cultures and biodiversity of the region more time to adapt and slowing the rise of sea levels by reducing continental ice melting.
Arctic states have a special responsibility since black carbon is a more potent climate forcing agent when emitted from within or near the Arctic because particles have a greater chance of settling on Arctic ice and snow, amplifying warming and melting. A seminal paper published recently by a multinational team of scientists, Bounding the role of black carbon in the climate system, states that black carbon has "twice the climate impact reported in previous assessments" and ranks black carbon as the "second most important human emission …; only carbon dioxide is estimated to have a greater forcing …"
Black carbon reductions are important for health as well as climate. It is a component of fine particulate pollution that is emitted by diesel engines, residential wood heating and some industries, and is associated with over a million premature deaths each year from respiratory and heart disease.
The Convention on Long-range Transboundary Air Pollution (CLRTAP) has led the way. In May 2012 CLRTAP, of which all eight Arctic states are parties, became the first multilateral agreement to address black carbon. Amendments to the Convention's Gothenburg Protocol establish emissions standards for fine particulate matter and urge Parties to "… seek reductions from those source categories known to emit high amounts of black carbon, to the extent it considers appropriate." These measures were adopted based on the recognition that reduction of black carbon will "… improve air quality, provide significant public health benefits, and provide regional climate benefits by protecting the Arctic and glaciated mountainous regions, in particular from accelerated rates of melting of ice, snow and permafrost."¹
While groundbreaking, CLRTAP's emissions ceilings don't apply until 2020 and the black carbon reductions goals are voluntary. Arctic nation leadership is urgently needed to complement and accelerate black carbon efforts under CLRTAP. The Arctic Council's own work [Task Force] on SLCF and the UNEP Integrated Assessment have shown that black carbon actions by the eight Arctic nations—using available technologies and known practices—can have a significant temperature impact in the region. Time is of the essence—the UNEP assessment showed that emissions reductions before 2030 will have the greatest impact—and Arctic Council nations are better positioned to lead having studied science-based mitigation opportunities in two working groups for more than four years.
An Arctic regional agreement on black carbon, under the auspices of the Arctic Council, would be a much needed step to complement and advance implementation of commitments under CLRTAP, and do more in the region where it is most critical, both to protect the health and ecosystems in the Arctic, and to slow sea level rise. Logical, complementary steps for an Arctic nation instrument on black carbon could start with agreement to submit black carbon emissions inventories, based on CLRTAP guidelines soon to be finalized; to track regional trends and identify mitigation opportunities; and establish a mechanism for reporting and joint consultation on national mitigation action through the Arctic Council. Additional measures that should be considered for inclusion in a regional black carbon instrument include the adoption of a common, circumpolar vision for black carbon emissions reductions and the development of national mitigation action plans for black carbon. A mechanism for technology transfer and finance to facilitate enhanced mitigation action may also be appropriate.
Arctic nations took on a special commitment, in the founding declaration of the Arctic Council, for "… the protection of the Arctic environment, including the health of Arctic ecosystems, maintenance of biodiversity in the Arctic region and conservation and sustainable use of Arctic resources." In recent years, the Arctic Council has become a platform for the negotiation of regional agreements to help fulfill that pledge, the first on Search and Rescue (2011) and the second, to be signed this year, on oil spill preparedness and response. A decision by the Council to launch negotiations on black carbon reductions in the Arctic would be a welcome complement to the advances under CLRTAP, and an important step for nations of the region to fulfill their commitments to protect the extraordinary peoples, biodiversity and ecosystems of the region. The time for Arctic nations' leadership on black carbon is now.
Visit EcoWatch's CLIMATE CHANGE page for more related news on this topic.
--------
Martin Williams is a professor at King's College London and serves as chair of the Executive Body of the Convention on Long-range Transboundary Air Pollution (CLRTAP). The article reflects his personal views only, not any policy of the CLRTAP. Erika Rosenthal is an attorney with the public interest environmental law firm, Earthjustice.  Both participated in the UNEP Integrated Assessment of Black Carbon and Tropospheric Ozone.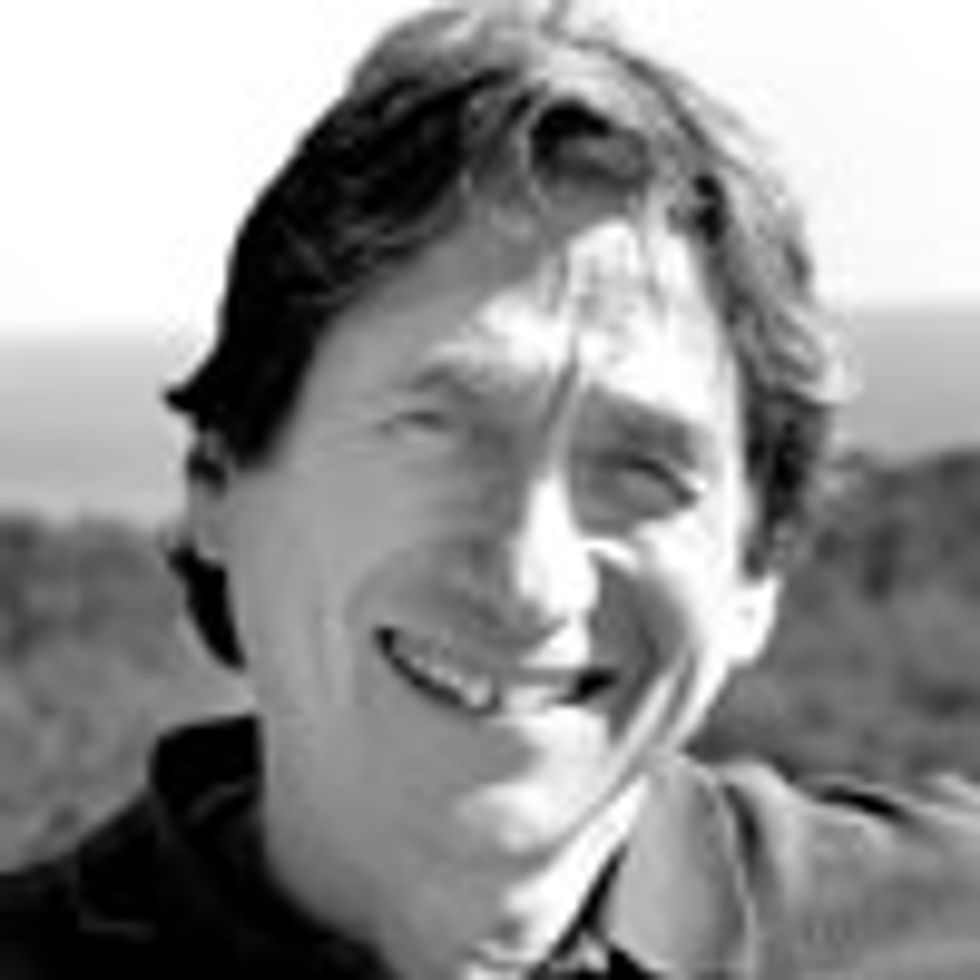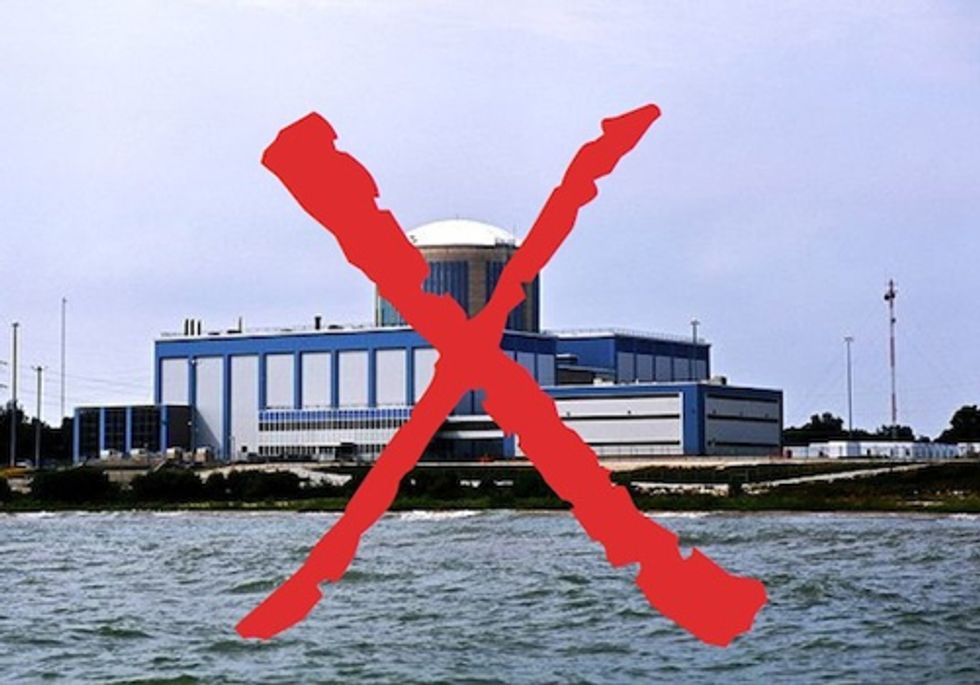 The U.S. fleet of 104 deteriorating atomic reactors is starting to fall. The much-hyped "nuclear renaissance" is now definitively headed in reverse.
The announcement that Wisconsin's Kewaunee will shut next year will be remembered as a critical dam break. Opened in 1974, Kewaunee has fallen victim to low gas prices, declining performance, unsolved technical problems and escalating public resistance.
Many old U.S. reactors are still profitable only because their capital costs were forced down the public throat during deregulation, through other manipulations of the public treasury and because lax regulation lets them operate cheaply while threatening the public health.
But even that's no longer enough. Dominion Energy wanted a whole fleet of reactors, then backed down and couldn't even find a buyer for Kewaunee. As the company put it: "the decision" to shut Kewaunee "was based purely on economics. Dominion was not able to move forward with our plan to grow our nuclear fleet in the Midwest to take advantage of economies of scale." Ironically, Kewaunee was recently given a license extension by the Nuclear Regulatory Commission.
Though Kewaunee may become the first U.S. reactor to shut in more than a decade, it won't be the last:
Two reactors at San Onofre, between Los Angeles and San Diego, are down with massive steam generator problems. The potential cost of restarting them could easily run into the hundreds of millions. A new leak of hydrogen gas has just complicated the situation as public hearings have drawn large, angry crowds demanding the reactors not reopen.
Repairs to Florida's Crystal River have been so thoroughly botched by Progress Energy that holes in the containment may cost $2 billion or more to fix. Odds are strong this reactor will never operate again.
Official reports now confirm that Nebraska's Cooper and Ft. Calhoun reactors are at considerable risk from flooding. One or both may soon face decommissioning.
A fierce public confrontation over Entergy's leaky, accident-prone Vermont Yankee may soon bring it down. Vermont's governor and legislature have voted to deny permits necessary under state law, but Entergy has gone to the courts to prolong its operation.
A parallel confrontation at Entergy's Indian Point may turn on whether the state's denial of water permits could force shut a reactor just 35 miles north of Manhattan. That the first plane to hit the World Trade Center flew directly over Indian Point has been a source of serious public tension since Sept. 11, 2001.
New Jersey's Oyster Creek is slated to shut by 2019 as a compromise forced by the state's demand that it add cooling towers to avoid further thermal damage to local marine ecosystems. But this dangerously decrepit reactor could go down early due to technical, economic and political pressures.
Ohio's infamous "hole-in-the-head" reactor at Davis-Besse continues to operate with a compromised containment and a long list of unresolved technical problems. Like Kewaunee, its economic future has been darkened by cheap natural gas.
The list of other reactors with immediate technical, economic and political challenges is long and lethal. The world still has no place for high-level radioactive waste. Renewable energy prices continue to drop while projected cost estimates for new reactors soar out of control—here, in Finland, France and elsewhere. The two reactors under construction in Georgia, along with two in South Carolina, are all threatened by severe delays, massive cost overruns and faulty construction scandals, including the use of substandard rebar steel and inferior concrete, both of which will be extremely costly to correct.
A high-priced PR campaign has long hyped a "nuclear renaissance." But in the wake of Fukushima, a dicey electricity market, cheap gas and the failure to secure federal loan guarantees in the face of intensifying public opposition, the bottom may soon drop out of both projects. A proposed French-financed reactor for Maryland has been cancelled thanks to a powerful grassroots campaign. Any other new reactor projects will face public opposition and economic pitfalls at least as powerful.
The announcement that Kewaunee will shut could send the U.S. fleet into free fall. Richard Nixon promised the U.S. a thousand reactors by the year 2000. But in fact there were 104. And with the needle now dropping, it's clear the "Peaceful Atom" is on its way out.
The decline is worldwide. China may still be weighing more reactor construction, as are Russia and South Korea. But public resistance has vastly escalated in India. Virtually all of Europe is abandoning the technology, with Germany leading the way to a green-powered future. A fuel pool laden with radioactive rods still hangs precariously in the air at Fukushima, casting an even harsher light on the two dozen GE reactors of similar design still operating here. All but two of Japan's reactors remain shut while an angry debate rages over whether any of the rest will ever reopen.
Should the very pro-nuclear Mitt Romney win here in November, another surge may come aimed at reviving this industry. But the mountains of money, litany of technical fixes and heavy political costs that would be required are staggering to say the least.
In the long run, the real worry is that one or more of these old reactors might just blow before we can get them decommissioned. In that light, the shut-down of Kewaunee and the rest of its aging siblings can't come soon enough.
Visit EcoWatch's NUCLEAR page for more related news on this topic.