By Helen West
Fiber is an important part of a healthy diet.
In fact, eating enough fiber is said to keep your gut healthy and protect against type 2 diabetes and weight gain (1).
It's recommended that men aim for 38 grams of fiber per day, while women should aim for 25 grams (2).
Dietary fiber is a group of carbs that humans can't digest. It's found in all plant foods, including fruits, vegetables, nuts, seeds and grains.iStock
However, not all dietary fiber is created equal and different types have different health effects (3).

This article explores how dietary fiber works to protect your health and how much of it you should eat.
Different Types of Fiber
Dietary fiber is a group of carbs that humans can't digest. It's found in all plant foods, including fruits, vegetables, nuts, seeds and grains.
Because dietary fiber refers to a diverse group of different types of carbs, it can be categorized in various ways.
However, it's usually grouped into one of the following categories, according to its solubility:
Insoluble fibers: These fibers don't dissolve in water. They generally pass through your gut unchanged and add bulk to your stool.
Soluble fibers: These fibers absorb water in your gut to form a gel-like paste. This slows down the digestion of nutrients in your food.
Most foods contain both soluble and insoluble fibers, but usually have more of one type than the other.
In general, foods that contain mostly insoluble fibers include whole grains, wheat bran and some fruits (like avocados) and vegetables (such as celery and cauliflower).
Good sources of soluble fibers include oats, flaxseeds, beans and lentils, as well as some fruits (such as berries and bananas) and vegetables (like broccoli and carrots).
Bottom Line: Dietary fiber is usually classified as soluble or insoluble. It's found in all plant foods, including fruits, vegetables, nuts and seeds.
Fiber Can Help Keep Your Gut Healthy
Eating fiber is said to help maintain regular bowel movements and relieve constipation.
Additionally, people with constipation who don't eat much fiber can usually benefit from eating more (1, 4).
In fact, one study found that as many as 77 percent of people with chronic constipation experienced relief by simply eating more fiber (5).
Furthermore, it's thought that sufficient amounts of some types of fiber help promote the growth of "good" bacteria in your bowel (6).
For example, soluble fibers known as prebiotics feed your gut's beneficial bacteria. By helping your good gut bacteria thrive, they can benefit your health (7, 8).
They also increase the production of some important nutrients, including short-chain fatty acids like butyrate, which are thought to promote a healthy immune system and good gut barrier function (9, 10, 11).
Having a strong gut barrier is important. It helps keep you healthy by preventing things like viruses and harmful bacteria from entering your body.
Some prebiotic foods include oats, bananas and berries.
However, it's currently not fully known which types and amounts of fiber best promote the growth of good bacteria in your gut (12).
Bottom Line: Eating adequate amounts of dietary fiber can prevent constipation. Soluble, prebiotic fibers help maintain the balance of good bacteria in your gut.
Fiber Can Make You Feel Full and Help You Lose Weight
Including fiber-rich foods in your diet can help you lose weight.
In fact, observational studies show that people who eat lots of fiber tend to weigh less and have less body fat than those who don't (13, 14).
This may be because high-fiber foods are both lower in calories and more filling than low-fiber foods. This means that high-fiber foods could help you eat less, without you even noticing (15).
This was reflected in one review of more than 50 studies, which estimated that people who ate 14 grams more fiber per day automatically reduced their calorie intake by around 10 percent (16).
Interestingly, this effect was larger in people who were overweight or obese.
However, a recent review found that only around 39 percent of fibers helped reduce hunger. Of these, just 22 percent resulted in a reduction in the amount of food eaten at a meal (17).
Viscous, soluble fibers—which form a thicker, sticky gel in your gut when they absorb water—are the most effective at keeping you full (18).
Food sources of viscous, soluble fibers include flaxseeds, legumes and oats.
Emerging research is also investigating whether supplementing with specific types of fiber may help weight loss (19).
However, in general, fiber supplements haven't always been found to be particularly useful (20).
One exception to this is a fiber supplement called glucomannan, which has been shown to help people lose a small amount of weight in the short term (21).
Nevertheless, it can't be presumed that fiber supplements have the same health benefits as whole-food fibers. This is because whole-food fibers come with many other beneficial nutrients (22).
Bottom Line: Viscous, soluble fibers are thought to be the most helpful fibers for weight loss. If you don't eat much fiber, increasing your intake by around 14 grams per day could help you lose weight.
Fiber Can Lower Blood Sugar Levels and Protect Against Type 2 Diabetes
Regularly eating the recommended amount of fiber is thought to help prevent and treat type 2 diabetes.
Observational studies have linked eating more fiber with a lower risk of developing type 2 diabetes (23,24, 25, 26).
One study followed more than 75,000 people for 14 years and found that those who ate more than 15 grams of fiber per day had a significantly lower risk of developing diabetes (27).
Additionally, this risk was lowest in the group that ate the most insoluble fiber.
Another study found that people eating 3–5 servings of whole grains per day had a 26 percent lower risk of type 2 diabetes (28).
If you already have diabetes, it's also thought that eating more fiber could help you control your blood sugar levels.
This is because soluble fibers slow down the digestion and absorption of sugars, resulting in a more gradual rise in blood sugar levels and fewer blood sugar spikes.
Studies show that increasing fiber intake, especially soluble fiber, can lower blood sugar levels and improve metabolic health in people with type 2 diabetes (29, 30).
Bottom Line: Regularly eating dietary fiber may help prevent type 2 diabetes. Eating fiber may also improve blood sugar control in people with type 2 diabetes.
Does Fiber Have Any Negative Effects?
While increasing the amount of fiber in your diet should benefit your health, doing so can sometimes cause problems.
If you aren't used to eating a lot of fiber, suddenly increasing your intake by a large amount could result in digestive symptoms like bloating, pain and gas.
Moreover, if you are chronically constipated, you may find that increasing the amount of fiber you eat doesn't help. It may be that reducing your fiber intake is the best way to improve your symptoms (31).
However, this is usually only the case if you have chronic constipation that isn't caused by an inadequate fiber intake (5).
Also, those with irritable bowel syndrome (IBS) may find fiber-rich foods problematic.
This is because many high-fiber foods are also high in fermentable carbs known as FODMAPs. These are known to make IBS symptoms worse (32, 33).
Bottom Line: Eating too much fiber can be a problem, especially if you have a functional bowel problem like IBS.
So How Much Fiber Should You Eat?
Unfortunately, most people don't eat much fiber. In the U.S., most people eat less than half of the recommended daily amount (34).
That said, the current evidence does not indicate which type or amount of fiber is optimal for your health.
Fiber from whole foods comes with many other healthy nutrients. So it may be that the type of fiber and where it comes from is more important than the total number of grams.
Therefore, for most people, eating enough fiber doesn't require obsessing over each and every gram.
Simply aiming to include healthy high-fiber foods with most of your meals should be sufficient.
Reposted with permission from our media associate Authority Nutrition.

EcoWatch Daily Newsletter
Consumers Against Toxic Apparel (CATA) increases awareness and educates consumers about the dangers of toxic apparel, connects the organic apparel community by partnering with organic companies nationwide and creates a resource that allows consumers to save money on their purchases. It's the first campaign in the U.S. designed to bring attention to the growing concerns surrounding the non-regulated practices in the textile industry involving the saturated use of toxic chemicals in clothes.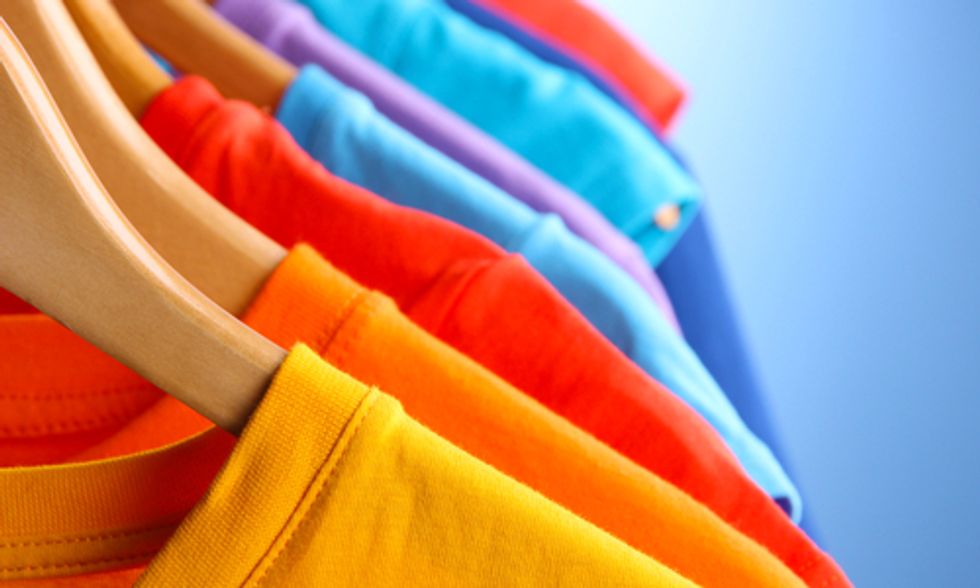 How toxic are your clothes? Photo courtesy of Shutterstock
Instead of focusing on the big dirty textile industry and asking them to change the way they produce clothes, CATA is creating a community of small companies' already producing clean, safe, organic and natural apparel. The key goal is to make it easy for conscious consumers to source and buy organic clothes—and also to show consumers who believe organic clothing is ugly, boring and unfashionable just how pretty, colorful and stylish the selections are today.
Most consumers have no idea what the phrase "organic apparel" really means. Organic apparel is fiber grown without the use of pesticides, herbicides and synthetic fertilizers. Organic fibers include cotton, linen, hemp and wool. In order for these natural fibers to be classified as organic they must go through rigorous third party certification. There are other natural fibers, such as nettle, soy, vegan silk, peace and wild harvested silk, that are not organically classified but make excellent sustainable choices for clothes provided they are dyed using natural or low impact dyes.
Why is the way we produce clothes such a big deal?
It has become a big deal because of the health implications associated with toxic apparel, the environmental impact, as well as the sustainability factor. How much longer can we produce things that are harmful to humans, animals and our environment that will never go away? The rhetorical question is Why would we? when nature has provided in abundance everything we need to dress well. The life cycle of textiles affects everyone and everything on Earth from start to finish and beyond disposal. It all begins with the fiber/fabric type.
Natural fibers are much better for us simply because they feel good against our skin and natural—like an extension of who we are, courtesy of Mother Nature. Synthetic fabrics are restrictive and binding. They affect proper muscle movement and hold sweat against our skin. They're created in a laboratory using hazardous and dangerous chemicals. The fiber is man-made and feels quite unnatural. Its creation is derived by combining thousands of chemicals together in a controlled laboratory process all while producing carcinogenic hazardous waste, contaminated water, air pollution and even climate change. Synthetic fibers include polyester, rayon, acrylic, nylon, acetate, ploynosic, vinyl and microfibers. Through clever marketing, other fabric types such as modal, viscose, tencel and loycell have been introduced by the industry as natural fibers and compared to the real ones.
The fashion and textile industry has made it more difficult for most consumers to know the truth. It is true; the raw material used to create these fabrics is natural. The fabrics are created from beech trees. Beech trees are wood, but that's where the natural aspect ends. The process used to create the fiber is the same process used to create rayon. It involves the use of caustic soda, ammonia, carbon disulphide, acetone and sulphuric acid. The energy used to produce the fiber is exhaustive and the overall waste affects the environment causing everything from mutation to reproductive and developmental problems in wildlife. Currently, bamboo fiber is considered to be the answer to eco-fashion and sustainability. It is a rapidly growing natural grass. However, the process to produce bamboo is also the same as rayon. Bamboo can be produced by using less toxic means and there are a handful of companies doing so, but not enough to impact the industry to-date. Many in the industry are hopeful this will soon change and bamboo will become a major player in the clean apparel market. Bamboo provides many positive benefits to soil and air. It is well worth our efforts to produce it more responsibly.
What does it all mean?
Synthetic fabrics prohibit our bodies from naturally breathing and sweating. When we sweat, toxins are removed through our skin, the largest organ. This natural process enables us to maintain a healthy immune system and fight disease. Man-made fibers are produced from petrochemicals such as petroleum, coal, dihydric alcohol, terepthalic acid, natural gas and agricultural by-products (things not intended by nature to be against our skin). Research has linked synthetic fabrics to chronic illness and disease. These fabrics and the finishes on them are attributed to cancer, neurological brain disorder, infertility, leukemia, Parkinson's disease, severe skin ulcerations, contact dermatitis and much more.
The overlooked environmental cost of disposable toxic fashion
2010 figures from the U.S. Environmental Protection Agency reported that Americans discarded 13.1 million tons of textiles. Only 15 percent was reclaimed by recycling, while 11.1 million tons was dumped in landfills across the country. There are approximately 3,581 active landfills in the U.S. and 10,000 inactive. Textile waste occupies 126 cubic yards of space each year. These textiles are rapidly increasing the amount of methane gas—a harmful greenhouse gas affecting climate change. In addition 17-20 percent of industrial freshwater waste pollution is caused from dying.
Estimates find that 10-15 percent of total dyestuff is released into the environment each year. That's equivalent to 280,000 tons of hazardous, toxic waste. Today, 43 percent of conventional cotton is GMO (genetically modified organism) requiring more and stronger chemicals to grow, further depleting the quality of soil. Soil quality and carbon play a vital role in global warming. In China, more than 20 percent of the groundwater and 40 percent of the surfacewater is contaminated from textile manufacturing. How much more can the planet take before our natural resources are depleted or rendered useless for living a quality life?
CATA is designed to initiate real-time change by connecting consumers with companies currently producing organic apparel. Currently, CATA has brought together 15 organic apparel companies creating a core resource for consumers, offering everything from underwear to kids' clothes and full wardrobing. The roster of companies include SOS from Texas, Foxfibre, Vreises Limited, Vital Hemp, Sassis Organic Clothing, Indigenous Fair Trade Organic Fashion, Fed by Threads, Synergy Organic Clothing, Silver Needle & Thread, Xylem Organic Clothing, Fiercely Green, Earth Creations, Imagine GreenWear, bgreen Apparel and Tag Custom Bridal. The CATA Community of Partners is committed to doing business with conscience before profits, eventually creating a paradigm shift in the way we produce clothes. It's time to put your money where your heart is.
Like many other plant-based foods and products, CBD oil is one dietary supplement where "organic" labels are very important to consumers. However, there are little to no regulations within the hemp industry when it comes to deeming a product as organic, which makes it increasingly difficult for shoppers to find the best CBD oil products available on the market.
<p>Here you can learn about the importance of organic hemp oil, why it's better for the environment, and which CBD companies actually make trustworthy products with sustainable farming processes. origins which weigh heavily on many consumers who want to buy a product that's produced in the best way possible for not only themselves to ingest, but for the environment as well through sustainable farming methods. </p><h2>What Is CBD Oil?</h2><p>First things first, CBD stands for cannabidiol, and it's a cannabinoid found within cannabis sativa plants. This plant compound is believed to have many potential benefits, and it is primarily derived from hemp plants via a CO2 extraction process. </p><p>Since CBD is extracted from industrial hemp, which contains only trace amounts of THC (the psychoactive component in cannabis plants), this means that CBD won't make you feel high like marijuana, which has much higher levels of THC that causes psychoactive effects. Instead, the effects of CBD are much more subtle and promote a general sense of calm and relaxation in most users.</p><h2>What Makes a CBD Oil Organic?</h2><p>In terms of organic labels, perhaps the most important (and prominent) certification comes from the United States Department of Agriculture (USDA). This government organization has been labeling foods as "organic" for many years, but what exactly does this certification entail? Essentially, a label indicating that a product is "USDA Organic" or "Certified Organic" means that at least 95% of the ingredients are obtained from organic sources.</p><p>For a crop to be considered organic by the USDA, it must be grown without the use of industrial solvents, irradiation, genetic engineering (GMOs), synthetic pesticides, or chemical fertilizer. Instead, farmers rely on natural substances and <a href="https://www.usda.gov/media/blog/2012/03/22/organic-101-what-usda-organic-label-means" rel="noopener noreferrer" target="_blank">mechanical, physical, or biologically based farming</a> techniques to cultivate healthy and organic crops.</p><p>Before the passage of the 2018 Farm Bill, no hemp-derived products could be dubbed as "certified organic" since the hemp plant and its extracts were still categorized as a Schedule I Controlled Substance. However, it's still difficult for CBD companies to obtain a USDA certified organic label for their products due to the legal grey area that still surrounds CBD extracts. </p><p>Because of these challenges, and due to the fact that industrial hemp has only recently become an agricultural crop, very few CBD oils are USDA certified organic. Rather, many CBD products contain hemp extracts from plants that were grown in organic conditions but may not be federally certified.</p><h2>What are the Best Organic CBD Oil Brands?</h2><p><em>Each product featured here has been independently selected. If you make a purchase using the links included, we may earn commission.</em></p>