iStock
By Dan Nosowitz
News that there may be a correlation between exposure to pesticides and infertility is not new; studies have previously tied higher rates of exposure to decreased male fertility.
But a new study, primarily from researchers at Harvard University's T.H. Chan School of Public Health, takes a look specifically at women who are already undergoing infertility treatment. And the results seem to have surprised even the researchers, according to a CNN report.
The study looked at 325 women undergoing infertility treatment at Mass General Hospital in Boston. The researchers looked for correlations in whether women successfully got pregnant and gave birth with their diets. The subjects self-reported what they ate, and the researchers took careful note of the amounts of fruits and vegetables associated with very high levels of pesticide residue, based on U.S. Deparement of Agriculture data. (That data shows up in lists like the EWG's Dirty Dozen).
Among those fruits and vegetables with the highest levels of pesticide residue are spinach, strawberries and peaches; those with low levels of pesticide residue include avocados and onions.
The results are pretty staggering: of those subjects who consumed more than 2.3 servings per day of high-residue fruits and vegetables, the study found an 18 percent lower probability of getting pregnant and a 23 percent lower probability of successfully giving birth. There seemed to be no correlation between those women who consumed lots of low-residue fruits and vegetables.
This study is not a perfect proof of causality; the women surveyed are demographically limited by geographic location (being that they're all seeking treatment from a single hospital), and they were all seeking fertility treatment in the first place, which might skew the findings. And, of course, the study relied on self-reporting, which can have flaws, too.
But this could be a serious call to action for those seeking to prove a link between infertility and pesticides in our food, even when that food is objectively healthful stuff like strawberries and spinach.
Reposted with permission from our media associate Modern Farmer.
Related Articles Around the Web
EcoWatch Daily Newsletter
The Center for Environmental Health (CEH) today released a new report outlining the health risks to pregnant women and young children from harmful chemicals used in fracking. The report, Toxic and Dirty Secrets: The Truth About Fracking and Your Family's Health, shows how chemicals related to the oil and gas industry when conducting fracking operations can pollute the air and water in communities around fracking sites and pose health risks especially to pregnant women and children, who are most vulnerable to chemical exposures.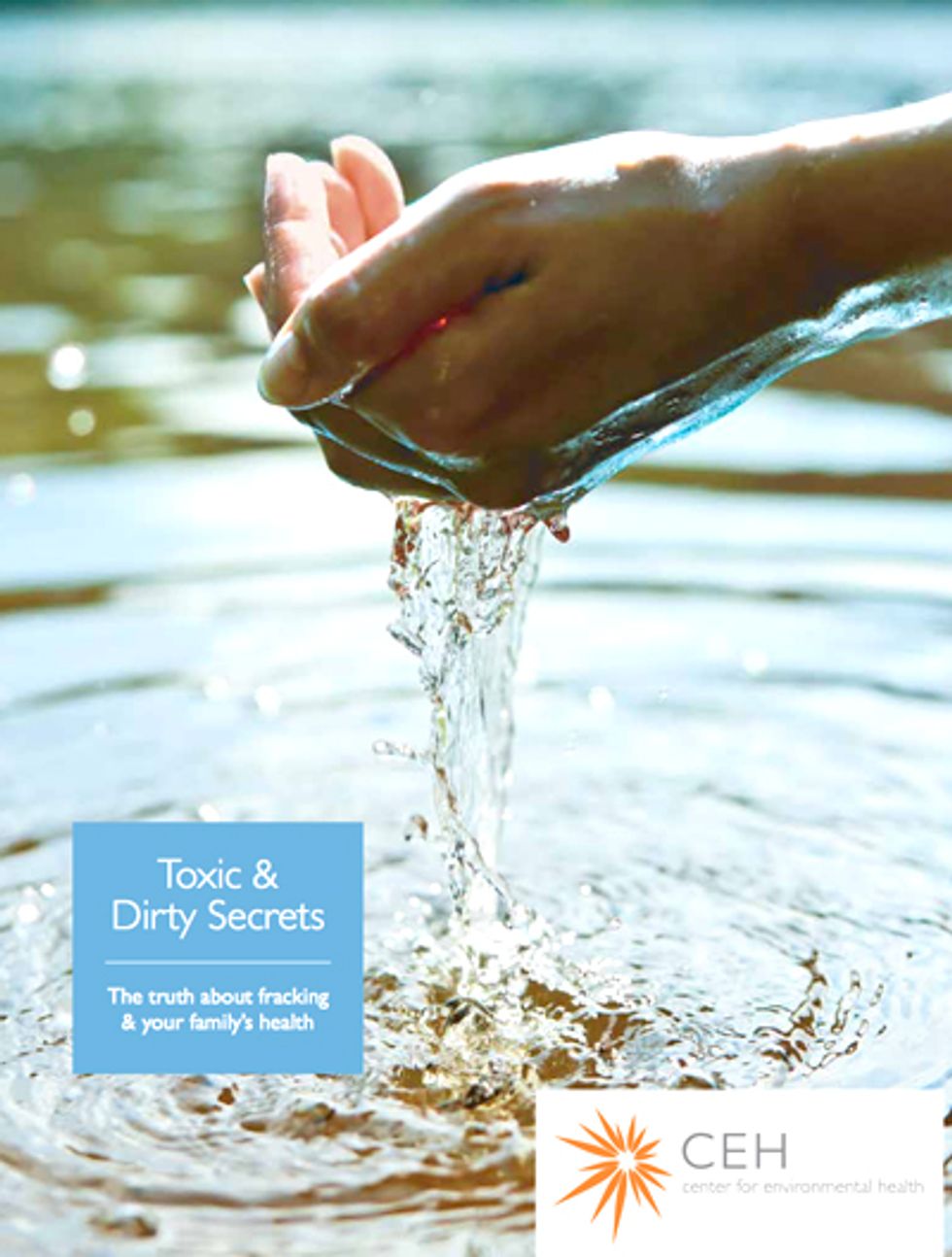 Toxic and Dirty Secrets: The Truth About Fracking and Your Family's Health
by Center for Environmental Health.
"Many harmful chemicals that we have been working so hard to eliminate from consumer products are now being used in mass quantity by fracking operations. In many instances, residents near fracking sites have already suffered from chemical pollution in their air and water," said Ansje Miller of CEH, a co-author of the report. "Current regulations allow companies to hide the fact that they are poisoning us with these chemicals under a claim of 'trade secret.' This is unacceptable, and leads to serious health risks, especially to pregnant women and children."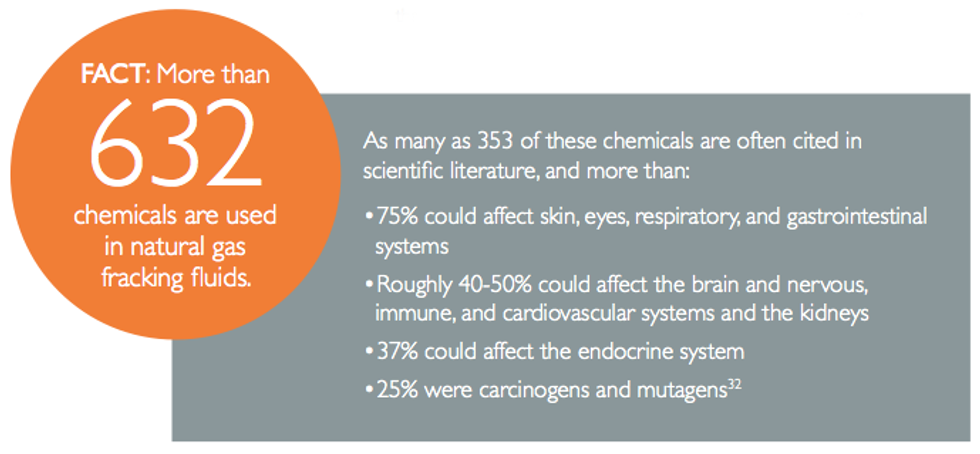 The chemicals used in fracking operations, from extraction to processing, distribution, transport and waste disposal, can pollute surrounding air and water. These harmful chemicals pose serious health risks to surrounding communities, and in particular to pregnant women and children. Just some of the harmful substances commonly used in fracking include methane, BTEX (benzene, toluene, ethylbenzene and xylenes), arsenic, radium, ozone, formaldehyde, radium, radon, nitrogen oxides, methylene chloride and silica sand. These substances are associated with low birth weight, birth defects, respiratory problems, cancer and fertility problems.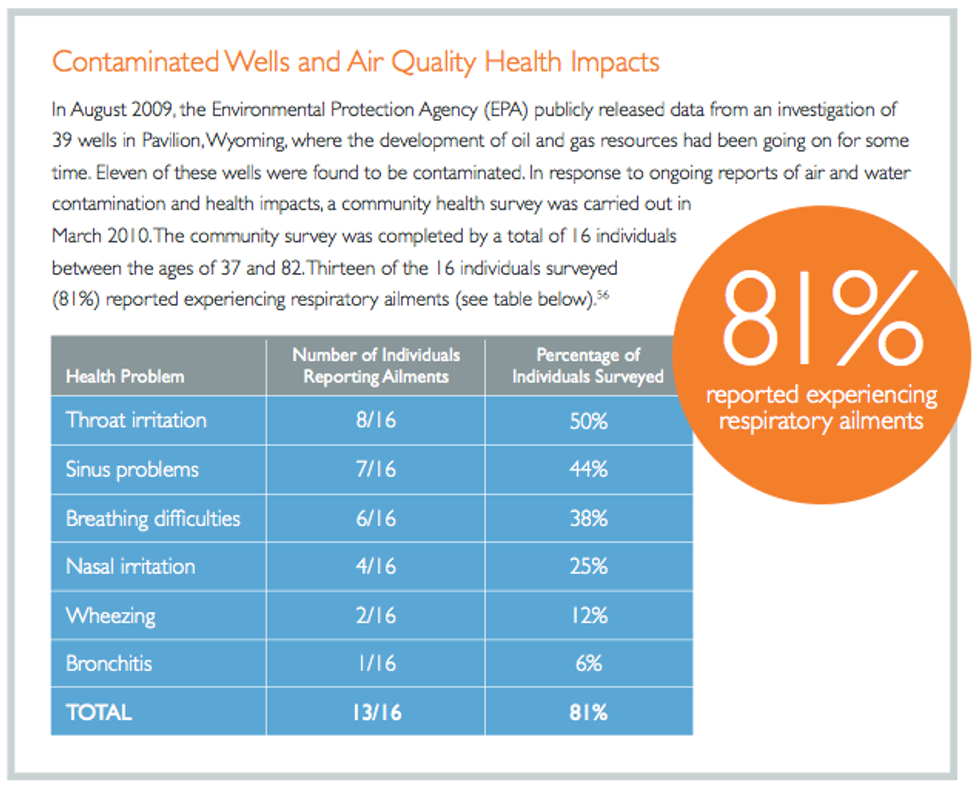 According to New York State Sen. Tony Avella, "More and more individuals are starting to realize that hydrofracking is an extremely dangerous drilling practice and its effects, both known and unknown, are too dangerous to not have a comprehensive and transparent health impact analysis. There have been a variety of illnesses associated with residents living near hydrofracking sites, such as loss of smell, memory problems, headaches, respiratory illness and stillbirths. This is why an impact study remains paramount in determining the effects of hydrofracking prior to even considering allowing fracking in our State. I commend the Center for Environmental Health for releasing this important report which further focuses on health effects on mothers and children as a direct result of hydrofracking. The evidence is simply overwhelming against this dangerous practice. I will therefore continue to advocate for the State of New York to heed these warnings."
Fracking has also been found to alter the social fabric of the communities where it occurs. The process increases road traffic, which increases stress, injuries and fatalities. Fracking also causes industrial noise, which is correlated with hypertension, sleep disturbance, cardiovascular disease, stroke, increased aggression, depression and cognitive impairment. Fracking has also caused social disruption, and has been correlated with increases in sexually transmitted diseases, substance abuse and violent crime.
"Nurses are deeply concerned about the irreparable harm fracking inflicts upon the people and communities in their care," said Kathy Curtis, LPN, Board Member of the Alliance of Nurses for Healthy Environments. "Environmental damage, diseases and disorders and negative social impacts are just part of the problem. What we don't hear much about is another chemical industry dirty little secret: much of the fracked gas will supply cheap energy and feedstock to make yet more toxic chemicals. Further, our communities will be irrevocably contaminated, not to provide inexpensive home heating as has been advertised, but to ship the gas to China."
"Fetuses and children are disproportionately vulnerable to the deleterious effects of exposure to environmental toxicants," said Dr. Sheila Bushkin, MD, MPH. "Although health impacts from industrial chemicals already exist in our population, the magnitude of risk would be greatly increased if High-volume Hydraulic Fracturing (HVHF) is permitted within the state of New York. Exposure to industrial chemicals and to ionizing radiation cause greater injury during development and early life. This may result in greater likelihood of birth defects, cognitive and behavioral development and lifelong disabilities. Likewise, environmental exposures to these substances, place pregnant women at greater risk from complications of gestation, resulting in increased maternal illnesses and mortality. From an ethical point of view, it is the responsibility of the medical community and legislative leaders to protect the health of the people of New York State and future generations. The first step would be to conduct a comprehensive Health Impact Assessment, prior to permitting the onset of HVHF activities within this beautiful state."
Visit EcoWatch's FRACKING page for more related news on this topic.
——–
Sign the petition today, telling President Obama to enact an immediate fracking moratorium:

waterlust.com / @tulasendlesssummer_sierra .
Each product featured here has been independently selected by the writer. If you make a purchase using the links included, we may earn commission.
The bright patterns and recognizable designs of Waterlust's activewear aren't just for show. In fact, they're meant to promote the conversation around sustainability and give back to the ocean science and conservation community.
Each design is paired with a research lab, nonprofit, or education organization that has high intellectual merit and the potential to move the needle in its respective field. For each product sold, Waterlust donates 10% of profits to these conservation partners.
Eye-Catching Designs Made from Recycled Plastic Bottles
waterlust.com / @abamabam
The company sells a range of eco-friendly items like leggings, rash guards, and board shorts that are made using recycled post-consumer plastic bottles. There are currently 16 causes represented by distinct marine-life patterns, from whale shark research and invasive lionfish removal to sockeye salmon monitoring and abalone restoration.

One such organization is Get Inspired, a nonprofit that specializes in ocean restoration and environmental education. Get Inspired founder, marine biologist Nancy Caruso, says supporting on-the-ground efforts is one thing that sets Waterlust apart, like their apparel line that supports Get Inspired abalone restoration programs.
"All of us [conservation partners] are doing something," Caruso said. "We're not putting up exhibits and talking about it — although that is important — we're in the field."
Waterlust not only helps its conservation partners financially so they can continue their important work. It also helps them get the word out about what they're doing, whether that's through social media spotlights, photo and video projects, or the informative note card that comes with each piece of apparel.
"They're doing their part for sure, pushing the information out across all of their channels, and I think that's what makes them so interesting," Caruso said.
And then there are the clothes, which speak for themselves.
Advocate Apparel to Start Conversations About Conservation
waterlust.com / @oceanraysphotography
Waterlust's concept of "advocate apparel" encourages people to see getting dressed every day as an opportunity to not only express their individuality and style, but also to advance the conversation around marine science. By infusing science into clothing, people can visually represent species and ecosystems in need of advocacy — something that, more often than not, leads to a teaching moment.

"When people wear Waterlust gear, it's just a matter of time before somebody asks them about the bright, funky designs," said Waterlust's CEO, Patrick Rynne. "That moment is incredibly special, because it creates an intimate opportunity for the wearer to share what they've learned with another."
The idea for the company came to Rynne when he was a Ph.D. student in marine science.
"I was surrounded by incredible people that were discovering fascinating things but noticed that often their work wasn't reaching the general public in creative and engaging ways," he said. "That seemed like a missed opportunity with big implications."
Waterlust initially focused on conventional media, like film and photography, to promote ocean science, but the team quickly realized engagement on social media didn't translate to action or even knowledge sharing offscreen.
Rynne also saw the "in one ear, out the other" issue in the classroom — if students didn't repeatedly engage with the topics they learned, they'd quickly forget them.
"We decided that if we truly wanted to achieve our goal of bringing science into people's lives and have it stick, it would need to be through a process that is frequently repeated, fun, and functional," Rynne said. "That's when we thought about clothing."
Support Marine Research and Sustainability in Style
To date, Waterlust has sold tens of thousands of pieces of apparel in over 100 countries, and the interactions its products have sparked have had clear implications for furthering science communication.
For Caruso alone, it's led to opportunities to share her abalone restoration methods with communities far and wide.
"It moves my small little world of what I'm doing here in Orange County, California, across the entire globe," she said. "That's one of the beautiful things about our partnership."
Check out all of the different eco-conscious apparel options available from Waterlust to help promote ocean conservation.
Melissa Smith is an avid writer, scuba diver, backpacker, and all-around outdoor enthusiast. She graduated from the University of Florida with degrees in journalism and sustainable studies. Before joining EcoWatch, Melissa worked as the managing editor of Scuba Diving magazine and the communications manager of The Ocean Agency, a non-profit that's featured in the Emmy award-winning documentary Chasing Coral.