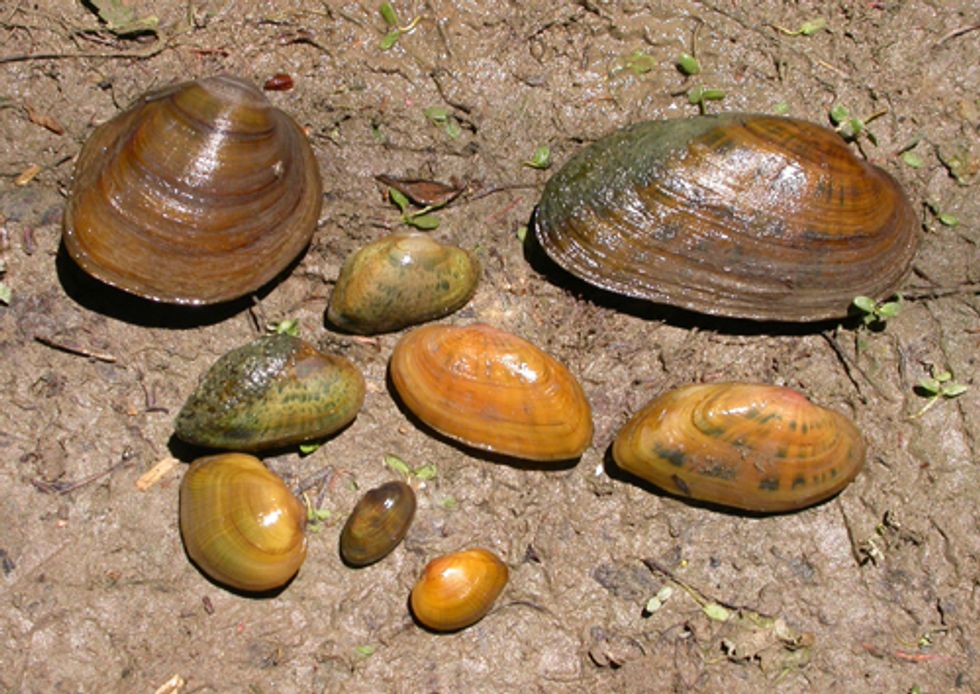 The U.S. Fish and Wildlife Service (FWS) has listed two freshwater mussels—the rayed bean and the snuffbox—as endangered under the federal Endangered Species Act (ESA). The two mussels are found in river systems in the eastern U.S.
The rayed bean is currently found in rivers in Indiana, Michigan, New York, Ohio, Pennsylvania, Tennessee and West Virginia, as well as Ontario, Canada. The snuffbox occurs in Alabama, Arkansas, Illinois, Indiana, Kentucky, Michigan, Minnesota, Missouri, Ohio, Pennsylvania, Tennessee, Virginia, West Virginia, Wisconsin and Ontario, Canada.
In its final rule listing the two species under the ESA, FWS pointed to dramatic declines in their populations. The rayed bean has been eliminated from 73 percent of its historical range, and the snuffbox has disappeared from 62 percent of the streams in which it was historically found. The final rule appears in the Feb. 14, 2012, Federal Register.
Threats to both the rayed bean and the snuffbox include loss and degradation of stream and river habitat due to impoundments, channelization, chemical contaminants, mining and sedimentation. Freshwater mussels require clean water—their decline often signals a decline in the water quality of the streams and rivers they inhabit.
FWS will now work cooperatively with partners to develop recovery plans for the two mussels and coordinate efforts to conserve their habitats.
Under the ESA, "endangered" means a species is in danger of becoming extinct throughout all or a significant portion of its range. It is illegal under the ESA to kill, harm or otherwise "take" a listed species, or to posses, import, export or conduct interstate or international commerce without authorization from FWS. The ESA also requires all federal agencies to ensure actions they authorize, fund or undertake do not jeopardize the existence of listed species.
More information on mussels and endangered wildlife can be found by clicking here.
For more information, click here.
—————
The mission of the U.S. Fish and Wildlife Service is working with others to conserve, protect and enhance fish, wildlife, plants and their habitats for the continuing benefit of the American people. We are both a leader and trusted partner in fish and wildlife conservation, known for our scientific excellence, stewardship of lands and natural resources, dedicated professionals and commitment to public service.
EcoWatch Daily Newsletter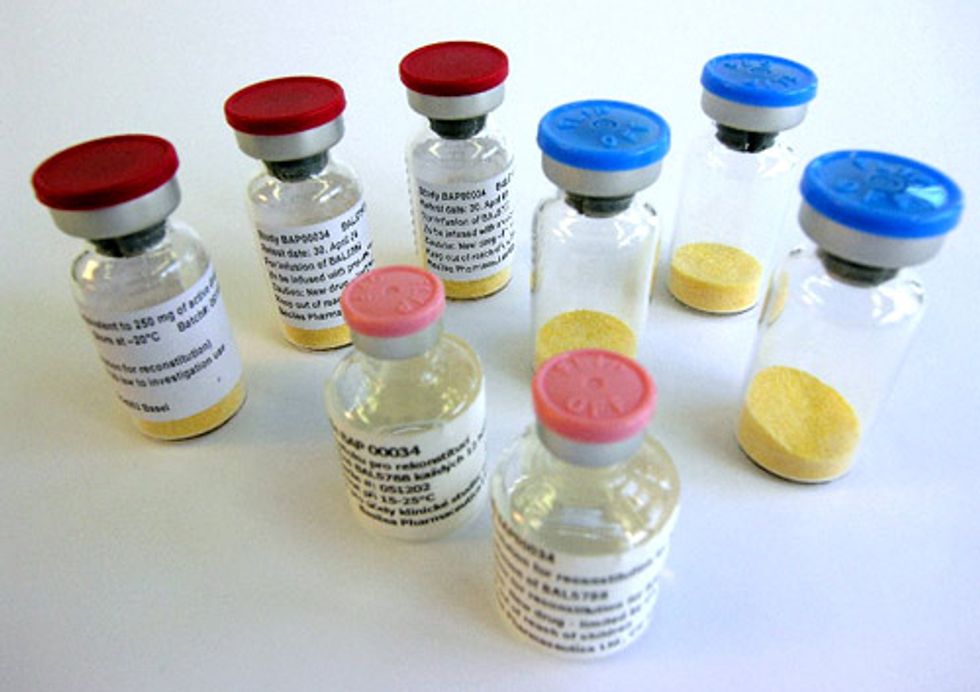 The Center for Food Safety (CFS) applauded the U.S. Food and Drug Administration (FDA) Jan. 4 for pre-releasing its long awaited prohibition on the extra-label use of cephalosporin drugs in food-producing animals. Cephalosporin drugs are an essential tool in both human and animal medicine, but mounting evidence has linked extra-label use of these drugs to the development and spread of cephalosporin-resistant organisms.
"This is a critical win for consumers, food safety advocates and the medical community," said Andrew Kimbrell, executive director for the Center for Food Safety. "But it's high time that FDA wakes up to the dangers that non-therapeutic uses of all antibiotics pose to our health and the safety of our food supply," Kimbrell said.
Cephalosporins are a vitally important class of antibiotics used most often in the treatment of serious Salmonella infections but also used to treat many other serious infections. The announcement Jan. 4 comes more than three years after the FDA first published an order prohibiting for the extra-label uses in food-producing animals of these drugs. That order was then withdrawn by the FDA before it could go into effect, citing the need for additional review of the public comments it received.
In its notice Jan. 4, FDA said that it plans to publish the Final Rule in the Federal Register on Jan. 6 announcing the prohibition of the extra-label use of cephalosporin drugs in food-producing animals. The Final Rule will go into effect 90 days from being published in the Federal Register and FDA will accept public comments for 60 days following the Federal Register notice. FDA's Final Rule will continue to allow approved label uses of these drugs for food producing animals as long as they are done in a safe and effective manner.
"The extra-label ban is just the first of many actions that FDA must make in order to better protect the public from the dangers of antibiotic-resistance," said Paige Tomaselli, staff attorney for the CFS. "Losing the effectiveness of critically important antibiotics as a result of our own misuse would be a catastrophic loss for modern medicine," added Tomaselli.
In August 2010, more than 180,000 citizens sent letters to the FDA responding to the agency's request for comments on rules governing the judicious use of antibiotics on industrial farms. Those letters joined dozens of scientific experts and public interest organizations calling on FDA to tighten oversight and curtail misuse and overuse of antibiotics on industrial farms. In its comments to the FDA, CFS thanked FDA for initiating discussion on the critical issue but expressed deep concern that its measures would not be voluntarily implemented and that regulation mandating immediate action is required instead. Further, in the absence of a clear timeline and strict goals, CFS stressed that the agency's approach lacked the urgency that this critical issue demands.
For more information, click here.
Avocado
Increased consumer interest in sustainability has largely driven the expansion of new organic product lines. It's this combination of consumer consciousness and evolved eco-friendly products that has people searching for the best organic mattress.
But there are many brands in this space. We wanted to take a closer look at the Avocado mattress and explore what makes it such a popular pick in the eco-market.
<h2>What should I look for when buying an organic mattress?<br/></h2><p>Whether it's an <a href="http://avocadomattress.n5ka.net/nrJ1V" target="_blank">Avocado mattress</a> or another product from a reputable manufacturer, there are a few things to consider before making a purchase.</p><p>The first thing to know is that accreditation gets a little fuzzy. </p><p>The reality is that not all mattresses claiming to be "natural" or even "organic" will qualify for an official organic label from the United States Department of Agriculture (USDA). </p><p>In order to do so, mattresses must be made up of 95% certified organic materials. </p><p>In addition, no harmful chemicals can be used in the processing or production of the mattress, which is considered a complex finished textile product. </p><p>As you research, you may find that some mattress manufacturers will call their products "organic" because they use a smattering of organic products—but not enough to carry the USDA seal, a practice that's known as "greenwashing."</p><p>To find a mattress that has been certified organic, you'll want to look for accreditations like GOTS (Global Organic Textile Standard).</p><p><br/></p><p class="shortcode-media shortcode-media-rebelmouse-image"> <img type="lazy-image" data-runner-src="https://assets.rebelmouse.io/eyJhbGciOiJIUzI1NiIsInR5cCI6IkpXVCJ9.eyJpbWFnZSI6Imh0dHBzOi8vYXNzZXRzLnJibC5tcy8yNDg1MzAwNy9vcmlnaW4ucG5nIiwiZXhwaXJlc19hdCI6MTYzOTcwOTM1MH0.LFqDzobbjsMxHhtZv3MQ9iOvBSxDwEQF840cDR8Ze9Y/img.png?width=980" id="5dcba" class="rm-shortcode" data-rm-shortcode-id="47f0b3694c23691bb74eb2e4329e6271" data-rm-shortcode-name="rebelmouse-image" /> </p><p><br/></p><p>You can also look for the GOLS (Global Organic Latex Standard) logo.</p><p><br/></p><p class="shortcode-media shortcode-media-rebelmouse-image"> <img type="lazy-image" data-runner-src="https://assets.rebelmouse.io/eyJhbGciOiJIUzI1NiIsInR5cCI6IkpXVCJ9.eyJpbWFnZSI6Imh0dHBzOi8vYXNzZXRzLnJibC5tcy8yNDg1MzAxMC9vcmlnaW4uanBnIiwiZXhwaXJlc19hdCI6MTYxMzIxMzkwOX0.TQWz8NDTzRpr4Q0sDssTj9r1BwV4cRNbgiGtn9wjWrA/img.jpg?width=980" id="73347" class="rm-shortcode" data-rm-shortcode-id="1952e84d562c83064655dd296fdd14aa" data-rm-shortcode-name="rebelmouse-image" /> </p><p>These two standards help to uphold the 95% organic rule.<br/></p><p><span></span>Once you're squared away with certifications, the rest of the buying process is similar to purchasing a traditional mattress. </p><p>First, you'll want to find one that satisfies your desired level of comfort.<br/></p><p>As a rule, many organic mattresses tend to be a bit stiffer, so testing its firmness—either before purchase or during a trial period after you get it home—is in your best interest. </p><p>Lastly, as with most purchases—especially in the organic space—cost is a factor. A goal of bringing home the best eco-friendly mattress money can buy can price some consumers out of the organic market entirely.</p><h2>What makes Avocado the most popular organic mattress?</h2><p>There are two groups that most people will turn to while researching a product: Expert reviewers and fellow consumers. When it comes to picking the best organic mattress, both the pundits and verified customers agree that an Avocado mattress is at or near the top of the list.</p><p><a href="https://www.usnews.com/360-reviews/mattress/avocado" target="_blank">U.S. News & World Report recently gave Avocado the nod</a> in the categories of best mattress, best for back pain, best for stomach sleepers, best firm mattress and best hybrid mattress, citing its ability to provide a more restful night's sleep.</p><p>Avocado mattresses were also named best healthy mattress and <a href="https://www.health.com/home/healthy-home-awards" target="_blank">best organic mattress in Health.com's Healthy Home Awards</a>, <a href="https://www.shape.com/lifestyle/mind-and-body/best-mattress-in-a-box" target="_blank">best mattress in a box for the environmentally conscious by <em>Shape </em>magazine</a> and <a href="https://www.goodhousekeeping.com/home-products/g29892090/best-mattresses/" target="_blank">best organic mattress by <em>Good Housekeeping</em></a>.</p><p><span></span>The brand has also received a <a href="https://help.avocadogreenmattress.com/en_us/can-you-show-me-your-aca-certification-SJOs16UED" target="_blank">certificate of endorsement from the American Chiropractic Association</a>, been <a href="https://www.avocadogreenmattress.com/consumer-reports/" target="_blank">consistently lauded by <em>Consumer Reports</em></a> and touts <a href="https://www.avocadogreenmattress.com/natural-mattress-reviews/" target="_blank">more than 18,000 5-star reviews</a> from real Avocado mattress customers.</p><h3>Corporate Stewardship</h3><p>Peeling the curtain back on the company's operations and mission, it's easy to see why so many people consider Avocado to be the best organic mattress.</p><p>The brand's products are American-made, designed in Hoboken, New Jersey, and manufactured by hand in Los Angeles. </p><p>Its factories are powered by renewable energy, and Avocado ethically harvests wool for products from sheep that it raises while also producing its own natural latex.</p><p>It's because of that commitment to sustainability and eco-friendly practices that the Avocado mattress became the first in the world to achieve net-zero carbon emissions. And earlier this year, the company announced that it now offsets more carbon than it generates. </p><p>It's also important to mention that <a href="http://avocadomattress.n5ka.net/MG32K" target="_blank">Avocado is certified organic by the USDA</a>.</p><p>With a goal of not only providing superior products that promote healthy sleep, Avocado also believes in the power of sustainability and social responsibility—a belief it backs up by donating 1% of all revenues to environmental nonprofits</p><h3><span></span>Quality Products</h3>