As fans sitting on the third baseline streamed into Boston's Fenway Park for the Red Sox home opener, they were greeted with the sight of 1,800 square feet of raised beds on a formerly unused 5,000-square-foot rooftop. "Fenway Farms" initially will grow fresh vegetables not typically found in baseball stadiums—arugula, Swiss chard and broccoli rabe, for instance—for use by the chefs at the EMC Club kitchen, just 25 feet away.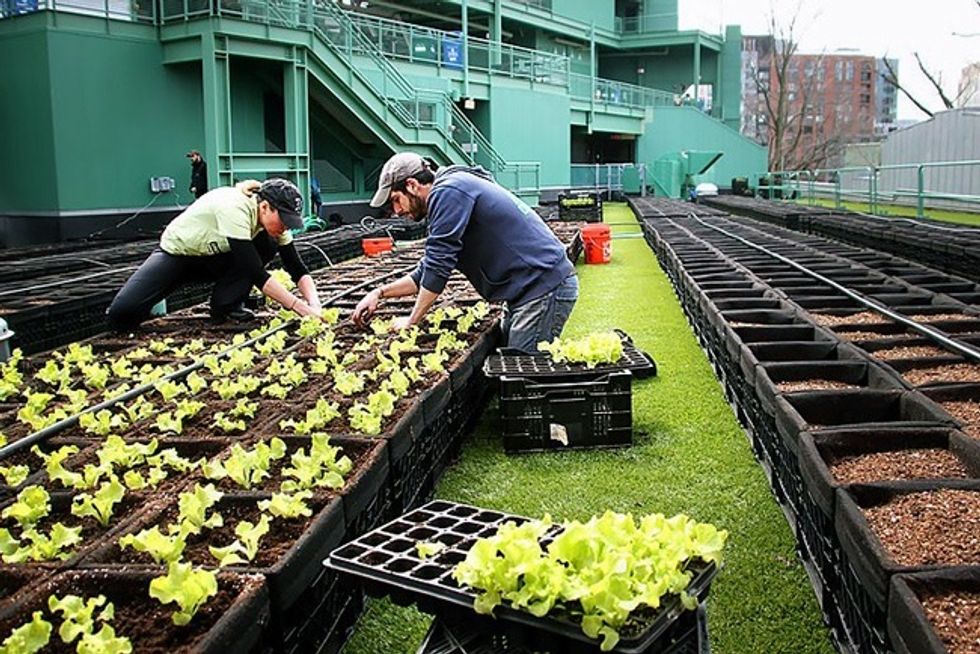 The ballpark may not conjure images of health and sustainability—and certainly not innovation in urban agriculture—but a handful of Major League clubs just may change that, and in the process give new meaning to "farm teams." This season, the Red Sox join the Colorado Rockies, the San Diego Padres and the San Francisco Giants in starting to grow a portion of their stadium concessions in on-site farms and gardens.
The farm's location is highly visible to many of the roughly 37,000 fans who fill the ballpark for the team's 81 home games and the handful of concerts and other events to which Fenway plays host—a potential influence that is not lost on Chris Knight, the team's manager of facility planning and services.
"We have such a platform here at this level of sports and at Fenway Park—this is one way we can make an impact for the environment and nutrition," he said.
When the first vegetables and herbs were harvested in early May, Fenway Farms contributed its part to a long-term push at the ballpark to operate more sustainably—and a more recent emphasis on integrating healthy food into concessions. Knight said the idea for the farm came from Linda Pizzuti Henry, wife of Sox co-owner John Henry. Last summer, the founders of Green City Growers—a company converting unused space into farms and gardens—met with Henry to pitch ideas for turning that dream into a reality.
The process "picked up quickly" from there, said Green City Growers founder, Jessie Banhazl, with the team picking out a site on the front-office roof and growers meeting with chefs at the seasonally inspired EMC Club to come up with a lineup of veggies to grow. Recover Green Roofs began construction and farm installation in mid-March, and plants went into the newly poured soil last week—just in time for the first home game of the season.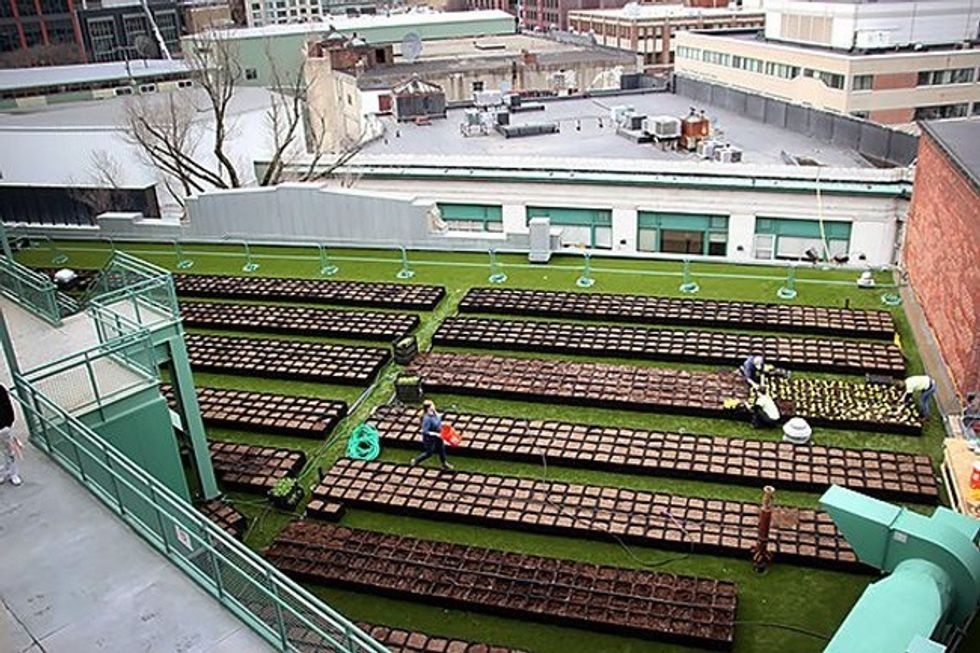 "It's wild. We're really, really, really excited about this," said Banhazl, whose company will maintain the farm. "This particular project is the coolest and most widespread reach that we've ever seen with an urban agriculture project."
The foray by the Red Sox into urban agriculture is unusual among modern professional baseball teams—but the team is not the first to catch the grow-your-own bug. In 2012, at the stadium chef's request, San Diego Padres head groundskeeper Luke Yoder planted more than a dozen hot pepper and tomato plants in the Petco Park bullpen. In 2013, the Colorado Rockies, working with their catering contractor, Aramark, installed a 600-square-foot kitchen garden near Gate A at Coors Field, which sprouts an assortment of flowers, herbs, and other vegetables. Much of the food harvested from "The GaRden" is found in dishes at the stadium's premier Mountain Ranch Club.
Last season, the San Francisco Giants and Bon Appétit Management built The Garden at AT&T Park, a 4,320-square-foot dining pavilion serving produce grown in several nearby gardens and a high-yield vertical farm. (There was even a bit of controversy when the Padres took issue with Giants' marketing claiming to have the majors' first farm, claims that were later retracted). The Garden pavilion contains two food concepts: The Hearth Table uses only gluten-free ingredients, while The Garden Table serves vegetarian offerings. Bartenders even integrate fresh-grown herbs into the cocktails. Don't worry, you can still get your all-beef hot dog at The Garden, but Laura Braley, spokesperson for Bon Appétit Management, said the ballpark simply wants to provide alternatives for fans seeking a more nutritious meal and sees the on-site farm as a way to inspire fans to think about the source of their food.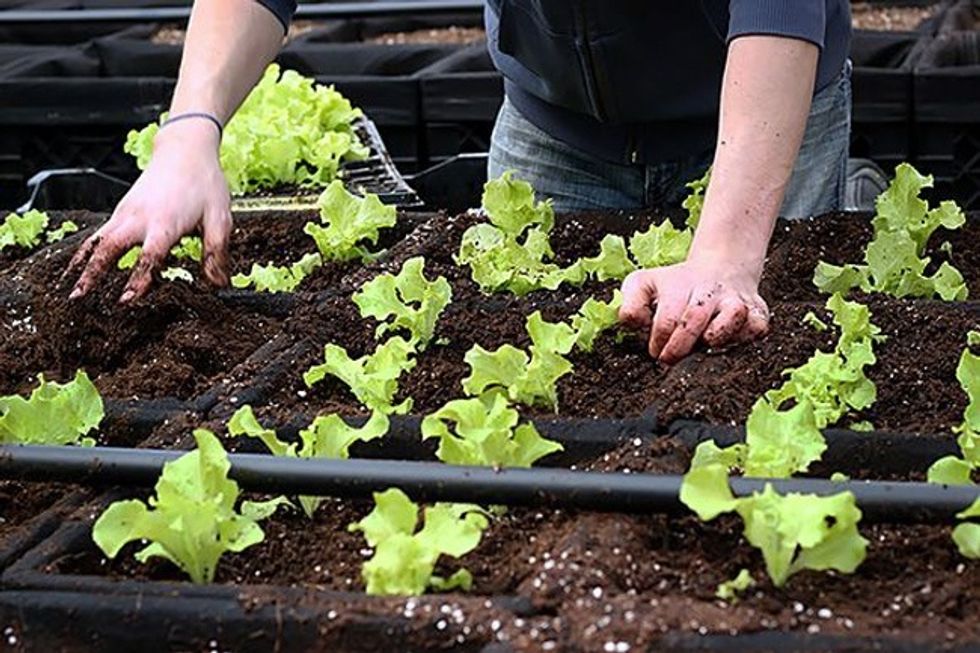 "It's fun to get a salad or a flatbread and literally see the ingredients growing right there," she said, adding that prices in The Garden have remained consistent with other offerings at AT&T Park.
While the Sox, Rockies, Padres and Giants lead the majors in progressive food and nutrition policies, other clubs appear to be competing for the most outrageous offerings on the other end of the health spectrum. At Rangers Stadium in Texas, for instance, fans this season will be able to dine on a deep-fried "S'mOreo" (exactly what it sounds like), chicken-fried corn on the cob, and bacon-flavored cotton candy. The Arizona Diamondbacks this season introduced the Churro Dog: a churro inside a chocolate-frosted long-john doughnut, topped with ice cream, whipped cream, and both chocolate and caramel syrups.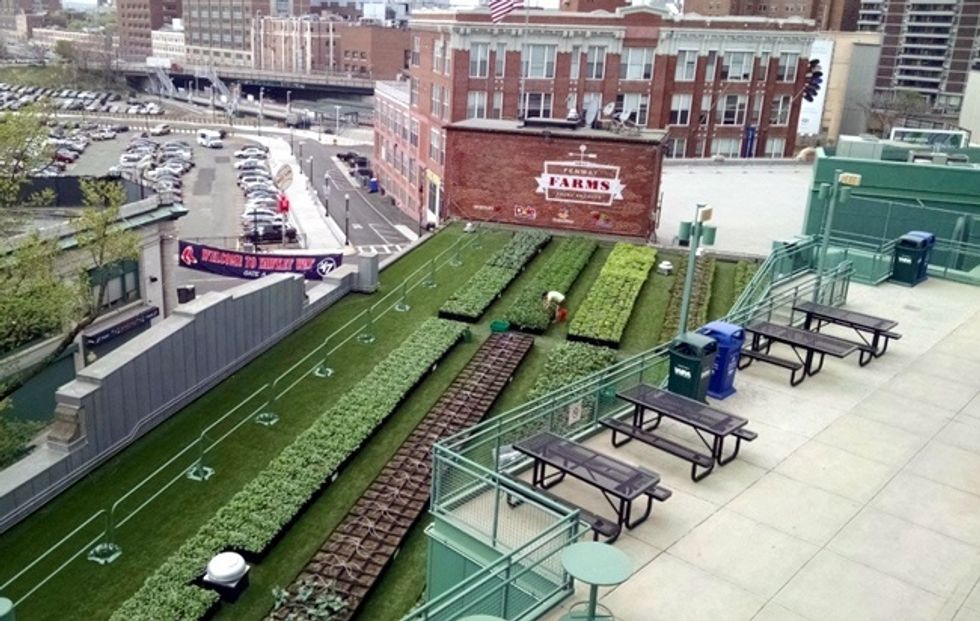 Make no mistake: Sox and Giants fans still have their pick of less-than-nutritious stadium foods. Neither club would provide data on how well their healthier offerings have been selling, but a 2014 study of a healthy-food overhaul of a concession stand at a high-school athletics facility found that the changes had no negative effect on concessions sales and even improved overall satisfaction among parents. Varsity football is a world away from Major League Baseball, sure, but with dining trends tend toward healthier food nationally, there is both interest and demand that these programs could tap into.
Besides nutritional and environmental goals for their farms, the Giants and Red Sox have strong educational outreach programs. The Giants earlier this year unveiled plans to use The Garden at AT&T Park as an outdoor nutrition and agricultural classroom for children on non–game days, giving kids a chance to learn the importance of healthy eating. Boston has similar plans for youth enrichment—and even dreams of farming in other parts of the ballpark—as soon as farm operations are streamlined and crops are coming up.
While the first veggies won't be ready to harvest for a few more weeks, Banhazl said she caught glimpses of the the farm's potential influence on opening day. As she watched child after child run up to the railing and see the new beds for the first time, she saw something come alive in them.
"They'd say, 'Oh my God, the Red Sox have a farm?'" she recalled. "We should do this, Mom!"
YOU MIGHT ALSO LIKE 
Vegan Ultramarathoner Breaks Record for Fastest Race Up Appalachian Trail
3 Creative Solutions Emerging in Urban Farming
World's Largest Indoor Vertical Farm Breaks Ground in Newark, New Jersey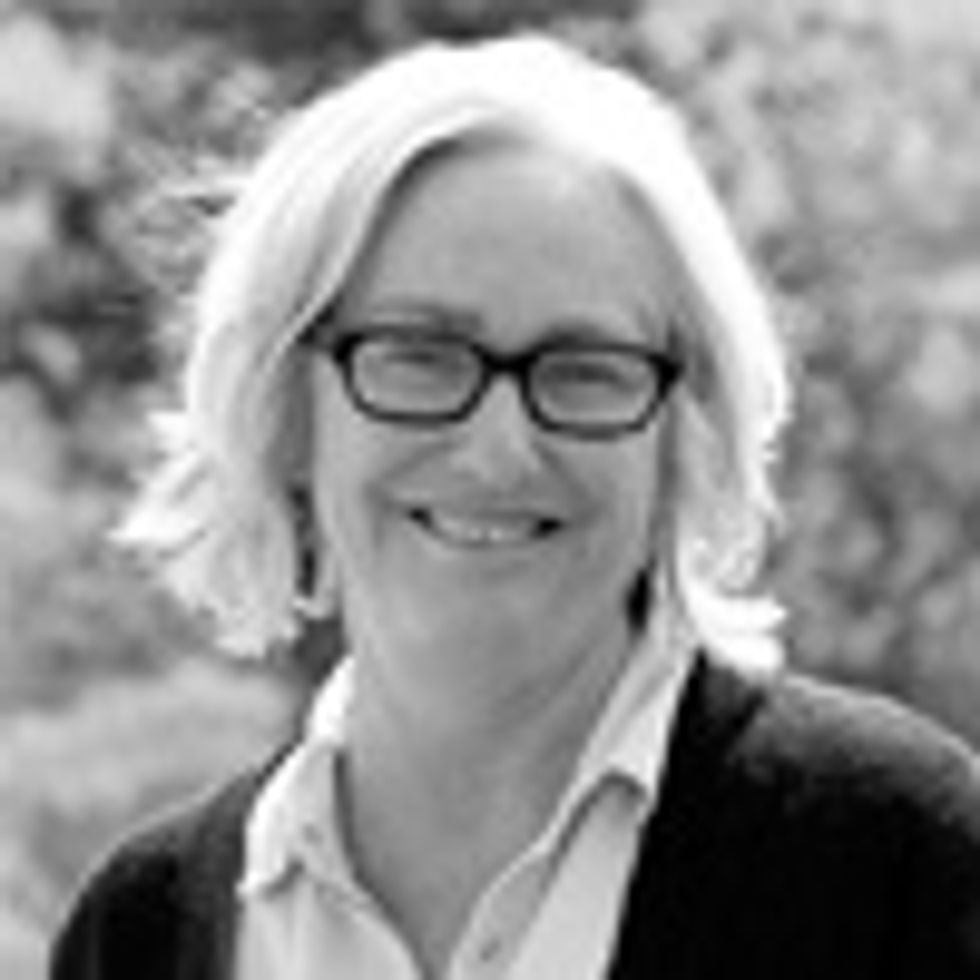 Driving home from work last week, listening to NPR, I learned that the United Nations report on the progress the world is making toward the Millennium Development Goals (MDGs) had just been released. The original MDGs were a set of eight goals crafted in 2000 to attack global poverty by 2015. Targets were established which required countries to gather consistent data on a range of issues, but are they always the right issues?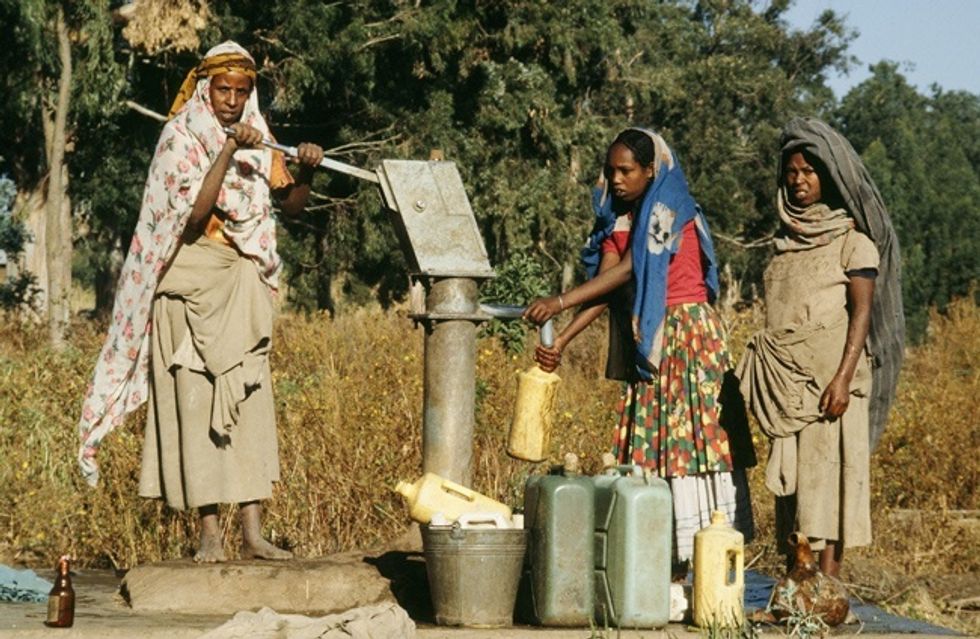 For 15 years, we have all been hearing about the MDGs, now touted by UN Secretary-General Ban Ki-Moon, as the "most successful anti-poverty movement in history."
I was shocked to learn from NPR's Nurith Aizenman that the method for establishing the goals and targets was "so casual they almost forgot something." Aizenman was interviewing Lord Mark Malloch-Brown, who explained how the goals were set: "It's brilliantly simple. It was myself with some chums in a room kind of thing." And then Malloch-Brown admits, that just before they went to press, "Oh goodness me, we've forgotten the environment goal."
The Right Honorable Lord Malloch-Brown has had a distinguished career as a journalist for The Economist, a consultant on communications and development, an employee of the World Bank, the Administrator of the UN Development Programme and other UN jobs, a UK government minister, and the Minister of State in Britain. I appreciate his honesty about the process, but wonder who his other chums might have been and if the room he mentions was smoked-filled. (I'm almost certain they didn't include those most affected by poverty in the poorest parts of the world).
Why is the environment so often an afterthought for the world's leaders, elite policy makers and the media? The New York Times, in covering the report, mentions climate change just once, in a paragraph on contentious issues to tackle in the "next set of development goals," the so-called Sustainable Development Goals.
The main problem here, is the very emphasis on "development" as the answer to the world's most pressing problems. As anthropologist Arturo Escobar has eloquently argued in Encountering Development, international development is akin to colonialism or "cultural imperialism" because poor countries have little means of declining politely.
According to Escobar, development has largely failed. Why? Because it is a problem even when it succeeds, in that it so strongly sets the terms for how people in poor countries must live, as explained in The Guardian.
I would challenge the notion that environmental concerns are necessarily compatible with development, especially for the communities and poor countries most affected. Sustainable development projects almost always discount local knowledge and often better serve the interests of elites (both within and outside the country), foreign donors, NGOs, international financial institutions, transnational corporations, and other international players.
Too often, the most important facts are buried, as I found when reading through the Report. In the overview (the only section most people will peruse) and the mere ten pages  dedicated to the environmental sustainability goal, the finding that "98 percent of ozone-depleting substances" have been "eliminated since 1990" is aptly heralded, as is the statistic that "1.9 billion people have gained access to piped drinking water." I'm not sure piped drinking water is actually an environmental issue, but won't quibble.
The fact that global carbon dioxide emissions have increased by more than 50 percent since 1990 gets four paragraphs and a chart much later in the report on page 53.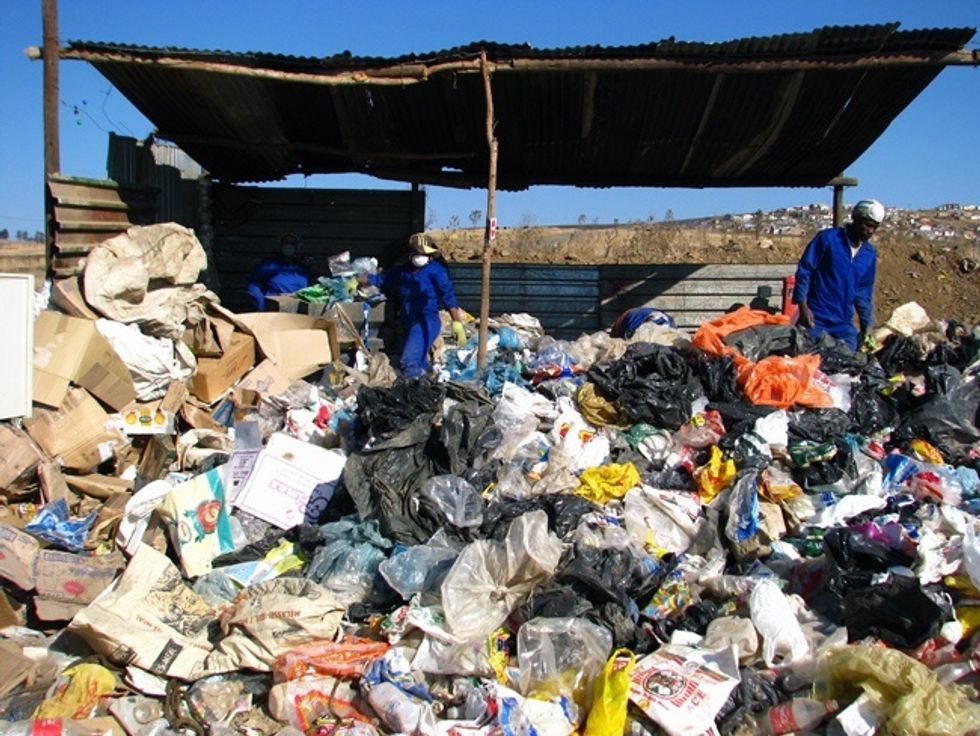 Let's deep six the really bad news.
It seems that worldwide "deforestation has slowed"… "but remains alarmingly high in many countries." The report highlights the "overexploitation of marine fisheries," a huge problem that is increasingly becoming better understood. It projects a rise in water scarcity, which currently affects 40 percent of the global population, but doesn't cite climate change as a reason for "water stress."
Booms in natural resource exploitation always lead to inequality. This is what I know: There may be less dire poverty in the world than 15 years ago, but never in history has there been such inequality (as explained in two Oxfam reports, here and here).
Worldwide, the poor, particularly those in the global south, are already suffering from the ravages of corporate exploitation and climate chaos. The top 1 percent of wealth holders may be enjoying their misbegotten gains, but they too are doomed if we don't reverse or at least slow down the course of climate change.
I suspect the MDGs are actually helping the rich to get richer at the expense of the environment.
YOU MIGHT ALSO LIKE 
Koch Brothers' Influence Preventing Chris Christie From Acting on Climate Change?
Why Would 46 Senators Support Burning Trees for Electricity When It Contributes More to Climate Change Than Coal?
Internal Documents Expose Fossil Fuel Industry's Decades of Deception on Climate Change
EcoWatch Daily Newsletter
Researchers in Pennsylvania have discovered that the prevalence of radon, a radioactive and carcinogenic gas, in people's homes and commercial buildings that are nearer to fracking sites has increased dramatically in the state since the unconventional and controversial gas drilling practice began in the state just over a decade ago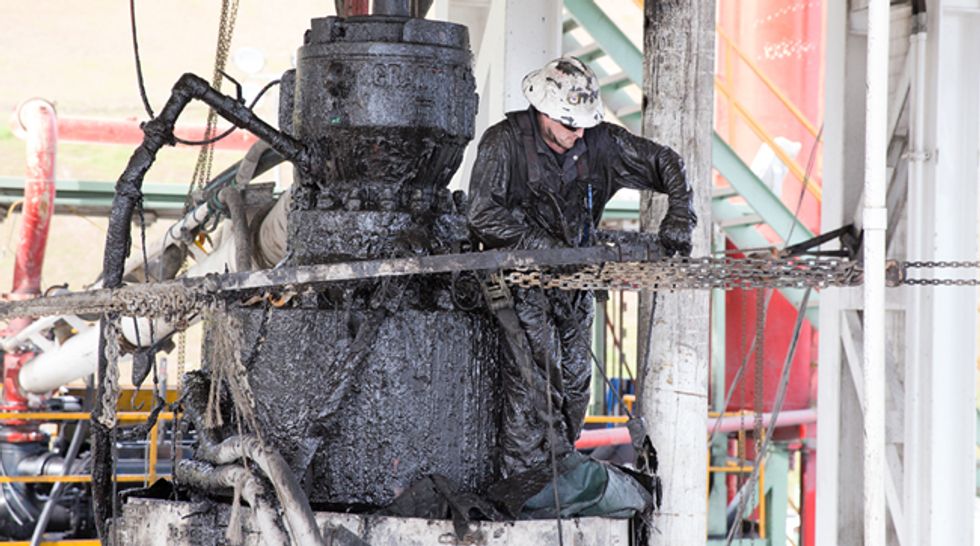 Both odorless and tasteless, radon is a naturally-occurring gas released from bedrock minerals beneath the ground and is found in millions of homes across the country. However, in a study published Thursday in the journal Environmental Health Perspectives, scientists compared the results of state-wide radon testing in Pennsylvania to find a significant correlation between unusually high levels of the deadly gas in some buildings (mostly residential homes) and the proliferation of fracking in certain areas of the state.
As State Impact Pennsylvania, the state's NPR affiliate, reports:
Researchers from Johns Hopkins University analyzed radon readings taken in some 860,000 buildings, mostly homes, from 1989 to 2013 and found that those in rural and suburban areas where most shale gas wells are located had a concentration of the cancer-causing radioactive gas that was 39 percent higher overall than those in urban areas.

It also found that buildings using well water had a 21 percent higher concentration of radon than those served by municipal water systems.

And it showed radon levels in active gas-drilling counties rose significantly starting in 2004 when the state's fracking boom began.
And according to Phys.org:
Since radon is naturally occurring, in areas without adequate ventilation—like many basements—radon can accumulate to levels that substantially increase the risk of lung cancer.

The study's first author is Joan A. Casey, a Robert Wood Johnson Foundation Health & Society Scholar at the University of California-Berkeley and San Francisco, who earned her PhD at the Bloomberg School in 2014. She says it is unclear whether the excess radon in people's homes is coming from radium getting into well water through the fracking process, being released into the air near the gas wells or whether natural gas from shale contains more radon than conventional gas and it enters homes through cooking stoves and furnaces. Another possibility, she says, is that in the past decade buildings have been more tightly sealed, potentially trapping radon that gets inside and leading to increased indoor radon levels. In the past, most radon has entered homes through foundation cracks and other openings into buildings.

"By drilling 7,000 holes in the ground, the fracking industry may have changed the geology and created new pathways for radon to rise to the surface," Casey says. "Now there are a lot of potential ways that fracking may be distributing and spreading radon."
According to its summary, the study "found a statistically significant association between proximity to unconventional natural gas wells drilled in the Marcellus shale and first floor radon concentration," especially during summer months. Though radon is often thought of as seeping up through basement floors, the researchers explain that airborne radon can also enter homes through open windows. After smoking, prolonged exposure to radon gas is considered to be the second-leading cause of lung cancer in the U.S.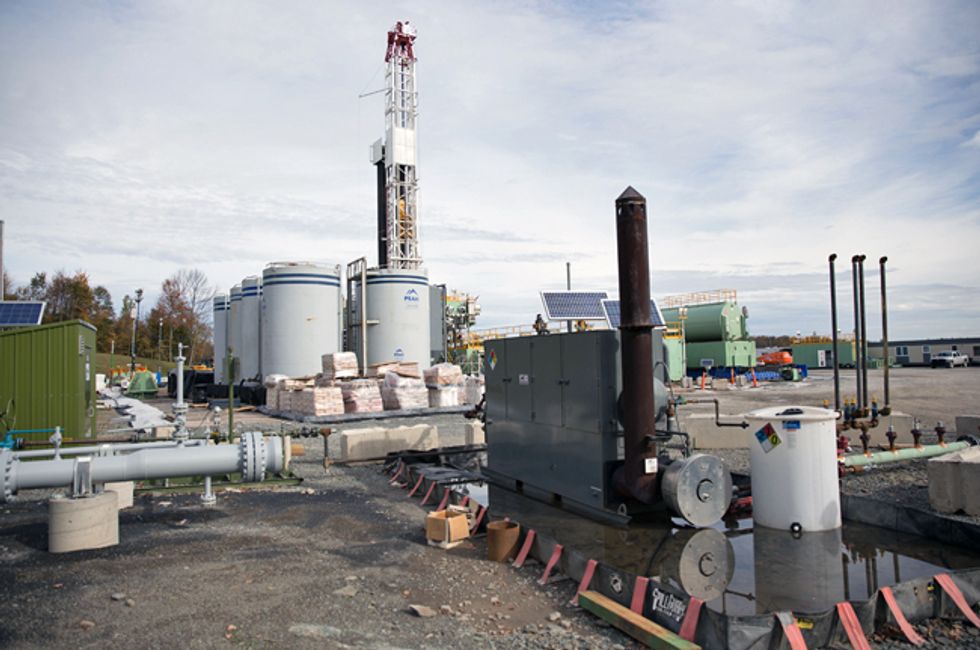 "One plausible explanation for elevated radon levels in people's homes is the development of thousands of unconventional natural gas wells in Pennsylvania over the past 10 years," says study leader Brian S. Schwartz, MD, a professor in the Department of Environmental Health Sciences at the Bloomberg School. "These findings worry us."
Significantly, the new study—Predictors of Indoor Radon Concentrations in Pennsylvania 1989-2013—directly conflicts with a study released by Pennsylvania's Department of Environmental Protection in January of this year which concluded that there was "little potential for additional radon exposure to the public" due to the widespread fracking activities across the state. Despite the conflicting findings, both DEP and the John Hopkins researchers acknowledged it was difficult to compare the studies as they had dissimilar methodologies and measured radon in significantly different ways.
Though gas industry officials were quick to criticize the findings of the new study, Dr. Bernard Goldstein, a former dean of the University of Pittsburgh School of Public Health and a former Environmental Protection Agency official, told NBC News that the industry can no longer ignore such worrying findings associated with its practices.
"The industry needs to abandon this excuse it hides behind which is, 'we've been doing this for 65 years, why are you worried'?" Goldstein said. "That's simply wrong. This ought to be treated as if it's something, like nanotechnology, which is a new thing that needs to be done carefully," he added.
Though people who buy new homes are often required to perform radon testing, Goldstein points out that "people who have been living in the house for a long time generally don't measure" for the deadly gas.
With the expansion of fracking across much of the state, he said, more people living near these drilling operation "should be measuring."
YOU MIGHT ALSO LIKE
Staggering Rise in Fracking Earthquakes Triggers Kansas to Take Action
States Fail to Properly Manage Fracking Waste, Says Groundbreaking Report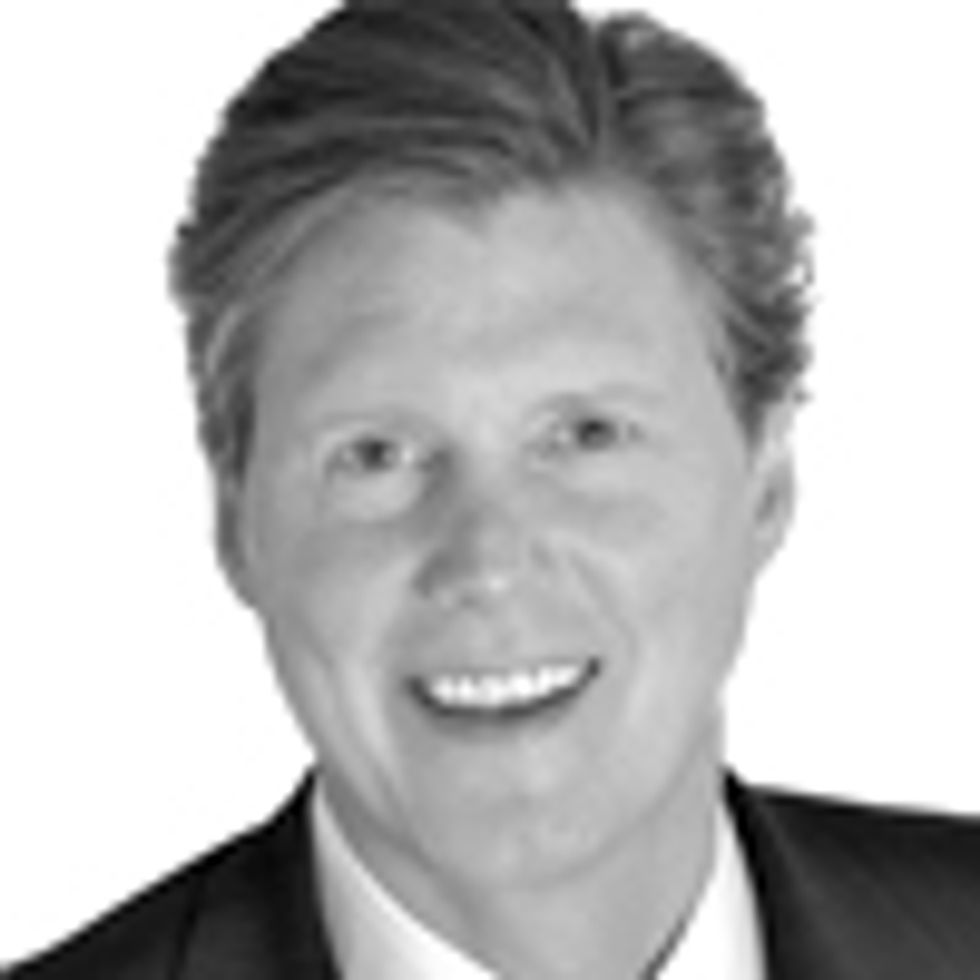 The report card is in, and thousands of U.S. schools are bringing home straight A's for going solar.
In a comprehensive, first-of-its-kind study released today, America's K-12 schools have shown explosive growth in their use of solar energy over the last decade, soaring from 303 kilowatts (kW) of installed capacity to 457,000 kW, while reducing carbon emissions by 442,799 metric tons annually—the equivalent of saving 50 million gallons of gasoline a year or taking nearly 100,000 cars off U.S. highways.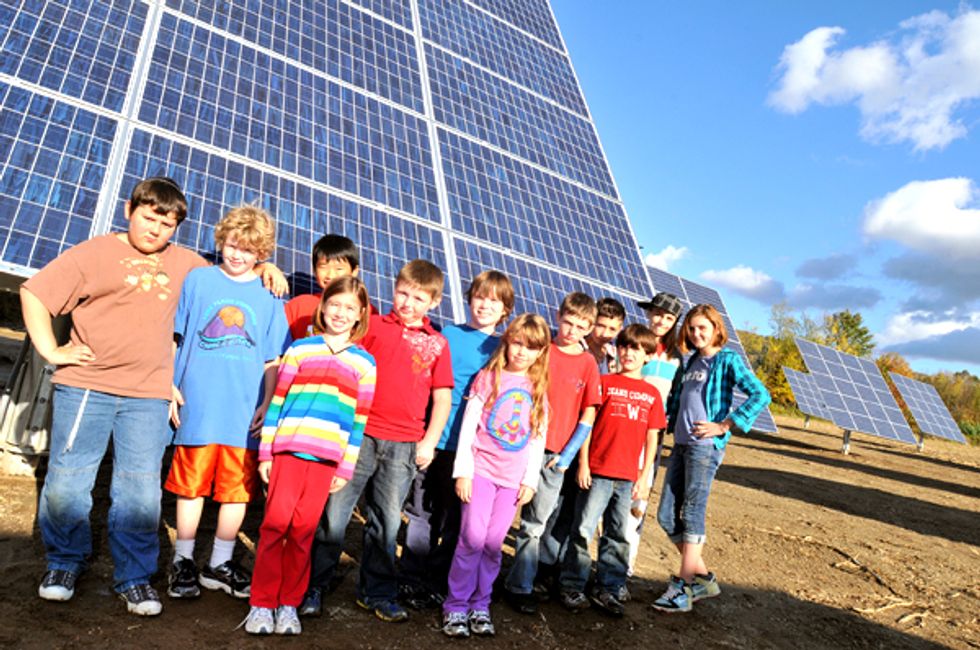 Brighter Future: A Study on Solar in U.S. Schools was prepared by The Solar Foundation (TSF)—with data and analysis support from the Solar Energy Industries Association (SEIA)—and funded through a grant provided by the U.S. Department of Energy's SunShot program.
The Solar Foundation's report is the first nationwide assessment of how solar energy helps to power schools in communities across America. Most importantly, the report shows that thousands of schools are already cutting their utility bills by choosing solar, using the savings to pay for teacher salaries and textbooks.  What's more, the report estimates that more than 70,000 additional schools would benefit by doing the same.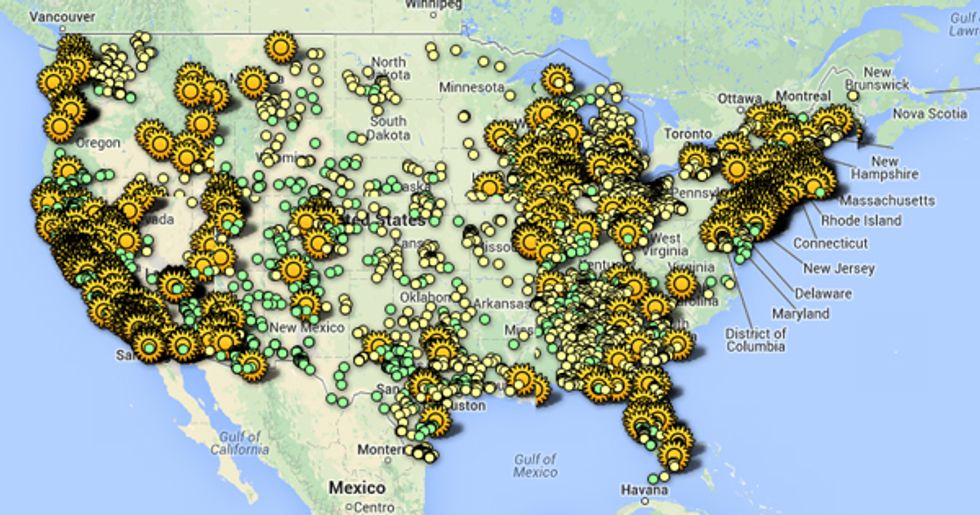 Here are the report's key findings:
There are 3,752 K-12 schools in the U.S. with solar installations, meaning nearly 2.7 million students attend schools with solar energy systems.

The 3,727 PV systems have a combined capacity of 490 megawatts (MW), and generate roughly 642,000 megawatt-hours (MWh) of electricity each year, which represents a combined $77.8 million per year in utility bills—an average of almost $21,000 per year per school.

Despite this promising progress, solar potential remains largely untapped. Of the 125,000 schools in the country, between 40,000 and 72,000 can "go solar" cost-effectively.
And if you think that's good news, then get a load of this: An analysis performed for this report found that 450 individual school districts could each save more than $1,000,000 over 30 years by installing a solar PV system. That's right—a million bucks!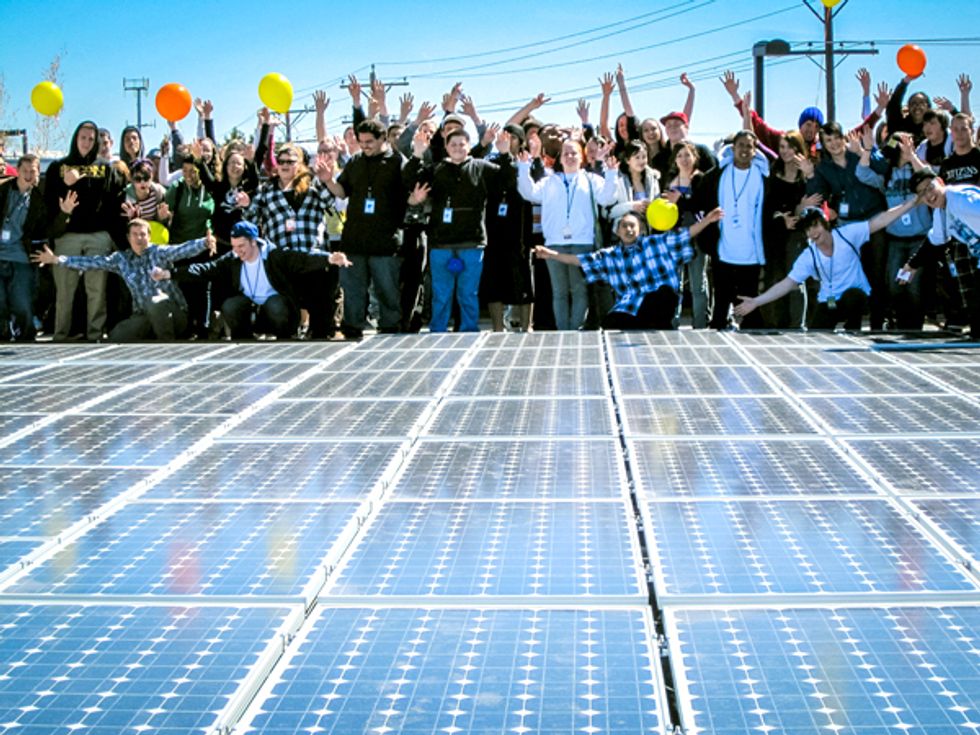 In a time of tight budgets and rising costs, solar can be the difference between hiring new teachers—or laying them off. Just as importantly, solar is also helping to fight pollution, providing hope for our children, as well as for future generations of children.
The new report also found:
More than 3,000 of the 3,752 systems were installed in the last six years. Between 2008 and 2012, solar installations on U.S. schools experienced a compound annual growth rate of 110 percent.
Nearly half of the systems currently installed are larger than 50 kilowatts (kW) and 55 schools have systems that are 1 megawatt (MW) or larger. About a quarter of the PV systems at schools are smaller than 5 kW.

As schools system sizes increase, so too does the incidence of third-party ownership.

Excluding small demonstration systems, the median system size of K-12 school PV systems was found to be 89 kW (approximately equal to 18 average residential solar PV systems).
As is the case with the solar industry at large, the report found that more schools are going solar as installation costs decrease.   According to the SEIA/GTM Research U.S. Solar Market Insight report, by the second quarter of this year, national blended average system prices had dropped 53 percent since 2010.
So anyway you look at it—from economics to innovation to the environment—more and more U.S. schools deserve high marks for their commitment to America's future.
YOU MIGHT ALSO LIKE
Investing in a Clean Energy Economy Today for a Healthier Tomorrow
Top 10 States Leading the U.S. in Solar Energy Growth
The U.S. Supreme Court ruled against a group of homeowners in North Carolina yesterday who unknowingly bought land contaminated by toxic chemicals and then attempted to sue the company responsible for dumping them there. 
Citing a lapse in a North Carolina state deadline, the high court decided that a law with a 10-year "statute of repose" can bar victims of toxic pollution from suing their polluters, even if they were not aware of the contamination until much later.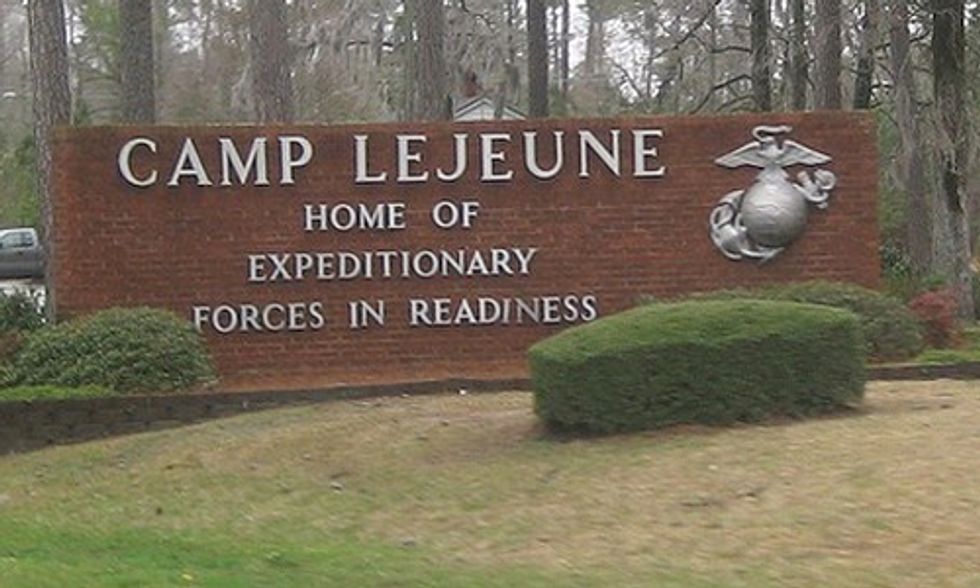 "I am outraged by today's Supreme Court decision which once again demonstrates the power of corporations over the rights of individual in this country," consumer advocate Erin Brockovich said yesterday. "It's a sad day when victims are denied the most basic right to their day in court."
According to the Environmental Working Group, the ruling carries sweeping implications for countless Americans threatened by toxic dumping, among them, the legal claims of thousands of Marines and their families poisoned by water contamination at Camp Lejeune in Jacksonville, NC.
"I am stunned by today's decision. It's a blow to all victims exposed to and suffering from the health effects of toxic pollution," said retired Master Sgt. Jerry Ensminger, who uncovered the contamination at Camp Lejeune after losing his 9-year old daughter Janey to leukemia. "Science shows that the latency period of cancer after toxic chemical exposure is 20 or 30 years—this ruling means victims will not be able to sue a company for its wrongful pollution once the statute of repose has passed." 
Veterans and their families have charged that exposure to trichloroethlylene—a known carcinogen—in polluted waters at Camp Lejeune over a 30-year period has caused at least 84 cases of male breast cancer and thousands more rare cancers, leukemia, birth defects and other serious illnesses.
"I have been fighting for the rights of veterans to see justice from the toxic pollution of Camp Lejeune for more than 20 years and this ruling is a tragedy for all of us," said Ensminger. "Words cannot describe my disappointment in the Obama Administration for siding with the polluters in this case and the ultimate decision that has resulted in a harmful precedent for polluted communities across the country."
In Aug. 2012, President Obama signed the Janey Ensminger Act into law, which offered health benefits to those contaminated at Camp Lejeune. No word yet on what affects Monday's Supreme Court decision will have on the Janey Ensminger law.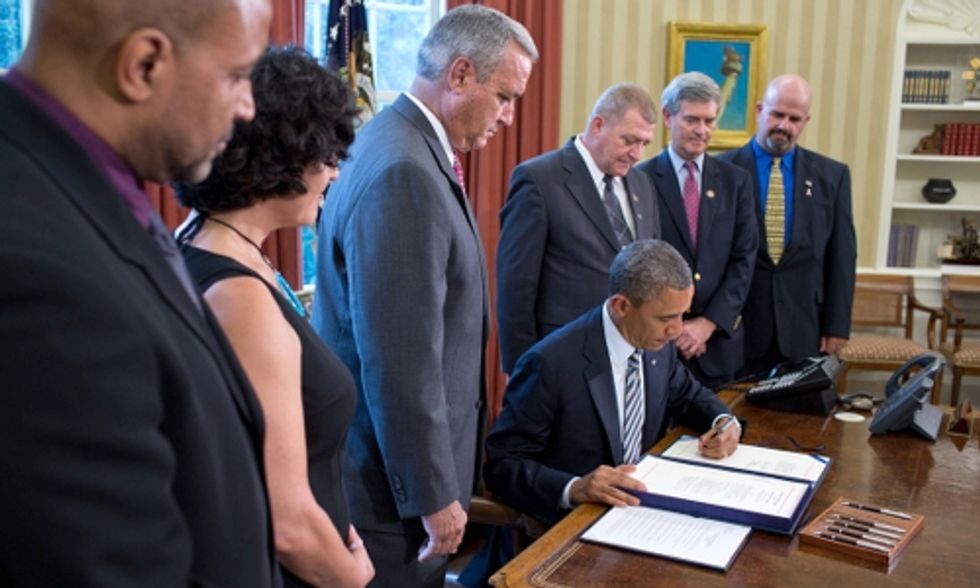 "We are deeply disappointed in today's wrongheaded decision," said Danielle Brian, executive director of the Project on Government Oversight, one of Environmental Working Group's partners in the fight for environmental health legislation. "We fear that this may set the precedent that the Obama Administration sought—denying justice to those harmed by toxic pollution at Camp Lejeune and elsewhere."
"It is unconscionable that people may lose their right to seek justice before they even know they were harmed," Brian continued. "Like Justice Ginsberg, we are concerned that this will encourage more secrecy and cover-ups like the one the government has engaged in over Camp Lejeune for decades. Ultimately, Congress may need to make clear its intent to protect the rights of victims of polluters no matter how long it takes for them to get cancer or die."
--------
YOU MIGHT ALSO LIKE
Erin Brockovich Joins Vets to Rally Against DOJ's Position in Supreme Court Water Pollution Case
Congress: Protect Public Health, Not Toxic Chemicals
Leaked TTIP Documents Expose Chemical Industry's Toxic Agenda
--------