EcoWatch Daily Newsletter
Acidic ocean water blunts the sense of smell in fish, making them bolder—perhaps recklessly so, according to a new study offering a glimpse of the oceans of the future.
The findings suggest that, if greenhouse gas emissions continue unabated, fish could suffer debilitating behavioral effects.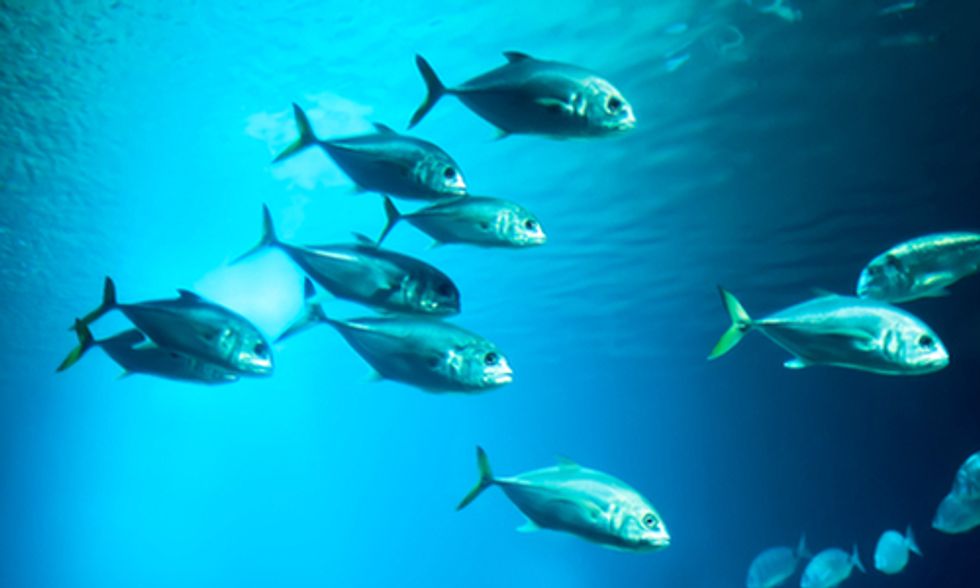 Photo courtesy of Shutterstock
"If reef fish behavior does not adapt to rising [carbon dioxide] CO2 levels over coming generations, there could be serious consequences for the structure and function of future reef communities," the authors wrote in the study published in Nature Climate Change. 
The researchers, however, were surprised to find fish populations near the carbon seeps about as diverse and abundant as the fish from normal reefs.
The researchers studied young fish living near reefs in Papua New Guinea where CO2 venting from volcanic seeps make the water more acidic. Compared to fish from reefs without seeps, the fish in acidic waters were more attracted to their predator's smell, didn't distinguish between different habitats' odors and were bolder, emerging from shelter at least six times faster after a disturbance. 
The findings build on laboratory and field studies suggesting that increasing ocean acidification will impair fish behavior and gravely affect creatures like coral and shellfish that depend on calcium for a shell. 
Buffer for Emissions
The oceans have absorbed about one-third of humanities' greenhouse gas emissions, buffering the atmosphere. But as oceans absorb the carbon dioxide —some 530 billion tons to date—seawater becomes more acidic. The water's pH, a measurement of acidity, remained stable at 8.2 for roughly 300 million years before industrialization. Today it is near 8.1, a drop of 25 percent on the logarithmic scale. 
Seawater pH near the seeps in Papua New Guinea is about 7.8—the same pH that ocean surface waters will reach by 2100, according to climate models assessed by the Intergovernmental Panel on Climate Change. 
"This is the first time people have been able to test what would happen in 100 years," said Danielle Dixson, an assistant professor at Georgia Tech University and co-author of the study, which was led by Australian researchers.
The differences are striking, said Karl Castillo, an assistant professor of marine sciences at the University of North Carolina who was not involved with the research. 
'Strong Study'
"This is a strong study," Castillo said. "There's no doubt there is something happening here due to acidification."
Most animals on coral reefs, including fish, rely on chemical cues to know if they should hide or eat or mate with something, Dixson explained. Acidity dulls the ability to detect those cues, and the impacts could cascade through the entire reef.
"Not being able to recognize a predator is one of the most dangerous things for any animal," Dixson added. 
Given the behavior differences, it's not clear why there wasn't more difference in species composition and richness between the seep reefs and the normal reefs, Dixson said. 
The study is just the latest example of why ocean acidification needs to be addressed, said Emily Jeffers, a staff attorney with the Center for Biological Diversity. The Center for Biological Diversity has petitioned the U.S. government to list certain species of corals and reef dependent fish as endangered to offer some protection from acidification.  
In 2010, the U.S. Environmental Protection Agency passed a ruling that water impacted by ocean acidification should be listed as impaired under the Clean Water Act. However, no state has listed water as such yet.
--------
YOU MIGHT ALSO LIKE
Scientists to Build Underwater Bio-Dome Simulating Future Ocean Acidification Levels 
Interactive Tool Makes Global CO2 Emissions Data Smartphone Accessible 
Scientists Warn of Emerging Impacts From Arctic Ocean Acidification 
-------- 
The Ohio Department of Natural Resources (ODNR) announced on Friday that recent earthquakes in northeastern Ohio were likely caused by hydraulic fracturing—or fracking.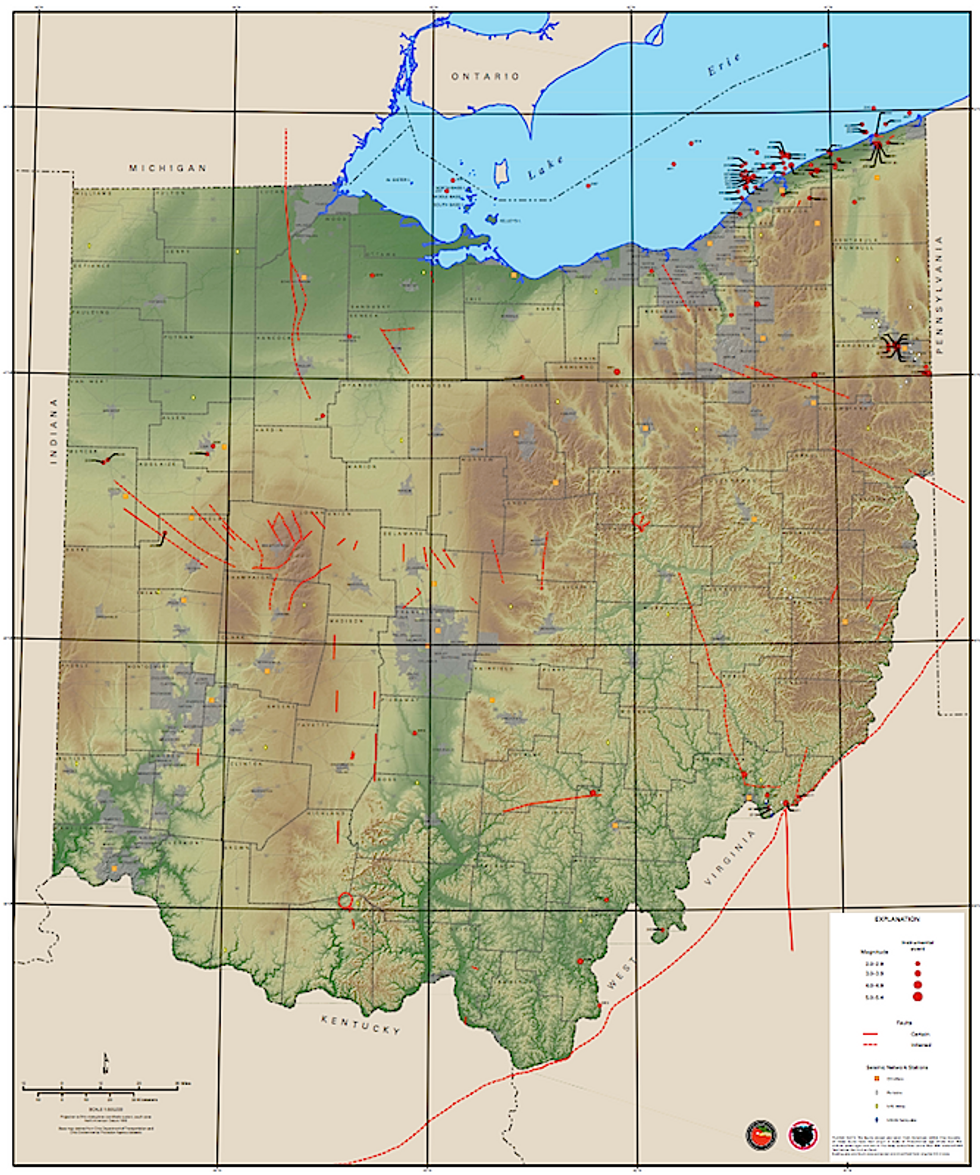 A series of earthquakes up to magnitude 3.0 struck on March 1o-11 in Mahoning County near the Ohio-Pennsylvania border. A nearby Utica oil well was being fracked at the time of the quakes, leading ODNR shut down the operation until a possible link could be investigated further.
This is now the fourth documented case of induced seismicity linked to fracking, and the latest in a series of earthquakes in Ohio caused by oil and gas production activities. The earlier quakes resulted from disposal of waste water into underground injection wells.
Scientists have long known that injecting fluids underground can cause earthquakes. Despite this fact, neither state nor federal regulations require operators of fracking wells or disposal wells to evaluate the risk of induced earthquakes when deciding where to site wells or how to operate them. Ohio will now be the first state to require companies to monitor for seismic activity during fracking and shut down operations if earthquakes occur.
Earthquakes caused by oil and gas production activities have been happening across the U.S., including in places where natural earthquakes are uncommon. It's time for regulators everywhere to put public health and safety first, and create rules to assess and mitigate the risk of induced earthquakes.
--------
YOU MIGHT ALSO LIKE
Jon Stewart Highlights Earthquakes, Chevron's Pizza and Other 'Benefits' of Fracking
Fracking Waste Injection Wells Put Millions of Californians at Risk of Increased Earthquakes
Frackquakes: Public Opposition Builds As Property Rights Are Endangered in Texas 
--------
By Kris Gunnars
There is a lot of controversy in nutrition.
Sometimes it seems like people can't agree on anything at all. But there are a few exceptions to this: some nutrition facts that aren't controversial. Here are 11 universal truths in nutrition that people actually agree on.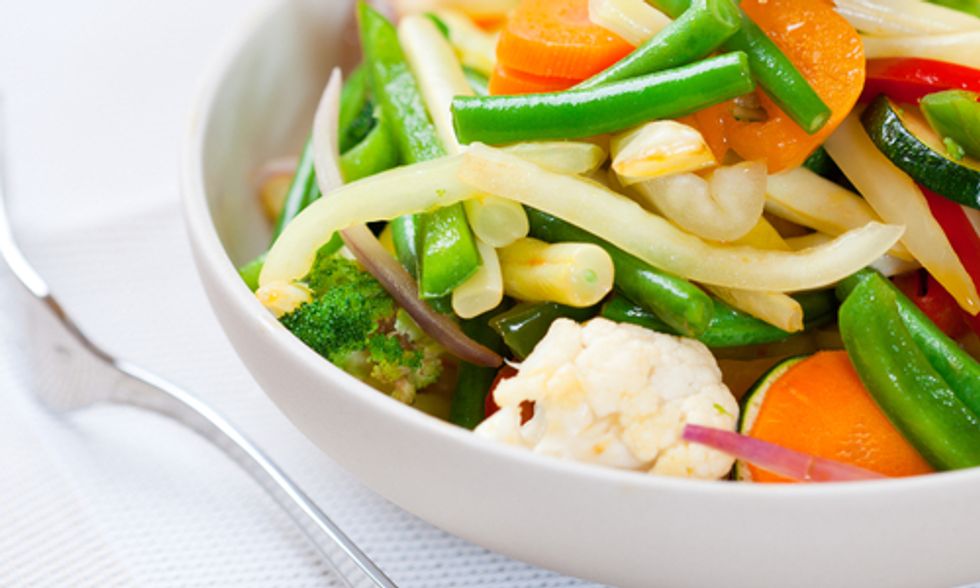 Photo courtesy of Shutterstock
1. Artificial Trans Fats Are Extremely Unhealthy
There is ongoing debate about fats in the diet, but most people agree that trans fats are harmful.
Put simply, trans fats are polyunsaturated fats that have been chemically altered to resemble saturated fats. This is done by exposing polyunsaturated fats to high heat, high pressure and hydrogen gas, in the presence of a metal catalyst. This "hydrogenates" the fats, making them resemble saturated fats in consistency, which dramatically improves shelf life.
These fats can raise small, dense LDL (bad) cholesterol and lower HDL (the good) cholesterol, cause insulin resistance and belly fat accumulation, while driving inflammation. There are now studies showing that trans fat consumption is strongly linked to many serious diseases, including heart disease and type 2 diabetes.
These fats are found mostly in highly processed foods. The best way to avoid them is to read labels and avoid anything that has the word "hydrogenated" on the ingredients list.
A little known fact is that refined vegetable oils like soybean and canola oils also contain significant amounts of trans fats, from 0.56-4.2 percent, although it's usually not listed on the label. It's best to avoid these too.
Bottom Line: Trans fats are man-made fats, made by "hydrogenating" polyunsaturated vegetable oils. These fats can cause severe harmful effects on metabolism and contribute to many diseases.
2. Whole Foods Are Better Than Processed Foods
There is growing consensus that processed foods are harmful.
Humans evolved eating unprocessed "real" foods, which retain all the nutrients and fiber found in foods in their natural state. Most highly processed foods don't really resemble real food at all. They consist of refined ingredients and artificial chemicals, assembled in a package that looks and tastes like food.
Processed foods are harmful for various reasons. They tend to be high in harmful ingredients like sugar, refined carbs and processed oils. At the same time, they are very low in micronutrients, fiber and antioxidants.
But what many people don't realize is that the food industry puts a LOT of science and effort into making processed foods as "rewarding" (and addictive) as possible. The way foods are "engineered" effectively short circuits the brain mechanisms that are supposed to regulate our appetite. This is why people tend to eat much more than their bodies need if they base their diet around processed foods, which leads to obesity and metabolic disease.
There are also studies showing that we only burn half as many calories digesting processed compared to whole foods, so people who eat mostly processed foods will burn fewer calories throughout the day.
Bottom Line: Whole foods are much healthier than processed foods, which tend to be low in nutrients, high in harmful ingredients and designed to drive over consumption.
3. Getting Enough Omega-3 Fatty Acids Is Important
Humans cannot produce polyunsaturated Omega-3 and Omega-6 fatty acids. However, they are needed for optimal function of the body and are therefore termed the "essential" fatty acids.
There is actually quite a bit of controversy regarding polyunsaturated fats, but most of it revolves around Omega-6 fats. The other kind, Omega-3, is actually not controversial at all. Pretty much everyone agrees that it is needed and that most people aren't getting enough.
Omega-3 fatty acids are required for various purposes. They are structural molecules in cell membranes, especially in the brain. Omega-3 consumption is linked to improved neurological health, including improved intelligence, reduced depression and a lower risk of dementia. But they also play critical roles in other cellular processes, such as inflammation, immunity and blood clotting.
The modern diet is low in Omega-3, but extremely high in Omega-6. This is a terrible combination, because eating a lot of Omega-6 actually increases the need for Omega-3.
The best way to get enough Omega-3s is to eat fatty fish and grass-fed/pastured animal foods. If that is not an option, taking an Omega-3 supplement like fish oil is important. Omega-3s are also found in some plant foods, including flax seeds and chia seeds. However, the Omega-3s in plants are not nearly as potent as the Omega-3s in animal foods.
Bottom Line: Omega-3 fatty acids are very important. They function as structural molecules in the brain and play key roles in important cellular processes.
4. Added Sugar Is Unhealthy
Added sugars, like sucrose and high fructose corn syrup, are harmful. People mainly disagree on how harmful and why they cause harm.
Some think they are chronic metabolic toxins while others think they're merely a source of empty calories. But pretty much everyone agrees that, at the very least, most people are eating too much sugar and would be better off eating healthier foods instead. Right now, Americans are eating about 70 pounds (32 kg) of sugar per year, and within those averages many people are eating a 100 pounds or more.
There is mounting evidence that sugar may be partly responsible for the worldwide pandemics of chronic, Western diseases. However, keep in mind that most people aren't deliberately eating this much sugar. They're getting a lot of it from conventional foods that have sugar added to them.
The best way to avoid added sugar is to read labels and familiarize yourself with the many names they use (such as corn syrup, evaporated cane juice and more) for sugar.
Bottom Line: Most experts agree that sugar is harmful and that people are eating too much of it. There is mounting evidence that sugar may be partly responsible for many chronic, Western diseases.
5. Green Tea Is a Healthy Beverage
Although coffee is controversial, most people agree that green tea is healthy. It is very rich in powerful antioxidants, including a bioactive compound called EGCG.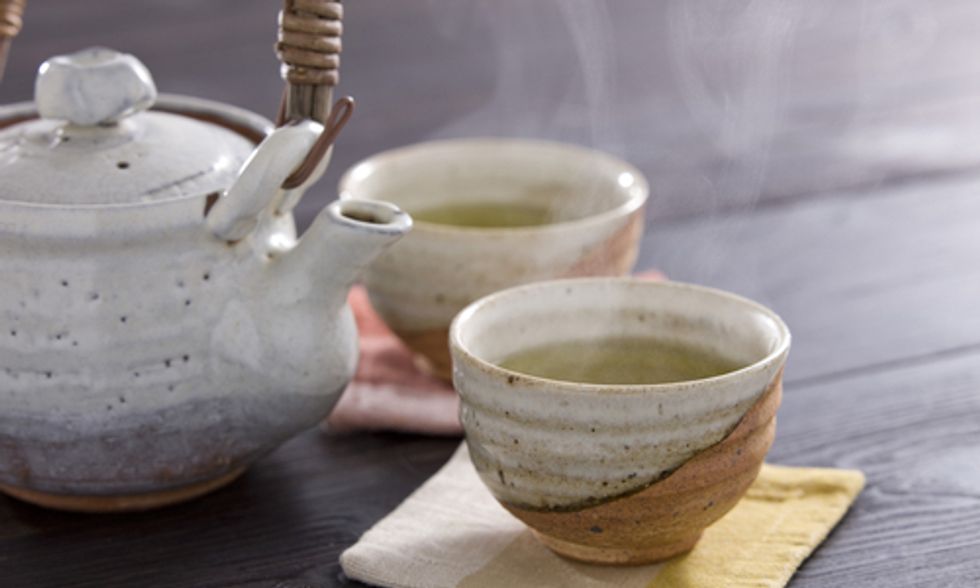 Photo courtesy of Shutterstock
Many studies show that the people who drink the most green tea have a lower risk of serious diseases like heart disease and cancer. There is also evidence that the bioactive compounds in green tea can boost metabolism and increase fat burning. Green tea also contains certain amino acids that may help improve concentration and brain function.
Overall, green tea is a super healthy beverage that has been intensively studied, with almost every single study on it showing impressive health benefits.
Bottom Line: Although coffee and caffeine in general are controversial, most people agree that green tea is healthy. It is loaded with antioxidants and has led to major health benefits in many studies.
6. Refined Carbohydrates Should Be Minimized
Carbs are controversial.
Some think the majority of our calories should come from carbs, others that they are completely unnecessary and may even cause harm. But even the most extreme low-carbers agree that unprocessed carb sources are, at the very least, less bad than their refined counterparts.
Refined grains, for example, have had the bran and germ removed from the seed. These parts contain the most nutrients, but they also have fiber that mitigates the blood sugar raising effect of the carbs. When you remove the fiber, the carbs spike blood sugar and insulin rapidly. This leads to a subsequent drop in blood sugar, making people crave another high carb snack. This is one of the ways that refined carbs stimulate overeating.
There are numerous studies showing that consumption of refined carbohydrates is linked to obesity and many Western diseases.
If you're going to eat carbs, stick to unprocessed sources that include fiber.
Bottom Line: Although carbs are controversial, almost everyone agrees that whole, unrefined sources are much healthier than their refined counterparts.
7. Vegetables Are Healthy Foods
Vegetables are healthy. Pretty much everyone agrees on that. They are the default "health foods."
Vegetables are among the most nutritious foods in existence, calorie for calorie. They are high in fiber, vitamins, minerals, antioxidants and thousands of trace nutrients that science is just beginning to uncover.
Numerous studies show that eating plenty of vegetables is linked to a reduced risk of almost every chronic disease.
Vegetables are also among the most weight loss friendly foods. They have a low energy density, lots of fiber and make people feel full with a low amount of calories.
Bottom Line: Vegetables are low in calories, but very high in micronutrients, antioxidants and fiber. Many studies show that vegetable consumption is associated with good health.
8. Supplements Cannot Compensate for an Unhealthy Diet
The composition of whole foods is incredibly complex. They contain way more than just the standard vitamins and minerals that we're all familiar with.
Whole foods contain hundreds, if not thousands, of various trace nutrients, many of which have powerful health benefits. Science has yet to uncover many of these nutrients and modern nutritional supplements are far from being able to replicate all the nutrients found in foods.
Although many nutritional supplements can have impressive benefits, most experts agree that they are not able to compensate for an unhealthy diet. For optimal nutrition, the foods you choose to eat are by far the most important.
So, take care of your diet first, then add supplements to optimize (if applicable).
Bottom Line: Whole foods are incredibly complex and contain thousands of trace nutrients, many of which science has yet to uncover. No amount of supplements can replace all the nutrients found in whole foods.
9. Olive Oil Is Super Healthy
Olive oil is the default healthy fat. It is part of the Mediterranean diet and has been a dietary staple for some of the world's healthiest populations. However, getting the right kind of olive oil can be tricky these days.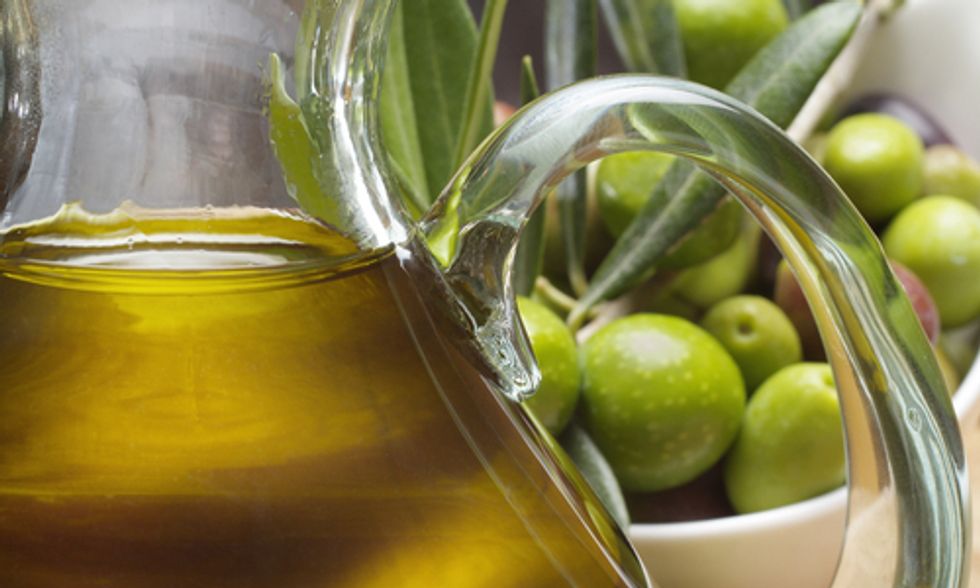 Photo courtesy of Shutterstock
It is critical to choose extra virgin olive oil from a reputable seller, because many of the lower quality versions have been refined and diluted with cheaper oils.
Quality extra virgin olive oil is very high in healthy monounsaturated fatty acids and loaded with powerful antioxidants. Many studies have shown that it has various benefits for metabolic health. It also contains anti-inflammatory compounds and the antioxidants in it have been shown to help fight various steps in the heart disease process.
All things considered, quality extra virgin olive oil may just be the healthiest fat on the planet.
Bottom Line: Extra virgin olive oil is high in healthy monounsaturated fats and loaded with powerful bioactive antioxidants, many of which have anti-inflammatory effects and protect against heart disease.
10. Optimal Health Goes Beyond Just Nutrition
Nutrition is important, but it's still just one part of a bigger picture.
There are other aspects of life that can be just as important when it comes to feeling good, living long and avoiding disease. Exercise is a big one. Although it seems to be mostly ineffective for losing weight, it has incredible benefits for mental wellbeing and metabolic health.
Other lifestyle factors, that unfortunately are often ignored, are sleep and stress levels.
If you don't exercise, are overstressed and chronically under rested, then you won't be even close to optimally healthy, no matter how good your diet is.
Bottom Line: There are many aspects besides nutrition that are just as important for overall health. This includes exercise, managing stress levels and getting adequate sleep.
11. The Best Diet (or "Way of Eating") for You Is the One You Can Stick To
There is a lot of debate about the different diets.
There are the paleo folks, the low-carbers, the vegans, the balanced diet folks and everything in between. But the truth is: all of these approaches can work.
The problem is not which diet (or way of eating) is "best," the key is finding something that is sustainable for each individual. Losing weight and improving health is a marathon, not a race. What matters in the long run is finding something that is healthy, that you like and can live with for the rest of your life.
This article was reposted with permission from our media associate Authority Nutrition.
——–
YOU MIGHT ALSO LIKE
How to Limit Added Sugar in Your Diet
10 Ways to Teach Your Child to Eat Well
——–
Muriel is in her late 50s. She has intellectual disability, struggles to express herself and has trouble controlling impulses. Muriel is like many of the thousands of people with Autism Spectrum Disorder (ASD) that The Arc's 700 chapters serve every day.
Not all persons with ASD will need our services like Muriel, but even for individuals with less significant impairments and their families, ASD can bring lifelong challenges. And they are challenges that a growing number of Americans are facing.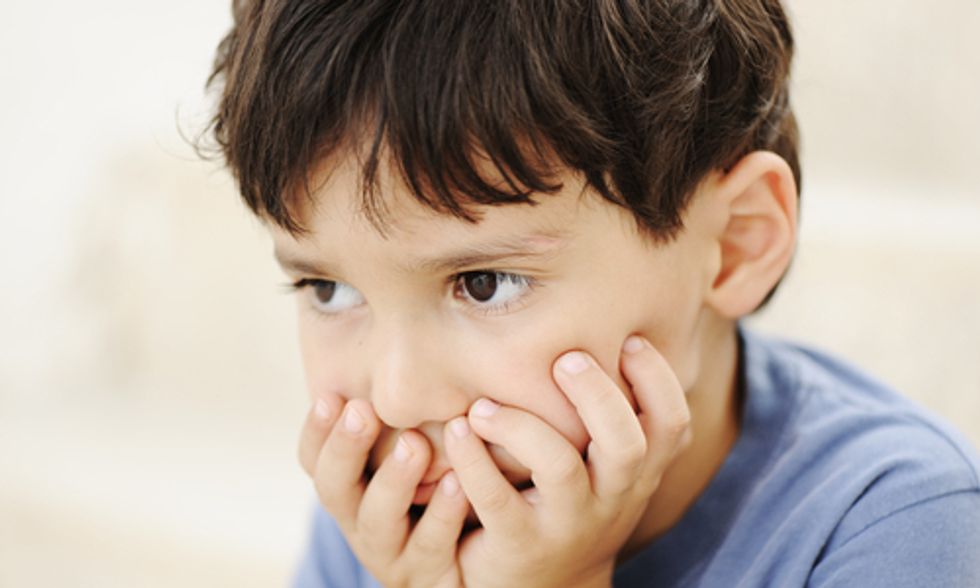 An estimated 1 in 68 children has an autism spectrum disorder. Photo courtesy of Shutterstock
Last week, the Centers for Disease Control and Prevention (CDC) released their new ASD prevalence figures and they are alarming. An estimated 1 in 68 children has an autism spectrum disorder. The likelihood that a child will be diagnosed with the disorder has increased 30 percent in the last two years. This increase follows a consistent (if somewhat accelerated) upward trend in autism diagnosis over the last decade. According to the CDC, the number of persons diagnosed with autism increased 123 percent between 2002 and 2010.
Researchers agree autism is often caused by a combination of factors. They have identified a number of genes that greatly increase the risk of autism. They have also identified that environmental exposures, such as chemical exposures, can lead to de novo genetic mutations. These mutations arise spontaneously in the parents' reproductive cells due to events such as random errors in DNA replication or environmental exposures that alter DNA.
While we don't yet know the exact causes of autism, more than 30 years of environmental health studies have led to a growing consensus that chemicals are playing a role in the incidence and prevalence of many diseases and disorders in the U.S., including autism. A committee convened by the U.S. National Academy of Sciences in 2000 reported that approximately 3 percent of all developmental defects are attributable to exposure to toxic chemicals and physical agents, including environmental factors, and that 25 percent of all developmental defects may be due to a combination of genetic and environmental factors. Several recent studies have also highlighted the role that environmental exposure can play in autism specifically.
Unfortunately, not enough research has been conducted about the potential developmental consequences of toxic chemical exposure. While many toxic chemicals have been linked to autism, most remain untested. There are 3,000 "high production volume" chemicals that are widely used in consumer products. Both pregnant women and children are exposed. Without proper testing, the effects of these exposures might be unrecognized until it is too late for another generation of Americans. Until necessary safeguards are put in place, families like Muriel's will continue to face challenges and the population served by The Arc will continue to grow as the number of children diagnosed with ASD rises.
Congress has the opportunity to proactively address the danger toxic chemicals present for our children's development. It is impossible for the public to entirely avoid exposure to toxic chemicals without protections guarding against their exposure. Parents need all the help they can get protecting their children and all children deserve a chance for healthy development unhampered by toxic chemical exposure.
——–
YOU MIGHT ALSO LIKE
Autism Rate Surges Among U.S. Children
Harvard Professor: Fluoride Toxic to Children, Linked to Autism
Congress, Protect Public Health, Not Toxic Chemicals
——–
A new study from the U.S. Geological Survey paints a troubling picture for birds and reptiles in the Southwest. Scientists examined current and future breeding ranges for seven bird and five reptile species in the Southwest in the context of several key climate models. The findings, released this week, found that two birds—Williamson's sapsucker and the pygmy nuthatch—could lose so much habitat that they could be close to extinction by the end of this century. Neither bird is a currently a candidate for endangered species protections.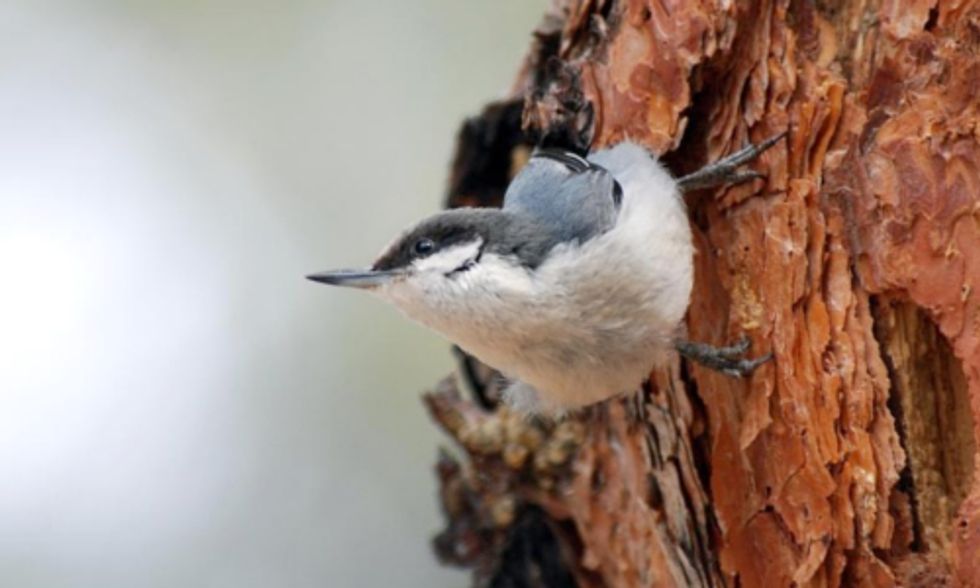 Also, more than 40 percent of existing habitat could be lost for plateau striped whiptails, Arizona black rattlesnakes and common lesser earless lizards.
"It's startling to see such a bleak picture laid out for these wildlife species in the Southwest," said Collette Adkins Giese, a Center for Biological Diversity biologist and attorney focused on protecting reptiles and amphibians. "Left unchecked, global warming will push many species to the brink of extinction and many more right over the edge."
The study, Projecting Climate Effects on Birds and Reptiles of the Southwestern United States, used models that looked at climatic, landscape and plant variables in examining how specific species will react to climate change. Although the resulting ranges of the species varied widely under different scenarios, the study highlights the severe price that some species will pay as climate change alters the landscape around them.
"Climate change will be an agent of fast-moving chaos, and tragically, many animals simply won't be able to adapt fast enough," said Adkins Giese. "We'll see it in the Southwest and around the globe. The result will be a world that's less alive and less wild and frankly lonelier for those of us who remain."
Overall, global warming around the world will destroy more than half the habitats of most plants and about a third of animal habitats by 2080, according to a 2013 study in the journal Nature Climate Change. Last week the Intergovernmental Panel on Climate Change released a new study on the impacts of global warming, noting that chinook salmon in the Pacific Northwest, for example, may decline as much as 50 percent in the coming decades. Rising temperatures and ocean acidity caused by carbon pollution are already hurting coral reefs from Florida to Australia.
--------
YOU MIGHT ALSO LIKE
Scientists to Build Underwater Bio-Dome Simulating Future Ocean Acidification Levels
Climate Change Causing Salamanders to Shrink, Leaving Them Vulnerable to Predators and Extinction
Plants of the Colorado Rockies Show Impact of Climate Change 
--------
Farmers and farmers groups, researchers and scientists, and government leaders and policy-makers from across the continent are gathered to better understand family farming in North America and to agree upon common recommendations for the development and support of family farmers in the U.S. and Mexico. The dialogue also hopes to identify the key challenges family farmers face as well as the solutions they're developing in their communities.
This week, Food Tank is also excited to announce our collaboration with the Global Forum on Agricultural Research (GFAR). GFAR brings together all those working to strengthen and transform agricultural research for development around the world. During 2014 and the International Year of Family Farming, GFAR is working with Food Tank to showcase and raise awareness and understanding of the challenges faced by smallholders and help identify efficient ways to support family farmers, especially women farmers.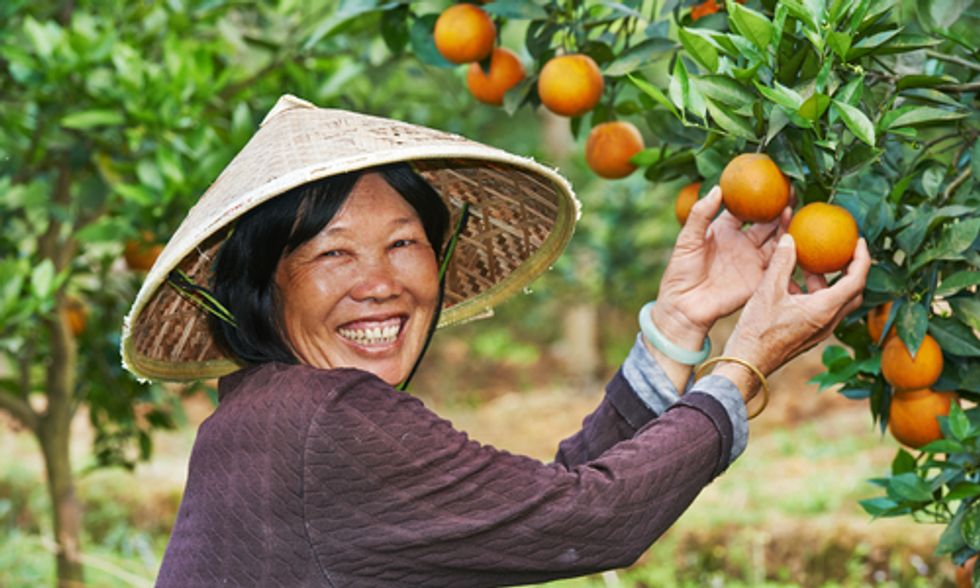 Photo courtesy of Shutterstock
GFAR's Gender in Agriculture Partnership (GAP) is "transforming agriculture to empower women and deliver food, nutrition and income security." GAP is a "vibrant, collective movement for change," bringing together more than 150 institutions comprised of equally committed actors who work to break down gender barriers and achieve gender equality in agriculture. GAP member projects highlight the role of men and women as producers, develop participatory processes, address social norms and power relations in creating disparities, and put a spotlight on women farmers as the backbone of the land.
The timing of this initiative is more important than ever. Although women make up at least 43 percent of the agricultural labor force worldwide, they typically lack access to education, extension services, land and credit.
 
And this gender inequality comes at a huge cost, not just for women, but society as a whole. Discrimination against women can undermine economic development by limiting food security for families and preventing women and girls from achieving greater opportunities in education. In addition, many agricultural research and development programs ignore the needs and hopes of women farmers.
 
But research from the U.N. Food and Agriculture Organization shows that if women had the same access to non-land resources as male farmers, they could lift 100-150 million people out of hunger. And according to Landesa, when women farmers have secure land rights family nutrition improves, women become less vulnerable to contracting HIV/AIDS; they may be less likely to be victims of domestic violence; children, especially girls, are more likely to receive an education and stay in school longer; and women's participation in household decision-making increases.
 
GFAR, among its many roles, works to highlight the important work of women farmers—as food producers, nutrition providers and care-takers, and as scientists, practitioners and innovators and teachers in villages and cities, in governments and leadership at NGOs, and at research institutions all over the world.
 
In 2012, GFAR helped bring together women farmers and leaders from more than 50 countries at the First Global Conference of Women in Agriculture to highlight the importance of reducing the gender gap in agriculture and identifying ways forward to ensure that men and women are equal partners in food and nutrition security. The conference gave rise to GAP—eliminating the gender gap in agriculture, GFAR knows, requires cooperation and collaboration from a variety of food system stakeholders.
 
To celebrate this important work and the crucial role of women farmers, female agricultural scientists and researchers, and women-led food NGOs and businesses, GFAR and Food Tank are highlighting six innovative projects and initiatives that are working to strengthen women's empowerment in agriculture:
African Women in Agricultural Research and Development (AWARD)—AWARD is a career-development program for prominent women agricultural scientists in sub-Saharan Africa. AWARD provides fellowships aimed at teaching research and leadership and is focused on the success and security of African smallholder farmers—most of these farmers are women. AWARD fellows are selected through a highly competitive process. 
Jamaican Pig Farmer Association (JPFA) and The Jamaica Network of Rural Women Producers (JNRWP)—Mildred Crawford, a pig farmer and pig artificial inseminator, helped create JPFA and JNRWP. JPFA works with pig farmers and other industry players to provide leadership, advocacy in representing the industry at a national level, and resources for the development of pig farmers in Jamaica. The Most Honorable Lady Cooke, former First Lady of Jamaica, launched JNRWP in 1999—it works alongside various stakeholders to foster economic and social development of rural women in Jamaica. This organization works to empower and motivate rural women so they can improve the quality of their lives and the welfare of their communities. 
Maruzi Beekeeping Association—Rose Akaki, a beef farmer from Uganda, diversified her family beef farm and encouraged neighbors to become beekeepers, eventually forming the Maruzi Beekeeping Association. This association has grown beyond their village to regional membership, now involved in processing, packaging and marketing a product called "Go Honey."
National Agricultural Innovation System Support Project (Peru)—The objective of this project is to create acceptable conditions in the National Agricultural Innovation System (SNIA) in order to support the effectiveness of its member organizations in providing improved agricultural technologies. Women-based organizations are a main beneficiary of this project, as the role of rural women tends to be marginalized outside of the household, even though women participate in all agriculture tasks.
World Farmers Organization (WFO)—WFO partners with GAP to empower women farmers and find ways to lift up all farmers from inequities that exist today. Susan Carlson, the WFO Women's Committee Chair, explains that "women farmer's innovation and entrepreneurship are evidence of their commitment and dedication to their family farm—their way of life and their livelihood."
Young Professionals for Agricultural Development (YPARD)—YPARD is a network of young farmers, researchers, scientists and other food system stakeholders. YPARD helps to give a voice to these young women and men, amplifying their voices and giving them a seat at the table in decisions around agricultural development. Through national meetings, conferences and other initiatives, women are using the YPARD platform to highlight the issues most important to them at the national, regional and international level.
What other projects helping empower women farmers can you add to this list?
——–
YOU MIGHT ALSO LIKE
Which State Best Supports Its Locally Grown Foods?
'Just Eat It': Documentary Explores Food Waste From Farm to Fridge
Vertical Farming: Feeding Tomorrow's World With Today's Emerging Technologies
——–