A mix of fats, such as those found in nuts, avocados, salmon and olives, could be healthy and more satisfying. a_namenko / iStock / Getty Images Plus
By Heidi Silver
Public health guidelines, such as the Dietary Guidelines for Americans, have long emphasized reducing dietary fat intake, but nutritionists and other health scientists now have more recent evidence that not all fats have adverse effects. Dietary fats differ with regard to their effects on health and risk for chronic diseases, particularly in regard to effects on risk for heart disease.
Indeed, some nutrition experts now believe that certain types of dietary fat may even reduce cardiovascular risk. Some dietary fats may lower fats in the blood called triglycerides. They may also increase levels of HDL, or what is known as the "good" cholesterol, and reduce LDL-cholesterol, or the less healthy type of cholesterol, thus improving the HDL to total cholesterol ratio.
<p> Also, many diet plans that do not strictly limit the total amount of dietary fat a person consumes have been associated with <a href="https://onlinelibrary.wiley.com/doi/full/10.1177/0884533611405791" target="_blank">better diet satisfaction</a>, weight loss and preservation of muscle mass. </p><p> As a research professor in the field of nutrition and dietetics, I am convinced that findings <a href="https://www.ncbi.nlm.nih.gov/pmc/articles/PMC4306330/" target="_blank">from our work</a>, along with other published current evidence, show that the concept that dietary fat is "toxic" is very much outdated and misguided. </p><p> Although there is conclusive evidence that one type of fat, trans fat, has no place in a healthy diet, I believe that consumers should start to learn how to balance the other types of fats in the diet. </p><h2>A Balancing Act</h2><p> While not all fats are alike, they do share some things in common. They provide energy with approximately <a href="https://www.heart.org/en/healthy-living/healthy-eating/eat-smart/fats/monounsaturated-fats" target="_blank">nine calories per each gram of fat</a>, they are all broken down during digestion by enzymes in the gastrointestinal tract, and they are well absorbed as fatty acids, or <a href="https://www.britannica.com/science/hydrocarbon" target="_blank">chains of hydrogen and carbon</a>. </p><p> But these carbon chains vary in length and their degree of saturation. As a result, dietary fats vary in their effects on the body. </p><p> In some instances, the carbon molecules bind to other carbon molecules. In others, they bind to hydrogen molecules. You likely have heard names for these two types of fats—unsaturated and saturated. Unsaturated fats are those in which carbon molecules bind to other carbon molecules. <a href="https://www.heart.org/en/healthy-living/healthy-eating/eat-smart/fats/saturated-fats" target="_blank">Saturated fats</a> are those in which carbon molecules bind to hydrogen molecules. Within the two broad types of fat, there are differences still. </p><p> Among the unsaturated fats, there are those that are <a href="https://www.heart.org/en/healthy-living/healthy-eating/eat-smart/fats/monounsaturated-fats" target="_blank">mono-unsaturated</a>, or those that have one unsaturated carbon bond, which are found in olive oil and certain kinds of nuts, and there are those that are <a href="https://www.heart.org/en/healthy-living/healthy-eating/eat-smart/fats/polyunsaturated-fats" target="_blank">poly-unsaturated</a> and are found in such foods as walnuts, plant oils, <a href="http://www.ecowatch.com/tag/salmon">salmon</a> and sardines. </p><p> We also have learned that different kinds of saturated fats affect the body in different ways. For example, the 12-carbon lauric acid, 14-carbon myristic acid, 16-carbon palmitic acid and 18-carbon stearic acid are all saturated fats. But <a href="https://www.nejm.org/doi/full/10.1056/NEJM198805123181905?url_ver=Z39.88-2003&amp;rfr_id=ori%3Arid%3Acrossref.org&amp;rfr_dat=cr_pub%3Dpubmed" target="_blank">stearic acid</a> does not increase LDL-cholesterol levels like the other saturated fats.<br> </p><p> While these differences are not new, the understanding of their effects is new, mostly due to findings from more recent studies like <a href="https://www.ncbi.nlm.nih.gov/pmc/articles/PMC4306330/" target="_blank">my own</a>. </p><p> Thus, the amount of total fat in the diet no longer is the sole measure of the health effects of dietary fat. It's also about the type of fatty acid, how long the carbon chain is, and whether the fat is saturated, mono-unsaturated or poly-unsaturated. </p><h2>The Link to Heart Health</h2><p> The scientific discourse about the potentially toxic role of dietary fat and cholesterol on human health started in the late 1950s and early 1960s, when scientists discovered how to analyze fats in the lab. They also discovered the link between <a href="https://www.ncbi.nlm.nih.gov/pubmed/13376806" target="_blank">dietary fat intake</a>, serum levels of total and LDL-cholesterol and risk for cardiovascular diseases in animals. </p><p> Because heart disease has been the leading cause of death in the U.S. since the 1930s, the Nutrition Committee of the American Heart Association in 1968 recommended <a href="https://www.heart.org/-/media/files/healthy-living/company-collaboration/inap/dietary-fat-recommendations-timeline-pdf-ucm_474998.pdf" target="_blank">reducing total and saturated fat intake</a>. The emphasis on <a href="https://health.gov/dietaryguidelines/dga95/12DIETAP.HTM" target="_blank">lowering dietary fat</a> intake was advanced further in 1977 with the publication of the first Dietary Guidelines for Americans by the Senate Select Committee on Nutrition and Human Needs. </p><p> Health care professionals in turn shifted their nutrition counseling efforts toward encouraging a low-fat diet. And, the <a href="http://www.ecowatch.com/food/">food</a> industry began to develop and produce of a wide-ranging assortment of "low-fat," "reduced-fat," "light" and "fat-free" items. </p><p> In the mid-1980s, advice to consume a low-fat diet also became a strategy for weight control. Evidence from the landmark <a href="https://www.framinghamheartstudy.org/" target="_blank">Framingham Heart Study</a> uncovered that obesity increased risk for heart disease, and national data showed that the entire population was getting heavier. </p><p> Americans responded with a <a href="https://www.ncbi.nlm.nih.gov/pmc/articles/PMC4598942/" target="_blank">substantial reduction</a> in the percentage of calories consumed as fat. But humans have a <a href="https://www.ncbi.nlm.nih.gov/books/NBK53528/" target="_blank">biological preference</a> for the taste of fat. And with fat off the table, millions increased their consumption of dietary carbohydrates to compensate for the loss in flavor and appeal of foods. As a result, there has been a substantial increase in the waistlines of Americans. </p><h2>An Alternative Approach</h2><p> Given the mixed scientific evidence on fat, and the diverse roles of dietary fatty acids in health and disease, about four years ago I designed a diet that is moderately high in fat but the types of fat are <a href="https://www.ncbi.nlm.nih.gov/pmc/articles/PMC4306330/" target="_blank">proportionally balanced</a>, that is, one-third of total fat comes from saturated fats; one-third comes from monounsaturated fats; and one-third comes from polyunsaturated fats. </p><p> Based on this balanced moderately-high fat diet approach, my research team developed a 14-day cycle of menus comprised of three meals and two snacks per day that increases intake of foods high in the 18-carbon monounsaturated fat, oleic acid and the 18-carbon and longer chain polyunsaturated fats (more commonly known as omega-3 and omega-6 fatty acids). To do this, we replaced high simple carbohydrate snacks with nuts, we replaced croutons in salads with avocado slices, and we used salad dressings high in safflower oil, canola oil and olive oil. </p><p> We have been studying the effects of this balanced moderately high fat diet in adults who are overweight or obese. In a study with 144 women over a period lasting 16 weeks, we found that study participants had <a href="https://www.ncbi.nlm.nih.gov/pubmed/24559846" target="_blank">significant reductions</a> in abdominal fat and waist circumference; a 6 percent improvement in blood pressure; reduced blood levels of markers of inflammation; and overall a 6 percent reduction in their five- and 10-year cardiovascular risk. </p><p> Study participants reported that they found our diet to be highly palatable, satisfying and economically feasible to adhere to. The firm adherence to our balanced moderately high fat diet in the four-month study was reflected by significant changes in participants' plasma fatty acid profiles (the array of saturated and unsaturated fats in the blood) that reflected the fatty acid composition of the diet menus. </p><p> In a follow-up study using more in-depth analysis of the lipid response to the balanced moderately high fat diet, we found a difference in response between Caucasian females and African-American females. While the Caucasian females had improvements in serum triglyceride and LDL-cholesterol levels, African-American females had the <a href="https://www.ncbi.nlm.nih.gov/pubmed/29382504" target="_blank">most significant improvement</a> in HDL-cholesterol levels. These data support the concept that not all people respond to a dietary approach in the same way and there is no one optimal diet for all people. </p><p> In another follow-up study of the response to a higher fat diet, we also found that people with a specific genotype had a stronger response, and that response differed by sex, particularly with regard to improvements in HDL-cholesterol being <a href="https://www.ncbi.nlm.nih.gov/pmc/articles/PMC4306330/" target="_blank">stronger in females versus males</a>. </p><p> Thus, I believe the choice of an effective dietary approach must be determined based on an individual's goals and an individual's clinical and metabolic response to the interaction between genes and environment. </p><p> There are limited studies on the strategy of balancing the type of dietary fat. While current scientific consensus is that extremes of dietary fat intake, too high or too low, are unhealthy, I believe that a paradigm shift focusing on the types of dietary fats consumed may offer the opportunity to modify our cardiometabolic risk factors without requiring major changes in the amount of fat or calories we consume. </p><p class="shortcode-media shortcode-media-twitter_embed"> </p><div id="165b1" class="rm-shortcode" data-rm-shortcode-id="HVJWAF1576663866"><blockquote class="twitter-tweet twitter-custom-tweet" data-twitter-tweet-id="1044971705205182464" data-partner="rebelmouse"><div style="margin:1em 0">12 Clean Eating Goals You Should Know https://t.co/9ct25WWeQC #climate #organic #energy https://t.co/31FJIfZjmn</div> — Eco-friendly Tips (@Eco-friendly Tips)<a href="https://twitter.com/JoyfullyECO/statuses/1044971705205182464">1537975643.0</a></blockquote></div> <p></p><p> <em>Heidi Silver is an associate professor of medicine at Vanderbilt University. <br> </em><em>Disclosure statement: </em><em>Heidi Silver received funding to study dietary fat from the Atkins Foundation.</em> </p><p> <em>Reposted with permission from our media associate <a href="https://theconversation.com/let-them-eat-more-fat-researcher-argues-that-a-balance-of-types-of-fat-is-the-key-106409" target="_blank">The Conversation</a>.</em><br> </p><script async="async" data-counter="https://counter.theconversation.com/content/106409/count?distributor=republish-lightbox-advanced" id="theconversation_tracker_hook" src="https://theconversation.com/javascripts/lib/content_tracker_hook.js" type="text/javascript"></script>
From Your Site Articles
Related Articles Around the Web
EcoWatch Daily Newsletter
By Sharon Moalem, MD, PHD
Although fats have been vilified for years, if you know the right ones to eat, you can lose abdominal or belly fat, decrease joint pain, lower your triglycerides and even decrease your risk for breast cancer.
What's important to remember is that all fats are also very energy dense at 9 kilocalories per gram, whereas both carbohydrates and proteins are less so at 4 kilocalories per gram. Proteins require more energy for your body to break down, so they are actually the least energy dense as well as being very good at keeping you feeling full for longer. It's important for you to understand why you need to remove certain fats from your diet, because it's going to be one of the most crucial components to reversing and preventing processes involved in genetic aging.
Because not all fats are created equal, it's important to understand their differences so that you'll make the best dietary choices.
Here's what you need to know:

Monounsaturated fatty acids (MUFAs)
Shutterstock
Monounsaturated fatty acids or MUFAs, are a prime reason why olives are revered for their health benefits. Olive oil is an example of a plant-derived source of fat that's very rich in MUFAs, at around 75 percent. It's a good source of omega-9s, particularly oleic acid (also found in macadamia nuts), which helps lower LDL cholesterol.

Technically speaking, olives are a fruit. And the amount of MUFAs doesn't vary much among the three main grades of olive oil: extra-virgin olive oil, virgin olive oil and olive oil. But there are very significant differences among them. Extra-virgin olive oil is considered the highest grade and the lowest grade is simply called olive oil, which is in principle a seed oil, since it's derived from the olive pit.
Only extra-virgin olive oil is derived purely from the flesh of the olive without using any chemicals or heat. Because of that, when a bottle is labeled "virgin" or "olive oil," you are to avoid it. Another thing that differs significantly among the grades of olive oil is the amount of phytonutrients from the 230 different compounds that have been identified. These include phenolic compounds, triterpenes and phytosterols. These phytonutrients are actually found in much higher concentrations within higher grades of olive oil and can lower elevated inflammatory markers that I mentioned earlier (IL-1B and IL-6), which is obviously very good for your genes and overall health.
But the level of phytonutrients can also vary among varieties of olives, where they're grown and even between seasons from the exact same farm. As olive oil is increasingly processed, the quality of the oil itself decreases along with degrading the important phytonutrients it once contained.
To increase the amount of phytonutrients that reverse genetic aging for the same amount of energy or calories, go for only the best-quality extra-virgin olive oil. It's important to always store all of your oils away from extraneous light and air, so opt for opaque bottles that seal well to make sure your oil doesn't oxidize or become rancid, losing many of its health properties. And remember, paying more for a genetically healthful product is an investment in your genetic health for decades to come. It's so worth it.
MUFAs are also found in other foods such as certain nuts, as well as avocados and certain seed oils.
Polyunsaturated fatty acids (PUFAs)
Shutterstock
Polyunsaturated fatty acids or PUFAs, such as alpha-linolenic acid (ALA), docosahexaenoic acid (DHA) and eicosapentaenoic acid (EPA) have a much better track record for improving your potential for genetic health, while other PUFAs, such as arachidonic acid (AA), promote genetic aging largely by increasing inflammation.

Your body cannot produce some PUFAs on its own and these are called essential fatty acids. PUFAs play a very important role in both disease prevention and progression. Diets that are rich in certain omega-3 PUFAs such as ALA, DHA and EPA have all been connected with lower incidences of cancer and cardiovascular disease.
Omega-3s and omega-6s are not fixed end products, as your body has the genetics to use complex biochemistry to convert different PUFAs within the same family group because they all have somewhat different functions. An example of this would be linoleic acid (an omega-6 PUFA), which can be turned into arachidonic acid (another omega-6 PUFA) by the body. Linoleic acid was initially thought to be a cause of inflammation that's associated with cardiovascular disease, but that's now being questioned because many of the studies used linoleic acid sourced from trans fat margarine.
Even though your body can make DHA and EPA, it doesn't seem to be so great at it, which is why you should get as much as you can from your diet. The best source of DHA and EPA is often fish, which is why they're often called marine omega-3s.
But it's important to remember that both omega-3s and omega-6s are needed for your body to function optimally. Unfortunately, because so many of the farmed fish and animals people are consuming today are being fed diets that are high in omega-6s, when we eat them, we end up with an extra dose. That's too much omega-6.
An easy way to move the balance in the omega-3 direction is to use some ground flaxseed or its oil, since it's a great source of ALA as well.
Adapted from The DNA Restart. This article was reposted with permission from our media associate Rodale Wellness.
"Dr. Hyman, I've heard so much contradictory information about omega 3 fats," writes this week's house call. "Some studies show they help everything while others argue they don't do much of anything. What's the real story here?"
As I often say, food is information, not just calories. Food influences gene function, hormones, your immune system and even your gut flora. Literally, food controls every function within your body.
Shutterstock
This is especially true with the omega-3 fatty acids found in foods like wild fish, flaxseeds and walnuts.

These fatty acids play critical roles in cognitive development and learning, visual development, immune strength, fighting inflammation, pregnancy, brain health and preventing Alzheimer's disease, heart disease, cancer, mental illness and so much more. They affect every one of your hundred trillion cell membranes.
In fact, a recent and the most comprehensive review on omega 3 fats looked at 19 studies from 16 countries (including 45,637 participants) and found that those with the highest levels of omega 3 fats in their blood had lower risks of heart attacks.
Makes sense how not getting sufficient amounts of these crucial fatty acids can profoundly affect your health.
Do Omega 6 Fats Make Us Depressed and Violent?
At a nutrition conference once, I heard Dr. Joseph Hibbeln, the scientist in nutritional neurosciences at the National Institutes of Health, present some startling data about how omega 3 fats impact mental health.
Dr. Hibbeln said soy oils and seed oils contain high amounts of inflammatory linoleic acid that create inflammation and disease.
He noted 80 percent of the fats that Americans eat are inflammatory omega 6 fats, while just 20 percent come from the anti-inflammatory omega 3 eicosapentaenoic acid (EPA). (For the record, I would suggest that even less than 20 percent comes from EPA).
In Japan, that number is reversed: 80 percent of their fats come from EPA, while only 20 percent are inflammatory omega 6 fats.
Over the last century in the U.S., we have witnessed a 1,000-fold increase in soy oil consumption. About 10 to 20 percent of our calories come from soybean oil rather than omega 3 fats and other, healthier fats we should be consuming.
The omega 6 fats aren't the ones our ancestors ate. Human evolution occurred in an environment where seafood and wild animal fat was the predominant source of dietary fat.
Our hunter-gatherer ancestors ate no seed oils. Obviously, they weren't eating French fries, donuts and the zillion Frankenfoods products that contain these oils. These refined oils create and exacerbate inflammation, which contributes to nearly every disease and makes us fat.
Beyond that, the repercussions are dramatic and far-reaching. Disturbing recent research shows homicide in the United Kingdom increased dramatically with increased consumption of linoleic acid-rich soybean oil.
The same thing happened in the U.S., Australia, Canada and Argentina. Interestingly, homicide mortality rates become inversely related to seafood consumption, meaning societies who eat more seafood have lower homicide rates.
Equally dramatic, one study published in the British Journal of Psychiatry gave one prison group recommended daily amounts of vitamins, minerals and omega 3 fats, while the other group maintained their regular diet and lifestyle. Researchers found reduced felony level violent offenses among prisoners who took omega 3 supplements.
In fact, providing vitamin and fish oil supplements reduced felony-related violent crime among the prisoners by 37 percent.
The Cure for Depression, ADD and Dementia—Is it More Fat?
More fat to cure brain maladies makes sense when you consider omega 3 fats affect how we think and behave. Research even shows omega 3s help treat depression, including postpartum depression.
The omega 3 docosahexaenoic acid (DHA), a critical part of mother's milk, helps the fetus's neurologic development. Studies show women who have higher levels of omega 3 fats, specifically DHA, have lower rates of postpartum depression.
Omega 3 deficiencies also affect our children. Young kids with dyslexia, dyspraxia (difficulty writing), learning disabilities and attention deficit disorder (ADD) are often omega 3 deficient.
The neurotransmitter dopamine, critical for brain function in children, becomes higher when these children consume essential fatty acids. Controlled studies show fish oil improves reading, spelling and conduct because the nervous system depends on these fats to function.
I could go on, but I hope you can understand evidence overwhelmingly supports that omega3 fats are critical to improve mood, mental functioning, metabolism and so much more.
If you're curious to learn more, please check out my book Eat Fat, Get Thin, in which I show you how to effortlessly incorporate more omega 3s and other healthy fats to lose weight and get healthy.
Thankfully, emerging research proves how vital healthy fats are. The outdated "eating fat makes you fat" paradigm has shifted to a new, more accurate understanding of dietary fat as evidence shows some fats are essential for optimal health.
Yet we're not quite there yet. Unfortunately, about 90 percent of Americans are deficient in omega 3s. We're eating too many omega 6s and not enough omega 3s. That imbalance of omega 3 fats to omega 6 fats predicts your risk of:
Heart disease
Cancer
Type 2 Diabetes
Neurological problems
Dementia
Attention Deficit Disorder
Depression
Skin problems
Arthritis
Autoimmune disease
Chronic disease will only increase as we move further away from the diet of our ancestors, which consisted of omega 3 rich protein (wild, grass-fed animals and wild fish), a healthy ratio of omega 3 to omega 6 fats and mostly plant foods.
We've gone way off course with the way our ancestors ate. Big food companies have hijacked our taste buds and our biology.
Yet there's hope. Science shows when you eat the right kinds of fat, you get thin, decrease inflammation and reverse heart disease, type 2 diabetes and many of the other chronic diseases that plague us. You can take control of your health and destiny, starting with your very next meal!
To do that, check out my Eat Fat, Get Thin Challenge, a revolutionary science-based eating program that focuses on healthy fats to reset hormones, take back your biochemistry, effortlessly allow you to end your cravings, lose weight and reverse disease.
For now, let's establish some key facts about fats:
1. Sugar, not fat, makes you fat. Sugar spikes insulin—the fat fertilizer hormone laying the foundation for belly fat. Sugar also slows your metabolism and is addictive and makes you hungry (all the time!). Fat actually speeds up metabolism, cuts hunger and increases fat burning. Boy, did we get this wrong during the low-fat diet era!
2. Dietary fat is very complex. We have saturated, monounsaturated, polyunsaturated and trans fats. And we have subcategories within each group. Some fats are good and yes, some are bad. Remember that quality matters; that food is information. To learn more, check out Eat Fat, Get Thin.
3. Low-fat diets claim to be heart-healthy but aren't. Low-fat diets typically tend to be higher in sugar. Eating less fat and more sugar and refined carbs floods our system with insulin, creating inflammation, heart disease and many other problems. When you consume lots of sugar and refined carbs, your body produces dangerous, artery-clogging small, dense LDL cholesterol particles; drops your protective HDL and increases harmful triglycerides. That's a bad combo just begging to bring on a heart.
4. Saturated fat is not a "bad" fat. A review of all the research on saturated fat published in the American Journal of Clinical Nutrition found no correlation between saturated fat and heart disease. I am not advising eating sticks of butter every day; however, saturated fat is not the boogeyman we once thought. The problem arises when we eat them with sugar and starch (sugar, flour, white rice and potatoes), because then they are deadly. Basically, think no sweet fat.
5. Some fats are unhealthy. Trans fats and inflammatory vegetable oils are bad fats that cause free radical damage and create a perfect storm for inflammation. Most restaurants cook with toxic oils because they're cheap and marketed as heart-healthy, low-cholesterol fats.
6. We all need more omega 3 fats. Most Americans are deficient in these health-crucial fats. The best ways to include them in your diet are to include wild or sustainably raised cold-water fish and pastured or omega 3 eggs and taking a quality, toxin-free omega 3 rich fish oil supplement.
7. Eating fat makes you lean. The right fats can nourish your cells to better utilize insulin. Healthy fats also help to stop your cravings, curb your hunger and reset your hormones to help your body burn fat more efficiently.
8. Your brain is made up of mostly fat. About 60 percent of your brain is fat, mostly as DHA, which your cells need to communicate. Quality omega-3 fats improve cognition, memory and mood. Research shows omega 3 deficiencies increase depression, anxiety, Alzheimer's and bipolar disorder.
To get and stay healthy, eat quality fat at every meal. The right fats improve your skin, hair, nails and mood. They protect against type 2 diabetes, dementia, cancer and inflammation.
Some of my favorite top-quality fats include:
Seeds: pumpkin, sesame and chia, flax and hemp—all of which contain omega 3 fats
Fatty fish, including sardines, mackerel, herring and wild salmon that are rich in omega 3 fats
Nuts: walnuts, almonds, pecans, macadamia; but not peanuts (One study showed a handful of nuts a day reduced death from all causes by 20 percent)
Grass-fed or sustainably raised animal products (which have more omega 3 fats than feedlot beef)
Extra-virgin coconut butter, which is a great plant-based source of saturated fat that fuels your mitochondria, is anti-inflammatory and helps optimize cholesterol.
Simply put, a quality fat, whole-food diet that is lower in refined carbohydrates, low-glycemic and high in fiber is the best medicine to keep you lean and healthy.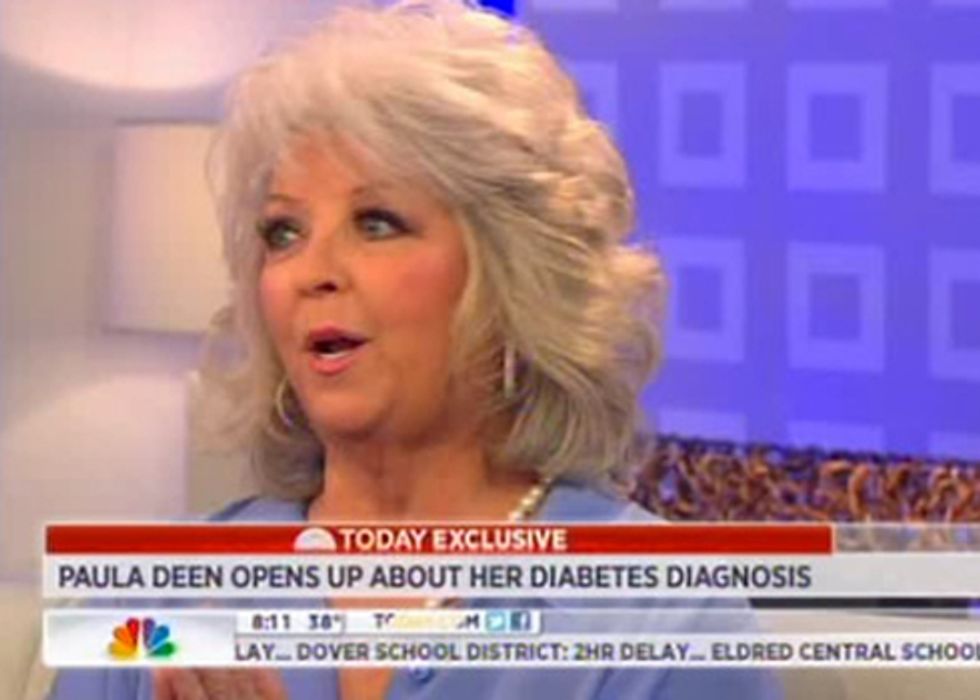 By Kristin Wartman
Paula Deen's public admission that she has Type 2 diabetes and her follow-up announcement that she is also a paid spokesperson for the pharmaceutical company Novo Nordisk, and its diabetes drug, Victoza, has sparked an interesting debate about the deeper issues surrounding our food system—especially the impact it has on the many people diagnosed with diabetes. And according to Deen's comments on the Today show, she implies to her millions of fans, that the primary ways to deal with this largely diet-related disease are through personal responsibility and pharmaceuticals.
Indeed, when Al Roker, asks her if she is going to change the way she eats and the foods she cooks, Deen says, "Honey, I'm your cook, I'm not your doctor. You are going to have to be responsible for yourself." Evading the question, Deen puts the onus back on the individual to decide what foods to eat or not, despite the fact that she promotes unhealthful and processed foods on TV. The one comment she does make about food choice is "moderation," one of the most meaningless and confusing bits of nutrition advice. In fact, this is what the industry giants often use as their defense for harmful, unhealthful foods.
Personal responsibility and consumer choice are solutions heralded by conservatives and liberals alike—the idea being that ultimately good health comes down to what we choose to buy and eat. But it's not that simple.
There are three main issues when it comes to the myth of personal responsibility about food choice and they get at the root of our nation's health crisis—The public's confusion about nutrition, the lack of time and knowledge about real home cooking, and the promotion of quick fixes like drugs, diet foods, and fads in lieu of addressing underlying causes. The Paula Deen diabetes story manages to hit on every single one of these issues.
Americans suffer from nutrition confusion, thanks to an array of conflicting and often inaccurate public health messages, misleading labels and claims on packaging, and a lack of nutrition knowledge by many doctors, dietitians, and other health care providers.
Deen's cooking, and now her public diabetes announcement, only adds to this confusion. During the Today show interview she repeatedly mentions the amount of fat in her recipes, as do many in the media reporting on the story. "For 10 years, wielding slabs of cream cheese and mounds of mayonnaise," a New York Times article begins, "Paula Deen has become television's self-crowned queen of Southern cuisine."
But real, unprocessed cream cheese and mayonnaise are not the problem. The issue that mainstream media has largely overlooked is that Deen uses the processed, packaged versions of these foods, which are full of chemicals, additives and trans-fats. Actual home cooking would require whipping these foods up herself in her kitchen using real ingredients. And that is the real story behind Deen's diabetes diagnosis—Her health problems are largely due to her reliance on packaged, processed foods that are the foundation for many of her recipes.
Even though her cooking show is called Paula's Home Cooking, there's a lot going on in her kitchen that is as far removed from home cooking as you can get. Many of her recipes include "ingredients" like Krispy Kreme doughnuts, biscuit mixes, cans of mushroom soup, and sour-cream-and-onion flavored potato chips. This is processed food cooking, not home cooking.
Heaping the blame on all the "fat" she cooks with only serves to confuse the public further. A New York Daily News article also cites fat as one of the main culprits in Deen's cooking and her diet. But the most recent research indicates that when it comes to diabetes, fat is not the problem. The problem foods are sugar, refined white flour, chemical additives, artificial sweeteners and flavors, trans-fats, and the various other chemicals and additives found in the processed foods that abound in Deen's recipes.
Now Deen is pushing the idea that taking medicine is the real solution to diabetes. On the Today show, she says, "Here's what I want to get across to people, I want them to first start by going to their doctor and asking to be tested for diabetes. Get on a program that works for you. I'm amazed at the people out there that are aware they're diabetic but they're not taking their medicine."
According to Deen, the reason she waited three years to go public with her diagnosis was because she didn't have anything to give her fans. "I could have walked out and said, 'Hey ya'll, I have been diagnosed with Type 2 diabetes.' I had nothing to give to my fellow friends out there. I wanted to bring something to the table when I came forward." So what is she bringing to the table? A sales pitch for a diabetes drug that costs $500 per month and has some seriously troubling side effects, including thyroid cancer, as Tom Philpott reports.
Just think of the kind of influence she could have wielded had she come out with a new cooking show that focused on using fresh, real food ingredients that cut way back on sugar and refined carbohydrates. In fact, if she had done so and eaten this way for the past three years she might have reversed her own diabetes diagnosis, which is entirely possible given the right diet.
But instead, Deen is getting paid to leave that task to a drug company. This isn't her first corporate sponsorship (here she peddles Smithfield ham) and I doubt it will be her last. Diabetic and diet foods can't be far behind in products she'll attach to her name.
Alas, we can't fairly discuss personal responsibility without taking into account the under-regulated advertising industry that pushes cheap, convenient, and processed foods on an overworked and cash-strapped population. Add to this the diminishing knowledge on how to shop for, cook, and prepare foods from scratch and we have a serious problem.
As Paula Deen now joins the 25.8 million other Americans suffering with diabetes, she "brings to the table" the ideas of moderation (an essentially meaningless and confusing bit of nutrition advice), personal responsibility, and the drug Victoza as the solutions. She could do so much more with all the power she wields.
Anthony Bourdain put it squarely when he said of Deen, "If I were on at seven at night and loved by millions of people at every age, I would think twice before telling an already obese nation that it's OK to eat food that is killing us." And this was before her diabetes announcement. Bourdain has also said that Deen is the "worst, most dangerous person to America." He might have a point.
For more information, click here.
—————
Kristin Wartman is a food writer living in Brooklyn. She has a Masters in Literature from UC Santa Cruz and is a Certified Nutrition Educator. She is interested in the intersections of food, health, politics, and culture. You can follow her on Twitter and read more of her writing at kristinwartman.wordpress.com.