Christina Felsing / Getty Images
By Dan Nosowitz
The CBC reports that between 2,000 and 3,000 farmed salmon escaped the confines of Cooke Aquaculture's Newfoundland location, and are now somewhere in the wild.
Salmon farms like Cooke's, called "open pen" farms, place large nets around an area of ocean and raise very high densities of fish to market size. Cooke told the CBC that a rope came undone in two places, opening up large holes in the net which allowed the salmon to escape into the open ocean.
Cooke did not, according to the CBC, alert anyone to the breach until local fishermen began noticing farmed salmon in their catch, raising fears that the company is not forthright enough with its mistakes. Cooke says that it is now, with the partnership of the provincial Department of Fisheries and Land Resources, attempting to round up the lost fish.
Escapes of farmed salmon into the wild are not uncommon; as a matter of fact, this isn't even the first time that this specific company has faced this issue. In August of 2017, Cooke's west coast operation also suffered a breach of Atlantic salmon, this time into the northern Pacific.
Escaped farmed fish are not an insignificant problem. Farmed fish are much more likely than wild to be infected with various parasites and viruses, a natural product of being crammed into a smaller space with more fish, which they can then transmit to wild fish. (A spokesman for Cooke stated that the escaped fish do not have the virus infectious salmon anemia or parasites.) Farmed fish also pose the same risks as any other introduced species, potentially outcompeting native fish for food and spawning grounds. Speaking to NPR about the August 2017 breach, the director of the Wild Fish Conservancy Northwest, Kurt Beardslee, called the breach "an environmental nightmare."
Bill Bryden, a Newfoundland-based salmon researcher and opponent of open-pen farming, told VOCM that he believes Cooke's estimate of the number of escaped fish to be extremely low: The pen contained 75,000 fish as of the end of 2017.
Reposted with permission from our media associate Modern Farmer.
From Your Site Articles
Related Articles Around the Web
EcoWatch Daily Newsletter
We now need to eat two portions of farmed salmon to equal the amount of omega-3 intake that we would have gotten just five years ago, says a study from Stirling University in Scotland. The change appears to be due to a reduction in the amount of ground-up anchovies added to their feed.
Farm-raised and wild caught salmon contain the same amount of cholesterol, but wild salmon have half the fat of farmed in a typical half-filet serving.
Salmon farming is only about four decades old, but it is the fastest-growing food production system in the world according to WWF. Globally, about 3.5 million tons are caught or raised each year, and salmon accounts for 17 percent of the global seafood trade. About 70 percent of the world's salmon production is farmed.
Salmon is among the most popular seafoods in the U.S., where we eat 2.3 pounds per person each year. We prize salmon for its omega-3 fatty acids. National Oceanic and Atmospheric Administration (NOAA) says that consumption of eicosapentaenoic acid (EPA) and docosahexaenoic acid (DHA), which are key omega-3s found in seafood, may help to prevent high blood pressure, heart disease, certain types of cancer, clinical depression, anxiety and macular degeneration. Of the salmon consumed in the U.S., half is farm-raised.
Wild catch vs. farm-raised seafoodMarine Harvest
NOAA also states that farmed seafood is safe and healthy to eat, but many have questions about the practice. Crowded conditions in the pens used for raising salmon provide an ideal breeding ground for sea lice, which are now invading wild Alaskan salmon populations. Sea lice can be lethal to juvenile pink and chum salmon. In farms in some parts of the world, a pesticide is used to combat sea lice that is toxic to marine life and banned by both the European Union and U.S. Food and Drug Administration.
[email protected]

, Pamela Anderson Team Up to Investigate #Salmon Farming Industry https://t.co/eCNH8XJ2JV @pamfoundation @Food_Tank @EWG

— EcoWatch (@EcoWatch)1468852273.0
The greatest concern, though, centers around interbreeding of farmed and wild salmon. In September, a study by Canada's Department of Fisheries and Oceans found that more than 750,000 salmon have escaped from fish farms in Newfoundland since aquaculture began, and that these fish are breeding with wild salmon and producing offspring. A separate study in Norway found that half the wild salmon tested had genetic material from farmed fish. It's unclear which traits might impose themselves on wild salmon, but farm-raised fish are bred to grow big and to grow fast.
Farm-raised and wild caught salmon contain the same amount of cholesterol, but wild salmon have half the fat of farmed in a typical half-filet serving. Farmed fish also deliver three times the saturated fat as wild. But to feed a growing global population and provide the omega-3s they need, wild fisheries may not be up to the job.
On the West Coast of North America, salmon are in trouble. The number of endangered or threatened salmon runs on the Columbia River system has jumped from four to 13. In British Columbia, the sockeye salmon run this year was the lowest ever seen. Alaska's pink salmon catch is the worst it has been in 40 years.

Farmed salmon can still be ecologically friendly. According to WWF, it takes 10 to 12 pounds of feed to produce one pound of beef, but less than two pounds to yield a pound of salmon. Recognizing the need for fish farming, WWF worked to create global standards for salmon aquaculture designed to address the worst impacts. The Aquaculture Stewardship Council (ASC) now manages the standards and provides a certification program that retailers and consumers can use to ensure they are buying responsibly-farmed salmon.
The standards require farms to minimize diseases and the occurrence of sea lice while limiting the use of medicines to a set of strict conditions. Farms are also required to monitor and control water quality and prevent fish escapes as much as possible. The ASC also limits use of wild fish as feed, which is now seen to be responsible for reducing omega-3 levels in farmed salmon.
"We, and many others, are working very hard at developing new sustainable alternatives to fish oil and fish meal as sources of these long-chain omega-3s," wrote Dr. Douglas Tocher, one of the authors of the study, in an email to EcoWatch. "These include microalgal sources and genetically-modified oilseed crops."

The U.S. imports 91 percent of the seafood it consumes. Currently, oysters, clams and mussels account for tho-thirds of farmed seafood produced in the U.S., but NOAA opened up the hurricane-prone Gulf of Mexico to fish farms in January. That's the first time federal waters have been available for fish farming. So far, no commercial proposals have been received.
The World Bank estimates that almost two-thirds of the fish we eat in 2030 will be farm-raised. "Aquaculture will be an essential part of the solution to global food security," said Jim Anderson, bank advisor on fisheries, aquaculture and oceans for the World Bank Group. "We expect the aquaculture industry to improve its practices in line with expectations from the market for sustainable and responsibly produced seafood."
Aquaculture may also be the only answer to overfishing of the seas. Almost one third of global fish stocks are overfished, according to the United Nations. WWF says that stocks of all current food species of fish could collapse by 2048. But we'll need to feed 9 billion people by then.
"The solutions are very much in the pipeline," wrote Dr. Tocher. "Farmed salmon still deliver more omega-3 than wild salmon. And there is also absolutely no harm In eating two portions of farmed salmon."
waterlust.com / @tulasendlesssummer_sierra .
Each product featured here has been independently selected by the writer. If you make a purchase using the links included, we may earn commission.
The bright patterns and recognizable designs of Waterlust's activewear aren't just for show. In fact, they're meant to promote the conversation around sustainability and give back to the ocean science and conservation community.
Each design is paired with a research lab, nonprofit, or education organization that has high intellectual merit and the potential to move the needle in its respective field. For each product sold, Waterlust donates 10% of profits to these conservation partners.
Eye-Catching Designs Made from Recycled Plastic Bottles
waterlust.com / @abamabam
The company sells a range of eco-friendly items like leggings, rash guards, and board shorts that are made using recycled post-consumer plastic bottles. There are currently 16 causes represented by distinct marine-life patterns, from whale shark research and invasive lionfish removal to sockeye salmon monitoring and abalone restoration.

One such organization is Get Inspired, a nonprofit that specializes in ocean restoration and environmental education. Get Inspired founder, marine biologist Nancy Caruso, says supporting on-the-ground efforts is one thing that sets Waterlust apart, like their apparel line that supports Get Inspired abalone restoration programs.
"All of us [conservation partners] are doing something," Caruso said. "We're not putting up exhibits and talking about it — although that is important — we're in the field."
Waterlust not only helps its conservation partners financially so they can continue their important work. It also helps them get the word out about what they're doing, whether that's through social media spotlights, photo and video projects, or the informative note card that comes with each piece of apparel.
"They're doing their part for sure, pushing the information out across all of their channels, and I think that's what makes them so interesting," Caruso said.
And then there are the clothes, which speak for themselves.
Advocate Apparel to Start Conversations About Conservation
waterlust.com / @oceanraysphotography
Waterlust's concept of "advocate apparel" encourages people to see getting dressed every day as an opportunity to not only express their individuality and style, but also to advance the conversation around marine science. By infusing science into clothing, people can visually represent species and ecosystems in need of advocacy — something that, more often than not, leads to a teaching moment.

"When people wear Waterlust gear, it's just a matter of time before somebody asks them about the bright, funky designs," said Waterlust's CEO, Patrick Rynne. "That moment is incredibly special, because it creates an intimate opportunity for the wearer to share what they've learned with another."
The idea for the company came to Rynne when he was a Ph.D. student in marine science.
"I was surrounded by incredible people that were discovering fascinating things but noticed that often their work wasn't reaching the general public in creative and engaging ways," he said. "That seemed like a missed opportunity with big implications."
Waterlust initially focused on conventional media, like film and photography, to promote ocean science, but the team quickly realized engagement on social media didn't translate to action or even knowledge sharing offscreen.
Rynne also saw the "in one ear, out the other" issue in the classroom — if students didn't repeatedly engage with the topics they learned, they'd quickly forget them.
"We decided that if we truly wanted to achieve our goal of bringing science into people's lives and have it stick, it would need to be through a process that is frequently repeated, fun, and functional," Rynne said. "That's when we thought about clothing."
Support Marine Research and Sustainability in Style
To date, Waterlust has sold tens of thousands of pieces of apparel in over 100 countries, and the interactions its products have sparked have had clear implications for furthering science communication.
For Caruso alone, it's led to opportunities to share her abalone restoration methods with communities far and wide.
"It moves my small little world of what I'm doing here in Orange County, California, across the entire globe," she said. "That's one of the beautiful things about our partnership."
Check out all of the different eco-conscious apparel options available from Waterlust to help promote ocean conservation.
Melissa Smith is an avid writer, scuba diver, backpacker, and all-around outdoor enthusiast. She graduated from the University of Florida with degrees in journalism and sustainable studies. Before joining EcoWatch, Melissa worked as the managing editor of Scuba Diving magazine and the communications manager of The Ocean Agency, a non-profit that's featured in the Emmy award-winning documentary Chasing Coral.
Farmed salmon is an industry shrouded in secrecy, producing more questions than answers and threatening the native salmon population, according to Sea Shepherd Conservation Society's Operation Virus Hunter.
Sea Shepherd along with biologist Alexandra Morton and actor/activist Pamela Anderson—Sea Shepherd's board chairman—are behind the new campaign to investigate the lawfulness of salmon farming. Morton, as part of the campaign, will travel around Vancouver on Sea Shepherd's R/V Martin Sheen tracing the major salmon migration route, and stopping at various farms to conduct audits for disease and other factors.
"The salmon farming industry thrives on secrecy, shrouding its activities from public view," Morton said. "Operation Virus Hunter will shine a bright spotlight on this industry. Canada cannot claim it is protecting the oceans, including wild salmon, while at the same time, allowing the farmed salmon industry to release waste into the world's largest salmon migration route."
Morton said the audits with be non-aggressive and non-harassing.
"Ninety-four Nations of the Fraser River view wild salmon as being essential to who they are, and they have worked to conserve those stocks for thousands of years," First Nations Leader Chief Ernie Crey said. "The recent salmon declines are a threat to our existence and we hold salmon farms as one of the culprits. The Department of Fisheries and Oceans chooses foreign salmon famers over our title and rights again and again. We ask wild salmon be allowed to come and go to this river free from infection with farm salmon disease."
Farmed salmon comes from a hatchery stock lacking genetic variation. Often, farmed salmon are released into the wild as part of restocking programs hoping to reduce the impacts of overfishing wild salmon. Salmon can also escape into the wild due to faulty containment cages at farms. The intentional and unintentional release of farmed salmon in the wild is one of the main reasons Atlantic salmon has been drive to effective extinction.
Genetic erosion, which occurs when there is no diversity, is another consequence of the release of farmed salmon. Without diversity, a species cannot adapt to new environments or conditions. If they cannot adapt, the species eventually goes extinct.
Not only do farmed salmon lack genetic diversity, they are full of harmful chemicals, as well. Chile's National Fisheries and Aquaculture Service reported the country's salmon producers used 557 tonnes of antibiotics in 2015, with consumption rate per tonne of salmon reaching its highest point in nine year at 660 grams per tonne. Chile is the world's second largest salmon industry.
Farmed salmon are also more susceptible to disease.
"Salmon farms keep pens in the ocean, where the fish swim in their own feces, and breed disease and sea lice that kill wild salmon, threatening the orcas' ability to feed," Anderson said.
Salmon farming can also contribute to algae blooms in both fresh and salt water. Salmon farms could exacerbate the blooms by dumping rotten or contaminated fish into the sea. Sea Shepherd hopes to expose malpractices such as these.
"It is personally very satisfying to me to send one of our vessels to my home province of British Columbia, to address one of the most insidious threats to biodiversity on the West Coast—salmon farms," Sea Shepherd founder Paul Watson said. "Our mission is to investigate, document and expose an industry that is spreading disease, parasites and destroying the natural habitat of our wild salmon - the coho, the sockeye and the chinook. These exotic Atlantic salmon simply do not belong in these waters."
Watch this PSA on the campaign: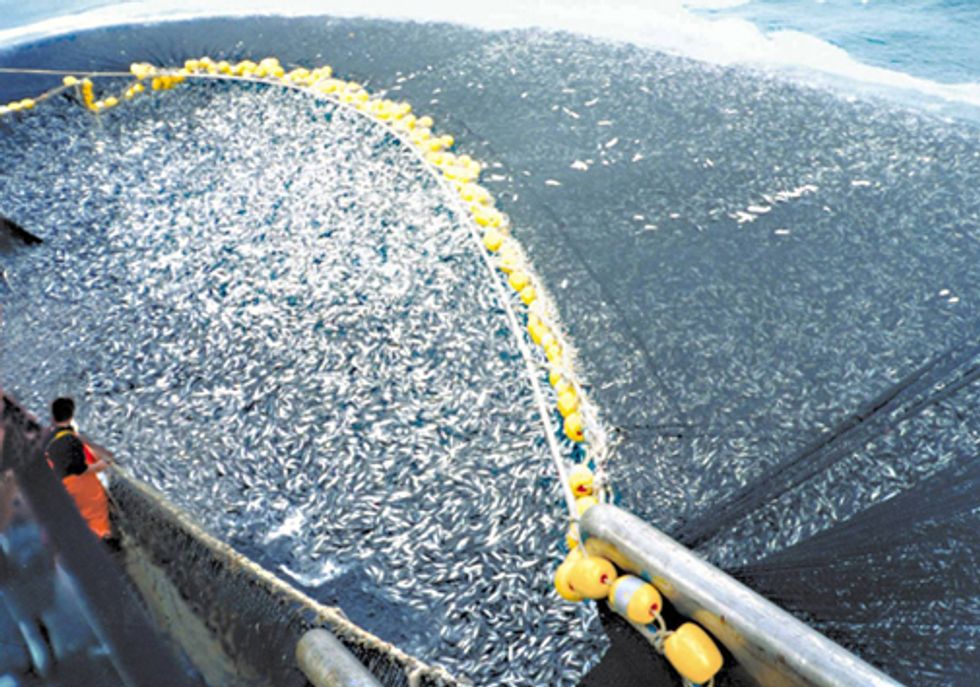 Asian, European and Latin American fleets have devastated fish stocks in the southern Pacific, once among the world's richest waters, a new investigation by the International Consortium of Investigative Journalists (ICIJ) has found.
Governments with the power to stop the plunder have stalled for years, and no binding rules are in place. The result—Stocks of jack mackerel are down 90 percent to less than 3 million metric tons in just two decades. The oily fish is a staple in Africa, but people elsewhere are unaware that it is in their forkfuls of farmed salmon. Jack mackerel is a vital component of fishmeal for aquaculture.
Today, industrial fleets bound only by voluntary restraints compete in what amounts to a free-for-all in open waters from the west coast of South America across much of the southern Pacific.
Daniel Pauly, oceanographer of University of British Columbia, sees the jack mackerel crisis as an alarming indicator of progressive collapse in all oceans. "This is the last of the buffaloes," he told ICIJ. "When they're gone, everything will be gone ... This is the closing of the frontier."
Delegates from at least 20 countries will gather Jan. 30 in Chile's capital of Santiago to seek more progress toward the elusive goal of curbing this plunder.
Among the investigation's findings:
As other fisheries are pushed to their limits, giant trawlers have moved southward toward the edge of Antarctica to catch the fish that are left. Many are aided by government subsidies.
National interests and geopolitical rivalry have blocked efforts, since 2006, to create and ratify a regional fisheries management organization that can impose binding legal measures to rescue jack mackerel from further collapse.
In Chile, a handful of companies controlled largely by wealthy families own rights to 87 percent of the jack mackerel catch. With government backing they have secured unrealistically high quotas—beyond what scientists recommend to save the stock.
In Peru, the world's second largest fishing nation, widespread cheating at fishmeal plants allows companies to overfish and evade taxes. An ICIJ analysis reveals that at least 630,000 tons of anchoveta—worth nearly $200 million when reduced to fishmeal for aquaculture—"vanished" over two and a half years.
The Last Fish: Plunder in the South Pacific is the latest installment of Looting the Seas, a multi-year investigation looking at forces that are rapidly emptying oceans of fish. The stories are published in partnership with media around the world, including the International Herald Tribune, Le Monde (France), South China Morning Post (Hong Kong), El Mundo (Spain), Trouw (The Netherlands), and the investigative journalism centers IDL-Reporteros (Peru) and CIPER (Chile). A documentary co-produced with London-based tve is planned to air on BBC World TV News in the spring.
Read the full investigation by clicking here
For more information, click here.
—————
The International Consortium of Investigative Journalists is a global network of reporters who collaborate on in-depth investigative stories. Founded in 1997, ICIJ was launched as a project of the Center for Public Integrity to extend the Center's style of watchdog journalism, focusing on issues that do not stop at national frontiers. With 160 members in 61 countries, ICIJ is dedicated to investigating cross-border crime, corruption, and the accountability of power. Backed by the Center and its computer-assisted reporting specialists, public records experts, fact-checkers and lawyers, ICIJ reporters and editors provide real-time resources and state-of-the-art tools and techniques to journalists around the world.
The Center for Public Integrity is a nonprofit, nonpartisan, and independent digital news organization specializing in original investigative journalism on significant public policy issues. Since 1990, the Washington, D.C.-based Center has released more than 500 investigative reports and 17 books to provide greater transparency and accountability of government and other institutions. It has received the George Polk Award and more than 50 other major journalism awards, including honors from Investigative Reporters and Editors, Online News Association, Overseas Press Club, Society of Environmental Journalists, and Society of Professional Journalists.