This website uses cookies to ensure you get the best experience while browsing it. By clicking 'Got It' you're accepting these terms.


The best of EcoWatch, right in your inbox. Sign up for our email newsletter!
Christina Felsing / Getty Images
By Dan Nosowitz
The CBC reports that between 2,000 and 3,000 farmed salmon escaped the confines of Cooke Aquaculture's Newfoundland location, and are now somewhere in the wild.
We now need to eat two portions of farmed salmon to equal the amount of omega-3 intake that we would have gotten just five years ago, says a study from Stirling University in Scotland. The change appears to be due to a reduction in the amount of ground-up anchovies added to their feed.
Farm-raised and wild caught salmon contain the same amount of cholesterol, but wild salmon have half the fat of farmed in a typical half-filet serving.
Salmon farming is only about four decades old, but it is the fastest-growing food production system in the world according to WWF. Globally, about 3.5 million tons are caught or raised each year, and salmon accounts for 17 percent of the global seafood trade. About 70 percent of the world's salmon production is farmed.
Salmon is among the most popular seafoods in the U.S., where we eat 2.3 pounds per person each year. We prize salmon for its omega-3 fatty acids. National Oceanic and Atmospheric Administration (NOAA) says that consumption of eicosapentaenoic acid (EPA) and docosahexaenoic acid (DHA), which are key omega-3s found in seafood, may help to prevent high blood pressure, heart disease, certain types of cancer, clinical depression, anxiety and macular degeneration. Of the salmon consumed in the U.S., half is farm-raised.
Wild catch vs. farm-raised seafoodMarine Harvest
NOAA also states that farmed seafood is safe and healthy to eat, but many have questions about the practice. Crowded conditions in the pens used for raising salmon provide an ideal breeding ground for sea lice, which are now invading wild Alaskan salmon populations. Sea lice can be lethal to juvenile pink and chum salmon. In farms in some parts of the world, a pesticide is used to combat sea lice that is toxic to marine life and banned by both the European Union and U.S. Food and Drug Administration.
The greatest concern, though, centers around interbreeding of farmed and wild salmon. In September, a study by Canada's Department of Fisheries and Oceans found that more than 750,000 salmon have escaped from fish farms in Newfoundland since aquaculture began, and that these fish are breeding with wild salmon and producing offspring. A separate study in Norway found that half the wild salmon tested had genetic material from farmed fish. It's unclear which traits might impose themselves on wild salmon, but farm-raised fish are bred to grow big and to grow fast.
Farm-raised and wild caught salmon contain the same amount of cholesterol, but wild salmon have half the fat of farmed in a typical half-filet serving. Farmed fish also deliver three times the saturated fat as wild. But to feed a growing global population and provide the omega-3s they need, wild fisheries may not be up to the job.
On the West Coast of North America, salmon are in trouble. The number of endangered or threatened salmon runs on the Columbia River system has jumped from four to 13. In British Columbia, the sockeye salmon run this year was the lowest ever seen. Alaska's pink salmon catch is the worst it has been in 40 years.

Farmed salmon can still be ecologically friendly. According to WWF, it takes 10 to 12 pounds of feed to produce one pound of beef, but less than two pounds to yield a pound of salmon. Recognizing the need for fish farming, WWF worked to create global standards for salmon aquaculture designed to address the worst impacts. The Aquaculture Stewardship Council (ASC) now manages the standards and provides a certification program that retailers and consumers can use to ensure they are buying responsibly-farmed salmon.
The standards require farms to minimize diseases and the occurrence of sea lice while limiting the use of medicines to a set of strict conditions. Farms are also required to monitor and control water quality and prevent fish escapes as much as possible. The ASC also limits use of wild fish as feed, which is now seen to be responsible for reducing omega-3 levels in farmed salmon.
"We, and many others, are working very hard at developing new sustainable alternatives to fish oil and fish meal as sources of these long-chain omega-3s," wrote Dr. Douglas Tocher, one of the authors of the study, in an email to EcoWatch. "These include microalgal sources and genetically-modified oilseed crops."

The U.S. imports 91 percent of the seafood it consumes. Currently, oysters, clams and mussels account for tho-thirds of farmed seafood produced in the U.S., but NOAA opened up the hurricane-prone Gulf of Mexico to fish farms in January. That's the first time federal waters have been available for fish farming. So far, no commercial proposals have been received.
The World Bank estimates that almost two-thirds of the fish we eat in 2030 will be farm-raised. "Aquaculture will be an essential part of the solution to global food security," said Jim Anderson, bank advisor on fisheries, aquaculture and oceans for the World Bank Group. "We expect the aquaculture industry to improve its practices in line with expectations from the market for sustainable and responsibly produced seafood."
Aquaculture may also be the only answer to overfishing of the seas. Almost one third of global fish stocks are overfished, according to the United Nations. WWF says that stocks of all current food species of fish could collapse by 2048. But we'll need to feed 9 billion people by then.
"The solutions are very much in the pipeline," wrote Dr. Tocher. "Farmed salmon still deliver more omega-3 than wild salmon. And there is also absolutely no harm In eating two portions of farmed salmon."
EcoWatch Daily Newsletter
Farmed salmon is an industry shrouded in secrecy, producing more questions than answers and threatening the native salmon population, according to Sea Shepherd Conservation Society's Operation Virus Hunter.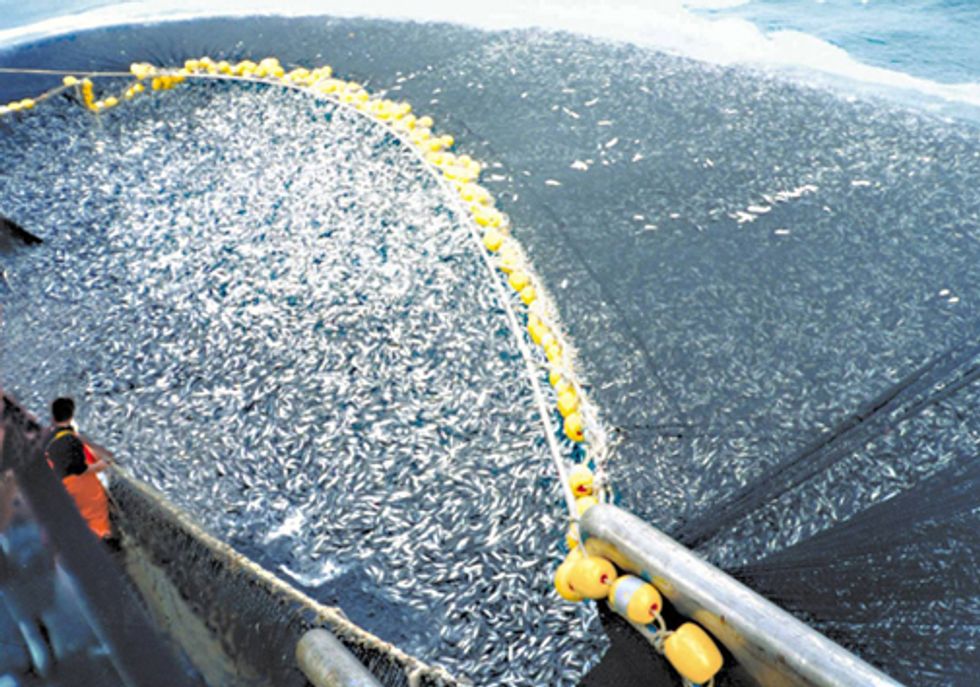 Asian, European and Latin American fleets have devastated fish stocks in the southern Pacific, once among the world's richest waters, a new investigation by the International Consortium of Investigative Journalists (ICIJ) has found.
Governments with the power to stop the plunder have stalled for years, and no binding rules are in place. The result—Stocks of jack mackerel are down 90 percent to less than 3 million metric tons in just two decades. The oily fish is a staple in Africa, but people elsewhere are unaware that it is in their forkfuls of farmed salmon. Jack mackerel is a vital component of fishmeal for aquaculture.
Today, industrial fleets bound only by voluntary restraints compete in what amounts to a free-for-all in open waters from the west coast of South America across much of the southern Pacific.
Daniel Pauly, oceanographer of University of British Columbia, sees the jack mackerel crisis as an alarming indicator of progressive collapse in all oceans. "This is the last of the buffaloes," he told ICIJ. "When they're gone, everything will be gone ... This is the closing of the frontier."
Delegates from at least 20 countries will gather Jan. 30 in Chile's capital of Santiago to seek more progress toward the elusive goal of curbing this plunder.
Among the investigation's findings:
As other fisheries are pushed to their limits, giant trawlers have moved southward toward the edge of Antarctica to catch the fish that are left. Many are aided by government subsidies.
National interests and geopolitical rivalry have blocked efforts, since 2006, to create and ratify a regional fisheries management organization that can impose binding legal measures to rescue jack mackerel from further collapse.
In Chile, a handful of companies controlled largely by wealthy families own rights to 87 percent of the jack mackerel catch. With government backing they have secured unrealistically high quotas—beyond what scientists recommend to save the stock.
In Peru, the world's second largest fishing nation, widespread cheating at fishmeal plants allows companies to overfish and evade taxes. An ICIJ analysis reveals that at least 630,000 tons of anchoveta—worth nearly $200 million when reduced to fishmeal for aquaculture—"vanished" over two and a half years.
The Last Fish: Plunder in the South Pacific is the latest installment of Looting the Seas, a multi-year investigation looking at forces that are rapidly emptying oceans of fish. The stories are published in partnership with media around the world, including the International Herald Tribune, Le Monde (France), South China Morning Post (Hong Kong), El Mundo (Spain), Trouw (The Netherlands), and the investigative journalism centers IDL-Reporteros (Peru) and CIPER (Chile). A documentary co-produced with London-based tve is planned to air on BBC World TV News in the spring.
Read the full investigation by clicking here
For more information, click here.
—————
The International Consortium of Investigative Journalists is a global network of reporters who collaborate on in-depth investigative stories. Founded in 1997, ICIJ was launched as a project of the Center for Public Integrity to extend the Center's style of watchdog journalism, focusing on issues that do not stop at national frontiers. With 160 members in 61 countries, ICIJ is dedicated to investigating cross-border crime, corruption, and the accountability of power. Backed by the Center and its computer-assisted reporting specialists, public records experts, fact-checkers and lawyers, ICIJ reporters and editors provide real-time resources and state-of-the-art tools and techniques to journalists around the world.
The Center for Public Integrity is a nonprofit, nonpartisan, and independent digital news organization specializing in original investigative journalism on significant public policy issues. Since 1990, the Washington, D.C.-based Center has released more than 500 investigative reports and 17 books to provide greater transparency and accountability of government and other institutions. It has received the George Polk Award and more than 50 other major journalism awards, including honors from Investigative Reporters and Editors, Online News Association, Overseas Press Club, Society of Environmental Journalists, and Society of Professional Journalists.