www.facebook.com
Dr. Alexandra Morton
Consumers have been led to believe that when they buy farmed salmon, they are helping protect wild salmon and the whales and bears that feed on them, but nothing could be further from the truth.
The wild and remote coast of British Columbia Canada is the perfect habitat for making wild salmon. Rain-soaked watersheds, clean gravel for spawning, 1,000s of km of kelp forested nursery areas in food-rich green coastal waters. Sea birds, seals and whales follow the massive silvery schools preying on the weaker fish keeping the runs strong and healthy and the whole coasts from indigenous cultures to bears and eagles set their clocks to the return of the salmon in the fall—an abundance of food that nourishes everyone through the lean winter months. Salmon feed the trees that make the oxygen we breathe, they are one of the power lines that fuel our world.
In the 1970s, Norsk Hydro in Norway began farming salmon in pens in the ocean and today a farmed salmon is worth more to Norwegians than a barrel of oil. The industry has become as rapacious as the oil industry. With more than 900 farms dotting their coast, they have now spread across temperate coastlines worldwide and unfortunately they took their prize livestock with them, the Atlantic salmon.
Biologists, fishermen, indigenous leaders and senior Fisheries and Oceans Canada bureaucrats warned that allowing Atlantic salmon into BC was a dangerous game of "Russian Roulette." Every farm fish carried the potential for a disease that could spread among Pacific salmon. Importing exotic species is one of the greatest causes of the global loss of biodiversity. A member of the Norwegian Parliament, Jon Lilletun, warned the Canadian Senate:
However, caution was tossed aside and three Norwegian companies now use the coast of BC to farm millions of Atlantic salmon, with most of the attending environmental damages attributed to the industry at home sea lice, disease, drugs, pollution. As a biologist studying whales as the industry moved in, I have witnessed the crushing impact of this industry first hand; unprecedented toxic algae blooms, the whales were displaced by high-amplitude "seal scarers," escaped Atlantics in Pacific rivers, sea lice eating the majority of wild salmon to the point of death and today I am tracking salmon farm viruses plaguing the industry worldwide. The industry had become the dominant "user group" of the BC coast. There was no touching them. The Norwegian scientists I turned to for help suggested I look the other way, they said the industry and the Canadian government would make life difficult for me.

I have now published more than 20 scientific papers on the impact of salmon farms; but like all the papers on the impact of salmon farms, they have been ignored. It's like climate change science or the tobacco industry.
The year that salmon farms were placed on the Fraser sockeye salmon migration route, the largest salmon run in the world, the decline began. Mysteriously millions died in the river just before spawning. When a Canadian government scientist pinpointed a virus flourishing in the farms (salmon leukemia virus), she was muzzled and prohibited from attending meetings on the collapse of the Fraser sockeye salmon. Last year was the lowest return ever recorded, while Alaska, which prohibits salmon farms continues to have enormous returns.
Recent scientific paper reports orcas in BC are starving, increasingly unable to carry their young full term and threatened to extinction because Fraser River salmon have declined so precipitously. Despite this, the Canadian government has not reported any further on the virus thought to be killing Fraser River salmon.

The lab I work with was stripped of its North American reference lab status when he detected the notorious farm salmon virus ISAV in the samples I sent to him for testing. Infectious salmon anemia a member of the influenza family, is internationally reportable which means it can impact trade as countries close their borders to protect their fish. In 2016, we published on the presence of this virus in BC in a leading virology journal and yet Canada continues to ignore the evidence and so the farmed salmon market remains unperturbed.
I am currently being sued by the largest salmon farming corporation in the world, based in Norway, for touching a farm with a teaspoon to collect a bird dropping for testing.
This spring, 17 years after I discovered sea lice from Atlantic salmon farms are eating wild salmon to death, the epidemic continues. The number of young salmon heading to sea in my research area is so low I have to wonder did I see them off into extinction?
However, there are other runs of wild BC salmon that might still be saved and the good news is that a very simple action by the public could make all the difference for the 100 species that wild salmon feed along the eastern Pacific Ocean. Don't buy farmed salmon. How can you tell if it is farmed? Farmed salmon has bright white stripes of fat due to its docile captive life.
The orange coloring is selected by the grower and added to the feed.

In 2016, Paul Watson of Sea Shepherd sent me a ship and crew (see video below) and together we pulled away the curtain of secrecy this industry cloaks itself in. This led to the first images of wild fish trapped in the pens where they were attacked by the farm fish, diseased farm salmon and the large schools of herring behaving like trained dogs hurrying to the farm nets every time the feeders went on.
Alexandra Morton is an independent biologist who has worked to protect wild salmon from farms for 31 years.
EcoWatch Daily Newsletter
A tiny bug is behind a major problem in the global farmed salmon industry.
The sea louse, or salmon louse, is eating into farmed Atlantic salmon supplies in Scotland, Norway, Iceland and Canada, driving salmon prices higher and creating a "chemical arms race in the seas," the Guardian reports.
Salmon companies around the world are spending an estimated $1.25 billion a year combined to tackle such outbreaks, the publication notes.
Salmon lice attach themselves onto wild or farmed salmon, living off the host fish's blood and skin and leaving it vulnerable to infections. As EcoWatch explained previously, crowded conditions in pens used for raising salmon can provide an ideal breeding ground for sea lice. In farms in some parts of the world, a pesticide is used to combat sea lice that is toxic to marine life and banned by both the European Union and U.S. Food and Drug Administration.
"What we are seeing now is a chemical arms race in the seas, just like on the land farms, where the resistance of plants to chemicals is growing," Don Staniford, head of the Global Alliance Against Industrial Aquaculture, told the Guardian. "In fish farms, the parasites are increasing resistance to chemicals and antibiotics. There has been a 10-fold increase in the use of some chemicals in the past 18 months."
Chemicals used to control salmon lice rose 932 percent on Scottish farms in the last decade, even though farmed salmon production only increased by 35 percent. Norway has ramped up its usage of hydrogen peroxide baths surged as well.
But like superweeds, salmon lice are growing resistant to such chemicals and antibiotics, leading some salmon farms to resort to potentially risky methods to beat back the parasite.
Sea Shepherd, Pamela Anderson Team Up to Investigate Salmon Farming Industry - EcoWatch https://t.co/C5Ja1rjCuk @SeafoodWatch @Oceanwire

— EcoWatch (@EcoWatch)1468879248.0
Staniford also described how some farms are using mechanical ways to remove the lice.
"They are using hydro-dousers, like huge carwashes, and thermal lousing, which heats them up," he said.
In Scotland, fish farming giant Marine Harvest used such a warming device called a thermolicer to delouse its caged salmon, but ended up accidentally killing 95,000 fish.
In Canada—where an infestation last year led to the deaths of more than half a million salmon—scientists are experimenting with using Pacific perch to clean lice from infested fish.

Some farms in Norway have successfully used this delousing method, deploying millions of wrasse to keep their salmon stocks healthy.
However, even that technique has a catch—a new study found that this practice may be depleting wild wrasse populations.
waterlust.com / @tulasendlesssummer_sierra .
Each product featured here has been independently selected by the writer. If you make a purchase using the links included, we may earn commission.
The bright patterns and recognizable designs of Waterlust's activewear aren't just for show. In fact, they're meant to promote the conversation around sustainability and give back to the ocean science and conservation community.
Each design is paired with a research lab, nonprofit, or education organization that has high intellectual merit and the potential to move the needle in its respective field. For each product sold, Waterlust donates 10% of profits to these conservation partners.
Eye-Catching Designs Made from Recycled Plastic Bottles
waterlust.com / @abamabam
The company sells a range of eco-friendly items like leggings, rash guards, and board shorts that are made using recycled post-consumer plastic bottles. There are currently 16 causes represented by distinct marine-life patterns, from whale shark research and invasive lionfish removal to sockeye salmon monitoring and abalone restoration.

One such organization is Get Inspired, a nonprofit that specializes in ocean restoration and environmental education. Get Inspired founder, marine biologist Nancy Caruso, says supporting on-the-ground efforts is one thing that sets Waterlust apart, like their apparel line that supports Get Inspired abalone restoration programs.
"All of us [conservation partners] are doing something," Caruso said. "We're not putting up exhibits and talking about it — although that is important — we're in the field."
Waterlust not only helps its conservation partners financially so they can continue their important work. It also helps them get the word out about what they're doing, whether that's through social media spotlights, photo and video projects, or the informative note card that comes with each piece of apparel.
"They're doing their part for sure, pushing the information out across all of their channels, and I think that's what makes them so interesting," Caruso said.
And then there are the clothes, which speak for themselves.
Advocate Apparel to Start Conversations About Conservation
waterlust.com / @oceanraysphotography
Waterlust's concept of "advocate apparel" encourages people to see getting dressed every day as an opportunity to not only express their individuality and style, but also to advance the conversation around marine science. By infusing science into clothing, people can visually represent species and ecosystems in need of advocacy — something that, more often than not, leads to a teaching moment.

"When people wear Waterlust gear, it's just a matter of time before somebody asks them about the bright, funky designs," said Waterlust's CEO, Patrick Rynne. "That moment is incredibly special, because it creates an intimate opportunity for the wearer to share what they've learned with another."
The idea for the company came to Rynne when he was a Ph.D. student in marine science.
"I was surrounded by incredible people that were discovering fascinating things but noticed that often their work wasn't reaching the general public in creative and engaging ways," he said. "That seemed like a missed opportunity with big implications."
Waterlust initially focused on conventional media, like film and photography, to promote ocean science, but the team quickly realized engagement on social media didn't translate to action or even knowledge sharing offscreen.
Rynne also saw the "in one ear, out the other" issue in the classroom — if students didn't repeatedly engage with the topics they learned, they'd quickly forget them.
"We decided that if we truly wanted to achieve our goal of bringing science into people's lives and have it stick, it would need to be through a process that is frequently repeated, fun, and functional," Rynne said. "That's when we thought about clothing."
Support Marine Research and Sustainability in Style
To date, Waterlust has sold tens of thousands of pieces of apparel in over 100 countries, and the interactions its products have sparked have had clear implications for furthering science communication.
For Caruso alone, it's led to opportunities to share her abalone restoration methods with communities far and wide.
"It moves my small little world of what I'm doing here in Orange County, California, across the entire globe," she said. "That's one of the beautiful things about our partnership."
Check out all of the different eco-conscious apparel options available from Waterlust to help promote ocean conservation.
Melissa Smith is an avid writer, scuba diver, backpacker, and all-around outdoor enthusiast. She graduated from the University of Florida with degrees in journalism and sustainable studies. Before joining EcoWatch, Melissa worked as the managing editor of Scuba Diving magazine and the communications manager of The Ocean Agency, a non-profit that's featured in the Emmy award-winning documentary Chasing Coral.
Fish—which is loaded with protein, vitamin D and omega-3 fatty acids—is among the healthiest foods on the planet, and that's not to mention that dining on fish has a smaller carbon footprint than red meat, pork and chicken.
But here's the catch: the world's increasing appetite for finned food has led to a devastating problem with nearly 90 percent of global fish stocks either fully fished or overfished, according a 2016 analysis from the United Nations Food and Agriculture Organization. Meanwhile, the Organization for Economic Co-operation and Development forecasts a 17 percent rise in fish production by 2025.
Global Fish Stocks Depleted to 'Alarming' Levels - EcoWatch https://t.co/1u7aU47UJp @wwwfoecouk @GreenpeaceUK

— EcoWatch (@EcoWatch)1468064410.0
In addition to depleting fish stocks, the long term sustainability of the ocean's resources is also threatened by acidification, warming waters, hypoxia, sea level rise, pollution and the overuse of marine resources.
That's why Oscar-winning actor and environmental activist Leonardo DiCaprio has gotten behind Boulder, Colorado-based seafood brand LoveTheWild that sells frozen seafood kits made with 100 percent farm-raised fish.
"Estimates show the earth's population approaching nine billion by 2050, putting tremendous pressure on our natural food resources," DiCaprio said in a statement. "Seafood is a primary source of protein for nearly a billion people—but climate change, acidification and over fishing are putting increased pressure on our oceans' natural stability."
"LoveTheWild's approach to sustainable, responsible aquaculture is promoting the development of a secure and environmentally-conscious solution to feeding our planet's growing population," he added.
When you bake up our #Catfish and #Cajun Cream Sauce, you'll have an utterly delicious meal FULL of #BoldFlavor.… https://t.co/T0tIF5IrLG

— LoveTheWild (@LoveTheWild)1488934566.0
The Before the Flood filmmaker has made an investment in the brand and will also serve as an advisor. According to BizWest, DiCaprio and sustainable aquaculture investment fund Aqua-Spark round out a $3 million Series A funding announced in February, in which Aqua-Spark invested $2.5 million.
"The exploitation of our oceans has left many marine ecosystems on the brink of total collapse, which is hurting our ability to harvest our seas as a reliable food source as we have for thousands of years," DiCaprio continued. "LoveTheWild is empowering people to take action on this crisis in a very meaningful way."
Farmed seafood, or aquaculture, currently provides roughly half of all fish consumed globally. Experts tout it as a way to supply protein, nutrition and food security to a rapidly growing global population.
However, aquaculture operators in some countries, such as Chile's salmon industry, have been criticized for crowding fish into tight enclosures that breed disease and raising them on unnatural diets and antibiotics.
But as Tim Fitzgerald, a scientist and sustainable seafood expert at the Environmental Defense Fund, told the New York Times, farming practices are improving and some merchants set high standards for the fish they sell.
LoveTheWild, founded by Jacqueline Claudia and Christy Brouker in 2014, sells sustainable fish that's good for you and the oceans at the same time. The company said it selects its seafood from the "most well-managed farms in the world."
The line includes striped bass with roasted pepper almond sauce, barramundi with mango Sriracha chutney, catfish with Cajun creme and red trout with salsa verde. The kits are in retailers such as Whole Foods Market, Wegmans, Sprouts and Mom's.
"Our vision for LoveTheWild was inspired by our dedication to aquaculture, and we're very humbled that the quality of our products and integrity of our vision has attracted such a powerful group of supporters and investors," said Claudia, LoveTheWild CEO, in a statement.
"We are excited that Mr. DiCaprio, someone so dedicated to environmental activism, has partnered with LoveTheWild to help make it easy for consumers make an impact on the environment through something as simple as choosing the right thing for dinner. We have no doubt that the involvement of all of our investors will further bring to life our mission of making high-quality seafood exciting, easy, and accessible, while also helping to bring awareness to the potential for responsible aquaculture to play an important role in our food future."
DiCaprio, and his Leonardo DiCaprio Foundation, has long put his philanthropic dollars towards environmental organizations and businesses that protect oceans, land and wildlife, as well as operations that work to fight against climate change.
Last year, the foundation awarded a total of $15.6 million in grants, including $7,631,508 for wildlife and habitat conservation; $2,525,000 for ocean conservation; $2,100,000 to protect indigenous rights; $2,085,000 to support innovative solutions to the world's problems; and $1,300,000 to combat climate change. With these grants, the Leonardo DiCaprio Foundation has provided more than $59 million in support of many projects since 1998.
Leonardo DiCaprio Foundation Awards $15.6 Million in Largest-Ever Round of Environmental Grants - EcoWatch https://t.co/eooOARR9B8

— Orangutan Outreach (@Orangutan Outreach)1468557105.0
The extent to which global demand for seafood is outpacing the sustainable yield of fisheries can be seen in shrinking fish stocks, declining catches and collapsing fisheries, according to the Earth Policy Institute.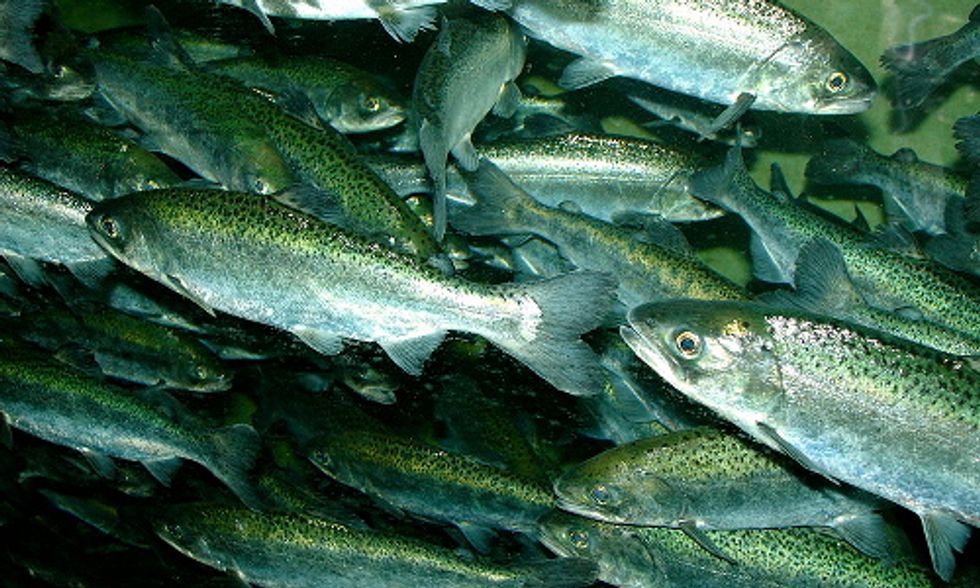 Given these alarming trends, here are some need-to-know facts compiled by Earth Policy Institute showing the state of fisheries and people's growing reliance on farmed fish:
Alarming Data
More than 80 percent of the world's fisheries are either considered fully exploited, with no room for safely increasing the catch, or they are already overfished and in need of rebuilding. 
Small forage fish account for more than half the food supply in 36 countries, including the Maldives, the Philippines and Ghana.
"It's not just the well-known predatory fish like the endangered bluefin tuna that need a break. Scientists recommend catch reductions of roughly 50 percent for many forage fish—small plankton-eaters such as sardines, anchovies, and herring that are staples for larger fish and other predators," said Earth Policy Institute Research Associate J. Matthew Roney.
Farmed Fish Production 
Wild fish play a large role in the production of meat, milk, eggs and farmed fish. Some 6 million tons of fishmeal and 1 million tons of fish oil are produced each year. Nearly all of the fishmeal is fed to farmed fish, pigs and poultry, and 74 percent of fish oil goes to fish farms. 
People will likely eat more fish from farms than from the wild in 2014, a historical milestone. As the world's oceans are fished to their limits, any increase in world fish consumption will come from farms.
Fish farming output is expected to increase 33 percent by 2021. 
In 2012, world farmed fish production topped beef production for the first time ever. 
China accounts for 60 percent of world farmed fish production. 
Scale Back and Rebuild
Some aquacultural producers are scaling back. Between 1995 and 2007, the fishmeal content in shrimp feed dropped from 28 percent to 18 percent. The drop was even more dramatic for salmon, from 45 percent to 24 percent.
Well-managed marine reserves, where fishing is off-limits, will help protect biodiversity and rebuild fish stocks. 
"The modern fishing industry that evolved to meet our ever-growing demand for fish and shellfish has created a situation where most fish stocks are maxed out or worse," said Roney. "It appears that there is little prospect for increasing the wild catch much further."
In fact, because widespread overfishing is already undermining oceanic food webs as well as the economic and food security of millions of people, it is clear that sharp catch reductions are needed for many fisheries. Leaving more fish in the ocean now to grow and breed is an investment that pays big dividends in future fisheries productivity."
--------
Related Content:
California Drought Forces Fisheries to Truck Salmon Smolts to Sea
Long-Awaited EPA Study on Pebble Mine Finds Potentially Catastrophic Impacts to Bristol Bay Salmon Fisheries
For years, environmentalists advised consumers to steer clear of farmed salmon, but now, some groups are beginning to ease their warnings due to a progressive partnership that will gradually overhaul the industry, according to National Geographic.
[slideshow_deploy id='351614']
Given its high protein, heart-healthy omega-3 fatty acids and low traces of saturated fats, salmon is increasingly being marketed as a nutritious food.
The shift in perspective has helped increase salmon demand by more than 20 percent over the last decade, and consumption has spiked three-fold worldwide since 1980.
In fact, salmon aquaculture, otherwise known as fish farming, is the fastest growing food production system in the world—accounting for 70 percent (2.4 million metric tons) of the market, according to the World Wildlife Fund (WWF).
Five years ago, global fish farming production lapped wild catches as the primary source of all seafood consumed, and two years ago, global aquaculture production outpaced global beef production. 
Environmentalists had sounded past warnings to avoid farmed salmon, mainly because the carnivorous fish are fed animal-derived proteins called "fish meal," or fish oil made from anchovies, which have been shown to carry Polychlorinated biphenyls (PCBs) and other toxins that can make their way into the human food supply.
"It's fair to say that salmon farming is better than it used to be, but it used to be horrendous," wrote Oceana contributor Justine Hausheer. "Even the best farms still pollute their waters with parasiticides, chemicals and fish feces. The Chilean farmed salmon industry uses over 300,000 kilograms of antibiotics a year, causing bacterial resistances that affect fish, the environment and human beings."
Additionally, farmed salmon can leap out of the oceanside pens they are raised in, which can potentially spread disease or unwanted genes to wild populations already under stress from overfishing, pollution and shrinking habitats.
Yet, the fish farming industry has taken major steps to clean up its act and is now gaining positive feedback from environmental groups, according to Jason Clay, WWF's senior vice president for market transformation. Clay spoke on farmed salmon at Seafood Expo North America in Boston on Tuesday and is an authority on the matter due, in part, to his contributions in developing a set of sustainability standards called the Aquaculture Stewardship Council (ASC).
Founded in 2010 and based in the Netherlands, the ASC is a nonprofit organization, which is helping to lead a global certification and labeling program for responsibly farmed seafood that reduces social and environmental impacts.
ASC standards include 152 different indicators, including low tolerance for escaping fish, limits on antibiotics and safety guidelines on food the fish can be fed.
So far, a small proportion of salmon grown on Norway farms has been shown to meet the group's standards, but much more is on the way in various countries.
Last August, 15 major salmon farm companies, representing 70 percent of the world-farmed salmon market, formed the Global Salmon Initiative (GSI), which has pledged to source 100 percent of their salmon from farms that meet ASC standards by 2020.
All agriculture inevitably pollutes to some degree, said Doris Soto, senior aquaculture officer with the Food and Agriculture Organization of the United Nations, at this week's seafood expo. With this agreement, salmon producers have set themselves apart, she said.
"The industry is trying to face its problems, especially the environmental problems in a way that has perhaps not been done in agriculture," she told USA Today.
Despite Ongoing Progress, Critical Impacts Linger
According to WWF, here are some major environmental and social impacts the salmon farm industry needs to address in the coming years:
Biodiversity Loss Chemicals and excess nutrients from food and feces associated with salmon farms can disturb the flora and fauna on the ocean bottom.

Chemical Inputs Excessive use of chemicals, such as antibiotics, anti-foulants and pesticides, or the use of banned chemicals can have unintended consequences for marine organisms and human health.

Disease and parasites Viruses and parasites transfer between farmed and wild fish as well as among farms, presenting a risk to wild populations or other farms.

Escapes Escaped farmed salmon can compete with wild fish and interbreed with local wild stocks of the same population, altering the overall pool of genetic diversity.

Feed Escaped farmed salmon can compete with wild fish and interbreed with local wild stocks of the same population, altering the overall pool of genetic diversity.

Nutrient Pollution and Carrying Capacity Excess food and fish waste increase the levels of nutrients in the water and have the potential to lead to oxygen-deprived waters that stress aquatic life.

Social Issues Salmon farming often employs a large number of workers on farms and in processing plants, potentially placing labor practices and worker rights under public scrutiny. Additionally, conflicts can arise among users of the shared coastal environment.
Genetically Modified Fish: The Future of Salmon Farming?
Some say the next step is to grow and sell genetically engineered salmon that can mature twice as fast as its natural counterpart. AquaBounty Technologies, a Massachusetts-based company, has spent years developing a fish it refers to as AquAdvantage salmon.
The company wants to raise sterile Atlantic salmon females that can rapidly grow to market size compared to conventional salmon by using a growth hormone-regulating gene from Chinook salmon and some genetic material from ocean pout.
The FDA has yet to approve the fish, which is the first genetically engineered food animal in the world.
In 2010, an FDA advisory panel stated the fish is "highly unlikely to cause any significant effects on the environment" and that it is "as safe as food from conventional Atlantic salmon," although the agency said more testing was needed, according to National Geographic.
Last spring, more than 1.8 million people sent comments vehemently opposing the approval of a genetically engineered salmon by the FDA.
No genetically modified salmon are currently permitted under the ASC guidelines.
The Sierra Club said it's against genetically engineered fish, saying the fish pose "an even greater hazard to natural stocks and are even more difficult to properly evaluate and to monitor than [genetically engineered] crops."
Visit EcoWatch's FOOD and GMO pages for more related news on this topic.