This website uses cookies to ensure you get the best experience while browsing it. By clicking 'Got It' you're accepting these terms.


The best of EcoWatch, right in your inbox. Sign up for our email newsletter!
www.youtube.com
Farm Aid's annual concert, an all-day music and food festival, will take place on Sept. 16 in Burgettstown, Pennsylvania.
Willie Nelson, Neil Young, Jack Johnson and Sheryl Crow will be headlining, among many other prominent musicians. Proceeds from the concert will benefit small family farms by providing farmers with resources and support.
By Alanna Wittet
Star status can bring the opportunity for celebrities to wear many hats and draw attention to environmental and health issues. Whether they are producing or performing music for fair trade campaigns, designing ethically sourced products or growing food for the hungry, these 10 stars are using their fame and dollars to advocate for a more sustainable food future for all:
Jessica Alba: After becoming a mother and struggling to find chemical-free personal care and baby products with transparent disclosures, Jessica Alba co-founded The Honest Company alongside environmental scientist Christopher Gavigan. The company creates a variety of personal care, cleaning and baby care and nutrition products that are sustainable, transparent, ethically sourced.
Jason Brown: After leaving his NFL football career in 2012, Brown took up farming to help feed North Carolina's hungry. His 1,000-acre farm, First Fruits Farm, donates its first fruits of the harvest to local food pantries. A self-taught farmer, Brown donated more than 46,000 pounds of sweet potatoes and 10,000 pounds of cucumbers to food pantries in 2014.
50 Cent: In addition to being a member of Feeding America's Entertainment Council, 50 Cent also aids in the fight against hunger through his Street King initiative. With every bottle of his Street King energy shot sold, he funds one meal for a child in need through the World Hunger Programme. Having funded 3.5 million meals so far, he aims to provide 1 billion meals. To combat hunger in America, 50 Cent has also partnered his SMS Audio brand with Feeding America to additionally fund 250 meals with every headphone set purchased in the U.S.
Coldplay: As a global ambassador for Oxfam International, Coldplay has vocally supported and furthered the reach of the organization's mission to end global poverty, injustice and hunger. Promoting Oxfam's GROW and Make Fair Trade campaigns while on tour, Coldplay helped disseminate the message to more than 100 million people. Lead singer Chris Martin has also traveled to Ghana and Haiti to observe the effects of unfair trade on farmers.
Michael Kors: Michael Kors is a Global Ambassador Against Hunger for the U.N. World Food Programme. Since 2013, Kors' Watch Hunger Stop Campaign has helped to provide more than 10 million meals to children through the WFP's School Meals Programme, while also engaging other celebrities on the issue of world hunger through their involvement in the campaign.
Kate Hudson: Joining Michael Kors and his campaign to alleviate hunger worldwide, Katie Hudson serves an ambassador and spokesperson to Watch Hunger Stop. In helping to launch his latest watch style for the campaign, every watch sold will provide 100 children a nutritious meal.
Jamie Oliver: In addition to being a celebrity chef, Jamie Oliver further works towards building a stronger and healthier food system through his foundation, the Jamie Oliver Food Foundation. By providing food education programs and global campaigns to influence international food policy, the Foundation works to transform people's lives by both improving access to good, fresh and real foods and equipping people with cooking skills. He is also active in lobbying the U.K. government to establish a multi-sectorial Child Obesity Strategy to improve children's nutrition and reduce obesity. In 2016, Oliver's Foundation has been present at key global events including the World Health Assembly, The Nutrition Growth Summit and the U.N. General Assembly, championing policy to combat childhood obesity.
Neil Young, John Mellencamp and Willie Nelson: In 1985, Young, Mellencamp, and Nelson hosted the first Farm Aid concert to draw attention to the loss of family farms and to raise money to keep farming families on their land. To date, Farm Aid has raised more than US$50 million to support family farms in America by promoting food produced by family farms, supporting fair farm policies and providing resources that help farmers thrive.
EcoWatch Daily Newsletter
This past Thursday was Thanksgiving. A time when we remember a feast, the first Thanksgiving, on Plymouth plantation in the autumn of 1621. The tales of pilgrims from the Mayflower who celebrated the harvest, shared and broke bread with the first Americans, are still used as inspiration and shared with children, teaching them the beauty of gratitude.
Standing Rock.©Lori Panico
But it is now widely understood this Thanksgiving story is a fictional history. It was invented to whitewash the vicious genocide wrought upon the native inhabitants of this magnificent continent. Not only did the Europeans try to eradicate native populations, but they made every effort to eviscerate their culture, their language and eliminate them from these coveted lands.
From Plymouth Rock to Standing Rock, this lie has made our Thanksgiving Day a day of mourning for the First Nations, all the tribes big and small, those who came before us.
A few weeks ago we traveled to visit the Standing Rock Sioux in North Dakota. We arrived at this unprecedented historical gathering of more than 500 tribes and thousands of others standing on the frontlines to protect water, to state the most basic human truth, to say water is life. Despite the painful history, today they fight peacefully for us all.
The camp grows as winter comes. Standing in protection of our most vital life support systems, but also for the rightful preservation of Native American cultural ways and their sovereignty. Everyone we talk with is committed to peaceful resistance. Weapons, alcohol and drugs are forbidden there.
Standing together in prayer to protect water displays a deeply rooted awareness of life's interconnected nature, and of the intrinsic value and import of traditional ways. This growing movement stems from love, it is the most human instinct to protect that which we love. An eager and engaged youth are at the core of this pipeline route resistance, learning from a population of elders who pass down unforgotten knowledge.
It is an awakening. All here together, with their non-native relatives, standing strong in the face of outrageous, unnecessary and violent aggression, on the part of militarized local and state law enforcement agencies and national guard, who are seemingly acting to protect the interests of the Dakota Access pipeline profiteers, at a cost of hundreds of thousands of taxpayer dollars, above all other expressed concerns. They stand against corporate security forces, the county sheriff and the national guard. Standing while being hit with water cannons, mace, teargas, rubber bullets. Standing without weapons and praying, the water protectors endure human rights abuses in freezing temperatures. Supplies arrive from all over as the social media universe shares the heartbreaking news to the world, that an American corporate media is not free to report. Thus, it is the ugliness of corporate America, seen around the world.
But they stand, their hair frozen from water cannons. They stand for all that is good and they stay strong.
We are calling upon you, President Barack Obama, to step in and end the violence against the peaceful water protectors at Standing Rock immediately.
We will be going back to support the water protectors again.
Let us all stand with them in thanks, in appreciation for the ancient wisdom they carry, in thanks for this opportunity for true gratitude. For giving us a path forward. For trying to show us a road to survival.
We offer our support and our respect. We hear the call to protect the water protectors to listen, learn and get engaged. They are brave. We thank them. And we can give thanks for the bounty.
Like water on the garden of activism, America's surprise president brings a bounty of opportunity. The great issues of our time are now brightly illuminated and people are becoming more aware of them than ever, from sea to shining sea, from Standing Rock to Wall Street.
The surprise president-elect was not the winner of the popular vote, does not have a mandate for the change of ideals envisioned. Keep in mind, close to over two million more people voted for another candidate. Nor is the surprise president the leader of the free world. Two hundred of the world's nations believe in science, above the profits of the oil, gas and coal industries, and are committed to working together to protect the future from an unchecked climate crisis. The surprise president claims he does not believe in climate science nor the threats it presents and his actions and words reflect that claim in tangible and dangerous ways.
Do not be intimidated by the surprise president's cabinet appointees as they descend the golden escalator. Those who behave in racist ways are not your leaders. The golden tower is not yours. The White House is your house.Your growing activism in support of freedom over repression, addressing climate change, swiftly replacing a destructive old industries with safe, regenerative energy, encouraging holistic thinking in balance with the future of our planet; that activism will strengthen and shed continued light on us all. These worthy goals must be met for all the world's children and theirs after them.
This is our moment for truth.
Unintimidated, stand, speak up and show up. Be counted. Be like our brothers and sisters at Standing Rock. Be there if you can. The progress we have made over 240 years as a nation, has always come first from the people.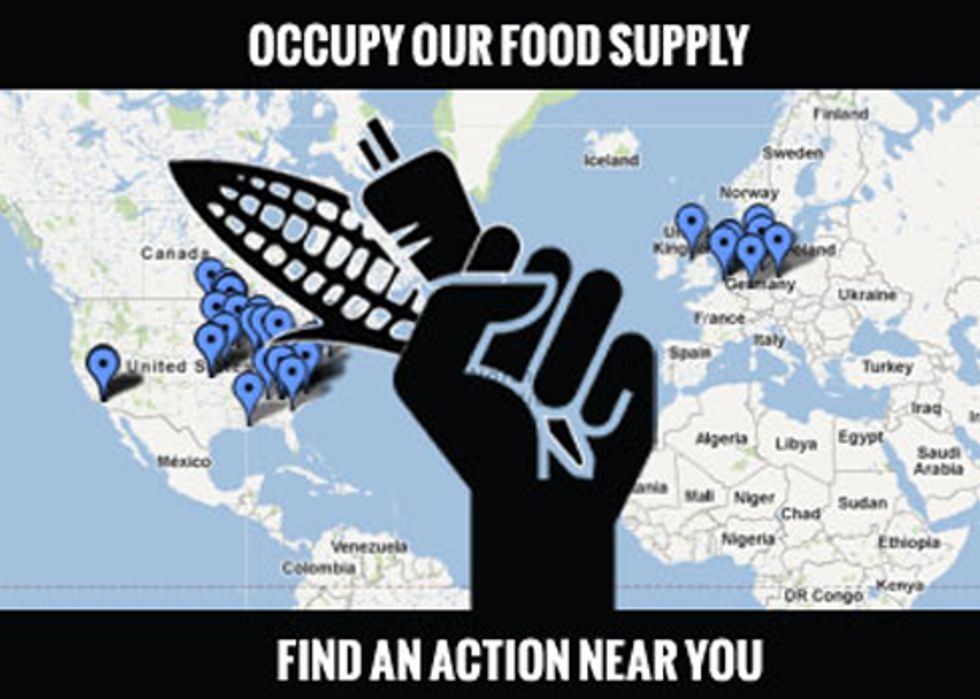 On Feb. 27, an unprecedented alliance of more than 60 Occupy groups and 30 environmental, food and corporate accountability organizations will join together for Occupy our Food Supply, a global day of action resisting the corporate control of food systems.
The call to Occupy our Food Supply, facilitated by Rainforest Action Network, is being echoed by prominent thought leaders, authors, farmers and activists including the Indian environmentalist Vandana Shiva, Food Inc.'s Robert Kenner, music legend Willie Nelson, actor Woody Harrelson, and authors Michael Pollan, Raj Patel, Anna Lappe, Gary Paul Nabhan, and Marion Nestle, among others. (See quotes in release below). The central theme uniting this diverse coalition is a shared sense of urgency to resist the corporate consolidation of food systems and create socially and environmentally just local solutions.
"Nothing is more important than the food we eat and the family farmers who grow it," said Willie Nelson, founder and president of Farm Aid. "Corporate control of our food system has led to the loss of millions of family farmers, destruction of our soil, pollution of our water and health epidemics of obesity and diabetes. We simply cannot afford it. Our food system belongs in the hands of many family farmers, not under the control of a handful of corporations."
From Brazil, Hungary, Ireland, and Argentina to dozens of states in the U.S., thousands of people will be participating in the Feb. 27 global day of action.  Participants will be reclaiming unused bank-owned lots to create community gardens; hosting seed exchanges in front of stock exchanges; labeling products on grocery store shelves that have genetically engineered ingredients; building community alliances to support locally owned grocery stores and resist Walmart megastores; and protesting food giants Monsanto and Cargill.
"Occupy our Food Supply is a day to reclaim our most basic life support system—our food—from corporate control. It is an unprecedented day of solidarity to create local, just solutions that steer our society away from the stranglehold of industrial food giants like Cargill and Monsanto," said Ashley Schaeffer, Rainforest Agribusiness campaigner with Rainforest Action Network (RAN).
Never have so few corporations been responsible for more of our food chain. Of the 40,000 food items in a typical U.S. grocery store, more than half are now brought to us by just 10 corporations. Today, three companies process more than 70 percent of all U.S. beef—Tyson, Cargill and JBS. More than 90 percent of soybean seeds and 80 percent of corn seeds used in the U.S. are sold by just one company—Monsanto. Four companies are responsible for up to 90 percent of the global trade in grain. And one in four food dollars is spent at Walmart.
The overwhelming support for Occupy our Food Supply underscores the unity between farmers, parents, health care professionals, human rights activists, food justice advocates and food lovers around the world who are increasingly viewing their concerns as different manifestations of the same underlying problem—a food system structured for short term profit instead of the long term health of people and the planet.
Supporting groups include—Bay Localize, Berkeley Association for Animal Advocacy, Biosafety Alliance, California Food and Justice Coalition, Chiapas Support Committee, Family Farm Defenders, Food Democracy Now, Food First, National Family Farms Coalition, PAN (Pesticide Action Network), Pesticide Watch, Planting Justice, Organic Consumers Association, Occupy Big Food, Occupy Claremont, Occupy Cargill, Occupy DC, Occupy Delaware, Occupy Denver, Occupy Farms, Occupy for Animal Rights, Occupy Fort Lauderdale, Occupy Food, Occupy Gardens Toronto, Occupy Jacksonville, Occupy Maine, Occupy MN/Seeds of Change, Occupy Monsanto, Occupy Philly (Occupy Vacant Lots), Occupy Portland, OWS-Food Justice, OWS Puppets, OWS Sustainability, Occupy Santa Cruz, Occupy SF Environmental Justice Working Group, and Occupy the Food System- Oakland, among many others.
For the full list of supporters and more information on the events planned for Occupy our Food Supply, click here.
Vandana Shiva, Indian physicist and internationally renowned activist, adds—"Our food system has been hijacked by corporate giants from the seed to the table. Seeds controlled by Monsanto, agribusiness trade controlled by Cargill, processing controlled by Pepsi and Philip Morris, retail controlled by Walmart—is a recipe for Food Dictatorship. We must Occupy the Food system to create Food Democracy."
Raj Patel, activist, academic and author of The Value of Nothing, reflects—"It's hard for us to imagine life without food corporations because they've made our world theirs. Although we think food companies make food for us, in almost every way that matters, we—and our planet—are being transformed to suit food companies. From their marketing to children and exploitation of workers to environmental destruction in search of profit, the food industry represents one of the most profound threats to sustainability we face today."
Occupy Wall Street's Sustainability and Food Justice Committees issued this statement in support of #F27—"On Monday, February 27th, 2012, OWS Food Justice, OWS Sustainability, Oakland Food Justice & the worldwide Occupy Movement invite you to join the Global Day of Action to Occupy the Food Supply. We challenge the corporate food regime that has prioritized profit over health and sustainability. We seek to create healthy local food systems. We stand in Solidarity with Indigenous communities, and communities around the world, that are struggling with hunger, exploitation, and unfair labor practices." 
"On this day, in New York City, community gardeners, activists, labor unions, farmers, food workers, and citizens of the NYC metro area, will gather at Zuccotti Park at noon, for a Seed Exchange, to raise awareness about the corporate control of our food system and celebrate the local food communities in the metro area." 
Marion Nestle, professor and author of What to Eat and Food Politics: How the Food Industry Influences Nutrition and Health, said—"While the food industry digs in to fight public health regulations, the food movement will continue to attract support from those willing to promote a healthier and more sustainable food system. Watch for more young people going into farming and more farmers' markets, farm-to-school programs, school meal initiatives, and grassroots community efforts to implement food programs and legislate local reforms. There is plenty of hope for the future in local efforts to improve school meals, reduce childhood obesity, and make healthier food more available and affordable for all."
Rukaiya Rofiq, director of the human rights organization Yayasan SETARA Jambi in Indonesia, said—"It is encouraging to see Americans connecting the dots between the food choices they make at a grocery store and the serious impacts those choices have here in Southeast Asia. When an additive like palm oil is used to make cheap crackers and cookies it gives companies a green light to expand palm plantations at all costs which is why we see community member homes bulldozed when they fight expansion, Indigenous land rights ignored, and natural rainforests completely decimated. Invisible companies like Cargill, who are profiting off the backs of Indonesians, must be held accountable in the countries they call home." 
Michael Ableman, farmer and founder of the Center for Urban Agriculture in Goleta, California, said—"We are focusing on what we are for, as much as what we are against. We are re-occupying our soils with life and fertility and our communities with good food. We are working to rebuild the real economy, one based on soil and seeds and sunlight and individuals and communities growing together."
For more information, click here.