Dr. Kurt Straif, a section head with the World Health Organization's International Agency for Research on Cancer (IARC), appeared in an interview with euronews defending the agency's assessment that glyphosate probably causes cancer in humans.
"Our evaluation was a review of all the published scientific literature on glyphosate and this was done by the world's best experts on the topic that in addition don't have any conflicts of interest that could bias their assessment," Straif said.
"They concluded that, yes, glyphosate is probably carcinogenic to humans based on three strings of evidence, that is clear evidence of cancer in experimental animals, limited evidence for cancer for humans from real-world exposures, of exposed farmers, and also strong evidence that it can damage the genes from any kind of other toxicological studies."
Watch here:
Glyphosate is the main ingredient in Monsanto's blockbuster product, Roundup, and is also found in herbicides manufactured by Syngenta and Dow.

In March 2015, the IARC concluded that glyphosate is a "probable human carcinogen," touching off an international row on the health and safety of the widely applied herbicide. However, this past May, the United Nation's Food and Agriculture Organization (FAO) and a different regulatory body from the WHO issued a joint report concluding that the ingredient is "unlikely to pose a carcinogenic risk to humans from exposure through the diet." Unsurprisingly, the different opinions about the controversial herbicide were "welcomed" by Phil Miller, Monsanto's vice president for global regulatory and government affairs.
UN Says Glyphosate 'Unlikely' to Cause #Cancer, Industry Ties to Report Called Into Question https://t.co/VeprImTxGs https://t.co/bQpkWVMkym

— EcoWatch (@EcoWatch)1463499367.0
During the euronews interview, Straif explained why the conclusions from the IARC and the FAO/WHO about the weedkiller seem to be contradictory.

"Our classification of the cancer hazards of glyphosate still stand," he said. "We are the authority to classify cancer substances worldwide for the WHO, and it was then this other panel that looked at a very narrow angle of exposure from daily food, and then came up with the conclusion on how much of that may be safe or not."
Basically, the IARC assessment focussed on "hazard" while the other looked at "risk." David Eastmond, a toxicologist at the University of California, Riverside, explained to Wired how the terms are different: "If you have people gawking at sharks swimming around a tank in an aquarium, the sharks are a hazard, but they pose little risk. If you have a surfer on the beach with a shark, now that shark is both a hazard and a risk."
During the interview, the euronews host asked Straif which body of the WHO she should trust as a "consumer, as a farmer, as an occasional beer drinker, as somebody who likes to sit in parks that have been treated with glyphosate."
He replied, "I think it's important to understand the literature that our assessment that glyphosate can cause cancer in humans still stands, and then you have to look at the other assessments for the specific scenarios, and that is not my authority to comment on these evaluations."
Straif also hinted at possible conflicts of interest from the FAO/WHO report. When the euronews host asked the senior scientist if he was "disturbed" by credible reports of the FAO/WHO scientists allegedly receiving payoffs by Monsanto for a favorable glyphosate review, Straif replied, "It is an important topic that needs important scrutiny, yes."
Following the release of the FAO/WHO report, Greenpeace EU as well as food-industry watchdog group U.S. Right to Know (USRTK) questioned whether the evaluation was muddied by industry ties.
Will Monsanto have to face the music about its weedkiller? Roundup cancer lawsuits have been mounting against the company, as EcoWatch reported last week, the agribusiness giant has not been able to legally run away from the growing thorn.
Mother-of-Three Sues #Monsanto Claiming #Roundup Caused Her #Cancer https://t.co/7qqPNHs5WH @nongmoreport @FoodDemocracy @food_tank @EWG

— EcoWatch (@EcoWatch)1467379973.0
In court documents obtained by EcoWatch, at least one court from Hawaii and two from California have rejected Monsanto's attempts to dismiss the respective lawsuits.

For instance, last week, U.S District Judge Michael Seabright denied Monsanto's request to dismiss a lawsuit by Christine and Kenneth Sheppard, former owners of Dragons Lair Kona Coffee Farm in Hawaii.
The Sheppards claim that Monsanto falsely masked the carcinogenic risks of glyphosate and is responsible for causing Christine Sheppard's cancer, non-Hodgkins lymphoma.
As detailed by Courthouse News Service, one reason Seabright decided to reject Monsanto's dismissal considers the 2015 designation [of Roundup as a probable carcinogen] by the WHO.
YOU MIGHT ALSO LIKE
Glyphosate Sprayed on GMO Crops Linked to Lake Erie's Toxic Algae Bloom
Neil Young: Say No to GMOs on 'Behalf of All Living Things'
Mother-of-Three Sues Monsanto Claiming Roundup Caused Her Cancer
Senate Ag Leaders Lobby Hard to Pass DARK Act Compromise to Preempt Vermont GMO Law
EcoWatch Daily Newsletter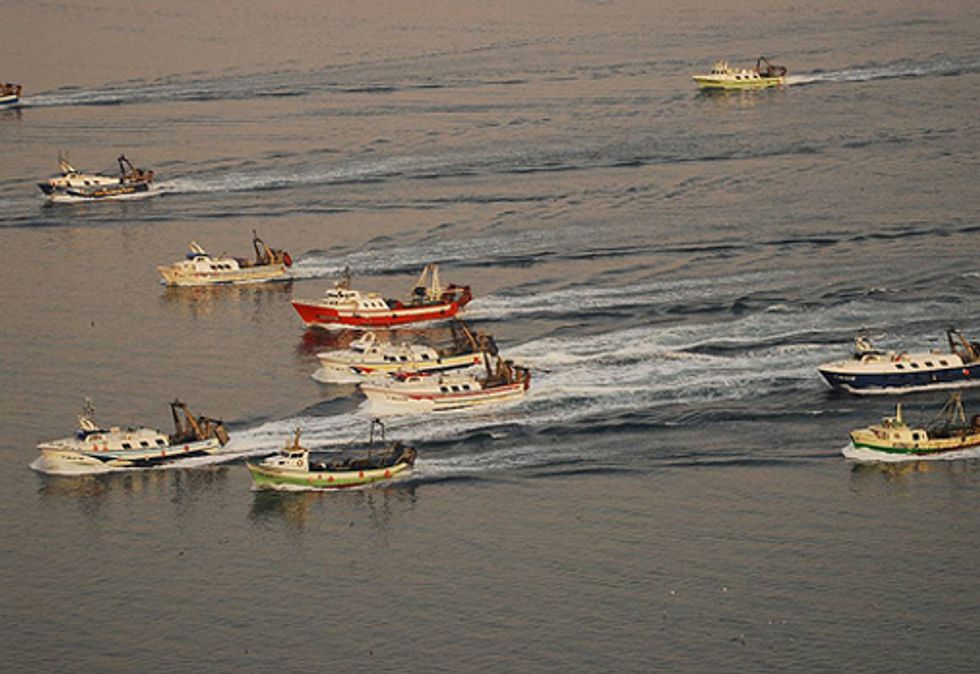 Trade Ministers Tim Groser of New Zealand and Dr. Craig Emerson of Australia joined officials from a diverse group of countries Dec. 16 at the Eighth Ministerial Conference of the World Trade Organization (WTO) to release a statement reaffirming the need for and their commitment to establishing strong trade rules on subsidies that lead to overfishing. The other countries included Argentina, Chile, Colombia, Ecuador, Norway, Peru and the U.S.
The statement also highlighted the dangers of fishing subsidies to trade, jobs and food security, and called for all countries to take timely action on this problem both collectively and individually. Environmental groups—including Oceana—applauded the statement.
"Countries cannot use other trade problems as an excuse for not addressing fisheries subsidies," said Courtney Sakai, senior campaign director at Oceana. "The world's fisheries continue to deteriorate and there is no time for countries to wait to take action on subsidies."
Well-known and loved advocate Finley the Fish made a special guest appearance Dec. 16 to shake fins and show support for his WTO friends. Earlier this week, Finley met with officials at the WTO. Finley also met with Minister Groser and other Ambassadors and delegates at an Oceana reception in Geneva.
"Don't let Finley be the last fish in the sea," said Sakai. "Finley's friends everywhere can join together to create a global effort to turn the tide for the world's fish."
Background Information
The WTO is the 153-country organization responsible for negotiating the rules governing international trade and settling related disputes. In 2001, the WTO initiated a dedicated negotiation on fisheries subsidies as part of its Doha trade agenda and continues to work to address the issue today.
According to the United Nations Food and Agriculture Organization (FAO), 85 percent of the world's fisheries are fully exploited, overexploited, depleted, or recovering from depletion—the highest percentage since FAO began keeping records, and a 10 percent increase from four years ago.
Many governments continue to provide significant subsidies that push their fleets to fish longer, harder and farther away than otherwise would be possible. Destructive fisheries subsidies are estimated to be at least $16 billion annually, an amount equivalent to approximately 20 percent of the value of the world catch. The scope and effects of these "overfishing subsidies" are so significant that eliminating them is the single greatest action that can be taken to protect the world's oceans.
For more information about Oceana's campaign to stop overfishing subsidies, click here.
For more information, click here.
Like many other plant-based foods and products, CBD oil is one dietary supplement where "organic" labels are very important to consumers. However, there are little to no regulations within the hemp industry when it comes to deeming a product as organic, which makes it increasingly difficult for shoppers to find the best CBD oil products available on the market.
<p>Here you can learn about the importance of organic hemp oil, why it's better for the environment, and which CBD companies actually make trustworthy products with sustainable farming processes. origins which weigh heavily on many consumers who want to buy a product that's produced in the best way possible for not only themselves to ingest, but for the environment as well through sustainable farming methods. </p><h2>What Is CBD Oil?</h2><p>First things first, CBD stands for cannabidiol, and it's a cannabinoid found within cannabis sativa plants. This plant compound is believed to have many potential benefits, and it is primarily derived from hemp plants via a CO2 extraction process. </p><p>Since CBD is extracted from industrial hemp, which contains only trace amounts of THC (the psychoactive component in cannabis plants), this means that CBD won't make you feel high like marijuana, which has much higher levels of THC that causes psychoactive effects. Instead, the effects of CBD are much more subtle and promote a general sense of calm and relaxation in most users.</p><h2>What Makes a CBD Oil Organic?</h2><p>In terms of organic labels, perhaps the most important (and prominent) certification comes from the United States Department of Agriculture (USDA). This government organization has been labeling foods as "organic" for many years, but what exactly does this certification entail? Essentially, a label indicating that a product is "USDA Organic" or "Certified Organic" means that at least 95% of the ingredients are obtained from organic sources.</p><p>For a crop to be considered organic by the USDA, it must be grown without the use of industrial solvents, irradiation, genetic engineering (GMOs), synthetic pesticides, or chemical fertilizer. Instead, farmers rely on natural substances and <a href="https://www.usda.gov/media/blog/2012/03/22/organic-101-what-usda-organic-label-means" rel="noopener noreferrer" target="_blank">mechanical, physical, or biologically based farming</a> techniques to cultivate healthy and organic crops.</p><p>Before the passage of the 2018 Farm Bill, no hemp-derived products could be dubbed as "certified organic" since the hemp plant and its extracts were still categorized as a Schedule I Controlled Substance. However, it's still difficult for CBD companies to obtain a USDA certified organic label for their products due to the legal grey area that still surrounds CBD extracts. </p><p>Because of these challenges, and due to the fact that industrial hemp has only recently become an agricultural crop, very few CBD oils are USDA certified organic. Rather, many CBD products contain hemp extracts from plants that were grown in organic conditions but may not be federally certified.</p><h2>What are the Best Organic CBD Oil Brands?</h2><p><em>Each product featured here has been independently selected by the writer. If you make a purchase using the links included, we may earn commission.</em></p><em><br></em>