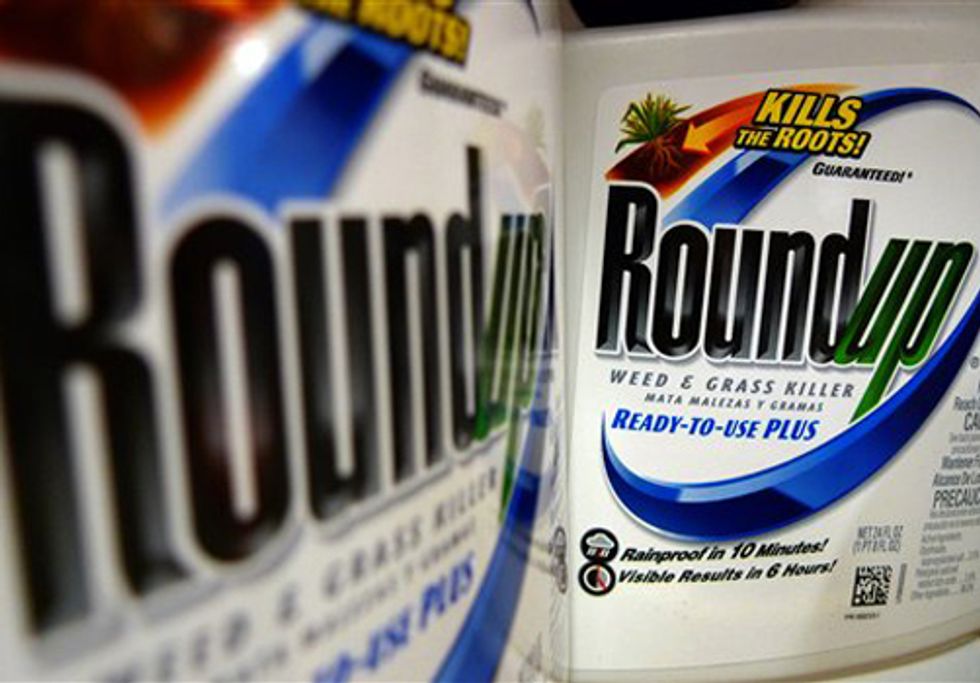 A French court has found U.S. chemical giant Monsanto Co. guilty of pesticide poisoning in the case of a French farmer who became ill after exposure to one of the company's herbicides, according to Reuters. The case is significant in that it sets precedent for other cases alleging pesticide poisoning or negligence in reporting of potential effects on human health resulting from pesticides. The court has said it will seek an expert opinion regarding the farmer's losses in order to determine the appropriate amount of damages he should be rewarded.
The case stems from an incident in which the farmer, Paul Francois, inadvertently inhaled Monsanto's Lasso pesticide when cleaning his sprayer tank on his farm in southern France in 2004. He then began experiencing memory loss, headaches, and stammering, among other neurological problems. This led to his decision to file suit against Monsanto, asserting that the company did not provide adequate warnings on the product label that would indicate these symptoms could result from exposure. The court agreed with Mr. Francois, stating that, "Monsanto is responsible for Paul Francois's suffering after he inhaled the Lasso product … and must entirely compensate him," according to Agence France-Presse (AFP).
Lasso is a general herbicide for grasses and some broadleaf weeds whose active ingredient is alachlor. Before Roundup, Lasso was one of Monsanto's biggest products and became one of the most widely used of any pesticide in the U.S. in the 1980s. Alachlor is a highly toxic chemical that is widely considered an endocrine disruptor and has been linked to kidney and liver damage as well as birth and developmental defects. It is classified by the U.S. Environmental Protection Agency (EPA) as likely to be carcinogenic in high doses. Nonetheless, it remains registered for use through the U.S. In 1987, the state of Massachusetts attempted to ban the chemical, but was fought by Monsanto, which successfully convinced the state's pesticide board to make alachlor a restricted use chemical instead of banned. The chemical was banned throughout the European Union in 2007, including in France, where the Francois incident occurred. It is registered for use in the U.S.
Numerous other cases have been filed seeking damages from chemical companies due to pesticide poisonings, but they have often suffered because of the difficulty of linking chemical exposure to a particular person's chronic illness. However, the Francois case was able to demonstrate that it was in fact the pesticide that caused harm because it was linked to a specific incident involving acute exposure, rather than long terms effects after repeated, chronic exposure. The problem with trying to prove cases regarding chronic exposure was summarized by another farmer, who told Reuters, "It's like lying on a bed of thorns and trying to say which one cut you."
A lawyer for Monsanto said the company was disappointed with the decision and that it will explore appealing to a higher court.
Monsanto and its products are currently involved in several other lawsuits, largely stemming from its line of herbicide tolerant "Roundup Ready" crops. A lawsuit filed by the Public Patent Foundation on behalf of family farmers, seed businesses, organic agricultural organizations, and environmental groups (including Beyond Pesticides) seeks to prevent the chemical company from asserting its patents and suing farmers who are unwittingly found to have incidental amounts of patented herbicide-tolerant seeds in their fields. Oral arguments in this case were heard last month.
Beyond Pesticides is also a plaintiff in another lawsuit involving genetically engineered crops led by attorneys for the Center for Food Safety (CFS), Earthjustice, and farm and environmental groups. The lawsuit filed against the U.S. Department of Agriculture (USDA) argues that the agency's 2011 unrestricted approval of Monsanto's genetically engineered alfalfa is unlawful. For more information on genetically engineered crops, see Beyond Pesticides' webpage.
Chemical companies' argument that people in the U.S. do not have a right to sue for damages associated with registered pesticides lost in the U.S. Supreme Court in 2005 in Bates et al v. Dow AgroSciences LLC. The Supreme Court ruled that citizens damaged by pesticides have the right to sue producers of these toxic products, finding that federal pesticide law does not offer adequate protection from "manufacturers of poisonous substances." Dow Chemical Company, supported by the Bush administration at the time, argued that, because its products are registered by EPA, chemical manufacturers should be shielded from litigation.
For more information, click here.
EcoWatch Daily Newsletter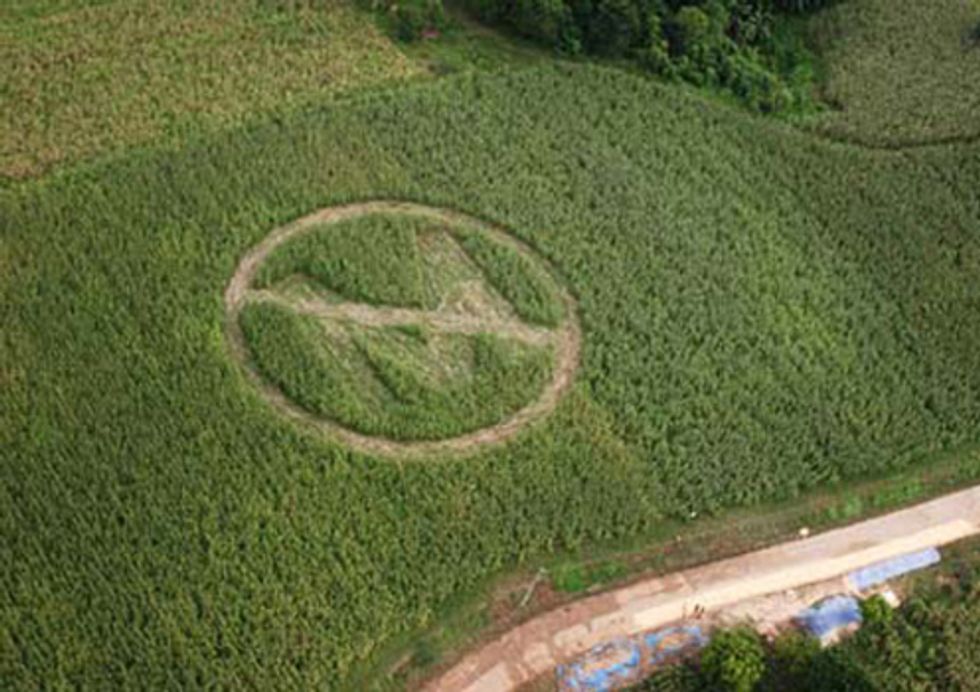 The Organic Seed Growers and Trade Association (OSGATA) invites citizens to assemble outside the Manhattan District court on Jan. 31 in an effort to present the message to family farmers that millions of Americans stand behind them as they seek their day in court. In the past two decades, Monsanto's seed monopoly has grown so powerful that they control the genetics of nearly 90 percent of five major commodity crops including corn, soybeans, cotton, canola and sugar beets. This has resulted in onerous costs to farmers through high technology patent fees for seeds as well as burdensome litigation costs in defending themselves against lawsuits asserted by Monsanto.
In many cases organic and conventional farmers are forced to stop growing certain crops in order to avoid genetic contamination and potential lawsuits. Between 1997 and April 2010, Monsanto filed 144 lawsuits against American farmers in at least 27 different states, for alleged infringement of its transgenic seed patents and/or breach of its license to those patents, while settling another 700 out of court for undisclosed amounts. As a result of these aggressive lawsuits, Monsanto has created an atmosphere of fear in rural America and driven dozens of farmers into bankruptcy.
The lawsuit OSGATA et al vs. Monsanto was filed on behalf of 300,000 organic and non-GMO (genetically modified organisms) farmers and citizens to seek judicial relief in "protect[ing] themselves from ever being accused of infringing patents on transgenic (GMO) seed." The judge has requested and agreed to hear oral argument in order to make a decision of whether or not to allow the farmers' cases to move forward in the courts after Monsanto filed a motion to dismiss the lawsuit.
"We are family farmers and we are headed to court in New York City on Jan. 31 to let the judge know that our survival as farmers depends on this lawsuit," said Jim Gerritsen, OSGATA president. "We're not asking Monsanto for one penny. We just want justice for our farmers and we want court protection from Monsanto."
"I don't think it's fair that Monsanto should be able to sue my family for patent infringement because their transgenic seed trespasses onto our farm and contaminates and ruins our organic crop," said Bryce Stephens, of Stephen's Land and Cattle Co. "We have had to abandon raising corn because we are afraid Monsanto wouldn't control their genetic pollution and then they would come after us for patent infringment. It's not right."
We are encouraging supporters of farmers' rights to grow food without fear and intimidation to assemble outside the courtroom in a peaceful manner to support the farmers in their claims, recognizing that these injustices affect us all and that this case is deserving of the court's time and attention on Jan. 31, 2012.
Due to limited space, only a small number of individuals will be able to enter the courtroom and listen to the proceedings. We respectfully ask that farmers and plaintiffs in the case be given priority to hear this case in person as each plaintiff will have traveled many miles and put a great deal on the line to be a part of this case.
In the spirit of peaceful assembly and respect for the courts, we request that you adhere to the following principles:
Principles for Citizens' Assembly
1. Assemble outside the court in a show of support for family farmers and their right to grow food without the threat of intimidation, harassment or loss of income.
2. Assemble peacefully to present a positive message that America's citizens stand behind family farmers and support their rights of legal protection under the Constitution.
3. Bring signs that portray messages of:
Hope
The positive impacts of sustainable and organic agriculture
Solutions to our current crisis in food, agriculture and society
Support for farmers who seek justice in the courts
4. Be respectful of court security requests and follow them faithfully.
5. Maintain a respectful distance from the court entry on Pearl Street, making sure not to block access for foot traffic or vehicles.
6. Maintain a tone of respect for the court and the sanctity of our legal process as the judge hears the merits of this important case.
7. Cell phones, cameras and tape recorders are prohibited inside the courthouse. Those who enter the courthouse must conform to court security protocols.
8. No signs, t-shirts with slogans or other disruptions, visual or otherwise, are appropriate or allowed in the courtroom.
9. No chanting or loud noises allowed outside the courthouse as all must maintain their conduct in ways that are respectful to the judicial process and in accordance with the seriousness of the case.
10. Follow the instructions of designated assembly captains who will continue to update you as the events of the day unfold.
As advocates for farmers and supporters of a citizen-based democracy we greatly appreciate your support for family farmers and your agreement to act in accordance with these principles in order to guarantee farmers' rights to grow food without fear and intimidation.
Location to Hear Plaintiffs and Attorney Comment After Hearing
Once oral arguments are heard in the court, farmers, plaintiffs and Lead Attorney Dan Ravicher of the Public Patent Foundation will be available for comments to supporters and the media, at the Southwest Corner on 500 Pearl Street, at Pearl Street and Cardinal Hayes Place.
For those planning on assembling at 9 a.m., Pearl Street has been recommended to gather respectfully and overflow can gather at Foley Square.
Find a link to a map of the location by clicking here.
To RSVP to the event, click here.
To sign a petition supporting farmers in the case against Monsanto, click here.
For more information, click here.
Like many other plant-based foods and products, CBD oil is one dietary supplement where "organic" labels are very important to consumers. However, there are little to no regulations within the hemp industry when it comes to deeming a product as organic, which makes it increasingly difficult for shoppers to find the best CBD oil products available on the market.
<p>Here you can learn about the importance of organic hemp oil, why it's better for the environment, and which CBD companies actually make trustworthy products with sustainable farming processes. origins which weigh heavily on many consumers who want to buy a product that's produced in the best way possible for not only themselves to ingest, but for the environment as well through sustainable farming methods. </p><h2>What Is CBD Oil?</h2><p>First things first, CBD stands for cannabidiol, and it's a cannabinoid found within cannabis sativa plants. This plant compound is believed to have many potential benefits, and it is primarily derived from hemp plants via a CO2 extraction process. </p><p>Since CBD is extracted from industrial hemp, which contains only trace amounts of THC (the psychoactive component in cannabis plants), this means that CBD won't make you feel high like marijuana, which has much higher levels of THC that causes psychoactive effects. Instead, the effects of CBD are much more subtle and promote a general sense of calm and relaxation in most users.</p><h2>What Makes a CBD Oil Organic?</h2><p>In terms of organic labels, perhaps the most important (and prominent) certification comes from the United States Department of Agriculture (USDA). This government organization has been labeling foods as "organic" for many years, but what exactly does this certification entail? Essentially, a label indicating that a product is "USDA Organic" or "Certified Organic" means that at least 95% of the ingredients are obtained from organic sources.</p><p>For a crop to be considered organic by the USDA, it must be grown without the use of industrial solvents, irradiation, genetic engineering (GMOs), synthetic pesticides, or chemical fertilizer. Instead, farmers rely on natural substances and <a href="https://www.usda.gov/media/blog/2012/03/22/organic-101-what-usda-organic-label-means" rel="noopener noreferrer" target="_blank">mechanical, physical, or biologically based farming</a> techniques to cultivate healthy and organic crops.</p><p>Before the passage of the 2018 Farm Bill, no hemp-derived products could be dubbed as "certified organic" since the hemp plant and its extracts were still categorized as a Schedule I Controlled Substance. However, it's still difficult for CBD companies to obtain a USDA certified organic label for their products due to the legal grey area that still surrounds CBD extracts. </p><p>Because of these challenges, and due to the fact that industrial hemp has only recently become an agricultural crop, very few CBD oils are USDA certified organic. Rather, many CBD products contain hemp extracts from plants that were grown in organic conditions but may not be federally certified.</p><h2>What are the Best Organic CBD Oil Brands?</h2><p><em>Each product featured here has been independently selected. If you make a purchase using the links included, we may earn commission.</em></p>