"It would be great to see all the candidates join Elizabeth Warren in taking the No Big Ag Money Pledge," said Citizens Regeneration Lobby's Alexis Baden-Mayer.
Peter Blanchard
/ Flickr / ric (CC BY 2.0)
Food system justice and environmental advocates on Wednesday urged all Democratic presidential hopefuls to follow in the footsteps of Sen. Elizabeth Warren in signing a pledge rejecting campaign cash from food and agribusiness corporations.
The Massachusetts senator, said advocacy group Friends of the Earth, is "leading the way."
BREAKING: Elizabeth Warren has signed our #NoBigAgMoney pledge! 77% of Iowa Democratic caucus goers want candidate… https://t.co/A0VudN01tO

— Friends of the Earth (@Friends of the Earth)1579706562.0
"We applaud Sen. Warren for listening to voters that overwhelmingly support candidates rejecting Big Ag's money and influence," said Lisa Archer, food and agriculture director for Friends of the Earth Action. "We urge all presidential candidates to take the No Big Ag Money pledge and prioritize our families, farmers, food chain workers, our planet, and our democracy over Big Ag's profits."
The "No Big Ag Money Pledge" was launched last week. It states (pdf):
I pledge not to take contributions over $200 from large food and agribusiness corporation executives, lobbyists, and PACs and instead prioritize the health of our families, farmers, food chain workers, our planet, and our democracy.

The document lists dozens of companies that fall under that category, including giants Bayer, Caterpillar, Tyson, General Mils, and Sodexo. Rejecting cash from those entities, says the coalition behind the pledge, would show that presidential candidates won't favor the interests of factory farms over those of family farms.
If the opinion of likely Democratic caucus-goers in Iowa serve as a guide, candidates would be wise to sign on to the plege.
According to a poll (pdf) out earlier this month — commissioned to the Friends of the Earth Action and conducted by Lake Research Partners — 77 percent of these likely caucus-goers agree that presidential candidates should reject campaign contributions from Big Ag. Sixty-four percent also said they support breaking up the biggest food and agriculture corporations — a proposal backed by Warren and Democratic primary rival Sen. Bernie Sanders.
Make no mistake, Big Ag wields significant power. As Friends of the Earth outlined in a statement last week,
Currently in the United States, four corporations (many of them foreign owned) control 84 percent of the market for beef, 70 percent of the market for soy, 66 percent of the market for hogs, 80 percent of the market for corn, 59 percent of the market for poultry, 84 percent of the market for pesticides, and 60 percent of the market for seeds.

The food and family farms groups say that campaigns not accepting contributions from these interests would be a step towards neutering their political influence.
"It would be great to see all the candidates join Elizabeth Warren in taking the No Big Ag Money Pledge," said Alexis Baden-Mayer, political director of Citizens Regeneration Lobby. "It's time to stop agribusiness monopolies from using campaign cash and lobbying dollars to put a stranglehold on federal food and farm policy."
Reposted with permission from Common Dreams.
From Your Site Articles
Related Articles Around the Web
EcoWatch Daily Newsletter
Photo credit: National Institute of Allergy and Infectious Diseases
By David Wallinga, MD
Kids can die from superbugs, just as adults do. But a new study last week was among the first I'd seen to dive more deeply and specifically into how this superbug crisis threatens your kids.
The study's findings, which the author called "ominous," appeared in the Journal of the Pediatric Infectious Disease Society. One takeaway was that infections among hospitalized kids due to one nasty superbug, called multidrug-resistant (MDR) Enterobacteriaceae, rose a dramatic 750 percent from 2007 to 2015. One particular variety of the same menace tops a new World Health Organization priority list of global bacterial superbug threats released Monday.
Enterobacteriaceae are a particularly problematic family of gram negative bacteria that includes E. coli, Klebsiella and Salmonella. It's also among the many such superbugs that we already know are found in the U.S. food supply and on farms, as Natural Resources Defense Council's Carmen Cordova blogged Monday.
Strains of Enterobacteriaceae have been popping up in U.S. patients that are pan-resistant (resistant to every medicine), or nearly so, including to colistin and carbapenem, two drugs of last resort that doctors rely upon when all else fails. On U.S. hog farms, too, they've found super-resistant Enterobacteriaceae, some of them carrying resistance to colistin or carbapenems, even thought neither is thought to be used in U.S. hog production.
Rare and Deadly ​Superbug Mysteriously Appears on U.S. Pig Farms https://t.co/pemBItjqFT @PigBusiness @ciwf

— EcoWatch (@EcoWatch)1481418304.0
This study looked over an eight year time period at 94,000 kids discharged from children's hospitals, and who'd also had infections due to Enterobacteriaceae—mostly E. coli urinary tract infections, as it turns out. Thankfully, none of the infections were pan-resistant. But by the end of the period, in 2015, 15 of every thousand of these kids had had infections resistant to multiple antibiotics—more than seven times higher than the incidence among the kids being discharged eight years earlier. Moreover the kids with resistant Enterobacteriaceae infections had hospital stays 20 percent longer compared to kids whose infections were not resistant.
The incredibly rapid rise in MDR Enterobacteriaceae infections among kids is especially ominous. Younger patients have less developed immune systems than adults, so are less able to mount an effective defense against such infections. Much less recognized is the fact that there simply aren't as many antibiotics available to treat sick kids as there are for adults; rising resistance to existing medicines only compounds the already limited choices facing a pediatrician.
One final, worrisome note. To date, super-resistant infections caused by gram negative bacteria like the Enterobacteriaceae have mostly been a problem in hospitals. The fear, and the expectation, was that as resistance worsened, infections would begin to arise among healthier populations out in community settings, as well. But in this study, more than three-quarters of the children with multidrug-resistant infections came to the hospital already infected. That means they contracted those infections from friends, families, food or farms—somewhere else in the community—and not from other patients or staff while in the hospital.
Driving the development and spread of superbugs like this one are U.S. federal policies that still allow the antibiotics important to humans to be routinely given en masse to flocks and herds of food animals, at low doses and over long periods of time in the animal feed or water. Absent tighter federal controls, it's critical that states step up to the plate instead. In Maryland, the Keep Antibiotics Effective Act of 2017 is an important bill trying do just that, by ensuring antibiotics are only given to livestock when they are sick.
That's the kind of leadership that's needed to reverse the trend towards rising numbers of painful, expensive, and ever-harder-to-treat infections in children's hospitals, including at Johns Hopkins, the University of Maryland and elsewhere.
David Wallinga is a physician with more than 20 years of experience in writing, policy and advocacy at the intersection of food, nutrition, sustainability and public health. Wallinga is the senior health officer at Natural Resources Defense Council.
waterlust.com / @tulasendlesssummer_sierra .
Each product featured here has been independently selected by the writer. If you make a purchase using the links included, we may earn commission.
The bright patterns and recognizable designs of Waterlust's activewear aren't just for show. In fact, they're meant to promote the conversation around sustainability and give back to the ocean science and conservation community.
Each design is paired with a research lab, nonprofit, or education organization that has high intellectual merit and the potential to move the needle in its respective field. For each product sold, Waterlust donates 10% of profits to these conservation partners.
Eye-Catching Designs Made from Recycled Plastic Bottles
waterlust.com / @abamabam
The company sells a range of eco-friendly items like leggings, rash guards, and board shorts that are made using recycled post-consumer plastic bottles. There are currently 16 causes represented by distinct marine-life patterns, from whale shark research and invasive lionfish removal to sockeye salmon monitoring and abalone restoration.

One such organization is Get Inspired, a nonprofit that specializes in ocean restoration and environmental education. Get Inspired founder, marine biologist Nancy Caruso, says supporting on-the-ground efforts is one thing that sets Waterlust apart, like their apparel line that supports Get Inspired abalone restoration programs.
"All of us [conservation partners] are doing something," Caruso said. "We're not putting up exhibits and talking about it — although that is important — we're in the field."
Waterlust not only helps its conservation partners financially so they can continue their important work. It also helps them get the word out about what they're doing, whether that's through social media spotlights, photo and video projects, or the informative note card that comes with each piece of apparel.
"They're doing their part for sure, pushing the information out across all of their channels, and I think that's what makes them so interesting," Caruso said.
And then there are the clothes, which speak for themselves.
Advocate Apparel to Start Conversations About Conservation
waterlust.com / @oceanraysphotography
Waterlust's concept of "advocate apparel" encourages people to see getting dressed every day as an opportunity to not only express their individuality and style, but also to advance the conversation around marine science. By infusing science into clothing, people can visually represent species and ecosystems in need of advocacy — something that, more often than not, leads to a teaching moment.

"When people wear Waterlust gear, it's just a matter of time before somebody asks them about the bright, funky designs," said Waterlust's CEO, Patrick Rynne. "That moment is incredibly special, because it creates an intimate opportunity for the wearer to share what they've learned with another."
The idea for the company came to Rynne when he was a Ph.D. student in marine science.
"I was surrounded by incredible people that were discovering fascinating things but noticed that often their work wasn't reaching the general public in creative and engaging ways," he said. "That seemed like a missed opportunity with big implications."
Waterlust initially focused on conventional media, like film and photography, to promote ocean science, but the team quickly realized engagement on social media didn't translate to action or even knowledge sharing offscreen.
Rynne also saw the "in one ear, out the other" issue in the classroom — if students didn't repeatedly engage with the topics they learned, they'd quickly forget them.
"We decided that if we truly wanted to achieve our goal of bringing science into people's lives and have it stick, it would need to be through a process that is frequently repeated, fun, and functional," Rynne said. "That's when we thought about clothing."
Support Marine Research and Sustainability in Style
To date, Waterlust has sold tens of thousands of pieces of apparel in over 100 countries, and the interactions its products have sparked have had clear implications for furthering science communication.
For Caruso alone, it's led to opportunities to share her abalone restoration methods with communities far and wide.
"It moves my small little world of what I'm doing here in Orange County, California, across the entire globe," she said. "That's one of the beautiful things about our partnership."
Check out all of the different eco-conscious apparel options available from Waterlust to help promote ocean conservation.
Melissa Smith is an avid writer, scuba diver, backpacker, and all-around outdoor enthusiast. She graduated from the University of Florida with degrees in journalism and sustainable studies. Before joining EcoWatch, Melissa worked as the managing editor of Scuba Diving magazine and the communications manager of The Ocean Agency, a non-profit that's featured in the Emmy award-winning documentary Chasing Coral.
Waterkeeper Alliance and 13 North Carolina Riverkeeper organizations have launched a new video campaign that captures the struggle of community members living with the impacts of industrial farm pollution.
The True Cost of Industrial Meat Production raises awareness of environmental injustices being perpetrated against North Carolina's most vulnerable populations and features powerful, first-hand accounts of community members, esteemed scientific experts and local people on the ground. This campaign shows the devastating impacts to public health, quality of life and local waterways caused by industrial animal agriculture.
The campaign is comprised of nine short videos:
This video campaign also expands on the recent landmark report and GIS initiative by Waterkeeper Alliance, North Carolina Riverkeeper organizations and Environmental Working Group that shows the location and waste outputs of more than 6,500 swine, cattle and poultry operations throughout North Carolina.
Despite U.S. Food and Drug Administration (FDA) scientific findings that the misuse of antibiotics in farm animals threatens human health from "superbugs," business will continue as usual.
Yesterday, in a 2-1 decision, the U.S. Second Circuit Court of Appeals ruled that the FDA does not need to consider banning the routine feeding of antibiotics to healthy animals despite the agency's findings that this misuse of antibiotics fundamentally threatens the effectiveness of medicines in both humans and animals.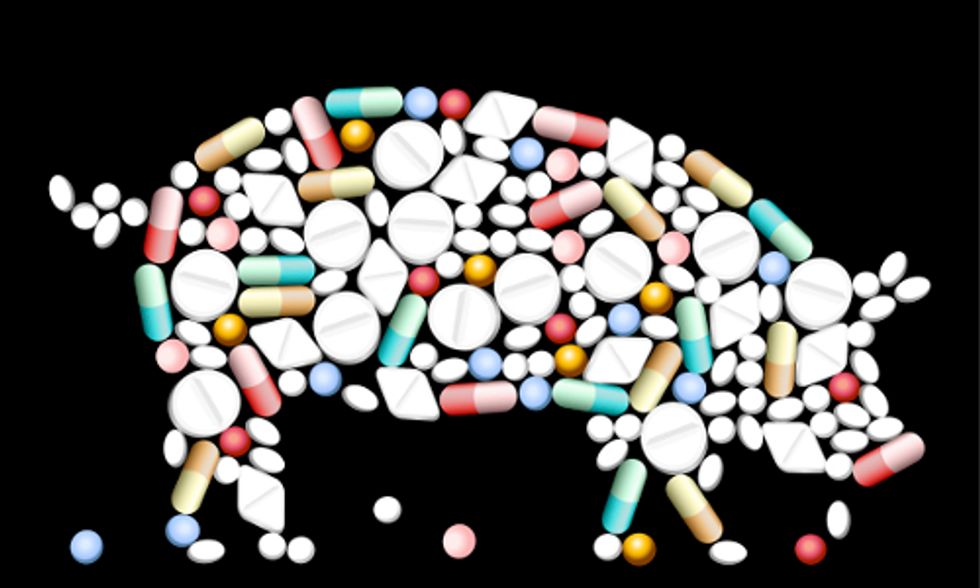 Photo courtesy of Shutterstock
"This decision allows dangerous practices known to threaten human health to continue," said Avinash Kar, attorney with Natural Resources Defense Council (NRDC). "Adding antibiotics to farm animals' feed, day after day, is not what the doctor ordered and should not be allowed."
The court's ruling overturned two 2012 district court rulings in cases brought by NRDC, Center for Science in the Public Interest, Food Animal Concerns Trust, Public Citizen and Union of Concerned Scientists. The earlier rulings directed the FDA to halt the regular use of penicillin and tetracyclines in animal feed for healthy animals until drug manufacturers could prove the safety of this practice.
Dissenting Judge Robert Katzmann said, "Today's decision allows the FDA to openly declare that a particular animal drug is unsafe, but then refuse to withdraw approval of that drug. It also gives the agency discretion to effectively ignore a public petition asking it to withdraw approval from an unsafe drug. I do not believe the statutory scheme can be read to permit those results."
The practice of feeding low doses of antibiotics to healthy livestock on factory farms is contributing to an increase in antibiotic-resistant bacteria, or superbugs, which is a growing public health concern.
The FDA released voluntary guidelines last December to address this non-therapeutic use of medication. A subsequent Food & Water Watch analysis revealed that 89 percent of antibiotic drugs that the guidelines advises against using to speed growth can still be given to healthy animals for other reasons—hence, the voluntary guidelines prove worthless.
"The misuse of antibiotics in food animal production contributes to the epidemic of antibiotic resistance in our hospitals and communities," said Robert S. Lawrence, MD, director of the Johns Hopkins Center for a Livable Future and a professor with the Johns Hopkins Bloomberg School of Public Health. "Today's decision is deeply disappointing because it allows voluntary guidelines to take the place of decisive action in confronting one of the most important public health problems of our time."
While the appeals court decision is disappointing to those working to keep antibiotics effective, their efforts continue. New York City Council Member Ben Kallos yesterday introduced Resolution 353 calling for a New York State and national ban on non-therapeutic use of antibiotics in livestock.
"American health is directly affected by the conditions on factory farms. Our government must enact basic rules to prevent disease and better some of the most dire practices of modern factory farms," said Council Member Kallos.
The resolution calls upon the U.S. government to pass two bills, the Preservation of Antibiotics for Medical Treatment Act (H.R. 1150) and the Preventing Antibiotic Resistance Act (S. 1256). These bills would reinstate what the district courts had ruled in favor of—drug manufacturers would have to prove non-therapeutic antibiotic use will not lead to antibiotic resistance in humans.
"Simply put, the rampant misuse of antibiotics on factory farms is putting the health of every American at risk. Since Congress has yet to protect our health with common-sense farm antibiotics regulations, cities and towns across the country are demanding action," said Eric Weltman, senior organizer with Food & Water Watch. "But no voice speaks louder than that of New York City, so when this resolution is passed, our leaders in Washington will surely take notice."
You Might Also Like
How Antibiotics Make Bad Bugs Stronger and Weaken Our Immune Systems
8 Scary Facts About Antibiotic Resistance
Cleveland Passes Resolution for Nationwide Ban on Misuse of Antibiotics on Factory Farms
Today, Food & Water Watch released a new public service announcement featuring Hollywood celebrities calling for legislation to end the abuse of antibiotics on factory farms. 
According to Food & Water Watch, an estimated 80 percent of antibiotics sold in the U.S. are used in the agricultural sector and most of them are routinely fed to animals to make them grow faster, leading to the creation of antibiotic-resistant bacteria. The Food and Drug Administration has known about the problem of antibiotics misuse since at least 1977, but has not required factory farms to stop this dangerous practice. 
The public service announcement features the following quotes from celebrities:
Raphael Sbarge: "Well known antibiotics are proving less and less effective every year, and people across America are starting to wonder why."  
Ed Begley, Jr.: "According to the Centers for Disease Control, 23,000 Americans die each year because of these superbugs."
Lance Bass: "Even if you don't eat meat, or live near a factory farm, the failure of antibiotics impacts you."
Frances Fisher: "As long as big agribusiness and pharmaceutical companies can turn a profit pumping animals with antibiotics, these superbugs will continue to grow."
All celebrities in the video are board members of the Environmental Media Association.
"Powerful industries are using their political power to weaken any attempt at regulation, despite scientific evidence that factory farms are contributing to the ineffectiveness of antibiotics," said Food & Water Watch Executive Director Wenonah Hauter. "Factory farms aren't just dirty—they are literally a public health hazard, and we need legislation to protect these lifesaving medicines for the rest of us."
--------
YOU MIGHT ALSO LIKE
Will Free Trade Agreements Allow Chlorinated Canadian Beef to Be Exported to Europe?
Agriculture at a Crossroads: How Food Systems Affect Biodiversity
Big Food Freaking Out About 'Fed Up' 
-------- 
Today's large-scale industrial agriculture relies heavily on Confined Animal Feeding Operations (CAFOs) that house large numbers of livestock in cramped quarters. As has been well documented, violations and questionable—even illegal—practices seem to run rampant on factory farms, the consequences of which have a negative impact on public health and the environment.
Center for Food Safety (CFS) has worked for years to bring these issues to light and this week they released a digital map of the CAFOs in the state of Michigan. According to CFS, the map—which will serve as a model for other states—includes the location and size of animal factories, as well as environmental violations, type of manure storage, nearby rivers and waterways, nearby schools, federal subsidies and other information.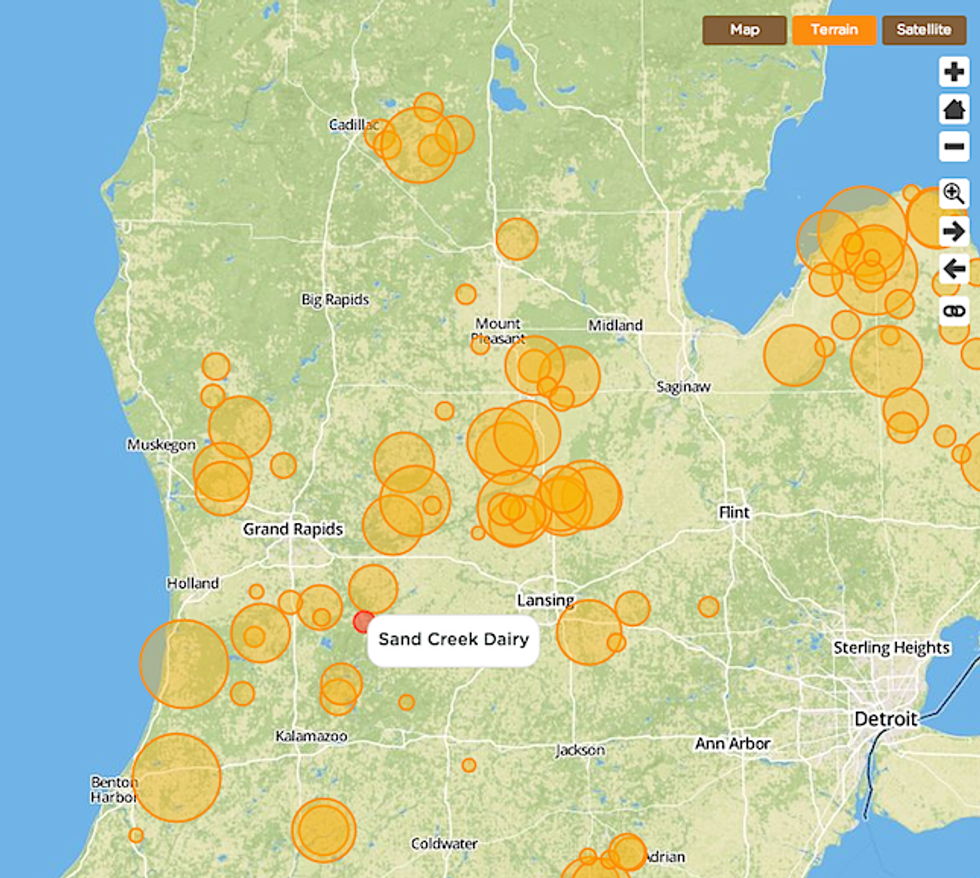 "This map helps put these factories into the context of the communities they impact," said Paige Tomaselli, senior attorney for CFS. "The industrial meat industry is trying to keep consumers in the dark, but these massive operations have significant impacts on the environment and overall health of a community. This map is designed to be a tool to help consumers and residents understand how these animal factories impact their lives." 
Massive amounts of excrement produced in these facilities have been found to contaminate drinking water and cause air pollution. Manure decomposition produces more than 160 gases—including pollutants and irritants like hydrogen sulfide, ammonia, carbon dioxide, methane and carbon monoxide. The Centers for Disease Control and Prevention recognize that "the closer children live to a CAFO, the greater the risk of asthma symptoms," yet CAFO air emissions are largely unregulated.
Nitrogen and ammonia from excrement put both the environment and human health at risk. CFS points out that nitrogen can lead to blue baby syndrome (a serious heart condition in newborn babies), while other bacteria and viruses can cause public health crises. It is estimated that more than one million Americans access groundwater that is moderately to severely contaminated by nitrogen.
"We hope that this new tool allows more communities who have been adversely impacted by these behemoth operations to take a stand. Access to accurate information is a vital first step," said Tomaselli.
CAFO water pollution can be toxic to fish and other wildlife. In the Gulf of Mexico, nutrient-rich water from the Mississippi River basin empties into the Gulf and causes toxic algal blooms. Nutrients, like nitrogen and phosphorus, are used to fertilize gardens and crops, but create aquatic "deadzones," in which excess nutrients choke out oxygen in the water and create an environment that does not support aquatic life. Last year the deadzone covered 5,840 square miles—an area the size of Connecticut.
--------
YOU MIGHT ALSO LIKE
FDA Regulation of Antibiotic Use on Factory Farms Proves Worthless
Colorado Governor Under Fire for Backing Controversial Factory Farms
Too Big to Fail Organic? Horizon Factory Farm Accused of Skirting Laws
--------
In an open letter published today and addressed to U.S. Department of Agriculture (USDA) National Organic Program chief, Miles McEvoy, the Cornucopia Institute accused the regulatory agency of abdicating its enforcement responsibilities. Cornucopia, an organic industry watchdog, charged that the USDA had allowed Dean Foods and its WhiteWave subsidiary to, allegedly, operate a giant factory farm dairy that has been illegally disadvantaging the nation's family-scale dairy producers.
The Cornucopia Institute also filed, on Feb. 10, its third formal legal complaint alleging Dean/WhiteWave's giant industrial dairy, located in Paul, ID, has continued to operate illegally.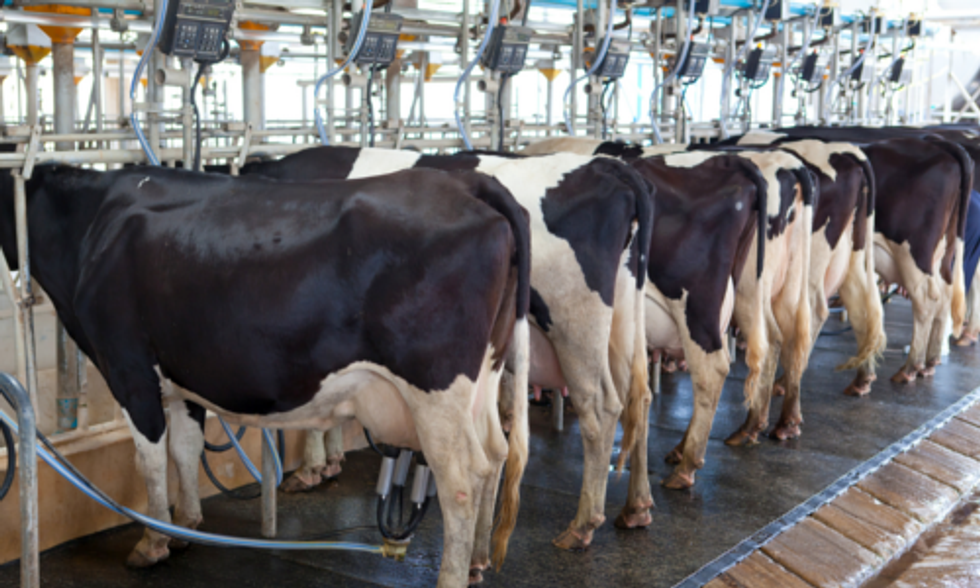 "We're hoping that third time's a charm," said Cornucopia's Senior Farm Policy Analyst, Mark Kastel.
Prior complaints have resulted in the decertification and/or downsizing of a number of other certified organic Concentrated Animal Feeding Operations (CAFOs) in the organic dairy sector, milking up to 10,000 cows each. Cornucopia has suggested that Dean Foods, with its heavy investment in federal election financing and strong lobbying presence in Washington, has "indemnified" the agribusiness giant from judicious enforcement.
"Just as we have banks that have become 'too big to fail,' in organics we see Dean Foods and WhiteWave (recently spun-off in 2013 through an IPO on Wall Street)—one of the largest industry participants and the kingpin in the powerful Organic Trade Association—repeatedly and successfully flashing their 'get out of jail free card' purchased by influence peddlers in Washington," Kastel explained.
Originally managing more than 8,000 head of cattle and thousands of acres of land in an arid region of Southern Idaho, Dean/WhiteWave's dairy—providing milk for the Horizon Organic label—was accused by Cornucopia, starting in 2005, of confining cattle in pens and buildings instead of providing access to pasture and grazing as federal organic law requires.
Cornucopia claims that their use of these allegedly illegal techniques resulted in millions of dollars of "ill-gotten gains" by catapulting the Horizon label into not only the largest brand in the organic dairy sector, but the largest brand, by dollar volume, in the entire organic industry.
Although the dairy in recent years reduced the number of cows it was managing, and added—for the first time—some amount of pasture, it also increased the number of times the cows were being milked from twice a day to three and even four times a day.
"Properly managing an organic dairy farm by moving the herd to fresh pasture after each twice-per-day milking becomes more and more difficult as herd size gets larger," said Kevin Engelbert, a certified organic dairy farmer from Nichols, NY. "If a farm gets to the point of milking thousands of cows, 24 hours a day, the logistics of getting the herd from the milking facility to fresh grass, legitimately grazing—as required by law—becomes impossible."
Recent interviews with dairy staff by Cornucopia investigators suggest that, to promote extremely high levels of milk production, the Horizon farm management prevented the cows from being put out on pasture between some of the milkings, and when they were out, made sure their bellies were already full of high-production rations (TMR feed) eaten in the barn.
Meanwhile, a select group of "fresh, high producing cows," being milked four times a day, were being entirely confined until their production levels dropped.
The reported level of milk production from the herd supplying Horizon Organics is seen on conventional CAFO dairies, but is very uncharacteristic of legitimate family-scale organic dairies.
"The cows were either prevented from going out and grazing, or if they did go out on pasture they probably didn't eat much fresh grass but instead lay down and chewed their cud, digesting the ration already eaten in the barn," Kastel surmised.
The federal regulations explicitly require all livestock to have access to the outdoors and, specifically, ruminants (including dairy and beef cattle, sheep and goats) to have access to high quality pasture. 
"There are regulatory provisions allowing a farmer to 'temporarily' confine animals if letting them out on pasture would jeopardize their health or cause environmental problems," Kastel explained. "But nowhere in the standards do they allow confinement because moving thousands of cows back and forth to fresh grass would cut into milk production."
This past December, after WhiteWave announced to its shareholders a $7.4 million write-down of the asset, it sold its corporate-owned industrial dairy to private investors in Idaho, although its Horizon brand continues to purchase its milk output.
"There is no statute of limitations in terms of enforcing federal organic standards," said Kastel. "We are asking the USDA to reopen our original complaints and fully investigate our new allegations that the cows on this dairy produced unreasonable amounts of milk based on skirting the requirement that they be fully grazed."
In 2008 the dairy publication The Milkweed published test results comparing brands of organic milk for nutritional compounds that make the milk healthier and are indicative of the amount of grazing time cattle are provided. The top-rated brand was Cedar Summit, distributing milk in Wisconsin and Minnesota. The lowest was Aurora Organic Dairy, an organization based in Colorado depending exclusively on factory farms and supplying private-label organic milk to Walmart, Costco, Target and other chains. One notch up from the bottom was the Horizon brand.
"WhiteWave continues to purchase milk from giant factory dairies in addition to many family farmers. WhiteWave's family farm suppliers are, we believe, just as ethical as the farmers supplying other brands," Kastel affirmed. "But the Horizon brand depends on giant CAFOs, milking thousands of cows each, for a large percentage of their production and that impacts the quality and nutritional value of all their products."
"Small organic dairies nationwide have struggled with drought, flooding and oppressive heat. Still, we have pastured our cattle as required by the National Organic Program (NOP)," said Jim Goodman, who milks 45 cows near Wonewoc, WI. "We have provided a product that consumers expect when they buy organic and we make it work economically—without cutting corners."
"If factory farm organic dairies are unwilling or unable to meet the NOP's pasture provisions," Goodman said, "then perhaps it is time they are notified that their continued noncompliance to the National Organic Standards has gone on too long and they should seek a non-organic market for their milk."
Visit EcoWatch's FOOD page for more related news on this topic.

By Alexis Baden-Mayer and Katherine Paul 
There are plenty of reasons to boycott milk from factory farms, beginning with your own health. Dairy cows raised on grass pastures produce milk that is higher in omega-3 fats, vitamin E and beta-carotene than milk from cows raised on grain. Milk from grassfed cows also contains five times as much conjugated linoleic acid, an unsaturated fat which protects against heart disease, aids in weight loss and may prevent cancer and diabetes, than milk from grain-fed cows.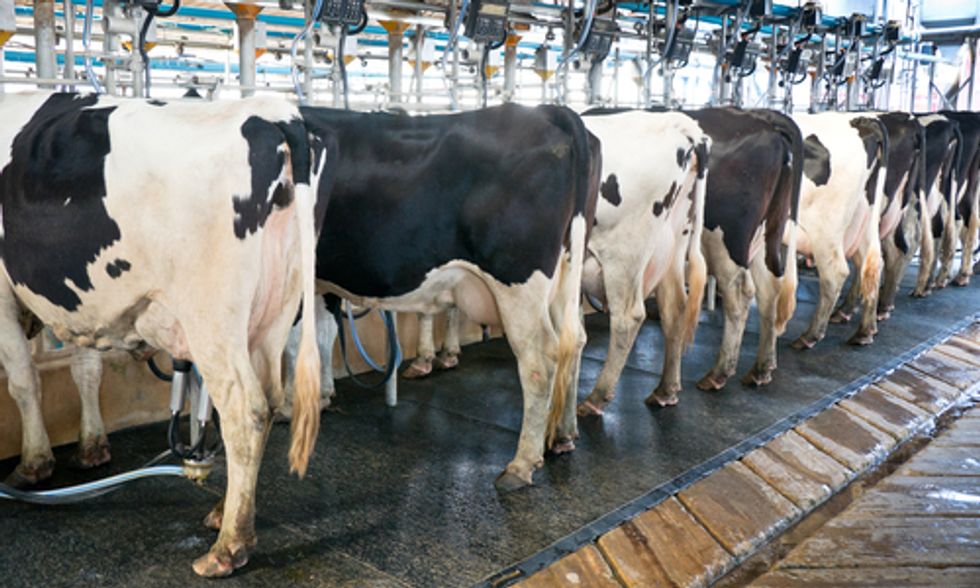 Photo courtesy of Shutterstock
Milk from factory farms, or Confined Animal Feeding Operations (CAFOs) that comes from cows raised on genetically engineered grains and pumped full of antibiotics and growth hormones—not exactly a recipe for healthy milk.
But it's not just your health that benefits when you boycott milk from factory farms. Industrial dairy farms, with their endless streams of waste, are a public health risk. Just one dairy-producing state, Wisconsin, produces cow manure in quantities equivalent to the human waste produced by the combined populations of Tokyo and Mexico City. New Zealand has a name for it: dirty dairying. And according to a Natural Resources Defense Council fact sheet, manure from dairy cows contaminated Milwaukee's drinking water with Cryptosporidium in 1993, killing more than 100 people, making 400,000 sick and resulting in $37 million in lost wages and productivity. Water contamination from dairies can also cause blue baby syndrome and miscarriages. 
As for the health and well-being of the dairy cows that produce your milk, despite the pretty pictures of happy, grazing dairy cows on milk cartons and company websites, cows raised on factory farms endure intense, sustained cruelty. And most are eventually slaughtered for meat. 
According to 2007 data provided by the U.S. Department of Agriculture (USDA), factory farms produce more than 80 percent of milk sold in the U.S. Organic milk sales account for only four percent of the market. The best way to shift those percentages is for consumers to boycott the industrial milk machine, and force the market to produce more alternatives. 
Here are some basic guidelines to get started:
Buy USDA certified organic milk, but read the label.
The best organic milk available nationwide in stores is from grassfed cows or goats. It doesn't contain artificial vitamins, nutrients created through mutagenesis, or synthetic ingredients. Organic Consumers Association (OCA) recommends Organic Valley's Whole Milk Grassmilk.
The organic milk with the highest level of animal welfare comes from Animal Welfare Approved farms. Unfortunately, few farms are certified to this standard.
Unpasteurized milk is more nutritious than pasteurized milk, but buying raw milk is illegal in most places.
Going vegan is the surest way to boycott factory farms. The best non-dairy milk is organic hemp milk. OCA recommends Manitoba Harvest's Hemp Bliss. 
Organic trumps non-organic, but "grassfed" trumps "pasture-raised"
Buying certified organic milk is a good way to avoid the worst aspects of factory farms. Organic standards don't allow the routine, preventive use of antibiotics. Farmers have to give sick dairy cows antibiotics if they need them, but they can't sell their milk as organic until the antibiotics have left the animal's system. That means organic dairies aren't contributing to the public health crisis that's causing 23,000 people in the U.S. to die every year from antibiotic-resistant bacteria. 
Organic standards for milk also don't allow the use of the genetically engineered growth hormones rBGH or rbST, which are associated with lower nutritional value, and higher levels of pus and IGF-1, a growth factor linked to cancer. Organic standards also don't allow the cows to be raised on genetically engineered feed, which means the animals don't suffer from the deformities, sickness and deaths common in animals raised on genetically engineered grains. 
So to avoid milk from factory farms, the first step is to go organic. But not all organic milk is created equal. You'll also want to look for "grassfed organic," which has a number of advantages over "pasture-raised" organic. 
It's safe to say that all organic dairy cows are "pasture raised." Organic rules for pasture-raised set a minimum standard requiring cows to get at least one-third of their diet from grazing on pasture for at least one-third of the year. You'll need to read the claims made on the milk carton and on dairy brand websites carefully to see if they're meeting or exceeding the organic pasture requirements.
If your organic dairy farm doesn't make any claims beyond "pasture raised," then you can expect that it's just meeting the minimum standard. Horizon Organic and the store-brand organic milks fall into this category. For a review of organic milk brands across the country, check out the Cornucopia Institute's Organic Dairy Ratings. The report is a little out of date—it's from 2008, before the organic pasture rules were finalized—but it's useful to know which brands have been doing the right thing all along. 
Milk from dairy cows that are "grassfed" is superior to milk from "pasture-raised" cows. Under the USDA's definition of "grassfed," dairy cows must be raised on grass and forage exclusively, for their entire lifetimes. That means a higher quality of milk. So look for "grassfed" on the label. But also know that while the "pasture-raised" claim must be verified by a third-party certifier, verification of the grass fed claim is voluntary. 
Organic Valley is the first brand to distribute nationally a 100-percent grassfed milk, called Grassmilk. The OCA encourages consumers to choose Grassmilk over "pasture-raised" organic. But we would also like to see Organic Valley take the extra step of earning a "USDA Process Verified," an "American Grassfed," or a Food Alliance Certified "Grassfed," seal, any of which would serve as verification of the brand's claim that all of its cows meet the USDA's definition of "grassfed."
Organic, yes, but read the label
We also recommend Organic Valley's Grassmilk because it doesn't contain Arachidonic Acid (ARA) and Docosahexaenoic Acid (DHA). Both of these synthetic nutrients are currently allowed in milk that has been certified organic, even though they aren't on the U.S. Food & Drug Administration's (FDA) list of essential vitamins and nutrients, and they haven't yet been added to the National Organic Program's (NOP) list of allowed non-organic substances. (ARA and DHA remain in legal limbo as Obama's USDA tries to clean up the mess left by the Bush Administration. One of the strongest arguments against ARA and DHA has been dismissed by the NOP: that they were created through mutagenesis, a genetic modification technique that can have the same dangerous unintended effects as genetic engineering. Earlier this year, the NOP announced that mutagenesis is allowed in organic as a classical breeding technique.)
If you want to avoid DHA, don't choose Horizon Organic milk. The label says it contains DHA Omega 3, which the company claims "supports brain health." A consumer lawsuit alleging this claim is false and misleading is pending.
Other reasons to read the label on organic milk? Organic standards allow Vitamins A, C, K, D, E, thiamin, riboflavin, niacin, B6, B12, biotin, folate, pantothenic acid, calcium, iron, phosphorus, magnesium, zinc, iodine, copper, potassium, selenium, manganese, chromium, molybdenum and chloride in certified organic milk. Synthetic versions of some vitamins also are allowed in organic. Whole milk is not required to be supplemented with vitamins, but two percent and skim milk are. Organic Valley's two percent and skim Grassmilk contain Vitamin A Palmitate and Vitamin D3, both synthetic. 
One thing the USDA certified organic symbol won't guarantee? That the cows that produced your organic milk were humanely treated. So in addition to checking labels for "grassfed" and non-synthetic versus synthetic vitamins, look for products that are Animal Welfare Approved (AWA), in addition to USDA Organic. AWA standards prohibit inhumane practices that are allowed in organic, like dehorning. To check for products in your area, click here. 
Raw milk and goat milk rarely come from factory farms
Raw milk and goat milk rarely come from cows raised in factory farm-like conditions. And there's a case to be made that both provide health benefits over and above grassfed organic milk from cows.
Natural health guru and OCA ally Dr. Joseph Mercola warns against pasteurized milk of any kind. According to Mercola, "once milk has been pasteurized it's more or less 'dead,' and offers little in terms of real nutritional value to anyone," because important enzymes and proteins are destroyed by the pasteurization process.
Raw milk from grassfed cows contains every important digestive enzyme. Not so for pasteurized milk. According to Mercola, the pasteurization process destroys lactase, which is necessary for the assimilation of lactose; galactase, required for the assimilation of galactose and phosphatase which helps the body assimilate calcium. This is why pasteurized milk is difficult to digest, which places stress on the pancreas, which can lead to diabetes and other health problems. 
What about goat's milk? Is it a healthier choice? Does it guarantee humane treatment of the animals?  Prevention magazine compared the nutritional value of goat's milk to cow's milk and declared a tie. 
As for buying goat's milk in order to boycott factory farms, livestock Rancher, lawyer and author, Nicolette Hahn Niman says, "There is no such thing as a goat factory farm." But that doesn't mean that goats can't be confined or treated cruelly. An investigation by the U.K. group, Viva, revealed industrial-style milking parlors and cramped conditions at goat farms. So again, if your goal is to avoid milk from factory farms, you'll want to check the source, even if you're buying goat's milk.
If in doubt, go vegan
One way to guarantee that you aren't buying milk from a factory farm is to go vegan. That means finding a vegan, non-dairy alternative to milk from cows or goats. Start by looking for non-dairy milk that is organic, free of synthetic ingredients, high in nutrition and is not made from soy (which is likely to be genetically engineered), or rice (which probably contains arsenic).  
We recommend Manitoba Harvest's Hemp Bliss. But there's a catch. It's no longer sold in the U.S. You can buy direct online, but as the website explains, "due to product freezing" it can't be shipped (it comes from Canada) from November 1 through April 15. If you weren't able to stock up on Hemp Bliss before the snow started falling, there's an easy alternative: 
Simply Hemp, a dry hemp milk mix ready for the blender. (Learn more about hemp's nutrition here). 
Al Gore recently made headlines with his decision to go vegan. While he hasn't said so publicly, it's likely that his dedication to solving the problem of climate change contributed to his decision. As Ben Adler says in his recent article, "Al Gore is a vegan now-and we think we know why," a new National Academy of Sciences study shows that U.S. methane emissions from the factory farming of animal products may contribute as much to climate change as the entire U.S. transportation industry. According to a report by the United Nations Food and Agriculture Organization, the global dairy industry's share of total greenhouse gas emissions at four percent.
Whatever your motivation—your health, public health or concerns about animal welfare or climate change—there are alternatives to buying milk from industrial CAFOs. Check sources and brands, and read labels, carefully. And if you're dining out, avoid milk products completely, unless the restaurant can at a minimum, guarantee that all its milk products are certified organic.
Visit EcoWatch's FOOD page for more related news on this topic

Many of us who get the flu this winter will demand antibiotics from our doctors. And hopefully, your doctor will turn you down.
Antibiotics, which kill bacteria, don't cure the flu. That's because the flu is caused by a virus, not bacteria. So your doctor would be prescribing an unnecessary drug.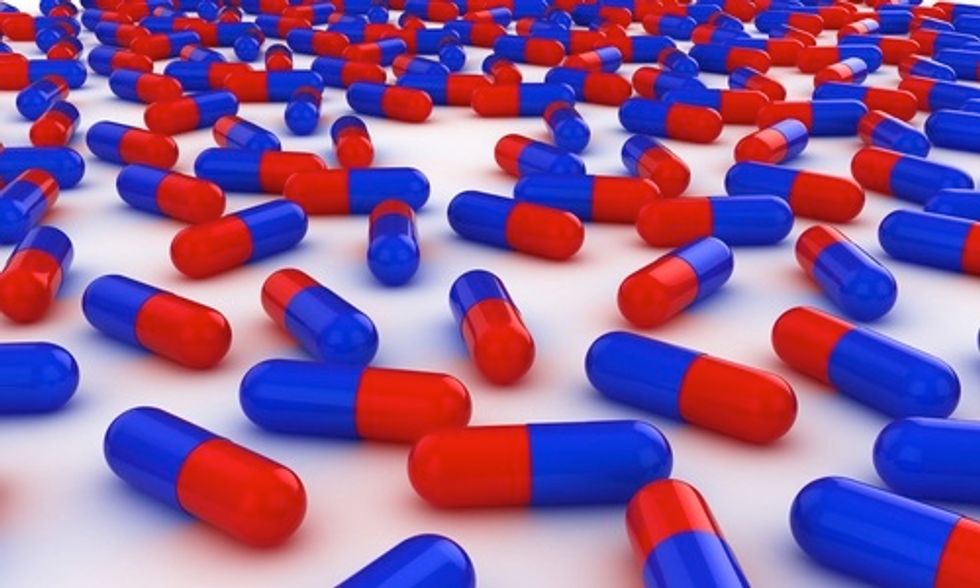 Shutterstock
But in a broader sense, your doctor's refusal to prescribe you antibiotics for the flu would do us all a favor. That's because unnecessary antibiotic use renders the drug ineffective for when it's really needed.
This threat is growing. In a recent Medium article, Wired science blogger Maryn McKenna describes a disturbingly plausible picture of a world in which antibiotics have become markedly less effective. That future is the focus of McKenna's interview this week on the Inquiring Minds podcast:
"For 85 years," McKenna explains on the show, antibiotics "have been solving the problem of infectious disease in a way that's really unique in human history. And people assume those antibiotics are always going to be there. And unfortunately, they're wrong."
Here are some disturbing facts about the growing problem of antibiotic resistance, courtesy of Mother Jones:
1. In the U.S. alone, 2 million people each year contract serious antibiotic-resistant infections and 23,000 die from them.
These figures comes from a new report from the U.S. Centers for Disease Control and Prevention (CDC) on antibiotic resistance that, for the first time, uses a blunt classification scheme to identify "urgent," "serious," and "concerning" threats from drug-resistant bacteria. The CDC lists three urgent threats: drug-resistant gonorrhea, drug-resistant "enterobacteriaceae" such as E. Coli, and Clostridium difficile, which causes life-threatening diarrhea and often is acquired in hospitals. Clostridium difficile kills at least 14,000 people a year.
2. We've been warned about antibiotic resistance since at least 1945. We just haven't been listening.
Scientists have known that resistance is a danger since antibiotics were discovered. Alexander Fleming himself, who discovered penicillin, warned us as early as 1945 that antibiotics could lose their effectiveness. His eerily prescient 
Nobel Prize speech
 cautions "there may be a danger, though, in underdosage [of penicillin]. It is not difficult to make microbes resistant to penicillin in the laboratory by exposing them to concentrations not sufficient to kill them and the same thing has occasionally happened in the body. The time may come when penicillin can be bought by anyone in the shops. Then there is the danger that the ignorant man may easily underdose himself and by exposing his microbes to non-lethal quantities of the drug, make them resistant."
3. Antibiotic-resistant strains of bacteria are on the rise.
Clearly, antibiotic resistance is not new. Nonetheless, the frequency of antibiotic resistance events is increasing. For example, from 1980 to 1987, cases of penicillin-resistant Streptococcus pneumoniae (the bacteria that causes pneumonia) remained steady at about 5 percent of all strains. By 1997, 44 percent of strains were showing resistance. Similarly, Enterococci bacteria can cause urinary tract infections and meningitis, among other diseases), and in 1989, fewer than 0.5 percent of strains found in hospitals were resistant to antibiotics. Four years later that number was at 7.9 percent, and by 1998, some hospitals reported levels as high as 30 percent to 50 percent. "The more antibiotics are used, the more quickly bacteria develop resistance," says the CDC.
4. There has been a steady decline in Food and Drug Administration (FDA) approvals for new antibiotics.
Even as more bacteria are becoming resistant and our treatments are becoming less effective, we're also producing fewer new drugs to combat infections. 
Why has this happened? "There's a kind of curve to antibiotic development," says McKenna, noting there was a boom in the 1950s, when Eli Lilly collected samples of biological materials from all over the world to capture antibiotic properties in natural substances. By the 1980s, much of the low-hanging antibiotic fruit had been harvested. Now, the development of new treatments is becoming increasingly difficult and costly, even as pharmaceutical companies are cutting research and development budgets and outsourcing drug discovery more and more. "The faucet from which [antibiotics] come has been turned down and down and down and now it's just a drip," McKenna says.
5. Up to half of all antibiotic prescriptions either aren't needed or are not effective.
A huge part of our problem is that we're misusing and abusing antibiotics. "Resistance is a natural process," says McKenna, but "we made resistance worse by the cavalier way that we used antibiotics, and still use them." Sick patients pressure their doctors for drugs, and doctors too often yield and dash off a script. A recent study found that doctors prescribed antibiotics 73 percent of the time for acute bronchitis, even though, as Mother Jones' Kiera Butler reports, antibiotics are not recommended at all for this condition.
Almost one in five emergency room visits resulting from adverse drug events are caused by antibiotics, the CDC says. Children are the most likely victims. Although antibiotics are generally safe, they can cause allergic reactions and also can interact with other drugs, harming patients who are vulnerable because they already suffer from other medical conditions. So if we stop over-prescribing antibiotics we'd also lessen adverse drug effects.
6. It's not just human medical misuse—a large volume of antibiotics is inappropriately used in livestock.
Antibiotics are heavily used in the agricultural industry—more antibiotics are used to treat animals than to treat people. While livestock drugs are used to fight infections, they are often fed to animals in smaller doses to encourage weight gain and growth—a practice, the CDC says, that is "not necessary" and "should be phased out." A recent draft document from the FDA similarly states that "in light of the risk that antimicrobial resistance poses to public health, the use of medically important antimicrobial drugs in food-producing animals for production purposes does not represent a judicious use of these drugs." For now, though, the FDA's approach to curbing this threat has been limited to issuing voluntary guidelines.
7. Before antibiotics, death rates were much higher from very common occurrences like skin infections, pneumonia and giving birth.
In her Medium article, McKenna gives some disturbing stats. Before antibiotics, just giving birth could be deadly: Five out of every thousand women who had a baby died. Pneumonia killed 30 percent of its victims. And "one out of nine people who got a skin infection died, even from something as simple as a scrape or an insect bite." If we run out of antibiotics, our future looks rather bleak.
8. The next major global pandemic may involve an antibiotic-resistant superbug.
"Plagues still really have power and almost a hundred years later, we shouldn't think that we're immune to them because we're not," warns McKenna. For instance, tuberculosis kills more than a million people a year, and it is becoming increasingly drug-resistant, says the World Health Organization.
Bacteria poses a threat even with viral infections. Viruses can weaken our immune systems just enough to allow bacteria to take hold. Death results from secondary bacterial infections that, at least until recently, were largely curbed by effective antibiotics.
So are we doomed to recede back into a time when infections were the most significant health threat that our species faced? 
According to McKenna, it is unclear whether we can fully curb antibiotic overuse. The better approach is to get the drug industry research engine firing again. "There's a really active discourse around what's the best way to get pharmaceutical companies back into manufacturing antibiotics," she says.
Our future, then, once again lies in the hands of scientists, whose quest to find new treatments for drug-resistant bacteria is now of the utmost importance.
Visit EcoWatch's HEALTH page for more related news on this topic.

Factory farms, where large numbers of livestock are raised indoors in conditions intended to maximize production at minimal cost, affect all of us.
Huge meat companies have steadily driven down the prices farmers receive for the livestock they raise, forcing farmers to get big or get out. Small farms have been replaced by factory farms that pollute nearby air and water, undermine rural economies and reduce the quality of life for neighbors.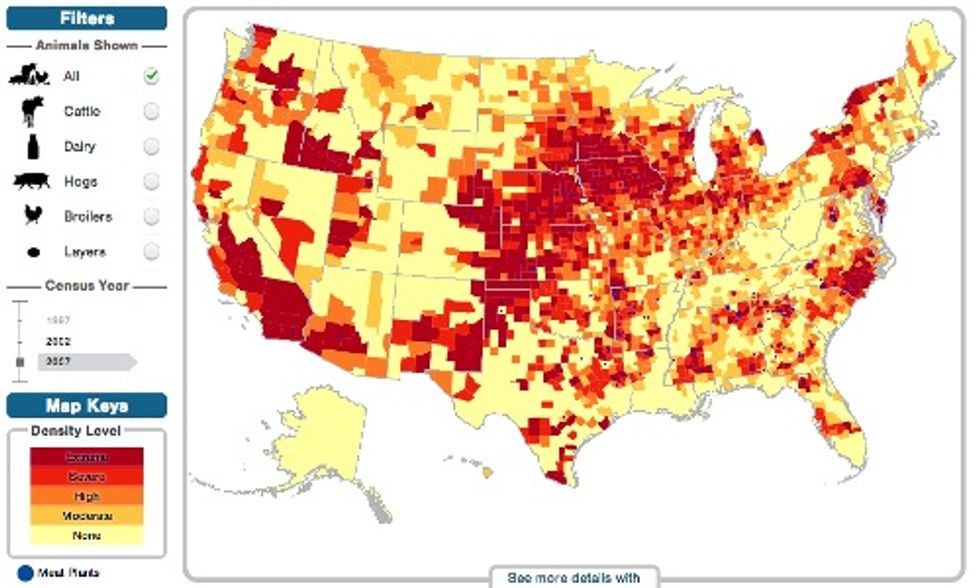 The meat industry tells consumers that factory farms are modern, efficient and produce cheap food. But factory farms leave consumers with fewer choices and make them pay more for meat, poultry and dairy products, while farmers get paid less.
Factory farms increase the risk of pathogens like E. coli and salmonella that cause food-borne illness in people. And bad practices on even a few factory farms can end up on everyone's plate.
Food-borne illness isn't the only health threat from factory farms. Overuse of antibiotics can fuel the growth of antibiotic-resistant bacteria, the use of arsenic and growth hormones can increase the risk of cancer in people and crowded conditions can be a breeding ground for disease.
Chickens and hogs on factory farms have no access to the outdoors, fresh air or natural light. Cattle on factory farms do not graze on pasture. And the pressure put on animals to grow quicker and produce more meat or milk results in frequent health problems.
An interactive Factory Farm Map, a project of Food & Water Watch, gives the details on livestock operations down to the county level. Click on a state in the map and choose a county to learn the number of animals—whether cattle, dairy, hogs, broilers or layers—and the average per site over several years. The map has a key to show where the animal density levels are highest and you can filter the information for types of livestock. Below the map, you can choose a state for charts, rankings and facts specific to that area.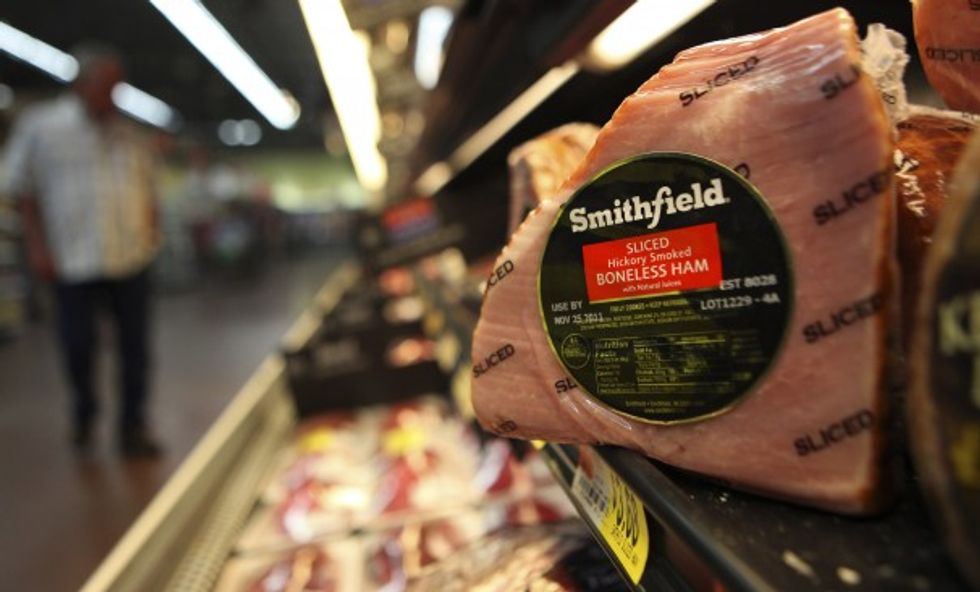 A letter addressed to members of the Committee on Foreign Investment in the U.S. was delivered today by a broad coalition of farm, community and consumer organizations, urging the members to recommend that the Obama Administration reject the proposed Shuanghui International Holdings, Ltd. acquisition of Smithfield Foods.
The significant risks of a Shuanghui takeover of Smithfield is far-reaching. From food security to consumer safety, farming economies and national security, the letter analyzes numerous concerns.
"The White House should reject the sale of America's food supply," said Tim Gibbons with the Missouri Rural Crisis Center. "This proposed acquisition is a prime example of how expanded corporate consolidation in agriculture has gone too far, resulting in lack of markets for independent producers and damaging effects on our rural economies and country. The Smithfield purchase turns over American farms to a consolidated, globalized meatpacking industry that leaves rural communities to clean up the waste while China gets the meat."
According to Food & Water Watch, Missouri Rural Crisis Center and National Family Farm Coalition, Shuanghui's purchase of Smithfield would transfer ownership of a company that controls more than a quarter of American pork production and buys or contracts a quarter of U.S. hogs.
"U.S. farmers already sell livestock on a concentrated market where they often cannot get fair contract terms or receive fair prices and this cross-border takeover will worsen the conditions farmers face," said Ben Burkett, Mississippi farmer and president of the National Family Farm Coalition.
The proposed deal is expected to shift Smithfield pork production towards exports to feed the Chinese market, which would likely significantly increase retail pork prices for American consumers. It would make many U.S. hog producers dependent on a foreign firm for hog contracts and prices.
According to Earth Policy Institute, half the world's hogs—more than 470 million of them—live in China, and has been a net importer of pork for the past five years. China also already buys more than 60 percent of the world's soybean exports to feed to its own livestock. While meat consumption in the U.S. has fallen more than five percent since peaking in 2007, Chinese meat consumption has leapt 18 percent, from 64 million to 78 million (metric) tons—twice as much as in the U.S.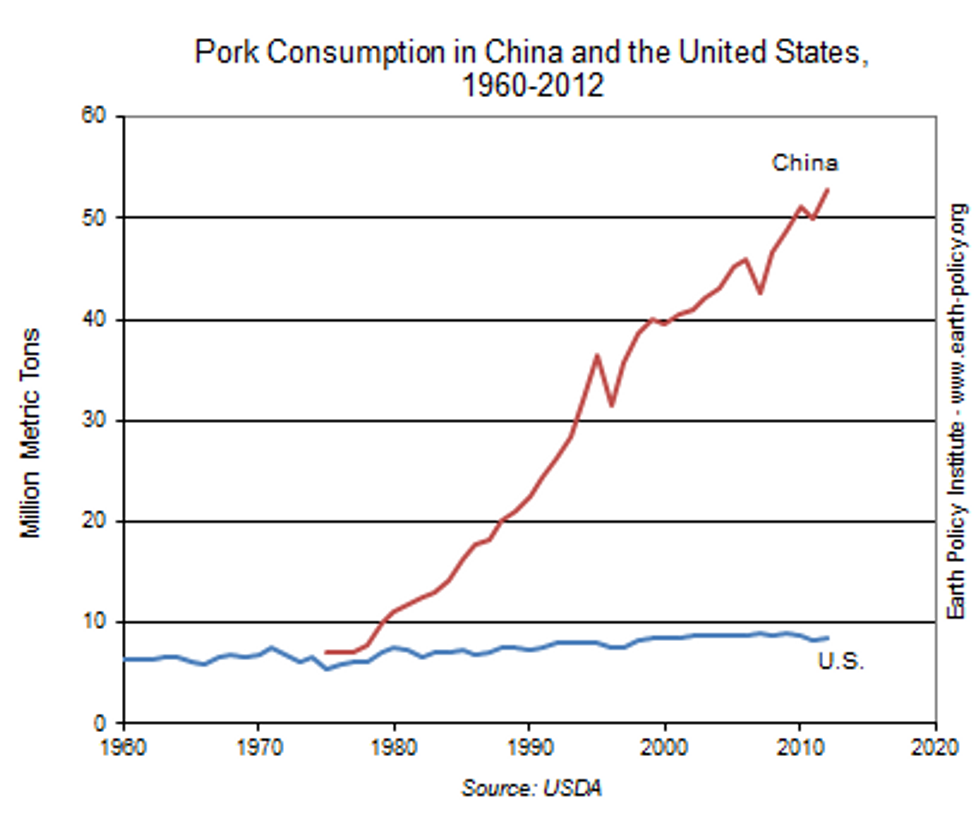 The letter also details threats to U.S. food safety. The Chinese firm operates in one of the most notoriously lax food safety systems in the world, and the management culture clashes between Shuanghui and Smithfield could weaken the safety at Smithfield's U.S. plants.
Shuanghui would eventually want to export pork products to the U.S., which would expose U.S. consumers to the host of food safety scandals that plague the Chinese food system.
"As recently as 2011, Shuanghui managers were sentenced to prison for allowing illegal veterinary drugs into the pork supply in China and we don't want to expose American consumers to such indifferent food safety standards," said Food & Water Watch Executive Director Wenonah Hauter.
"If Shuanghui eventually exported bacon, sausage or ham to the United States under the well-known Smithfield brands like Armour or Gwaltney, American consumers would not even know, because processed pork is exempt from country of origin labeling," Hauter concluded.
The letter was delivered to the Cabinet Secretaries that make up the Committee on Foreign Investment in the U.S. on the eve of the U.S. Senate Agriculture Committee oversight hearing into the proposed acquisition of Smithfield.
It was signed by Campaign for Contract Agriculture Reform, Coalition for a Prosperous America, Center for Rural Affairs, Contract Poultry Growers Association of the Virginias, Food & Water Watch, Iowa Citizens for Community Improvement, Land Stewardship Project, Missouri's Best Beef Co-Operative, Missouri Farmers Union, Missouri Rural Crisis Center, National Family Farm Coalition, National Farmers Union, Nebraska Farmers Union, Organization for Competitive Markets, Rural Advancement Foundation International—USA, R-CALF USA and Western Organization of Resource Councils.
Visit EcoWatch's FACTORY FARMING and FOOD pages for more related news on this topic.
——–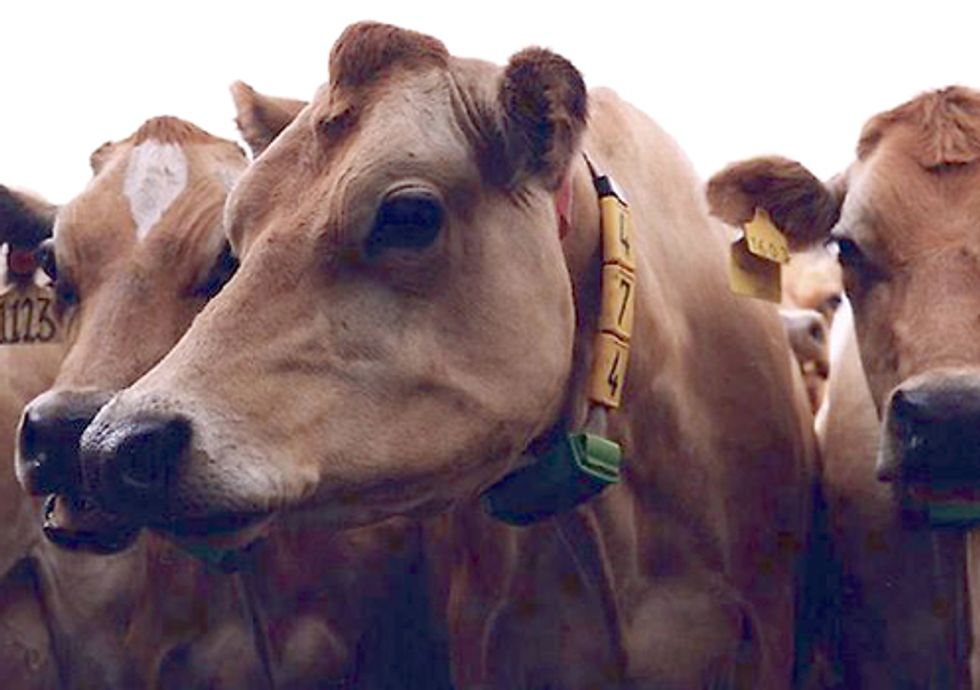 By Wenonah Hauter
The Wall Street Journal reports that China is importing 100,000 heifers—25 ships' worth—to boost domestic dairy production in the wake of melamine and other milk-powder scandals that have decimated China's relatively small dairy industry since 2008.
Where to begin? There are so many problems with this scenario, but here are just five reasons why this is a terribly bad idea:
1) The cows are destined for factory farms. China may be importing the cattle from Uruguay, Australia and New Zealand, but they are importing the model for factory farming from the U.S. The animals' long nightmare starts on a harrowing journey overseas in ships, where they are confined tightly and face multiple health issues that may result in death. Those buried at sea might be the luckiest cattle, because once the animals get through the 45-day quarantine, they will continue their confinement in "football-field-size sheds" that resemble electronics factories more than farms and are milked three times a day on "bovine merry-go-rounds," according to Wall Street Journal reporter Alex Frangos.
The Chinese government has created tax incentives and other policies that favor investors in big dairies. These facilities will widgetize animals in the same model that China has used for electronics and other manufacturing sectors that have made the country an export powerhouse. But the factory farm model has been a failure for public health, the environment and animal welfare in the U.S., just like it will be in China. The only people who will benefit are the investors who aim to concentrate Chinese dairy production. 
2) It's bad for Chinese farmers and relies on genetically modified feed. Policies that favor factory farms and the economic concentration of food production in the hands of a few small producers is bad for Chinese farmers and consumers who want local, farm-raised food. The U.S. factory farm model has already been exported to Europe, thanks to the EU's Common Agricultural Policy (CAP) that has made it very difficult for small farms to thrive. They're even forced to import genetically engineered soy feed because there are no more local feed markets that can compete with these cheap yet dangerous imports.
3) Essential resources are being traded away for profit. A New Zealand farmer was quoted in the Wall Street Journal as saying that selling the country's strong milk producers is like "selling the family silver, you can only do it once." Farmers like Roma Britnell in Australia are selling to Chinese buyers because of the good price and income, which helped her pay down the debt on her farm. Like so-called land grabs, where fertile land is sold out from under farmers and peasants by foreign interests, this is a resource grab that New Zealand's dairy farmers may come to regret if China is successful in becoming a dairy powerhouse.
4) It's already affecting farmers elsewhere. The Wall Street Journal reports that the price of alfalfa, the preferred feedstock for dairy cows, has gone through the roof. Since China doesn't produce it, it needs to import it from the U.S., where the price has doubled in the past year thanks to increased Chinese demand. This is an extra expense for U.S. dairy farmers who are already squeezed thanks to low dairy prices and industry consolidation that favors the biggest producers.
5) This does nothing to address real food safety problems in China. The effort to create a booming domestic dairy industry is a nice PR effort, but by favoring factory farms it won't make the Chinese food system any safer. Further consolidating the food system is a sure-fire way to increase the chance that a problem in one facility can make it halfway around the world before a problem is even detected.
Polices like these that import heifers from around the globe to fuel China's factory farms are just further proof that globalization and the industrialized food system have gone too far.
For more information, click here.