This website uses cookies to ensure you get the best experience while browsing it. By clicking 'Got It' you're accepting these terms.
Facebook will take a stand against the dangerous practice of spreading misinformation about vaccines. The social media behemoth, which has served as an online meeting spot for spreading memes of misinformation about vaccine safety and efficacy, will now try to redirect consumers on its platforms, including Facebook and Instagram, to reputable sites for information about vaccines, as the Guardian reported.
Screen shot of PLN live on EcoWatch, Sept. 27, 2018. Facebook.com/EcoWatch/videos/1834878866631950/
September 20 marked the one-year anniversary of the most devastating and deadly natural disasters in 100 years of U.S. history—Hurricane Maria. Today, Puerto Rico continues to face both challenges, such as Tropical Storm Kirk landing today, and opportunities.
Many wonder how Puerto Rico is doing so EcoWatch teamed up with the non-profit Para la Naturaleza (PLN) for an interactive Facebook live experience on Thursday. Watch the video below to learn how the community of Puerto Rico—the town of Comerío—came together to revitalize the natural ecosystems. PLN is working towards the ambitious goal of planting 750,000 native and endemic trees and establishing 33 percent of Puerto Rico's lands as protected by 2033.
EcoWatch Daily Newsletter
Solar energy panels and wind turbines in Shanghai, China. Chinaface / Getty Images
A seal being treated at Seal Rescue Ireland. The blue coloring is a result of the antiseptic used to help heal the deep wounds caused by monofilament fishing line entanglement. Seal Rescue Ireland
Tackling plastic pollution is the theme of 2018. Stories of animals dying from ingesting plastic are all around the web. Did you ever think that the plastic packaging used for your groceries might be the cause of death for an animal species you love?

U.S. companies are taking a stand in these politically chaotic times.
So far, 127 technology firms are firing back at President Donald Trump's travel ban affecting immigrants and refugees from seven Muslim-majority countries.
The movement was led by nearly 100 Silicon Valley companies who filed a legal brief on Sunday to oppose the highly controversial executive order, arguing that it is unconstitutional and "inflicts significant harm on American business, innovation, and growth." Apple, Facebook, Google, Microsoft, Uber, Reddit, Netflix and Dropbox were among the 97 companies that initially signed on to support Washington state's lawsuit against Trump's order.
That list got substantially larger late Monday afternoon, when Tesla, SpaceX and 29 other tech firms joined the brief.
Tesla and SpaceX were notably absent on the original list of signatories. CEO Elon Musk, who happens to sit on Trump's business advisory council, previously said he would use his position to "express our objections to the recent executive order on immigration."
But as a Tesla spokesperson told the Verge, "as soon as we saw the brief this morning, we insisted on being added."
The suit is being heard in the ninth circuit federal court in San Francisco, California and has already succeeded in temporarily halting the enforcement of the executive order.
Many other companies are making real efforts to be socially responsible. The outdoor industry as a whole has taken a stand against Utah state's and the federal government's proposals to shed public lands.
In an open letter to Trump and Congress, more than 100 outdoor industry leaders led by REI have called upon elected officials to protect public lands and the integrity of the outdoor recreation industry, which powers $646 billion in gross national product.
Outdoor clothing big-hitter Patagonia also announced on Tuesday it will not participate in Utah's Outdoor Retailer shows after Gov. Gary Herbert signed a resolution on Friday urging the Trump administration to repeal the newly named Bears Ears National Monument.
A new Greenpeace report, Clicking Clean: Who is Winning the Race to Build a Green Internet?, finds that Apple, Google, Facebook and newcomer Switch are leading the charge to build a renewably powered internet. These companies are coupling transitions of their data centers to clean energy with strong advocacy for access to renewable options.
By now, you might have heard that "checking in" at Standing Rock, North Dakota, on Facebook is not throwing off cops who are using the platform to target Dakota Access Pipeline (DAPL) protesters on the front lines. However, the million-plus Facebook users who have falsely updated their statuses are actually doing something important: It's bringing the protest to the mainstream.
On Monday, Oct. 31, a Facebook user posted a claim that the Morton County sheriff's department was using the social media platform to locate protestors.
"Water Protecters are calling on EVERYONE to check-in at Standing Rock, ND to overwhelm and confuse them," it read.
As the Guardian reported, the post quickly went viral. The number of check-ins at the Standing Rock reservation page ballooned from 140,000 to more than 870,000 by that afternoon.
The Sacred Stone Camp told Snopes they are not behind the tactic but pointed out it was a "great way to express solidarity" with the pipeline protest.
Meanwhile, the Morton County Sheriff's Department stated in a Facebook post it "is not and does not follow Facebook check-ins for the protest camp or any location. This claim/rumor is absolutely false."
Native American communities and their supporters have been battling the construction of the controversial $3.7 billion, 1,168-mile pipeline since April. The proposed DAPL will transfer up to 570,00 barrels of crude oil per day from the Bakken oilfield in North Dakota to a refinery near Chicago, crossing the Missouri River less than a mile away from the Standing Rock Reservation.
The people of Standing Rock, often called Sioux, warn that a potential spill into the river would threaten their drinking water, desecrate sacred sites and risk the health of their reservation.
Thanks to social media, the protest is entering the national conversation. So how else can you help the protestors on the front lines? There are a number of ways you can support the campaign:

The Sacred Stone Camp has an official GoFundMe account and an Amazon WishList. You can also physically mail checks, cash or supplies to Sacred Stone Camp, P.O. Box 1011, Fort Yates, ND 58538 or 202 Main Street Fort Yates, ND 58538.
You can phone local leaders and other decision makers. North Dakota governor Jack Dalrymple's phone number is 701-328-2200. Call the Army Corps of Engineers and demand them to reverse the permit at 202-761-5903.
And here are some numbers at Energy Transfer Partners, the company behind the pipeline. Executive vice president Lee Hanse, 210-403-6455. Vice president Glenn Emery, 210-403-6762. Lead analyst Michael (Cliff) Waters, 713-989-2404.
Over the past several months, the peaceful protest against the DAPL has at times turned violent, with officers using mace and unleashing dogs. Hundreds of arrests have been made.
The Guardian reported that the United Nations advisory forum for indigenous issues is now investigating claims that North Dakota law enforcement has used excessive force, unlawful arrests and mistreated the protesters in jail.
Roberto Borrero, a representative of the International Indian Treaty Council who is assisting the UN forum told the Guardian that the activists' stories are "very shocking."

"When you look at what the international standards are for the treatment of people, and you are in a place like the United States, it's really astounding to hear some of this testimony," he said.
According to the Guardian, "jailed protesters said it seemed clear that police weren't prepared to handle hundreds of people at once in their local correctional facilities. A day after their release, many still had numbers and charges written on their arms in marker—which advocates said was an unusual and dehumanizing way for police to track inmates—and some were temporarily kept in cages that they said felt like 'dog kennels.'"

Police have accused the activists of being overly aggressive in their demonstrations and have charged many protesters with criminal trespassing.
When reading or opining online about the energy consumed by homes, cars and power providers, it's easy to overlook the amount of electricity the Internet itself requires.
According to a new Greenpeace report, the Web would rank sixth in energy demand if it were a country. The amount of Internet data out there is expected to have tripled from 2012 to 2017. In that time, the Web population is expected to grow from 2.3 billion in 2012 to 3.6 billion people by 2017, or half of the world's population.
With that sort of virtual volume on deck, Web companies have to become greener.
In Clicking Clean: How Companies Are Creating the Green Internet, Greenpeace researchers make it clear which companies are leading the movement and which ones are still relying on fossil fuels.
Greenpeace evaluated the energy choices of 19 familiar Internet companies and more than 300 of their data centers. Five of those firms have announced a goal of powering their operations with 100-perecent renewable energy.
"Apple, Facebook and Google are powering our online lives with clean energy, and building a greener offline world for everyone in the process," Gary Cook, a Greenpeace senior IT analyst, said in a statement. "These companies have proven over the past 24 months that wind and solar energy are ready and waiting to power the internet, and the rest of our economy, with clean electricity."
While all three companies are known for the renewable energy investments of recent years, Greenpeace particularly singled out Apple, the only company to earn a 100-percent score on its four-category Clean Energy Index. The company powers facilities like its Reno, NV data center with all clean energy, despite the local utility's resource mix being more than half comprised of natural gas. The same goes Apple's facility in Maiden, N.C., where 57 percent of the local mix is made up of nuclear energy.
Apple's North Carolina data center, which is home to the iCloud service, is powered by the largest privately owned solar installation in the country. Amazon and eBay, on the other hand, received 15 and 6 percent, respectively, on their indexes.
"Apple's rapid shift to renewable energy over the past 24 months has made it clear why it's one of the world's most innovative and popular companies," Cook said. "By continuing to buy dirty energy, Amazon Web Services not only can't seem to keep up with Apple, but is dragging much of the internet down with it."
In the organization's own words, here is what Greenpeace wants all "major" Internet companies to do:
Make a long-term commitment to become 100-percent renewably powered.
Commit to transparency on IT performance and consumption of resources, including the source of electricity, to enable customers, investors, and stakeholders to measure progress toward that goal.
Develop a strategy for increasing their supply of renewable energy, through a mixture of procurement, investment, and corporate advocacy to both electricity suppliers and government decision-makers.
——–
YOU ALSO MIGHT LIKE
Google to Power Entire Data Center With Wind
Microsoft, Apple, Google Power Data Centers with Renewable Energy
Facebook to Power Data Center With Wind
——–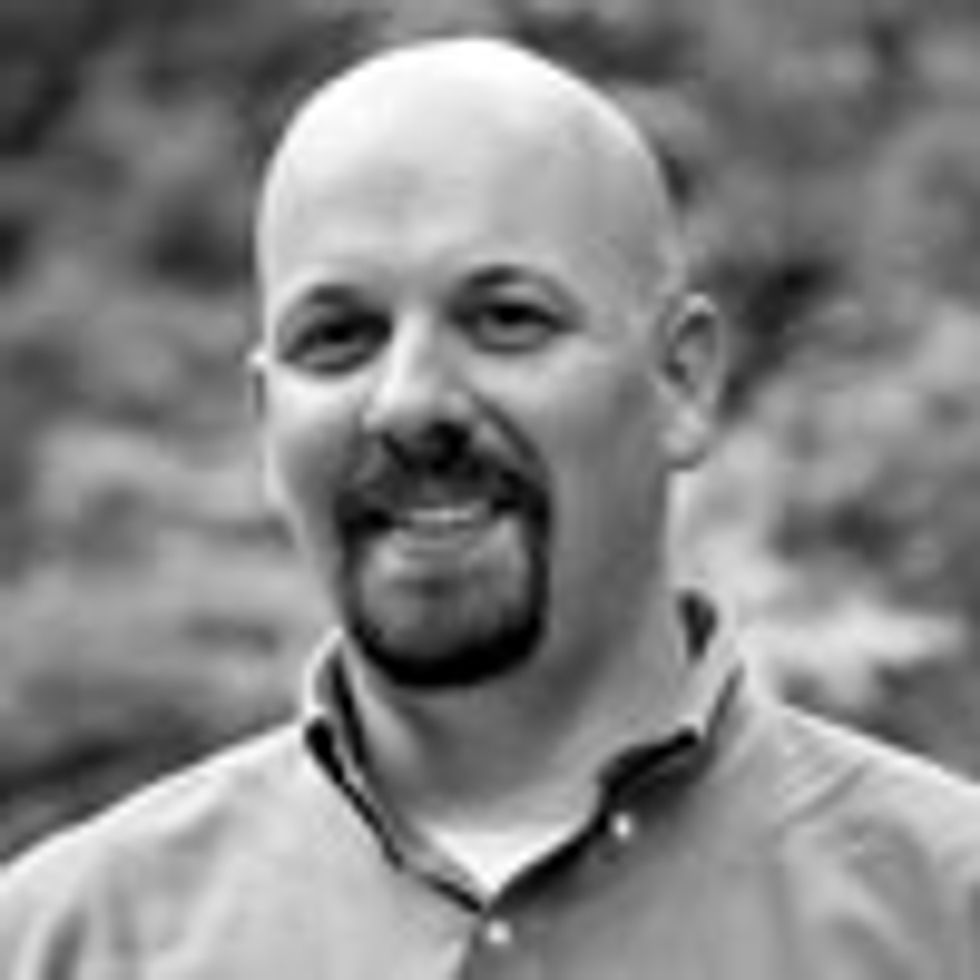 Today is a great day for the future of the IT sector.
Over the past few years, we've campaigned hard against Facebook to get them to commit to clean energy—specifically, we wanted them to change their siting policy—the decisions that they make about how to power their massive football-stadium-sized data centers.
When you go onto Facebook or Twitter or iTunes, your stuff—photos and music, status updates and party invitations—has to be stored somewhere. It's not something we all spend a lot of time thinking about, but that's how we use computers, and how we're going to use them in the future. It's called "the cloud." It's growing fast—right now if the cloud were a country, it would be the fifth largest country in the world in terms of global warming emissions.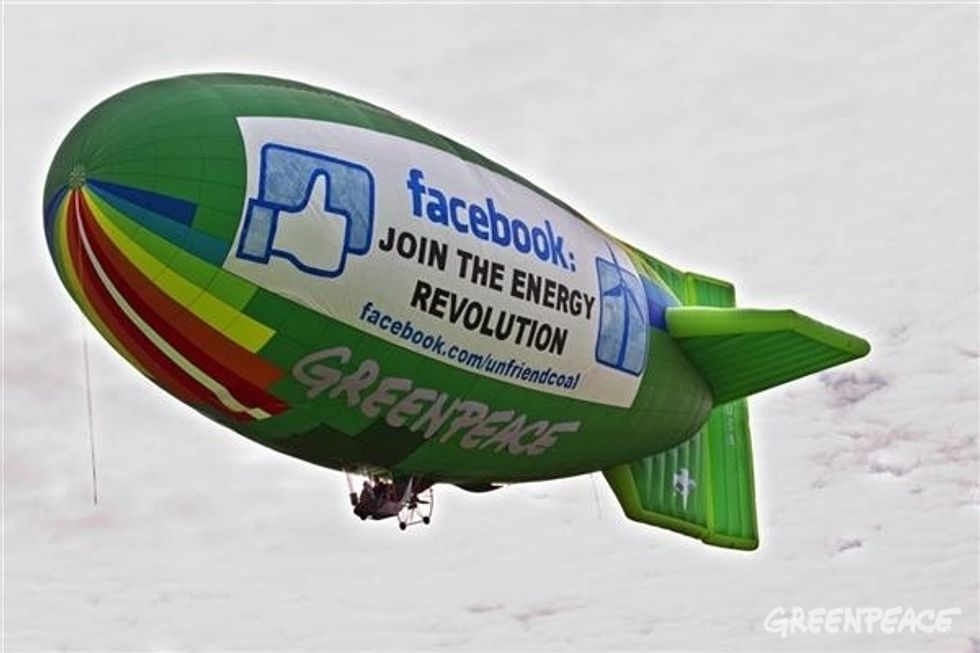 All that information is stored in massive data centers, which look like huge warehouses straight out of the Matrix. And more often than not, those data centers are powered by coal.
Like anyone else, I love Facebook. It's changed the way we can talk to our supporters on the web—I can log in and see how people are engaging with our campaigns, what excites them and what motivates them, and what changes they want to see in the world.
We've won historic victories by relying on the power of Facebook—victories against major brands that happened virtually overnight. On our Facebook campaign, we set the Guinness Record for number of Facebook comments on a page in 24 hours. When I, or any of our activists, use Facebook, we want to know that we're not contributing to the very problems that we're fighting.
What we're asking of corporations like Facebook is actually pretty incredible—we want them to be ambitious. We don't just want them to "do no evil," (as Google says)—we want them to do good. In fact, with the failure of the recent negotiations in Durban and America's inability to pass climate legislation, we're asking companies like Facebook to look far into the future, think about what's good for their business and what's good for the planet.
We're asking them to be champions, and they're stepping up and doing it.
Facebook has raised the bar for everyone, and we're now looking for companies like Apple, Twitter and Microsoft to make their next move. What's even more incredible is now that Facebook is demanding clean energy, utilities, like Duke Energy, are going to have to supply it.
This is the future of campaigning—big business isn't going anywhere, so we want them on our side. We think corporations can be the good guys, if people demand it. We've asked them to step up and they've done it.
Since the beginning of our seafood supermarket campaign, along with other organizations, we've gotten 15 major supermarket chains around the country to improve their sustainable seafood policies. Just this year we've gotten two of the largest toy companies, Hasbro and Mattel, to stop sourcing their paper from Asia Pulp and Paper, a major contributor to Indonesian deforestation. And just this week, GE and Ben & Jerry's were successful in pressuring the U.S. Environmental Protection Agency to make green refrigerants legal in the U.S., a step that will make a huge difference for the climate.
There's so much more to come in 2012—we're working to get the major tuna brands to use better fishing methods. We've got even more planned for the IT sector because we want to be able to use our gadgets, tweet and live our 21st century lives knowing that the cloud is cleaner.
And, as we say at Greenpeace all the time—no permanent allies, no permanent enemies. We're committed to standing up for the truth and pushing corporations to be their absolute best—not just dollar-driven profiteers, but true members of our global community. Sometimes that means flying an airship over their headquarters (yup, we did that with Facebook too!) and sometimes it means standing together to ask for better solutions. So here's to 21st century campaigning and unlikely allies. And thank you Facebook for helping us make history!
Read the agreement between Greenpeace and Facebook by clicking here.