By Elliott Negin
When a handful of attorneys general launched investigations of ExxonMobil for climate fraud, I wonder if they had any idea that they would be attacked for attempting to stifle the company's right of free speech.
After all, if ExxonMobil publicly downplayed warnings by its own scientists about the threat posed by burning fossil fuels in its communications with investors and the general public, it very well may have committed fraud, which is not protected by the First Amendment.
Legal experts have cited the case against the tobacco industry as an apt analogy. For years, tobacco companies emphasized uncertainty about their products' risks to stave off government regulations. ExxonMobil essentially has been doing the same thing.
Regardless, attorneys general from 13 states and more than a dozen members of the House Science Committee have entered the fray on ExxonMobil's behalf, all making the same indefensible First Amendment argument. And—surprise, surprise—most of them are climate science deniers who get significant campaign funding from fossil fuel companies and electric utilities.
"AGs United for Dirty Power" Strikes Back
In late March, 17 attorneys general announced the formation of the AGs United for Clean Power coalition to defend the new federal rule curbing power plant carbon emissions and investigate energy companies for fraud. So far, coalition attorneys general from California, Massachusetts, New York and the Virgin Islands have opened investigations of ExxonMobil and more are likely in the offing.
In response, Attorneys General Luther Strange of Alabama and Ken Paxton of Texas filed an intervention plea in May in a Texas district court on behalf of ExxonMobil to quash one of the investigations. They then followed up with a June 15 letter to AGs United for Clean Power cosigned by 11 other state prosecutors calling for an end to the ExxonMobil probes. The group—essentially "AGs United for Dirty Power"—maintained "[u]sing law enforcement authority to resolve a public policy debate undermines the trust invested in our offices and threatens free speech."
Just whose interests are Strange et al. representing?
Strange has been Alabama's attorney general since 2010. In 2014, his reelection campaign contributors included the American Coal Association, American Gas Association and Koch Industries, but his biggest energy industry supporter was Alabama Power, a subsidiary of Southern Company, one of the nation's largest electric utilities. Three Southern coal-fired power plants are the biggest carbon emitters in the country.
Paxton, meanwhile, received more money from the oil and gas industry than any other sector when he first ran for attorney general in 2014. His benefactors included Chesapeake Energy, Chevron, ConocoPhillips, Koch Industries, Marathon Oil and Phillips 66. ExxonMobil sat out Paxton's 2014 campaign, but the company contributed to his campaigns when he served in the Texas statehouse.
Eight other attorneys general who signed the Strange-Paxton letter also enjoy fossil fuel industry support. Jeff Landry of Louisiana and Scott Pruitt of Oklahoma pulled in the most contributions. Landry's 2015 campaign was funded by more than 40 oil and gas companies, including Halliburton, Hilcorp Energy, Koch Industries and Phillips 66. Pruitt's 2014 campaign, meanwhile, was backed by American Electric Power, Arch Coal, Chesapeake Energy, Devon Energy, Koch Industries, Marathon Petroleum and … ExxonMobil.
Not surprising, AGs United for Dirty Power prosecutors are not only going to bat for ExxonMobil, they are running interference for the coal industry, too. Eleven of the 13 attorneys general on the letter, including Strange, Paxton, Landry and Pruitt, are among the more than two dozen AGs who have sued the Environmental Protection Agency to block the Clean Power Plan, the new federal power plant carbon emissions rule.
ExxonMobil-Funded Reps Defend ExxonMobil
House Science Committee Chairman Lamar Smith also leapt to the defense of the oil giant. In mid-May, Smith and 12 other committee members sent letters to the AGs United for Clean Power coalition and eight foundations and nonprofit groups, including 350.org, Greenpeace and the Union of Concerned Scientists, demanding they turn over all documents and communications related to their efforts to hold ExxonMobil and other fossil fuel companies accountable for climate science deceptions. Echoing the Strange-Paxton argument, their letters charged that the attorneys general and the nonprofits are trying to "silence speech."
Twelve of the 13 signatories—including Smith—received campaign contributions from ExxonMobil since the 2010 election cycle and 10 of them got donations from Koch Industries.
The 17 AGs United for Clean Power members and other recipients of Smith et al.'s request refused to comply. In separate letters, they explained that the aim of the ExxonMobil investigations is to determine whether the company provided investors and the public with accurate information and reminded Smith and his colleagues that the First Amendment does not protect fraud. They maintained that Congress has no jurisdiction over state law enforcement activities and therefore has no right to demand documents and communications. Finally, they pointed out that—ironically enough—the committee's request threatens the nonprofit advocacy groups' First Amendment rights of free speech and association.
Indeed, the allegation that the attorneys general investigating ExxonMobil and the nonprofit organizations that have provided them information are somehow infringing on the company's free speech rights is absurd. No corporation has a First Amendment right to deliberately misinform about the harm associated with its product and attorneys general have every right to investigate whether a company's actions amount to fraud. Likewise, attorneys general have the right to consult with experts either publicly or confidentially in the course of their investigations. Moreover, the nonprofits singled out by Smith et al. have the right and responsibility to provide information to state prosecutors when they have reason to suspect corporate wrongdoing.
How did Smith react to this resounding rejection? On June 17, he and 16 other House Science Committee members sent a second round of letters to AGs United for Clean Power, the foundations and the nonprofit groups, again asking for documents related to the investigations. And again the recipients said no.
What's next? Will Strange and Paxton intervene in court again to try to stop another ExxonMobil investigation? Will Smith, who has a history of harassing federal climate scientists with subpoenas, resort to that tactic to force compliance with his request? Just how far will fossil fuel industry-funded elected officials go to protect one of the biggest carbon polluters in the world?
Elliott Negin is a senior writer at the Union of Concerned Scientists. All federal campaign contribution data came from the Center for Responsive Politics. All state campaign contribution data came from the National Institute on Money in State Politics.
YOU MIGHT ALSO LIKE
U.S. Holds More Oil Reserves Than Saudi Arabia and Russia
The Future of Nuclear Power Is 'Challenging,' Says WNA Report
Public Lands Development Rigged in Favor of Oil and Gas
EcoWatch Daily Newsletter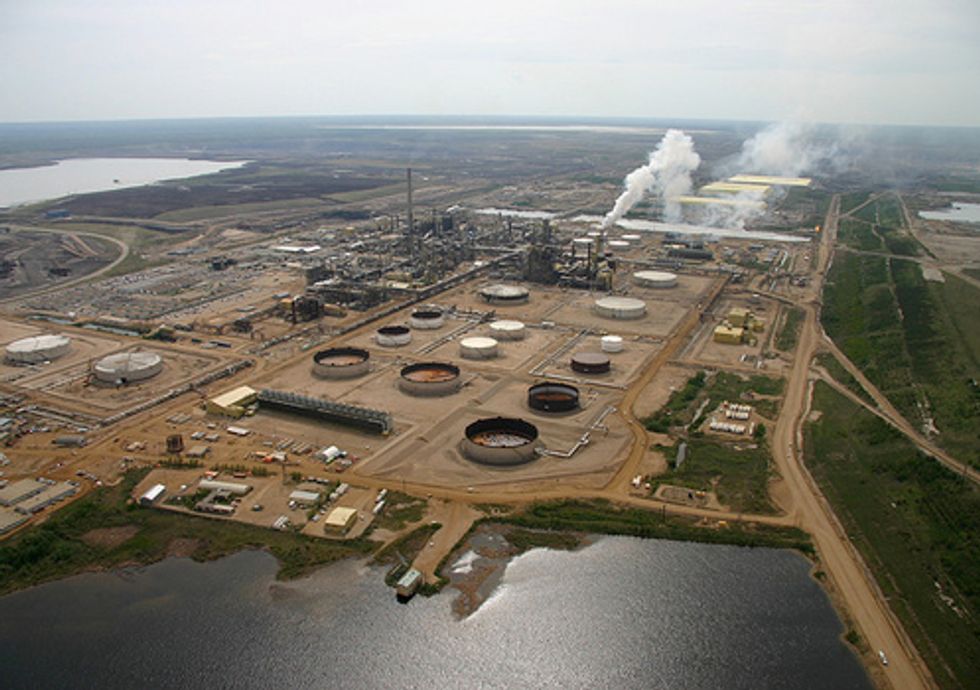 By Tony Iallonardo
There was a time when Canada, symbolized by the maple leaf, was a "green," environmentally conscientious neighbor. Remember, in the 1980s, Canada came knocking on America's door, rightfully demanding that the U.S. curb the sulfur dioxide emissions causing the acid rain that was killing Canada's lakes and streams.
But today, alarms are going off up north. Increasing capture by polluter interests, Canada's sliding into shades of gray. Experts say Ontario could lose its beloved polar bears because of a warming climate. World polar bear expert Ian Stirling, from the University of Alberta, citing Arctic ice loss at 10 percent per decade since 1979, says it's unlikely this iconic animal will survive on the Ontario and Manitoba shores of Hudson Bay in 20 to 30 years.
Another study predicts trouble for caribou. Some of Canada's caribou face the possibility of local extinction because of industrial development in northeastern Alberta and the lack of effective habitat protection. Woodland caribou is listed as a threatened species, provincially and federally. "The recently released draft recovery strategy allows for 95 percent of woodland caribou habitat in northeastern Alberta to be lost in order to promote oil sands development," the Pembina Institute has warned.
Then there's cod. Canada had to impose a moratorium on cod fishing off the coast of Newfoundland because the cod fishery collapsed, some say because of lax government oversight, poorly-managed over-fishing and exploitation.
Is Canada asleep? No, Canada is in fact very much awake and very busy working on behalf of polluters.
Climate Blind
First let's look at climate change.
Canada is one of the world's biggest emitters of greenhouse gas pollutants. "After committing to targets in Copenhagen, Environment Canada's projections show that Canada's current federal and provincial policies will achieve only a quarter of the reductions needed by 2020—leaving 75 percent of the work as a question mark," said P.J. Partington, a climate and policy analyst with Pembina Institute.
Canada ranks 54th out of 61 countries internationally—two points lower than the U.S.—earning a "very poor performance" label in the Dec. 6 global climate performance assessment of world governments' efforts to curb climate change.
In the negotiations in Durban, South Africa, Canada pulled out of the Kyoto Protocol on climate change Dec. 12 to worldwide denunciation, citing the country's previous commitment as a mistake. Environment Minister Peter Kent said, "It's now clear that Kyoto is not the path forward to a global solution to climate change. If anything it's an impediment." China, once recalcitrant, agreed to limits on greenhouse gas emissions and called Canada's decision "an excuse to shirk responsibility."
Oozing with Oil
Then there's Canada's warm embrace of Big Oil. The country is on a no-holds-barred trajectory to becoming a petro-state. It is the sixth largest oil producing country in the world at 3.5 million barrels per day in 2010, according to the CIA World Factbook. Imperial Oil head Bruce Marsh has said that Canada represents half of the global oil reserves that are open for private investment. "That is an enormous driver," he told a reporter. (Let's not forget that the energy-gobbling U.S. is Canada's main oil export market.)
The latest chapter in Canada's Big Oil binge is big bad bitumen, Canada's exploitation of tar sands oil, one of the most polluting, highest-carbon, greenhouse-gas-causing fuels on the planet.
TransCanada and partners propose to build the Keystone XL pipeline, a 1,700-mile pipeline through five midwestern U.S. states from Alberta to Texas and ship 700,000 barrels of tar sands oil a day for refinement into products likely to be exported.
According to Oregon Sen. Ron Wyden, who asked the Federal Trade Commission to investigate because it could lead to higher energy prices for Americans, the Keystone corporate interests are Canadian Natural Resources Limited, Conoco Phillips Canada Marketing & Trading ULC, EnCana Corporations, Shell Trading Canada, Total E&P Canada Ltd and Trafigura Canada General Partnership.
The environmental havoc already underway from extraction in Alberta is no secret. To produce one barrel, extractors level the forest, dig up four tons of earth, consume two to four barrels of fresh water, burn large amounts of natural gas and create toxic sludge holding ponds. Alberta's booming tar sands production is polluting the Athabasca River and converting forests and farmlands to wastelands.
The Keystone XL pipeline will increase production of this dirty fuel by 50 percent. Some will argue that Canada only produces less than two percent of the world's greenhouse gas emissions, but by producing, shipping and exporting tar sands oil at an ever-escalating pace, Canada is promoting a dirty fuel to the rest of the world to burn, thus increasing emissions multi-fold worldwide.
Keystone's tentacles are embedded far and wide. Former U.S. ambassador to Canada, David Wilkins, lobbied for Keystone XL when working for the Canadian Association of Petroleum Producers.  At least 42 lobbying firms and companies are roaming the back halls and underground passageways of the U.S. Congress and U.S. federal agencies, trying to sweet-talk approval of this scheme. Koch Industries is funding Americans for Prosperity, which is busy lobbying in Washington and Nebraska for the pipeline permit. Valero, a Keystone XL supporter and one of the world's largest refiners, appears to be getting ready to receive, refine and export the Keystone tar sands oil, according to the Wall Street Journal, Nov.10, 2011.
Pro-pipeline pals in Congress have crafted legislative riders to usurp and overrule President Obama, established review processes and science. Canada's Prime Minister, Stephen Harper, even got President Obama's ear at the White House in early December and made his case for what he dubbed a "no-brainer."
Talk about pulling out all the stops. Let's get that oil flowing as the oil lobbyists oil the Washington skids.
And to rub yet more salt into the wounds, on Dec. 8, the Canadian government approved yet more tar sands production by giving the go-ahead for the construction of the $8.9 billion Joslyn North Mine in northern Alberta.
And there's more to come. Imperial Oil CEO Bruce Marsh said that his company, an Exxon subsidiary, is planning to start the Kearl oil sands mining project in Canada in 2012, and they expect to produce 110,000 barrels a day and maybe up to the 345,000 barrels a day the Canadian government has approved.
As they say on TV commercials—Wait, there's more.
Environment Canada has not implemented its long-term scientific research plan, a plan that undergirds the country's work to mitigate air and water pollution and other environmental risks, charged Commissioner Scott Vaughan, of Canada's Office of the Auditor General in early December—and the department has stopped issuing many environmental reports. So they don't know what the problems are or the effectiveness of their policies?
Vaughan also issued a recent audit showing that Environment Canada's enforcement program is not ensuring adequate compliance with environmental regulations and is failing to target the biggest polluters.
Vaughan also found that several Canadian government agencies do not enforce safety regulations for shipping chemicals on highways and railroads and for pumping oil and gas in the country. He reported an average of two accidents a week involving the transport of dangerous materials across Canada. He concluded, for example, "Management has not acted on long-standing concerns regarding inspection and emergency plan review practices," for transporting dangerous goods.
Accompanying a map of numerous approved and proposed oil and gas pipelines across Canada, Vaughn wrote, "These pipelines, which are located in both rural and urban areas and across different terrains, require ongoing surveillance and maintenance to ensure that they continue to operate according to the National Energy Board Act, its regulations, and standards such as the Canadian Standards Association's Oil and Gas Pipeline Systems standard. Pipeline incidents, such as gas leaks and oil spills, have occurred across Canada." Exhibit 1.4 shows more than 50 pipeline incidents. This comes against a backdrop of confident assurances from TransCanada that the Keystone pipeline would traverse the U.S. safely.
A Graying Canada
Canada, the second largest country in the world after Russia, has vast landscapes—three oceans, the tundra, plains, mountains, boreal forests, wetlands, rivers, lakes and coastline. Given its bounty, Canada should be proud and protective of its natural resources. National motto—From Sea to Sea.
But somewhere along the way, Canada has lost its conservation conscience, as it propels itself into an oil-producing, carbon-crazy frenzy.
Polar bears and caribou on the road to extinction. Cod struggling to thrive in the north Atlantic.  Does Canada care? Does Canada prefer gray to green?
For more information, click here.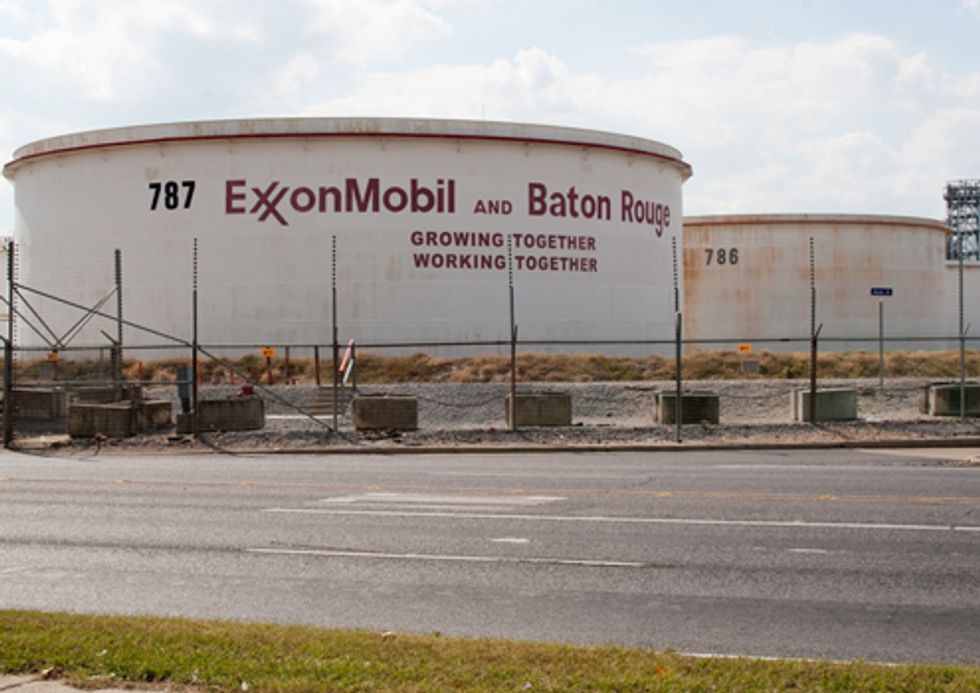 Beleaguered ExxonMobil refinery Manager Steven Blume received letters from 1,363 residents across south Louisiana urging reduced accidents at his refinery. Citing the troubled refinery's ongoing accident problem, especially during storms, the letters urge Mr. Blume to upgrade equipment, hire more workers, improve emergency alerts and implement proper shut downs of the refinery in advance of storms.
"ExxonMobil's profit last year was $30 billion and they can afford to do better," said Anne Rolfes, director of the Louisiana Bucket Brigade. "Hiring more workers—not contractors—would be a good start."
The letters delivered Dec. 21 were presented in front of the Louisiana Mid Continent Oil and Gas Association, an industry trade group that frequently defends ExxonMobil at the expense of Louisiana residents. The letters were collected via door-to-door outreach about ExxonMobil's accidents. Mr. Blume has refused to meet to receive the letters, continuing a pattern of refusing to meet to discuss his beleaguered refinery's accidents. This delivery of the letters occurred two years after the first invitation to talk about accidents was extended in November 2009.
At issue are both accident reduction and the need to hire more full time union workers to prevent those accidents.
"Refiners have a duty to their workers and the community to operate their refineries safely and be prepared for any storms that may come," said United Steelworkers International Vice President Gary Beevers. "ExxonMobil can do better in terms of maintaining its equipment, being ready for storms and hiring more employees to ensure safe operation of its facilities. Too often contractors are hired and they lack the knowledge, experience and training of a full-time employee."
From 2005-2010, the ExxonMobil refinery reported 672 accidents—an average of more than two each week—to the state Department of Environmental Quality. Thirty percent of the air emissions from these accidents were due to storms. The storms' significant cause of accidents as well as the feasibility of preventing these accidents is the reason that the letters are focused on storm preparation. "We are in south Louisiana and we know it will rain," said Ms. Rolfes. "Residents are expected to be prepared and refineries should be too."
Hurricane Gustav in 2008 was a particular problem for ExxonMobil. The refinery released 1.25 million pounds of toxic air emissions during a 12-day span.
The management at ExxonMobil has consistently minimized concerns about accidents by saying that many accidents are "below reportable quantities." However, such accidents can be serious as shown by an April 14, 2010 fire that had no release above reportable quantities but did send three workers to the hospital.
Additional arguments by the refinery include the need to operate during storms to ensure the nation's supply of gasoline. The refinery, however, has never provided evidence to support this claim. Louisiana residents assembled Dec. 21 believe that the refusal to properly prepare for storms is instead about a relentless drive for profits.
For more information, click here.
—————
Community Empowerment for Change's mission is to improve the quality of life in East Baton Rouge Parish by fighting environmental racism and improving environmental health.
The United Steelworkers has 1.2 million active and retired members strong. You'll find us fighting for a better life for all workers in union halls, at the work place, in the courts and in legislatures.
The Louisiana Bucket Brigade is an environmental health and justice organization supporting neighborhoods' use of grassroots action to create informed, sustainable communities free from industrial pollution.