Kyle Penniston with the 17.5-foot-long python. South Florida Water Management District / Kyle Penniston
Earlier this week, a Florida man caught and killed a 17-foot, 5-inch female Burmese python in the Miami-Dade County Everglades.
The South Florida Water Management District (SFWMD) praised Homestead-based hunter Kyle Penniston's record-setting catch for its Python Elimination Program. Weighing 120 pounds, she was certainly a big one and she even bit Penniston's hand before she was shot on Monday night, according to his Facebook post.
This is certainly not an attack on Penniston or SFWMD, but one can't help but feel bad for the gargantuan reptile as well as the 1,859 other snakes that hunters have "eliminated" on behalf of the program. Yes, they may look scary. Yes, they may pose a threat to humans. After all, these apex predators are swallowing up native wildlife including birds, rabbits, alligators and even deer. However, it's not the fault of these snakes that they are there.
Burmese pythons, which are native to India, southeast Asia and the East Indies, should not be in Florida. But due to the exotic pet trade—as well as people who are unequipped to care for a carnivorous constrictor that can grow 20 feet in length and have a girth as big as a telephone pole—they've become an unfortunate invasive species with no natural predator in the Everglades ecosystem.
SFWMD's Python Elimination Program explains it quite simply:

"The non-native Burmese python was likely introduced to Florida's Everglades by accidental or intentional releases by pet owners. Once sought-after commodities, pythons have been sold by breeders as pets or showpieces to exotic animal collectors. Since making their way into the bountiful grounds of the Everglades, these giant constrictors have thrived, assuming a top position on the food web."
These creatures are generally docile and are hunted for their uniquely patterned skin, according to National Geographic. Although they have a notable presence in the Everglades, these big snakes are listed as "vulnerable" by the International Union for Conservation of Nature.
SFWMD said in a press release that their Python Elimination Program pays qualified individuals to survey land for the pythons and to humanely euthanize each one they catch in the field (according to American Veterinary Medical Association guidelines) and then "deposit them at designated drop-off locations."
Removing the species, as well as reducing the populations of other invasive plants and animals, will help preserve the rare Everglades ecosystem, the department said.
"Just six months after eliminating the first 1,000 pythons from District lands, this program is about to double that total because of a true team effort," said SFWMD scientist Mike Kirkland, project manager for the Python Elimination Program. "With the Governing Board's unwavering support, District staff and a dedicated group of hunters are working to help control this invasive species and protect native wildlife."
Surprise #Python Hybrid Could Pose Greater Threat to #Everglades #Wildlife https://t.co/0kSQWdwh7k @foe_us @ConservationOrg

— EcoWatch (@EcoWatch)1535677241.0
From Your Site Articles
Related Articles Around the Web
EcoWatch Daily Newsletter
Vibroseis vehicles in Big Cypress National Preserve. NRDC
By Alison Kelly
New oil development has no place in sensitive wetland habitats in the Florida Everglades. The Burnett Oil Company, based in Texas, claimed it could explore for oil in the Big Cypress National Preserve with no significant, long-term impacts to sensitive wetlands. But these claims have been refuted, as Burnett Oil has caused significant damage.
As NRDC previously reported, the fossil fuel industry targeted the Big Cypress National Preserve in the western Everglades for oil development, beginning the first of four planned phases of seismic survey activities in 2017. However, heavy rains forced the oil company out of the preserve before the seismic activities were complete.
Even after damaging wetland soils and vegetation last year, the oil company returned to the preserve this spring to continue its hunt for oil.
NRDC and its partners retained environmental professionals to inspect and document the damage these activities are causing. Here's a report outlining the damage along with recommendations for restoration, mitigation and long-term monitoring. The consultants observed extensive soil rutting, which will have long-term adverse effects on the preserve's hydrology, soils and vegetation. Nonetheless, there were no signs that the oil company attempted to restore the wetland impacts, as its state and federal permits require. For example, the 33-ton "vibroseis" vehicles compacted and deeply rutted soils due to their sheer weight. These ruts are almost 2 feet deep in places.
The vibroseis vehicles created seismic survey lines that are up to 15 feet wide. In several locations where vibroseis vehicles turned around or were rerouted, consultants observed even wider paths of soil disturbance.
Soil damage in Big Cypress National PreserveNRDC
Removal of vegetation and subsequent exposure of soils to direct sunlight alters social chemistry, and the churning and rutting of soils disturbs natural soil horizons. If not corrected, each of these soil impacts will affect the composition and abundance of vegetation regrowth in the impacted areas. Soil ruts can also create opportunities for invasion of exotic and nuisance plant species. Within the soil ruts created by the vibroseis and other off-road vehicles, the vegetation coverage was estimated at less than 5%, in stark contrast to the dense and diverse herbaceous vegetation present in the adjacent, undisturbed wetlands.
Seismic survey lines bisected dwarf cypress tree strands, and in these areas, consultants noted an abundance of dead cypress trees and stumps, both within and adjacent to the seismic survey lines. They frequently observed scarring of cypress trees growing adjacent to the seismic survey lines, but saw no evidence of efforts to treat tree wounds.
Dwarf cypress trees tend to be very old despite their small size, primarily due to the infertile soils and extreme hydrologic conditions where they grow. For example, a dwarf cypress tree with a diameter breast height of 4 inches could range in age from 31 to 2,500 years. These dwarf cypress trees are the cornerstone of the Big Cypress ecosystem. They provide important roosting sites and refuge from high water levels for birds and other wildlife, essential habitat for state endangered bromeliads such as the cardinal air-plant, scratching posts for the Florida black bear and the critically endangered Florida panther, and a food source for the threatened Big Cypress fox squirrel.

But the survey crews cut and mowed down dwarf cypress trees, some with bromeliads still attached, to make way for the oil exploration. The creation of seismic survey lines in roadless wetlands could invite unauthorized recreational off-road vehicle use, which will disturb wildlife, widen and deepen seismic survey lines, and increase the potential for litter. This all increases the risk of restoration failure.
Burnett Oil Company has proven that new oil development has no place in the sensitive wetlands of the Everglades. Its damage contradicts its own argument that the oil exploration would have no significant long-term effects.
Burnett Oil Company should be halted from doing further harm to this sensitive habitat, given the severity and extent of the wetland damage it has caused through its seismic activities.
State and federal agencies must now require the oil company to fully restore the wetland damage and monitor the success of the restoration in the long-term, to avoid exacerbation of the damage and further loss of wetland function. The company must also provide compensatory mitigation elsewhere in the preserve for the loss of wetland functions that have occurred, and will continue to occur, until they are fully restored. Big Cypress National Preserve is one of Florida's true ecological gems and should be preserved, as its name implies.
From Your Site Articles
Related Articles Around the Web
waterlust.com / @tulasendlesssummer_sierra .
Each product featured here has been independently selected by the writer. If you make a purchase using the links included, we may earn commission.
The bright patterns and recognizable designs of Waterlust's activewear aren't just for show. In fact, they're meant to promote the conversation around sustainability and give back to the ocean science and conservation community.
Each design is paired with a research lab, nonprofit, or education organization that has high intellectual merit and the potential to move the needle in its respective field. For each product sold, Waterlust donates 10% of profits to these conservation partners.
Eye-Catching Designs Made from Recycled Plastic Bottles
waterlust.com / @abamabam
The company sells a range of eco-friendly items like leggings, rash guards, and board shorts that are made using recycled post-consumer plastic bottles. There are currently 16 causes represented by distinct marine-life patterns, from whale shark research and invasive lionfish removal to sockeye salmon monitoring and abalone restoration.

One such organization is Get Inspired, a nonprofit that specializes in ocean restoration and environmental education. Get Inspired founder, marine biologist Nancy Caruso, says supporting on-the-ground efforts is one thing that sets Waterlust apart, like their apparel line that supports Get Inspired abalone restoration programs.
"All of us [conservation partners] are doing something," Caruso said. "We're not putting up exhibits and talking about it — although that is important — we're in the field."
Waterlust not only helps its conservation partners financially so they can continue their important work. It also helps them get the word out about what they're doing, whether that's through social media spotlights, photo and video projects, or the informative note card that comes with each piece of apparel.
"They're doing their part for sure, pushing the information out across all of their channels, and I think that's what makes them so interesting," Caruso said.
And then there are the clothes, which speak for themselves.
Advocate Apparel to Start Conversations About Conservation
waterlust.com / @oceanraysphotography
Waterlust's concept of "advocate apparel" encourages people to see getting dressed every day as an opportunity to not only express their individuality and style, but also to advance the conversation around marine science. By infusing science into clothing, people can visually represent species and ecosystems in need of advocacy — something that, more often than not, leads to a teaching moment.

"When people wear Waterlust gear, it's just a matter of time before somebody asks them about the bright, funky designs," said Waterlust's CEO, Patrick Rynne. "That moment is incredibly special, because it creates an intimate opportunity for the wearer to share what they've learned with another."
The idea for the company came to Rynne when he was a Ph.D. student in marine science.
"I was surrounded by incredible people that were discovering fascinating things but noticed that often their work wasn't reaching the general public in creative and engaging ways," he said. "That seemed like a missed opportunity with big implications."
Waterlust initially focused on conventional media, like film and photography, to promote ocean science, but the team quickly realized engagement on social media didn't translate to action or even knowledge sharing offscreen.
Rynne also saw the "in one ear, out the other" issue in the classroom — if students didn't repeatedly engage with the topics they learned, they'd quickly forget them.
"We decided that if we truly wanted to achieve our goal of bringing science into people's lives and have it stick, it would need to be through a process that is frequently repeated, fun, and functional," Rynne said. "That's when we thought about clothing."
Support Marine Research and Sustainability in Style
To date, Waterlust has sold tens of thousands of pieces of apparel in over 100 countries, and the interactions its products have sparked have had clear implications for furthering science communication.
For Caruso alone, it's led to opportunities to share her abalone restoration methods with communities far and wide.
"It moves my small little world of what I'm doing here in Orange County, California, across the entire globe," she said. "That's one of the beautiful things about our partnership."
Check out all of the different eco-conscious apparel options available from Waterlust to help promote ocean conservation.
Melissa Smith is an avid writer, scuba diver, backpacker, and all-around outdoor enthusiast. She graduated from the University of Florida with degrees in journalism and sustainable studies. Before joining EcoWatch, Melissa worked as the managing editor of Scuba Diving magazine and the communications manager of The Ocean Agency, a non-profit that's featured in the Emmy award-winning documentary Chasing Coral.
Researchers have discovered that bottlenose dolphins residing off the Florida Everglades have higher concentrations of mercury contamination than any other population of the mammals in the world.
Contamination levels of mercury (T-Hg) in Lower Florida Keys (LFK) and the Florida Coastal Everglades (FCE) dolphinsScience Direct
The study, published in the journal Environmental Pollution, examined the levels of mercury and other toxins in the sea creatures. According to the research, mercury concentrations in the skin of Florida Coastal Everglades dolphins (median 9314 ng g−1 dw) were about three times higher than Lower Florida Keys dolphins (median 2941 ng g−1 dw).
"These concentrations are the highest recorded in bottlenose dolphins in the southeastern USA, and may be explained, at least partially, by the biogeochemistry of the Everglades and mangrove sedimentary habitats that create favorable conditions for the retention of mercury and make it available at high concentrations for aquatic predators," the study abstract states.
The research team includes scientists from Florida International University (FIU), the University of Liège in Belgium, the University of Gronigen in the Netherlands and the Tropical Dolphin Research Foundation in the U.S.

It is unclear where exactly the mercury comes from but the scientists suspect it might stem from smoke stacks, nearby farming operations or from the area's numerous mangroves in Everglades National Park. As FIU News explained, when mangrove leaves drop into the water, mercury from the mangroves mixes with bacteria and is turned into methylmercury. Methylmercury is highly toxic and can travel up the food chain, as it collects in animal tissue in larger and larger amounts. (That's why predators like dolphins, swordfish and tuna have troubling levels of mercury.)
Woods Hole Oceanographic Institution
Dolphins that live in the Amazon and other mangrove forests also have elevated mercury levels, but the researchers were surprised to find that the mercury levels in Everglades dolphins were even higher.

"I couldn't believe those levels because that's the highest ever recorded," FIU marine scientist Jeremy Kiszka, a co-author of the study, told the Miami Herald. "It raises a lot of other questions."
The study is important because dolphins are a vital "sentinel species," meaning they shed light on oceanic and human health. So if a dolphin is swimming in contaminated waters, a person living by the same coastal waters might also be exposed to the same contamination. As the Miami Herald noted, researchers discovered last year that Indian River Lagoon dolphins had elevated mercury levels, reflecting the high levels of mercury in the nearby human population.
News story on our work on #mercury levels in #everglades #dolphins https://t.co/iyInMFQejF @fiuseas @fcelter @jjkiszka

— Mike Heithaus (@Mike Heithaus)1480579372.0
Similarly, since dolphins and humans eat the same kind of seafood, if a dolphin gets sick from eating toxic fish, a person who eats the same toxic fish might get sick too.
For humans, mercury can have a whole host of terrifying problems. As for what effects mercury has on dolphins, FIU News explained that the chemical can disrupt the animal's immune system and reproduction, making them more vulnerable to infection and disease.
"Mercury is one of the most neurotoxic elements in the universe," World Mercury Project president Robert F. Kennedy, Jr., who was not involved in the study, explained to EcoWatch. "The destruction of these extraordinary creatures is part of the cost of our deadly addiction to coal and chemicals. We shouldn't forget that these dolphins are accumulating these horrifying brain poisons from the same fish that our children eat."
Burning Less Coal = 19% Less Mercury in the Tuna You Eat https://t.co/WTb3JGAJXC @WorldMercury @RobertKennedyJr @CarlPope @ewg @CleanAirMoms

— EcoWatch (@EcoWatch)1480095793.0
The scientists are now trying to expand their study on other marine animals.
"Understanding the impact of pollutants on marine ecosystems, including from natural sources, is critical for conservation and management. Results obtained on bottlenose dolphins from the Everglades were surprising, but we now need to assess the effect of mercury on the health of dolphins and other species from the Everglades," Kiszka told FIU News. "This is a critical question for understanding the effects of pollutants on aquatic ecosystems, but also on humans, since we are also part of these ecosystems."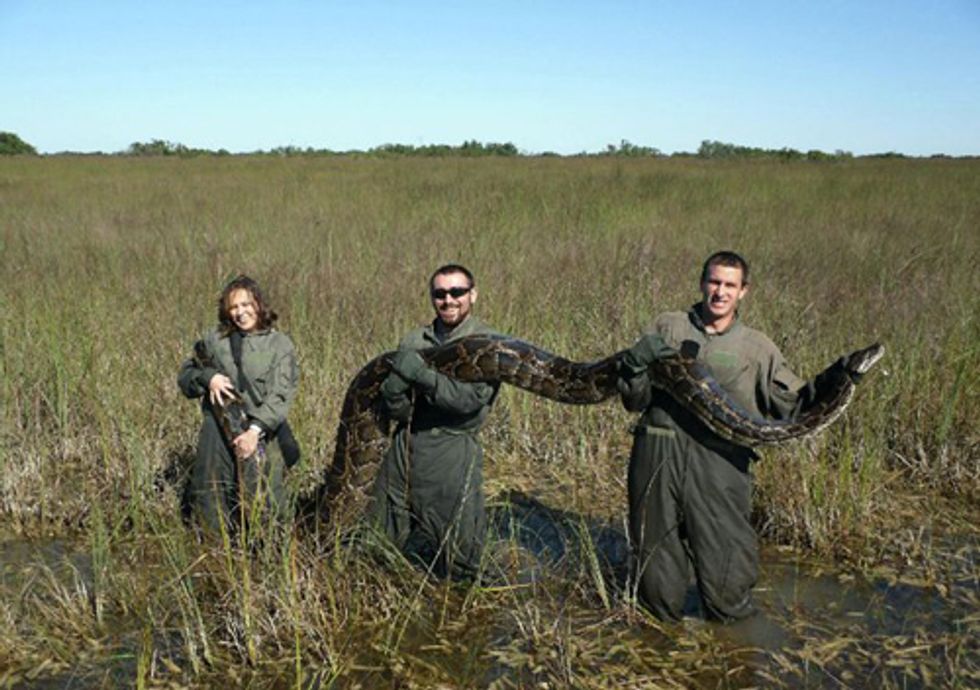 Florida Nature Conservancy Scientist Kris Serbesoff-King called the drastic loss of common mammals in the Everglades due to Burmese pythons, reported by the Florida Academy of Sciences, "really scary" and worries about the repercussions for all wildlife and for Everglades restoration.
The Nature Conservancy not only trains responders through the Python Patrol to capture pythons in an effort to contain the spread but is also working with national partners to develop U.S. policies designed to fend off the next big invasion.
"Right now imported species are innocent until proven guilty," Serbesoff-King said. "As a nation, we need to focus on pre-importation screening—that is to say looking at what will likely be a small number of non-native imported wildlife that could go on to be harmful to the lands and waters life depends on."
Nature Conservancy scientists for years have been working on "risk assessments" for plants and animals coming into the U.S., a series of questions that determines an import's probable impact on native species. It's already been shown with plants that accurate results are possible with little interruption to trade.
"For example, the U.S. Department of Agriculture has just started in the right direction for plants," she said. "There is no pre-screening right now for wildlife."
The Florida Academy of Sciences report, called The Effect of Burmese Pythons on the Mammals of South Florida, was released Jan. 30.
"Prevention is critical as this report clearly shows," Serbesoff-King said. "We have to figure out what the next Burmese python could be. Unfortunately, it might already be out there."
For more information, click here.
—————
The Nature Conservancy is a leading conservation organization working around the world to protect ecologically important lands and waters for nature and people. The Conservancy and its more than 1 million members have protected nearly 120 million acres worldwide.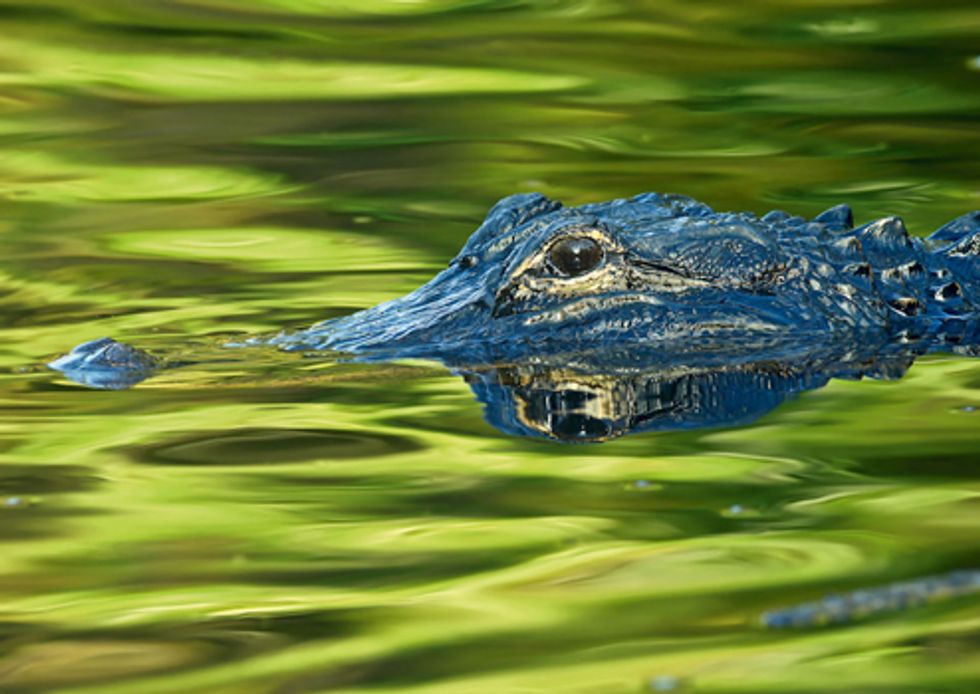 A team of explorers paddled into the serene waters of the Everglades Jan. 17 beginning the Florida Wildlife Corridor Expedition, a 1,000-mile journey that will take them from the River of Grass to the Okefenokee National Forest in South Georgia. For the next 100 days, photographer Carlton Ward Jr., biologist Joe Guthrie, conservationist Mallory Lykes Dimmitt and filmmaker Elam Stoltzfus will travel by foot, kayaks and bikes to raise awareness of a functional ecological corridor that spans the entire state of Florida. The Florida Wildlife Corridor aims to connect the natural lands and waters from Florida to southeast Georgia.
 
"Despite extensive fragmentation of the landscape in recent decades, a statewide network of connected natural areas is still possible," said Ward. "The first step is raising awareness about the opportunity we have to connect natural and rural landscapes in order to protect all of the resources that sustain us, and wildlife."
Before launching, the expedition team conducted a video interview with former Florida Gov. Bob Graham that was broadcast during the kickoff luncheon for the Everglades Water Supply Summit hosted in Tallahassee by the Everglades Foundation.        
 
Throughout the expedition, the explorers will utilize technology to send daily updates on their trip—posting photographs, videos, radio reports, social media posts and blog entries (see online links below) to keep followers informed and engaged. Stoltzfus, an award-winning cinematographer, is documenting the journey to produce a film about the expedition and the Florida Wildlife Corridor for public television. It will result in a comprehensive and informative insider's view into the remarkable ecosystems that make Florida one of the most diverse and beautiful natural areas in the country.
 
"Documenting this expedition is a tremendous opportunity to place a spotlight on Florida's delicate and diverse landscape," Stoltzfus said. "It is an opportunity to showcase the many natural resources that make up Florida beyond the state's beautiful and well-known sandy beaches."
 
The trek will include various means of travel from hiking to horseback riding. Along their journey, the team will host various activities for reporters, landowners, celebrities, conservationists, politicians and other guests. Their far-reaching expedition will take them through some of Florida's most treasured natural lands.
 
The team will make stops in more than 50 locations, including—Everglades National Park, Big Cypress, Okaloacoochee Slough, Caloosahatchee River, Babcock Ranch, Seminole Tribal Lands, Lake Okeechobee, Kissimmee River, Lake Green Swamp, Disney Wilderness Preserve, Ocala National Forest, St. Johns River and many others.
 
To follow the expedition, view the calendar of activities, and download photos and additional media materials about the Florida Wildlife Corridor project, click here.
You can also connect with the expedition team via these social media pages—Facebook, Twitter, YouTube, and Google+.
For more information, click here.