This website uses cookies to ensure you get the best experience while browsing it. By clicking 'Got It' you're accepting these terms.


The best of EcoWatch, right in your inbox. Sign up for our email newsletter!
Kyle Penniston with the 17.5-foot-long python. South Florida Water Management District / Kyle Penniston
Earlier this week, a Florida man caught and killed a 17-foot, 5-inch female Burmese python in the Miami-Dade County Everglades.
The South Florida Water Management District (SFWMD) praised Homestead-based hunter Kyle Penniston's record-setting catch for its Python Elimination Program. Weighing 120 pounds, she was certainly a big one and she even bit Penniston's hand before she was shot on Monday night, according to his Facebook post.
Vibroseis vehicles in Big Cypress National Preserve. NRDC
By Alison Kelly
New oil development has no place in sensitive wetland habitats in the Florida Everglades. The Burnett Oil Company, based in Texas, claimed it could explore for oil in the Big Cypress National Preserve with no significant, long-term impacts to sensitive wetlands. But these claims have been refuted, as Burnett Oil has caused significant damage.
EcoWatch Daily Newsletter
Researchers have discovered that bottlenose dolphins residing off the Florida Everglades have higher concentrations of mercury contamination than any other population of the mammals in the world.
Contamination levels of mercury (T-Hg) in Lower Florida Keys (LFK) and the Florida Coastal Everglades (FCE) dolphinsScience Direct
The study, published in the journal Environmental Pollution, examined the levels of mercury and other toxins in the sea creatures. According to the research, mercury concentrations in the skin of Florida Coastal Everglades dolphins (median 9314 ng g−1 dw) were about three times higher than Lower Florida Keys dolphins (median 2941 ng g−1 dw).
"These concentrations are the highest recorded in bottlenose dolphins in the southeastern USA, and may be explained, at least partially, by the biogeochemistry of the Everglades and mangrove sedimentary habitats that create favorable conditions for the retention of mercury and make it available at high concentrations for aquatic predators," the study abstract states.
The research team includes scientists from Florida International University (FIU), the University of Liège in Belgium, the University of Gronigen in the Netherlands and the Tropical Dolphin Research Foundation in the U.S.

It is unclear where exactly the mercury comes from but the scientists suspect it might stem from smoke stacks, nearby farming operations or from the area's numerous mangroves in Everglades National Park. As FIU News explained, when mangrove leaves drop into the water, mercury from the mangroves mixes with bacteria and is turned into methylmercury. Methylmercury is highly toxic and can travel up the food chain, as it collects in animal tissue in larger and larger amounts. (That's why predators like dolphins, swordfish and tuna have troubling levels of mercury.)
Woods Hole Oceanographic Institution
Dolphins that live in the Amazon and other mangrove forests also have elevated mercury levels, but the researchers were surprised to find that the mercury levels in Everglades dolphins were even higher.

"I couldn't believe those levels because that's the highest ever recorded," FIU marine scientist Jeremy Kiszka, a co-author of the study, told the Miami Herald. "It raises a lot of other questions."
The study is important because dolphins are a vital "sentinel species," meaning they shed light on oceanic and human health. So if a dolphin is swimming in contaminated waters, a person living by the same coastal waters might also be exposed to the same contamination. As the Miami Herald noted, researchers discovered last year that Indian River Lagoon dolphins had elevated mercury levels, reflecting the high levels of mercury in the nearby human population.
Similarly, since dolphins and humans eat the same kind of seafood, if a dolphin gets sick from eating toxic fish, a person who eats the same toxic fish might get sick too.
For humans, mercury can have a whole host of terrifying problems. As for what effects mercury has on dolphins, FIU News explained that the chemical can disrupt the animal's immune system and reproduction, making them more vulnerable to infection and disease.
"Mercury is one of the most neurotoxic elements in the universe," World Mercury Project president Robert F. Kennedy, Jr., who was not involved in the study, explained to EcoWatch. "The destruction of these extraordinary creatures is part of the cost of our deadly addiction to coal and chemicals. We shouldn't forget that these dolphins are accumulating these horrifying brain poisons from the same fish that our children eat."
The scientists are now trying to expand their study on other marine animals.
"Understanding the impact of pollutants on marine ecosystems, including from natural sources, is critical for conservation and management. Results obtained on bottlenose dolphins from the Everglades were surprising, but we now need to assess the effect of mercury on the health of dolphins and other species from the Everglades," Kiszka told FIU News. "This is a critical question for understanding the effects of pollutants on aquatic ecosystems, but also on humans, since we are also part of these ecosystems."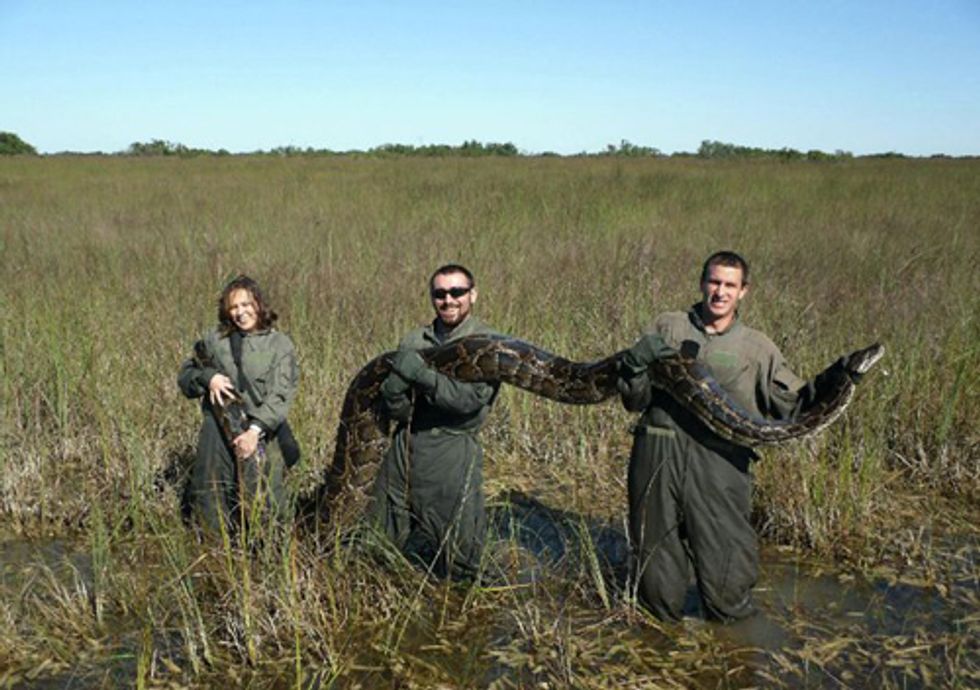 Florida Nature Conservancy Scientist Kris Serbesoff-King called the drastic loss of common mammals in the Everglades due to Burmese pythons, reported by the Florida Academy of Sciences, "really scary" and worries about the repercussions for all wildlife and for Everglades restoration.
The Nature Conservancy not only trains responders through the Python Patrol to capture pythons in an effort to contain the spread but is also working with national partners to develop U.S. policies designed to fend off the next big invasion.
"Right now imported species are innocent until proven guilty," Serbesoff-King said. "As a nation, we need to focus on pre-importation screening—that is to say looking at what will likely be a small number of non-native imported wildlife that could go on to be harmful to the lands and waters life depends on."
Nature Conservancy scientists for years have been working on "risk assessments" for plants and animals coming into the U.S., a series of questions that determines an import's probable impact on native species. It's already been shown with plants that accurate results are possible with little interruption to trade.
"For example, the U.S. Department of Agriculture has just started in the right direction for plants," she said. "There is no pre-screening right now for wildlife."
The Florida Academy of Sciences report, called The Effect of Burmese Pythons on the Mammals of South Florida, was released Jan. 30.
"Prevention is critical as this report clearly shows," Serbesoff-King said. "We have to figure out what the next Burmese python could be. Unfortunately, it might already be out there."
For more information, click here.
—————
The Nature Conservancy is a leading conservation organization working around the world to protect ecologically important lands and waters for nature and people. The Conservancy and its more than 1 million members have protected nearly 120 million acres worldwide.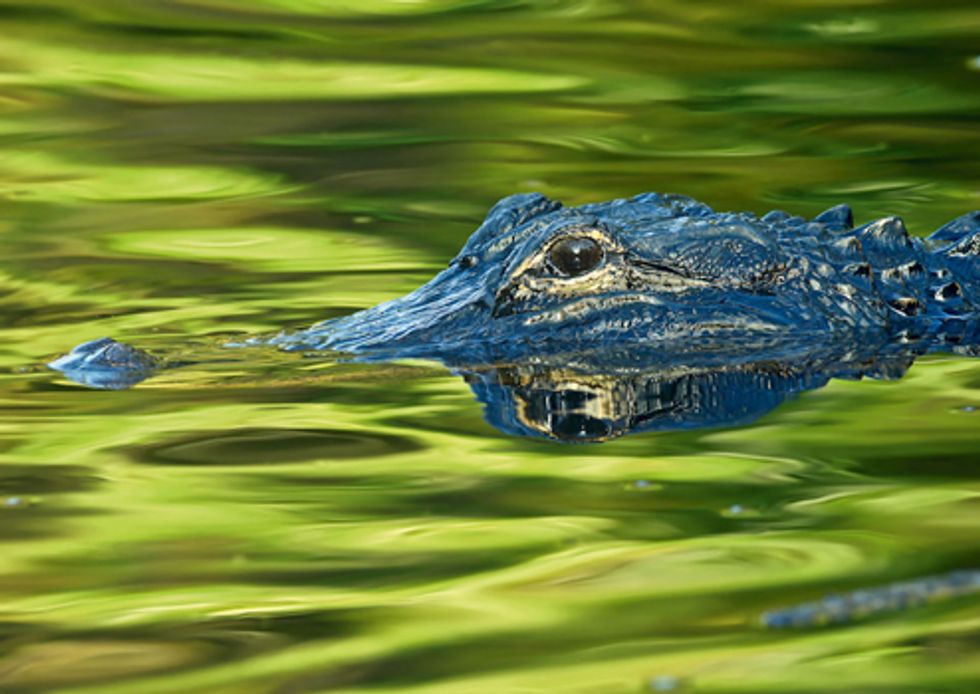 A team of explorers paddled into the serene waters of the Everglades Jan. 17 beginning the Florida Wildlife Corridor Expedition, a 1,000-mile journey that will take them from the River of Grass to the Okefenokee National Forest in South Georgia. For the next 100 days, photographer Carlton Ward Jr., biologist Joe Guthrie, conservationist Mallory Lykes Dimmitt and filmmaker Elam Stoltzfus will travel by foot, kayaks and bikes to raise awareness of a functional ecological corridor that spans the entire state of Florida. The Florida Wildlife Corridor aims to connect the natural lands and waters from Florida to southeast Georgia.
 
"Despite extensive fragmentation of the landscape in recent decades, a statewide network of connected natural areas is still possible," said Ward. "The first step is raising awareness about the opportunity we have to connect natural and rural landscapes in order to protect all of the resources that sustain us, and wildlife."
Before launching, the expedition team conducted a video interview with former Florida Gov. Bob Graham that was broadcast during the kickoff luncheon for the Everglades Water Supply Summit hosted in Tallahassee by the Everglades Foundation.        
 
Throughout the expedition, the explorers will utilize technology to send daily updates on their trip—posting photographs, videos, radio reports, social media posts and blog entries (see online links below) to keep followers informed and engaged. Stoltzfus, an award-winning cinematographer, is documenting the journey to produce a film about the expedition and the Florida Wildlife Corridor for public television. It will result in a comprehensive and informative insider's view into the remarkable ecosystems that make Florida one of the most diverse and beautiful natural areas in the country.
 
"Documenting this expedition is a tremendous opportunity to place a spotlight on Florida's delicate and diverse landscape," Stoltzfus said. "It is an opportunity to showcase the many natural resources that make up Florida beyond the state's beautiful and well-known sandy beaches."
 
The trek will include various means of travel from hiking to horseback riding. Along their journey, the team will host various activities for reporters, landowners, celebrities, conservationists, politicians and other guests. Their far-reaching expedition will take them through some of Florida's most treasured natural lands.
 
The team will make stops in more than 50 locations, including—Everglades National Park, Big Cypress, Okaloacoochee Slough, Caloosahatchee River, Babcock Ranch, Seminole Tribal Lands, Lake Okeechobee, Kissimmee River, Lake Green Swamp, Disney Wilderness Preserve, Ocala National Forest, St. Johns River and many others.
 
To follow the expedition, view the calendar of activities, and download photos and additional media materials about the Florida Wildlife Corridor project, click here.
You can also connect with the expedition team via these social media pages—Facebook, Twitter, YouTube, and Google+.
For more information, click here.