This website uses cookies to ensure you get the best experience while browsing it. By clicking 'Got It' you're accepting these terms.
By Gina Coplon-Newfield and Mary Lunetta
Electric vehicles (EVs) are cleaner, greener and more fun to drive. Different mileage ranges, prices and car types abound with about 30 plug-in electric sports cars, SUVs and sedans now available from Chevrolet, Nissan, BMW, Ford, Tesla and many other automakers. Shopping for an EV should be fun and easy. So, with so many terrific options available, why are EV sales still at only one percent of total monthly U.S. auto sales?
We launched Rev Up EVs, the first-ever multi-state study of the EV shopping experience, to find out. Based on surveys from Sierra Club volunteers who called or visited 308 different auto dealerships and stores across ten states to check out and test drive EVs, the study finds that there is tremendous room for improvement among both the dealerships and the automakers to provide customers with a better EV shopping experience.
Sierra Club
The California Air Resources Board's Zero Emission Vehicle (ZEV) program requires automakers to sell increasing numbers of EVs between now and 2025. Because of the many environmental and economic benefits of electric vehicles, the ZEV standard is now followed by nine other states as well. With the standards currently up for review, many automakers are lobbying regulators to weaken zero emission vehicle regulations, saying they are doing everything they can to sell EVs.
But the numbers don't add up. A recent Union of Concerned Scientists and Consumers Union survey of randomly selected drivers found that 55 percent of survey respondents in Northeastern states and 65 percent in California are interested in EVs, and that 65 percent of surveyed California drivers wish there were more EV options. An earlier survey of driving habits showed that for more than 40 percent of Americans, switching to an electric vehicle would be practical right now. With such high interest, EV sales should be accelerating at a much faster pace.
In less than a month, drivers across the country will take part in the largest celebration of electric vehicles, National Drive Electric Week, now in its sixth year.
By studying the EV shopping experience in each of the ZEV states, the Rev Up EVs study found that some automakers and auto dealers are doing a great job developing, marketing, and selling EVs to consumers by having several EVs on their lots, informed salespeople, and strong EV advertising. These best practices are not rocket science. But many other dealers and automakers are falling short.
The first step to selling any car is to actually have it available for purchase -- you can't sell a car that isn't there. But the Rev Up EVs project found that it's often difficult to find an auto dealership with even one electric vehicle on its lot. Auto dealerships in the nine other ZEV states were 2 ½ times more likely than those in California to find no EV on the dealership lot for customers to see, test-drive, and lease or buy.
Availability may be the first step to selling a car, but it's not the only area with room for improvement. Even at dealerships with at least one EV on the lot, about one third of the salespeople at surveyed dealerships failed to provide their customers with information on the tax credits and rebates that make EVs significantly more affordable and that are proven to increase electric vehicle sales.
Sierra Club
To increase EV sales, we can't lower the bar for the auto industry. We need the industry to step up and put best practices to work to sell EVs and comply with the ZEV regulations. In fact, to achieve our climate, air quality, and EV sales goals, we need even stronger ZEV regulations. And it's possible. Automakers can increase inventory and multi-state distribution of EVs, as well as offer attractive deals to dealerships. Once they're on dealers' lots, EVs need to be charged, ready for test drives, and prominently displayed. Auto dealers and makers need to train their salespeople on the ins and outs of EVs so that salespeople can answer customer questions. Finally, automakers need to increase advertising of their EVs which, in turn, will encourage dealers to advertise more at the local level.
In less than a month, drivers across the country will take part in the largest celebration of electric vehicles, National Drive Electric Week, now in its sixth year. At upwards of 200 parades, ride and drives, charging station ribbon cuttings, city fleet displays and other community events, people across the country will showcase the many benefits of driving electric. In previous years, we've found these events to lead to more people heading to dealerships to buy or lease EVs. Will the industry be ready to welcome these customers?
Gina Coplon-Newfield is the director of the Sierra Club's Electric Vehicles Initiative. Mary Lunetta is the campaign representative for the Sierra Club's Electric Vehicles Initiative.
Related Articles Around the Web
A group of like-minded governors on both sides of the nation pledged this morning to get millions of zero-emissions vehicles (ZEVs) on the country's roads by 2025.
Governors from eight states—California, Connecticut, Maryland, Massachusetts, New York, Oregon, Rhode Island and Vermont—said they would do their part to encourage drivers to buy ZEVs to total 3.3 million on U.S. streets in the next dozen years. They agreed to collectively evaluate offering financial incentives for ZEVs and lead by example by using these more environmentally sound vehicles for their government fleets.
"This is not just an agreement, but a serious and profoundly important commitment," California Governor Edmund G. Brown Jr. said. "From coast to coast, we're charging ahead to get millions of the world's cleanest vehicles on our roads."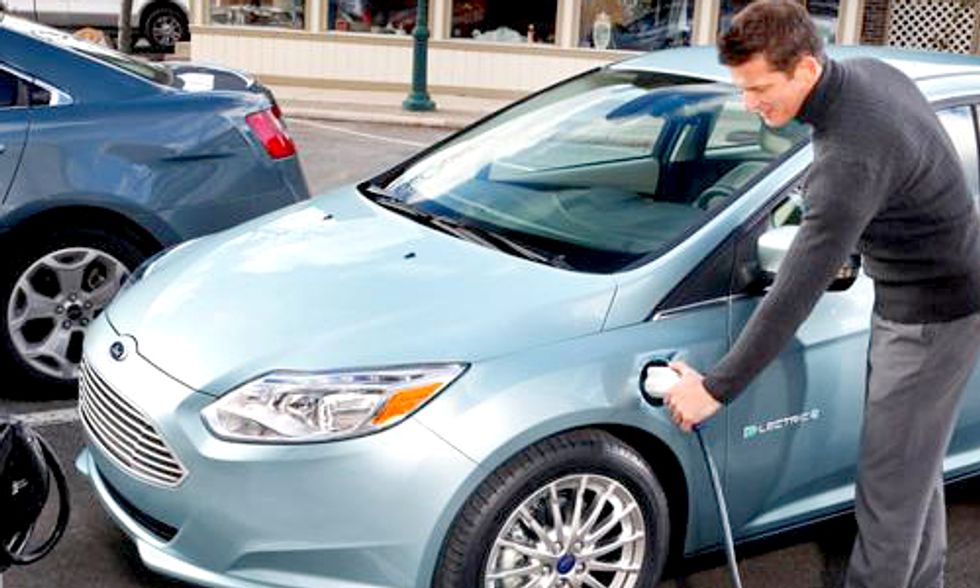 The group estimates 200,000 ZEVs by 2015. There are about 65,000 between the coalition's states, including 50,000 in California.
Sales more than tripled from 17,000 in 2011 to 52,000 last year.
"Today's announcement will ensure that all new cars won't just use less gas, many won't use gas at all," Sierra Club Executive Director Michael Brune said in a statement. "The facts speak for themselves, EVs are cleaner and more efficient than internal combustion engines and U.S. automakers have roared back to life by betting big on efficiency and the new innovative auto technologies that Americans demand."
The governors said they would formalize an action plan within six months. Here are more of their initial ideas to push for more ZEV sales:
Harmonize building codes to make it easier to construct new electric car charging stations
Consider favorable electricity rates for home charging systems
Develop common standards for roadway signs and charging networks
"Today's announcement shows commitment from these states to support a successful and growing market for electric vehicles, a key solution for tackling climate change and cutting our nation's projected oil use in half over the next 20 years," David Reichmuth, senior engineer with the Clean Vehicles program at the Union of Concerned Scientists, said in a statement.
"Auto manufacturers, lawmakers and citizens need to work together so that we can enjoy cleaner vehicles across the United States. Today's agreement, signed by eight states representing a quarter of all new vehicles sales, is an important step toward ensuring that the market for electric vehicles continues to expand."

EcoWatch Daily Newsletter
The advocate who was on the cusp of a one-on-one discussion with President Obama figures the big screen is his best chance to inform the nation's leader about the benefits of electric vehicles (EV).
This week, Plug In America co-founder and Nissan LEAF salesman Paul Scott announced the production of a documentary, My Lunch with Obama. The lunch—really intended to be a two-minute discussion—never took place after the Democratic National Convention (DNC) rescinded Scott's invitation, possibly in response to critics of Scott's plan to pay $32,400 of his retirement fund for the discussion and a seat at a fundraiser earlier this year in Santa Monica, CA.
"This seemed like a good way to spend my money, to push the economic benefits of electric cars for our nation," Scott told Mother Nature Network in June, following the DNC's decision. "My thought is that the average American pays this kind of money, over time, to the oil companies. We pay out $700 billion a year to Big Oil, and spend $80 billion a year protecting the oil supply."
While Scott never got to speak to Obama, he was recently invited to an EV conference where he got to speak in front of leaders from the Netherlands, England, Germany, Norway, Sweden, Denmark and Belgium.