This website uses cookies to ensure you get the best experience while browsing it. By clicking 'Got It' you're accepting these terms.


The best of EcoWatch, right in your inbox. Sign up for our email newsletter!
Campaigners say that the EU's domestic ivory trade puts elephants like these at risk from poachers.
Ikiwaner / GNU Free Documentation License, Version 1.2
From bee-killing pesticides to single-use plastics, we can usually rely on the European Union to ban substances and activities that harm wildlife. That's why it's shocking and saddening to learn that the European Commission is walking back a commitment to end its domestic ivory trade, as The Independent reported early Thursday.
The EU banned raw ivory exports in 2017, but many rightly argue that this is not enough to discourage poachers from targeting elephants and slipping illegal items into the EU's legal trade. The U.S., China and the UK have all moved forward with full bans, so the EU is uncharacteristically behind the times on this one.
As expected, the European Commission has extended the license for glyphosate for 18 months. Health Commissioner Vytenis Andriukaitis announced the last-minute re-licensing on June 28 despite failing three times in a row to secure a majority decision from the European Union's member states.
The EU's current approval of glyphosate had been set to expire on Thursday but due to the member state gridlock, the EU's executive body had the final say on whether or not the controversial weedkiller remained on Europe's shelves. Had glyphosate's license been allowed to expire, manufacturers would have been given six months to phase out products containing the chemical, such as Monsanto's Roundup and other herbicides.
"The commission will follow our legal obligation. We know very well that we have a deadline of June 30. We will adopt an extension for glyphosate of 18 months," Andriukaitis said at a news conference.
Europe's opinion of the widely used pesticide has been sharply divided ever since March 2015 when the World Health Organization's International Agency for Research on Cancer classified glyphosate as a probable carcinogen. To complicate matters, other regulatory agencies such as the European Food Safety Authority, declared glyphosate as safe in November.
Andriukaitis noted that the 18-month extension will allow the European Chemicals Agency to further assess the product's safety.
However, the fact that the commission originally proposed to extend glyphosate for another 15 years but has now whittled it down to a temporary approval highlights the chemical's uncertain fate on the continent.
"This decision by the commission to extend the approval of glyphosate in spite of last week's vote shows a disdain for the opposition by the public and EU governments to this controversial toxic herbicide," Green Party MEP Bart Staes said.
"As perhaps the first EU decision after the UK referendum, it shows the commission is failing to learn the clear lesson that the EU needs to finally start listening to its citizens again. This temporary extension must be the beginning of the end for glyphosate; we would now urge EU governments and regions to exercise their rights to impose significant restrictions on its use, so we can begin the process of phasing-out glyphosate."
"There are clear concerns about the health risks with glyphosate, both as regards it being a carcinogen and an endocrine disruptor," Staes continued. "Moreover, glyphosate's devastating impact on biodiversity should have already led to its ban. The process of phasing-out glyphosate and other toxic herbicides and pesticides from agriculture must begin now, and this means reorienting the EU's Common Agricultural Policy towards a more sustainable agricultural model and a Common Food Policy."

The Green Party noted that under the legislation, EU member states are entitled to impose restrictions on glyphosate, with France and additional municipal authorities already saying they will do so.
Environmental group Friends of the Earth has also objected to the extension.
"Glyphosate has been given a stay of execution in Europe, but it remains the world's most over-used herbicide. Farmers have been told that this chemical is safe—yet there is mounting evidence of the harmful impacts on our health and environment," farming campaigner Clare Oxborrow stated.
"Despite the Brexit vote, the Government must now see that glyphosate's days are numbered and produce a phase-out plan for this and other damaging chemicals. Farmers urgently need independent advice and support on other ways of tackling persistent weeds that do not harm our water, soils and wild species."
"Longer term, the Government's Brexit plans for farming must prioritise a food and farming strategy that builds a diverse, resilient system—supporting flourishing wildlife, sustainable healthy diets and thriving farmers' livelihoods," Oxborrow said. "And local authorities should follow the lead of Hammersmith and Fulham council and stop using Roundup and other weedkillers containing glyphosate in parks, gardens and schools."
Meanwhile, glyphosate manufacturers and the farm lobby celebrated the news.
Crop Protection Association CEO Nick von Westenholz said he was disappointed that EU member states "forced the commission into this position by ignoring the science and advice of expert regulators."

"The indecision of Member States and the need for an extension demonstrates how politicized this process has become," he said. "Nevertheless, it will be a relief to farmers that they will be able to continue to use this crucial tool, at least in the short-term."
He added that the standard 15 year renewal should have been granted and urges the member states "to take the sensible, science led decision to re-licence this safe, efficient and effective product for the full 15 year period once the 18 month extension has expired."
YOU MIGHT ALSO LIKE
Monsanto vs. People Power: EU Glyphosate License Set to Expire June 30
DARK Act Compromise Could Preempt Vermont's GMO Label Law
Monsanto Issued Two GMO Permits Despite Objection From 5 Million Nigerians
Brazil Won't Buy U.S. GMO Corn, Highlights Worldwide Divide Over GMOs
EcoWatch Daily Newsletter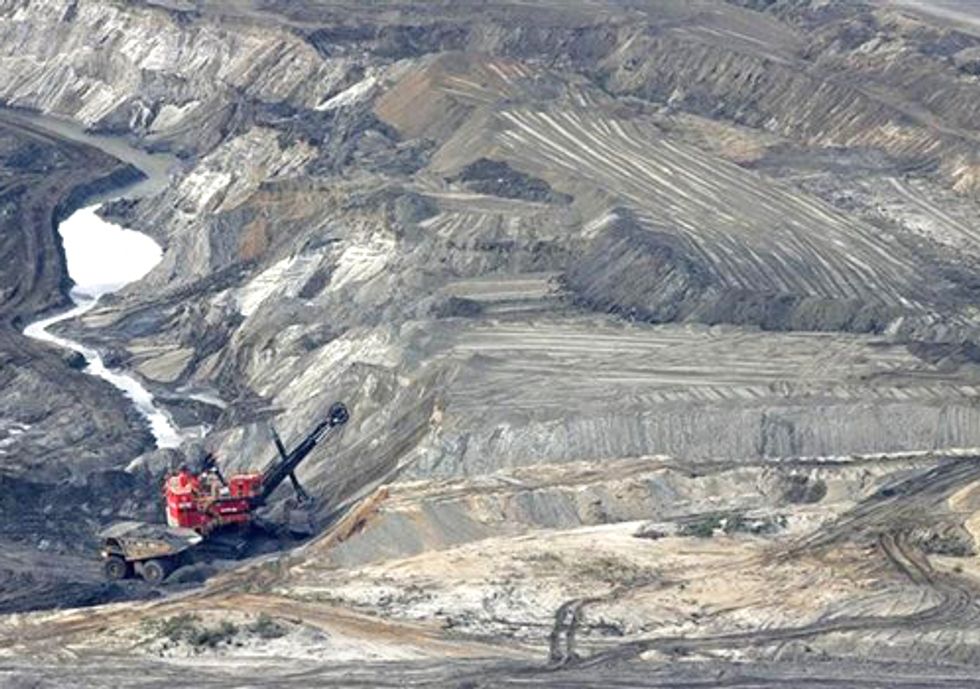 A meeting on Feb. 23 of European Union (EU) country representatives to decide on an effective ban of climate-wrecking fuels, such as those produced from tar sands, has ended in stalemate, said Greenpeace. The decision to implement the EU's fuel quality directive and its agreed objective of cutting carbon emissions from fuels by 6 percent by 2020 now lies with European environment ministers, who are expected to vote on the matter in June.
The issue has been the subject of a furious back-room lobby offensive by the government of Canada, backed by global oil companies, which are set to profit from environmentally destructive tar sands extraction. Canada sits on what is probably the world's third biggest oil reserve, but most of it is locked up in tar sands.
Tar sands oil produces 23 percent more climate emissions than conventional fuels, Stanford University found in a report for the European Commission.
"Now that the tar sands issue is finally in the hands of publicly accountable ministers, we will see who's pulling the strings in Europe," said Greenpeace EU transport policy adviser Franziska Achterberg. "The evidence is clear—tar sands are the world's dirtiest fuels. The decision is even clearer—ministers should stand up to the oil industry and ban them from Europe."
For more information, click here.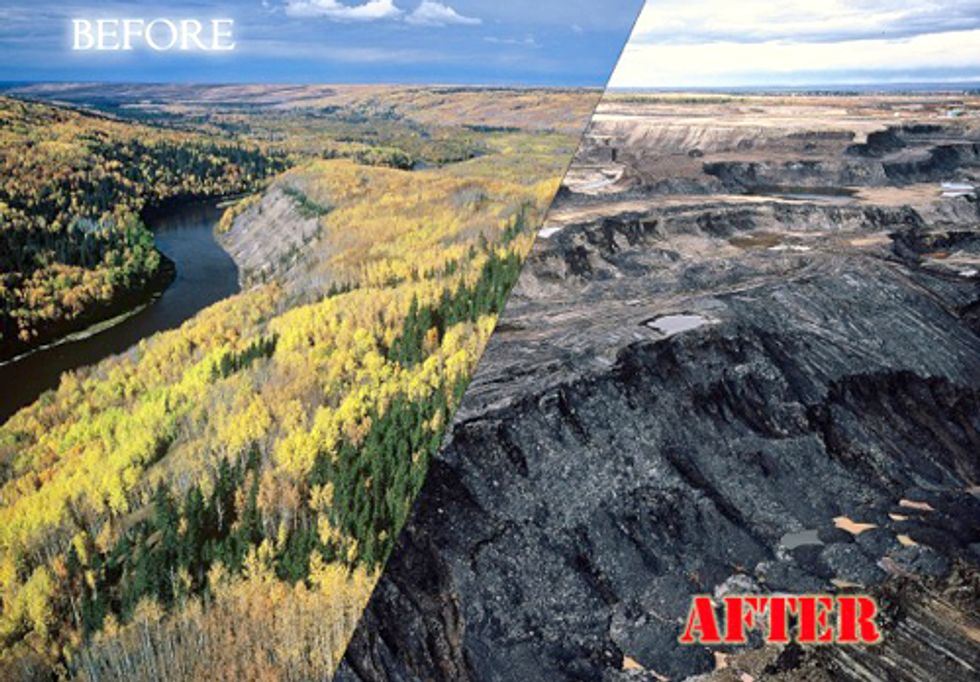 The European Commission—the executive branch of the European Union (EU)—will be voting in the next couple days whether to designate Canada's tar sands as being "highly polluting." Given tar sands' terrible ecological impacts upon our shared global atmosphere—and Canadian boreal forests, water, and indigenous peoples—the answer should be painfully obvious, and a resounding yes.
Such a designation would be a significant setback for tar sands growth.
Yet given the power of the ecocidal oil oligarchy which rules Canada and much of the world, empowered global citizens need to let the EU know the world expects, indeed demands, the EU do the right thing in condemning tar sands—in order to establish a level playing field for a renewable, efficient, and conservation based energy future.
Send a message to the EU to let them know you don't support tar sands development by clicking here.
For more information, click here.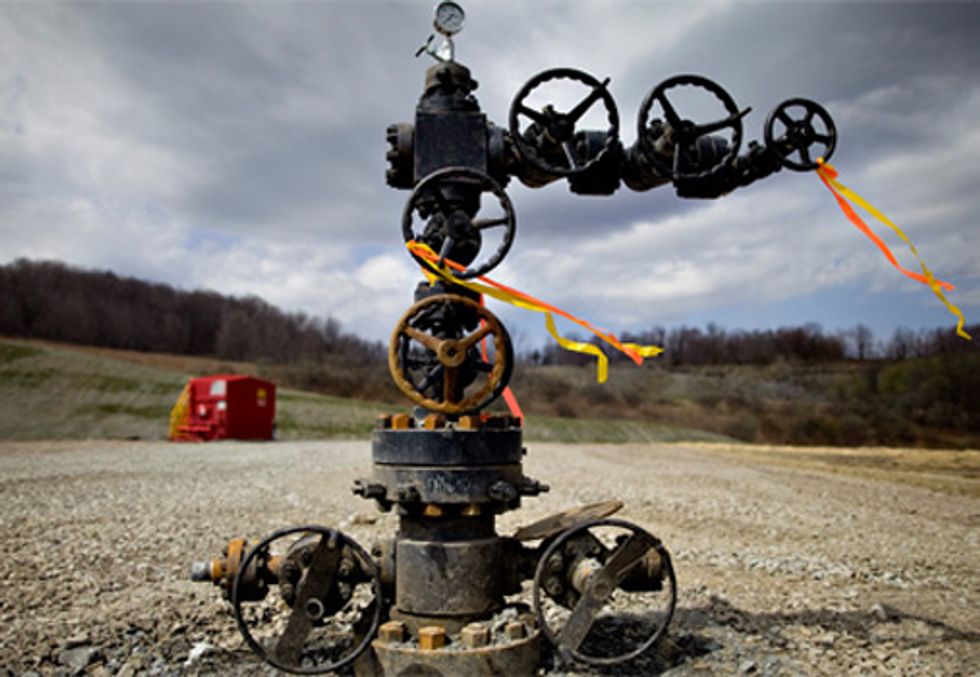 By Andy Rowell
In a decision that will both dismay and worry environmental campaigners and communities facing fracking across Europe, the European Commission has concluded that existing laws are adequate to cover the controversial drilling technique.
A new report undertaken for the European Commission by the Belgian law firm Philippe & Partners, argues that there is no need for more environmental legislation concerning fracking until it reaches commercial scale.
"Neither on the European level nor on the national level have we noticed significant gaps in the current legislative framework, when it comes to regulating the current level of shale gas activities," the study says.
However, in words that are meant to reassure people, the report continued: "However, this is no reason for complacency, since this assessment explicitly refers to the current level of experience and scale of operations as can be expected during the exploration phase."
Although the study was finished last November, it has only just been released by the commission. It also just covered four countries—Sweden, Poland, France and Germany.
But the report argues that activities relating to exploration of shale gas are already subject to EU and national laws and regulations, such as the Water Framework Directive, the Groundwater Directive and the Mining Waste Directive. The use of chemicals is covered by the REACH (Registration, Evaluation, Authorisation and Restriction of Chemical substances) regulation.
"It is a new technology and we do not have a specific legislation on shale gas, because it is so new," said Marlene Holzner, European commission spokesperson on energy. "So the study only says that the existing regulations are applicable for shale gas, that the tool is there and has only to be applied."
Ironically this report is at odds with another report submitted last summer to the commission, which was written for the European Parliament's Committee on Environment, Public Health and Food Safety.
That report called for "consideration to be given to developing a new directive at European level regulating all issues in this area comprehensively." The report, entitled Impacts of shale gas and shale oil extraction on the environment and human health also recommended that for fracking, "all chemicals to be used should be disclosed publicly, the number of allowed chemicals should be restricted and its use should be monitored."
But of course, by the time fracking gets to a commercial scale it could well be too late to monitor all the chemicals being used and to rush in EU-wide legislation, especially given the time it takes to draft legislation and then get it past the EU's various respective bodies.
Meanwhile, there would be huge financial and other pressure from the oil industry to carry on drilling without having to wait for further regulations. It is a scenario that many communities in America are finding to their cost.
The new report will be used by the oil industry as a green light to carry on fracking. Poland, where the fracking revolution is occurring full steam ahead, is planning to begin commercial shale gas production in two years' time. So if laws are to be implemented at the EU level to cover commercial drilling, that needs to happen now.
Not every country in the EU is fracking mad, though.
A couple of weeks ago, thousands of Bulgarians protested against fracking over fears it could poison underground water, trigger earthquakes and pose serious public health hazards. Protestors rallied in more than six Bulgarian cities calling for a fracking moratorium.
"I am opposed because we do not know what chemicals they will put in the ground. Once they poison the water, what shall we drink?" said Olga Petrova, 24, a student who attended a protest in Sofia.
Days later, Bulgaria's National Assembly voted to impose an indefinite fracking ban in the country. France also banned fracking last July, while in Britain fracking has caused minor earthquakes.
Who's going to draft a law to stop that happening again?
For more information, click here.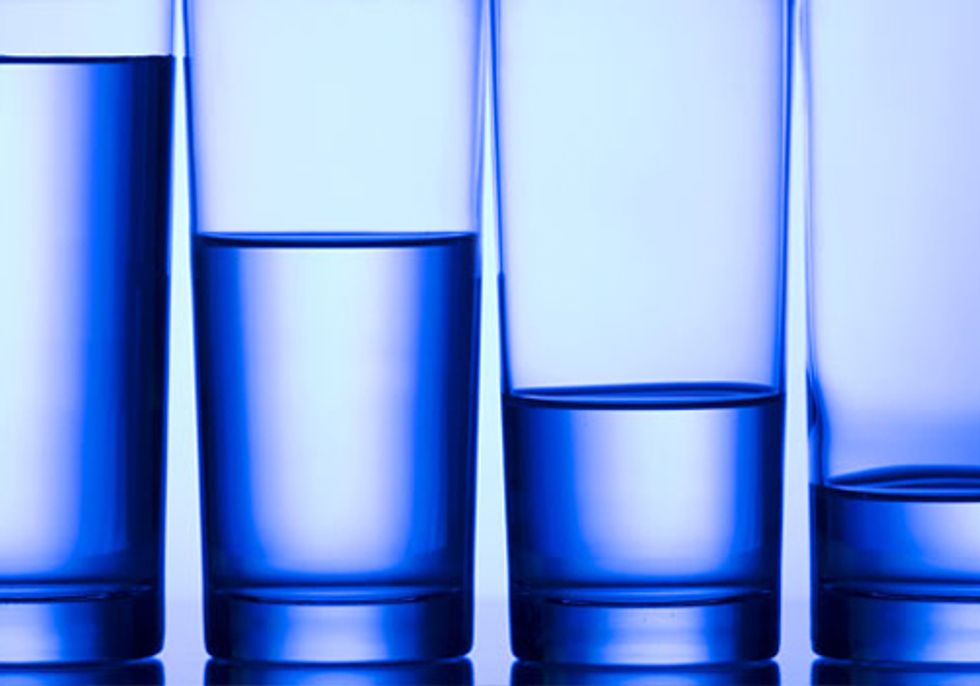 Just 50 days before the World Water Forum and the Alternative World Water Forum take place in Marseille, France, the European Commission has announced formal anti-trust proceedings against French water companies Veolia, Suez and subsidiaries Lyonnaise des Eaux and SAUR.
The commission will examine whether companies have coordinated their behaviour in markets for water and wastewater services in France, in particular, with respect to elements of the price invoiced to final consumers. This follows several unannounced inspections at the companies in April 2010, where Suez was then fined €8 million for breaking a seal placed by the commission during the inspection.
"Food & Water Europe applauds the European Commission for its actions," said Food & Water Europe Executive Director Wenonah Hauter. "This investigation shows why our water services should be publicly owned. The first priority of private water companies is shareholders, not communities. Private operators are known for trimming costs in operation, as well as cutting jobs and raising rates in communities they enter with no consideration for transparency.
"Even though there is strong public resistance to privatization, the public sector is helping the private water companies by providing finance, developing strategies, and even investing in these companies. At the same time, the ownership of private water companies in Europe has become all the more concentrated, overwhelmingly dominated by Veolia and Suez.
"In times of austerity measures and financial crisis, it is all the more important that there is transparency on the pricing of water services, especially when the business of these companies deal with a common good such as water.
"This comes at a bad time for the French water companies who are preparing the World Water Forum in the name of the World Water Council and have already seen their shares drop by around 5 percent following the commission's announcement," concluded Hauter.
For more information, click here.
—————
Food & Water Europe is a program of Food & Water Watch, Inc., a non-profit consumer NGO based in Washington, D.C., working to ensure clean water and safe food in Europe and around the world. We challenge the corporate control and abuse of our food and water resources by empowering people to take action and transforming the public consciousness about what we eat and drink.
Food & Water Watch works to ensure the food, water and fish we consume is safe, accessible and sustainable. So we can all enjoy and trust in what we eat and drink, we help people take charge of where their food comes from, keep clean, affordable, public tap water flowing freely to our homes, protect the environmental quality of oceans, force government to do its job protecting citizens, and educate about the importance of keeping shared resources under public control.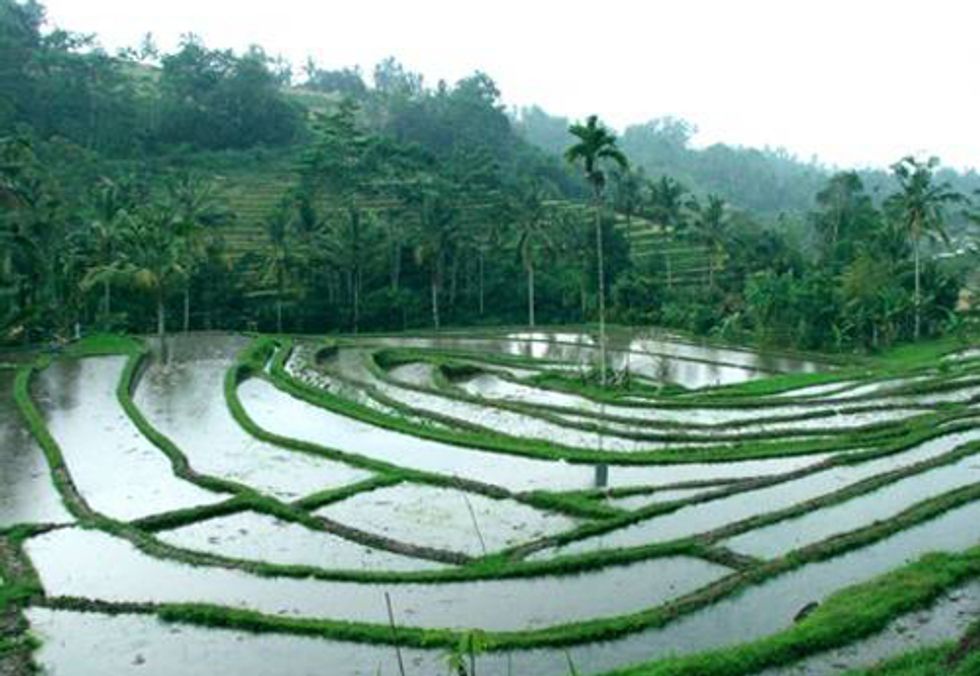 The Food and Agriculture Organization of the United Nations (FAO) and the European Commission announced a new €5.3 million project Jan. 16 aimed at helping Malawi, Vietnam and Zambia transition to a "climate-smart" approach to agriculture.
Agriculture—and the communities who depend on it for their livelihoods and food security—are highly vulnerable to climate change impacts. At the same time agriculture, as a significant producer of greenhouse gases, contributes to global warming.
"Climate-smart agriculture" is an approach that seeks to position the agricultural sector as a solution to these major challenges.
It involves making changes in farming systems that achieve multiple goals—improving their contribution to the fight against hunger and poverty, rendering them more resilient to climate change, reducing emissions, and increasing agriculture's potential to capture and sequester atmospheric carbon.
"We need to start putting climate-smart agriculture into practice, working closely with farmers and their communities," said FAO Assistant Director-General for the Economic and Social Development Department, Hafez Ghanem. "But there are no one-size-fits-all solutions—better climate-smart farming practices need to respond to different local conditions, to geography, weather and the natural resource base," he added.
"This project will look closely at three countries and identify challenges and opportunities for climate-smart agriculture and produce strategic plans tailored to each country's own reality," Ghanem said. "While not all solutions identified will be universally applicable, we can learn a lot about how countries could take similar steps and begin shifting to this approach to agriculture."
Tailor-made solutions

The European Union is providing €3.3 million to support the effort. FAO's contribution is €2 million.
Working closely with agriculture and other ministries in each of the partner countries, and collaborating with local and international organizations, the three-year project will:
Identify country-specific opportunities for expansion of existing climate-smart practices or implementation of new ones
Study the constraints that need to be overcome to promote wider adoption of climate-smart agriculture, including investment costs
Promote integration of national climate change and agricultural strategies to support the implementation of climate-smart agriculture
Identify innovative mechanisms for linking climate finance with climate-smart agriculture investments
Build capacity for planning and implementing climate-smart projects capable of attracting international investments
FAO will take the overall lead on the project, working in partnership with national policy and research institutions, as well as global organizations such as the Global Crop Diversity Trust.
By tackling the urgent need to incorporate climate change concerns into agricultural development planning, this new project represents a concrete step forward, said Ghanem. "The problems of climate change are increasingly being felt on the ground, and thus early actions to address the problem are needed, even as international negotiations continue in the search for a global climate agreement," he said.
For more information, click here.