Locusts swarm from ground vegetation as people approach at Lerata village, near Archers Post in Samburu county, approximately 186 miles north of Nairobi, Kenya on Jan. 22. "Ravenous swarms" of desert locusts in Ethiopia, Kenya and Somalia threaten to ravage the entire East Africa subregion, the UN warned on Jan. 20. TONY KARUMBA / AFP / Getty Images
East Africa is facing its worst locust infestation in decades, and the climate crisis is partly to blame.
EcoWatch Daily Newsletter
Ethiopian prime minister Abiy Ahmed plants a tree in Addis Ababa. Prime Minister Abiy Ahmed's office
About 353 million trees were planted in a single day in Ethiopia on Monday, setting a new world record for seedling plantings, as CNN reported.
The record-setting day is part of a wider "green legacy" initiative started by Prime Minister Abiy Ahmed's office. The campaign wants every Ethiopian to plant 40 seedlings during the rainy season, which runs from May to October. In the end, the country will have 4 billion indigenous trees to help mitigate the effects of the global climate crisis.
Ethiopia is particularly vulnerable to extreme weather and has suffered from recurrent droughts and deforestation. According the UN figures, Ethiopia's forest coverage dropped from 35 percent a century ago to just 4 percent in the 2000s, as the Guardian reported.
While 80 percent of Ethiopia's population depends on agriculture for their livelihood, extensive farming has increased Ethiopia's vulnerability to land degradation, soil erosion and flooding, according to CNN.
Bekele Benti, a bus driver in Ethiopia's capital Addis Ababa who has witnessed the effects of deforestation, participated in the tree plantings.
"As a bus driver, with frequent trips across the country, I have witnessed the extent of deforestation in different parts of Ethiopia," Benti told Xinhua. "It's really frustrating to see forest-covered areas turned to be bare lands within a few years."
The Green Legacy project "is an ambitious undertaking to become a green society by planting various types of eco-friendly seedling to combat environmental degradation and, a national platform that will be used for various societal green activities," according to the prime minister's official website.
The initial plan for Monday was to plant 200 million trees, which would shatter the record for a single day planting, set in India in 2017 when 1.5 million volunteers planted 66 million trees. To facilitate the planting, many government offices were closed and civil servants were given the day off to take part in the planting, as CNN reported.
After the 12-hour period ended, the Prime Minister posted to Twitter that Ethiopia had far exceeded its goal. A total of 353,633,660 tree seedlings had been planted, the country's minster for innovation and technology, Getahun Mekuria, tweeted, as CNN reported.
Abiy took part in the planting, making appearances that included stops in Addis Ababa, Arba Minch and Wolaita Sodo. More than 400 staff from the United Nations planted trees, along with staff from the African Union, and various foreign embassies in Ethiopia, according to the BBC.
Ethiopian Airlines was one of several corporate entities to join the effort. "Environmental sustainability is one of our corporate philosophies," said the airline, which shared pictures of its executives planting trees near airplanes, according to the Africa Times.
The move to plant so many trees comes in the wake of a recent study that planting 500 billion trees could remove one-fourth of the carbon in the atmosphere, as EcoWatch reported.
From Your Site Articles
Related Articles Around the Web
waterlust.com / @tulasendlesssummer_sierra .
Each product featured here has been independently selected by the writer. If you make a purchase using the links included, we may earn commission.
The bright patterns and recognizable designs of Waterlust's activewear aren't just for show. In fact, they're meant to promote the conversation around sustainability and give back to the ocean science and conservation community.
Each design is paired with a research lab, nonprofit, or education organization that has high intellectual merit and the potential to move the needle in its respective field. For each product sold, Waterlust donates 10% of profits to these conservation partners.
Eye-Catching Designs Made from Recycled Plastic Bottles
waterlust.com / @abamabam
The company sells a range of eco-friendly items like leggings, rash guards, and board shorts that are made using recycled post-consumer plastic bottles. There are currently 16 causes represented by distinct marine-life patterns, from whale shark research and invasive lionfish removal to sockeye salmon monitoring and abalone restoration.

One such organization is Get Inspired, a nonprofit that specializes in ocean restoration and environmental education. Get Inspired founder, marine biologist Nancy Caruso, says supporting on-the-ground efforts is one thing that sets Waterlust apart, like their apparel line that supports Get Inspired abalone restoration programs.
"All of us [conservation partners] are doing something," Caruso said. "We're not putting up exhibits and talking about it — although that is important — we're in the field."
Waterlust not only helps its conservation partners financially so they can continue their important work. It also helps them get the word out about what they're doing, whether that's through social media spotlights, photo and video projects, or the informative note card that comes with each piece of apparel.
"They're doing their part for sure, pushing the information out across all of their channels, and I think that's what makes them so interesting," Caruso said.
And then there are the clothes, which speak for themselves.
Advocate Apparel to Start Conversations About Conservation
waterlust.com / @oceanraysphotography
Waterlust's concept of "advocate apparel" encourages people to see getting dressed every day as an opportunity to not only express their individuality and style, but also to advance the conversation around marine science. By infusing science into clothing, people can visually represent species and ecosystems in need of advocacy — something that, more often than not, leads to a teaching moment.

"When people wear Waterlust gear, it's just a matter of time before somebody asks them about the bright, funky designs," said Waterlust's CEO, Patrick Rynne. "That moment is incredibly special, because it creates an intimate opportunity for the wearer to share what they've learned with another."
The idea for the company came to Rynne when he was a Ph.D. student in marine science.
"I was surrounded by incredible people that were discovering fascinating things but noticed that often their work wasn't reaching the general public in creative and engaging ways," he said. "That seemed like a missed opportunity with big implications."
Waterlust initially focused on conventional media, like film and photography, to promote ocean science, but the team quickly realized engagement on social media didn't translate to action or even knowledge sharing offscreen.
Rynne also saw the "in one ear, out the other" issue in the classroom — if students didn't repeatedly engage with the topics they learned, they'd quickly forget them.
"We decided that if we truly wanted to achieve our goal of bringing science into people's lives and have it stick, it would need to be through a process that is frequently repeated, fun, and functional," Rynne said. "That's when we thought about clothing."
Support Marine Research and Sustainability in Style
To date, Waterlust has sold tens of thousands of pieces of apparel in over 100 countries, and the interactions its products have sparked have had clear implications for furthering science communication.
For Caruso alone, it's led to opportunities to share her abalone restoration methods with communities far and wide.
"It moves my small little world of what I'm doing here in Orange County, California, across the entire globe," she said. "That's one of the beautiful things about our partnership."
Check out all of the different eco-conscious apparel options available from Waterlust to help promote ocean conservation.
Melissa Smith is an avid writer, scuba diver, backpacker, and all-around outdoor enthusiast. She graduated from the University of Florida with degrees in journalism and sustainable studies. Before joining EcoWatch, Melissa worked as the managing editor of Scuba Diving magazine and the communications manager of The Ocean Agency, a non-profit that's featured in the Emmy award-winning documentary Chasing Coral.
By Genevieve Belmaker and Joseph Charpentier
Throughout 2018, forests continued to be threatened and destroyed. From the Amazon, to the Congo Basin, to the Mekong Delta and scores of places in between—journalists reporting for Mongabay filed hundreds of stories about the world's forests.
Although the significance of any one story is difficult to gauge in the short-term, several Mongabay reports from 2018 stood out. These pieces dealt with illegal timber trafficking, advances in technology-based environmental protections and human rights protections for the people doing environment-defense work—formal and informal.
Logged trucks in the Amazon Photo by Mongabay
A team of journalists from five Latin American countries investigated how groups of timber traffickers manage to steal and process timber from the Amazon. Illegally-sourced timber from Peru, Bolivia, Brazil, Ecuador and Colombia are incorporated into the international market with falsified official documents that are almost never verified. Timber traffickers are now pursuing new species of trees, but the countries' governments do very little to protect the species. Reported by Nelly Luna Amancio of Ojopublico and translated by Sarah Engel for Mongabay Latam.
The main chamber of Hang En, the third-largest cave in the world, located in Phong Nha-Ka Bang National Park Photo by Michael Tatarski / Mongabay
Vietnam's global press freedom ranking is one of the lowest in the world. Reporters Without Borders ranks Vietnam 175 of 180 in its 2017 annual press freedom index. Environmental journalists in Vietnam, including citizen journalists and bloggers covering forests or pollution issues, routinely face roadblocks and sometimes jail time. Reported by Michael Tatarski in Vietnam.
Students of the church live in small huts around the church's land.Photo by Maheder Haileselassie Tadese for Mongabay
In Meket—a district in Ethiopia's Amhara National Regional State (ANRS)—efforts are underway to restore what experts say is one of the more severely deforested and degraded regions in the country. Of the land in ANRS, less than 2 percent forested land remains, and efforts are underway to restore degraded and deforested areas. In 2016, Ethiopia turned to forestry sector development projects in the form of short rotation planting and rehabilitation of degraded lands in ANRS and other districts. Reported and photographed by Maheder Haileselassie Tadese in Ethiopia.

Many areas have been used to grow large crops. Photo courtesy of the Solidarity Development Corporation (CDS)
Mongabay learned that the superintendent of notary and registry has a record of empty lands being used illegally in seven Colombian departments. The illegally-used land is in the departments of Norte de Santander, Antioquia, Meta, Caquetá, Casanare, Cesar and Vichada. The land makes up a total of 762,807 hectares (almost 1,885,000 acres). Reported by Maria Fernanda Lizcano and translated by Sarah Engel.

A Rohingya boy chopping wood from tree stump he freed from soil near Kutupalong-Balukhali refugee camp on Bangladesh Photo by Khaamil Ahmed / Mongabay
Their panicked dash from burning villages involved stumbling through forests or battling monsoon-charged waters in search of safety. Along the way and in makeshift shelters and eventually camps, refugees needed a massive supply of firewood and shelter for survival. The rapid decimation of the forest is also possibly contaminating groundwater supplies. Reported and photographed by Kaamil Ahmed on the Bangladesh-Myanmar border.

A rufous-collared sparrow in Anchieta Photo by Ignacio Amigo / Mongabay
Anchieta Island, just off the coast of Brazil near São Paulo, has seen the worst side of humans. Now, scientists and local authorities are laboring to restore its biodiversity. The island is located 800 meters (about 874 yards) from the municipality of Ubatuba, in one of the few regions of Brazil where the Atlantic Forest still thrives. Most of the island's original forest was devastated over a long period of human habitation, and more recent attempts to introduce foreign mammal species have also had a significant ecological impact. Scientists are now studying the complex interactions at play during environmental restoration, including removing some invasive species, as they embark on an intensive reforestation program. Reported and photographed by Ignacio Amigo in Brazil.

Cerrado soy feeds a booming global soy protein market. The Trase 2018 Yearbook tracks the Brazilian soy supply chain in detail, from producers to export. Image by Flávia Milhorance
Launched in 2016, Trase is an innovative Internet tool, available to anyone, which tracks commodities supply chains in detail from source to market, and can also connect those chains to environmental harm, including deforestation. Until the advent of Trase, knowledge of supply chains was sketchy and difficult to obtain. The Trase Yearbook 2018 is the first in an annual series of reports on countries and companies trading in such commodities as soy, sugarcane and maize, which also assesses the deforestation risk associated with those crops, making it a vital tool for environmentalists, governments, investors and other interested parties. The Yearbook shows that in 2016 the Brazilian soy supply chain was dominated by just six key players—Bunge, Cargill, ADM, COFCO, Louis Dreyfus and Amaggi—accounting for 57 percent of soy exported. In the past ten years, these six firms were also associated with more than 65 percent of the total deforestation in Brazil. Trase shows that zero-deforestation commitments (ZDCs) have so far not resulted in greatly reduced deforestation risk for the commodities companies and countries making them. Between 2006 and 2016, soy traders with ZDCs, as compared to non-committed firms, were associated with similar levels of deforestation risk. Written by Claire Asher.

The Amazon arc of deforestation stretches across the southern and eastern edges of the forest and is rapidly expanding into the forest's core. Data in Global Forest Watch from Hansen et al (2013) and Brazil's National Institute of Space Research (INPE) PRODES project
Forest degradation has historically been overlooked in accounting and monitoring carbon stocks. A recent study combined ground-based inventory, satellite and LiDAR data to record the loss of carbon due to forest degradation in areas exposed to logging, fire damage or both, in the arc of deforestation of the southeastern Amazon. The study revealed that fire damage causes greater losses than logging, and fire-damaged forests recovered more slowly than logged forests. Accurate depictions of both deforestation and degradation are necessary to establish emissions baselines used to inform programs to reduce emissions from deforestation and forest degradation (REDD+). Written by David Klinges.

A woman in Senegal farms short-cycle cowpeas instead of millet due to poor seasonal rains, which are expected to become more frequent as climate changes. REDD+ aims to reduce emissions from forest loss. Image by Thierry Brévault, copyright CIRAD
A searchable database of 467 forest carbon emissions reduction (REDD+) initiatives in 57 countries is now available through the Center for International Forestry Research (CIFOR). The ID-RECCO database gathers in one free online tool over 100 different categories of information – including project partners, activities and funding sources – on these subnational projects aimed at conserving forests, promoting local economies, and reducing greenhouse gas emissions from deforestation and degradation. The tool makes these data and their sources accessible to anyone, with minimal interpretation: while it does not summarize project results, it provides goals, activities, and links to project websites for the reader to learn more. Written by Sue Palminteri.

The new draft forest policy may not be beneficial for members of forest-dependent communities, such as this Malayali tribesman from Kolli Hills in Tamil Nadu. Photo by S. Gopikrishna Warrier / Mongabay
India's Draft National Forest Policy 2018 is now open for public comment, and will replace the older 1988 policy once it comes into force. Critics are apprehensive about how the draft policy deals with community participation and industrial forestry. The current draft is bereft of knowledge-driven solutions, some experts say. Written by S. Gopikrishna Warrier.
Volunteers Plant 67,500 Trees in Portuguese Forest Devastated by Wildfires https://t.co/lujiyDKqK1 #wildfires… https://t.co/dqGYFgBvcW

— EcoWatch (@EcoWatch)1522069954.0
Reposted with permission from our media associate Mongabay.

From Your Site Articles
Related Articles Around the Web
A plastic bag ban went into effect this month in Morocco, the second-largest plastic bag consumer after the U.S. But, officials say, its going to take some time for shops and retailers to get used to the new law.
Morocco bans the use of plastic bags https://t.co/S9512Yf1lU https://t.co/RWjTu61oLo

— The Ocean Project (@The Ocean Project)1468696212.0
Morocco's ban on the production and use of plastic bags went into effect July 1 after the plastic ban bill was passed by parliament in October 2015. As the July 1 deadline approached, shop owners scrambled to find and collect reusable bags. Green campaigners, AlJazeera reported, say consumers may need years to fully comply with the ban.
"It's a big cultural shift with that type of broader law," Jennie Romer, a New York-based lawyer," told AlJazeera. "As long as the government has the motivation to really enforce that. There is a lot of potential. The government entity that is implementing it has to be completely on board in order to make that really happen in practice."
Morocco uses about 3 billion plastic bags a year, according to the Moroccan Industry Ministry. The U.S. uses about 100 billion a year, according to the Earth Policy Institute, and 1 trillion are used globally per year.
Morocco is currently using 3 billion plastic bags a year. That's soon to be over, as Morocco is joining countries... https://t.co/G6tJF3OE5W

— GEI (@GEI)1468683725.0
The North African country has been working on banning plastic bags for years. A ban of the production and use of black plastic bags was put in place in 2009, but the bags were still being produced.
This time around, officials hope to prevent that situation by providing alternate solutions. Moulay Hafid Elalamy, industry minister and initiator of the bill, tweeted that bags made of paper and fabric will be made widely available.
Yassine Zegzouti, president of Mawarid, said changing consumer habits will be the toughest part.
"The formal sector will need four to five years to comply with the new law," Zegzouti said. "But the use of plastic bags is anchored in [consumer] habit. All actors need to change these habits to not have any damage in the future."
Morocco is ranked one of the world's greenest countries, along with Costa Rica, Bhutan and Ethiopia. The country's biggest achievements come in cracking down on carbon emissions and production of solar power. It is considered a green leader among developing nations.
By J. Matthew Roney
Even amid policy uncertainty in major wind power markets, wind developers still managed to set a new record for installations in 2012, with 44,000 megawatts of new wind capacity worldwide. With total capacity exceeding 280,000 megawatts, wind farms generate carbon-free electricity in more than 80 countries, 24 of which have at least 1,000 megawatts. At the European level of consumption, the world's operating wind turbines could satisfy the residential electricity needs of 450 million people.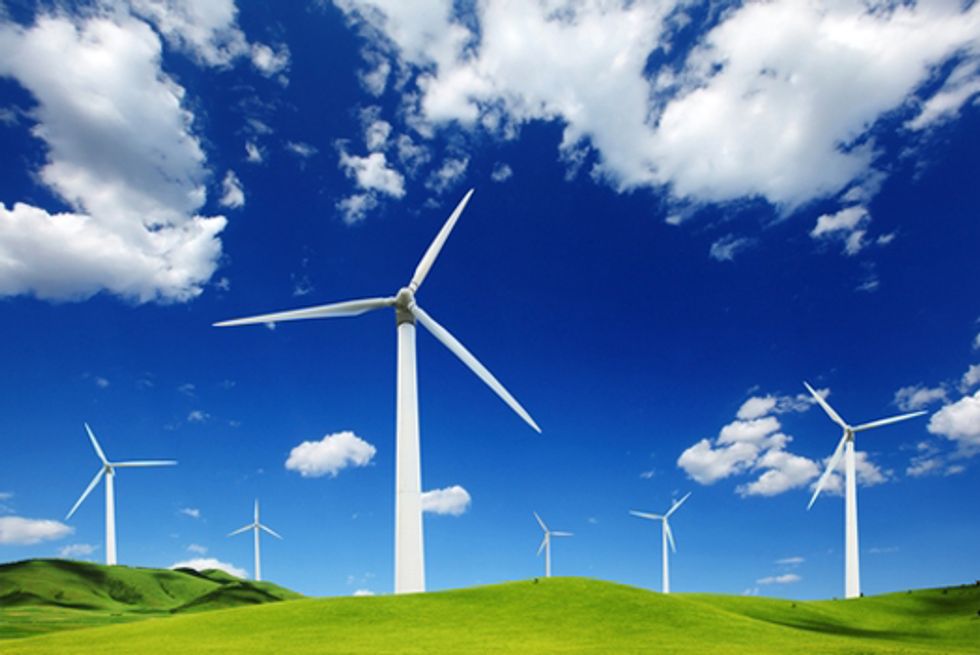 Photo courtesy of Shutterstock
China installed some 13,000 megawatts of wind in 2012, according to the Global Wind Energy Council (GWEC). This was a marked slowdown from the previous two years, when new installations averaged 18,000 megawatts annually. Reasons for the drop-off include concerns about project quality and inadequate electricity transmission and grid infrastructure, which prompted the government to approve fewer projects and to restrict lending. Still, all told, China leads the world with 75,000 megawatts of wind capacity: more than a quarter of the world total.
In a country more readily associated with coal-fired electricity and nuclear power ambitions, wind reached some impressive milestones in China's energy mix in 2012. Wind-generated electricity increased more than coal-fired electricity did for the first time. Even more remarkable, the electricity produced by wind farms over the course of the year exceeded that produced by nuclear power plants. And this is just the beginning: with massive wind projects under development across its northern and eastern provinces, and 19 ultra-high-voltage transmission projects connecting windy rural areas to population centers (all to be completed by 2014), more milestones lie ahead in China. Consulting firms GTM Research and Azure International project that China will reach 140,000 megawatts of wind by 2015 and nearly 250,000 megawatts by 2020.
The U.S. wind industry made headlines too. More new wind electricity generating capacity was added in 2012 than any other generation technology, including natural gas—a record 13,100 megawatts. An incredible 5,200 megawatts, spread among 59 wind farms, came online in December alone as developers raced to qualify for the federal production tax credit before it was set to expire at the end of the year. The U.S. remains second only to China, with 60,000 total megawatts of wind capacity—enough to power more than 14 million U.S. homes.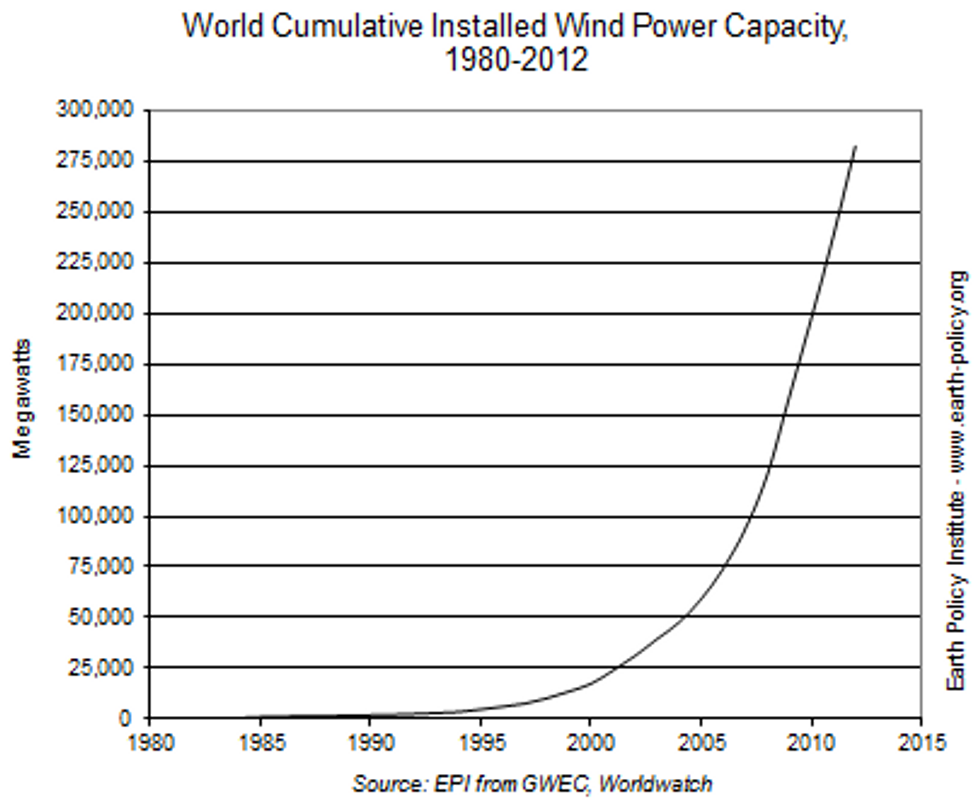 Several U.S. states have more installed wind capacity than most countries do. The 12,200 megawatts in Texas and the 5,500 megawatts in California, for example, would rank them sixth and eleventh, respectively, on the world wind power list. In Texas, a further 21,000 megawatts of wind projects are under consideration, much of which could be accommodated by the "Competitive Renewable Energy Zones" high-voltage transmission projects scheduled for completion by the end of 2013. These new lines will connect wind-rich West Texas and the panhandle with high-demand markets to the east. (See data).
Wind farms generated at least 10 percent of the electricity produced in nine states in 2012, up from five states the year before. Iowa and South Dakota got nearly a quarter of their electricity from wind. Oregon's 845-megawatt Shepherd's Flat wind farm, commissioned in 2012, is North America's largest. But in Carbon County, Wyoming, a project of up to 3,000 megawatts is under development.
To the north, Canada's 6,500 megawatts of wind power are sufficient to meet the electricity needs of nearly 2 million households. As Ontario, the country's most populous province, works to phase out coal-fired power by 2014, its wind generation is growing—in fact, Ontario's wires carried more electricity from wind than from coal for the first time in 2012.
The European Union (EU) added more megawatts of wind in 2012 than it did natural gas, coal, or nuclear, even as fiscal austerity measures cut renewable energy incentives. Several EU member states lead the world in the share of electricity they get from wind farms. Spain and Portugal typically have a 16 percent wind share. In Germany, whose 30,000 megawatts of wind capacity are the third highest in the world, the national wind share is 11 percent. Four of Germany's northern states now get roughly half of their electricity from wind.
But it is Denmark that sets the bar for wind's role in electricity production. The Danish Wind Industry Association reports that wind farms generated 30 percent of Denmark's electricity in 2012, up from 28 percent in 2011. The government pledged in late 2011 to boost this share to 50 percent by 2020.
Looking eastward, Romania and Poland each added roughly 900 megawatts of wind in 2012, reaching 2,500 and 1,900 megawatts, respectively. Turkey's goal is to reach 20,000 megawatts of wind in the next 10 years, nearly 10 times its current capacity.
Aside from China, India is the other big Asian wind market. With more than 18,000 megawatts installed, India ranks fifth worldwide in wind capacity. The government plans to spend roughly $8 billion on grid and transmission upgrades by 2017 through its "green energy corridors" plan. This is sorely needed in a country where nearly 300 million people do not have access to electricity.
Latin America, Africa, the Middle East and Oceania have enormous wind potential but little actual development thus far. Activity in each of these regions, however, indicates seriousness about harnessing the wind. In Latin America, Mexico more than doubled its wind capacity to almost 1,400 megawatts in 2012. Brazil, where wind installations grew 75 percent in 2012, could add another 1,500 megawatts in 2013 to reach 4,000 megawatts total.
Just 100 megawatts of wind were installed in all of Africa in 2012, split between Ethiopia and Tunisia. Kenya's long-awaited 310-megawatt Lake Turkana wind farm, which could generate more than 10 percent of national electricity, has suffered multiple setbacks but may begin construction in 2013. No new wind projects came online in the Middle East. Jordan is looking to grow its currently negligible wind power to 1,200 megawatts by 2020, however, and plans are also under way in Israel and Saudi Arabia.
In Australia, the goal is to get 20 percent of electricity from renewable sources by 2020. Half of the country's current 2,600 megawatts of wind is in the state of South Australia, where wind farms generated 24 percent of all electricity in 2012. The January 2013 commissioning of the 420-megawatt Macarthur wind farm in the state of Victoria gets the country halfway to its expected 30 percent wind growth for the year.
Most of the world's installed wind capacity is land-based; just 2 percent—roughly 5,400 megawatts—has been built offshore. Recently, however, offshore development has accelerated, more than tripling over the last five years. Ten of the 12 countries with offshore wind farms are European. The United Kingdom hosts more than half of the world's offshore capacity and aims for 18,000 megawatts of offshore wind by 2020; its offshore wind resources are actually estimated to be 16 times larger than its electricity consumption. In Denmark, some 15 percent of electricity is expected to come from offshore wind farms by 2014.
China and Japan are the only offshore wind producers outside of Europe, hosting 390 megawatts and 25 megawatts, respectively. With 130 megawatts installed in 2012 alone, China has quickly amassed the world's third largest offshore capacity figure; the country's near-term offshore targets are 5,000 megawatts by 2015 and 30,000 by 2020. In the wake of the 2011 disaster at the Fukushima nuclear power plant, Japan is looking to harness more of its offshore wind, a resource plentiful enough to meet national electricity needs nearly three times over. And in South Korea, numerous offshore projects are under way, as the country's wind industry aims to reach 23,000 megawatts of wind power by 2030.
According to Navigant Research, new wind installations worldwide will fall to some 40,000 megawatts in 2013. This would be the first instance in at least 17 years when annual additions did not increase year-to-year. Much of this deceleration will likely be the result of a slowdown in U.S. development. Still, the annual market is expected to rebound in 2014 as costs continue to fall, as major players recover, and as newcomers in Africa, the Middle East and the Baltic region begin to realize their wind ambitions. GWEC and Greenpeace International project at least 425,000 megawatts of wind capacity worldwide by 2015—enough to generate electricity for all of Central and South America. The world is starting to realize that wind's potential is almost without limit.
Visit EcoWatch's RENEWABLES page for more related news on this topic.
——–
Click here to tell Congress to Expedite Renewable Energy.