This website uses cookies to ensure you get the best experience while browsing it. By clicking 'Got It' you're accepting these terms.


The best of EcoWatch, right in your inbox. Sign up for our email newsletter!
Boeing Airplanes / Twitter
Virgin Atlantic has successfully flown and landed a commercial flight using aviation fuel partly made of waste carbon gas from a steel mill.
The Boeing 747 took off from Orlando, Florida and landed in London's Gatwick airport on Wednesday morning.
Harvesting sugarcane in Brazil.
Jonathan Wilkins / CC BY-SA
By Deepak Kumar, Stephen P. Long and Vijay Singh
The aviation industry produces two percent of global human-induced carbon dioxide emissions. This share may seem relatively small—for perspective, electricity generation and home heating account for more than 40 percent—but aviation is one of the world's fastest-growing greenhouse gas sources. Demand for air travel is projected to double in the next 20 years.
Airlines are under pressure to reduce their carbon emissions, and are highly vulnerable to global oil price fluctuations. These challenges have spurred strong interest in biomass-derived jet fuels. Bio-jet fuel can be produced from various plant materials, including oil crops, sugar crops, starchy plants and lignocellulosic biomass, through various chemical and biological routes. However, the technologies to convert oil to jet fuel are at a more advanced stage of development and yield higher energy efficiency than other sources.
EcoWatch Daily Newsletter
Iowa Gov. Terry Branstad has been nominated to serve as U .S. Ambassador to China in Donald Trump's Administration, a pick that has some of Big Ag's biggest players celebrating.
Donald Trump has chosen Iowa Governor Terry Branstad as ambassador to China. Twitter
Branstad is the longest-serving governor in U.S. history with 22 non-consecutive years and going under his belt. During his tenure, he has built significant relationships with Iowa's agribusinesses and has helped spur trade of the state's beef, pork and soy products to Asian consumers, and once struck a $4.3 billion deal with Chinese officials for Iowa's exports.
This past October, China signed a $2.1 billion deal for Iowa soybeans to feed Chinese livestock. In November, less than a week after Trump's presidential win, Branstad traveled to China to promote Iowa beef and pork. It was his seventh such trip to China as governor.
The Republican governor's friendship with Chinese president Xi Jinping goes back three decades after Xi visited rural Iowa in 1985.
"Ensuring the countries with the two largest economies and two largest militaries in the world maintain a collaborative and cooperative relationship is needed more now than ever," Branstad said after Trump's announcement.
At a Wednesday meeting in St. Louis with United Soybean Board and the American Soybean Association, Monsanto chief technology officer Robb Fraley praised the president-elect's latest top-level pick.

"[Fraley] said Branstad's past work on behalf of biotech acceptance and advocacy for U.S. agriculture makes him an excellent choice for the role," according to Farm Journal editor Susan Luke.
China, Monsanto and Iowa are all linked by the humble soybean. Monsanto controls 90 percent of soybean production in the U.S. and Iowa happens to be a top soybean grower, with 97 percent of the state's soybeans grown from genetically modified (GMO) seeds. China is the world's largest soybean consumer, importing about 25 percent of all U.S. soy produced.
Soybeans sold to China are "the largest U.S. agricultural export as their value rose from about $400,000 annually during 1996-97 to as high as $14.5 billion in 2014," Fred Gale, U.S. Department of Agriculture agricultural economist told ChinaDaily USA.
China's booming population is driving increased meat consumption and increased imports of corn and soybeans to feed livestock. Incidentally, China has banned the cultivation of GMO crops, as Chinese consumers are generally fearful of the food's perceived health risks. Rather, the country buys GMO soy for cooking oil or animal feed. But in recent years, China has pushed for the domestic commercialization of GMO soybeans, spending billions on research. President Xi himself called for the domestic cultivation of GMO crops in 2014.

Branstad's nomination was also praised by Iowa Corn Growers Association president Kurt Hora, noting that China does not just buy corn to feed its animals, it's also a large buyer of U.S. ethanol.
"China is an important market for U.S. corn in all forms including the second-largest purchaser of U.S. ethanol last marketing year; and a critical buyer of U.S. distiller's dried grains (DDGS). The China/Hong Kong market is also the third largest customer for both U.S. pork and beef exports," Hora said.

Corn ethanol has been touted as an energy alternative, but the biofuel "might be worse than petroleum when total greenhouse gas emissions are considered," Scientific American explained.

Mother Jones's Tom Philpott called Trump's choice of Branstad a "gift" to Big Ag, highlighting the governor's close ties to Bruce Rastetter, the CEO of Summit Agriculture Group, a major Iowa pork and ethanol producer, who contributed $164,875 towards Branstad's run for governor in 2010. Eldon Roth, CEO of Beef Products International, contributed another $152,000.
Not only that, "back in 2011, the governor also tapped Rastetter's brother Brent, who then ran a business constructing industrial-scale hog-rearing facilities, to the state's Environmental Protection Commission. Branstad also signed into law one of those infamous "ag gag" bills, championed by Big Ag, that make it a crime to secretly document conditions inside livestock farms," Philpott wrote.
Ronnie Cummins, the director of the Organic Consumers Association, criticized Trump's latest pick.

"[The selection of] Iowa Governor Terry Branstad for U.S. Ambassador to China is good news for the factory farm cartel, the ethanol lobby, Big Pharma Bayer and Monsanto, but very bad news for organic consumers and farmers, as well as everyone in the world who cares about justice, healthy food and soils, the environment, humane treatment of animals and re-stabilizing our dangerously out-of-control climate," Cummins told EcoWatch.
Ken Roseboro, the editor and publisher of the Organic & Non-GMO Report, agreed.
"As an Iowan, I've seen that Governor Terry Branstad has been a big supporter of factory farms in Iowa, which threaten the environment, human health and quality of life for Iowans," Roseboro told EcoWatch. "His appointment as Ambassador to China is likely to accelerate that unsustainable trend since China is deeply involved in Iowa's pork production and factory farms."
Health and environmental advocates have been very critical of Trump's recent slew of nominations for his incoming administration. Just yesterday, the president-elect announced his pick of Oklahoma Attorney General Scott Pruitt to head the U.S. Environmental Protection Agency. 350.org's Executive Director May Boeve called Pruitt a fossil fuel "puppet."
"Donald Trump appears destined for the Guinness Book of Records for appointing the most corrupt and dangerous administration officials in U.S. history," Cummins told EcoWatch. "If I were a Reality TV host, my message to Donald and his cronies would be clear: You're fired."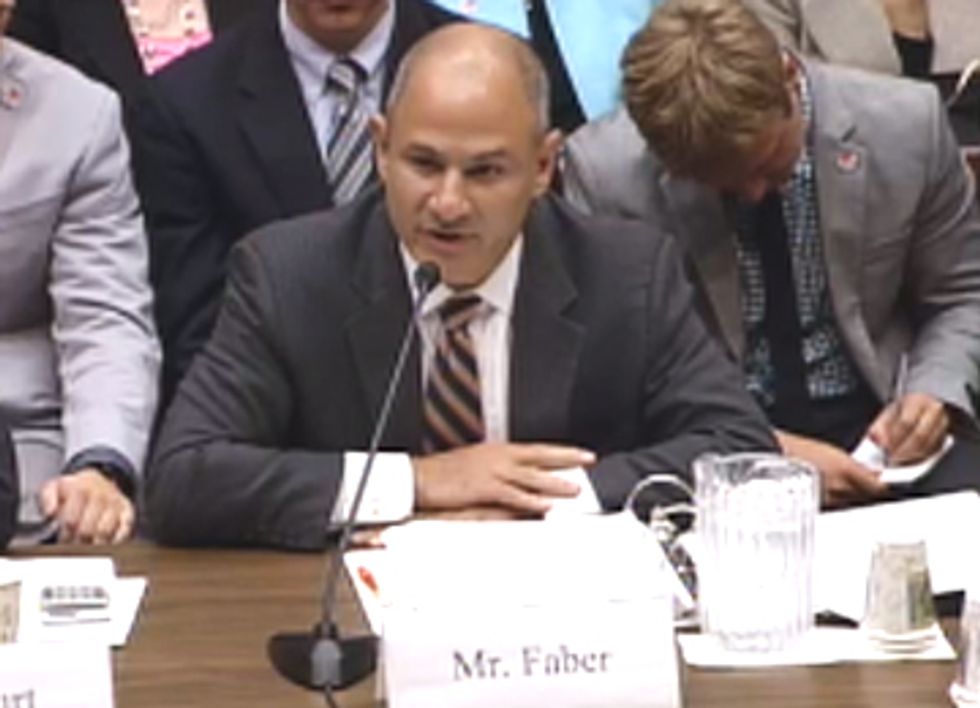 The federal requirement to blend corn ethanol into gasoline is polluting America's air and water, contributing to climate change, hurting consumers and hindering the development of cleaner biofuels, Scott Faber, Environmental Working Group's senior vice president for government affairs, told a Congressional panel today.
Faber's remarks came during testimony before the Energy and Commerce Subcommittee on Energy and Power. The two-day hearing focused on the Renewable Fuel Standard, also known as RFS.
"It's time to face the facts: the RFS is producing too many 'bad biofuels' that increase greenhouse gas emissions, increase food and gasoline prices and pollute our air and water—and not enough 'good biofuels,'" Faber said.
"Once heralded as a way to combat climate change, the RFS has actually increased greenhouse emissions by encouraging farmers to plow up more than 23 million acres of land—an area the size of Indiana—releasing more carbon and nitrous oxide into the atmosphere."
Faber highlighted a lifecycle analysis by the U.S. Environmental Protection Agency that found that the rapid expansion of corn ethanol production raised carbon emissions in 2012 and will continue to do so for years to come.
Corn ethanol is produced overwhelmingly in plants powered by natural gas or coal, which increases lifecycle greenhouse gas emissions by 33 percent and 66 percent respectively compared to gasoline. Most of this production is exempt from greenhouse gas reduction requirements under a provision of 2007 legislation that expanded federal biofuels mandates.
Faber also noted that growing corn for ethanol requires huge amounts of fertilizers and other farm chemicals that ultimately wash off fields and pollute nearby waterways. This pollution contributes to the "dead zone" in the Gulf of Mexico, a vast area of low oxygen that cannot sustain marine life.
"Advanced biofuels made from non-food sources are promising alternatives, but in a market dominated by corn ethanol, progress is too slow," Faber testified. "To allow second-generation fuels to gain a foothold in the marketplace, Congress must phase out the corn ethanol mandate. There is no simply reason to think RFS, as currently designed, is providing a sufficiently powerful incentive to develop these fuels."
Visit EcoWatch's ENERGY page for more related news on this topic.
——–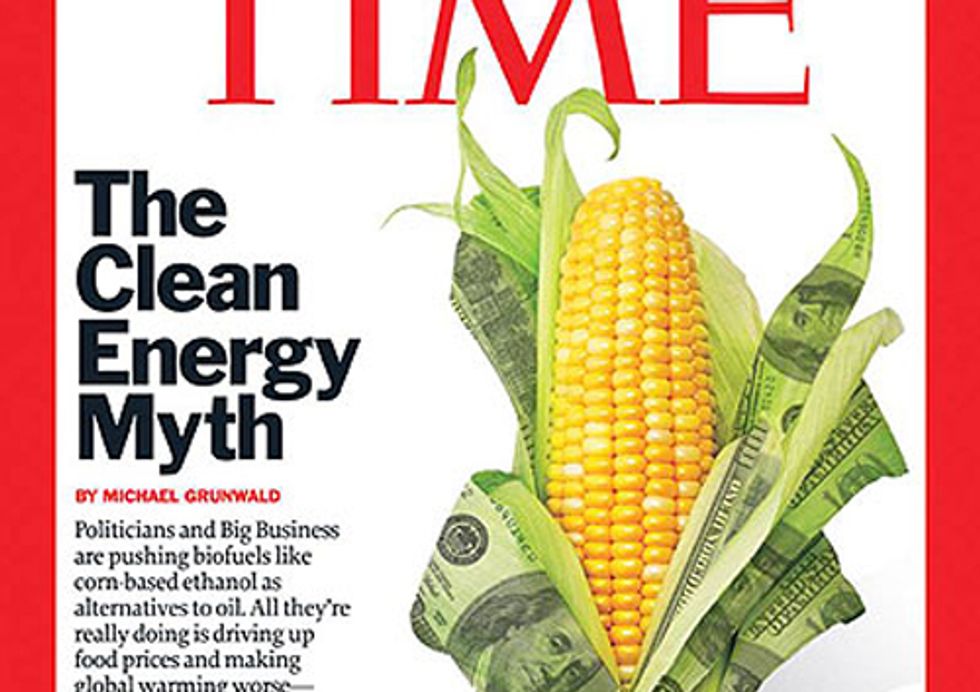 The U.S. Environmental Protection Agency's (EPA) decision to allow the sale of gasoline blended with up to 15 percent ethanol will be a nightmare for car owners who improperly fuel their gas tanks. Every major automaker has warned that millions of vehicle warranties will be voided if drivers fill up with E15.
The approval of E15 for use in vehicles manufactured after 2000 means consumers will pull into gas stations that could have as many as four pumps with different kinds of fuel—one for E10 (up to 10 percent ethanol); one for E15; possibly one for E85 (between 70 and 85 percent ethanol); and maybe one for old-fashioned gasoline. Some gas station pumps might not even have labels specifying which ethanol blend is which because not every state requires them.
"It is going to be extremely confusing and dangerous for consumers," said Sheila Karpf, a legislative analyst at the Environmental Working Group (EWG). "If they make a mistake and put E15 into an older car or small engine, there's a good chance they'll ruin their engine and the manufacturer's warranty won't cover the damage."
To advance consumer safety, EWG analysts have created an Ethanol Blends Guide and Fact Sheet to help drivers choose the right fuel for their vehicles. The analysis provides more information about the new E15 label requirements.
Ethanol is more corrosive and burns hotter than gasoline, properties that could cause some engines to stall, misfire and overheat. Fuel with higher ethanol blends emits more nitrous oxide and formaldehyde than gasoline, lowers mileage and damages fuel tanks and pumps.
"Instead of approving a fuel that will pose health and safety hazards and damage engines, the U.S. should invest in energy efficiency measures and research and development for truly sustainable biofuels," said Karpf. "The high cost of replacing or repairing engines will be tacked onto corn ethanol's other costs—including higher food prices, increased soil erosion and polluted water supplies."
To be safe, EWG recommends that consumers stick with E10 or regular unleaded gasoline if they can find it. If gas pumps are not labeled, consumers should ask a service station employee for more information about the fuel and the amount of ethanol it contains. Consumers should check with their engine manufacturers or mechanics to find out if their cars or small engines can safely run on E15 or other ethanol blends.
Here are other tips for consumers to cut the economic and environmental costs of driving:
Maintain your vehicle properly:
- Keep tires inflated to the recommended pressure.
- Use the right grade of motor oil (check the manual).
- Replace air filters when you change oil (your engine will run more efficiently).
- Replace worn spark plugs.
- Repair leaks from engine oil or other fluids.
Drive the speed limit and don't accelerate too fast or brake too hard.
Minimize air conditioner use.
Turn your engine off when idling for long periods.
Get rid of excess weight in your vehicle.
Drive less.
Walk, run, or bike.
For more information, click here.