This website uses cookies to ensure you get the best experience while browsing it. By clicking 'Got It' you're accepting these terms.


The best of EcoWatch, right in your inbox. Sign up for our email newsletter!
A Soyouz rocket lift-off from Europe's launchpad in Kourou, French Guiana, on Dec. 18 with Europe's CHEOPS planet-hunting satellite on board. JODY AMIET / AFP / Getty Images
By Matthias Klaus
The CHEOPS mission blasted off from Kourou, French Guiana atop a Russian Soyuz rocket on Wednesday. The launch came 24 hours after a first attempt was delayed shortly before liftoff because of a software problem in the upper stage of the rocket.
Researchers with the European Space Agency (ESA) have mapped in stunning detail the extensive retreat of South America's Patagonian ice fields, where some glaciers are melting at the highest rates on Earth and contribute to global sea level rise.
In a report this week, ESA revealed that between the years 2011 and 2017, Patagonia's ice fields receded at a rate of more than 21 gigatonnes (Gt)—21 billion metric tons—a year, the equivalent to adding 0.06 millimeters to global sea level.
EcoWatch Daily Newsletter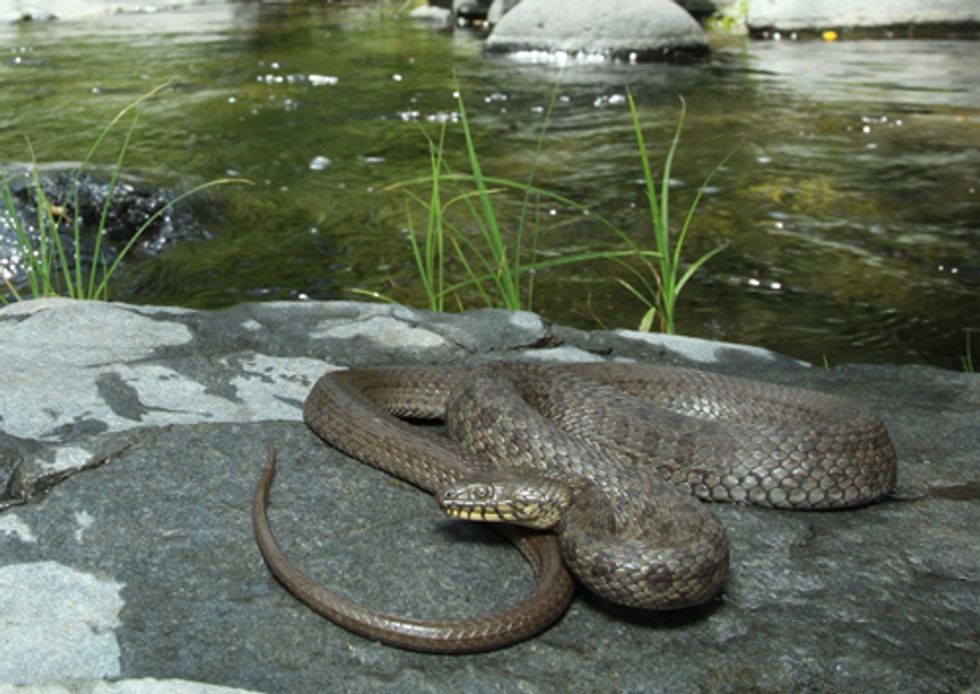 [Editor's note: On Dec. 28, the Endangered Species Act (ESA) celebrated its 38th birthday. The ESA was enacted on Dec. 28, 1973, to prevent the loss or harm of endangered and threatened species,  and to preserve the ecosystems upon which these species depend. Thanks to the many grassroots environmental organizations that work hard every day to protect this historic legislation.]
Arizona's narrow-headed garter snake is rapidly disappearing and needs Endangered Species Act protection in order to avoid extinction, according to a status report submitted Dec. 28 by the Center for Biological Diversity and two Arizona herpetologists. The report responds to an announcement by the U.S. Fish and Wildlife Service last month that the agency is preparing a proposed rule to protect the northern Mexican garter snake and is also evaluating whether the narrow-headed garter snake warrants federal protection.
"Declines of the northern Mexican garter snake and the narrow-headed garter snake are symptomatic of widespread declines in the aquatic fauna of the Southwest," said Collette Adkins Giese, an attorney at the center who focuses on protection of imperiled amphibians and reptiles. "These snakes depend on native fish and amphibians as prey, and the widespread loss of these snakes and their prey reflects a severe collapse of the food web in Southwest rivers and streams."
The introduction and spread of nonnative species, such as sunfish, bass and crayfish—as well as the destruction of their streamside habitats due to livestock grazing, water withdrawal, and agricultural and urban sprawl—are the main culprits in the decline of the Mexican and narrow-headed garter snakes. Collection and killing by humans is also driving their declines.
"We're pleased that the service is taking steps toward federal protection for these highly imperiled snakes," said Giese. "Endangered Species Act protection will put these snakes on the path toward recovery, but the window of opportunity is closing fast."
The northern Mexican and narrow-headed garter snakes have undergone dramatic range-wide declines in the U.S. and are now almost entirely limited to small, isolated populations that are at risk of extirpation. The center petitioned for the Mexican garter snake in 2003, and it has been a candidate for Endangered Species Act protection since 2008. Under a historic settlement agreement with the Center for Biological Diversity, the U.S. Fish and Wildlife Service must make a decision about protection for the Mexican garter snake in fiscal year 2013.
If the service concludes that Endangered Species Act protection is warranted for the narrow-headed garter snake, the agency expects to publish a combined rule to list both snakes as threatened or endangered throughout their ranges and designate proposed critical habitat by the end of 2012.
For more information, click here.