By Steve Horn
Records obtained by DeSmogBlog pertaining to City University of New York (CUNY) Macaulay Honors College's hiring of former head of the Central Intelligence Agency (CIA) David Petraeus to teach a seminar this coming fall reveal that his syllabus features two of the most well-known "frackademia" studies.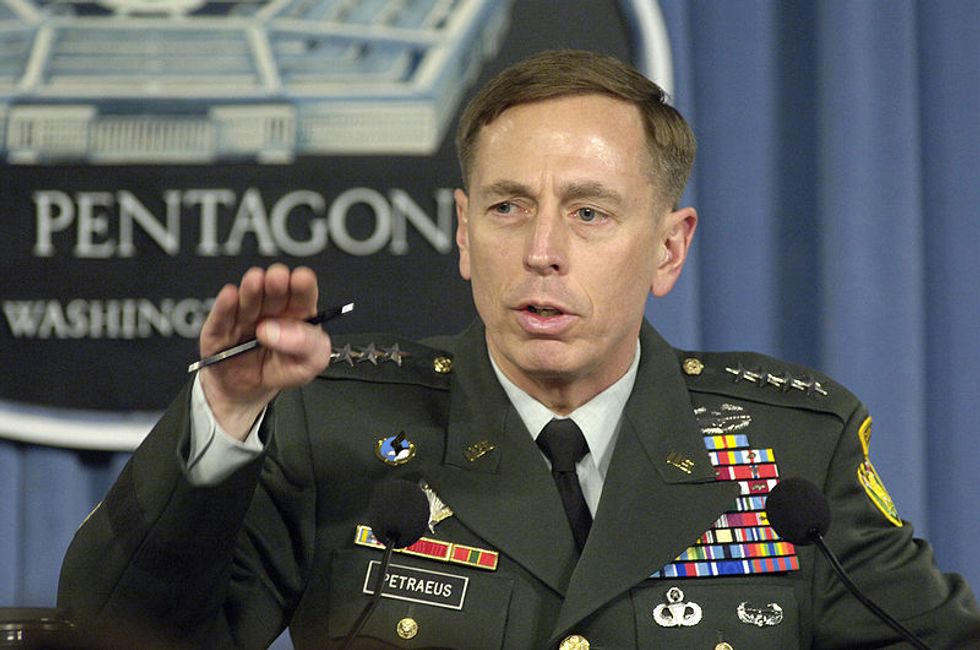 "Frackademia" is shorthand for oil and gas industry-funded research costumed as independent economics or science covering the topic of hydraulic fracturing, or fracking, the controversial horizontal drilling process via which oil and gas is obtained deep within shale rock basins.
According to the syllabus, Petraeus will devote two weeks to energy alone, naming those weeks "The Energy Revolution I" and "The Energy Revolution II." The two "frackademia" studies Petraeus will have his students read for his course titled "The Coming North American Decade(s)? are both seminal industry-funded works.
One of them is a study written by industry-funded National Economic Research Associates (NERA) concluding liquefied natural gas (LNG) exports are beneficial to the U.S. economy, despite the fact that exporting fracked gas will raise domestic home-heating and manufacturing prices. NERA was founded by "father of deregulation" Alfred E. Kahn. The study Petraeus will have his students read was contracted out by the U.S. Department of Energy (DOE) to NERA.
The other, a study written by then-Massachusetts Institute of Technology (MIT) research professor Ernest Moniz—now the head of the DOE—is titled "The Future of Natural Gas" and also covers LNG exports. DOE oversees the permitting process for LNG exports. That study was funded by the Clean Skies Foundation, a front group for Chesapeake Energy and covered in-depth in the Public Accountability Initiative's report titled, Industry Partner or Industry Puppet?
Noticeably absent from the reading list: studies tackling the climate impacts, air quality impacts, over-arching ecological impacts such as water contamination, wastewater impacts and diminishing supply issues.
Together, the two crucial studies on the syllabus reading list—and the lack of critical readings on the topic of fracking—offers a glimpse into the stamp of legitimacy industry-funded studies get when they have the logo of elite research universities on them. It's also another portrayal of the ascendancy of the corporate university. 
From "Petraeusgate" to "Frackademia"-gate
In the case of Petraeus, the original "Petraeusgate" scandal centered around the $200,000 fee the Honors College planned on paying him for his role as an adjunct professor set to teach one course. A normal CUNY Honors College adjunct receives $3,000 per course.
Recently, Petraeus—who the late Rolling Stone investigative journalist Michael Hastings pejoratively referred to as "King David" in reference to the role he played in implementing counterinsurgency doctrine in U.S.-occupied Iraq—took a pay cut down to $1 to teach the course. That doesn't include the money he'll still get from an unidentified private donor referred to in other documents. 
That scandal sat on top of the scandal that led to his resignation from the CIA in the first place: an extramarital affair with Paula Broadwell, who at the time of the affair was writing a biography about him titled, All In: The Education of General David Petraeus.
Petraeus Teaches Frackers Counterinsurgency, Psychological Warfare
Petraeus has also taught the shale gas industry some important things, as well.
Namely, Petraeus was one of the co-authors of the Counterinsurgency (COIN) Field Manual that Anadarko Petroleum PR hand Matt Carmichael said he has employees read at the "Media & Stakeholder Relations: Hydraulic Fracturing Initiative 2011" conference in Houston, TX, in 2011. 
"Download the U.S. Army/Marine Corps Counterinsurgency Manual because we are dealing with an insurgency," said Carmichael at the conference. "There's a lot of good lessons in there, and coming from a military background, I found the insight in that extremely remarkable."
One of the key COIN tactics covered in the Field Manual is psychological operations (PSYOPs), also discussed at the Houston conference by Range Resources spokesman Matt Pitzarella.
"We have several former PSYOPs folks that work for us at Range because they're very comfortable in dealing with localized issues and local governments," Pitzarella said to the audience in Houston. 
"Really all they do is spend most of their time helping folks develop local ordinances and things like that. But very much having that understanding of PSYOPs in the Army and in the Middle East has applied very helpfully here for us in Pennsylvania." 
As Hastings covered in another Rolling Stone investigation, the U.S. military employed PSYOPs tactics on members of Congress. That's illegal within U.S. borders under the Smith-Mundt Act of 1948, though it seems rather unlikely the co-author of the COIN Manual—"King David" himself—will cover these details in his course. 
Petraeus' Wall Street Job Description Mirrors His Course Description
Petraus also has a teaching gig at University of Southern California (USC) and a day job working at the Wall Street firm Kohlberg Kravis Roberts (KKR). 
"He is expected to advise on economic trends, issues with foreign governments and other matters that could affect transactions," The Wall Street Journal explained of his hiring at KKR. "He will advise firms owned by KKR in an effort to improve management and leadership and help them confront economic and geopolitical forces that affect them."
Petraeus' job description mirrors the course description he will teach, lending insight into what type of jobs the students taking his course may obtain in the future if Petraeus' class is a pedagogical success.
"Petraeus and others at the firm [will have] discussions over macroeconomic and geopolitical forces that could influence KKR's investment decisions. These issues include the heightened role of central banks following the financial crisis, and what KKR views as 'revolutions' in energy, manufacturing and technology, among other areas," The Wall Street Journal further spelled out. 
The course description, as seen below, sings a similar tune:

Students taking Petraeus' course will go above and beyond passive stoic discussion of the burning public policy issues of the day. Indeed, they will dive into the sphere of role-playing the positions of high-ranking U.S. officialdom, all in the context of the readings—such as the "frackademia" ones—they must complete and discuss in seminar on a weekly basis that will inform the role-play.
An example below:


Re-Conceptualizing the "Revolving Door"
The government-industry revolving door commonly refers to governmental officials leaving taxpayer-funded government gigs for jobs as corporate lobbyists, public relations spin-doctors and other related iterations. The evolution and corporatization of research unversities - in many ways research factories on behalf of multinational corporations - has seen the revolving door extend into higher education. 
Petraeus is one example and Moniz is another, but so too is former CIA-head Robert Gates. After leaving the CIA, Gates became the Chancellor of University of Texas A&M and then became Secretary of Defense.
Another example is Janet Napolitano, former head of the Department of Homeland Security who recently secured a job to head the University of California System. And yet another example is John Deutch, former head of the CIA who is now on the Board of Directors of Cheniere, served on President Obama's DOE Fracking Subcommittee and is a professor at MIT, where he co-wrote the "The Future of Natural Gas" with Moniz that Petraeus will have his students read.  
"Petraeusgate," then, is just the tip of the iceberg of a problem with much deeper roots.
Visit EcoWatch's FRACKING page for more related news on this topic.
——–
SHARE YOUR THOUGHTS BELOW.
——–

Dear President Obama, Vice President Biden, Secretary Moniz, Heather Zichal and Valerie Jarrett,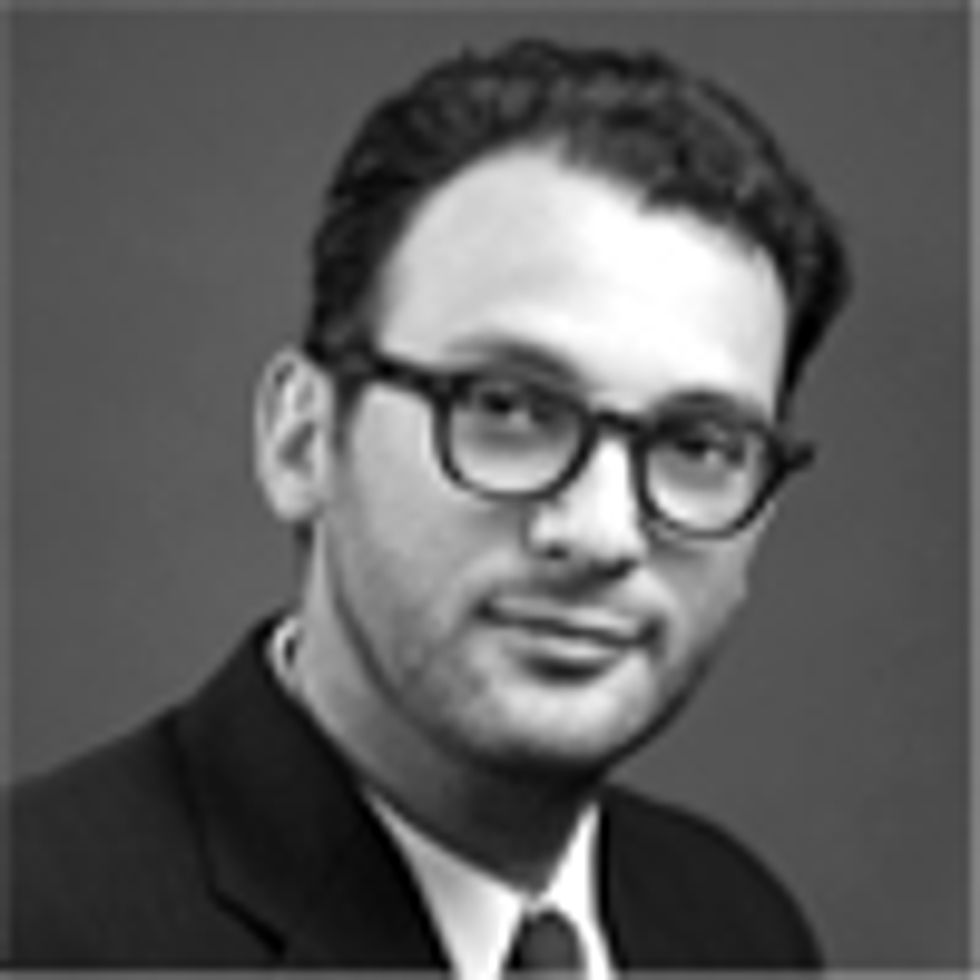 I write to request a meeting with you and families directly impacted by oil and gas drilling and fracking—as documented in Gasland Part II—together with a small group of scientists and engineers who are also featured in the film. We would like to discuss health and economic impacts felt by communities located near the oil and gas fields, share our first-hand stories, and provide you with evidence on rates of well leakage, water contamination, air pollution and methane emissions.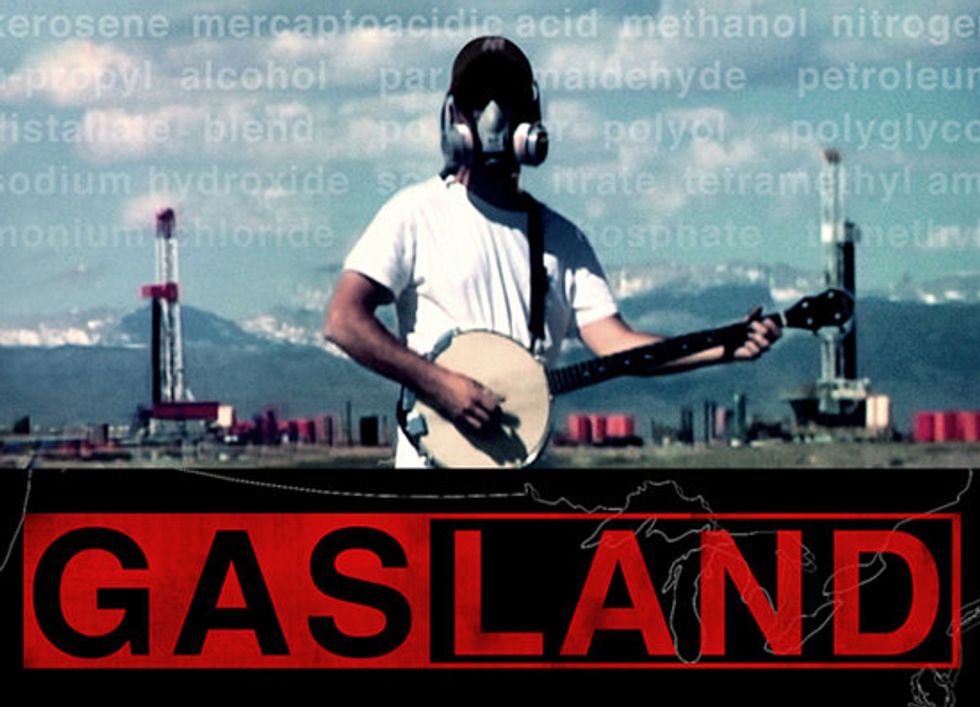 We are aware that your administration has met with the natural gas industry and their representatives and lobbyists many times. We now ask you to meet with us: representatives of those suffering from unconventional drilling and fracking, and members of the scientific community who wish to inform you of the perils of this unprecedented push to drill.
We believe that the natural gas industry has not been forthcoming with your administration about the real effects of drilling and fracking on our water, air, land, climate, public health and safety—and on democracy itself. As such, we seek to discuss with you the dark side of fracking, a perspective that has not yet been presented to you with adequate weight or emphasis.
In 2008, when I was offered a gas lease on my land in the upper Delaware River watershed in Pennsylvania, I decided to investigate the effects of drilling and fracking around the nation. That investigation became the documentary Gasland. While filming, I discovered widespread water contamination, air pollution, methane leakage, land scarring and massive industrialization of previously rural, suburban or urban areas. Most disturbingly of all, I discovered in the gasfields of America people who had lost control of their lives, their communities and their human and civil rights.
Although I had never before made a documentary, Gasland was accepted at the Sundance Film Festival, picked up by HBO, nominated for the 2011 Academy Award for Best Documentary and received four Emmy nominations—winning one for my direction. The film has been aired on television in over 30 countries to an estimated audience of 50 million people.
I have now made a second film, Gasland Part II, which covers a new form of contamination—the capture of our regulatory agencies by the oil and gas industry. I document industry's undue influence on your administration as well as on state and local regulators whose job is to protect the public health and safety. A striking pattern emerges: Time and again, regulators investigating citizens' concerns determine the gas development operation nearby is a clear cause of water contamination, only to walk away after protest from industry reaches an uncomfortable pitch. The film's portrayal of the exclusion of "we the people" from the dialogue about the future of energy in the United States should concern you. Gasland Part II premieres July 8, on HBO.
We thus respectfully request a meeting with you. More specifically, I wish to introduce you to members of seven families from disparate regions across the nation who have all had their lives ruined by drilling and fracking operations. These families are emblematic. They represent thousands of people who have had their basic rights trampled by drilling on nearby properties and by the attendant gas refining and delivery infrastructure. These citizens include—
The Lipsky family in Texas, whose water was contaminated and made flammable by Range Resources;
The Gee family in Pennsylvania, who, after four generations, were forced off their land by a six-well horizontal drill pad built by Shell on a neighboring property;
The Fenton family in Wyoming, who have been battling Canadian drilling giant Encana and who are now suffering health problems from the air and water contamination around their house;
The Tillman family of Dish, Texas, who were forced by polluted air to move from the town that Mr. Tillman was serving as mayor;
The Switzer and Ely familes of Dimock, Pennsylvania, whose water was shown to be contaminated by both the federal Environmental Protection Agency and the Pennsylvania Department of Environmental Protection—only to receive a roller coaster ride of broken promises by both agencies; and
The Bevins family from West Virginia, whose son CJ was killed on a drilling pad in New York as a result of an unsafe drilling site, and whose campaign has helped alert the country that workers in the oil and gas industry are seven times more likely to die on the job than workers in other industries.
In addition, I would like you to meet with the scientists in the film: Dr. Tony Ingraffea, Dr. Robert Howarth and Professor Mark Z. Jacobson.
Dr. Ingraffea from Cornell University, a former oil and gas industry researcher, will explain how the industry is incapable of ensuring the integrity of wells being drilled and how the industry's own science shows that wells are leaking at high rates, contaminating our country's precious groundwater. Dr. Howarth, also of Cornell, will describe how the release of methane, one of our most potent greenhouse gases, into the air from fracking and natural gas production render the use of fracked gas even more deleterious to the climate than burning coal. Professor Mark Z. Jacobson, director of Stanford University's Atmosphere and Energy Program, will explain that there is a way forward for America that is free of fossil fuels. As he and his colleagues have documented in a groundbreaking study, wind, water and solar resources available to us right now make it possible for our nation to claim true energy independence and protect the health and safety of the generations to come.
America has been forever changed by the sense of grassroots collective drive that your election in 2008 instilled in us as a nation. The grassroots movement that has sprung up across the country and across the world against fracking has all the enthusiasm, positivity, sense of history, endurance and resolve as the one that elected you our President. When speaking to your grassroots campaign staff in 2012, you reminded them that the only way to fight the enormous influence of corporate cash and power in the election was the strength of "neighbor talking to neighbor," of communities coming together to fight for what is right. That is exactly what the grassroots movement against fracking is made of: people fighting for their communities locally, with an eye on the bigger global challenges ahead. Above all, we are a movement of people, not corporations; we are a movement of neighbors who care deeply about the places we live and about this country as a whole. We believe that it is your desire to put the people's interests at the forefront of your political message and it is in this spirit that we ask you to meet with us.
President Obama, we support you. We support your earnest desire to fight climate change, but the science shows that your embrace of natural gas will undermine everything you are trying to accomplish in your plan. And the violation of health and property rights that inexorably accompany drilling and fracking operations undermines any claim of energy independence.
We urge you to meet with us as you have met with the gas industry. We are on your side. We do not wish to see your legacy inscribed by fracking chemicals in the ground, high levels of emissions and pollution in the air, ruined families, broken shards of the American dream and the terror felt by millions as the drilling industry descends on lands in 34 states. Do not let your legacy be a switch from coal to gas, a Pyrrhic victory, an exchange of one form of climate-killing pollution for another that, over its entire lifecycle, is just as calamitous. Instead, ground your energy policy in careful science and let your legacy include hearing the people out.
In the name of fairness and democracy, we implore that you meet with us, as you have met with the oil and gas industry.
We look forward to your reply. Thank you for considering this request.
Visit EcoWatch's FRACKING page for more related news on this topic.
--------
SHARE YOUR THOUGHTS BELOW: What would you like to share with President Obama about fracking?
--------

EcoWatch Daily Newsletter
By Sharon Kelly
The key takeaway from President Obama's major climate change announcement last week was his intent to batten down on coal. But if history is any indication, the man Mr. Obama selected to run the Department of Energy may have different plans.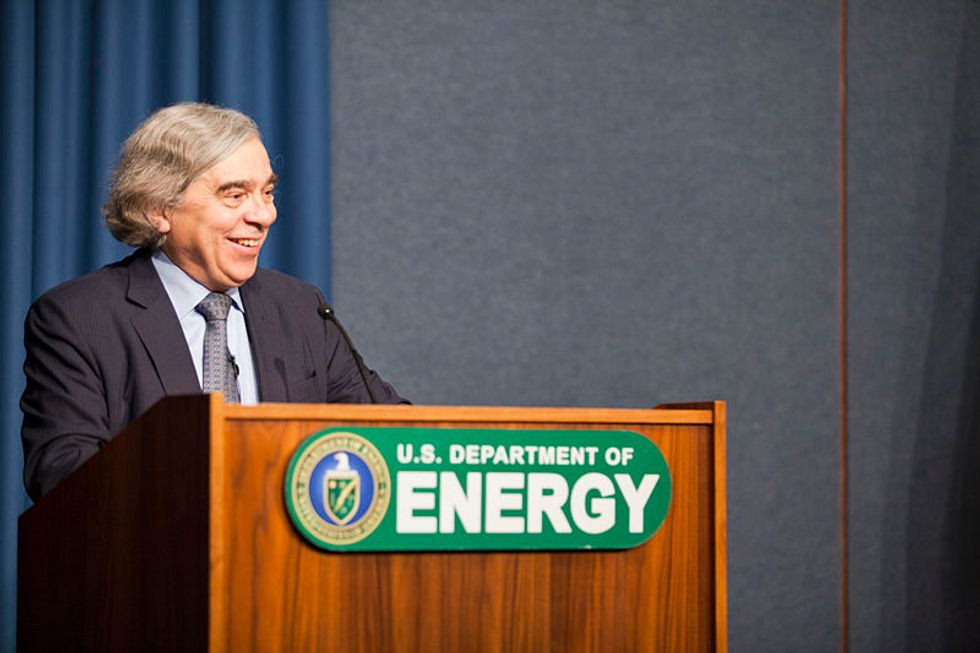 Ernest J. Moniz has a long history of supporting coal-powered electricity, staking his arguments in favor of coal on a technology that remains entirely unproven: carbon capture and sequestration (CCS).
Mr. Moniz will be in a uniquely influential position when it comes to confronting these problems. President Obama announced that he would rely on executive agencies instead of Congress, so Mr. Moniz's Energy Department will play a crucial role in determining precisely how Obama's strategy is administered.
The day after Obama's speech, Moniz told Congress "the President advocates an all-of-the-above energy strategy and I am very much in tune with this."
What's wrong with an all-of-the-above strategy? It extends reliance on fossil fuels, at a time when scientists warn that we can only burn 20 percent of current reserves before the world tips past the crucial 2 degree Celsius point. Beyond two degrees, some of the most devastating impacts of global warming will be felt. Keep in mind that, if all of the world's coal is burned, global temperatures could rise by a jaw-dropping 15 degrees Celsius, a study published in the prestigious journal Nature last year concluded.
The stakes, when it comes to controlling American greenhouse gas emissions, are huge.
In May, carbon dioxide levels in the Earth's atmosphere reached 400 parts per million—the highest level of carbon dioxide ever recorded in human history. Last year, the continental U.S. experienced its hottest year on record, and the Natural Resources Defense Council estimates that climate-related disasters like crop loss, wildfires and floods cost the nation roughly $140 billion last year alone, with much of the tab picked up by taxpayers.
Power plants are the single largest source of American carbon dioxide emissions, accounting for a third of the nation's total greenhouse gases. So focusing on power plants is key if emissions are to be reduced.
Coal currently supplies about 40 percent of American electricity, according to Energy Information Administration statistics, down from 50 percent in 2005. Coal's decline comes as natural gas from fracking (which has its own worrisome climate impacts, measured in methane rather than carbon dioxide), wind and solar, have risen in their share of the U.S. electric portfolio. Since the beginning of 2010, 145 coal-fired power plants announced plans to retire.
But the Department of Energy is focused not on retiring more of these plants, pinning its hopes instead on developing new technologies to make coal cleaner. The plan in rough form, involves collecting carbon dioxide emitted by power plants and burying it, forever, underground.
If that sounds like a heck of a challenge, that's because it is.
There's not a single large commercially-operating carbon sequestration plant anywhere in the world.
That's despite over $25 billion in government subsidies worldwide from 2008 to 2012.
Nevertheless, Mr. Moniz told Congress that "the Administration has already committed about $6 billion to [carbon capture and sequestration] demonstrations, and success of the forthcoming projects will be a critical step toward meeting the President's climate goals."
The $8 billion in total subsidies adds up to more than the wind and solar industries combined receive—and those are industries that have proven themselves to be commercially viable.
Undaunted, Moniz told The New York Times that CCS was a vital part of the country's climate change strategy. He called for CCS to be commercialized first for coal-fired power plants. He added that natural gas' carbon emissions, though half those of coal, are still too high to meet Obama's long-term goal of slashing emissions 80 percent from 1990 levels by 2050—so he called for the same speculative technology to resolve that problem as well.
The transition to an electric industry that captures its greenhouse gases instead of releasing them into the atmosphere makes the challenges associated with developing renewables like wind and solar look easy in comparison.
Professor Vaclav Smil, author of Energy Myths and Realities: Bringing Science to the Energy Policy Debate has calculated that to sequester just a fifth of current carbon dioxide emissions:
"... we would have to create an entirely new worldwide absorption-gathering-compression-transportation-storage industry whose annual throughput would have to be about 70 percent larger than the annual volume now handled by the global crude oil industry whose immense infrastructure of wells, pipelines, compressor stations and storages took generations to build."
Carbon capture is also grossly inefficient. "By some estimates, 40 percent of the energy generated has to go to the carbon capture and sequestration process," Josh Galperin, associate director of the Yale Center for Environmental Law and Policy, said after the climate strategy was released. DeSmog's Kevin Grandia describes some further technical hurdles that carbon sequestration has yet to overcome.
In a key indication of how shaky the science is behind carbon sequestration, not even the World Bank will fund it. Concerns about climate change led the Bank to restrict its financial support for coal projects except in "rare circumstances," a draft strategy leaked to the press last week indicates. In a glaring omission, the strategy says nothing about carbon capture and sequestration as an alternative.
None of this seems to matter to Mr. Moniz, whose support of the coal industry and faith in sequestration has been longstanding.
A 2009 report he helped produce focused on how to reduce carbon dioxide from coal plants, touting the potential for so-called "clean coal."
"It's cheap," he told Scientific American when the report was released, "there's lots of it and there's lots of it in places with high demand, namely the U.S., China and India."
In 2007, Moniz co-authored an Massachusetts Institute of Technology report titled The Future of Coal that aimed to examine "how the world can continue to use coal, an abundant and inexpensive fuel, in a way that mitigates, instead of worsens, the global warming crisis."
Moniz's faith in carbon sequestration has remained unshaken up to the present day.
"It's not going to happen tomorrow, but I believe in this decade we will have demonstrated the viability of large-scale storage" of carbon dioxide from industrial operations, he told the Associated Press recently. "The president made clear that we anticipate that coal and other fossil fuels are going to play a significant role for quite some time on the way to a very low carbon economy," he added.
Meanwhile, broader concerns about the President's climate plans remain.
"We're happy to see the president finally addressing climate change" said Bill Snape, senior counsel for the Center for Biological Diversity, "but the plain truth is that what he's proposing isn't big enough, and doesn't move fast enough, to match the terrifying magnitude of the climate crisis."
And if the clean coal technology Mr. Moniz is counting on doesn't pan out, prospects may be even dimmer.
Visit EcoWatch's CLIMATE CHANGE page for more related news on this topic.
——–

DO YOU THINK ERNEST MONIZ MAY HAVE A CONFLICT OF INTEREST IN THE HEAVILY SUBSIDIZED CARBON CAPTURE AND SEQUESTRATION INDUSTRY?

By Geoffrey Sea
[Read Part I, Part III and Part IV of this series]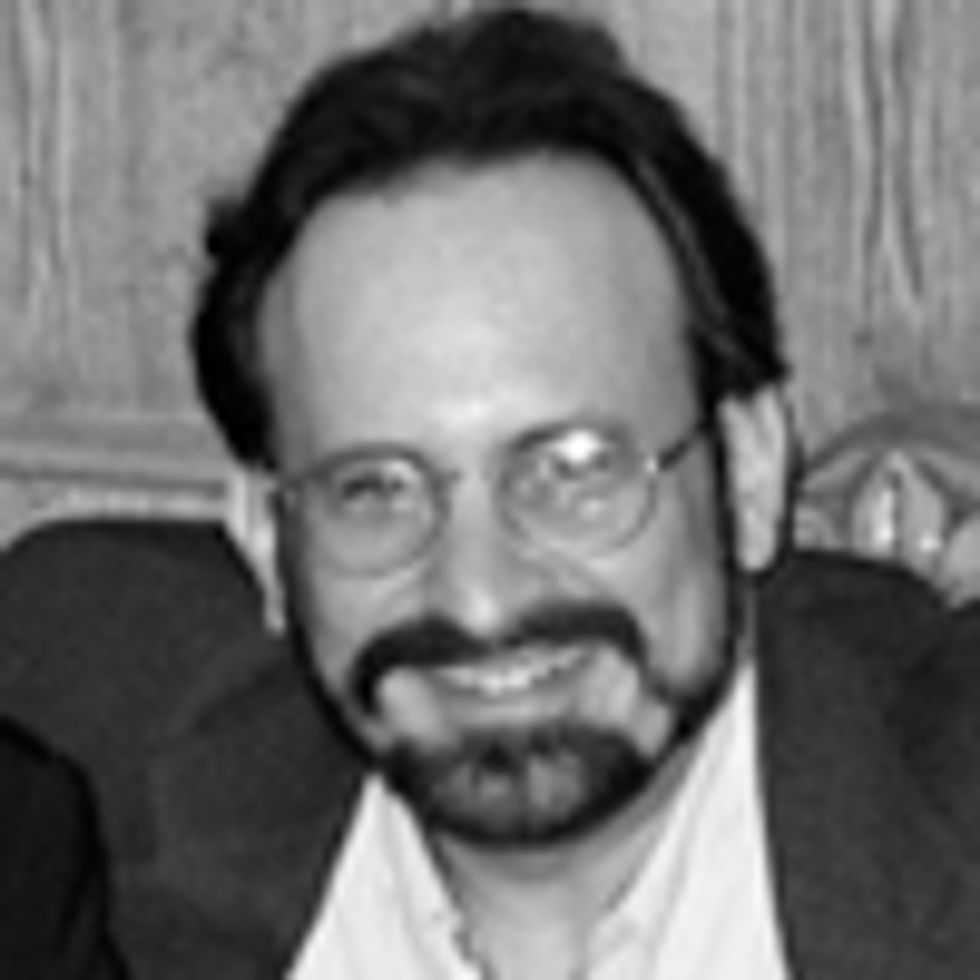 Last week on EcoWatch, I predicted that negotiations between USEC Inc. and the Department of Energy (DOE) over extension of operations at the Paducah uranium enrichment plant would fail, and that principal power-down would happen as scheduled around May 31. Bowing to my prophetic powers, those negotiations in fact broke down irreparably just one day later, and on Friday both DOE and USEC announced that the plant will close imminently.
Inconsistent statements about the exact timing of the shutdown are due to confusion among the major players, because closure of a gaseous diffusion plant is a costly and complicated business, and neither USEC nor DOE has the resources or the plan to know exactly how this inevitability is going to happen. According to USEC, "the company will begin ceasing uranium enrichment at the end of May."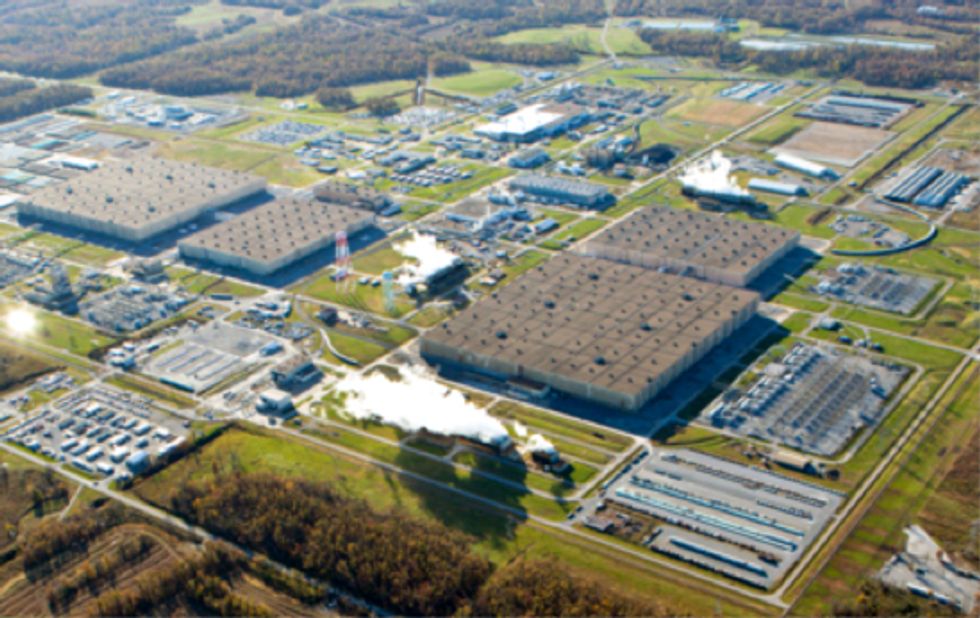 The scandal of the situation is that, despite a very long lead-up to the inevitable plant closure (termination notices to employees were sent in December of 2011), no party moved to make detailed plans for the power-down, as DOE and the privatized USEC Inc. engaged in mutual extortion ploys over timing, bill payment and where the political blame for job loss could be cast. In the stalemate, DOE funding for the major work of powering down the enormous facility was put off until the 2014 fiscal year, at least five months after the power-down will actually occur. This insures a dirty procedure with the diffusion cells not evacuated of process gas.
On May 26, after the link to my article was widely circulated and the failure of an extension made headlines, a flurry of email communications among west Kentucky community leaders transpired, which included a terse statement by Paducah mayor Gayle Kaler: "Our priority as a community is first and foremost demanding clean up dollars. We cannot accept a dirty shut down."
An honorable sentiment, but a dirty shutdown it shall be, not only because of the five month funding gap, but because all DOE discretionary dollars were pumped into saving USEC from immediate financial collapse—up to half a billion dollars in the past few years alone. And that money is mostly gone from the corporate coffers in the form of Gigantor salaries for USEC upper management. As his company sunk in the nuclear muck, CEO John Welch pulled down a cool $6.5 million salary in 2011 alone. If nothing else of energy consequence has come from privatized USEC, the super-speed siphon of funds from the U.S. Treasury to the private accounts of USEC corporate agents truly has been atomic-powered.
The Power-Down Gap
Even if the five month gap were bridged by some ungodly miracle of Mitch McConnell, it would not avert a dirty power-down at Paducah. That's because William A. Murphie, manager of DOE's Portsmouth/Paducah Project Office, did not want to hasten USEC's demise by suggesting in federal budget dealings that the closure of Paducah was anything more than "potential."
It was as if failing to allocate funds for the closure would force the government into making extortion payments to USEC that would keep up the appearance that the plant was producing something of value, mainly by churning uranium waste to build nuclear fuel stockpiles of dubious future value, with gargantuan releases of CFC ozone-depleting gasses as the main result. (According to David Manuta, former science director at the gaseous diffusion plant near Piketon, Ohio, these plants were "the largest industrial users of Freon," the largest emitters of CFC gasses, and the stock of special Freon needed to keep Paducah in operation is already gone or nearly so.)
Neither the 2014 budget request of the Obama Administration nor any proposal by the Kentucky Republicans who control congressional appropriations includes funds to evacuate the diffusion cells at Paducah. The pending 2014 funds are only enough to place the facility into what Murphie has termed "cold storage" —mafia-speak for a factory on ice. The term implies a dirty power-down, because if the complex work of cell evacuation were undertaken, the facility would not be in "storage" at all. Bipartisan budget proposals do, however, include more wasted financial bailout money for USEC, which will be long gone from Paducah by the time the loot is pocketed.
Slow-Cookers Galore
Closure of the Paducah plant isn't a disaster waiting to happen. The observable disaster has been cooking slowly for fifteen years, since privatization of the former "U.S. Enrichment Corporation" in 1998. It has reached a frothing boil right now, and it will continue to burn the residents of western Kentucky for many decades to come.
Of greatest safety concern in a dirty power-down is the "slow-cooker" phenomenon, so-called by engineers, though the term itself is considered classified, and workers at the gaseous diffusion sites in Tennessee, Ohio and Kentucky have been ordered not to utter it. As a nuclear engineer for the Navy in the early 1950s, Jimmy Carter was assigned to work on gaseous diffusion design and may have contributed to invention of the term.
Consider the physical slow-cooker as metaphor for the privatization debacle or vice versa as you please.
Gaseous diffusion plants are unique creatures in the world of industry. The principal designer was the brilliant Manhattan-Project scientist Harold Urey, who was so horrified by his creation that he quit government employ to warn of nuclear and ecological dangers. (Urey's wife Frieda spearheaded the first antinuclear referendum drive in California.) Urey's gaseous diffusion cascade is an enormous integrated system, on the explicit analogy of a living organism—its "cells" so interconnected by gaseous and liquid arteries that once sparked to life in a Frankensteinian manner, the monster has to be juiced with power and product continuously. By design, a dead gaseous diffusion plant cannot be revived, because the gaseous uranium hexafluoride hardens in its veins.
A "slow cooker" is a critical mass of uranium and transuranic elements that forms inside the process equipment of a gaseous diffusion plant due to injudicious operation or a loss of power that causes process gas to crystallize. An undisclosed number of slow-cookers has occurred at the gaseous diffusion plants, mostly at the X-326 high-assay building at Piketon, Ohio, where the Criticality Accident Alarm Safety System (CASS) activated on May 22, causing building evacuation during cleanup, according to reliable informants. Ironically, that was the same day that my post about Paducah closure appeared.
The phenomenon was first theorized by the physicist Edward Teller, father of the American H-Bomb, when he visited Oak Ridge during the Manhattan Project. Though the piping in diffusion plants has been designed to prevent any normal critical mass of uranium, as in an atomic bomb, from forming, Teller worried that the combined neutron flux from bringing many hundreds of tons of uranium into relative proximity could yield unanticipated criticality effects.
That possibility has been magnified at Paducah because, in the 1960s and 1970s, recycled uranium containing significant amounts of plutonium, americium and neptunium, was fed into the Paducah diffusion cascade, resulting in worker and environmental exposures that made headlines in the 1980s. Plutonium and other transuranic elements intensify the possibility of critical mass formation, in ways that cannot be entirely predicted because no gaseous diffusion plant contaminated with transuranics has ever been powered down dirty before.
Yes, this is a big science experiment. But hey, kids, don't try this at home!
The unpredictability is magnified by the fact that USEC, which has operated the facility since the 1990s, followed its proprietary interest and did little maintenance required to keep equipment operable past the date when USEC knew it would depart the premises with no continuing legal liabilities. According to Paducah workers who prefer to not be identified, seals on the thousands of miles of piping are leaking, transuranic contamination is widespread and imported radioactive waste has been packed into the process buildings that are about to be shuttered.
Follow the Moniz
Media coverage of the closure news that was long predictable is getting the story multiply wrong. The venerable New York Times suggests that Paducah closure "could pose a problem for the American nuclear weapons arsenal over time," which is poppycock, because enriched uranium has not been used in U.S. nuclear weapons since the early 1960s.
Politico leads with the strange observation that USEC is not quite omnipotent, when in fact the company has been struggling just to stay out of liquidation. Some news outlets are reporting that the Obama Administration "rejected a proposal" to keep the plant open, with "1,000 jobs lost" when the truth is that there was no such proposal. USEC has run the plant to a condition of inoperability, and the negotiations that did take place were only about the timing, procedure and payments for the shutdown.
What DOE in fact rejected, according to the Capitol Hill rumor, was the idea that it should give USEC another gift of $13 million dollars' worth of free uranium, for the service of USEC defaulting on every major promise it's made. TV and radio in Kentucky are somehow shocked, shocked over a closure overdue by years, as lead-in to the desired editorial position that this, too, should be blamed on President Obama. 
That reaction was seeded in USEC's ridiculous posture of demanding continued government payments for an enterprise that was privatized by statute in 1998. The billions of dollars in federal slush funds already diverted to USEC by the powerful Ohio and Kentucky congressional delegations have been in explicit violation of the USEC Privatization Act. And if anything in my writing contributed to the final decision to cut the cord, it was that I pointed out what the law clearly states—that discretionary payments to USEC by government officials are criminal acts given terms of the Privatization Act as now on the books, and Congress had to amend or repeal the Act if they wanted to make such payments legal.
Kentucky and Ohio Republicans are suddenly huffy-puffy about Paducah closure, which is pretty ludicrous since they control the key levers of legislative power that could have amended the Privatization Act or passed appropriations to pay for safe shutdown of the facility, but they didn't. Not only do Kentucky's Mitch McConnell and Ohio's John Boehner head the Republican caucuses in both chambers of Congress, but Kentucky's Hal Rogers chairs the House Appropriations Committee and takes personal credit for the "no-earmarks rule"—that would be the rule that prohibits special appropriations for pet private companies like USEC.
Meanwhile, the Republican congressman from the district that includes Paducah is Ed Whitfield, chairman of the House Committee on Energy and Commerce—that would be the committee that should have initiated 2013 funding for safe shutdown of the Paducah plant but failed to do so. These men assailing the Obama Administration for funding deficiencies at Paducah is like Geoffrey the Giraffe lecturing: "Don't stick your neck out!"
The reason for the shunning campaign against Paducah funding by Bluegrass State politicians is quite apparent. USEC has longed for the closure of Paducah to avoid the huge power bill, and has advertised the closure to investors as a necessary boost to profitability. At the same time, USEC has been a major campaign contributor to the GOP congressional delegation from Kentucky, recycling the federal dollars it receives in a feint to eco-awareness.
If the certainty of Paducah closure had served as the basis for congressional hearings or a federal budget line, it would have undercut USEC's corporate strategy of extorting federal payments on the possibility of indefinite extension of operations. USEC has consistently demanded DOE "discretionary" funding and extra-legal gifts of uranium by threatening to abandon Paducah before DOE had attained the necessary closure funding, precipitating a nuclear crisis. What DOE headquarters in Washington has finally done is to call USEC's bluff.
It is probably also true that Ernest Moniz, just confirmed as the new Secretary of Energy by the U.S. Senate on May 17, likely did not want his first major act as Secretary to be an illegal giveaway to USEC. Moniz can be called an architect of the USEC catastrophe. He helped design the disastrous USEC privatization for the Clinton Administration in the 1990s, he defended that privatization in testimony to Congress in 2000, he served as a "strategic advisor" to USEC starting in 2002, when USEC undertook its "diversification" away from uranium enrichment, and his ties to USEC were one stumbling block in his confirmation as Energy Secretary.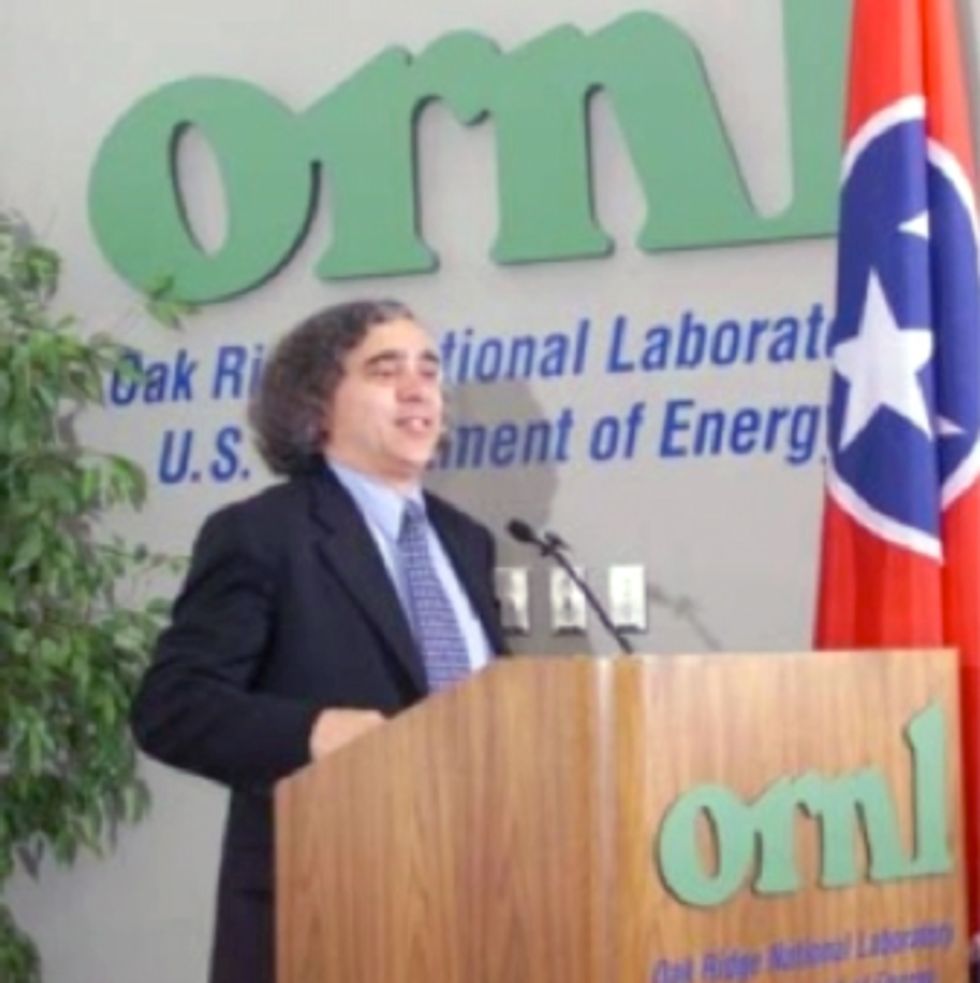 USEC executives bubbled over with glee that their man was appointed to be the new Secretary of Energy. But if only Richard Nixon could have reached out to Communist China, then only Ernest Moniz may have the cred to tell USEC to shove it.
Unfortunately, USEC shoving it means that the workers and community of Paducah will continue to get reamed.
Neighbors for an Ohio Valley Alternative will be announcing educational and organizing events in Paducah shortly.