LumiNola / E+ / Getty Images
By Gwen Ranniger
Fertility issues are on the rise, and new literature points to ways that your environment may be part of the problem. We've rounded up some changes you can make in your life to promote a healthy reproductive system.
Infertility and Environmental Health: The Facts
Sperm count is declining steeply, significantly, and continuously in Western countries, with no signs of tapering off. Erectile dysfunction is on the rise, and women are facing increasing rates of miscarriage and difficulty conceiving.
Why? A huge factor is our environmental health. Hormones (particularly testosterone and estrogen) are what make reproductive function possible, and our hormones are increasingly being negatively affected by harmful, endocrine-disrupting chemicals commonplace in the modern world—in our homes, foods, and lifestyles.
What You Can Do About It
It should be noted that infertility can be caused by any number of factors, including medical conditions that cannot be solved with a simple change at home.
If you or a loved one are struggling with infertility, our hearts and sympathies are with you. Your pain is validated and we hope you receive answers to your struggles.
Read on to discover our tips to restore or improve reproductive health by removing harmful habits and chemicals from your environment.
Edit Your Health
If you smoke, quit! Smoking is toxic, period. If someone in your household smokes, urge them to quit or institute a no-smoking ban in the house. It is just as important to avoid secondhand smoke.
Maintain a healthy weight. Make sure your caloric intake is right for your body and strive for moderate exercise.
Eat cleanly! Focus on whole foods and less processed meals and snacks. Studies have found that eating a Mediterranean-style diet is linked to increased fertility.
Minimize negative/constant stress—or find ways to manage it. Hobbies such as meditation or yoga that encourage practiced breathing are great options to reduce the physical toll of stress.
Edit Your Home
We spend a lot of time in our homes—and care that what we bring into them will not harm us. You may not be aware that many commonly found household items are sources of harmful, endocrine-disrupting compounds. Read on to find steps you can take—and replacements you should make—in your home.
In the Kitchen
Buy organic, fresh, unprocessed foods whenever possible. Read our grocery shopping guide for more tips about food.
Switch to glass, ceramics, or stainless steel for food storage: plastics often contain endocrine-disrupting chemicals that affect fertility. Learn more about the dangers of plastic here.
Ban plastic from the microwave. If you have a plastic splatter cover, use paper towel, parchment paper, or an upside-down plate instead.
Upgrade your cookware: non-stick may make life easier, but it is made with unsafe chemical compounds that seep into your food. Cast-iron and stainless steel are great alternatives.
Filter tap water. Glass filter pitchers are an inexpensive solution; if you want to invest you may opt for an under-the-sink filter.
Check your cleaning products—many mainstream products are full of unsafe chemicals. Check out our guide to safe cleaning products for more info.
In the Bathroom
Check the labels on your bathroom products: fragrance-free, paraben-free, phthalate-free and organic labels are all great signs. You can also scan the ingredients lists for red-flag chemicals such as: triclosan, parabens, and dibutyl phthalate. Use the EWG Skin Deep database to vet your personal products.
Ditch the vinyl shower curtain—that new shower curtain smell is chemical-off gassing. Choose a cotton or linen based curtain instead.
Banish air fresheners—use natural fresheners (an open window, baking soda, essential oils) instead.
Everywhere Else
Remove wall-to-wall carpet. If you've been considering wood or tile, here's your sign: many synthetic carpets can emit harmful chemicals for years. If you want a rug, choose wool or plant materials such as jute or sisal.
Prevent dust build-up. Dust can absorb chemicals in the air and keep them lingering in your home. Vacuum rugs and wipe furniture, trim, windowsills, fans, TVs, etc. Make sure to have a window open while you're cleaning!
Leave shoes at the door! When you wear your shoes throughout the house, you're tracking in all kinds of chemicals. If you like wearing shoes inside, consider a dedicated pair of "indoor shoes" or slippers.
Clean out your closet—use cedar chips or lavender sachets instead of mothballs, and use "green" dry-cleaning services over traditional methods. If that isn't possible, let the clothes air out outside or in your garage for a day before putting them back in your closet.
Say no to plastic bags!
We asked 22 endocrinologists what products they use - and steer clear of—in their homes. Check out their responses here.
Learn More
For more information and action steps, be sure to check out Count Down: How Our Modern World Is Threatening Sperm Counts, Altering Male and Female Reproductive Development, and Imperiling the Future of the Human Race by EHS adjunct scientist Shanna Swan, PhD: available for purchase here.
Sign up for our Above the Fold Newsletter to stay up to date about impacts on the environment and your health.
Reposted with permission from Environmental Health News.
From Your Site Articles
Related Articles Around the Web
EcoWatch Daily Newsletter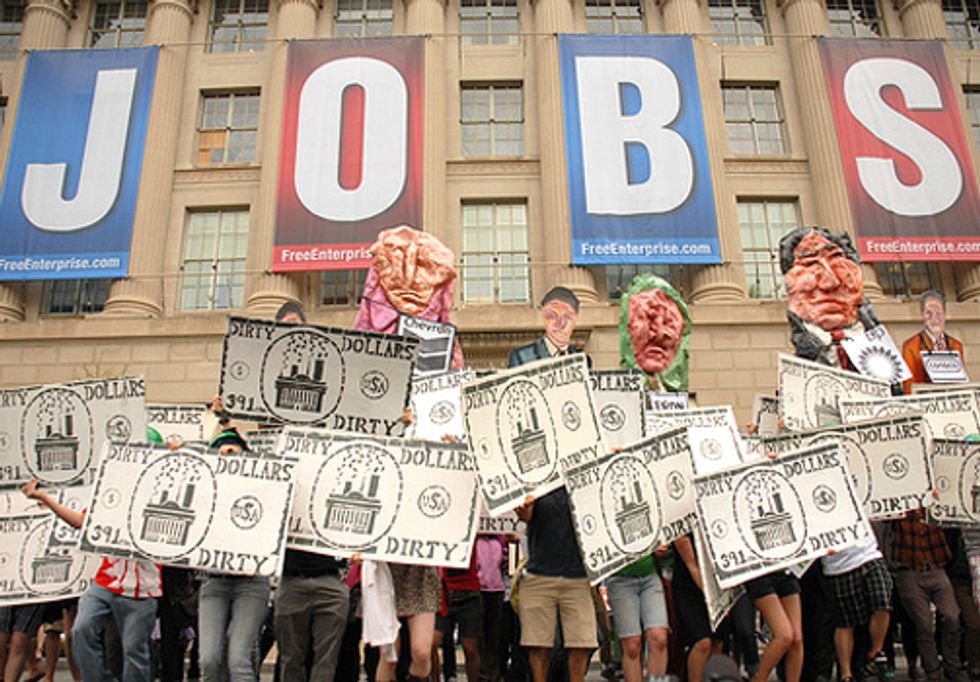 by Jamie Henn
In news that will surprise just about no one, U.S. Chamber of Commerce President Tom Donahue hosted a press conference Jan. 12 where he offered full-throated support for the Keystone XL pipeline, that 1,700 mile Big Oil scam that would take tar sands oil from Canada down to the Gulf Coast of Mexico. Over the last few weeks, Keystone XL has become a major political fight as Congress and Big Oil (now there are two popular institutions) have tried to slam the project down the American people's throats, despite the fact that President Obama already delayed the project for at least a year over environmental and safety concerns.
"There is no legitimate reason, none at all, to subject it to further delay," Donohue said in his annual address on the state of business and the economy. "Real leaders understand that Americans can have big differences in philosophy but still find common ground. They wouldn't tell us that solutions have to wait until after the election."
No, Tom, real leaders stand up to Big Oil and protect the American people from scams like Keystone XL, a fuse to the "largest carbon bomb in North America," the Canadian tar sands. But it's no surprise, I guess, that the U.S. Chamber of Commerce isn't concerned about the climate or the interests of everyday Americans.
As Bill McKibben wrote Jan. 12:
"The U.S. Chamber of Commerce, two years ago, filed a legal brief arguing that if the planet warmed, humans could alter their physiology to cope with the heat. So I guess there's no reason for them to worry about the climate impacts of opening up the second-biggest pool of carbon on the planet. For those of us who plan to keep our current anatomy, however, their assault on basic environmental review is one more sign they're nothing but a front for the fossil fuel lobby."
It's no real surprise that the U.S. Chamber of Commerce is pushing Keystone XL, but it does help clarify what we've been saying all along—this pipeline is a scam and the only reason politicians are pushing it is because they're on the payroll of Big Oil and front groups like the U.S. Chamber of Commerce.
For more information, click here.
waterlust.com / @tulasendlesssummer_sierra .
Each product featured here has been independently selected by the writer. If you make a purchase using the links included, we may earn commission.
The bright patterns and recognizable designs of Waterlust's activewear aren't just for show. In fact, they're meant to promote the conversation around sustainability and give back to the ocean science and conservation community.
Each design is paired with a research lab, nonprofit, or education organization that has high intellectual merit and the potential to move the needle in its respective field. For each product sold, Waterlust donates 10% of profits to these conservation partners.
Eye-Catching Designs Made from Recycled Plastic Bottles
waterlust.com / @abamabam
The company sells a range of eco-friendly items like leggings, rash guards, and board shorts that are made using recycled post-consumer plastic bottles. There are currently 16 causes represented by distinct marine-life patterns, from whale shark research and invasive lionfish removal to sockeye salmon monitoring and abalone restoration.

One such organization is Get Inspired, a nonprofit that specializes in ocean restoration and environmental education. Get Inspired founder, marine biologist Nancy Caruso, says supporting on-the-ground efforts is one thing that sets Waterlust apart, like their apparel line that supports Get Inspired abalone restoration programs.
"All of us [conservation partners] are doing something," Caruso said. "We're not putting up exhibits and talking about it — although that is important — we're in the field."
Waterlust not only helps its conservation partners financially so they can continue their important work. It also helps them get the word out about what they're doing, whether that's through social media spotlights, photo and video projects, or the informative note card that comes with each piece of apparel.
"They're doing their part for sure, pushing the information out across all of their channels, and I think that's what makes them so interesting," Caruso said.
And then there are the clothes, which speak for themselves.
Advocate Apparel to Start Conversations About Conservation
waterlust.com / @oceanraysphotography
Waterlust's concept of "advocate apparel" encourages people to see getting dressed every day as an opportunity to not only express their individuality and style, but also to advance the conversation around marine science. By infusing science into clothing, people can visually represent species and ecosystems in need of advocacy — something that, more often than not, leads to a teaching moment.

"When people wear Waterlust gear, it's just a matter of time before somebody asks them about the bright, funky designs," said Waterlust's CEO, Patrick Rynne. "That moment is incredibly special, because it creates an intimate opportunity for the wearer to share what they've learned with another."
The idea for the company came to Rynne when he was a Ph.D. student in marine science.
"I was surrounded by incredible people that were discovering fascinating things but noticed that often their work wasn't reaching the general public in creative and engaging ways," he said. "That seemed like a missed opportunity with big implications."
Waterlust initially focused on conventional media, like film and photography, to promote ocean science, but the team quickly realized engagement on social media didn't translate to action or even knowledge sharing offscreen.
Rynne also saw the "in one ear, out the other" issue in the classroom — if students didn't repeatedly engage with the topics they learned, they'd quickly forget them.
"We decided that if we truly wanted to achieve our goal of bringing science into people's lives and have it stick, it would need to be through a process that is frequently repeated, fun, and functional," Rynne said. "That's when we thought about clothing."
Support Marine Research and Sustainability in Style
To date, Waterlust has sold tens of thousands of pieces of apparel in over 100 countries, and the interactions its products have sparked have had clear implications for furthering science communication.
For Caruso alone, it's led to opportunities to share her abalone restoration methods with communities far and wide.
"It moves my small little world of what I'm doing here in Orange County, California, across the entire globe," she said. "That's one of the beautiful things about our partnership."
Check out all of the different eco-conscious apparel options available from Waterlust to help promote ocean conservation.
Melissa Smith is an avid writer, scuba diver, backpacker, and all-around outdoor enthusiast. She graduated from the University of Florida with degrees in journalism and sustainable studies. Before joining EcoWatch, Melissa worked as the managing editor of Scuba Diving magazine and the communications manager of The Ocean Agency, a non-profit that's featured in the Emmy award-winning documentary Chasing Coral.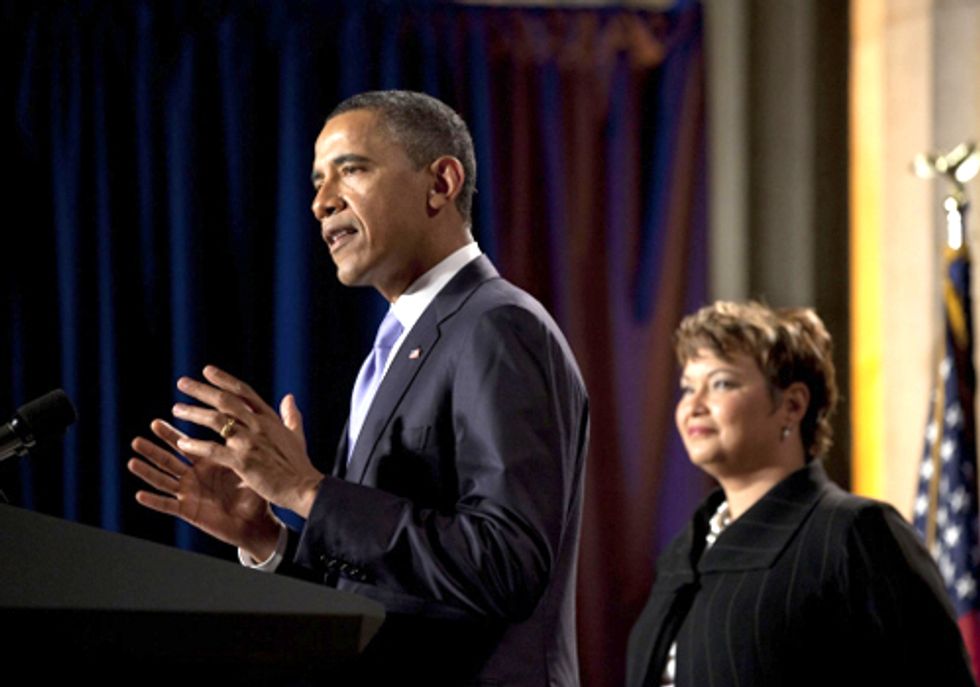 On Jan. 10, President Obama applauded the U.S. Environmental Protection Agency's (EPA) work to protect the environment and human health. As Republicans ramp up attacks on federal oversight of the natural environment in order to gain influence in the Republican primaries, President Obama's speech praises the EPA's work while attacking the notion that vital environmental regulations stand in the way of a robust economy.
Read the complete transcript of President Obama's speech below:
President Obama:
Thank you! Thank you, EPA! (Applause.) Thank you, everybody. Thank you so much. It is wonderful to see you. It is great to see you. Thank you, thank you.
Now, everybody can have a seat. I know Lisa is making you guys all stand up. (Laughter.) But you can all relax.
It is wonderful to be here with all of you. Thank you so much for all the great work you do. I want to first acknowledge your outstanding Administrator, Lisa Jackson. (Applause.) She has done an extraordinary job leading this agency. But here's what I want all of you to know: Not only is she good on policy, not only is she tough and able to present the EPA's mission so effectively to the public, but she also has your back. (Applause.) She is an advocate on behalf of all the people who work so hard here at the EPA. And so you should know that your boss loves you, even if she doesn't always show it, I don't know. (Laughter.)
The main reason I'm here is simple: I just want to say thank you. I want to say thank you to each and every one of you, because the EPA touches on the lives of every single American every single day. You help make sure that the air we breathe, the water we drink, the foods we eat are safe. You protect the environment not just for our children but their children. And you keep us moving towards energy independence.
And it is a vital mission. Over the past three years, because of your hard work, we've made historic progress on all these fronts. Just a few weeks ago, thanks to the hard work of so many of you, Lisa and I was able to announce new common-sense standards to better protect the air we breathe from mercury and other harmful air pollution. And that was a big deal. (Applause.) And part of the reason it was a big deal was because, for over 20 years, special interest groups had successfully delayed implementing these standards when it came to our nation's power plants. And what we said was: "Enough." It's time to get this done.
And because we acted, we're going to prevent thousands of premature deaths, thousands of heart attacks and cases of childhood asthma.
There are families that are going to be directly impacted in a positive way because of the work that you do. Because you kept fighting—and some of you have been fighting this fight for a long time, long before I was here and long before Lisa was here. And so your tenacity and stick-to-itness is making a difference.
Because of you, across the board, we're cutting down on acid rain and air pollution. We're making our drinking water cleaner and safer. We're creating healthier communities. But that's not all. Safeguarding our environment is also about strengthening our economy. I do not buy the notion that we have to make a choice between having clean air and clean water and growing this economy in a robust way. I think that is a false debate. (Applause.)
Think about it—We established new fuel economy standards, a historic accomplishment that is going to slash oil consumption by about 12 billion barrels, dramatically reduces pollution that contributes to climate change, and saves consumers thousands of dollars at the pump, which they can then go spend on something else.
As part of the Recovery Act, you cleaned up contaminated sites across the country, which helped to rid neighborhoods of environmental blight while putting Americans back to work.
We don't have to choose between dirty air and dirty water or a growing economy. We can make sure that we are doing right by our environment and, in fact, putting people back to work all across America. That's part of our mission.
When we put in place new common-sense rules to reduce air pollution, we create new jobs building and installing all sorts of pollution-control technology. When we put in place new emissions standards for our vehicles, we make sure that the cars of tomorrow are going to be built right here in the United States of America, that we're going to win that race.
When we clean up our nation's waterways, we generate more tourists for our local communities. So what's good for the environment can also be good for our economy.
Now, that doesn't mean that there aren't going to be some tensions. That doesn't mean that there aren't going to be legitimate debates that take place. That doesn't mean that it's not important for every single one of us to think about how can we make sure that we are achieving our goals in the smartest way possible, in the most efficient ways possible, in the least bureaucratic ways possible, in the clearest ways possible. That's also part of our mission.
There's not a federal agency that can't get better and be smarter in accomplishing our mission, and we have an obligation every single day to think about how can we do our business a little bit better. How can we make sure the taxpayers are getting every dime's worth that they're paying in order to achieve these important common goals that we have?
But I believe we can do it, and you've shown me that we can do it over these last three years. So I could not be prouder of the work that you all do every single day as federal employees. I know the hours can be long. I know that sometimes spending time getting these policies right means less time at home than you'd like, and you're missing birthday parties, or you're missing a soccer game, and the spouse is not happy with you. I know a little bit about that sometimes. (Laughter.) I know these jobs are demanding.
But I also know what compelled you to enter public service in the first place—and that's the idea that you could make a difference; that you could leave behind a planet that is a little cleaner, a little safer than the one we inherited.
And I have to tell you that part of why I get excited when I see some of the work that you're doing is because our next generation is so much more attuned to these issues than I was when I was growing up. I can tell you when I sit down and I talk to my kids, probably the area where they have the most sophisticated understanding of policy is when it comes to the environment. They understand that the decisions we make now are going to have an impact on their lives for many years to come. And their instincts are right. So your mission is vital.
And just think of what this agency has been able to do over the last four decades. There's so many things we now take for granted. When I hear folks grumbling about environmental policy, you almost want to do a Back to the Future—(laughter)—kind of reminder of folks of what happens when we didn't have a strong EPA. The year before President Nixon created the EPA, the Cuyahoga River was so dirty from industrial pollution and oil slicks that it literally caught on fire. In my hometown, the Chicago River—you probably could not find anything alive in there—(laughter)—four decades ago. Now it's thriving—to the benefit of the city. Today, because of your work, 92 percent of Americans have access to clean water that meets our national health standards.
Before the EPA was created, our cars were spewing harmful lead pollution into the air, with all sorts of impacts, especially on children. Today, because of your work, air pollution is down by more than half, and lead pollution is down more than 90 percent from a generation ago.
So all of you, and all of those who served before you, have made a difference. Our environment is safer because of you. Our country is stronger because of you. Our future is brighter because of you. And I want you to know that you've got a President who is grateful for your work and will stand with you every inch of the way as you carry out your mission to make sure that we've got a cleaner world. (Applause.)
So, thank you. God bless you. God bless the United States of America. Thank you. (Applause.)
For more information, click here.