Endangered Species Coalition
As the Obama administration prepares to hand over the reins of the executive branch to President-elect Donald Trump, the Washington, DC-based Endangered Species Coalition released a "Top 10" list of imperiled species in need of strong conservation measures today.
The report, Removing the Walls to Recovery: Top 10 Species Priorities for a New Administration, highlights some of the most significant threats to vanishing wildlife such as jaguars and elephants, and identifies important actions the next administration could take to prevent their extinction.
Endangered Species Coalition
The report includes the imperiled Caribbean elkhorn coral, Acropora palmata. The Center for Biological Diversity nominated the elkhorn for the report because it is threatened by climate change, ocean acidification and disease. A foundational species, elkhorn coral plays a critical role as a building block for coral reef ecosystems. The worldwide decline of corals due to climate change will affect thousands of marine species and people that depend on them for survival.
"Elkhorn corals in the Caribbean are indicators of widespread ecosystem degradation," said Dr. Abel Valdivia, a marine ecologist with the center. "The recovery of elkhorn corals in the Caribbean and corals worldwide will depend in part of our capacity to drastically curb carbon emissions in the next decade to reduce ocean warming."
Other critically important species in the report are keystone species such as Hawaii's yellow-faced bees, jaguars and Snake River chinook salmon. All keystone species have a disproportionately large impact on other species and ecosystems relative to their abundance; Hawaii's yellow-faced bees are pollinators affected by habitat loss.
The jaguar of the southwestern U.S. is a keystone predator. It is particularly threatened by habitat fragmentation caused, in part, by impenetrable immigration barriers along the U.S.–Mexican border. The report urges Trump to abandon plans to further fortify the southern border and to make existing barriers more wildlife friendly.
OMG! #Trump Sons Auctioning Off $1 Million #Hunting Trip to Celebrate Inauguration https://t.co/05pOgnH1JS @CenterForBioDiv @PETA @NWF @NRDC

— EcoWatch (@EcoWatch)1482243854.0
Snake River chinook salmon, meanwhile, are among the longest and highest-migrating salmon on the planet—often swimming 1,000 miles upstream and climbing more than 6,000 feet in elevation to reach their spawning grounds. More than 130 other species depend upon salmon, including orcas, bears and eagles.

The U.S. Fish and Wildlife Service declined to protect the greater sage grouse—an umbrella species—as endangered in 2014, citing an unprecedented region-wide habitat conservation effort tied to state and federal conservation plans. But several appropriations riders offered in Congress in 2016 would block implementation of these conservation plans, as well as any future Endangered Species Act protections for the imperiled bird. Meanwhile grouse numbers have declined 90 percent from historic levels. Protecting umbrella species like sage grouse conserves habitats on which many other species rely.
"Our native fish, plants and wildlife are critically valuable and part of the legacy we leave for future generations of Americans," said Leda Huta, executive director of the Endangered Species Coalition. "We hope the next administration takes seriously its responsibility to protect endangered species and habitat. The fate of species is in their hands. Their actions could dictate whether species such as the vaquita, the red wolf and others become extinct in the wild."
The remaining species featured in the Endangered Species Coalition's report include the African elephant, bald cypress tree, gray wolf and vaquita—a small, severely endangered Mexican porpoise.
EcoWatch Daily Newsletter
The U.S. Fish & Wildlife Service (USFWS), which has been managing a recovery operation for the critically endangered red wolf, will decide the fate of the species this month. Just 45 animals remain in and near the Alligator River National Wildlife Refuge in North Carolina.

Red wolves, like this one at the Wolf Conservation Center in New York, have been saved from extinction by captive breeding programs.Dan Zukowski
Most Americans are familiar with the majestic gray wolf, which has made a remarkable comeback due to conservation efforts. Although populations are far lower than pre-colonial times, today there are about 5,000 in the lower 48 and 7,000 to 11,000 in Alaska. Canada is home to a thriving population of up to 60,000 wolves. In North America, Arctic wolves inhabit the tundra of Alaska and Canada, Mexican gray wolves were once endemic to Mexico and the American Southwest, and red wolves roamed the American Southeast. There is debate among scientists whether these are separate species.
Wild red wolves went into decline after initial recovery efforts.Credit: U.S. Fish & Wildlife Service
Predator control programs and loss of habitat decimated red wolf populations. They were listed as an endangered species in 1973, and declared extinct in the wild by the USFWS in 1980. Prior to that, 17 animals had been placed in a captive breeding program at the Point Defiance Zoo and Aquarium in Tacoma, Washington. This allowed the reintroduction of red wolves to the North Carolina refuge in 1987 and later to additional areas in North Carolina, South Carolina, Tennessee and islands off the Atlantic and Gulf coasts.

As a result of the captive breeding program and reintroduction, wild red wolf populations increased throughout the 1990s and early 2000s, peaking at 130 animals in 2006. Populations then went into decline, followed by a severe crash beginning in 2014. The only surviving population is in the Alligator River National Wildlife Refuge.
In March of 2016, the Center for Biological Diversity filed suit against the USFWS for violating the Endangered Species Act, claiming mismanagement of the reintroduction program. In its press release issued at the time the suit was filed, the organization stated, "Bowing to political pressure, the Fish and Wildlife Service has stopped virtually all aspects of the recovery program for red wolves and is conducting a 'feasibility review' as a pretext to further dismantle the program." It is the result of that study that is expected to be announced this month.
"It's simply jaw-dropping that the U.S. Fish and Wildlife Service is consciously deciding to issue a death sentence—knowingly allowing a wolf found only in the United States to go extinct," Leda Huta, executive director of the Endangered Species Coalition, said. "The red wolf has been one of our greatest wildlife success stories and could be again. It is a day I never thought I'd see."

Results of a poll of North Carolina voters released on Aug. 17 showed that 73 percent support red wolf recovery efforts. The numbers were almost identical among registered Republican and Democratic voters. Following that, on Aug. 29, 27 members of the North Carolina legislature signed a letter to the Secretary of the Interior expressing "grave concerns" about the actions of the USFWS. The letter asks that the USFWS be directed to resume and improve the recovery program.
Red wolves are generally smaller than gray wolves, growing to about 4.5-5.5 feet long, including the tail. Adults will weigh 50 to 80 pounds. They have a lifespan in the wild of just six to seven years.
Earlier this year, I had the opportunity to photograph two red wolves at the Wolf Conservation Center (WCC) in New York. The WCC has been part of the captive breeding program since 2004 and two litters have successfully bred there. One has returned to the wild, and 10 are currently at the WCC. They inhabit a large, fenced enclosure and fiercely patrol the perimeter of their area.
Seeing these wolves up close creates a connection to their place in nature and an understanding of why they need the help of the reintroduction program. Aside from the 45 animals in the wild, there are now about 200 in various captive breeding programs across the U.S.
Gray wolves have seen a successful recovery but are now being hunted in several areas.Dan Zukowski
The USFWS has been criticized for repeated attempts to delist gray wolves from protection. In 2003, they began reducing protection for wolves until stopped by court action. In 2009, hunting was allowed in the Northern Rockies and Western Great Lakes. Even though that was overturned, in 2011, the USFWS came back with another effort to remove protections in the region. Meanwhile, Congress removed protection for wolves in all of Montana and Idaho, the eastern third of Washington and Oregon, and a small portion of northern Utah.

Today, we are witnessing the massacre of the Profanity Pack of 11 gray wolves in northeast Washington. The killing is in response to rancher's complaints about cattle predation, but a study release last Thursday showed little scientific justification for such killings. The study looked at previous research on the effectiveness of killing predators to prevent livestock losses. They found that most of these studies showed that eliminating predators either didn't stop attacks or actually increased predation. The researchers recommended "that policy makers suspend predator control efforts that lack evidence for functional effectiveness and that scientists focus on stringent standards of evidence in tests of predator control."
For now, the fate of the last 45 wild red wolves is in the hands of the USFWS.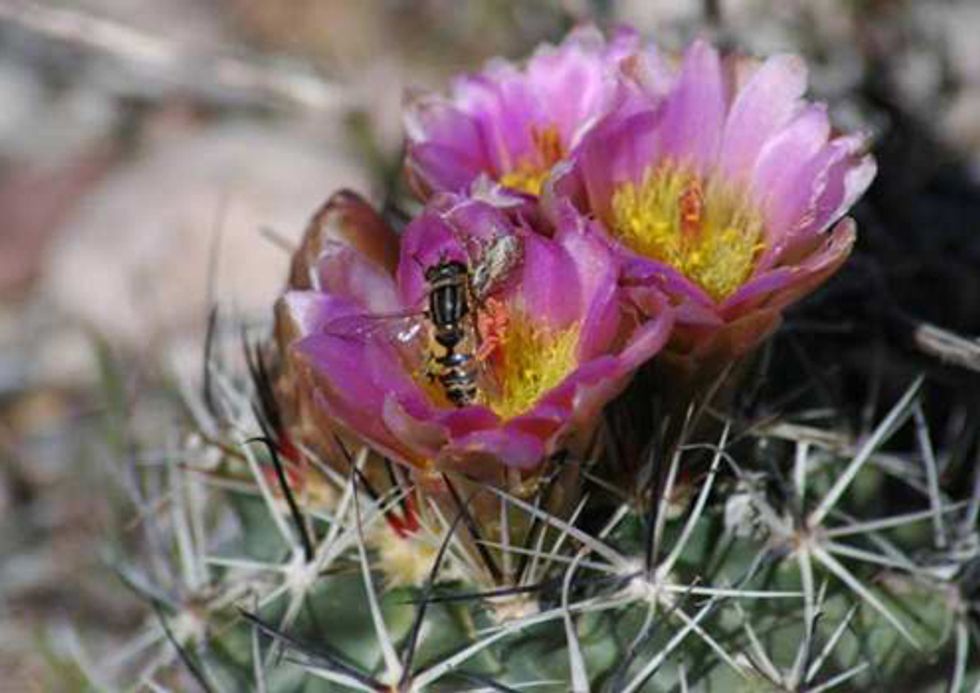 The dunes sagebrush lizard, a small, rare lizard that lives only in Texas and New Mexico, was named one of 10 U.S. species most urgently threatened by fossil fuel development in a report released Jan. 19 by the Endangered Species Coalition. The report, Fueling Extinction: How Dirty Energy Drives Wildlife to the Brink, highlights the top 10 U.S. species whose survival is most threatened by fossil fuels. The dunes sagebrush lizard is currently proposed for protection under the Endangered Species Act.
"America's outsized reliance on dirty and dangerous fuels is making it much harder to protect our most vulnerable wildlife," said Mark Salvo with WildEarth Guardians. "We should not sacrifice our irreplaceable natural heritage in order to make the fossil fuels industry even wealthier."
The report highlights the 10 most endangered animals, plants, birds and fish at risk of extinction due to fossil fuel development, and shows how wildlife suffers displacement, loss of habitat and the threat of extinction from the development, storage and transportation of fossil fuels. Coalition members nominated candidates for inclusion in the report. Submissions were then reviewed, judged and voted on by a panel of scientists. The report identifies the home range, conservation status, remaining population and specific threat facing each of the 10 finalists.
The dunes sagebrush lizard occurs in slivers of shinnery oak-sand dune habitat within the Permian Basin, the largest onshore oil and gas field in the U.S. The Center for Biological Diversity petitioned the U.S. Fish and Wildlife Service to protect the lizard under the Endangered Species Act in 2002, and WildEarth Guardians submitted an emergency petition for the species in 2008. Long threatened by fossil fuel development and other land uses, the service finally proposed the species for listing as "endangered" in December 2010. 
"The fact that dunes sagebrush lizard habitat spans less than 2 percent of the Permian Basin hasn't stopped oil-polluted politicians from claiming that protecting the lizard will destroy industry," said Taylor McKinnon with the Center for Biological Diversity. "The lizard, not the oil and gas industry, is at risk of extinction—and industry's refusal to yield even the last tiny slivers of habitat to prevent that extinction underscores the need for federal protections."
Congressional opponents have loudly proclaimed that listing will "shut down" oil and gas development in the Permian Basin. Rep. Steve Pearce (R-N.M.) and colleagues have tried every conceivable tactic to prevent the service from protecting the species. Pearce's opposition to listing the lizard is without basis, however, as the dunes sagebrush lizard occurs on less than 2 percent of the Permian Basin, and its small range has already been drilled with thousands of oil and gas wells. The service has repeatedly stated that listing the lizard will have negligible effects on oil and gas development—but Pearce and his colleagues are undeterred. He and other members of Congress recently pressured the agency to delay the final listing decision for six months, allowing opponents more time to sharpen their attacks on this tiny reptile.
Fueling Extinction: How Dirty Energy Drives Wildlife to the Brink calls for a commitment to a clean, safe and sustainable energy future. It urges lawmakers to honor the intent of the Endangered Species Act while reducing the country's dependence on dirty fossil fuels.
For more information and to view the full report, click here.
Top 10 List of Wildlife Threatened by Development, Storage and Transportation of Fossil Fuels
Bowhead Whale—The remainder of the endangered bowhead whale population is threatened by potential oil spills, noise from offshore oil drilling, and deadly collisions with ships. An oil spill could easily undo the successful recovery efforts for this species in recent years.
Dunes Sagebrush Lizard—The dunes sagebrush lizard is a candidate for listing under the Endangered Species Act due to impacts from oil and gas drilling on the Permian Basin in western Texas. Disturbance from well pads, leaking pipelines, and high concentrations of toxic gas emitted from wells contribute to the decline of the lizard's population, which exists on a tiny range within the Basin's vast oil reserves.
Graham's Penstemon—This delicate flower lives only on oil shale reserves being explored for mining in Utah. Oil shale mining takes massive amounts of water, putting the flowers at risk of either being starved of water or drowned under new reservoirs.
Greater Sage Grouse—Energy development has caused habitat loss and fragmentation due to roads, pipelines, power lines, and human and vehicle-related disturbance, resulting in marked declines in sage-grouse numbers. Coalbed methane gas development in the Powder River Basin of Wyoming has coincided with a 79 percent decline in the greater sage-grouse population.
Kemp's Ridley Sea Turtle—According to U.S. Fish and Wildlife Service, the Kemp's ridley is the most seriously endangered of all sea turtles, due to lingering impacts of the BP oil disaster on Gulf waters—the sole breeding ground and key feeding grounds of the turtle. A total of 809 Kemp's ridleys were found impacted by the spill, and of those 609 were killed..
Kentucky Arrow Darter—Toxic waste pushed into streams from mountaintop coal mining is smothering the rare Kentucky arrow darter fish and poisoning the drinking water of downstream communities. The arrow darter has already been wiped out from more than half of its range.
Spectacled Eider—Oil and gas development, along with climate change, have drastically reduced the frigid habitat range of the threatened spectacled eider. As a result, the western Alaskan population dropped by 96 percent between 1957 and 1992. Aircraft and vessel traffic and seismic survey acoustic activities can all negatively impact the bird's habitat and cause death.
Tan Riffleshell—This endangered mollusk plays a critical role in the health of Appalachian river habitats by filtering pollutants and restoring nutrients to the water. Acid mine drainage, sedimentation from coal mining, and coal ash landfills are contaminating the mussel's habitat and breeding areas, further threatening this most endangered member of the mussel family. 
Whooping Crane—The endangered whooping crane overcame near extinction in the 1940s, but the existing wild flock of 437 cranes now faces a new battle for survival. The proposed Keystone XL pipeline would run alongside the crane's entire migratory path from Canada to Texas, and the inevitable toxic waste ponds, collisions and electrocutions from power lines, along with potential oil spills, would decimate the vulnerable remaining population. Although President Obama rejected the pipeline this week, Republicans in Congress are expected to fight that decision.
Wyoming Pocket Gopher—It is estimated that fewer than 40 pocket gophers exist today in their sole range in Wyoming's Sweetwater and Carbon Counties. Truck and vehicle traffic associated with increasing oil and gas activities result in habitat loss and fragmentation, cutting off potential mating opportunities and endangering the survival of this rare animal.
Advocates' Choice: The Polar Bear—The polar bears' survival is completely dependent upon sea ice, which is rapidly melting. They are further threatened by the risk of an oil spill, and activities like seismic testing, icebreaking, and vessel movement also negatively impact polar bears and their food sources.
For more information, click here.