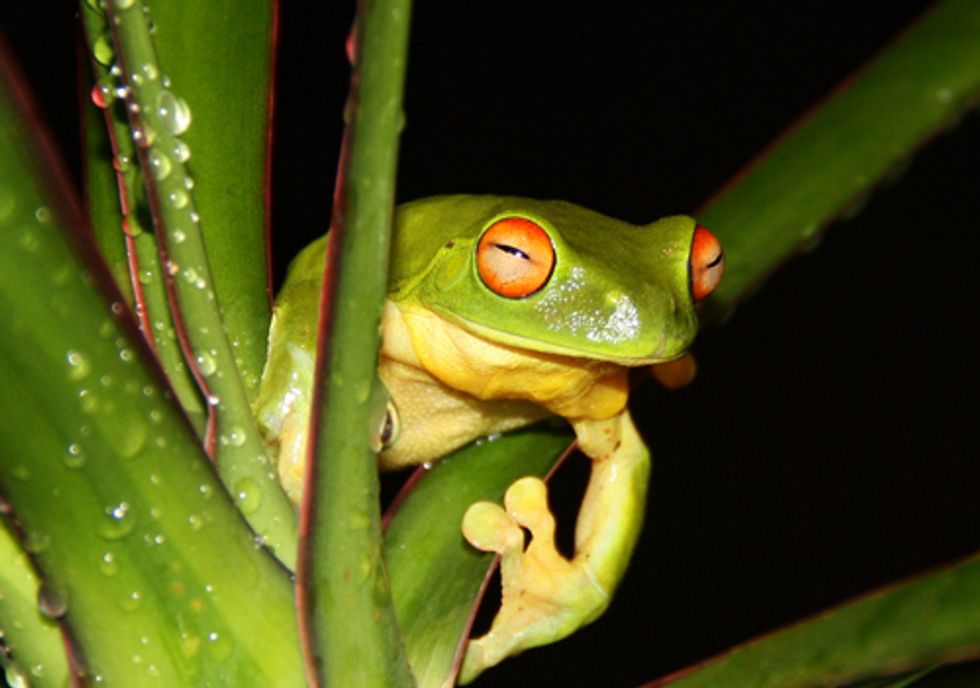 A coalition of California environmental groups are outraged that San Francisco's Mayor Ed Lee has vetoed legislation designed to protect the city's Sharp Park Wetlands and the endangered California Red-Legged Frogs and San Francisco Garter Snakes that live there. The city currently operates a golf course on the property. The course was built on top of the wetlands, which the city pumps out to sea to improve playing conditions—at the expense of the multitude of wildlife species that depend on the site's rare wetland habitat. More than 95 percent of California's coastal wetlands have been destroyed or damaged.
The legislation would have paved the way for the closure of the Sharp Park Golf Course and the turning over of the management of the land to the National Park Service. "Golf is a game, it is not crucial to life on this planet, and there are over 10,000 golf courses in the USA. Wetlands however, are not a game. They are a matter of life or death for a large number of endangered species," said Dr. Kerry Kriger, founder of Save The Frogs, an amphibian conservation organization based in Santa Cruz, California.
Mayor Lee, a golfer, refused to meet with any representatives of the Save The Frogs, the Wild Equity Institute, the Sierra Club or the National Parks Conservancy Association prior to issuing the veto. "By vetoing the legislation without ever meeting with environmental groups the Mayor has labeled himself as 'anti-environment', he has damaged San Francisco's reputation as a progressive leader and he has extended the death sentence that endangered frogs face every time the city uses taxpayer money to pump the Sharp Park Wetlands out to sea," said Dr. Kriger. "The mayor blew a brilliant opportunity and should redeem himself by rescinding the veto immediately."
Save The Frogs supporters sent the mayor's office more than 4,000 letters asking him to protect the wetlands. Mayor Lee expressed no remorse about the veto, stating, "I remember the clubhouse very well, a lot of my friends went to the clubhouse to have some great dinners there."
The federally endangered California Red-Legged Frogs that live at Sharp Park are killed when their egg masses get stranded on land during the city's pumping operations and when tadpoles get sucked through the pumps and out to sea. The Red-Legged Frogs were nearly eaten to extinction in the 1890's by the California gold miners. Now they are threatened by habitat destruction, roadkill and non-native species such as American Bullfrogs, which are voracious predators that are being imported into California by the millions each year to satisfy San Francisco's burgeoning frog meat trade. "Humans have been persecuting the California Red-Legged Frogs for over a century. I think it's time we gave them a little assistance," says Dr. Kriger. Save The Frogs is calling on the mayor to rescind his veto.
The city of San Francisco is currently being sued for illegally killing endangered wildlife at the golf course, which loses more than $100,000 per year. Social justice groups say closing the golf course would allow San Francisco to direct more money to youth programs in the city. The U.S. Fish & Wildlife Service last week denied the city's attempt to classify golf course activities as "recovery actions" and put them on notice not to kill endangered species without proper permits.
For more information, click here.
—————
SAVE THE FROGS! is America's first and only public charity dedicated to amphibian conservation. The mission of SAVE THE FROGS! is to protect amphibian populations and to promote a society that respects and appreciates nature and wildlife.
The Wild Equity Institute is building a healthy and sustainable global community for people and the plants and animals that accompany us on Earth.
EcoWatch Daily Newsletter
waterlust.com / @tulasendlesssummer_sierra .
Each product featured here has been independently selected by the writer. If you make a purchase using the links included, we may earn commission.
The bright patterns and recognizable designs of Waterlust's activewear aren't just for show. In fact, they're meant to promote the conversation around sustainability and give back to the ocean science and conservation community.
Each design is paired with a research lab, nonprofit, or education organization that has high intellectual merit and the potential to move the needle in its respective field. For each product sold, Waterlust donates 10% of profits to these conservation partners.
Eye-Catching Designs Made from Recycled Plastic Bottles
waterlust.com / @abamabam
The company sells a range of eco-friendly items like leggings, rash guards, and board shorts that are made using recycled post-consumer plastic bottles. There are currently 16 causes represented by distinct marine-life patterns, from whale shark research and invasive lionfish removal to sockeye salmon monitoring and abalone restoration.

One such organization is Get Inspired, a nonprofit that specializes in ocean restoration and environmental education. Get Inspired founder, marine biologist Nancy Caruso, says supporting on-the-ground efforts is one thing that sets Waterlust apart, like their apparel line that supports Get Inspired abalone restoration programs.
"All of us [conservation partners] are doing something," Caruso said. "We're not putting up exhibits and talking about it — although that is important — we're in the field."
Waterlust not only helps its conservation partners financially so they can continue their important work. It also helps them get the word out about what they're doing, whether that's through social media spotlights, photo and video projects, or the informative note card that comes with each piece of apparel.
"They're doing their part for sure, pushing the information out across all of their channels, and I think that's what makes them so interesting," Caruso said.
And then there are the clothes, which speak for themselves.
Advocate Apparel to Start Conversations About Conservation
waterlust.com / @oceanraysphotography
Waterlust's concept of "advocate apparel" encourages people to see getting dressed every day as an opportunity to not only express their individuality and style, but also to advance the conversation around marine science. By infusing science into clothing, people can visually represent species and ecosystems in need of advocacy — something that, more often than not, leads to a teaching moment.

"When people wear Waterlust gear, it's just a matter of time before somebody asks them about the bright, funky designs," said Waterlust's CEO, Patrick Rynne. "That moment is incredibly special, because it creates an intimate opportunity for the wearer to share what they've learned with another."
The idea for the company came to Rynne when he was a Ph.D. student in marine science.
"I was surrounded by incredible people that were discovering fascinating things but noticed that often their work wasn't reaching the general public in creative and engaging ways," he said. "That seemed like a missed opportunity with big implications."
Waterlust initially focused on conventional media, like film and photography, to promote ocean science, but the team quickly realized engagement on social media didn't translate to action or even knowledge sharing offscreen.
Rynne also saw the "in one ear, out the other" issue in the classroom — if students didn't repeatedly engage with the topics they learned, they'd quickly forget them.
"We decided that if we truly wanted to achieve our goal of bringing science into people's lives and have it stick, it would need to be through a process that is frequently repeated, fun, and functional," Rynne said. "That's when we thought about clothing."
Support Marine Research and Sustainability in Style
To date, Waterlust has sold tens of thousands of pieces of apparel in over 100 countries, and the interactions its products have sparked have had clear implications for furthering science communication.
For Caruso alone, it's led to opportunities to share her abalone restoration methods with communities far and wide.
"It moves my small little world of what I'm doing here in Orange County, California, across the entire globe," she said. "That's one of the beautiful things about our partnership."
Check out all of the different eco-conscious apparel options available from Waterlust to help promote ocean conservation.
Melissa Smith is an avid writer, scuba diver, backpacker, and all-around outdoor enthusiast. She graduated from the University of Florida with degrees in journalism and sustainable studies. Before joining EcoWatch, Melissa worked as the managing editor of Scuba Diving magazine and the communications manager of The Ocean Agency, a non-profit that's featured in the Emmy award-winning documentary Chasing Coral.