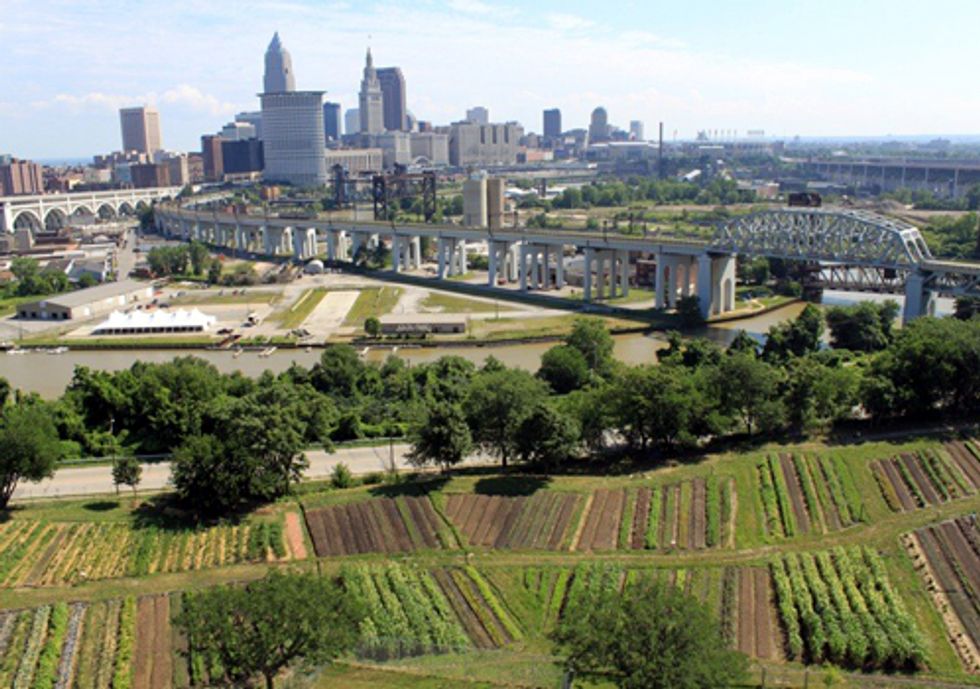 The Turner Environmental Law Clinic at the Emory University School of Law, in partnership with Georgia Organics, has released one of the most comprehensive looks at urban agriculture policy in the U.S. The study provides a look at urban agriculture policies implemented by many of Sustain Lane's top ranking sustainable cities.
Urban agriculture has become a national phenomenon as vacant lots and downsizing cities struggle to make efficient use of abandoned land, generate jobs, boost property values, promote community engagement and expand access to fresh, locally grown food. Urban agriculture can take many forms—from a community garden where multiple neighbors grow on land they share to full-scale farms that provide robust production of crops as well as educational opportunities and jobs for residents.
This report represents one of the most comprehensive, objective presentations of current urban agriculture policies being implemented across the country. Some cities have reacted in a nimble manner, creating conditions that have allowed urban food production to thrive. Other cities are struggling to identify the best mechanisms to spur urban agriculture. What is evident is that there is no one-size fits all policy to address urban agriculture. Each community needs its own nuanced approach to balance the land it has available with the needs of its residents.
Mindy Goldstein, acting director of the Turner Environmental Law Clinic, was overwhelmed at her student's interest in this topic. "We prepared this report to highlight some of the best practices being employed across the country. Our goal is to build upon these practices and prepare recommendations that will work best for the city of Atlanta and other urban areas in the state. The clinic's students dove right into this work. They were eager to lend their legal expertise to this exciting social re-innovation."
Alice Rolls, executive director of Georgia Organics and member of the Atlanta Local Food Initiative, is excited about using the report to inform the organization's work on urban agriculture issues. "It will greatly inform Georgia Organics' advocacy efforts. Land use policy can be a powerful tool to expand agricultural activity and increase access to locally grown food. With so much momentum and innovation happening to address food deserts and improve public health, food policy is a critical piece of the puzzle in solving our food security and access issues."
Both Ms. Rolls and Ms. Goldstein stated that the analysis will be shared with the city of Atlanta, among others, to inform the policy discussions currently happening. In 2010, the city of Atlanta announced an aggressive goal that 75 percent of residents would have access to fresh, locally grown food within 10 minutes of their homes by 2020.
For a full copy of the report, click here.
For more information, click here.
—————
The Turner Environmental Law Clinic provides free legal assistance to individuals, community groups, and non-profit organizations seeking to protect and restore the natural environment for the benefit of the public. Through its work, the Clinic offers students an intense, hands-on introduction to sophisticated environmental law and regulatory practice.
An outgrowth of a grower's association established in the 1970s, Georgia Organics is a member-supported not-for-profit organization devoted to promoting sustainable foods and local farms in Georgia. A sustainable local food system is critical to the future of Georgia's health, environment, and economy. Recognizing this vital need, Georgia Organics builds and strengthens a sustainable local food system that cultivates healthier Georgians, a cleaner environment, and stronger local economies. Georgia Organics builds supply through comprehensive grower education and outreach programs, and catalyzes demand on the consumer and business end by fostering market opportunities for local food. This combination creates powerful relationships that lead the state's communities toward local, sustainably grown food.
EcoWatch Daily Newsletter
Like many other plant-based foods and products, CBD oil is one dietary supplement where "organic" labels are very important to consumers. However, there are little to no regulations within the hemp industry when it comes to deeming a product as organic, which makes it increasingly difficult for shoppers to find the best CBD oil products available on the market.
<p>Here you can learn about the importance of organic hemp oil, why it's better for the environment, and which CBD companies actually make trustworthy products with sustainable farming processes. origins which weigh heavily on many consumers who want to buy a product that's produced in the best way possible for not only themselves to ingest, but for the environment as well through sustainable farming methods. </p><h2>What Is CBD Oil?</h2><p>First things first, CBD stands for cannabidiol, and it's a cannabinoid found within cannabis sativa plants. This plant compound is believed to have many potential benefits, and it is primarily derived from hemp plants via a CO2 extraction process. </p><p>Since CBD is extracted from industrial hemp, which contains only trace amounts of THC (the psychoactive component in cannabis plants), this means that CBD won't make you feel high like marijuana, which has much higher levels of THC that causes psychoactive effects. Instead, the effects of CBD are much more subtle and promote a general sense of calm and relaxation in most users.</p><h2>What Makes a CBD Oil Organic?</h2><p>In terms of organic labels, perhaps the most important (and prominent) certification comes from the United States Department of Agriculture (USDA). This government organization has been labeling foods as "organic" for many years, but what exactly does this certification entail? Essentially, a label indicating that a product is "USDA Organic" or "Certified Organic" means that at least 95% of the ingredients are obtained from organic sources.</p><p>For a crop to be considered organic by the USDA, it must be grown without the use of industrial solvents, irradiation, genetic engineering (GMOs), synthetic pesticides, or chemical fertilizer. Instead, farmers rely on natural substances and <a href="https://www.usda.gov/media/blog/2012/03/22/organic-101-what-usda-organic-label-means" rel="noopener noreferrer" target="_blank">mechanical, physical, or biologically based farming</a> techniques to cultivate healthy and organic crops.</p><p>Before the passage of the 2018 Farm Bill, no hemp-derived products could be dubbed as "certified organic" since the hemp plant and its extracts were still categorized as a Schedule I Controlled Substance. However, it's still difficult for CBD companies to obtain a USDA certified organic label for their products due to the legal grey area that still surrounds CBD extracts. </p><p>Because of these challenges, and due to the fact that industrial hemp has only recently become an agricultural crop, very few CBD oils are USDA certified organic. Rather, many CBD products contain hemp extracts from plants that were grown in organic conditions but may not be federally certified.</p><h2>What are the Best Organic CBD Oil Brands?</h2><p><em>Each product featured here has been independently selected by the writer. If you make a purchase using the links included, we may earn commission.</em></p><em><br></em>