This website uses cookies to ensure you get the best experience while browsing it. By clicking 'Got It' you're accepting these terms.
By Daniel Ross
Ten years ago, two climate scientists, Mark Jacobson and Mark Delucchi, published a groundbreaking article in Scientific American outlining a road map for becoming 100 percent reliant on energy generated by water, wind and sun by 2030. This was something that needed to be done "if the world has any hope of slowing climate change," the researchers warned at the time.
AaronChenPs / Moment / Getty Images
By Jocelyn Timperley
Global transport emissions could peak in the 2030s if railways are "aggressively" expanded, said the International Energy Agency (IEA).
EcoWatch Daily Newsletter
Joe Raedle / Getty Images
Thursday Fiat Chrysler agreed to pay nearly $800 million to settle lawsuits over its installation of emissions test-cheating devices on diesel Jeeps and trucks that led to an additional 35,000 tons of pollution.
Renewable energy now makes up 18 percent of total electrical generation in the U.S., roughly double the amount a decade ago, a new report shows.
According to the sixth annual Sustainable Energy in America Factbook, which outlines key U.S. energy trends, renewable energy output in the power sector soared to a record high last year and could eventually rival nuclear.
Sven Hoffmann / Flickr
In car-obsessed Germany, the government is considering free public transportation in some of its most polluted cities to reduce road traffic and emissions from private vehicles.
"We are considering public transport free of charge in order to reduce the number of private cars," three ministers wrote in a letter to EU environment commissioner Karmenu Vella in Brussels.
The city of Shenzen, China is home to a staggering 16,000 buses. To compare, that's more buses than the five largest North American bus fleets combined (New York City, Los Angeles County, New Jersey Transit, Chicago and Toronto).
Now, after a six-year effort to replace its diesel-fueled buses, the major Chinese city is well on its way to become the world's first city to electrify its entire public transit bus fleet.
New research claims that just 100 fossil fuel producers are to blame for 71 percent of industrial greenhouse gases since 1988, the year human-induced climate change was officially recognized through the establishment of the Intergovernmental Panel on Climate Change (IPCC).
Despite the landmark establishment, the oil, coal and gas industry has expanded significantly and has become even more carbon-intensive since 1988, according the 2017 Carbon Majors report from the environmental not-for-profit CDP.
A U.S. federal judge approved a $14.7 billion settlement in the Volkswagen "Dieselgate" scandal.
Yuankuei / Flickr
This is one of the largest consumer lawsuits affecting more than 475,000 diesel cars in the U.S. The settlement gives Volkswagen owners the option to sell their vehicle back or get a free fix.
"The settlement is fair, reasonable and adequate," U.S. District Judge Charles Breyer wrote in his order.
The German carmaker will also pay $4.7 billion for environmental programs and promotion of zero-emissions vehicles.

"Judge Breyer is making them pay the price. Volkswagen chose to poison our families with dangerous pollution just to pad its pocketbook," Kathryn Phillips, California director for the Sierra Club environmental group, said.

For a deeper dive:

Wall Street Journal, LA Times, Chicago Tribune, Reuters, Detroit News, USA Today, New York Times, NPR, Bloomberg
For more climate change and clean energy news, you can follow Climate Nexus on Twitter and Facebook, and sign up for daily Hot News.

A unique interactive website gives you a new perspective on your time on Earth.
BBC Earth's "Your life on earth" interactive takes your birthdate, gender and height to give you a personalized look at how the Earth has changed since you were born.
Factoids provided include: how many times your heart has beaten; how far you have travelled through space; the amount of sea level rise; how far the tectonic plates have moved; and the number of earthquakes and volcano eruptions experienced since your were born.
Find out what has changed during your life and compare with friends. The interactive website is available here.
Salt Lake City announced Wednesday its commitment to transition to 100 percent renewable energy sources by 2032. The city also plans to reduce carbon emissions by 80 percent by 2040.
Today, the U.S. Environmental Protection Agency (EPA) released a proposal aiming to curb air pollution and toxic chemical emissions discharged by oil refineries, according to an agency press release. If the regulations are adopted, the move would mark the first change to the oil industry's emission standards in almost two decades.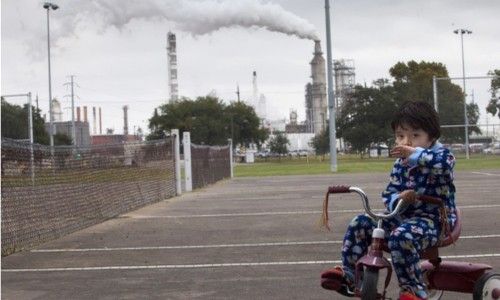 The changes were brought about in part from a 2012 lawsuit filed by environmental attorneys with Earthjustice and the Environmental Integrity Project accusing the EPA of evading its responsibilities under the Clean Air Act by neglecting to review and update toxic air emissions standards by more than a decade. 
"The common-sense steps we are proposing will protect the health of families who live near refineries and will provide them with important information about the quality of the air they breathe," said EPA Administrator Gina McCarthy in a statement. "This proposal will help us accomplish our goal of making a visible difference in the health and the environment of communities across the country." 
Benzene and other toxic chemicals emitted by the oil industry can cause respiratory problems, such as asthma, and can increase the risk of developing cancer. The lawsuit pointed out that mainly low-income and minority people live within the vicinity of these refineries, and are therefore at disproportionate risk of air-quality-related illnesses.
"The companies that own these refineries must be required to use more efficient technology to control toxins and monitor what they emit instead of passing the costs on to us through the high health costs our communities are bearing because of their pollution," said Juan Parras, of Texas Environmental Justice Advocacy Services.
The EPA estimates that once the proposed updates are fully implemented, toxic air emissions—including benzene, toluene and xylene—would be reduced by 5,600 tons per year. Volatile organic compound emissions would be cut by approximately 52,000 tons per year and 700,000 metric tons of carbon dioxide equivalent.
According to Earthjustice, the proposed updates include much needed improvements such as:
Fenceline monitoring and a fenceline standard for the carcinogen benzene which would require refineries to measure toxic air pollution as it goes into the local community's air.
Improved monitoring and combustion efficiency operating requirements for flaring which is too often used routinely and, because it involves the burning of waste gas, it creates pollution communities must breathe.
Tighter control requirements on emissions from various parts of refineries like delayed coker units and storage tanks.
Removal of the unlawful loophole in the existing standards, so that refineries can no longer get away with violations that occur during startup, shutdown and malfunction periods.
"EPA's proposed requirement for fenceline monitoring is greatly needed and will help identify toxic emissions from leaks and other sources that are not directly monitored," said Sparsh Khandeshi, an attorney with the Environmental Integrity Project. "This monitoring will help target further reductions and provide valuable information about exposure levels to downwind communities."
The EPA will take public comments on the proposals for 60 days after it is published in the Federal Register. The agency also plans to hold two public hearings, near Houston and Los Angeles, and will finalize the standards by April 2015.
--------
YOU MIGHT ALSO LIKE
64 Groups From Across the U.S. Demand Federal Limits on Air Pollution From Fracking Wells
New Report Documents Chemical Disasters and Environmental Injustice in the U.S.
Supreme Court Rules in Favor of Cross-State Air Pollution Rule
--------