Three Nebraska landowners will finally see their day in court as the lawsuit they filed against the state is finally moving forward. The suit challenges the constitutionality of the LB 1161 the law used by the state legislature and Gov. Heineman (R-NE) for approving eminent domain and the Keystone XL pipeline route in Nebraska. The State Department must put on hold any review of the pipeline.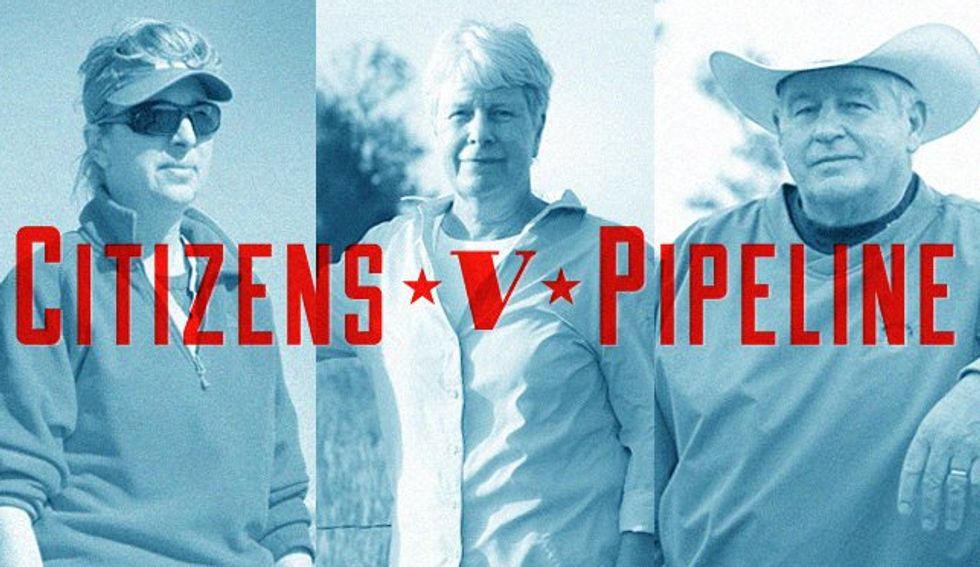 After multiple attempts at delay by state officials, Nebraska Judge Stacy announced today that the lawsuit will be heard on September 27. This news has significant implications on the broader national debate on the permit process for TransCanada's Keystone XL tarsands pipeline. With the entire Nebraska route in question, the State Department should not finalize the Environmental Impact Statement (EIS) until the court decision and the Public Service Commission, goes through the extensive routing process laid out for pipelines.
"If we are successful in our lawsuit TransCanada will have to start the Keystone XL siting process over again through the Nebraska Public Service Commission, so it would be premature for the State Department to issue a final EIS when the route across Nebraska remains very much in question," said one of the plaintiff landowners, Randy Thompson. "As citizens, we are asking the State Department to respect the legal process and our state's constitution."
"Completing an environmental review of a tarsands pipeline requires Nebraska have a final route that was lawfully determined," stated Brian Jorde, lawyer with Domina Law Group. "With the Nebraska route in doubt, pending resolution of the constitutional challenges to the law that led to its approval, it would be irresponsible to approve a national route when nearly 200 miles are still in question. We encourage our government to honor our legal process and give Nebraska its day in court."
"This lawsuit has given hope to scores of landowners who have refused to negotiate easements with TransCanada," said Susan Dunavan, another landowner plaintiff. "Landowner's rights have been taken from us by delegating eminent domain authority to the Governor."
"No one in the State of Nebraska should be threatened by a corporation, foreign or domestic. This lawsuit will ensure that our landowner's rights are upheld and our state constitution followed. Eminent domain must not be used for private gain. This pipeline is not for Nebraska. It is not for the U.S. It is solely for the benefit of Canada and the oil industry," Dunavan concluded.
Thompson, Dunavan and Susan Luebbe are standing up for citizens across the state, and are calling into question the environmental impacts the Keystone XL pipeline would have on Nebraska. Landowners are not accepting a threat to their land, water and livelihood without a fight.
Visit EcoWatch's KEYSTONE XL page for more related news on this topic.
——–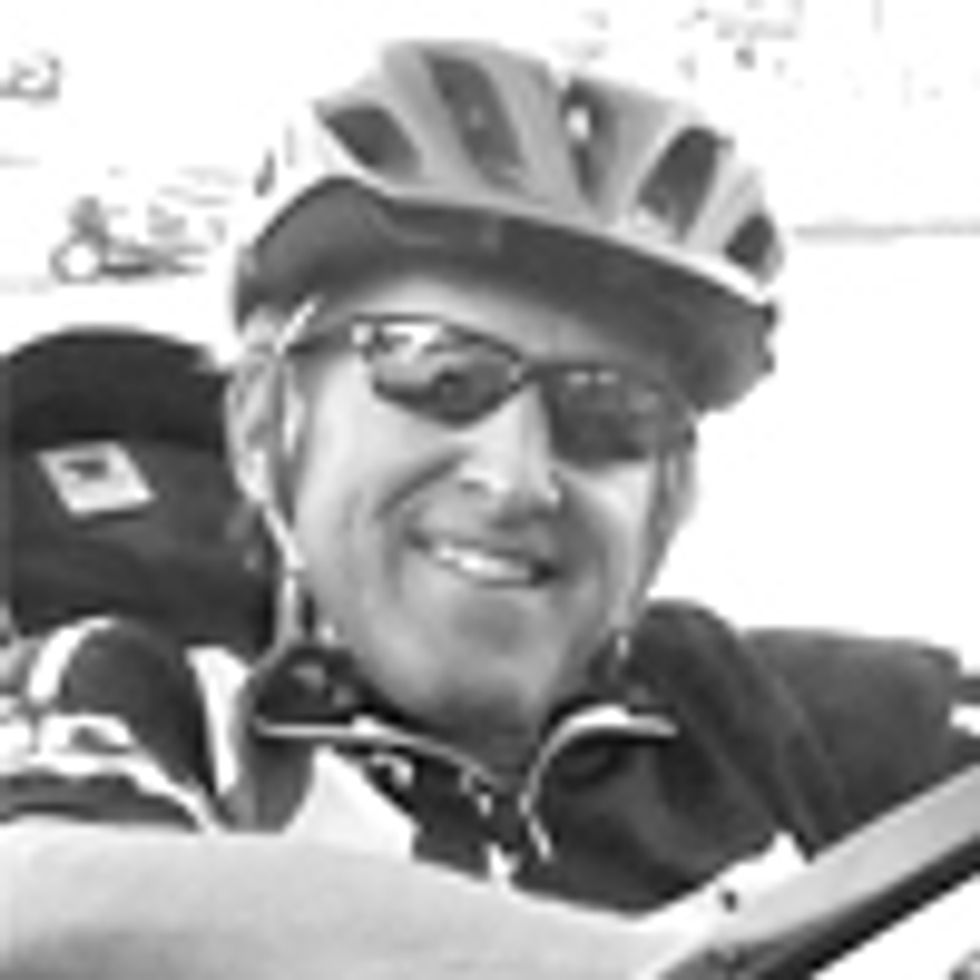 "Those that fail to learn from history, are doomed to repeat it."  – Winston Churchill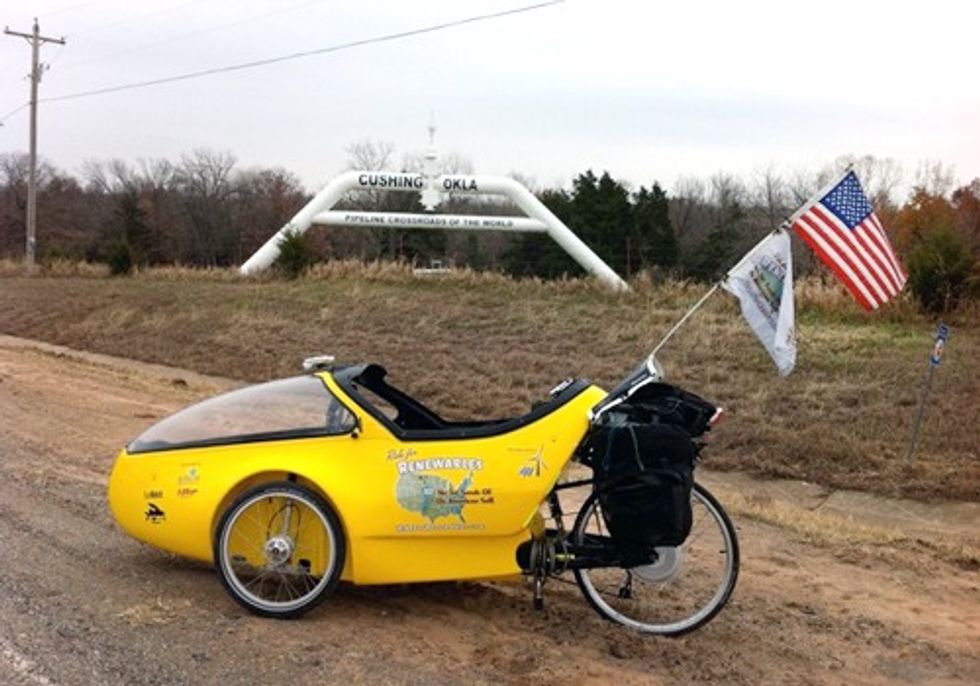 It is time to acknowledge what has long been obvious: President Obama wants Keystone XL built. He won't tell us this until after Election Day, for fear of alienating his Democratic base, but his actions speak for themselves. The President's high profile visit to Cushing, OK a week ago today to expedite construction of the pipeline's southern leg ("Keystone Lite") only further exposes his true intentions, which are as transparent as the Obama camp's attempt to change the channel by renaming it the "Cushing pipeline." Governor Romney, who mistakenly assumes Republican voters don't care, at least tells us he would approve the toxic tar sands pipeline on "day one" of his presidency.
Both candidates fail to grasp the depth of revulsion this un-American, gas price raising, job threatening, land grabbing, water polluting, export pipeline has generated in the six Great Plains states it would cross. For many of the front line farmers, ranchers and tribal community members I had the honor of meeting on my 2,150-mile "Tour of Resistance" last fall, Keystone XL is not an abstract game of political football, but a matter of deathly importance. More than a few are ready to lay in front of the bulldozers to keep this toxic pipeline off their land. In Pine Ridge, South Dakota, home of the Oglala Sioux Tribe, the peaceful resistance has already begun.
How did we get to this point and what have we learned to strengthen us for the fight to come? Recent history provides the lessons.
My personal involvement began last winter and spring, when after first learning about Keystone XL, I shared my plans to ride the pipeline route with environmental groups leading the fight against it. That summer, a group of prominent climate activists led by Bill McKibben invited people to Washington, DC for a mass show of civil resistance against Keystone XL. There were 1,253 people that responded by getting arrested in front of the White House, but it was actor/activist Daryl Hannah's high-profile arrest that turned Keystone into a household word. The following day, Al Gore endorsed the protest and Nebraska's Republican Governor went on record opposing the proposed route through Nebraska. Nine Nobel Peace Prize laureates, including the Dalai Lama, soon followed suit by weighing in against Keystone XL. Activists began hounding Obama at public appearances around the country, with Vice President of Oglala Lakota Nation Tom Poor Bear the first person to spur the President to address Keystone XL publicly. A subsequent call to action by Bill's group resulted in 12,000 people encircling the White House in early November.
Under excruciating pressure to deny TransCanada's presidential permit, Obama pulled a fast one by announcing he was delaying a decision on Keystone XL until after the 2012 election. My reaction was to label it an act of political cowardice. Others similarly saw through the political ploy, including eco-visionary, Paul Hawken, who called the move "dangerous." But most of the well-intentioned environmental movement embraced the false victory, showering the President with praise for his "courage" and "leadership." Keystone XL was prematurely declared dead and actions planned at Obama campaign offices in 50 states were called off. Front line pipeline fighters felt like the rug had been pulled out from under them.
Lesson #1: When you have your opponent staggered and against the ropes, you don't back off, you keep on coming until you've landed the knock out punch.
Then in January, backed into a corner by congressional Republicans, the President announced he was denying TransCanada's permit, which sounded pretty good until you got to paragraph two of the White House Statement, where he offered to partner with TransCanada on the southern (OK-TX) leg of Keystone XL. Calls for Obama to be taken to task for this subterfuge were largely ignored, while most of the environmental movement did another victory dance, again declaring Keystone XL dead. This despite the President's own written words to the contrary and an administration that never stopped publicly telegraphing its support for the tar sands project. Their ploy to break the project up into bite-sized pieces had worked like a charm. This time, it was landowners in Texas and Oklahoma feeling like collateral damage for Obama's reelection campaign.
Lesson #2: When the President of the United States tells you he supports building a leg of Keystone XL, take him at his word, and respond accordingly.
Since then, Republicans in Congress have been scheming to revive Keystone in a way that will damage President Obama politically. At the same time, congressional Democratic leaders like Senate Majority Leader Harry Reid (D-NV) and House Democratic Whip, Steny Hoyer (D-MD), inch closer to supporting Keystone XL, while others like U.S. Senator Clair McCaskill (D-MO) and former president Bill Clinton embrace it outright. The congressional tar sands bandwagon recently grew larger when 11 Democratic Senators backed a GOP provision to fast-track construction of Keystone XL. To their credit, the environmental movement has rallied valiantly to beat back each new legislative assault, but they keep losing ground to Democrats. A movement that rarely misses an opportunity to criticize Republicans for fronting for Big Oil fails to treat well-oiled Democrats, including President Obama, the same at it's own peril.
Lesson #3: Partisanship, whether real or perceived, is toxic to building winning social movements.
We are not winning. TransCanada is. Obama, ever the quintessential politician, has played the environmental movement masterfully. But this time, he may have gone too far. By making such a public spectacle of backing "Keystone Lite," Obama betrayed his lack of respect for the movement. Maybe he doesn't believe large numbers of patriotic Americans will lay their bodies on the line to nonviolently repel this foreign pipeline invasion, but he is about to find out.
The 2012 election demands an honest national conversation not only about Keystone XL, but about how we're going to keep the planet habitable for future generations. Climate-destabilizing emissions have already exceeded safe levels, and continue to rise, yet there is no serious response from government. To the contrary, leaders of both major political parties seem hell bent on accelerating the cycle of destruction by pushing for the development of even more fossil fuels. The refusal of Obama and Romney, in particular, to fight for the future of their children should alarm every parent in America. Instead of championing obvious solutions—like a U.S.-led green industrial revolution that will reenergize our economy and put millions of unemployed Americans back to work—both men compliantly do the bidding of Big Oil, while clinging to the dinosaur economy.
Early last year, an unprecedented coalition of environmental, religious and renewable energy leaders called for a "wartime-like mobilization" to cut carbon emissions 80 percent by 2020. We urged the President to declare a "global climate emergency" by publicly acknowledging the need to reduce carbon emissions to 350 parts per million in the atmosphere, the level top climate scientists say is safe for humanity. Along with nixing Keystone XL, I can think of no better demand to be made of whoever wants to occupy the Oval Office for the next four years.
EcoWatch Daily Newsletter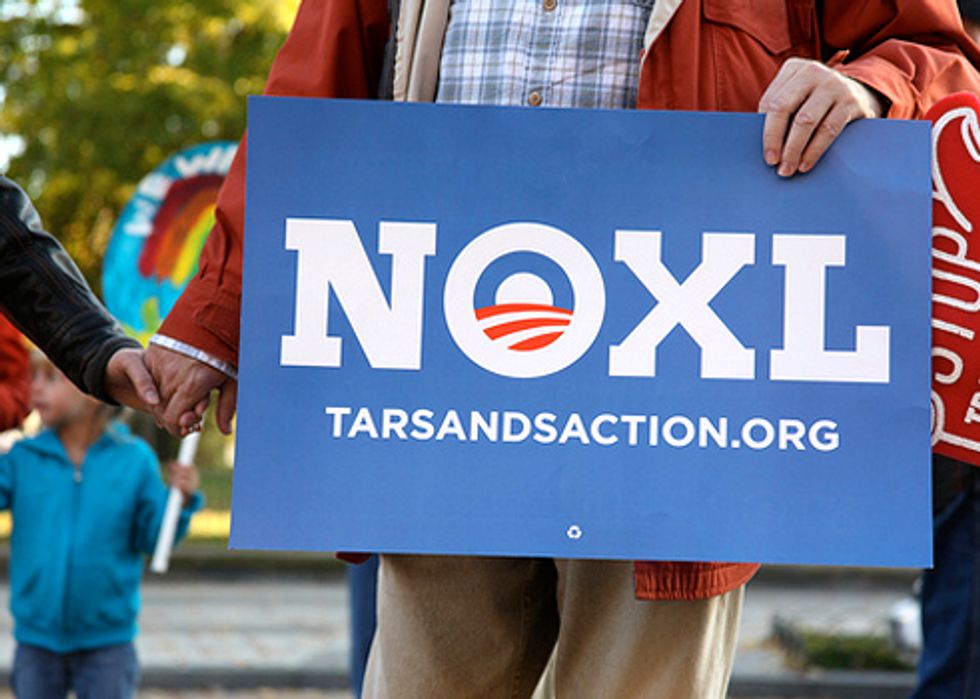 By Duncan Meisel
On Feb. 27 we saw another twist in the twisted Keystone XL tar sands pipeline saga—TransCanada announced they're going to build the southern leg of the pipeline, from Cushing, Okla., through Texas to the Gulf of Mexico.
This is bad news, particularly for our allies along the route, some of whose land is being taken by eminent domain—a fight that is breeding some unusual alliances between environmentalists and the Tea Party. We'll do all we can to help them with the fight, which will play out mostly in Texas itself. It's obviously tough political terrain, but if you met the folks who caravanned out to Washington last summer, you know that Texans are tough people.
Meanwhile, TransCanada also announced that, as expected, they will re-apply for a presidential permit allowing them to build the pipe across the U.S.-Canadian border. This is the leg that would bring new tar sands oil into the country—the same permit that President Obama denied last month.
There's no way to stop them from doing this—anyone can apply for a permit. But as we now know, there are plenty of ways to fight it. We'll be keeping an eagle eye on the process, making sure that the White House keeps its promises to vet not only the route across sensitive aquifers, but also the climate impacts of opening up tar sands oil. If they actually carry out a real review, we think the permit will be denied—but we've also seen how easy it is for big oil's money to compromise the process.
And that big money, of course, continues to operate in the Congress, where some senators still want to revive the border crossing without a Presidential review. We sent them 800,000 messages the week before last, and a vote is delayed for at least a few weeks. These guys are slow learners, so more phone calls and emails wouldn't hurt.
Here's what I said when I called this morning:
"Tar sands oil is a scam—it's foreign crude destined for foreign markets. We get the spills, and we get the global warming, and the oil industry gets the profits. (Also, we know that you get campaign donations as well, but that's not an excuse to endanger the planet.)"
Click here for your Senators' contact information and to report your call.
As Bill McKibben wrote over the weekend, Keystone is one battle among many, and we'll keep calling on you for more support on other issues too. But this is an important, iconic fight—big oil knows that, which is why they are pushing so hard. And you know it, which is why so far, for once, they haven't gotten their way.
Also, click here to tell President Obama not to expedite approval of the southern leg of Keystone XL.
For more information, click here.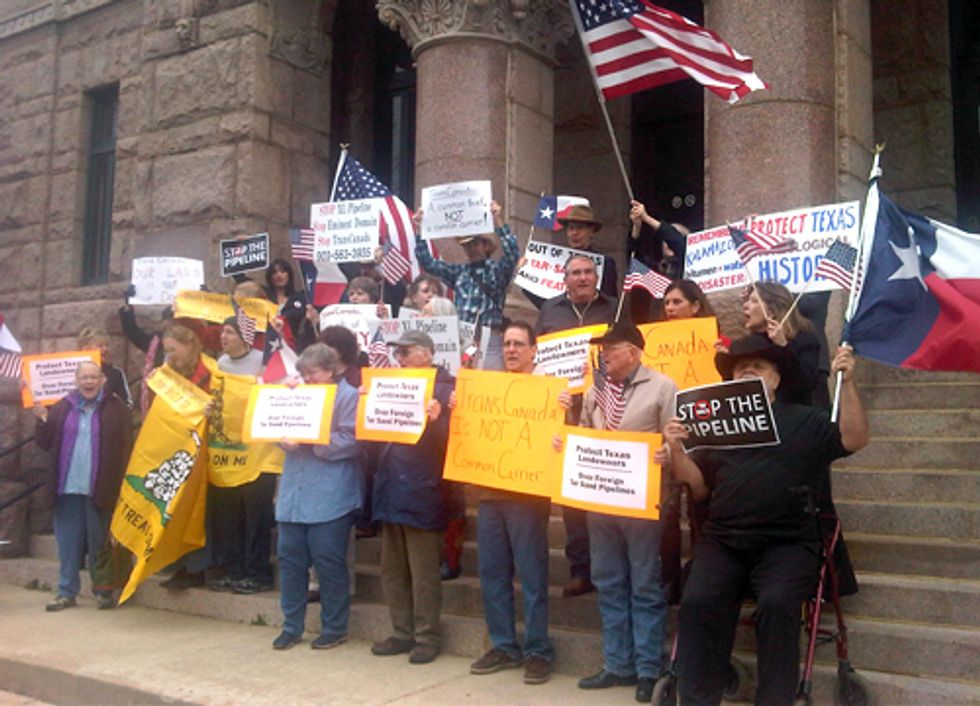 By Jamie Henn
The latest attempts to revive the Keystone XL zombie were announced the afternoon of Feb. 27, and like previous resurrection efforts, this revival attempt will be met with fierce opposition.
In a press release, the Canadian pipeline company TransCanada said that it will move forward with construction of the southern half of the Keystone XL tar sands pipeline from Cushing, Okla., to Texas refineries and reapply for a cross-border permit for the northern half of the pipeline from the Alberta tar sands down to the mid-west.
"Transcanada's decision to build its pipe from Oklahoma to Texas is a nifty excuse to steal some land by eminent domain. It doesn't increase tar sands mining because there's still no pipe across the Canadian border, but it's the usual ugly power grab and land grab by the fossil fuel industry—we'll do what we can to stand by our allies in that arid and beautiful land," said Bill McKibben, founder of 350.org.
While TransCanada does not require a presidential permit for the southern half of the pipeline, it still must secure land along the proposed route. Since few people are eager for a pipeline carrying corrosive tar sands oil to run through their backyard, the company has resorted to using eminent domain to grab land away from property owners.
"I'm looking out my window every hour," Julia Trigg Crawford, 53, of Lamar County, Texas told Talking Points Memo. "While they don't have a permit to build anything, they have the right to start construction…. A foreign for profit pipeline was allowed to condemn my land without my being allowed to talk to a judge."
Stories like Julia's have inspired a grassroots rebellion against the company. The fight is creating some unique bedfellows—environmentalists, Tea Partiers, libertarians, ranchers, and more. And just as fights over land rights and local concerns have stalled the Northern Gateway pipeline that would run from the Alberta tar sands to the coast of British Columbia, it looks like TransCanada could be facing months, if not years, of local fights along its proposed route.
As for the northern half of the Keystone XL pipeline, TransCanada is also facing a difficult route to approval.
"Transcanada's second decision, to reapply for a permit to bring tar sands oil across the border, puts us back where we were this time last year," explained Bill McKibben. "Since their first application was outright rejected, this one will have to start all over again—the White House has made clear for months that it will be 2013 at the earliest before any decision is reached. If this time the process proceeds without influence-buying at the State department, and if the administration honors its promise to fully evaluate climate impacts, that permit will never be granted. Those, of course, are big ifs."
Which is why we have to keep the pressure up over the coming months. In this case, the best defense against the Keystone XL zombie is going to be a good offense. Instead of spending the next 12 months fighting over a single pipeline, we want to expand our grassroots battle against the fossil fuel industry in a number of important directions. First, we're going to take up new iconic fights, supporting efforts to stop everything from a fracking to coal export terminals. Second, we're going to blow the whistle on the dirty money that's corrupting our political system, turning up the heat on every politician in America, from presidential candidates to members of Congress, and demanding that they side with the people, not the polluters. And third, we're going to go after the billions in subsidies the fossil fuel industry receives each year. Ending these taxpayer handouts will help stop projects like Keystone XL by leveling the playing field for renewable energies to beat fossil fuels.
As Bill wrote last week, Keystone XL is just the beginning.
For more information, click here.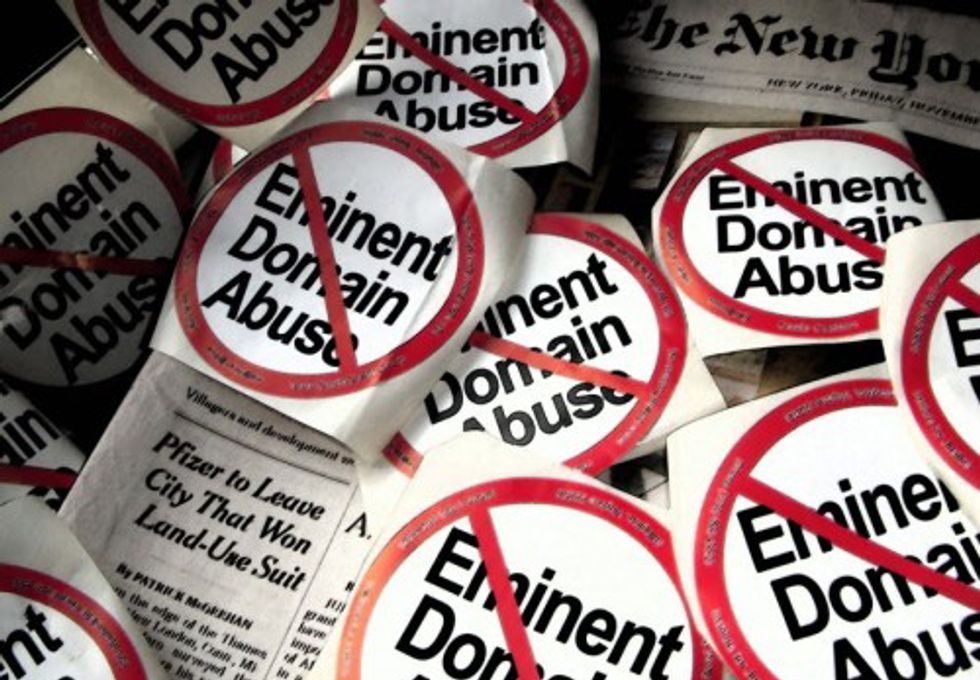 As Republicans in Congress try to use any means possible to do the bidding of their Big Oil backers and construct the Keystone pipeline at any cost, they seem to be losing many of their Tea Party constituents to eminent domain concerns. On the morning of Feb. 17, Texas Tea Party groups joined environmental activists in protest of TransCanada's eminent domain claims to land for the Keystone XL tar sands pipeline.
Texas landowner Julia Trigg Crawford has been at the center of eminent domain issues—but isn't letting go of her land without a fight. On Monday, Feb. 13, Ms. Crawford obtained a restraining order against TransCanada to protect her property. Within 24 hours, TransCanada in turn filed for the restraining order to be dissolved. Judge Bill Harris held a hearing in Paris, Texas on Feb. 17—but not before hundreds of activists from both sides of the aisle had time to rally in support of Ms. Crawford and her right to private property.
The groups demonstrated their Texas pride at the rally and hearing with their boots on and their Texas and American flags held high telling this private, foreign company—"Don't Mess with Texas." The message from both Tea Party members and landowners was clear—this is private property, and you can't take it without our permission.
"This is a private company taking land for private use and foreign profit. They are cloaking themselves in common carrier regalia and exercising eminent domain against Texas citizens but there is no evidence that they have the legal authority to seize property in Texas," said Debra Medina, former Republican gubernatorial candidate and director of We Texans.
Though TransCanada's permit was denied, the company continues to bully landowners and execute eminent domain condemnation proceedings. Groups are questioning this company's right to take land via eminent domain. The Railroad Commission has stated that it does not have the authority to grant the power of eminent domain to TransCanada.
"Everyone wants to know, by what authority or permit does this private, foreign company have the right to condemn property and start construction? We are going to tell TransCanada, don't mess with Texans, don't mess with our landowners," said Linda Curtis of Independent Texans.
For more information, click here.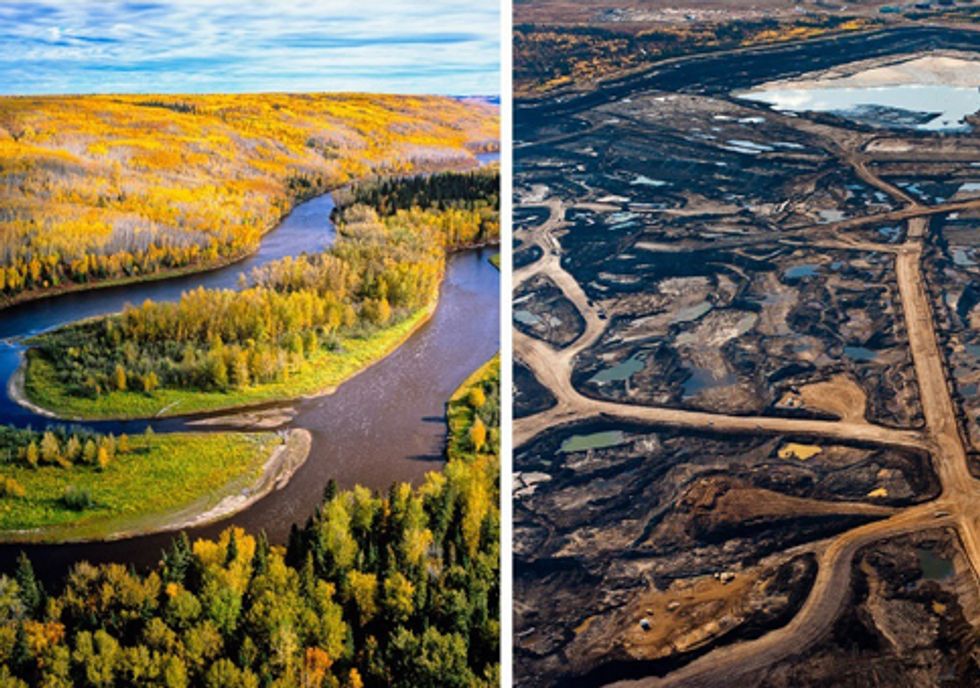 By Jill Fitzsimmons & Emilee Pierce
In the media storm surrounding TransCanada's proposed Keystone XL pipeline, news outlets have largely focused on the employment impacts of the project, often parroting discredited industry statistics in the process. But jobs are only a part of the story. A review of recent testimonies, tax records and local news reports shows that, on many other important issues at stake, TransCanada has been advertising one thing to its stakeholders and delivering another. What follows is a list of stories that many national news outlets missed:
1. TransCanada Used Aggressive Tactics With Landowners. TransCanada touts a commitment to "treating all landowners who may be affected by our project honestly, fairly and with mutual respect." But while the permit application for the Keystone XL pipeline was still pending, TransCanada sent letters to landowners along the pipeline route threatening to use eminent domain to seize their land if they did not agree to sign easements within 30 days. Landowners reportedly found this approach to be "very intimidating" and felt "bullied" by TransCanada. The Nebraska Farmers Union has repeatedly spoken out against TransCanada's "less than ethical" tactics, and, according to The New York Times, East Texas landowners said "they had never seen a company behave as aggressively as has TransCanada." Additionally a U.S. government official called the use of eminent domain "presumptuous" because the pipeline had not yet been approved. This story has been reported by the local press but largely ignored by the national media.  
2. TransCanada Didn't Deliver On Previously Promised Tax Revenue. TransCanada has promised that Keystone XL will generate $5.2 billion in property tax revenue for the U.S. states located along its route. But the company made similar promises about the first leg of the Keystone pipeline, and 2010 tax records show that it failed to deliver. In its first year of operation, Keystone 1 generated less than half ($2.2 million) of the $5.5 million projected for Nebraska, and only a third ($2.9 million) of the estimated $9 million in state property taxes for South Dakota. In Kansas, TransCanada is exempt from property taxes for a decade, which will cost the state $50 million in public revenue, according to local officials.

3. TransCanada Reversed Its Position On Rerouting. In response to concerns about the environmental impact of the Keystone XL pipeline on Nebraska's ecologically sensitive Sandhills region, TransCanada initially claimed that rerouting the project would be "impossible." But the next month, following the Obama administration's announcement that a decision on the pipeline would be delayed, TransCanada changed its tune. On Nov. 14, TransCanada announced that "the route will be changed and Nebraskans will play an important role in determining the final route."
4. TransCanada Will Import Much Of The Steel For The Pipeline. TransCanada has claimed that the Keystone XL pipeline would create 7,000 manufacturing jobs in the U.S. But an independent analysis called that figure "unsubstantiated and misleading" because TransCanada has already signed contracts to purchase "almost half" of the pipeline materials from companies abroad. TransCanada has acknowledged that it has already spent $1.9 billion on 100 miles of pipe, which is now being stored in yards and warehouses. After receiving information from pipeline company Welspun Tubular that some of the steel pipe for the project was produced in India, Democrats on the House Energy and Commerce Committee asked TransCanada to "immediately disclose where the steel to be used in Keystone XL is manufactured." Citing TransCanada's history of using low-quality, foreign-made steel to build U.S. pipelines—even as unemployed American manufacturers sat idly by—the United Steelworkers union also said it would only support TransCanada's application for the Keystone XL pipeline if steps were taken to ensure "a domestic supply chain." 
5. TransCanada Said Its Pipeline Would Increase Oil Prices In The Midwest. In the U.S., TransCanada has advertised the Keystone XL pipeline as a path to energy security. But a 2010 analysis prepared for the Department of Energy concluded that the Keystone XL pipeline will not have a significant impact on U.S. dependence on oil from the Middle East. Furthermore, even if the oil stayed here it would not protect the U.S. from price volatility since "the oil market is globally integrated," in the words of the Congressional Research Service. In fact, despite promises of a stable, affordable U.S. energy supply, TransCanada told Canada's National Energy Board that the pipeline would increase crude oil prices in the Midwest. "The resultant increase in the price of heavy crude is estimated to provide an increase in annual revenue to the Canadian producing industry in 2013 of U.S. $2 billion to U.S. $3.9 billion," TransCanada said.
For more information, click here.