This website uses cookies to ensure you get the best experience while browsing it. By clicking 'Got It' you're accepting these terms.


The best of EcoWatch, right in your inbox. Sign up for our email newsletter!
The city of Shenzen, China is home to a staggering 16,000 buses. To compare, that's more buses than the five largest North American bus fleets combined (New York City, Los Angeles County, New Jersey Transit, Chicago and Toronto).
Now, after a six-year effort to replace its diesel-fueled buses, the major Chinese city is well on its way to become the world's first city to electrify its entire public transit bus fleet.
An electric bus in London. Domdomegg / Wikimedia Commons
By Kieran Cooke

The electric bus would have let Londoners enjoy clean air early in the twentieth century, saving millions of people from breathing problems and premature death, but dishonesty and double-dealing promoted the internal combustion engine instead.
The world is only now slowly waking up to the scale of the problem. Air pollution caused by fumes from the hundreds of thousands of vehicles on our roads is one of the big killers of the modern age, especially in cities, and is, along with climate change, a serious threat to the future of the planet.
EcoWatch Daily Newsletter
China's incredible "straddling bus" went for its first test ride on Tuesday in the city of Qinhuangdao in the Hebei Province.
Cars driving under the world's first Transit Elevated Bus in the city of Qinhuangdao Xinhua
The Transit Elevated Bus, or TEB, first made headlines in May after a prototype debuted at the 19th China Beijing International High-Tech Expo. The concept—designed to help solve China's terrible traffic problem—sparked imaginations worldwide, because, well, it could literally drive over cars.
Yesterday, on a 300-meter controlled track, a life-size version of the TEB went for its inaugural run with simulated traffic conditions. The test, which had the bus driving at 10 kilometers an hour, was to evaluate the breaking system, power consumption and drag of the bus, New China TV reported.
Watch it in motion here:
Participants were allowed to hop onto the futuristic bus for a spin.
"There's enough space on this for old ladies to have a dance performance," said one user on Weibo, according to the BBC.

China's Xinhua news agency said that the fully electric bus is roughly 72 feet long and 25 feet wide (or about two traffic lanes) and a single TEB can carry up to 300 passengers. When it's finally ready for real-life public transport, it should clock speeds up to 40 miles per hour as it runs on rails built on ordinary roads. Any car under 7 feet tall should be able to travel underneath.
As the BBC pointed out, up to four TEBs can be linked together, allowing a potential carrying capacity of 1,200 people at a time.

"The biggest advantage is that the bus will save lots of road space," the project's chief engineer, Song Youzhou, told Xinhua in May.

Song said that the bus is similar in function to a subway but at 16 percent of the cost, adding that construction time would be shorter. He also claimed that the TEB could replace about 40 conventional buses, which would result in up to 800 tons of fuel savings a year and help mitigate 2,480 tons in carbon emissions.
Other countries such as Brazil, France, India and Indonesia are said to be interested in their own version of the TEB.
Electric buses have been rolled out at trade shows in recent years, but a suburb of São Paulo, Brazil began picking up riders earlier this month in what officials say is the world's first battery-powered public transit bus.
 In its first 10 days, more than 135,000 passengers used the bus in the suburb of Diadema, Fox News Latino reported.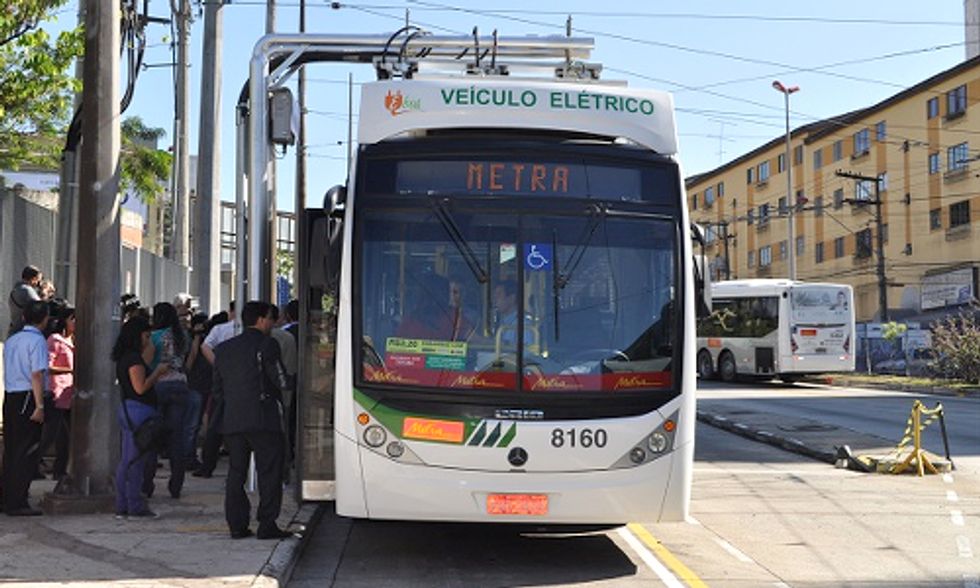 "The bus is super-healthy for the planet and can do its job almost like diesel-fueled models, thanks to its recharge technology and use of energy," Ivan Regina, manager of the Transport Planning, Technological Development and Environment unit within the state government, told Efe.
There are no doubts in the area regarding the fuel savings potential and noise reduction of the bus, compared to others in its fleet, which include diesel, ethanol, biodiesel and hydrogen. Electra Industrial assembled the bus almost entirely in Brazil, with the exception of the battery itself, which was developed in Japan by Mitsubishi. Electric bus manufacturer BYD tested two 40-foot buses for the government in late 2013. BYD buses have performed trial runs in Europe, North America, Central America, the Caribbean and Asia, according to the company.
The 124-passenger bus is under a six-month period, which is also considered a trial phase, only this one involves actual customers. According to the Metropolitan Urban Transportation Company, the plan allows for four, four-minute quick recharges throughout the day. Slow charges, which last two or three hours, are conducted in the garage during the evening, the Brazil-Arab News Agency reported.
The batteries contain rechargeable lithium ions, similar to those electronic devices and the ones Tesla is planning to manufacture in a massive "gigafactory."
Regina said São Paulo-based automotive engineering company Netz will analyze results before officials say just how much they will save in fuel costs. Still, the city's diesel buses consume the equivalent of 925 gallons of fuel per month, emitting 9 tons of carbon dioxide.
According to ThinkProgress, the state has plans to replace 70,000 or so buses with renewable models by 2020. Having battery-powered buses on the roads is important for Brazil, as sports enthusiasts will travel to Sao Paulo in June and July for the 2014 World Cup.
"The battery-powered bus is more silent than others and provides just as much comfort," Regina said. "There is no difference to the users, only to the environment."
In the U.S., the nation's first electric school bus picked up California students about a month ago.
Visit EcoWatch's TRANSPORTATION page for more related news on this topic.