This website uses cookies to ensure you get the best experience while browsing it. By clicking 'Got It' you're accepting these terms.


The best of EcoWatch, right in your inbox. Sign up for our email newsletter!
Boston, which is usually unbearable in January, saw back-to-back 70-degree days on the second weekend of the month as seen above as Northeastern University students on Jan. 11 enjoy the sun at the Boston Public Garden lagoon. The record-setting warm temperatures reached 74 degrees. John Tlumacki / The Boston Globe / Getty Images
In the Northern Hemisphere, temperatures were, on average, 2.7 degrees Fahrenheit warmer than normal last month, making it the warmest January on Earth since comprehensive records have been kept starting 141 years ago, according to new data from the National Oceanic and Atmospheric Administration (NOAA), as The Guardian reported.
A young boy pumps water as a woman collects it into buckets in Zimbabwe's capital Harare on n Sept. 19, 2018, where the cholera outbreak was first detected. JEKESAI NJIKIZANA / AFP / Getty Images
The 2 million residents of Harare, Zimbabwe's capital, and its surrounding areas found themselves without water on Monday and Tuesday when the authorities abruptly shut down the city's main water treatment plant, raising fears of cholera outbreaks and other water borne diseases, as the AP reported.
EcoWatch Daily Newsletter
There is a 75-80 percent chance of an El Niño developing by February, the United Nations' World Meteorological Organization (WMO) announced Tuesday. So what exactly does that entail?
Well, the last time we had an El Niño was in 2015-2016, which caused extreme weather-related events (droughts, fires, floods and coral bleaching) around the world, pushed atmospheric concentrations of CO2 to 400 parts per million for the first time, and drove 2016 to be the hottest year in recorded history.
By Alex Kirby
Humanity has now entered a new climate reality era, with carbon dioxide concentrations expected to remain above the level of 400 parts per million throughout 2016 and for many generations to come, the World Meteorological Organization (WMO) said.
The WMO—the United Nations system's leading agency on weather, climate and water—said the globally averaged concentration of carbon dioxide in the atmosphere reached "the symbolic and significant milestone of 400 parts per million" for the first time in 2015 and surged again to new records in 2016 on the back of the very powerful El Niño event.

CO2 levels reached the 400 ppm barrier for certain months during 2015 and in certain places, but they have never done so on a global average basis for the entire year. The WMO says in its annual Greenhouse Gas Bulletin that the growth spurt in CO2 was fueled by El Niño, which started in 2015 and had a strong impact well into this year.

This, it says, triggered droughts in tropical regions and reduced the capacity of "sinks" like forests, vegetation and the oceans to absorb CO2. These sinks currently absorb about half of CO2 emissions, but there is a risk that they could become saturated, increasing the proportion of carbon dioxide which stays in the atmosphere.
Between 1990 and 2015, the bulletin says, there was a 37 percent increase in radiative forcing—the warming effect on the climate—because of long-lived greenhouse gases such as carbon dioxide, methane and nitrous oxide from industrial, agricultural and domestic activities.
"The year 2015 ushered in a new era of optimism and climate action with the Paris climate change agreement. But it will also make history as marking a new era of climate change reality with record high greenhouse gas concentrations," said WMO Secretary-General Petteri Taalas. "The El Niño event has disappeared. Climate change has not."
"The real elephant in the room is carbon dioxide, which remains in the atmosphere for thousands of years and in the oceans for even longer. Without tackling CO2 emissions, we cannot tackle climate change and keep temperature increases to below 2 C above the pre-industrial era," added Taalas.
"It is therefore of the utmost importance that the Paris agreement does indeed enter into force well ahead of schedule on Nov. 4 and that we fast-track its implementation," said Taalas.
The Greenhouse Gas Bulletin provides a scientific base for decision-making and the WMO has released it ahead of the UN climate change negotiations to be held in the Moroccan city of Marrakech from Nov. 7-18. They will be seeking to translate the agreement into an effective way of coping with the new climate reality era the WMO has identified.

The bulletin says the pre-industrial level of about 278 ppm of CO2 represented a balance between the atmosphere, the oceans and the biosphere. Human activities, such as the burning of fossil fuels, have altered the natural balance and in 2015 globally averaged levels were 144 percent of pre-industrial levels. The increase of CO2 from 2014 to 2015 was larger than the previous year and the average over the previous 10 years.
The bulletin says the last El Niño, as well as reducing the capacity of vegetation to absorb CO2, led to an increase in CO2 emissions from forest fires. According to the Global Fire Emissions Database, CO2 emissions in equatorial Asia—where there were serious forest fires in Indonesia in August-September 2015—were more than twice as high as the 1997-2015 average.
Drought also has a big impact on CO2 absorption by vegetation and scientists saw similar effects during the 1997-98 El Niño.

Methane is the second most important long-lived greenhouse gas and contributes about 17 percent of radiative forcing. About 40 percent of methane is emitted into the atmosphere by natural sources like wetlands and termites, with the rest coming from human activities like cattle breeding, rice growing, fossil fuel exploitation, landfills and biomass burning.
Atmospheric methane reached a new high of about 1,845 parts per billion in 2015 and is now 256 percent of its pre-industrial level. Nitrous oxide's atmospheric concentration in 2015 was about 328 parts per billion, 121 percent of pre-industrial levels.
Reposted with permission from our media associate Climate News Network.

Global temperatures in July were 0.84 C (1.51 F) above the 1950-1980 average, making it the hottest month since record keeping began, as well as the hottest July ever.
NASA
The latest National Aeronautics and Space Administration (NASA) data shows that July is now the tenth consecutive record warm month and 2016 is still on track to be the hottest year on record.
Gavin Schmidt, director of NASA's Goddard Institute of Space Studies, expects July to be the last record warm month of 2016 as the effects of El Niño fade.

According to the U.K.-based Copernicus Climate Change Service (CCCS), which last week published similar temperature results:
Global temperature usually peaks in July, when the land masses of the northern hemisphere are on average at their warmest. It varies by more than 3° C over the course of each year. The largest recent deviation from this annual cycle occurred in February this year, but July was still more than 0.5° C warmer than the 1981-2010 average for the month. This made July 2016 the warmest month of any in a data record that can be extended back to the nineteenth century.

For a deeper dive:

News: Mashable, Climate Central, AP, Guardian
For more climate change and clean energy news, you can follow Climate Nexus on Twitter and Facebook, and sign up for daily Hot News.

By Daniel Grossman
At times, marine biologist Ruth Gates is appalled by the path her research has taken.
"It's horrifying," she said recently, sitting in a spartan office at the Hawaii Institute of Marine Science.
Gates, the institute's director, manages a far-reaching research program to develop novel techniques to prevent climate change from harming the world's coral. Gates is modifying these wild organisms to thrive in the warmer and more-acidic ocean of the future, rather than trying to protect them by safeguarding their habitats and controlling harvesting. In doing so, she's moving far beyond the boundaries of traditional conservation.
Gates seeks answers to how … and whether… coral reefs can be saved.Photo credit: Daniel Grossman
Gates clearly is uneasy about tinkering with nature in this way. But traditional conservation techniques, such as setting aside reserves, can't combat climate change.

"Let's face it," she said, climate change will "push species to extinction if we do nothing. I can't stand by and let my system die before my very eyes."
Coral reefs have suffered overfishing and pollution for as long as numbers of people have lived near them. Now coral also confronts a steadily rising concentration of carbon dioxide in the air, which increases the acidity and temperature of ocean water and raises sea level. It's an unprecedented combination of adverse conditions.
Concerns of Widespread and Serious Die-Offs
In the past year, the confluence of long-term warming and a strong El Niño have endangered reefs around the world. The National Oceanic and Atmospheric Administration (NOAA) recently reported serious coral die-offs in waters near dozens of countries and archipelagos. Australian scientists have pronounced dead 35 percent of corals on the northern and central sections of the Great Barrier Reef.
Gates' team, in collaboration with a group under Madeleine van Oppen, a senior research scientist at the Australian Tropical Marine Research Agency, is breeding more resilient coral strains. They're also testing treatments—such as short blasts of heat—that might toughen up corals and their progeny.
In 2015, the two scientists received a $4 million grant for their work from Paul G. Allen, a co-founder of Microsoft. If the research turns out, whole reefs some day might be populated by organisms bred in her labs, Gates says. Radiators might even apply heat therapy to mile-long stretches of coastal waters.
Gates directs a 25-acre campus on Coconut Island, a verdant reserve, once a playground for the rich and a backdrop that appeared in opening scenes of the TV show "Gilligan's Island." In May, I took a power boat the few hundred yards from the mainland. Gates met me brandishing a key ring.
We hopped into a beat-up golf cart and soon pulled up to a dozen fiberglass tanks clustered together like hot tubs in a showroom. She walked onto a wooden deck from which researchers inspect experiments conducted inside. Seawater from offshore is heated and circulated through the tanks. Chunks of coral cut from local reefs soak inside, like pampered spa guests.
Developing Climate-Proof Corals in the Lab
Just as pigeon fanciers create superior birds for homing and tumbling, Gates hopes to develop climate-proof corals. On that day, she was testing three different experimental treatments, each replicated in four separate tanks. After three to six months of conditioning in their warm baths, the corals will grow up in nurseries nearby. Gates says she hopes some of the treated specimens will resist heat and acidity better than untreated varieties. The experiments could show which treatment works best.
Gates also seeks out naturally-hardy corals. Divers off Coconut Island search for the rugged corals of each of the five major species that grow there. Gates breeds the best corals found offshore or created by conditioning, to enhance their heat and acid tolerance. If she can create such organisms for the reefs off Coconut Island, she says, other researchers could do the same thing for threatened reefs all around the world.
But producing super coral differs from traditional breeding in at least one important regard: Coral relies intimately for its survival on a second class of organism.
Corals are soft sack-like polyps that, depending on species, either live alone or in dense colonies, some of which produce reefs cemented together with their own secretions. Vase-shaped polyps feed in part on small prey captured in stinging tentacles that ring their mouths. But the polyps can't survive solely on food they can ensnare. There aren't enough victuals in the nutrient-poor waters where they grow.
They require additional energy. Nature has supplied it by arranging a remarkable partnership between the polyps and the algae Symbiodinium, which lives inside polyp cells.
The symbiotic algae serve the polyps sugars and other nutritive compounds made by photosynthesis. The coral, in turn, offer the algae physical protection and scarce nutrients such as sulfur. The prismatic displays corals exhibit are created not by their own tissue but by Symbiodinium's photosynthetic pigments showing through coral's transparent cell walls.
But Symbiodinium depart coral cells if they get uncomfortable. When ocean water gets too hot, they flee like residents of a house on fire. Absent their symbiotic guests, coral turns bone white—giving the disorder caused by the loss of the algae its name, bleaching—and, in time, dies of starvation. NOAA reports that warm water this year has bleached coral in more reefs than in any known previous event.
Gates says corals might resist warming better if they host heat-tolerant strains of Symbiodinium. But she says the problem isn't simply identifying or creating, better algae varieties. Corals must be coaxed into cooperating because they're very choosy about partners, especially once they're full grown. Gates is seeking "entrepreneurial" corals willing to host heat-tolerant algae. Alternatively, she says that some manipulation of corals, such as "a slight temperature modification to the little beasties," might induce them to accept algae they would otherwise reject.
Exciting Some Fellow Scientists, Unsettling Others
The fictional dinosaur cloning in Jurassic Park simultaneously fascinates and horrifies visitors to the movie's research site, Isla Nublar. Similarly, coral scientists are excited and unsettled by Gates' Coconut Island research.
Robert Richmond, director of Hawaii's Kewalo Marine Laboratory and a past president of the International Society for Reef Studies, calls the Coconut Island research "innovative and important."
In a conversation by Skype, Richmond said that now that scientists have documented threats to coral, they should seek out solutions. To do otherwise, he said, would be akin to a doctor's telling a patient, "You have liver cancer or kidney cancer and saying 'Have a nice day.'" Yet he fears adverse consequences of replacing the genetically diverse coral communities with less diverse laboratory varieties.
Could the inevitable cold snap or a pathogen, wipe out reefs too specialized for heat and acid tolerance? "That's what keeps me up at night," Richmond said. (Gates responded in an e-mail that she's aware of this issue. She said that she wants to create climate-proof coral strains that also contain genetic diversity needed to resist other challenges. "We can take lessons from the past to avoid these problems—that is how science advances.")
Corals are among the most prominent species suffering widely from warming, but they are hardly the only ones. Biologist Thomas Lovejoy, a senior fellow at the United Nations Foundation, said by e-mail that in coming years global warming will raise ethical and logistical challenges for conservation around the world, on land as well as in the ocean. Moving species—either naturally occurring or improved strains—into habitats where they never lived before could become an important conservation tool, he wrote, "but should be approached cautiously."
A stark delicate branching coral stands upright on a pedestal in Ruth Gates' office, like a bonsai sculpted of ivory. It's a stark reminder of the stakes in her quest.
"Can we prevent the catastrophic loss of three-quarters of the world's reefs?" she asks rhetorically. "I don't know."
Those committed to preserving the world's coral reefs—for economic reasons such as subsistence fishing, for vacation viewing or simply because these habitats are wonders of nature—eagerly await an answer.
The author's travel to Hawaii was supported by Abby Rockefeller and Lee Halprin, in collaboration with the Pulitzer Center on Crisis Reporting.
YOU MIGHT ALSO LIKE
Leonardo DiCaprio Foundation's Annual Gala to Fund Climate and Biodiversity Projects
Boyan Slat's Ocean Cleanup Project Launches Historic First Prototype at Sea
NOAA: World's Worst Coral Bleaching Event to Continue 'With No Signs of Stopping'
6 Million Tropical Fish Imported Into U.S. Each Year Are Exposed to Cyanide Poisoning
A rare event occurred this past weekend when two tropical systems approached the state of Hawaii. Hurricanes happen only occasionally in this part of the world because a fairly constant high pressure system deflects most of the storms. Also, the waters around Hawaii are typically cooler than tropical systems need in order to maintain their strength.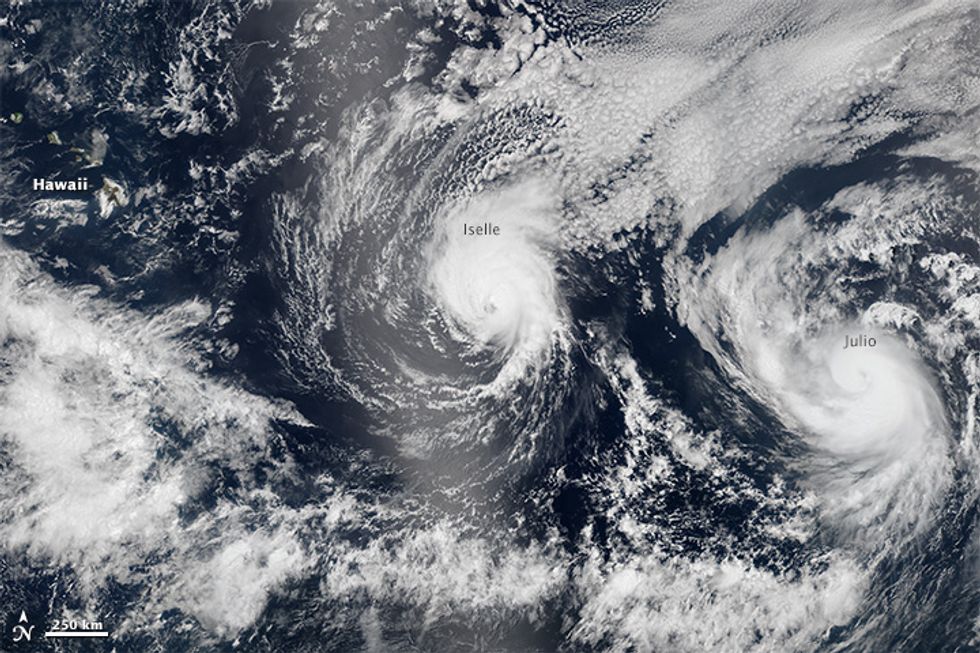 Hurricanes Iselle and Julio as seen by the Suomi NPP satellite. Photo: NASA
Hurricane Iselle made landfall Thursday night over the Big Island as a strong tropical storm (sustained winds of 60 mph), while Hurricane Julio passed safely to the north of the islands. It has been 22 years since the last direct hit. Last time, it was Hurricane Iniki, which hit the island of Kaua'i as a Category 4 storm.
The role of natural variability
In August 1992, Hurricane Andrew struck south Florida as a Category 5 hurricane. I was only a child then, but I convinced my family to drive away from our New Orleans home when Andrew turned towards Louisiana. A few weeks later I heard of another storm: Hurricane Iniki. It was a Category 4 storm and headed for the coast. I thought we might need to leave again until I saw where the storm was. It wasn't in the Atlantic. It was in the Central Pacific and would hit Hawaii.
Iniki occurred during a fairly strong El Niño, which warmed the waters of the central Pacific and contributed to its formation. The same is the case this year. An El Niño had been forming (although it is currently shifting to neutral conditions) and the waters near Hawaii are warmer as a result. The high pressure center that usually protects Hawaii is also further north.
The role of El Niño on Hawaii hurricanes requires some basic knowledge about the location of sea surface temperature anomalies related to the phenomenon. The Niño 3 Region is bounded by 90°W-150°W and 5°S- 5°N. The Niño 3.4 Region is bounded by 120°W-170°W and 5°S- 5°N.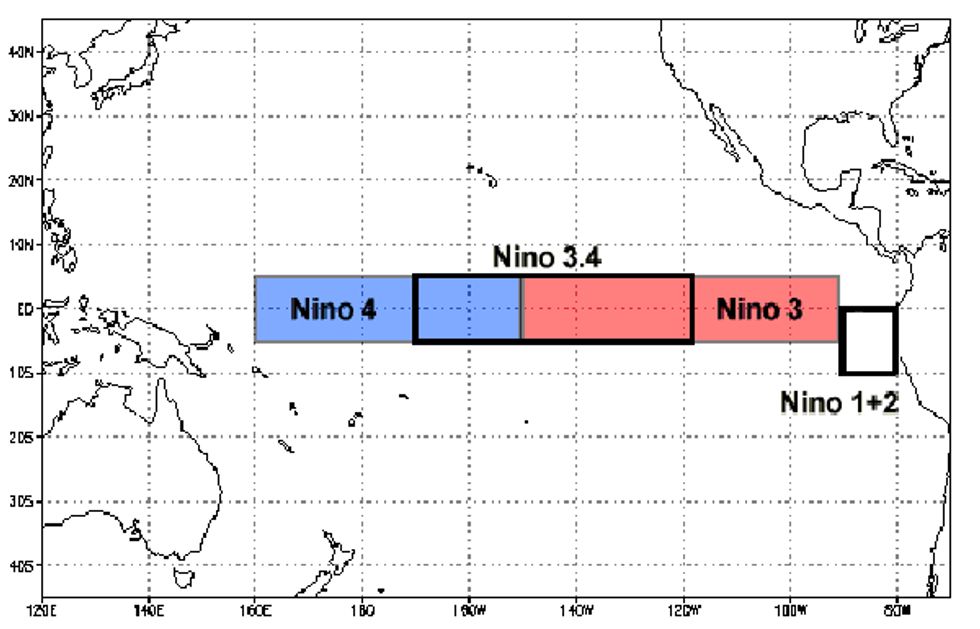 El Nino regions definitions. Image: NOAA
The role of climate change
We know El Niño is one of the main drivers for hurricane formation in the central Pacific (Niño Region 3.4), but the proximity of the two storms near Hawaii is highly anomalous. Did climate change have a role in the Hawaii hurricanes? According to experts the answer is no. This was a natural, albeit rare phenomenon. However, new research does suggest that more hurricanes will occur in the vicinity of Hawaii, including a recent study that shows a 3-4 fold increase in storms.
There is another way that climate change might be influencing weather systems in the Pacific. Usually, during an El Niño, the west Pacific (Niño 4) cools as warm waters move to the east Pacific (Niño 3, Niño 1+2). This year this has not been the case. The rains have not let up over the islands of the west Pacific and waters have continued to be warm.
In fact, the ocean heat content of the west Pacific has remained high, hinting at a deeper pool of warm waters that has been continuously building due to strong easterly winds. These easterly winds are the same winds that have kept the tropical east Pacific cool and have contributed to a temporary speed bump in the rise of global surface temperatures.
New research suggests that the anomalous easterly winds, likely the reason for a cool east Pacific, might be due to the warming of the Atlantic Ocean. The faster warming of the Atlantic causes a difference in pressure with the Pacific, increasing the easterly winds. This is just one theory among many that describes the reason why the tropical east Pacific has been continuously cool even though the rest of the planet has warmed.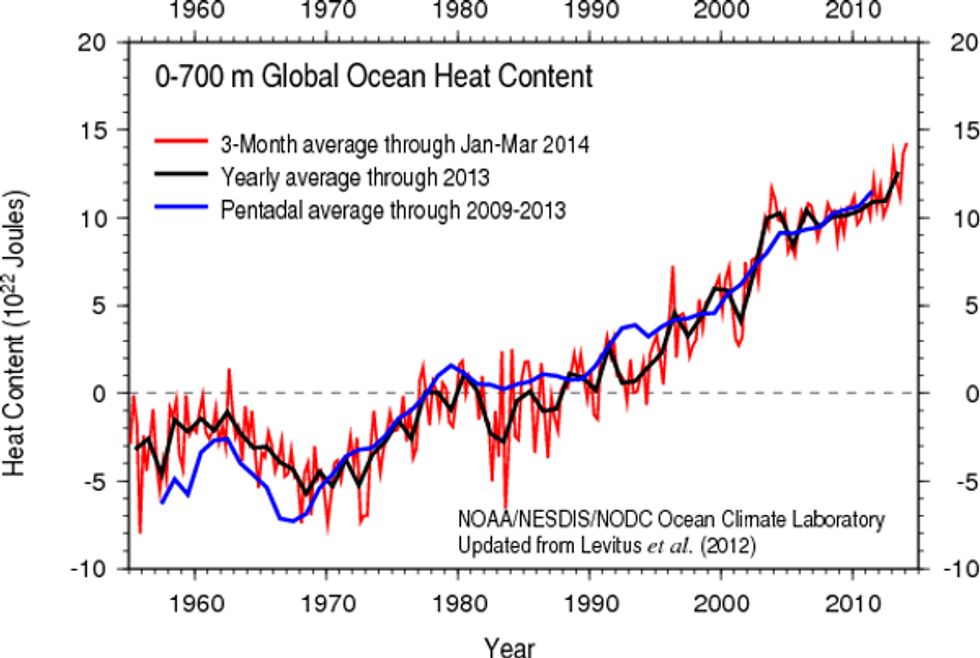 Image: NOAA/NESDIS/NODC
The research behind the cooling of the Pacific and the associated slowdown of the rise in global temperatures is an active area of climate science. However, the unabated rise in ocean heat content has shown us where global warming has gone: the oceans. Recent observations, such as the continuously warm west Pacific, are further proof how much heat can be trapped in the waters of our planet. And as the east Pacific warms again in the near future, global surface temperatures will likely see a sharp rise as well.
You Might Also Like
4 Extreme Weather Events Caused By Climate Change ​Right Now
NASA: Earth Could Warm 20 Percent More Than Earlier Estimates
The global average surface temperature in 2011 was the ninth warmest since 1880, according to National Aeronautics and Space Administration (NASA) scientists. The finding continues a trend in which nine of the 10 warmest years in the modern meteorological record have occurred since the year 2000.
NASA's Goddard Institute for Space Studies (GISS) in New York, which monitors global surface temperatures on an ongoing basis, released an updated analysis that shows temperatures around the globe in 2011 compared to the average global temperature from the mid-20th century. The comparison shows how Earth continues to experience warmer temperatures than several decades ago. The average temperature around the globe in 2011 was 0.92 degrees F (0.51 C) warmer than the mid-20th century baseline.
"We know the planet is absorbing more energy than it is emitting," said GISS Director James E. Hansen. "So we are continuing to see a trend toward higher temperatures. Even with the cooling effects of a strong La Niña influence and low solar activity for the past several years, 2011 was one of the 10 warmest years on record."
The difference between 2011 and the warmest year in the GISS record (2010) is 0.22 degrees F (0.12 C). This underscores the emphasis scientists put on the long-term trend of global temperature rise. Because of the large natural variability of climate, scientists do not expect temperatures to rise consistently year after year. However, they do expect a continuing temperature rise over decades.
The first 11 years of the 21st century experienced notably higher temperatures compared to the middle and late 20th century, Hansen said. The only year from the 20th century in the top 10 warmest years on record is 1998.
Higher temperatures today are largely sustained by increased atmospheric concentrations of greenhouse gases, especially carbon dioxide. These gases absorb infrared radiation emitted by Earth and release that energy into the atmosphere rather than allowing it to escape to space. As their atmospheric concentration has increased, the amount of energy "trapped" by these gases has led to higher temperatures.

The carbon dioxide level in the atmosphere was about 285 parts per million in 1880, when the GISS global temperature record begins. By 1960, the average concentration had risen to about 315 parts per million. Today it exceeds 390 parts per million and continues to rise at an accelerating pace.
The temperature analysis produced at GISS is compiled from weather data from more than 1,000 meteorological stations around the world, satellite observations of sea surface temperature and Antarctic research station measurements. A publicly available computer program is used to calculate the difference between surface temperature in a given month and the average temperature for the same place during 1951 to 1980. This three-decade period functions as a baseline for the analysis.
The resulting temperature record is very close to analyses by the Met Office Hadley Centre in the United Kingdom and the National Oceanic and Atmospheric Administration's National Climatic Data Center in Asheville, N.C.
Hansen said he expects record-breaking global average temperature in the next two to three years because solar activity is on the upswing and the next El Niño will increase tropical Pacific temperatures. The warmest years on record were 2005 and 2010, in a virtual tie.
"It's always dangerous to make predictions about El Niño, but it's safe to say we'll see one in the next three years," Hansen said. "It won't take a very strong El Niño to push temperatures above 2010."
For more information, click here.