This website uses cookies to ensure you get the best experience while browsing it. By clicking 'Got It' you're accepting these terms.
Benjamin Drummond
The UK supermarket Iceland has announced it will remove palm oil from all its own brand products by the end of the year due to the belief there is no such thing as "sustainable" palm oil.
iStock
Accepting the conclusions of the latest energy outlook, released last week by the U.S. Energy Information Administration (EIA) means also accepting certain climate catastrophe.
As we have noted before, the EIA has made a routine out of releasing unrealistic, distorted and dangerous outlooks on the future of global energy demand. These projections should come with a warning label.
EcoWatch Daily Newsletter
By Post Carbon Institute
Post Carbon Institute has released two reports authored by Earth scientist J. David Hughes assessing the U.S. Energy Information Administration's (EIA) most recent projections for domestic tight ("shale") oil and shale gas production.
The reports 2016 Tight Oil Reality Check and 2016 Shale Gas Reality Check evaluate the EIA's increasingly optimistic projections in light of actual production data (through June 2016) and the agency's own previous estimates. The reports raise critical questions about the veracity and volatility of the EIA's estimates, questions that are especially important as the Trump Administration sets its domestic energy policy.
"The EIA kindly provided the play level projections that make up its Annual Energy Outlook reference case forecasts," said Earth scientist and the reports' author J. David Hughes. "This allowed a comparison to the administration's previous projections and my own forecasts, which were based on an analysis of well productivity by subarea within each play and other fundamentals such as the number of available drilling locations and decline rates. I was also able to assess the EIA's most recent projections in light of actual production data from the field. Simply put, when looked at on a play-level, the EIA's forecasts are highly unlikely to be realized."

The Annual Energy Outlook (AEO) published yearly by the U.S. Energy Information Administration is taken by media, policymakers, investors and general public at face value. Yet the EIA's projections for future energy prices and production are very often wrong (like when it revised its own estimate for the Monterey shale downward by 96 percent after just three years) and tend to show a consistent optimism bias.
For example, AEO 2016 has increased estimates of tight oil production through 2040 by 19 percent over AEO 2015 and 31 percent over AEO 2014, while its estimates for shale gas production have been increased by 31 percent over AEO 2015 and 43 percent over AEO 2014. This despite the fact that U.S. tight oil production is already down 13 percent (as of June 2016) from its peak in March 2015 and shale gas production has declined 5 percent from its peak in early 2016. The EIA does not provide an explanation for why it is so optimistic about future production, especially considering that AEO 2016 anticipates lower drilling rates than in 2014 through 2040, when it projects 31 percent higher oil and gas production, and only modest increases in prices. It also does not account for the year-over-year volatility in its estimates of various plays. For example, Marcellus shale gas production estimates through 2040 are now 76 percent higher than they were in 2014 (accounting for 147 percent of the unproved, technically recoverable resource in the play), while Eagle Ford production has been reduced by 36 percent in that same period of time.
"Forty years ago, the EIA was uniquely granted independence from the rest of the federal government in order to ensure that its data collection and analysis would not be politicized. But with that independence comes great responsibility," said Asher Miller, executive director of Post Carbon Institute. "Particularly with an incoming presidential administration that is, by all signs, strongly in favor of expanding fossil fuel production, the American people need to be certain that U.S. energy policy is based on realistic, independently-sourced and transparent analysis rather than wishful thinking."
Key Takeaway/Conclusions

The EIA has raised its estimates in 2016 for how much tight oil and shale gas will be produced through 2040 by 19 percent and 31 percent, respectively, over the previous year's projections, despite the fact that production of both has declined by 13 percent and 5 percent, respectively, from peak production levels.
The EIA projects tight oil and shale gas production will grow 88 percent from 2014 levels to all-time highs by 2040, while drilling rates remain below 2014 levels through 2040, with only a modest increase in oil price.
The AEO forecasts continue to be volatile and trend toward very high, unsubstantiated optimism bias. Tight oil AEO projections of recovery by 2040 in certain plays have been adjusted significantly between AEO 2016 and AEO 2014—ranging from +414 percent (Bone Spring) and +137 percent (Bakken) to -42 percent (Austin Chalk), while shale gas forecasts range between +237 percent (Bakken) to -36 percent (Eagle Ford). The EIA offers no explanation for this volatility.
The EIA assumes that tight oil and shale gas production will grow strongly beginning in 2017, that U.S. oil and gas production will reach 2015 highs by 2019 and that production will grow a further 31 percent by 2040—all while also assuming that drilling rates (which are currently 37 percent below peak levels of 2014) will remain below 2014 levels through 2040. This seems highly improbable, considering that all major tight oil plays have peaked except in the Permian Basin and that all major shale gas plays have peaked.
The EIA assumes that the major shale gas plays (which account for 75 percent of total projected 2013-2040 production) will recover 132 percent of their "unproved technically recoverable resources" by 2040 but provide no explanation as to why or how they believe this to be possible.
Questions for the EIA:
AEO 2016 projects tight oil and shale gas production to grow 88 percent from 2014 levels to all-time highs by 2040. Given that drilling rates are projected to remain below 2014 levels through 2040, with only a modest increase in oil price, what justifies the unprecedented growth?
Considering that AEO 2015 and AEO 2016 are just 12 months apart, there is a lot of change in projected production profiles for individual plays and total production between the two. What is the reason for the substantial variation in these projections?
The EIA published a more in-depth assessment of the Eagle Ford shale play in 2014 and has subsequently downgraded its projection for tight oil and shale gas production through 2040 by 15 percent and 36 percent, respectively. Has the EIA conducted similar assessments of other plays?
Is the EIA's optimism based on the assumption of ever increasing technological improvements, considering that they will not necessarily increase the ultimate recovery of a play? At a constant drilling rate, better technology will allow each well to tap more of the reservoir while reducing the number of drilling locations, and exhaust a play more quickly at a lower cost.
If NEMS is truly a robust system for forecasting, why is there so much difference at the play level between AEO 2015 and AEO 2016 when play fundamentals have changed little?
How can overall tight oil production increase by 19 percent in AEO 2016 compared to AEO 2015 while assuming oil prices are the same or lower over the 2015-2040 period
How can overall shale gas production increase by 31 percent in AEO 2016 compared to AEO 2015 while assuming gas prices are 20 percent lower over the 2015-2040 period?
Tight Oil Play-Specific Questions:
Why does Bakken production rise 128 percent from current levels, recover more than twice as much oil by 2040 as the latest USGS mean estimate of technically recoverable resources and exit 2040 at production levels more than double current levels?
How can a decades old play like the Austin Chalk increase production 21-fold over current levels, compared to the modest forecast in AEO 2015, and recover twice as much oil by 2040 as it has recovered since the 1940s?
Shale Gas Play-Specific Questions:
Why does Marcellus shale gas production rise 48 percent from current levels, recover 47 percent more gas than the EIA's estimate of "unproved technically recoverable resources" and exit 2040 at near all-time high production levels?
How can the Haynesville grow 223 percent from current levels and exit 2040 at all-time high production levels after recovering 28 percent more gas than the EIA's estimate of unproved resources?
How can an old play like the Barnett be resurrected and exit 2040 at near all-time high production levels after recovering 145 percent more unproved resources than the EIA estimates exist?
Today, members of the European Parliament's Environment Committee overwhelmingly—51 in favor, 18 against—endorsed a proposal to impose a mandatory Environmental Impact Assessment (EIA) for all shale gas drilling activities in the European Union (EU). This is in line with the Parliament's resolution on the environmental impacts of shale gas, voted in November 2012, which called on the European Commission to include "projects including hydraulic fracturing in Annex I of the Environmental Impact Assessment Directive."¹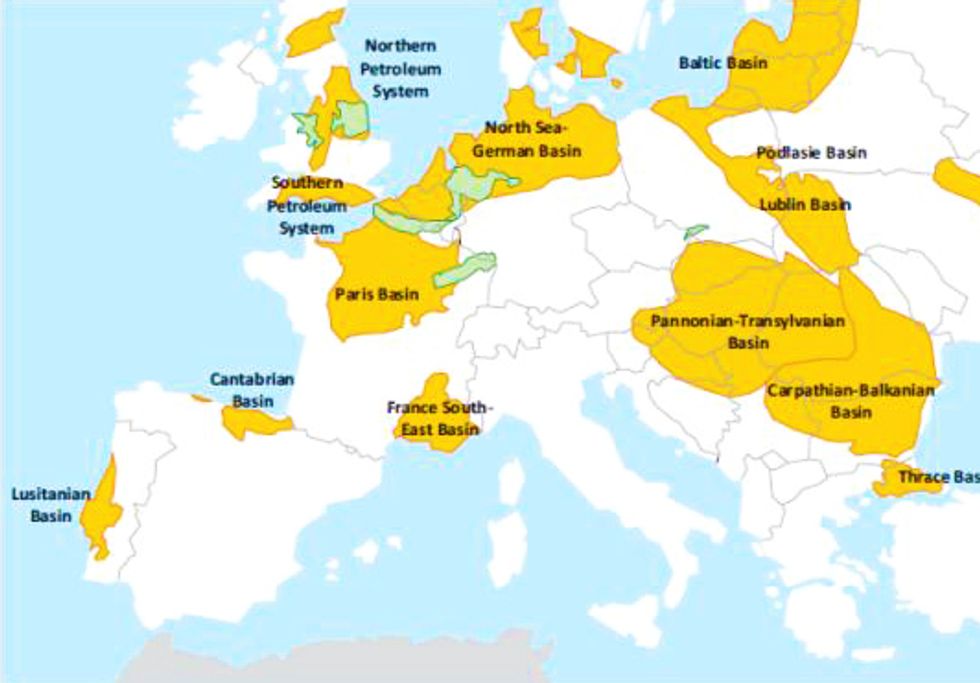 For Food & Water Europe, this is a major victory, as Members of the European Parliament (MEPs) showed a healthy dose of suspicion about the empty promises of the shale gas industry about its ability to guarantee so-called "safe fracking." Imposing a mandatory EIA for shale gas drilling is the start of adapting the EU regulatory framework to the ugly reality of unconventional hydrocarbons in the EU. This vote demonstrates a resolve among MEPs to avoid the negative impacts of an out-of-control boom in shale gas drilling in the U.S.
A mandatory EIA will provide local people and authorities with the necessary baseline data in areas with drilling, increase the preparedness among environmental agencies and local authorities and offer local communities an opportunity to be consulted early in the process. MEPs saw through the smokescreen of the numerous events to promote "sustainable fracking" in Brussels, organized by the fossil fuel industry and its allies.
"This vote to impose a mandatory EIA for all shale gas drilling was a litmus test for the resolve among MEPs to demand an adequate risk-management framework for shale gas activities in Europe," said Food & Water Europe policy officer Geert De Cock. "The majority in favor of this proposal should be a boost of confidence for Environment Commissioner Potocnick to bring forward stringent proposals for this risky industry."
The European Commission is scheduled to publish its proposals for a risk-management framework for unconventional hydrocarbon activities by the end of 2013, covering the wide range of risks associated with the practice of fracking. With today's vote, MEPs clearly signaled to the Commission that stringent rules on chemicals use, well integrity, waste management, air and methane emissions and liability will find strong support in the European Parliament.
¹European Parliament (November 2012) EP resolution of Nov. 21, 2012 on the environmental impacts of shale gas and shale oil extraction activities (2011/2308(INI)).
Visit EcoWatch's FRACKING page for more related news on this topic.
———
SHARE YOUR THOUGHTS BELOW: Do you think your elected officials would ever follow the lead of these MEPs?
———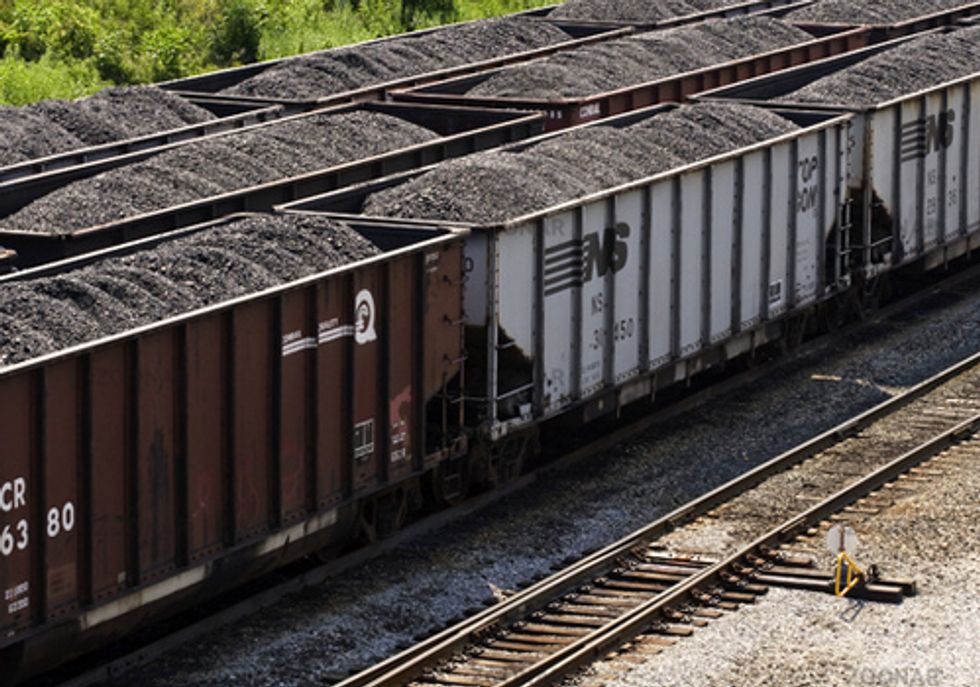 In another strike against coal, a local utility near Atlanta, Ga. voted late Jan. 24 to cancel funding for two proposed new coal-fired power plant projects. Over the past decade three coal plants have been proposed in Georgia. With the Jan. 24 announcement, the remaining two projects have lost their primary source of funding and will likely be abandoned. The third project, the LS Power Longleaf project, was abandoned late last year as part of a nationwide settlement with the Sierra Club.  
In a closed meeting, the Cobb Electric Membership Corporation (EMC) board of directors voted to stop funding the Power4Georgians proposed coal plant projects, Plant Washington and Plant Ben Hill, in Central Georgia. Each 850 megawatt coal plant would have cost more than $2 billion to build and would have added deadly new sources of toxic mercury and carbon pollution in Georgia and downwind states.
"Coal's dominance is coming to an end," said Bruce Nilles, senior director of Sierra Club's Beyond Coal campaign. "Today's news from Georgia fits into a strong national trend of clean energy displacing coal. For the past decade we have successfully blocked the construction of now 164 proposed coal-fired power plants. With the cost of coal rising and clean energy prices plummeting, coal's market share is shrinking and shrinking fast. At the same time, over the past three years the United States has installed records amount of wind and solar, and in the process has created thousands of new jobs. "
For the past four years Sierra Club and the Georgians for Smart Energy Coalition have been campaigning to persuade Cobb EMC and its partners to abandon the coal plants and instead to invest in clean, home-grown  energy sources like wind and solar. The proposed coal plants would have required Georgians to ship millions of dollars out of Georgia annually to buy imported coal.
"I am proud that since 2008, the Sierra Club and our partner organizations have been actively organizing and challenging these coal plant proposals, and working with cooperative members to highlight the risky nature of coal-fired power plants," said Seth Gunning, Georgia organizer with the Beyond Coal Campaign and Cobb EMC member.
A report released this week by the U.S. Energy Information Administration (EIA) highlighted a predicted drop in coal's market share, from 44 to 39 percent, between 2010 and 2035. The EIA reports traditionally underestimate coal's decline, and the Georgia board vote seems to suggest an even steeper drop for coal power in the U.S. The EIA report also predicted that no new coal plants would be constructed in this period, aside from those already under construction. Bruce Nilles's recent writing on the EIA report can be found by clicking here.
No new coal plants have broken ground since 2008, except for a highly-subsidized Department of Energy demonstration project in Kemper County, Mississippi. Even with federal and state subsidies, the project is expected to increase consumers' electric bills by more than 40 percent, according to the Mississippi Business Journal. The Great River Energy Spiritwood Plant in North Dakota, which came online in 2010, now sits idle because it is too expensive to run. The plant cost $400,000,000 to build.
New federal health protections finalized in 2011 will require existing coal plants to reduce their pollution, including toxic mercury pollution, and new plants will have to plan for scrubber technology, which will increase the projected price of construction.
The Sierra Club's Beyond Coal campaign works in partnership with Bloomberg Philanthropies and a nationwide coalition of allies to retire one-third of the nation's aging coal plants by 2020, replacing them with clean energy like wind and solar by 2030. Coal plants are the largest sources of climate disruption and toxic air pollution like mercury, soot and carbon pollution. Once finalized, Plant Washington and Plant Ben Hill would be the 163rd and 164th plants defeated or abandoned since the Sierra Club began its Beyond Coal campaign in 2002.
Background:
Cobb EMC, an electrical membership corporation based in Marietta, Ga., serves 200,000 members in the Northwest Metro Atlanta area. The nonprofit corporation has been embroiled in legal controversy for years, resulting in a legal settlement forcing CEO Dwight Brown to step down in February 2011. He was then indicted on 35 felony charges, including racketeering and conspiracy to commit fraud related to Brown's establishment of a for-profit arm of the company, illegal under Georgia law. The coal plant proposals were tied into the controversy.
For more information, click here.