This website uses cookies to ensure you get the best experience while browsing it. By clicking 'Got It' you're accepting these terms.


The best of EcoWatch, right in your inbox. Sign up for our email newsletter!
Residents of La Chiquita say they don't have adequate access to safe drinking water. David Silva
By Alejandro Pérez, translated by Romina Castagnino
Fifteen years ago, Martha Valencia relied on the nearby river for water and for food. But then oil palm crops arrived in the area and polluted the river, say Martha and her neighbors. The community took the oil palm grower to court, which ultimately resulted in a ruling in their favor.

Indigenous Waorani elders, youth and leaders gathered in Puyo, Ecuador, on Feb. 27, to launch a lawsuit against the government's auctioning of their ancestral lands to the oil industry.
Mitch Anderson /
Amazon Frontlines
By Reynard Loki
On Feb. 27, hundreds of Indigenous Waorani elders, youth and leaders arrived in the city of Puyo, Ecuador. They left their homes deep in the Amazon rainforest to peacefully march through the streets, hold banners, sing songs and, most importantly, submit documents to the provincial Judicial Council to launch a lawsuit seeking to stop the government from auctioning off their ancestral lands in the Pastaza region to oil companies. An eastern jungle province whose eponymous river is one of the more than 1,000 tributaries that feed the mighty Amazon, Pastaza encompasses some of the world's most biodiverse regions.
EcoWatch Daily Newsletter
By Genevieve Belmaker and Joseph Charpentier
Throughout 2018, forests continued to be threatened and destroyed. From the Amazon, to the Congo Basin, to the Mekong Delta and scores of places in between—journalists reporting for Mongabay filed hundreds of stories about the world's forests.
Although the significance of any one story is difficult to gauge in the short-term, several Mongabay reports from 2018 stood out. These pieces dealt with illegal timber trafficking, advances in technology-based environmental protections and human rights protections for the people doing environment-defense work—formal and informal.
The Río Negro-Sopladora National Park hosts 344 species of vascular plants. Wilson Romero
By Valeria Sorgato
On Jan. 23, a new national park joined Ecuador's 54 protected areas. Río Negro-Sopladora National Park lies in southern Ecuador's Morona Santiago and Azuay provinces within the Cordillera Real Oriental mountain range and next to Sangay National Park. The area is dominated by almost-intact Andean páramos—treeless alpine plateaus—and forests that are home to a great variety of animal and plant species.
In the wake of a controversial U.S. court ruling that a $9.5 billion Ecuador judgment against Chevron is fraudulent, the oil giant has been touting loudly its innocence of any environmental crimes in the South American country.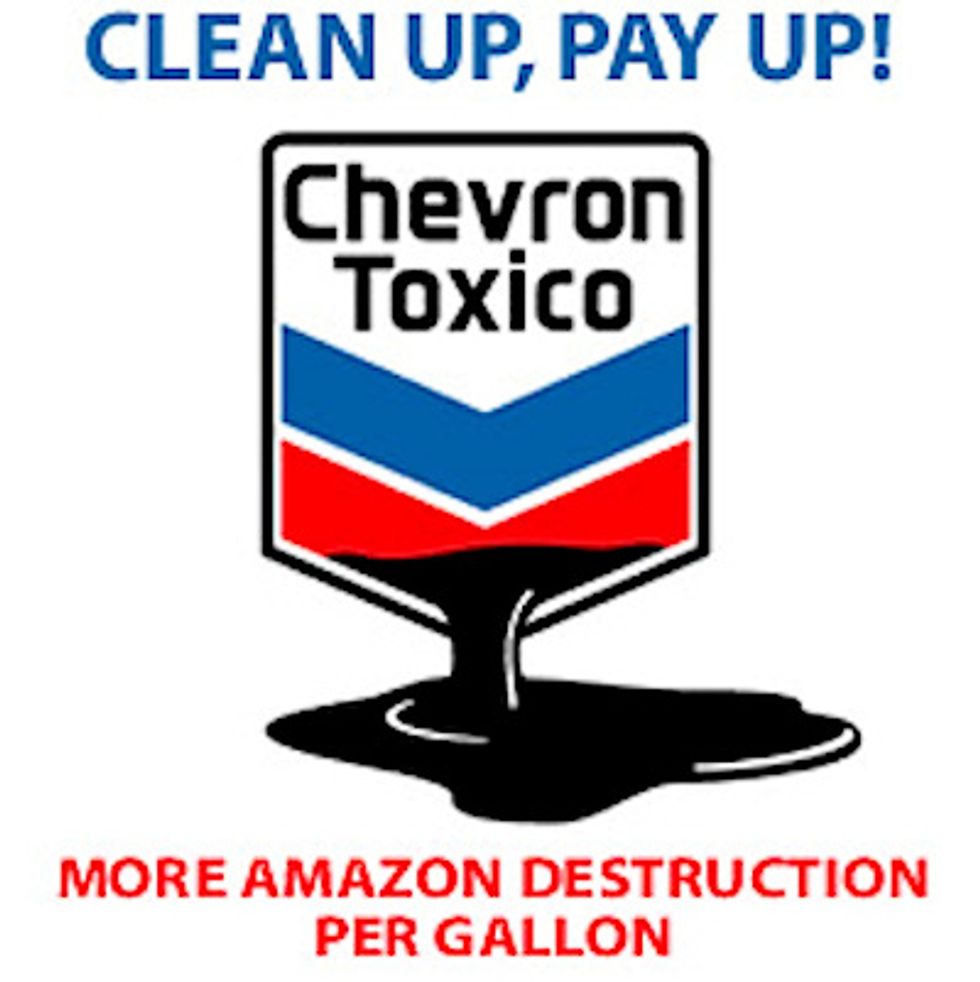 Chevron's lawyers even successfully pressured some CBS News corporate suits to yank a damning 60 Minutes piece from the network's website about the deliberate contamination of the Ecuador rainforest from 1964 to 1992 by Texaco, which Chevron later bought.
(See the dead link here. You can see the segment on my company's web site. So sue me, CBS.)
Instead of succumbing to Chevron's pressure tactics, CBS' lawyers should grow a backbone and demand to see contamination "playbook" documents that Chevron has been forced to produce in an international arbitration proceeding.
They are explosive and prove 60 Minutes got it right, and the U.S. judge got it wrong.
The playbook details how the company hid evidence of contamination during an eight-year Ecuador trial resulting in a $9.5 billion damage award that the Ecuadorians are waiting for Chevron to pay.
Meanwhile, Chevron is claiming in arbitration that the Republic of Ecuador should pay the judgment, and the two parties are duking it out before a panel of corporate trade lawyers who rent office space at The Hague and act as "judges"—more about them later.
The playbook took center stage in a recent arbitration filing by Ecuador. It appears the country's lawyers have gotten their hands on much of, if not the entire, playbook, but the corporate trade lawyers are requiring Ecuador to redact or cover up the really damning evidence.
Even so, a recent rejoinder filed by Ecuador reveals enough to demonstrate what a morally bankrupt company Chevron is.
Here's what we know about the playbook, pieced together from the filings of both the Ecuadorians in U.S. court and the Republic of Ecuador in arbitration.
In 2011, the Ecuadorians obtained a few pages from the playbook and tried to enter them into evidence during Chevron's "fraud" trial, but Federal Judge Lewis Kaplan refused to allow any evidence of contamination into the record, including the small excerpt from Chevron's playbook.
(See my recent blog about this legal travesty, and this earlier 2011 press release about the playbook)
During the Ecuador trial Chevron's paid experts wrote the playbook to document how to handle the contamination they found at the well sites in soil and water tests.
Without the knowledge of the Ecuador court, Chevron's experts conducted unofficial and secret pre-inspections of the sites so they could avoid the badly contaminated areas during the official judicial inspections. (page 63 in the rejoinder)
Their pre-inspection findings would have been devastating to their case had they been turned over to the court. So they never were. (page 63)
Instead, they used the results to avoid the contaminated areas and test at clean spots, usually from soil and water at elevations higher than the huge, unlined and open pits Texaco built to store permanently pure crude and toxic water.
Quick backgrounder: Texaco explored for oil in Ecuador from 1964 to 1992 and was the sole operator of the well sites during that time. The Ecuadorians filed their original lawsuit in the U.S. against Texaco in 1993, one year after Texaco left Ecuador. A U.S. judge dismissed their lawsuit ruling in 2001 at Texaco's urging the litigation should be heard in Ecuador. That year, Chevron bought Texaco. In 2003, the Ecuadorians re-filed their case in Ecuador but not before the U.S. 2nd Circuit Court of Appeals instructed Chevron that it must accept Ecuador's jurisdiction, which it did.
Chevron routinely used deceptive methods, such as mixing clean soil with dirty and undercounting hydrocarbons, to hide or reduce toxic chemicals in samplings. (pages 66-72)
This table below, taken from the arbitration filing, reflects just a few of the thousands of pages of playbook notes Chevron's experts and field personnel took, describing the contamination and advising the company about ways to avoid it during the official judicial inspection: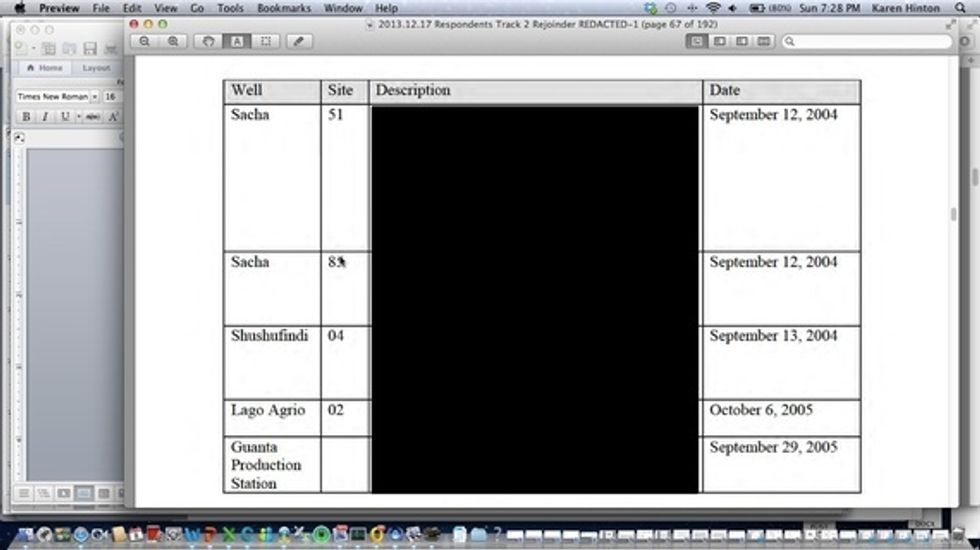 It's heavily redacted. If it's true—as Chevron says it is—that the oil giant is innocent, and the truth is what it seeks, then why won't Chevron release the un-redacted, unedited playbook for all to see?
Maybe it has something to do with the 1995 remediation agreement that Chevron argues is its get-out-of-jail-free card.
The agreement, between Texaco and the Republic of Ecuador, released Texaco from government liability in exchange for a cleanup of a relatively small number of pits. It did not, however, release Texaco from third-party claims.
During the Ecuador trial, tests found contamination levels at the so-called remediated Texaco pits as high or higher than the ones not cleaned. The Ecuadorians accused Texaco of simply throwing dirt on top of the contamination to hide it.
Chevron's playbook backs that up.
At pits Texaco said it cleaned, Chevron—according to its own playbook—found contamination during its secret pre-inspections. To avoid or reduce the contamination Chevron, during the official judicial inspection, took soil only from the top layer.
Ecuador's rejoinder references the playbook notes of Shushufindi 24, Sacha 21 and Lago Agrio 6, all three well sites that Texaco said it cleaned.
In its secret, pre-inspections Chevron discovered otherwise. (pages 68-69)
The rejoinder reads: "During the JIs (judicial inspections) Chevron's experts sought to avoid finding pollution by sampling only to depths that it knew to be clean. For example, at Shushufindi 24, the soil boring log at pit 2 shows that during its PI, (pre-inspection) REDACTED "Then at the JI, Chevron strategically chose to take surface soil samples only—avoiding the known contamination below."
Chevron: What did you find at Shushufini 24, Sacha 21 and Lago Agrio 6?
If you found little or no contamination, then all is well. If you found contamination and withheld it from the court, then your remediation agreement comes unraveled as does your entire legal case.
Chevron will say today that pre-inspections were allowed, but that's not what its attorneys said during the trial. Chevron wrongfully accused the Ecuadorians of pre-inspections, telling the court that pre-inspections were a "violation of legal security and due process of law," and "no technical team from ChevronTexaco Corporation has performed any secret tests here."
The rejoinder reads:"Yet by that time, Chevron's experts had conducted PIs at least REDACTED (number of) sites and taken over REDACTED (number of) samples." (page 65)
Chevron wants its shareholders to believe the Ecuadorians are history, even though enforcement lawsuits are underway in three countries and an appeal of the U.S. ruling is pending before the Second Circuit Court of Appeals, which reversed an earlier Kaplan attempt to stop enforcement of the Ecuador judgment.
And, while the Republic of Ecuador is aggressively fighting Chevron's arbitration claim, it is doubtful the arbitration panel will rule against the oil giant.
Brought in 2009, Chevron's arbitration action is based on alleged violations of Ecuador's Bilateral Trade Agreement with the U.S.
For some time now, multi-national corporations have been abusing these trade agreements. Allowing it to happen are the corporate trade lawyers who sit on arbitration panels as judges and then rotate off as lawyers representing corporations before panels composed of their trade lawyer buddies.
Best example is the successful claim by Phillip Morris against Australia because the country placed warning signs on cigarette packs about the dangers of smoking after Phillip Morris began selling cigarettes there. 
International arbitration is fraught with serious conflicts of interest, and some countries are considering ending bi-lateral trade agreements due to numerous upside down arbitration rulings that have put the interest of corporations above a country's residents.
The Ecuadorians' best bet is in Canada, Brazil and Argentina where they have filed enforcement lawsuits to seize Chevron's assets in those countries as payment for the judgment.
Who knows? The entire Chevron playbook may see the light of day in one of those courtrooms soon. Or, 60 Minutes could stand by its work and demand to see it.
Ironically, during Chevron's "fraud" trial, Kaplan quoted former Supreme Court Justice Louis D. Brandeis' famous maxim that "sunlight is said to be the best of disinfectants" but when it comes to the allegations leveled by the Ecuadorians and their lawyer, Steven Donziger, Kaplan and the corporate trade lawyers hanging out at the Hague prefer the dark side of the moon.
Amazon Watch stands with Ecuadorian communities in rejecting a misguided judgment delaying justice for some 30,000 indigenous people and farmers who continue to suffer from the company's toxic legacy in the Amazon rainforest. The decision—handed down yesterday by New York District Court Judge Lewis Kaplan—also underscores the threat that well-financed corporations pose ​to​ justice and the rule of law with their ability to spend hundreds of millions of dollars on efforts to attack victims and their allies.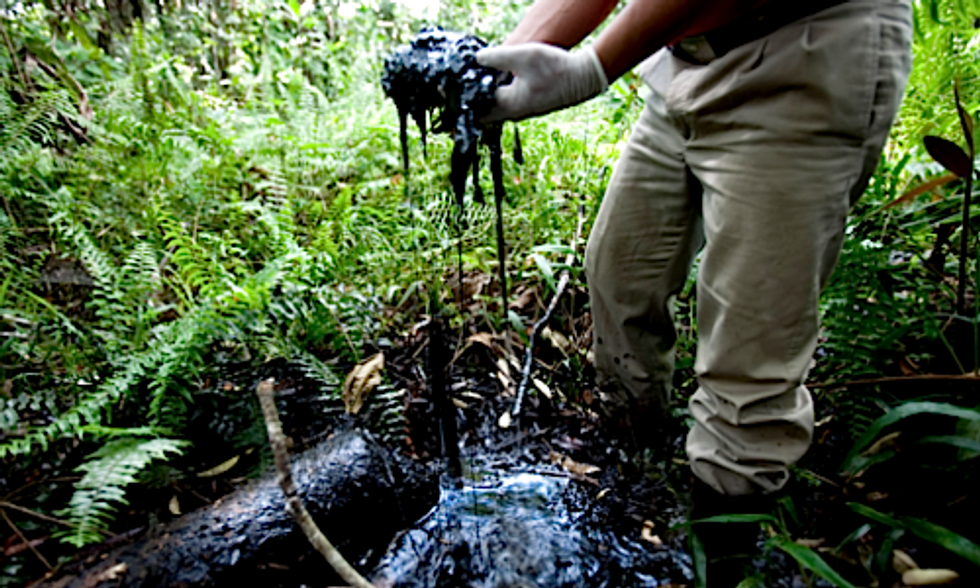 Since Chevron filed the bogus RICO action, Ecuadorians and their allies have been relentlessly attacked by the company's army of lawyers and PR agents. These actions were unrelated to real events in Ecuador, setting a dangerous precedent for corporate attacks on constitutional rights.
"This decision also effectively outlaws core activity protected by the First Amendment such as bringing lawsuits, holding protests, issuing press releases and engaging public officials," said Deepak Gupta, attorney for the appellate team in response to the verdict. "This is particularly appalling given that this case is about holding a corporation accountable for refusing to clean up decades of toxic pollution in the Amazon."
Gupta, formerly of Public Citizen, has argued on behalf of plaintiffs in several recent Supreme Court cases, including the high-profile arbitration challenge AT&T Mobility v. Concepcion.
For well over a decade, Amazon Watch has stood with those affected by Chevron's deliberate dumping of 18 billion gallons of toxic wastewater into the Amazon rainforest. Despite admitting to the crime, Chevron has refused to take responsibility for its actions, its "clean-up" efforts proven to be a sham by its own evidence. The company's role as sole operator and designer of the extraction system in Ecuador makes it solely liable for its actions, which is why the communities in Ecuador sued Chevron themselves. Despite these facts Chevron has continued to vilify the communities who continue to suffer and die from pollution.
Chevron's RICO suit and its attack on the victims has been condemned by some of the largest environmental and social justice organizations in the U.S., including the Sierra Club, and more than 100,000 U.S. citizens have written to the U.S. Senate asking for an investigation of Chevron's tactics to suppress free speech.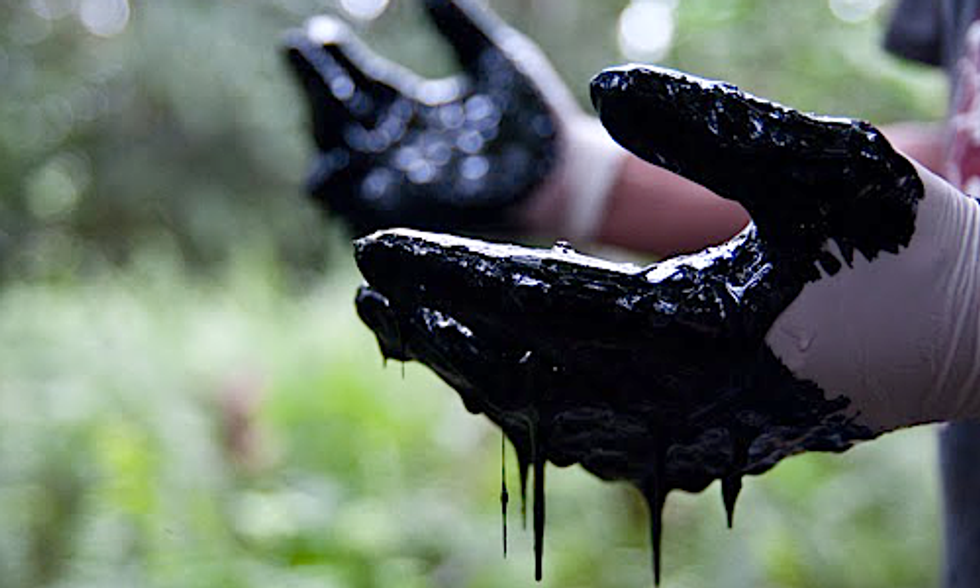 Yesterday's verdict is an example of Chevron buying and bullying its way to a verdict with 60 law firms and thousands of legal professionals hell-bent on exhausting the Ecuadorians and their allies. Such a verdict will ultimately prove useless in Chevron's efforts to evade justice.
Chevron fought for years to have the case moved from a U.S. court to Ecuador and Judge Kaplan—who first recommended that Chevron file the case—holds no authority over Ecuadorian courts. Nor can he issue a ruling preventing the Ecuadorian plaintiffs from collecting on an enforceable verdict outside of the U.S. Furthermore, Kaplan's current order is effectively indistinguishable from an injunction issued by Kaplan in the case two years ago, which was struck down on appeal.
Visit EcoWatch's ENERGY page for more related news on this topic.

By Adam Chimienti
"This is the Court of Chancery … which gives to monied might the means abundantly of wearying out the right, which so exhausts finances, patience, courage, hope, so overthrows the brain and breaks the heart …" — Charles Dickens, Bleak House
The court proceedings in the case of the 21st century, between multinational oil giant Chevron and the Ecuadorian Amazon communities affected by oil contamination, are reminiscent of the muddled legal saga around which Dickens' Bleak House is centered. As with the parties in the 1853 novel, the plaintiffs have been denied justice over the course of many years. Their plight will continue into 2014.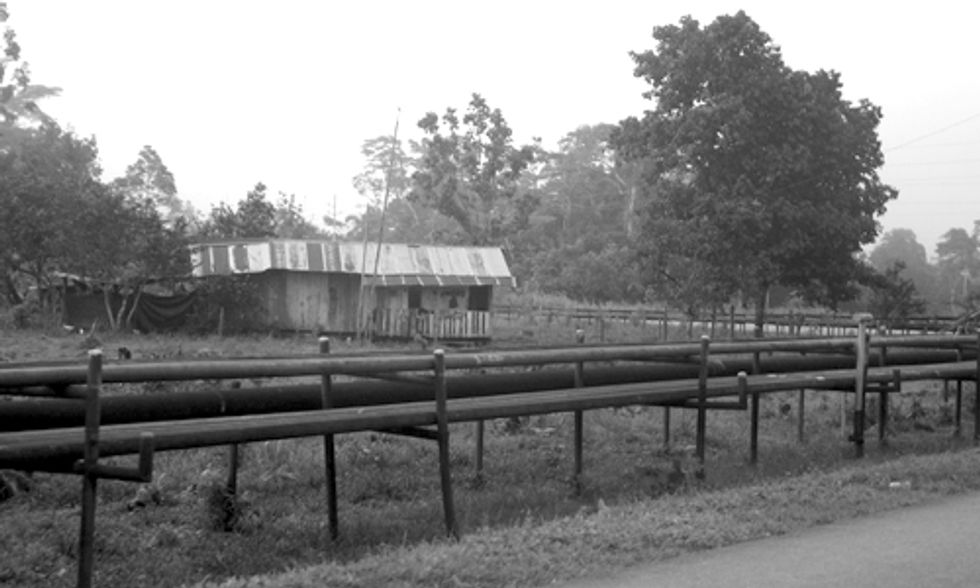 Of course, this could've been the year when one of the world's most profitable corporations realized that it was no longer worth dragging its feet and finally figured out a way to rectify the damage that Texaco (acquired by Chevron in 2001) committed while exploiting the major oil reserves in the country beginning in the late 1960s.
This could've been the year when U.S. judges rebuked Chevron and discouraged any further attempt to deny the damage the company is responsible for.
This was the year when Ecuador's Supreme Court reduced the judgment back to the original amount of $9.5 billion, less the punitive damages applied after Chevron refused to apologize.
This was also the year when proceedings in other countries took some interesting turns, like the recent decision in the Ontario Court of Appeal, lifting the hopes of the affected populations. This latest ruling, which overturned an earlier decision that Chevron Canada's assets are not directly owned by the U.S. corporation, will likely result in the case being brought before the Supreme Court of Canada.
Chevron relies on armies of lawyers and its allies in the press to confound the issues. Yet, in this peculiar case, there is so much more than meets the eye. For example, Chevron has capitalized on the Ecuadorian government's hypocrisy when it comes to environmental matters. In 2013, it became increasingly evident that the progressive environmental language in the 2008 constitution is not nearly as essential as the extractive agenda of President Rafael Correa's administration.
This 21st century struggle reveals what is and what is no longer possible in the battle over resources and life, between the excessively wealthy and their victims.
Here are eight essential elements of the case you should understand.
1. The History of Texaco in Ecuador
Texaco was first invited to Chevron in the early 1960s and began exploring for oil in 1964 in the Lago Agrio region of northeastern Ecuador. During roughly two decades of extraction and major profits, a consortium initially consisting of Texaco and Gulf Oil, with a 25 percent share later acquired by the Ecuadorian state oil company, CEPE (now Petroecuador) built a pipeline to carry crude across the Andes for export. Texaco, which was widely regarded as a world leader in the oil business, did not use costly techniques such as re-injecting wastewater underground. Instead, much of its waste was pumped into unlined pits and crude oil was poured everywhere, including the streets of Lago Agrio.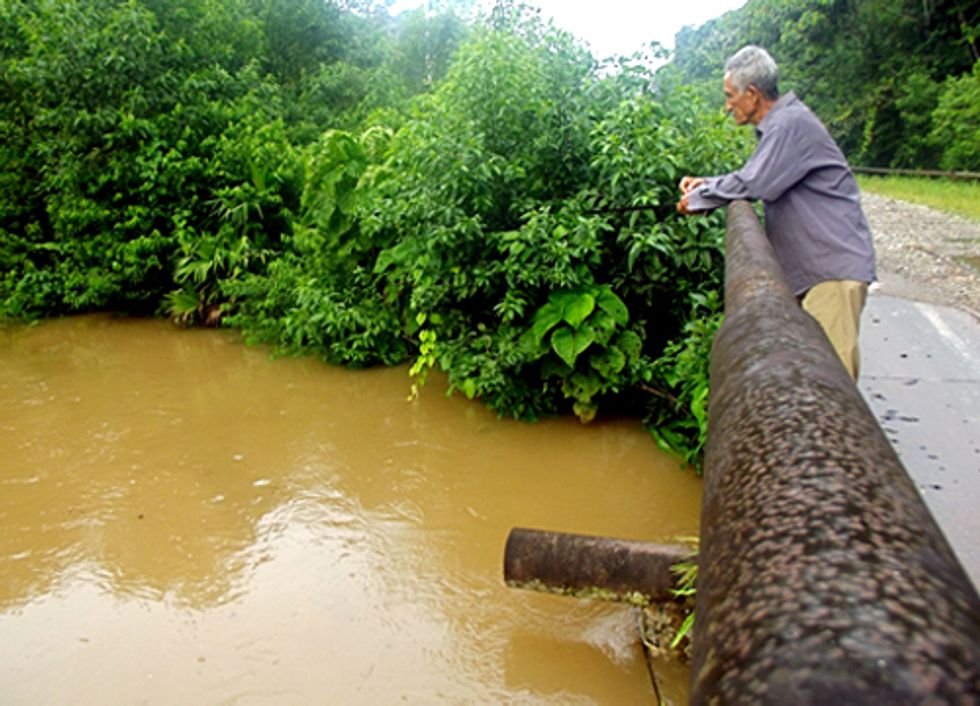 In the late 1980s, several earthquakes would cause extensive damage to the pipeline and lead to organizing efforts by indigenous groups and environmental activists. Those living near the oil-drenched forests were emboldened by support they received throughout the country and around the world.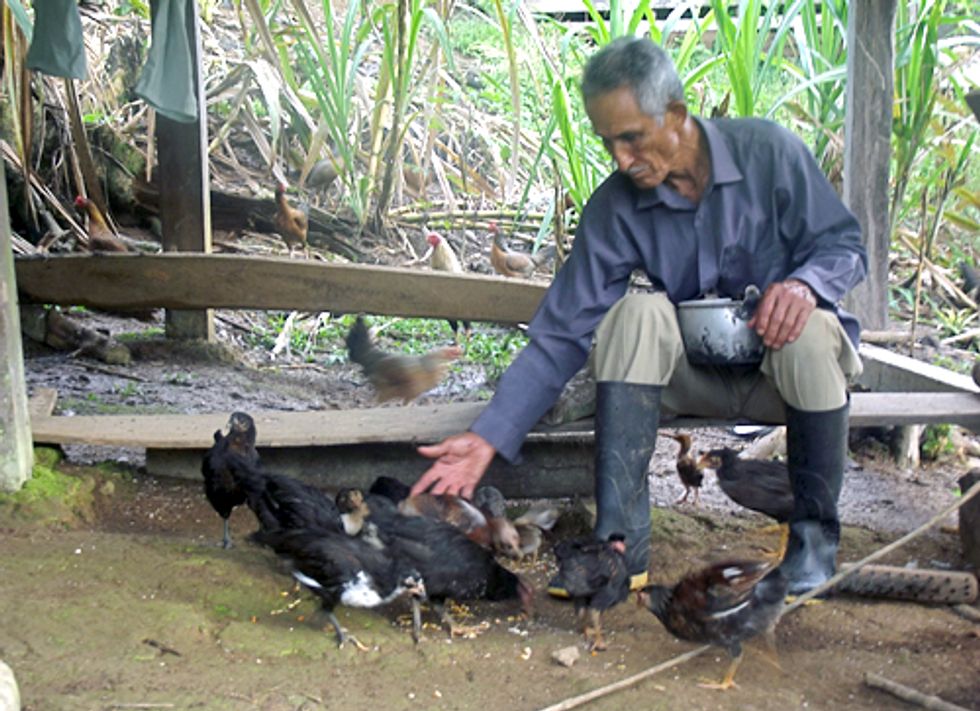 These complex networks developed quickly and in November 1993, shortly after Texaco departed the South American nation, affected Ecuadorian citizens began to seek legal action in New York. That first lawsuit was eventually thrown out due to jurisdictional matters. Despite complaints by the plaintiffs that Ecuador's courts were ill equipped to handle such a case, Texaco, then acquired by Chevron in 2001, was happy to have the case moved to Ecuador and praised the court system there in a series of affidavits. The New York court required that the oil giant submit to the jurisdiction and judgment of the Ecuadorian court, although many argue Chevron believed it would be successful in controlling the outcome there.
2. The Record Judgment
The new case Aguinda vs. Chevron began in May of 2003 and ended Feb. 14, 2011, when the Lago Agrio court found Chevron guilty of the contamination and required an apology. The $8.6 billion for an environmental remediation and services to address the various needs of the communities, based largely on a 1999 study by the Spanish doctor Miguel San Sebastian, doubled to more than $18 billion after the company failed to apologize, and later increased to $19 billion in July 2012.
Chevron has repeatedly stated that the plaintiffs will never receive a dime of the company's vast assets, estimated at around $244 billion. The firm has spent significant sums of money fighting the judgment it believes is fraudulent, asserting that the state oil company is responsible for the remaining pollution in the forest.
Most recently, the judgment has been cut in half to $9.5 billion by the Ecuadorian Supreme Court. Meanwhile, the Lago Agrio judge who passed down the verdict in 2011, Nicolas Zambrano, has been depicted as corrupt for allowing the verdict to be ghostwritten in return for an alleged $500,000 kickback from Donziger's legal team. Chevron's star witness Alberto Guerra, the former judge who presided over the case and now claims he helped negotiate the bribery scheme involving Zambrano, corroborated this claim. Hardly credible himself, Guerra has admitted to extensive bribery schemes in the past and is now openly being paid by Chevron to live in the U.S. with "$10,000 a month in living expenses, a $2,000 monthly housing allowance, health insurance coverage for himself and family members, a leased automobile, payment for an independent attorney, payment for an immigration attorney and moving expenses."
3. The Legal Proceedings
There are now six cases in as many countries and on three different continents.
The original Aguinda vs. Chevron case recently made its way before the Ecuadorian Supreme Court where the judge removed the punitive damages, cutting the judgment by half. Chevron has no assets in the country and therefore the plaintiffs are forced to look elsewhere to seize company property to sell.
The first attempt to seek assets abroad was in the Ontario Superior Court in Canada. In early May of this year, a Canadian judge found that the subsidiary, Chevron Canada, could not be subject to the Ecuadorian ruling. However, a three-judge panel in the Ontario Court of Appeal overturned the decision in December. Justice James MacPherson drew attention to the confidence of Chevron, referring to a comment about the company's willingness to "fight this until hell freezes over" and then "fight it out on the ice." The Canadian judge then wrote, "Chevron's wish is granted. After all these years, the Ecuadorian plaintiffs deserve to have the recognition and enforcement of the Ecuadorian judgment heard on the merits in the appropriate jurisdiction. At this juncture, Ontario is that jurisdiction."
The Argentine Supreme Court also weighed in on the matter, overturning a lower court's decision to freeze Chevron Argentina's assets there, thereby clearing the way for a major shale oil investment by Chevron. Plaintiffs have indicated they would appeal this ruling.
Brazil's Superior Tribunal of Justice is also considering the case, although Chevron's extensive production there (33,000 bpd of crude) is a factor.
Chevron vs. Donziger et al, is a racketeering or RICO case that was heard from Oct. 15 through late November in the Southern District of New York. Steven Donziger, the lead adviser to the Ecuadorian plaintiffs in Aguinda-turned defendant, unsuccessfully attempted to get Kaplan removed for bias and now the U.S. judge is set to deliver his verdict in early 2014. This case has already featured remarkably broad subpoenas including access to email data from firms such as Google, Microsoft and Yahoo!, 600 hours of video footage from an award-winning documentary, and a failed attempt to acquire environmental NGO Amazon Watch's internal documents and testimony. Donziger's legal team will likely appeal the unfavorable verdict they expect to the U.S. Court of Appeals for the Second Circuit.
Finally, the Permanent Court of Arbitration at the Hague is hearing Chevron vs. Ecuador to determine whether Ecuador's government should have intervened to stop the Aguinda trial from proceeding due to a Bilateral Investment Treaty (BIT) signed with the U.S. in the 1990s. The Ecuadorian government points out that the treaty was signed in 1993, went into effect in 1997 and can not retroactively apply to the damages caused by Texaco when they left the country in 1992.
There may soon be additional litigation before courts in Colombia, Panama and Venezuela.
4. The Lawyers
Steven Donziger has been the lead adviser for the plaintiffs since the first trial in New York against Texaco. The Manhattan attorney, once a basketball cohort of President Obama, is depicted as having an ego that may be too big for his own good. He is often the most high profile name directly involved in the case, serving as a lightning for Chevron and its supporters in the financial press. Paul Barrett, a chief reporter for Bloomberg Businessweek, who recently finished up a book on the trial, also finds Donziger a colorful character through which to explain this case. Unfortunately, this focus ignores many of those whose lives have been deeply affected.
It appears much more difficult for Chevron to malign the name of the lead attorney for the plaintiffs, Pablo Fajardo. Along with his Ecuadorian colleague Luis Yanza, Fajardo won the Goldman Environmental Prize in 2008 and he was the CNN "Hero of the Year" in 2007. Both Fajardo and Yanza hail from the Oriente and have spent much of their lives in communities that have been affected by irresponsible oil drilling practices.
Meanwhile, Patton Boggs, a prominent U.S. law and lobbying firm, joined the plaintiffs' legal team in early 2010. They immediately began planning the best way to effect a settlement but that seems unlikely. In fact, the battle has only become nastier as Gibson Dunn, Chevron's LA-based firm retained in 2009, has portrayed Patton Boggs and the entire Ecuadorian legal team as guilty of defrauding Chevron. One legal ethics expert pointed out that, "Patton Boggs is a firm of recognized standing. This is accusing them of fraud, and that's going to be bitterly fought."
5. The Media and the Documentarian
Donziger also worked to attract allies through media outlets. His strategy was to land favorable coverage in major news outlets such as BBC Newsnight, 60 Minutes and others. In 2007, the Vanity Fair's annual "Green Issue" featured a lengthy piece about the case attracted celebrities and other moneyed interests to the cause. Some notable entertainers, such as Sting and his wife Trudie Styler, have remained involved and continue working on related environmental issues in Ecuador.
However, this strategy backfired somewhat when the 2009 documentary Crude, directed by Joe Berlinger, produced unintended consequences. Throughout much of the footage and in the final film, Donziger was again a focus and the attorney had a bad habit of embarrassing, if not potentially incriminating, himself on camera. In one troubling scene, the international NGO Amazon Watch's founder Atossa Soltani responds to a plan by Donziger to assemble an "army" (Soltani points out that this is an especially troubling term in military coup-plagued Ecuador) of protesters. She asks about the likelihood of Berlinger's video footage being subpoenaed saying "I just want you to know it's illegal to conspire to break the law." Donziger more or less dismissed her concerns about possible subpoenas, yet within months, Chevron had obtained the footage and their own high-priced army of lawyers set about examining and distributing it.
Well-versed in public relations itself, Chevron created its own views and opinions website devoted to the case, which served as a blog/aggregate for news reports and right-wing commentary. Forbes (where Donziger himself was published), The Wall Street Journal, Bloomberg Businessweek, Fortune (CNN), and other publications that followed the case tended toward Chevron's side of the story, while other major news outlets like The New York Times, Washington Post and San Francisco Chronicle are more nuanced in their approach.
6. The Governments
One of Chevron's main contentions is that Texaco's agreement to remediate its share of concessions with the Ecuadorian government in the mid-1990s exonerates the multinational from any environmental damages. These arrangements took place under President Sixto Duran Ballen, a dual U.S./Ecuadorian citizen who had been advancing neoliberal reforms begun in the previous decade. Many Ecuadorian observers close to the case believe the Duran Ballen government's numerous corruption indictments effectively nullified the remediation and note that Chevron was released before remediating a single site. Furthermore, as many critics of neoliberalism have pointed out, the Washington Consensus and the conditional assistance programs from International Financial Institutions (IFIs) came about as a result of coercion and corruption often involving the U.S. and other Western governments.
In the early 1970s, Henry Kissinger, fresh from his role in "making the Chilean economy scream", was personally involved in negotiations and disputes between the Texaco consortium and the government in Quito. At that time, the military regime in power depicted itself as revolutionary and nationalist, promising progressive policies. Coinciding with a shift to markedly increased dependence on the oil sector, oil prices began an upward climb that would last into the early 1980s. Since Ecuador was one of the newest and smallest members of OPEC at the time, it perceived a hostile approach on the part of the U.S. government and feared it was going to be made an example of for other countries.
Three decades later, a lobbyist for Chevron would argue that "We can't let little countries screw around with big companies like this-companies that have made big investments around the world." A la Dickens, this corporate mentality obscures the more compelling realities of this case.
7. The Scientists
In early 2013, Chevron claimed a victory when the Colorado-based scientific consulting firm Stratus withdrew their support for the plaintiffs. The environmental experts disavowed the environmental damages assessment conducted by Richard Cabrera. In his role as an independent court-appointed expert, Cabrera was reportedly in close contact with the plaintiffs and their allies at Stratus and this was corroborated by videos subpoenaed from Berlinger. Cabrera's report, allegedly ghostwritten by the plaintiff's allies, is portrayed as lacking in requisite scientific credibility.
Considering the immense destruction of Amazonian habitat, such an assessment may not even be possible. Kelly Swing, a professor working via Boston University in a research station in Yasuni National Park, offered among the most poignant explanations I have heard regarding oil contamination in northeastern Ecuador. Swing explained to me that this region is among the most biodiverse, or megadiverse, in the world. This is due to the Andean-Amazon corridor (with it's abundance of fresh water) as well as the proximity to the equator.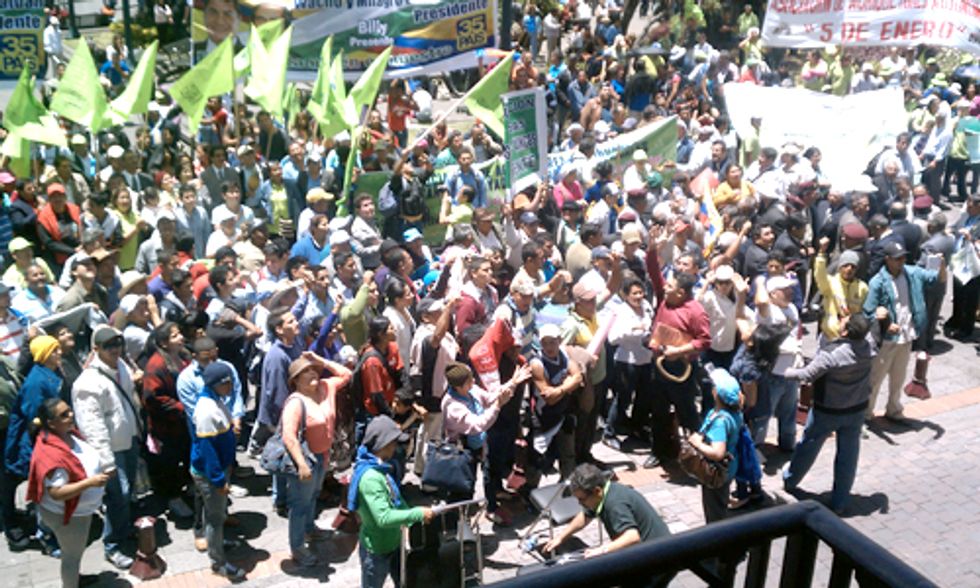 Look at a map however, and you'll quickly notice that the section of Yasuni where Dr. Swing and others are doing their research is well over 100 kilometers south of the equator, meaning that the richest biodiversity in Ecuador (and the world) was likely in the same region that was first reached by missionaries and then oil companies. "We may have already lost the pinnacle of species [near Lago Agrio] without even noticing," Dr. Swing lamented.
Confounding the situation, the government in Quito announced this summer that it has no choice but to move ahead with oil exploration in Yasuni, sparking widespread protests from students, environmentalists and indigenous organizations. Under the Correa Administration, poverty has declined significantly as a result of increased social spending. However, in exchange for what amounts to under two weeks worth of global oil usage in Yasuni's reserves, many more hectares of Ecuador's remaining virgin rainforests will be compromised if the government proceeds with its ambitious extractive agenda.
8. The Affected Population
At a press conference in the Amazon in September, Ecuadorian President Rafael Correa, held up an oil-soaked hand and addressed the camera as if there were Chevron executives directly behind it:
"I believe that this is an exemplary case, not only of the injustice but of the immorality of the world order, world institutions, where everything is on the side of capital, where there is a total supremacy of capital, of multinationals over people, over societies, over nations, and this inspires us and drives us and helps us to see much more clearly the mission to reform this world order as much as possible to be on the side of justice."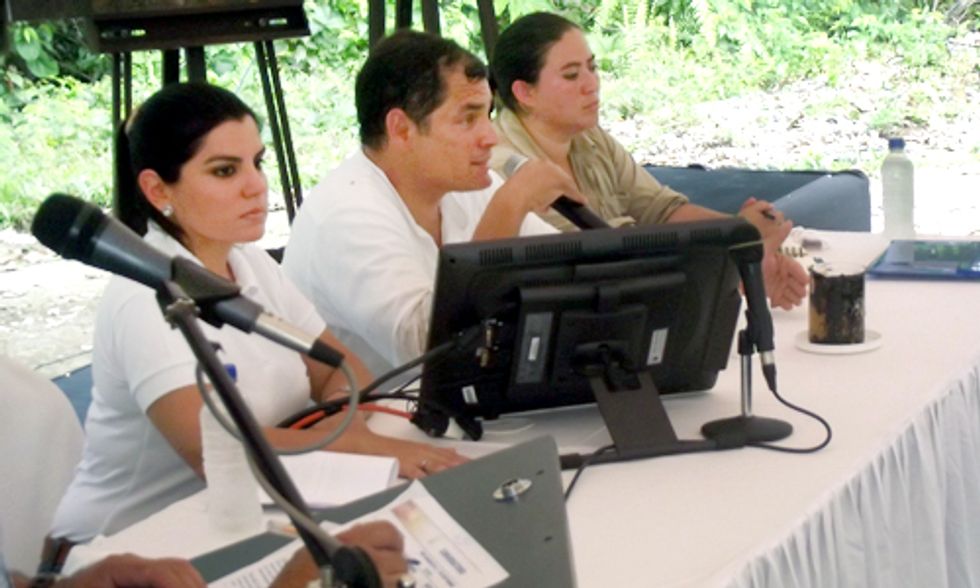 While this sounds impressive, many of the affected in the Lago Agrio region direct their complaints at state-owned firms Petroecuador and Petroamazonas. Several farmers in the region explain that water is the most critical issue facing the people of the Lago Agrio region. Many believe that the government isn't seriously addressing the contamination despite the government's own irresponsible practices.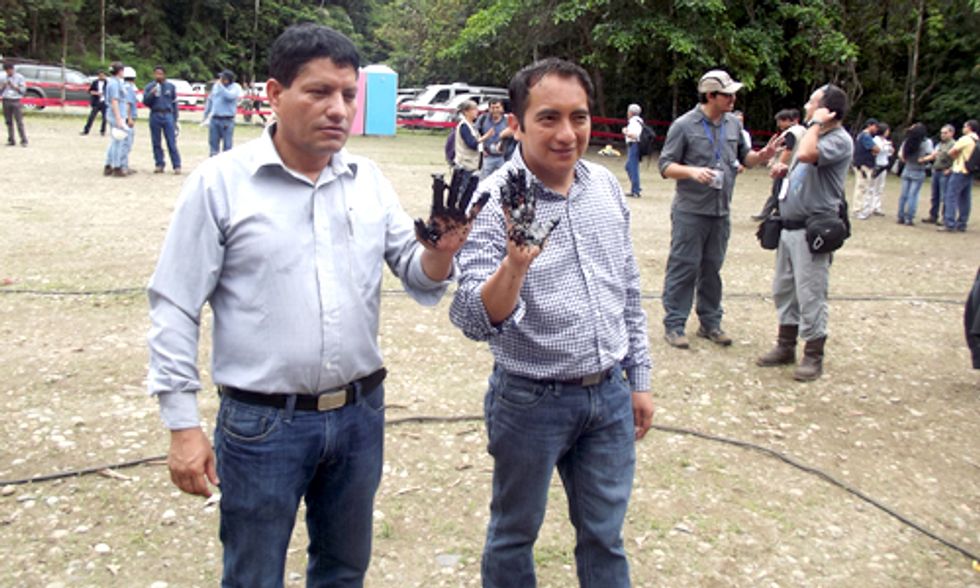 A question remains: Is the Correa administration, celebrated as progressive around the world, simply another government that puts the rights of indigenous peoples and the environment after the needs for capital and investment? Many activists here would say yes.
While the Ecuadorian government now appears ready to use its resources to join in the plaintiffs' struggle, its critics can't help but notice that these efforts come on the heels of the controversial decision to move forward on exploiting the oil blocks in the Yasuni-ITT region. It is likely that the government will have considerable difficulty maintaining the guarantee that state oil companies or their foreign partners can avoid causing similar damage to the people and habitats of the rainforest. Factored alongside various other environmentally destructive megaprojects being planned or carried out to advance development, such political moves and cynical attitudes are to be expected.
Moving Forward
Ecuador, like many other developing countries, is in a difficult position regarding its own future. Its government, despite the revolutionary rhetoric and unorthodox views of its leftist president, is mired in the paradigm of extracting and exporting natural resources with all its attendant problems. Texaco, in its decision-making several decades back set the stage here for a long, drawn-out tragedy. An increasing dependency on fossil fuels, will wreak further damage that cannot be quantified nor qualified. Genuine remediation is a rather difficult goal to achieve.
In a visit to New York in September, Ecuador's Minister of Minister of Foreign Affairs Ricardo Patino recently argued that ChevronTexaco is responsible for the destruction of the vast swaths of rainforest and diseases and deaths of many Ecuadorians. These are serious charges. Chevron will continue to convey the message that this is all a scheme by Ecuador to extort funds from its famously deep pockets. These statements demonstrate for posterity how legal battles over environmental destruction fall far short of responsible action and how complex arrangements within the highly centralized corporate/nation-state structures plague the periphery.
Today, debates about fracking, tar sands, exploiting oil in extreme locations such as the Arctic and the future of nuclear energy are unavoidable. The enduring lesson from the willful destruction of the Ecuadorian Amazon will prove to be more about a system of capital, extraction and laws that is thoroughly flawed and broken. It is clear that the system is currently incapable of remediating the destruction it makes. Just what would Dickens make of this bleak 21st century story?
Adam Chimienti
On Aug. 15, Ecuadorian President Rafael Correa announced his government's abandonment of the Yasuni-ITT Initiative, the innovative attempt to reverse the economic arrangement of oil extraction in the Amazon by keeping the oil in the soil in exchange for international assistance. His words that evening were disheartening to many. They encroached on the hopes of environmentalists and indigenous rights activists in Ecuador and progressives around the world.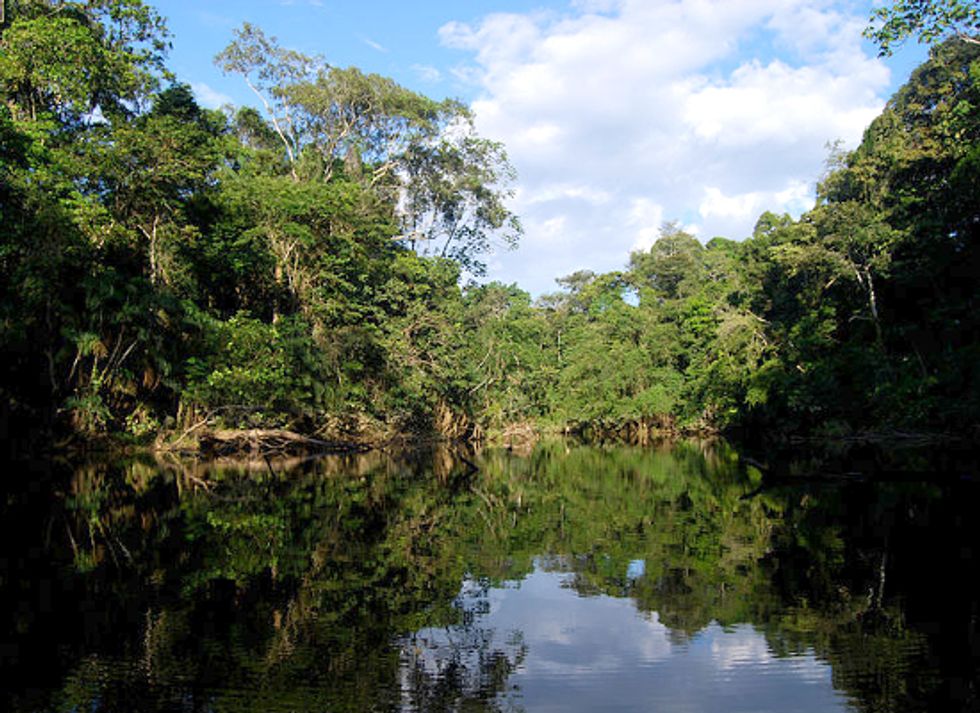 Correa had announced on Ecuadorian state television that he was liquidating the fund for the program and that it was the world's fault. "The world has failed us," the fiery president declared, implying that the global community of wealthy nations, organizations and individuals rejected the unique opportunity to cooperate with the Ecuadorian government and its people to save one of the most biodiverse regions on the planet. The idea, highly touted by environmental activists and international supporters of the Correa government, as well as the government itself, was radical in the sense that it would try to provide a model for not extracting oil, while sparing the inhabitants and countless species of the forest from the invariably destructive nature of drilling. Conservation groups have pointed out that the idea for the plan came from civil society, not the government, as one might assume from press coverage.
Growth, Environment and Democracy
If the world is to blame, then surely Correa, as the leader of Ecuador and a prominent voice for an alternative twenty-first century development model, must take his fair share of the responsibility. Correa has earned respect around the world for his economic management, defense of sovereignty and promotion of innovative approaches to the environment, or Pachamama. The latter factor was most notably manifested in what is called the Green Constitution. Yet, Correa dismissed the key Article 71 wherein the ambitious drafters declared
All persons, communities, peoples and nations can call upon public authorities to enforce the rights of nature. To enforce and interpret these rights, the principles set forth in the Constitution shall be observed, as appropriate…The State shall give incentives to natural persons and legal entities and to communities to protect nature and to promote respect for all the elements comprising an ecosystem.
The problem Correa faces after announcing the end of the initiative can best be understood in the classic jobs/growth vs. environment dilemma. While many respected the idea that the government was willing to choose the environment as long as tangible forms of cooperation were coming from wealthier nations abroad, to back away from this initiative deals a blow that an overwhelming majority of Ecuadorians (over 90 percent from the major cities according to a recent poll) are unable to accept. Additionally, Correa's many critics abroad, especially in the international media, are delighted to point out the hypocrisy of the decision.
To address these concerns, opponents of drilling are now preparing to organize a referendum. Such a move requires five percent of the population to sign a petition and deliver it for review to the National Electoral Council, and then an absolute majority of valid votes is required for the referendum to succeed.
Environmental Stewardship?
While people around the world can only lament the lack of leadership on environmental issues, despite the abundance of dire forecasts and scientific consensus, encouraging models are rarely visible or effective. The Ecuadorian government has succeeded in providing stable economic and political conditions, something unfortunately rare in the South American country. Yet, if we are to believe the rhetoric that boldly emanates from the capital Quito, that Correa's policies are part of a citizen's revolution, then the facts on the environmental front must be reviewed. The groups opposed to the drilling of oil in and near Yasuni National Park are on the front lines defending the world's diminishing biological reserves. In a country plagued by centuries of inequality, a revolution based on the citizenry's needs must be radical and innovative. The Correa government often insists it is both, but pragmatism in the traditional sense of markets and growth seem to be the defining feature. How could a citizen's revolution exclude the de jure citizens inhabiting the biological reserves, i.e. the indigenous tribes, some of which have little or no contact with the outside world?
Furthermore, the 2008 constitution, in granting rights to nature, is trailblazing but also essential. UN data reports that threatened species in Ecuador in the year 2011 were no less than 2,260. In neighboring Peru and Colombia, both countries with roughly four times the territory of Ecuador, the number of threatened species is roughly a quarter of that amount (even the vastly larger U.S. and Brazil do not come close to Ecuador in threats to endemic species). For a sense of how Ecuador is leading the world in this harrowing category, check out this infographic by the Mother Nature Network. This phenomenon can likely be explained as a reflection of both the dense biodiversity within the Andean-Amazon corridor near the equator and vast ecocide that has occurred over the years.
Playing Catch Up in Late Capitalism
President Correa is certainly aware of the inequity present within the global climate change debate. On Sept. 24, 2007, when he first announced the initiative at the UN High Level Meeting on Climate Change, he pointed out that over 90 percent of damages from climate-change related disaster occurred in developing countries, and clearly the poorest are the most vulnerable within such countries. Now, however, his leadership appears aimed to assist the majority of impoverished people in Ecuador (while giving the middle and upper classes a significant boost) at the expense of the environment and the many native peoples who are categorized as impoverished and are clearly marginalized. This new policy seems to be a betrayal of his former sympathies. It has been widely reported that in his younger years, Correa lived amongst indigenous people, learning Quechua, and even despairing over the extent of the poverty they had to endure.
Since the announcement, the president has fired back at critics by arguing that this drilling, Plan B of the Yasuni proposal, will only take place in one thousandth (.001) of the park's territory. He also claims that the public, especially the youth, are being manipulated in an effort to take down the government. Critics point out that there has already been drilling in the park under Correa and that the auctions of oil blocks nearby are also problematic. Moreover, the issue of mining for copper and gold in the south of the country, near the Peruvian border in the Cordillera del Condor, will also have a major impact on indigenous people, water supplies and precious rainforest. Overall, the green position is increasingly stained, the revolution less radical.
Due to the international headlines announcing the initiative's failure, now would be an appropriate time to look over the facts related to oil extraction in Ecuador. It is nothing short of dismaying. Over the years, firms including Texaco, Occidental Petroleum (with deep ties to the family of former VP Al Gore), Brazil's Petrobras, Venezuela's PDVSA and others backed by the Chinese CNPC and Sinopec, as well as the Ecuadorian state firms PetroEcuador and PetroAmazonas, have all played a role in the extraction sector in the country. Many of these companies have been implicated in irresponsible methods that have led to considerable pollution. The most famous example is Texaco's near three-decade span of exploration and extraction in the northeastern corner of the country near the towns of Lago Agrio and Coca. This involved the construction of an inexcusably faulty pipeline in coordination with the government, dumping of produced water into waterways and creating a major disaster zone with unlined pits that continue to frequently spill over when it rains. A fierce legal battle rages on over this issue and the area's inhabitants are still suffering.
The history of oil extraction in the Andean nation is also notorious among the whole of the Ecuadorian population. Aside from the pollution, there is also the inverse relationship, especially in the 1970s and '80s, with oil production and exports to national debt. The more oil the country exported in previous decades, the more indebted it became to foreign entities. Since a key aspect of Correa's approach has been a break with the Western-backed international financial institutions like the IMF and World Bank, the leadership has been able to acquire a brand new source of lending from China.
Correa has also prided himself on the ability to negotiate or renegotiate contracts that are much more favorable for Ecuador. This success must be noted and credit is due the government in this regard. Correa's explanation that he is doing this for poverty-stricken Ecuadorians does ring true to a certain extent. After a 2008 default on $3.2 billion in bonds that left the country with a poor credit rating, the government had to rely heavily on China to maintain public works projects. These have been on the rise and having a notable effect on poverty reduction and infrastructure. This has boosted support for Correa, evidenced by his landslide reelection in February of this year, winning around 35 percent more votes than his closest rival. 
However, such progress is not clearly established and the country's loans coming from China (representing more than half of borrowing by Ecuador between 2005-2011 and certainly on the rise) arrive with a significant premium in the form of high interest rates. Experts also believe the country is running the risk of an over reliance on oil exports, thereby contributing to an eagerness to continue exploitation of proven reserves. This enthusiasm is clearly on display in the decision over Yasuni, where the president claims profits from reserves may actually be worth as much as $18 billion, nearly three times the amount when the initiative first got underway.
The attitude expressed over the initiative is also proving politically unpopular. Mr. Correa is not able to run for office again under the current rules and has repeatedly expressed that he has no interest in ruling Ecuador beyond the end of his term in 2017 (though he recently signed a proposal to reform the constitution in August that would, among other things, include indefinite reelection). Yet there may certainly be backlash against his party and effective resistance on the ground. The leader of the largest indigenous collective, the Confederation of Indigneous Nationalities of Ecuador, or CONAIE, Humberto Cholango, has declared that it is up to all Ecuadorians to defend the park and its tribes as this issue is of "transcendental importance, not only for Ecuadorians, but for all of humanity." Correa, however, disagrees and says he is confident that the Ecuadorian people will trust him and that his government, defenders of their self-proclaimed revolution, will win again.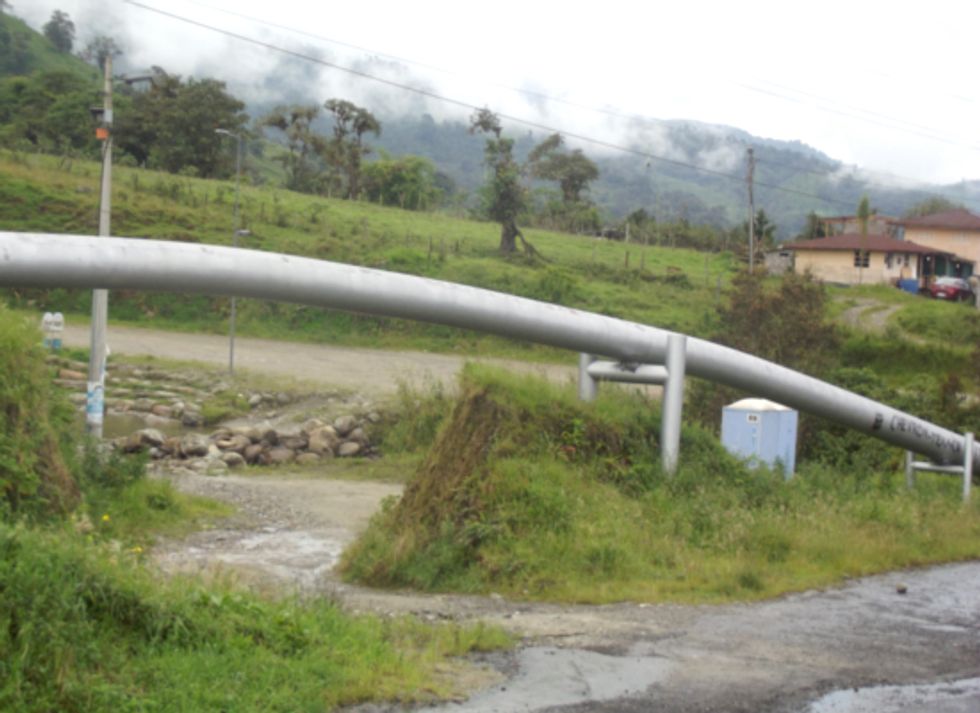 Missing an Opportunity to Lead and Inspire
After all is said and done, the loss of integrity in Yasuni National Park would be a tragic blow to the ecosystem, the indigenous tribes and environmentalists around the world. Celebrities such as actor Leonardo DiCaprio have expressed their support for the initiative along with people around the world in search of alternative models. It is therefore very unfortunate that, as his critics see it, Correa did not fully engage in the promotion of the Yasuni-ITT initiative.
Interestingly, while the governments of other developing countries, such as Indonesia and Turkey and neighboring Colombia and Chile, pledged their support, the U.S., China, UK and Japan all officially stood on the sidelines. (Individual contributions have come from at least 11 countries though, including the U.S., UK and Japan.) The Italian, Spanish and a regional government in Belgium led the way in commitments and deposits, but the German government never backed the fund and disagreed with the premise. However, earlier this year Germany and Ecuador did reach an agreement amounting to 34.5 million euros in support of forest protection and the UN's Reducing Emissions from Deforestation and Forest Degradation. Responding to German criticism over the Yasuni decision, that deal has now been unilaterally canceled by the Correa government.
Considering the negotiating prowess of Rafael Correa and the burgeoning relationship with the People's Republic of China, which promotes harmonious, respectful and mutually beneficial cooperation, it begs another question: Why weren't Chinese leaders brought aboard?
Similarly, we see a failure in terms of multinational corporations. Major firms like Coca-Cola (which committed to a $100,000 contribution, but didn't deposit the funds), Google and Facebook are highly visible in the Ecuadorian market and should have been under more pressure to back the initiative and earn some positive press. One can easily see how a company like Amazon might have felt compelled to save an important corner of the forest that is its namesake.
The unfortunate reality is that Correa's brash style is likely a factor.
Billy Pizer, a former deputy assistant secretary for environment and energy under President Obama, made the case that the initiative was about holding the forest hostage, as did other Western observers. This seems more than a bit disingenuous though. Consider that Ecuador's history has been rife with corrupt leadership that has been under the sway of not only Washington but also Wall Street for decades. This has led Ecuador to the state in which it currently finds itself, with few good options to successfully lift up its poor. The Ecuadorian president, in condemning critics opposed to the open-pit copper mine that a Chinese firm is currently readying, declared that the country cannot be beggars sitting on a sack of gold. The jobs/growth vs. environment argument, when it applies to developing countries, is always complicated by history—history that is all too often ignored by the wealthier colonizers of previous eras.
Such debate has bogged down progress on the climate change accords and is incredibly depressing in its nature. We are likely to see more disheartening scenes throughout the developed world as leaders are increasingly concerned with succeeding in today's harshly competitive global economy. This comes alongside a drive to improve the lives of millions of impoverished human beings. Unfortunately, it leaves out future generations who may never get to experience nature in its most diverse form or a state that could be considered unspoiled. A citizen's revolution should necessarily account not only for the poor majority of a society, but for those in the margins living on top of the reserves of oil and minerals. It should also account for our descendants. For this to happen, we need good ideas. The Yasuni-ITT Initiative is one such good idea. Its fate now rests on the democratic will of a nation of some 15 million human beings, 29 percent of whom are living in dire poverty. Its fate should have rested on a government that seeks to inspire the world through a genuinely alternative model of development. It should have rested on the desire of people, organizations and nations around the world aiming to right some of the wrongs of the global system. In any case, there is enough blame to go around.
Visit EcoWatch's BIODIVERSITY page for more related news on this topic.
——–
Protecting key regions that comprise just 17 percent of Earth's land may help preserve more than two-thirds of its plant species, according to a new Duke University-led study by an international team of scientists.
The researchers from Duke, North Carolina State University and Microsoft Research used computer algorithms to identify the smallest set of regions worldwide that could contain the largest numbers of plant species. They published their findings yesterday in the journal Science. 
"Our analysis shows that two of the most ambitious goals set forth by the 2010 Convention on Biological Diversity—to protect 60 percent of Earth's plant species and 17 percent of its land surface—can be achieved, with one major caveat," said Stuart L. Pimm, Doris Duke professor of conservation ecology at Duke's Nicholas School of the Environment.
"To achieve these goals, we need to protect more land, on average, than we currently do, and much more in key places such as Madagascar, New Guinea and Ecuador," Pimm said. "Our study identifies regions of importance. The logical—and very challenging—next step will be to make tactical local decisions within those regions to secure the most critical land for conservation."
Plant species aren't haphazardly distributed across the planet. Certain areas, including Central America, the Caribbean, the Northern Andes and regions in Africa and Asia have much higher concentrations of endemic species, that is, those which are found nowhere else.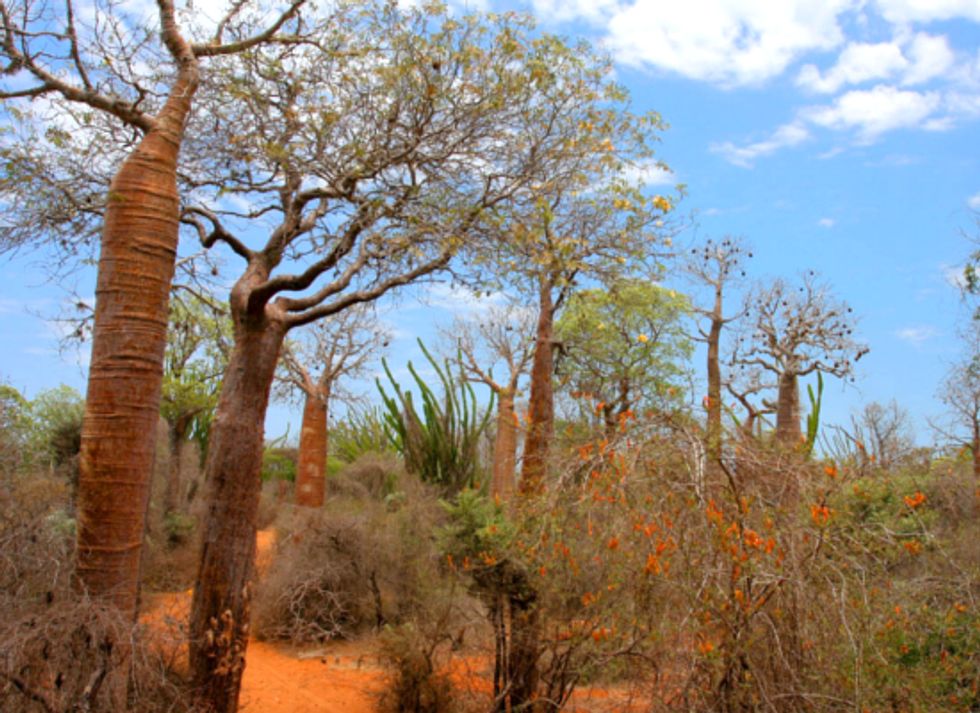 "Species endemic to small geographical ranges are at a much higher risk of being threatened or endangered than those with large ranges," said Lucas N. Joppa, a conservation scientist at Microsoft Research's Computational Science Laboratory in Cambridge, UK. "We combined regions to maximize the numbers of species in the minimal area. With that information, we can more accurately evaluate each region's relative importance for conservation, and assess international priorities accordingly."
To identify which of Earth's regions contain the highest concentrations of endemic species, relative to their geographic size, the researchers analyzed data on more than 100,000 different species of flowering plants, compiled by the Royal Botanic Gardens in Kew, England. 
Joppa and Piero Visconti, also of Microsoft Research's Computational Science Laboratory, created and ran the complex algorithms needed to analyze the large spatial database. 
Based on their computations, Clinton N. Jenkins, a research scholar at North Carolina State University, created a color-coded global map identifying high-priority regions for plant conservation, ranked by endemic species density.
"We also mapped where the greatest numbers of small-ranged birds, mammals and amphibians occur, and found that they are broadly in the same places we show to be priorities for plants," Jenkins said. "So preserving these lands for plants will benefit many animals, too."
Without having access to the Royal Botanic Gardens' plant database, which is one of the largest biodiversity databases in the world, the team would not have been able to conduct their analysis, said Joppa, who received his Ph.D. in ecology from Duke in 2009.   
Pimm and Jenkins lead the conservation nonprofit Saving Species, which works with local communities and international agencies to purchase and protect threatened lands that are critical for biodiversity.
"The fraction of land being protected in high-priority regions increases each year as new national parks are established and greater autonomy is given back to indigenous peoples to allow them to manage their traditional lands," Pimm said. "We're getting tantalizingly close to achieving the Convention of Biological Diversity's global goals. But the last few steps remaining are huge ones."
Visit EcoWatch's BIODIVERSITY page for more related news on this topic.
——–
Two thousand eight hundred high-spirited and sunflower-carrying demonstrators—numbers estimated by the Richmond Police Department (RPD)—converged in front of the main gate to Chevron's refinery in Richmond Saturday to demand that the oil giant address ongoing health and safety concerns, stop processing extreme crude like tar sands, and cease its political and taxation manipulations.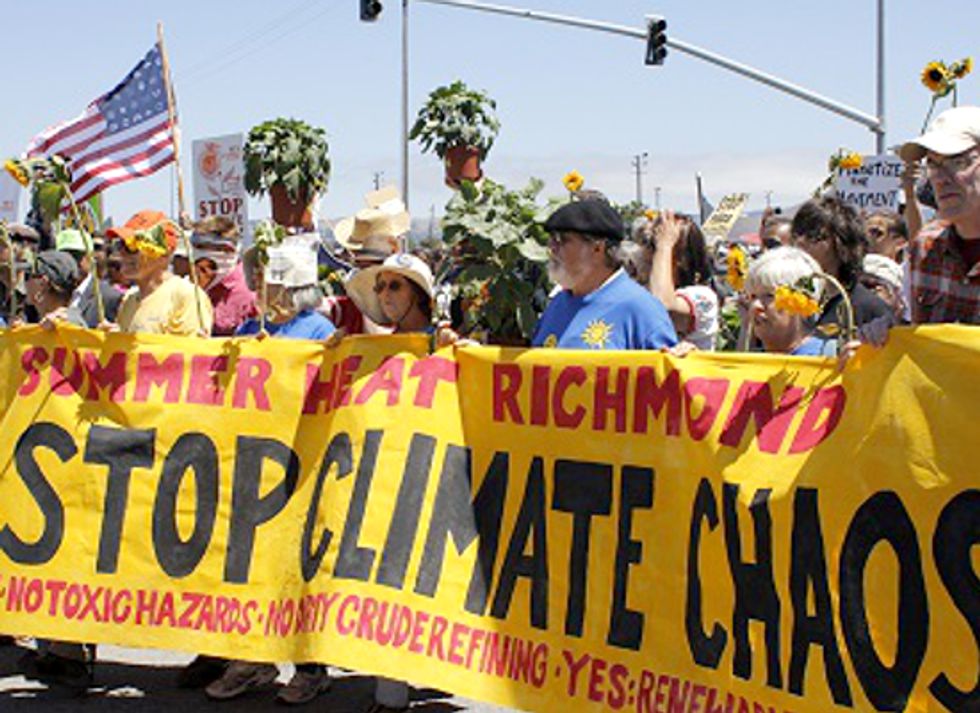 The sweeping, colorful protest commemorated the explosion and fire at the Chevron refinery last year on August 6 that sent 15,000 area residents to the hospital.
An unprecedented gathering of labor, public interest and climate justice groups, led by a contingent from Idle No More, marched two miles to the refinery, where they heard speeches by community leaders including Mayor Gaye McLaughlin of Richmond and 350.org founder Bill McKibben.
The crowd cheered and chanted, "We are unstoppable. Another world is possible" in support as 208 people (as reported by the RPD) sat down in front of the Chevron gates and were arrested in a collective act of civil disobedience. They were cited for trespassing and later released.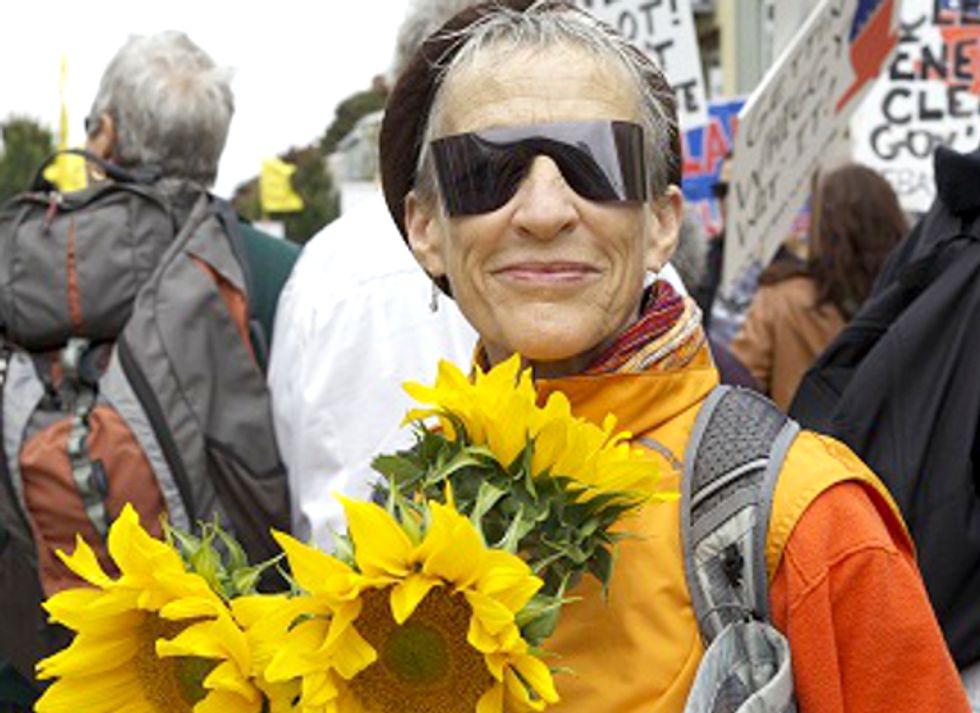 Many of them carried eight-foot sunflower-yellow banners proclaiming resistance to the fossil fuel industry and support for clean energy. The energy was high, and the sun spilled down in abundance. It was an extraordinary show of people and sunflowers—over one thousand of them. (Sunflowers were chosen because of their prominent role in bioremediation after oil spills. They are also known for drawing heavy metals from the soil.)
"A very successful protest," said Richmond Police Chief, Chris Magnus. "People made their point and conducted themselves in a thoughtful way. They are part of our constituency."
Magnus added, "We don't work for Chevron. We work for the community."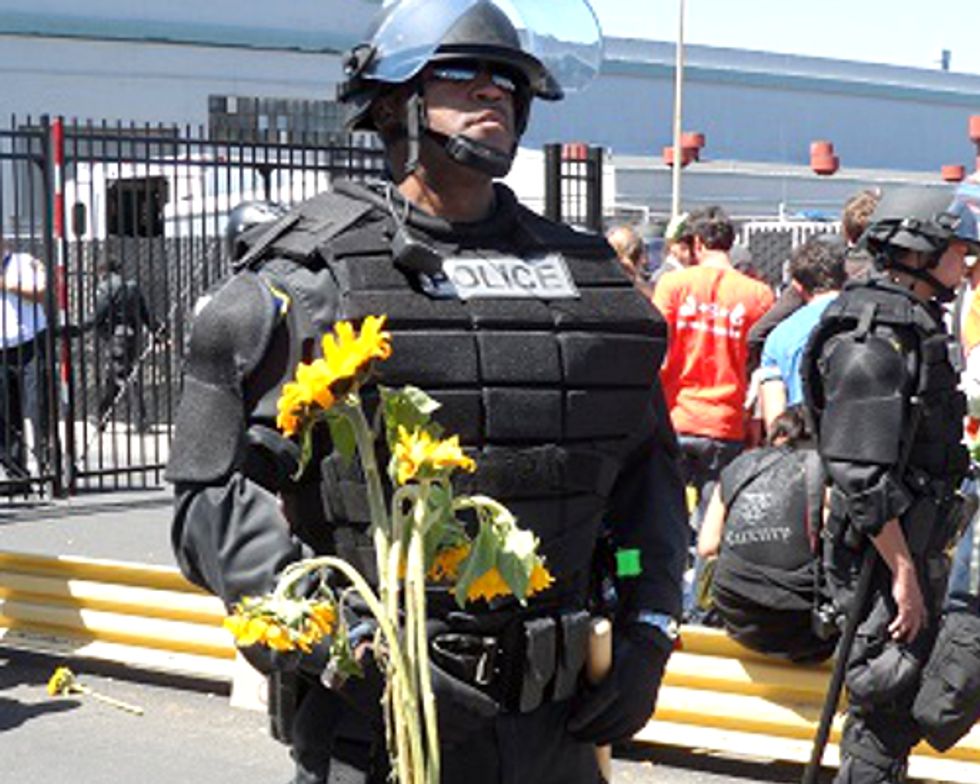 "On this day we remember the bomb that was dropped on Hiroshima," said Andrés Soto, a Communities for a Better Environment organizer, who fired up the crowd with his reminder of the importance of August 6. "But this is also the day that Chevron dropped a bomb on the people of Richmond. Chevron is the epitome of the evil empire, and we determined to take back our city and our environment."
The day began with an unexpected expression of solidarity from the government of Ecuador in the form of a full one-page ad in the San Francisco Chronicle:
The people of Ecuador, who have been in a long-running dispute with Chevron over the dumping of toxic waste in the northern part of the Amazon region of their country, stand with the people of Richmond on their day of protest about the disaster and its aftermath.
Demonstrators painted a giant, 20-foot sunflower on the road in front of the Chevron refinery and erected a molasses-streaked altar to the plant, animal and human life impacted by oil spills and other environmental destruction caused by the oil industry.
The usual Chevron signage at the front entrance was replaced by a facsimile reminding that Chevron is the number one greenhouse gas emitter in California, that last year's profits were $26.2 billion and that its negligence sent 15,000 people to the hospital after last year's fire.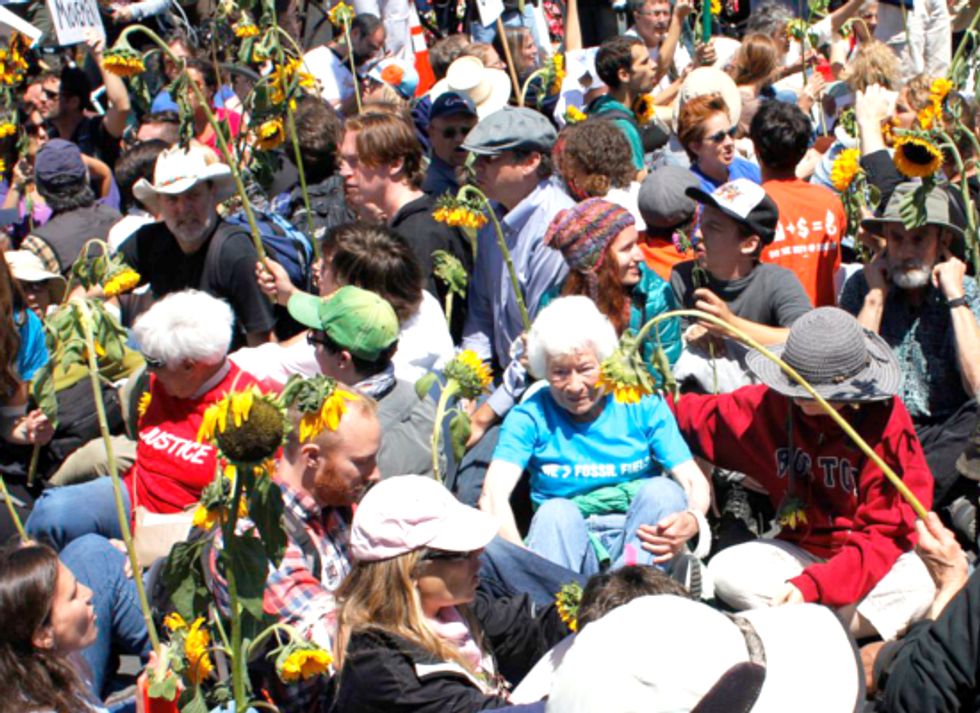 "Getting arrested is not really the end of the world when you believe passionately enough in something to get arrested for it," said McKibben, shortly before he offered himself up for arrest at the refinery gates. "It's not the end of the world. The end of the world is the end of the world. And that's what we're here today to stop."
Protestor Marg Hall said that she was deeply honored to be arrested at the Chevron gate. An activist with the disabled and chemically injured community, she said she was there to send the message that "corporate greed makes people sick."
A local health worker, Maggie Mullen, who is employed by the hospital that treated 15,000 people after the incident, said "I am here because I saw so many people impacted and Chevron is doing so little in the aftermath."
Steven Ongerth said that he got arrested "in order to call attention to the need to entirely transform society. We have to stop the destruction at the point of destruction."
Several elderly people were amongst the arrested. "We should declare war on climate change—the corporations, the little people, all of us," said 90 year-old Ellen Small. "The situation is desperate, and I am here to help call attention to that."
Visit EcoWatch's ENERGY and CLIMATE CHANGE page for more related news on this topic.
——–

By Noam Chomsky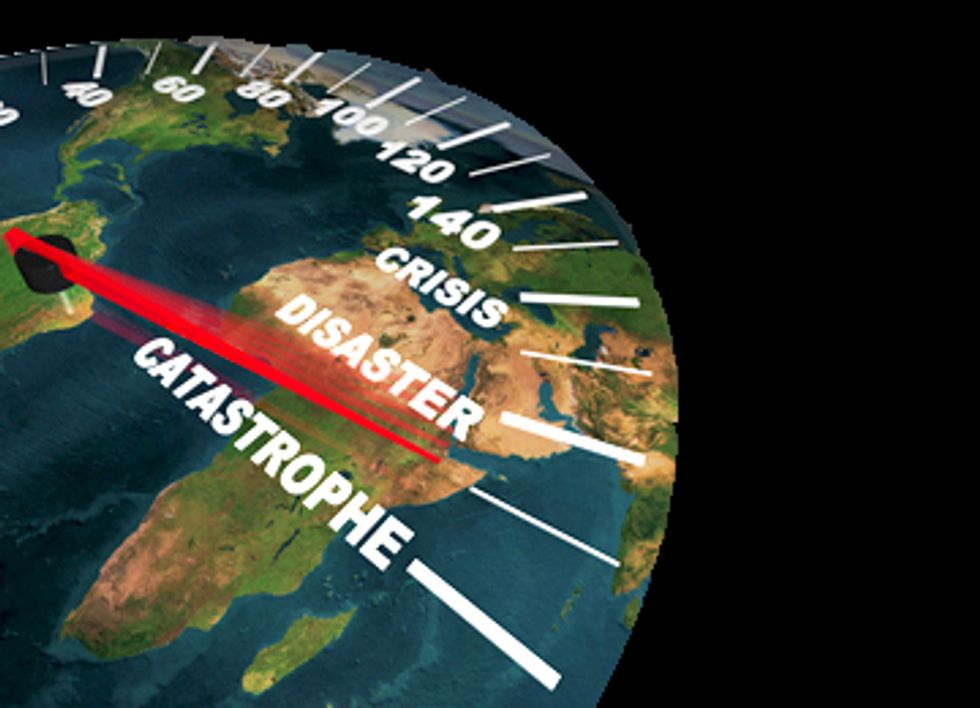 What is the future likely to bring? A reasonable stance might be to try to look at the human species from the outside. So, imagine that you're an extraterrestrial observer who is trying to figure out what's happening here or, for that matter, imagine you're an historian 100 years from now—assuming there are any historians 100 years from now, which is not obvious—and you're looking back at what's happening today. You'd see something quite remarkable.
For the first time in the history of the human species, we have clearly developed the capacity to destroy ourselves. That's been true since 1945. It's now being finally recognized that there are more long-term processes like environmental destruction leading in the same direction, maybe not to total destruction, but at least to the destruction of the capacity for a decent existence.
And there are other dangers like pandemics, which have to do with globalization and interaction. So there are processes underway and institutions right in place, like nuclear weapons systems, which could lead to a serious blow to, or maybe the termination of, an organized existence.
How to Destroy a Planet Without Really Trying
The question is: What are people doing about it? None of this is a secret. It's all perfectly open. In fact, you have to make an effort not to see it.
There have been a range of reactions. There are those who are trying hard to do something about these threats, and others who are acting to escalate them. If you look at who they are, this future historian or extraterrestrial observer would see something strange indeed. Trying to mitigate or overcome these threats are the least developed societies, the indigenous populations, or the remnants of them, tribal societies and first nations in Canada. They're not talking about nuclear war but environmental disaster, and they're really trying to do something about it.
In fact, all over the world—Australia, India, South America—there are battles going on, sometimes wars. In India, it's a major war over direct environmental destruction, with tribal societies trying to resist resource extraction operations that are extremely harmful locally, but also in their general consequences. In societies where indigenous populations have an influence, many are taking a strong stand. The strongest of any country with regard to global warming is in Bolivia, which has an indigenous majority and constitutional requirements that protect the "rights of nature." 
Ecuador, which also has a large indigenous population, is the only oil exporter I know of where the government is seeking aid to help keep that oil in the ground, instead of producing and exporting it—and the ground is where it ought to be.
Venezuelan President Hugo Chavez, who died recently and was the object of mockery, insult and hatred throughout the Western world, attended a session of the United Nations General Assembly a few years ago where he elicited all sorts of ridicule for calling President George W. Bush a devil. He also gave a speech there that was quite interesting. Of course, Venezuela is a major oil producer. Oil is practically their whole gross domestic product. In that speech, he warned of the dangers of the overuse of fossil fuels and urged producer and consumer countries to get together and try to work out ways to reduce fossil fuel use. That was pretty amazing on the part of an oil producer. You know, he was part Indian, of indigenous background. Unlike the funny things he did, this aspect of his actions at the UN was never even reported.
So, at one extreme you have indigenous, tribal societies trying to stem the race to disaster. At the other extreme, the richest, most powerful societies in world history, like the U.S. and Canada, are racing full-speed ahead to destroy the environment as quickly as possible. Unlike Ecuador, and indigenous societies throughout the world, they want to extract every drop of hydrocarbons from the ground with all possible speed. 
Both political parties, President Obama, the media and the international press seem to be looking forward with great enthusiasm to what they call "a century of energy independence" for the U.S. Energy independence is an almost meaningless concept, but put that aside. What they mean is: We'll have a century in which to maximize the use of fossil fuels and contribute to destroying the world.
And that's pretty much the case everywhere. Admittedly, when it comes to alternative energy development, Europe is doing something. Meanwhile, the U.S., the richest and most powerful country in world history, is the only nation among perhaps 100 relevant ones that doesn't have a national policy for restricting the use of fossil fuels, that doesn't even have renewable energy targets. It's not because the population doesn't want it. Americans are pretty close to the international norm in their concern about global warming. It's institutional structures that block change. Business interests don't want it and they're overwhelmingly powerful in determining policy, so you get a big gap between opinion and policy on lots of issues, including this one.
So that's what the future historian—if there is one—would see. He might also read today's scientific journals. Just about every one you open has a more dire prediction than the last.
"The Most Dangerous Moment in History"
The other issue is nuclear war. It's been known for a long time that if there were to be a first strike by a major power, even with no retaliation, it would probably destroy civilization just because of the nuclear-winter consequences that would follow. You can read about it in the Bulletin of Atomic Scientists. It's well understood. So the danger has always been a lot worse than we thought it was.
We've just passed the 50 year anniversary of the Cuban Missile Crisis, which was called "the most dangerous moment in history" by historian Arthur Schlesinger, President John F. Kennedy's advisor. Which it was. It was a very close call, and not the only time either. In some ways, however, the worst aspect of these grim events is that the lessons haven't been learned.
What happened in the missile crisis in October 1962 has been prettified to make it look as if acts of courage and thoughtfulness abounded. The truth is that the whole episode was almost insane. There was a point, as the missile crisis was reaching its peak, when Soviet Premier Nikita Khrushchev wrote to Kennedy offering to settle it by a public announcement of a withdrawal of Russian missiles from Cuba and U.S. missiles from Turkey. Actually, Kennedy hadn't even known that the U.S. had missiles in Turkey at the time. They were being withdrawn anyway, because they were being replaced by more lethal Polaris nuclear submarines, which were invulnerable.
So that was the offer. Kennedy and his advisors considered it—and rejected it. At the time, Kennedy himself was estimating the likelihood of nuclear war at a third to a half. So Kennedy was willing to accept a very high risk of massive destruction in order to establish the principle that we—and only we—have the right to offensive missiles beyond our borders, in fact anywhere we like, no matter what the risk to others—and to ourselves, if matters fall out of control. We have that right, but no one else does.
Kennedy did, however, accept a secret agreement to withdraw the missiles the U.S. was already withdrawing, as long as it was never made public. Khrushchev, in other words, had to openly withdraw the Russian missiles while the U.S. secretly withdrew its obsolete ones; that is, Khrushchev had to be humiliated and Kennedy had to maintain his macho image. He's greatly praised for this: Courage and coolness under threat, and so on. The horror of his decisions is not even mentioned—try to find it on the record.
And to add a little more, a couple of months before the crisis blew up, the U.S. had sent missiles with nuclear warheads to Okinawa, Japan. These were aimed at China during a period of great regional tension.
Well, who cares? We have the right to do anything we want anywhere in the world. That was one grim lesson from that era, but there were others to come.
Ten years after that, in 1973, Secretary of State Henry Kissinger called a high-level nuclear alert. It was his way of warning the Russians not to interfere in the ongoing Israel-Arab war and, in particular, not to interfere after he had informed the Israelis that they could violate a ceasefire the U.S. and Russia had just agreed upon. Fortunately, nothing happened.
Ten years later, President Ronald Reagan was in office. Soon after he entered the White House, he and his advisors had the Air Force start penetrating Russian air space to try to elicit information about Russian warning systems, Operation Able Archer. Essentially, these were mock attacks. The Russians were uncertain, some high-level officials fearing that this was a step towards a real first strike. Fortunately, they didn't react, though it was a close call. And it goes on like that.
What to Make of the Iranian and North Korean Nuclear Crises
At the moment, the nuclear issue is regularly on front pages in the cases of North Korea and Iran. There are ways to deal with these ongoing crises. Maybe they wouldn't work, but at least you could try. They are, however, not even being considered, not even reported.
Take the case of Iran, which is considered in the West—not in the Arab world, not in Asia—the gravest threat to world peace. It's a Western obsession, and it's interesting to look into the reasons for it, but I'll put that aside here. Is there a way to deal with the supposed gravest threat to world peace? Actually, there are quite a few. One way, a pretty sensible one, was proposed a couple of months ago at a meeting of the non-aligned countries in Tehran. In fact, they were just reiterating a proposal that's been around for decades, pressed particularly by Egypt, and has been approved by the UN General Assembly.
The proposal is to move toward establishing a nuclear-weapons-free zone in the region. That wouldn't be the answer to everything, but it would be a pretty significant step forward. And there were ways to proceed. Under UN auspices, there was to be an international conference in Finland last December to try to implement plans to move toward this. What happened? 
You won't read about it in the newspapers because it wasn't reported—only in specialist journals. In early November, Iran agreed to attend the meeting. A couple of days later President Obama cancelled the meeting, saying the time wasn't right. The European Parliament issued a statement calling for it to continue, as did the Arab states. Nothing resulted. So we'll move toward ever-harsher sanctions against the Iranian population—it doesn't hurt the regime—and maybe war. Who knows what will happen?
In Northeast Asia, it's the same sort of thing. North Korea may be the craziest country in the world. It's certainly a good competitor for that title. But it does make sense to try to figure out what's in the minds of people when they're acting in crazy ways. Why would they behave the way they do? Just imagine ourselves in their situation. Imagine what it meant in the Korean War years of the early 1950s for your country to be totally leveled, everything destroyed by a huge superpower, which furthermore was gloating about what it was doing. Imagine the imprint that would leave behind.
Bear in mind that the North Korean leadership is likely to have read the public military journals of this superpower at that time explaining that, since everything else in North Korea had been destroyed, the Air Force was sent to destroy North Korea's dams, huge dams that controlled the water supply—a war crime, by the way, for which people were hanged in Nuremberg. And these official journals were talking excitedly about how wonderful it was to see the water pouring down, digging out the valleys, and the Asians scurrying around trying to survive. The journals were exulting in what this meant to those "Asians," horrors beyond our imagination. It meant the destruction of their rice crop, which in turn meant starvation and death. How magnificent! It's not in our memory, but it's in their memory.
Let's turn to the present. There's an interesting recent history. In 1993, Israel and North Korea were moving towards an agreement in which North Korea would stop sending any missiles or military technology to the Middle East and Israel would recognize that country. President Clinton intervened and blocked it. Shortly after that, in retaliation, North Korea carried out a minor missile test. The U.S. and North Korea did then reach a framework agreement in 1994 that halted its nuclear work and was more or less honored by both sides. When George W. Bush came into office, North Korea had maybe one nuclear weapon and verifiably wasn't producing any more. 
Bush immediately launched his aggressive militarism, threatening North Korea—"axis of evil" and all that—so North Korea got back to work on its nuclear program. By the time Bush left office, they had eight to 10 nuclear weapons and a missile system, another great neocon achievement. In between, other things happened. In 2005, the U.S. and North Korea actually reached an agreement in which North Korea was to end all nuclear weapons and missile development. In return, the West, but mainly the U.S., was to provide a light-water reactor for its medical needs and end aggressive statements. They would then form a nonaggression pact and move toward accommodation.
It was pretty promising, but almost immediately Bush undermined it. He withdrew the offer of the light-water reactor and initiated programs to compel banks to stop handling any North Korean transactions, even perfectly legal ones. The North Koreans reacted by reviving their nuclear weapons program. And that's the way it's been going.
It's well known. You can read it in straight, mainstream American scholarship. What they say is: It's a pretty crazy regime, but it's also following a kind of tit-for-tat policy. You make a hostile gesture and we'll respond with some crazy gesture of our own. You make an accommodating gesture and we'll reciprocate in some way.
Lately, for instance, there have been South Korean-U.S. military exercises on the Korean peninsula which, from the North's point of view, have got to look threatening. We'd think they were threatening if they were going on in Canada and aimed at us. In the course of these, the most advanced bombers in history, Stealth B-2s and B-52s, are carrying out simulated nuclear bombing attacks right on North Korea's borders. 
This surely sets off alarm bells from the past. They remember that past, so they're reacting in a very aggressive, extreme way. Well, what comes to the West from all this is how crazy and how awful the North Korean leaders are. Yes, they are. But that's hardly the whole story, and this is the way the world is going.
It's not that there are no alternatives. The alternatives just aren't being taken. That's dangerous. So if you ask what the world is going to look like, it's not a pretty picture. Unless people do something about it. We always can.
Visit EcoWatch's ENERGY page for more related news on this topic.
——–
Click here to tell Congress to Expedite Renewable Energy.