This website uses cookies to ensure you get the best experience while browsing it. By clicking 'Got It' you're accepting these terms.
EcoWatch is one of the nation's leading environmental news sites engaging millions of readers every month. We are at the forefront of uniting all shades of green to ensure the health and longevity of our planet. EcoWatch is leading the charge in using online news to drive fundamental change.
Job Openings
Freelance Social Media Strategist
EcoWatch, a leading environmental media company, seeks a freelance social media strategist with a track record of success to work remotely. Must be a creative thinker who is comfortable working in a CMS. This role includes creating engaging posts for Facebook, Twitter, Instagram and LinkedIn; building on the company's existing social media strategy; developing and maintaining cross-posting partners; and generating social media reports. Interested candidates should send a cover letter and resume with their hourly rate to jobs@ecowatch.com.
If you are interested in an internship, please email bautista@ecowatch.com.

EcoWatch is one of the nation's leading environmental news sites engaging millions of readers every month. We are at the forefront of uniting all shades of green to ensure the health and longevity of our planet. EcoWatch is leading the charge in using online news to drive fundamental change.
Job Openings
Freelance Reporter

• 3+ years experience as an online news reporter
• Superior editing and writing skills
• Advanced knowledge of content management systems
• Compose 1 to 2 original news posts a day
• Ability to pitch relevant and trending news from credible sources
• Availability in early morning hours, eastern standard time
• Write articles that engage readers and encourage them to share content
• Write engaging and clickable headlines and craft content to go viral
• Expertise with image editing software
• Utilize best practices for SEO
• Must have an acute attention to detail
• Work efficiently during deadline situations
• Exhibit enthusiasm, flexibility and a positive attitude
To apply, email cover letter, resume and three references to jobs@ecowatch.com with the subject line APPLY FREELANCE REPORTER.
If you are interested in an internship, please email bautista@ecowatch.com.

EcoWatch Daily Newsletter
About 95 metric tons of oil leaked into the North Sea on Sunday from BP's Clair platform, and it will be left in the ocean. BP says the oil is moving away from land and dispersing naturally, but the spill is a reminder that accidents happen as more oil development is eyed for the Arctic.
Oil slick visible from spill off BP Clair platform in the North Sea.Maritime and Coastguard Agency
In what BP called a "technical issue," oil was released into the North Sea, located about 46 miles, west of the Shetland Islands. BP shut down the oil rig and said it is investigating the accident.
The oil company said it had conducted five aerial surveys with three more planned for Tuesday to monitor the oil slick.
"It is considered that the most appropriate response remains to allow the oil to disperse naturally at sea, but contingencies for other action have been prepared and are available, if required," BP said.
In addition to Clair, BP operates the Quad204 facility in the North Sea, 108 miles west of Shetland, in a field that has been drilled since 1998. The North Sea has seen oil and gas extraction for decades, with about half of the estimated reserves having already been taken. Oil production peaked in 1999, but production has been on an upswing in recent years. A recent discovery off Norway, the Johan Sverdrup oil field, is expected to begin production in 2019.
According to energy consultancy Crystol Energy, "The Johan Sverdrup field is expected to be one of the most important industrial projects in Norway over the next 50 years."
Crystol Energy
From 2000 to 2011, there were 4,123 separate oil spills in the North Sea, according to an investigation by The Guardian. Oil companies were fined for just seven of them. No single fine was greater than about $25,000.
There have been a number of major oil spills in the North Sea—the largest of which was the 1977 Bravo blowout that released an estimated 80,000 to 126,000 barrels of oil. The well spewed oil for seven days. In 2011, Shell spilled more than 200 metric tons from the Gannet Alpha platform, and a 2007 mishap while a tanker was loading oil resulted in a spill of 4,000 metric tons, or about 25,000 barrels of oil. None of these spills were alleged to have any ecological impact, and all but the Bravo blowout were allowed to disperse, unchecked, by the sea.
As the Arctic Ocean warms, oil giants are eyeing the northern seas for more oil exploration and development. It is a dangerous environment in which to drill.
As Greenpeace stated, "The long history of oil spills around the world has made one thing clear: the only way to prevent an oil spill is to keep oil in the ground."
The Arctic lacks the infrastructure to stop, mitigate or clean up a major oil spill, or even to quickly aid workers on a damaged platform.

But that isn't stopping oil companies. Today, Caelus Energy boasted of a "world-class" discovery that could turn out to be one of the largest finds in Alaska. In a press release, Caelus CEO Jim Musselman called the find "really exciting" and the company said the Smith Bay complex could produce 200,000 barrels of oil per day.
"Without the state tax credit programs, none of this would've happened, and I'm not sure Caelus would've come to explore in Alaska," Musselman added.
In June, 400 scientists signed a letter urging President Obama to stop any further oil development in the Chukchi and Beaufort Seas. A 2014 study found that the polar bear population in the Southern Beaufort Sea had dropped by an astounding 40 percent from 2001 to 2010.
"Accidents can and do happen, and in this extreme environment, the only truly safe approach to protect the unique and fragile Arctic offshore environment is no drilling whatsoever," Brad Ack, World Wildlife Fund's senior vice president for oceans, said in July.
It's well believed that by the year 2050, 9 billion people will call Earth home. With so many mouths to feed, the United Nations says that world food production must double or else people will go hungry. In order to feed Earth's swelling population, U.S. agriculture and agribusiness interests, notably Monsanto, have insisted that American farmers aggressively ramp up grain and meat production. Hugh Grant, the CEO of Monsanto, asserts that genetically modified (GMOs) crops are an essential tool to ensure global food security.
During an hour-long sit down about climate change at the inaugural South by South Lawn (SXSL) with President Obama and leading climate scientist Dr. Katharine Hayhoe on Monday, Leonardo DiCaprio made a clear dig at climate change deniers.
"The scientific consensus is in, and the argument is now over," the Revenant actor and environmental activist said in his opening remarks. "If you do not believe in climate change you do not believe in facts or science or empirical truths, and therefore in my opinion, you should not be allowed to hold public office."

Even though DiCaprio did not name names, the comment has been interpreted as an attack on Donald Trump, who believes climate change is "a hoax perpetrated by the Chinese" (even though the Republican presidential candidate denied what he actually said at last week's presidential debate).
The Oscar winner was at the White House to promote his new Fisher Stevens-directed documentary Before the Flood, which highlights the perils of a warming planet.
As The Guardian observed, Stevens said he plans to screen the film at college campuses and swing states such as Florida, where Marco Rubio is running for his Senate seat again.

"Rubio is a climate change denier, and we want to get these deniers out of Congress, to make them understand the Paris [climate] accords are important and that we need to do more," Stevens said.
Back at the SXSL stage, DiCaprio pressed the president to grade the global response on climate change thus far. While Obama said he was hopeful about some progress such as the Paris Agreement, more fuel-efficient cars and investment in clean energy, Obama warned that "obstructionist politics" are an obstacle in combating rising emissions.

"Climate change is happening even faster than five years ago or 10 years ago," Obama said. "What we're seeing is the pessimistic end of what was possible, the ranges that had been discerned or anticipated by scientists, which means we're really in a race against time. We can't put up with climate denial or obstructionist politics for very long, if we want to leave for the next generation beautiful days like today."
Obama also said that "the likelihood of an immediate carbon tax" to force businesses to curb emissions "is a ways away."

"It's frustrating because the science tells us we don't have time to compromise, but if we want to get anything done we have to take people's current views into account," he said.

President Barack Obama, scientist Katharine Hayhoe and Leonardo DiCaprio on the South Lawn of the White HouseWhite House screen grab
DiCaprio asked Hayhoe to name the most urgent threats facing modern-day civilization.

"We think of poverty, hunger and disease and people dying today from preventable causes that nobody should be dying from in 2016," Hayhoe said. "We think to ourselves climate change, we can deal with that later. We can no longer afford to deal with climate change later."
"On average every year 200,000 people die from air pollution from burning fossil fuels," in the U.S. alone, Hayhoe said. "Air pollution alone gives us all the reason we need to shift toward clean energy, let alone climate change."

Hayhoe suggested that a way of reaching climate skeptics "is to connect this issue to what's already in our hearts."
While climate change is a highly politicized issue, Obama said that people across the political spectrum must agree that tackling global warming is important for our future.

"There are many entry points into this issue, and we have to use all of them to get people to care about this," Obama said. "But at the end of the day, everyone cares about their kids and grandkids and the kind of world we pass on to them."

Before the Flood will air on the National Geographic Channel globally in 171 countries and 45 languages on Oct. 30.
DiCaprio said at SXSL that he was purposely releasing the documentary before the November election to highlight the political importance of the issue.
Watch the entire SXSL here (starts at 38:20):
Boyan Slat, the 22-year-old Dutch inventor and CEO behind The Ocean Cleanup, announced today preliminary results of the organization's latest major research mission, the Aerial Expedition, the first-ever aerial survey of an ocean garbage patch.
Boyan Slat next to Ocean Force One, which will help accurately quantify the ocean's biggest and most harmful debris—discarded fishing gear called ghost nets.The Ocean Cleanup
"One of the things that we are already able to share is right at the edge of [the Great Pacific Garbage Patch], we came across more objects than we were expecting to find in the center of the garbage patch," Slat said at a press conference at Moffett Airfield in Mountain View, California.
"During a period of just two and a half hours, our crew observed more than a thousand large objects of plastic floating underneath this aircraft," he continued. "Although we still need to get a detailed analysis of the results, it's really quite safe to say that it's worse than we thought. Again, this underlines the urgency of why we need to clean it up and that we really need to take care of the plastic that's already out there in the ocean."
The Ocean Cleanup's Aerial Expedition aims to accurately measure a particularly large and harmful type of marine debris known as ghost nets. The Ocean Cleanup crew determined that quantifying such objects will help resolve the "last piece of our puzzle" following last year's Mega Expedition, a 30-day reconnaissance mission that produced the first high-resolution map of the Great Pacific Garbage Patch, but came short in determining just how much plastic was in the ocean, especially larger items.

Items the crew spotted from yesterday's first test flight included ghost nets, discarded fishing gear, buoys, crates and other unidentifiable objects. The Ocean Cleanup
"We discovered that the conventional method of measuring ocean plastic, using nets of less than a meter (3 ft) wide, was inaccurate because it seriously underestimated the total amount of plastic. The reason for this is simple: the larger the objects, the rarer they are by count," the Ocean Cleanup team said.

So, instead of using boats to count ocean plastic, the team turned to planes. To conduct their aerial survey, a C130 Hercules aircraft was fitted with state-of-art sensors from Teledyne Optech, whose Coastal Zone Mapping and Imaging Lidar (CZMIL) can detect objects at oceanic depths of tens of meters. This technology can also provide researchers with a weight estimate by registering the size of the found objects.
The aircraft, dubbed Ocean Force One, is scheduled to make several flights from Sept. 26 to Oct. 7. These low-speed, low-altitude flights will inspect an estimated 6,000 square kilometers of the ocean, more than 300 times the area explored at the Mega Expedition.
Yesterday, mission crew completed the first of two test flights above Moffett Airfield to calibrate the aircraft's ocean plastic sensors and familiarize themselves with the survey protocol. The aircraft flew along the Northern boundary of the Great Pacific Garbage Patch, the plastic accumulation zone between Hawaii and California.

The Aerial Expedition's findings will be combined with the data collected on the Mega Expedition, resulting in a study expected to be published in early 2017.

In the video below, Slat gives a tour of the aircraft and the concept behind the mission:

"In order to solve the plastic pollution problem, it is essential to understand its dimensions," Julia Reisser, oceanographer and expedition leader, wrote in a blog post. "Knowing how much and what kind of plastic has accumulated in the ocean garbage patches is especially important. This determines the design of cleanup systems, the logistics of hauling plastic back to shore, the methods for recycling plastic and the costs of the cleanup."
Following the test flights, a team of 10 researchers, three sensor technicians and seven navigation personnel will participate on two long flights flying at a low airspeed of 140 knots and an altitude of 400 meters as it maps the garbage patch, according to Reisser.

"Four experienced observers will scour the ocean surface from the aircraft's open paratroop doors, while two computer operators log the data," Reisser wrote. "The pilots and navigator will also search for ocean plastic from their seats in the cockpit, where another computer operator will log their sightings."
"The carbon emissions generated by the aircraft will be offset through clean energy compensation," the team pointed out.

The visual survey is the final major research mission before the actual start of Slat's ambitious ocean cleanup effort. "This is really the last reconnaissance step before we start the real cleanup," he said at today's press conference.
At the young age of 17, the aerospace engineering student made headlines and inspired people around the world after coming up with a plastic-capturing concept that involves a massive static platform and long floating barriers that passively corrals plastics with wind and ocean currents.

The Ocean Cleanup, headquartered in Delft, The Netherlands now employs approximately 50 engineers and researchers.

In June, the Ocean Cleanup deployed a 100-meter clean-up boom, nicknamed Boomy McBoomface, in the North Sea in The Netherlands.

Inspecting the prototype in August.The Ocean Cleanup Facebook
The organization said that the next milestone for The Ocean Cleanup after the Aerial Expedition will be its Pacific Pilot, which is scheduled for launch in the second half of 2017.
The Ocean Cleanup's mission is to rid the world's oceans of plastic, a scourge that severely pollutes and damages ocean ecosystems and economies. About 8 million tons of plastic enters the oceans each year.
At today's press conference, Slat warned that large pieces of plastic can "crumble down into those small microplastics ... and that has a tremendous environmental impact if it ends up in the food chain." He also noted that ghost nets can be harmful because they can cause entanglements of aquatic life as well as ship propellors.
Full deployment of the Ocean Cleanup system is scheduled for 2020.
By Nika Knight
North America has lost more than 1.5 billion birds over the past 40 years, says the most comprehensive survey of landbird populations in Canada and the U.S. to date, and 86 species are threatened with total extinction—all thanks to human-caused habitat destruction and climate change.
Golden-winged warblers are one of the North American species most at risk for complete extinction. Caleb Putnam / Flickr
"Among those 86 species, 22 have already lost at least half of their population since 1970 and are projected to lose another 50 percent of their numbers within the next 40 years," reported the Canadian Press. "For at least six species, this 'half-life' window is fewer than 20 years."

"The information on urgency is quite alarming," study co-author Judith Kennedy of Environment Canada said to the Canadian Press. "We're really getting down to the dregs of some of these populations."
"I don't want my grandchild to go out in the forest and not hear the songbirds in the spring and that seems to be where we're headed right now," Andrew Couturier, senior analyst at Bird Studies Canada and a co-author of the report, told the Globe and Mail.
The report by Canadian conservation group Partners in Flight was released in August but was first widely reported on Wednesday by the Canadian Press and Globe and Mail.
The California condor, Gunnison sage grouse, ivory-billed woodpecker and Bachman's warbler are a few of the more well-known species on Partners in Flight's "Red Watch List," meaning they are the most at risk of extinction.
Those facing the most dramatic population declines are grassland birds, sagebrush and desert scrub species "and forest species dependent on specialized structural features or natural disturbance," the report says.
Indeed, another recent study just confirmed that the habitat of endangered sage grouses in 11 western U.S. states is being torn up because of "rampant" oil, gas and gold mining, precipitating the devastating loss of most of their chicks, the Washington Post reported Thursday.

The Globe and Mail noted:
"Even relatively abundant birds are dwindling in number, the report says. Chimney swifts, field sparrows and short-eared owls are among the common species that have lost more than half of their populations since 1970 and are expected to lose half of their current level in 40 years or less."
"Birds are often a bellwether of broader ecological health," Kennedy said to the Globe and Mail. Kennedy "noted that sickly birds were an early warning sign of the environmental damage caused by the pesticide DDT a generation ago."
"In some ways, the status of these birds could indicate the status of our own health," Kennedy warned.
This article was reposted with permission from our media associate Common Dreams.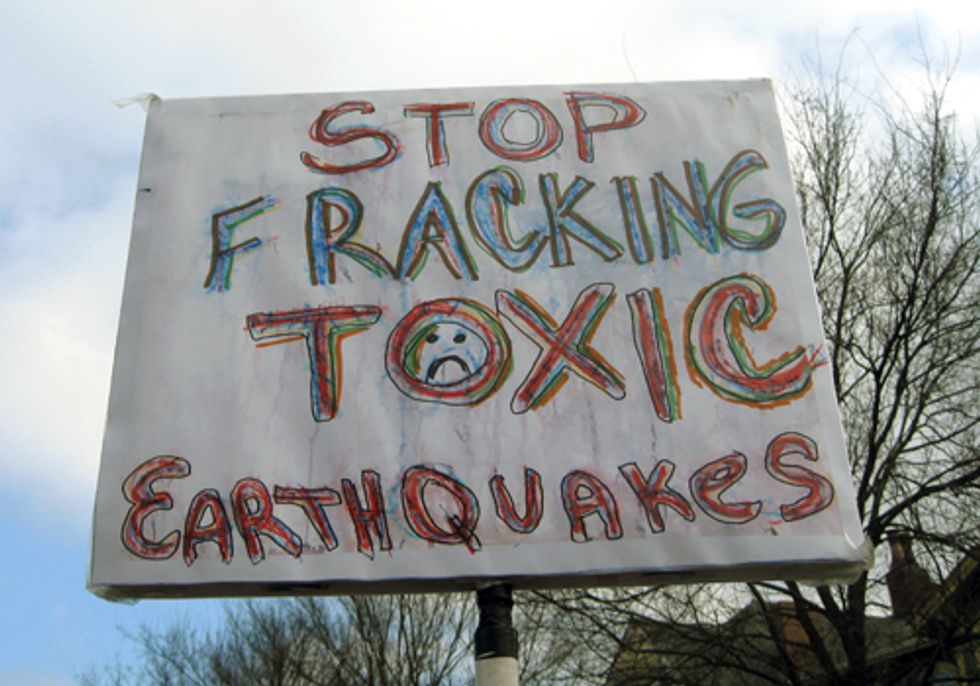 On Feb. 7, Gov. John Kasich (R-OH) delivered his State of the State address from the 1,100-seat Steubenville High School auditorium rather than keeping with tradition and delivering the speech from the Statehouse in the centrally located capital city of Columbus.
For many, it's not difficult to see why. His positions on issues such as education, energy, environment, voting rights and workers' rights have been out of touch with the will of the people.
Located on the West Virginia border—near Kasich's hometown of Mckees Rocks, Pa.—Steubenville is out of the way for most Ohioans. Many citizens see this break from 200 years of tradition as a ploy to evade what would surely be a swarm of protestors.
If the plan was to keep protestors away, it didn't work.
Steubenville is also located near the natural gas-rich shale-drilling fields of eastern Ohio. Fresh on the heels of 11 deep-injection well-related earthquakes in the nearby city of Youngstown, Ohio, in addition to an increasing number of high-profile fracking incidents across the country—most recently involving the contamination of drinking water in Pavilion, Wyo.—fracking is the hottest issue in the state, with Gov. Kasich leading the charge to fully tap into the state's vast resources with little to no safety regulations in place. Currently, Ohio is home to more than 180 injection wells and receives nearly 50 percent of its fracking wastewater from New York, Pennsylvania and other Northeastern states.
Despite overwhelming public support, current Ohio legislation—SB 213 and HB 345—that would impose a moratorium on fracking permits and waste-disposal injection wells until the U.S. Environmental Protection Agency concludes a study to determine whether there's a link between drill sites and contaminated drinking water has been stonewalled in committee.
Adding to environmental and health concerns is the recently reported news that Ohio's oil and gas companies pay taxes to the state based on an honor system, meaning "well owners are required to report the amount of natural gas they 'sever' from the earth and file severance-tax returns each quarter," according to the Youngstown Vindicator's website, Vindy.com.
"You've got to be kidding me," said State Rep. Robert Hagan (D-Youngstown). "This is a real failure of government. It is all too apparent now that the Department of Taxation and the Ohio Department of Natural Resources give the oil and gas industry a free pass to write a tax check to the state based on what they think is fair."
The report, carried out by a coalition of Northeast Ohio journalism programs, cited at least a $3 million discrepancy for 2010 in what was collected by the Ohio Department of Taxation and what was reported by the Ohio Department of Natural Resources and the Ohio Oil and Gas Association.
"As unbelievable as it may seem, the industry tells the state how much gas they've extracted and pays taxes based on that figure," said Josh Fox, director of the Oscar-nominated documentary Gasland. "There's no oversight or monitoring.  In fact, the state lacks the authority to check meters at the wellhead and compare those readings against the figures turned in by producers. The producers pay what they want to pay—no questions asked."
To read Josh Fox's statement from today's rally, click here.
Rally speakers included:
The rally also addressed the following:
Kasich isn't standing up for us and someone needs to be fighting for our future and our communities.
While our citizens continue to struggle, Kasich is giving away the state to his biggest campaign contributors.
Education. Environment. Voting Rights. Workers' Rights. Attack after attack—Kasich and his allies are working for their corporate special interests, continuing to ignore the will of the people.
After the beating Kasich took on Issue 2, he knows the people are against him. So instead of having the State of the State at the Statehouse in Columbus, Kasich is running away to a small venue in hopes that no one will make the effort to travel there.
Citizens from across Ohio are going to come together and protest Kasich's fire-sale of Ohio to his corporate friends. We will show him that the 99 percent won't sit back while he rewards his 1 percent campaign contributors.
The days of rewarding campaign contributors with Ohio's tax dollars are over.
The corporate takeover of Ohio stops here.
To see pictures of today's rally, visit EcoWatch's Facebook page.
To learn more about hydraulic fracturing issues nationally and internationally, visit EcoWatch's Fracking page.