This website uses cookies to ensure you get the best experience while browsing it. By clicking 'Got It' you're accepting these terms.


The best of EcoWatch, right in your inbox. Sign up for our email newsletter!
Copal Tree Lodge / Facebook
By Brian Barth
Agricultural adventure awaits you in the lower latitudes. Here are a few ideas to salivate over, from the rootsy to the ritzy.
A vineyard seen in Mendocino County, next to U.S. Highway 101. Wikimedia Commons / CC BY-SA 3.0
By Brian Barth
Looking for a different idea for a summer getaway? Agritourism—a general term referring to the notion of visiting a farm for recreational or educational purposes—is a growing sector that gives anyone a chance to experience farm life, while also providing another revenue stream to said farmers—no WOOFing required (unless you want!).
EcoWatch Daily Newsletter
The mountains of Haiti. PO2 Daniel Barker / DVIDS
The tropical Caribbean island of Haiti is a paradise with a rich, fascinating history, natural wonders and diverse cultural offerings. It has also been named by some as the next big thing in regional tourism.
But ecotourism in particular could become important for Haiti, with its rich land and sea biodiversity. Globally, the business of ecotourism generates more than $600 billion a year and is connected to hundreds of thousands of jobs.
With its warm, turquoise waters, gently undulating palm trees and sunny climate, it's not hard to see why Fiji is such a popular travel destination. This group of islands in the South Pacific encapsulates the idea of tropical paradise and today over a quarter of the economy stems from travel. While the economic benefits of such booming tourism are great, the ecological drawbacks can be even greater.

Guest rooms are made in the traditional Fijian style with natural, sustainable materials.Selene Nelson
Increased tourism means increased greenhouse gas emissions, water consumption and waste management. Climate change is having a palpable effect on Fiji and other South Pacific islands, where the seasons have become unpredictable and rising sea levels create noticeably higher tides. Dismissal of globing warming just doesn't wash in a country where you can literally see it happening.

Hotels and resorts are some of the worst environmental offenders due to the fact that each guest room requires its own energy and water supply, even when the room is empty. Reducing these quantities is becoming a necessary duty in the travel industry. Thankfully, Fiji is showcasing some of the best examples of sustainable tourism in the world—not just the South Pacific.

Leading the charge is Jean-Michel Cousteau Resort, an island resort that's been a pioneer in green tourism since its opening in the 1990s. Rather than just throwing around a few words like "eco" and "sustainable" like other supposedly green hotels I've visited, almost every feature of Jean-Michel Cousteau Resort is designed to reduce its carbon footprint.
All furniture is made from sustainably harvested materials and using traditional construction techniques.Selene Nelson
But this is, undeniably, a luxury resort—so how can a big, luxury resort manage to be so green? And perhaps more importantly, which of their green initiatives are shaping sustainable travel in the South Pacific and across the globe?

Adventure travel supports wildlife and local communities but can also be an invigorating and healthy vacation.
I was shocked when I found out the travel industry generates nearly 10 percent of the world's GDP and rising each year. People are travelling and travelling more often. Tourism employs 1 of every 11 people in the world.
Along with economic impact, travel presents opportunities for growth, learning and the exchange of ideas. Travel and tourism are critical in maintaining our economy and this is especially true in developing countries. On global and local levels tourism is essential for sustainable development. As a result, the travel industry has become a sector where you can see shining examples of environmentally-conscious principles put into action that protect the planet and lift up the world's peoples.

What is sustainable tourism? As defined by the United Nations, it is that which takes full account of its current and future economic, social and environmental impacts, addressing the needs of visitors, the industry, the environment and host communities.
The UN has declared 2017 as the International Year of Sustainable Tourism. According to the Secretary-General of the World Travel Organization, Taleb Rifai, this is "a unique opportunity to advance the contribution of the tourism sector to the three pillars of sustainability—economic, social and environmental, while raising awareness of the true dimensions of a sector which is often undervalued."
Tourism is directly associated with three of the 17 UN's 2030 Sustainable Development Goals:
Goal 8: Promote sustained, inclusive and sustainable economic growth, full and productive employment and decent work for all.
Goal 12: Ensure sustainable consumption and production patterns.
Goal 14: Conserve and sustainably use the oceans, seas and marine resources for sustainable development.
We have to alleviate poverty and provide people with basic healthcare, food to eat and fresh water. However, this becomes impossible if we continue to erode the natural systems that support all life. Thankfully, nature travel and learning about cultural heritage are among the world's fastest growing tourism sectors. In order to save the rhinos, elephants and tigers you have to help those that depend on the same land and resources. Tourism focused on wildlife ensures those animals become more valuable alive than dead. Fortunately, adventure tourism, which is focused on nature, wildlife and cultural experiences, has grown 65 percent year over year since 2009. Soon it will surpass $300 billion in annual revenues, reports George Washington University in their annual Adventure Tourism Market Report.
According to Booking.com's 2015 survey of more than 32,000 global travelers in 16 countries, 52 percent of adult travelers said they are more likely to choose travel based on destinations that reduce environmental impact or ensure that tourism has a positive impact on the local community. And Americans (53 percent) are among the world's top sustainable-minded travelers. With this sharply growing trend hospitality and travel companies that do not keep up with sustainable travel will lose out.
Since 2014, I have been participating as a judge for National Geographic's World Legacy Awards, which honors companies, organizations and destinations-ranging from airlines to hotels, from communities to countries driving the positive transformation of the tourism industry, showcasing leaders and visionaries in sustainable tourism best practices. Costas Christ, chairman of the awards, is credited with defining the term ecotourism which has now been standardized globally by the UN. Costas also serves as the director of sustainability for Virtuoso and moderated a panel I was on this year at the Virtuoso Travel Week conference. Virtuoso Travel Week is an intense five days where preferred luxury travel agents and providers come together to do hundreds of millions of dollars of business, as well as recognize industry leaders in sustainable tourism as the market continues to become more aware of the need to drive a sustainable strategy. It's about the triple bottom line—people, profit and planet.
You can stay at Ted Turner's formerly private residence on endless acres of pristine nature at Ladder Ranch with Ted Turner Expeditions.
Land and biodiversity conservation is one of my family's most beloved passions. My father launched Ted Turner Expeditions (TTX) in 2015 with three properties in New Mexico. My father, a well known leader in conservation, has worked to restore the overgrazed habitat of these grand ranches to their former pre-cattle glory. Having a passion for bison since his childhood, dad has made sure this iconic species is an important part of the restoration. There has also been a commitment to preserving and enhancing biodiversity.
Through the work of the Turner Endangered Species Fund biologists and other partner organizations have been working to increase the numbers of imperiled and endangered species, among them the Mexican Gray Wolf, Bolson Tortoise and Chiricahua Leopard Frog. Visitors can stay on one of a number of properties, including some of my father's formerly-private residences and immerse themselves in an incredible American landscape that has been dubbed by some as the American Serengeti. As visitors enjoy the beauty of these natural landscapes they are also becoming more aware of the importance of conserving the land and species for many generations to come. Two TTX ranches, the Armendaris Ranch and Ladder Ranch, are located in one of two of the most critically important biodiversity hotspots in North America. With TTX, my father has created a model for other private land and business owners that you can manage these landscapes for profit and conservation and the two are not mutually exclusive.

With my family as we explore Iceland and their green energy economy.
As you begin to plan your 2017 vacation, consider destinations and accommodations that employ environmentally sustainable best practices. You can not imagine how much good your visit can do for the local people and animals. My favorite trips have been transformative experiences in nature, topping the list are the Arctic circle, the Amazon river basin and the Galapagos. I always come away restored and more committed than ever to work to make sure these special places are available for our children and future generations. On my bucket list are the Antarctic, the awe-inspiring Sandhill crane migration along Nebraska's Platte River and central Mexico to see the wintering grounds of the imperiled Monarch butterflies.

Here are 10 of the best ecolodges, according to National Geographic:

1. South Africa: Bushmans Kloof Wilderness Reserve
2. Indonesia: Misool Eco Resort
3. Peru: Inkaterra Reserva Amazónica
4. Australia: Great Ocean Ecolodge
5. Greece: Milia Mountain Retreat
6. Nicaragua: Jicaro Island Ecolodge
7. China: Yangshuo Mountain Retreat
8. Sri Lanka: Jetwing Vil Uyana
9. Poland: Eco-Frontiers Ranch
10. Namibia: Damaraland Camp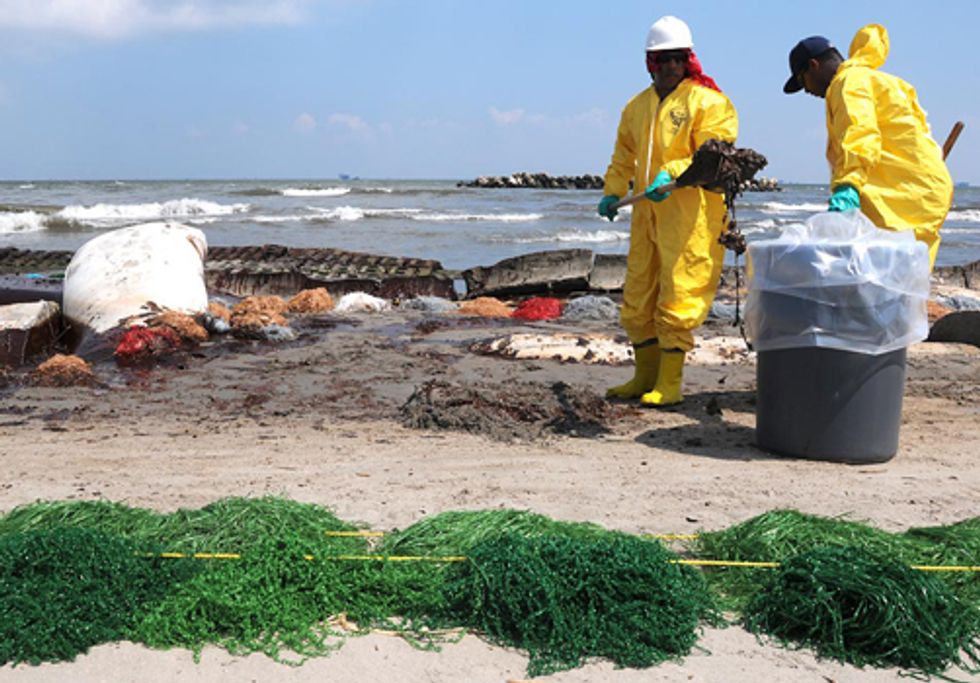 By Tammy Herrington
During the summer of 2010, the nation watched in horror as gallons of oil spewed into the Gulf of Mexico. While many outside the Gulf region are hearing that we are back to normal, we continue to find tarballs on our beaches, mats of tar beneath the surface of local waters and fish with lesions, leading to questions about long-term impacts.
The RESTORE Act, or Senate Bill 1400, was introduced by Gulf Coast Senators as an effort to send 80 percent of the fines BP will pay from this disaster back to the Gulf Coast for environmental and economic recovery. It has passed through committee, but we now need it to pass a vote of the full Senate. Sending this money to the region that suffered can make a huge impact on Gulf economies and make the area more resilient to future disasters. The Gulf produces nearly half of the U.S. domestic energy supply, holds seven of the nation's ten largest ports, and produces two-thirds of the nation's shrimp and oysters. The health of these resources truly impacts the entire nation.
What we need from you:
Mobile Baykeeper, in conjunction with the Women of the Storm, needs friends in non-Gulf Coast states to fax and/or phone their two U.S. senators. Ask for the staffer on environmental or governmental affairs, and urge the senator to support the RESTORE Act. You can find the names and contact information from Senators in all 50 states here. Our goal is to make contact with Senators by Feb. 3, 2012.
Message:
The Gulf Coast provides energy independence, commerce, ecotourism, and national security to the entire nation. Restoration of Gulf resources is critical for the region as well as the nation.
If most of the fine dollars are not designated to environmental and economic recovery of the Gulf Coast, they will disappear into the federal budget. Applying BP fine dollars to Gulf restoration will create thousands of jobs and make the area more resilient to future disasters.
When a disaster of this magnitude strikes, the entire nation must support the affected area. The Gulf Coast's environment, economy, and communities bore the brunt of this disaster, and these fines should go back to the Gulf Coast to fix what has been broken. The next disaster could be in that Senator's state. We would want citizens of that state to get fair and reasonable support.
Sample content for fax or phone call:
"Senator (NAME), I support the RESTORE Act because I know the importance of the Gulf Coast to (Senator's state), the U.S. and around the world. I hope you will support it too." Then add a version of the message points above.
Feedback:
Email me at therrington@mobilebaykeeper.org the states in which you have made contact with friends to call their senators and the information you and your friends have received about senatorial positions on the RESTORE Act so we can keep track of our activity. Thank you for your help. We are grateful to have your support and hopeful that we can work together to pass the RESTORE Act in 2012.
For more information, click here.