This website uses cookies to ensure you get the best experience while browsing it. By clicking 'Got It' you're accepting these terms.
Half of the extracted resources used were sand, clay, gravel and cement, seen above, for building, along with the other minerals that produce fertilizer. Cavan Images / Cavan / Getty Images
The world is using up more and more resources and global recycling is falling. That's the grim takeaway from a new report by the Circle Economy think tank, which found that the world used up more than 110 billion tons, or 100.6 billion metric tons, of natural resources, as Agence France-Presse (AFP) reported.
Low water levels in Cape Town's Theewaterskloof dam could be a preview of climate-related droughts to come.
Zaian /
CC BY-SA 4.0
EcoWatch Daily Newsletter
It is instructive to observe the reaction to the Piketty phenomenon—a 700-page treatise on political economy that became an overnight Amazon bestseller deserving, according to Larry Summers, of a Nobel Prize. It is similarly instructive to note the spectacle of the viral Russell Brand interview with the BBC's Jeremy Paxman in which Brand pretty much shreds Paxman and calls for revolution. I can't claim to have actually read Piketty's tome, but I've read a lot of the reviews, and I have watched the Russell Brand video. Regardless of where you come down on their arguments, the response to Piketty's book and the wide appeal of Brand's rant taken together tell us that trouble is brewing.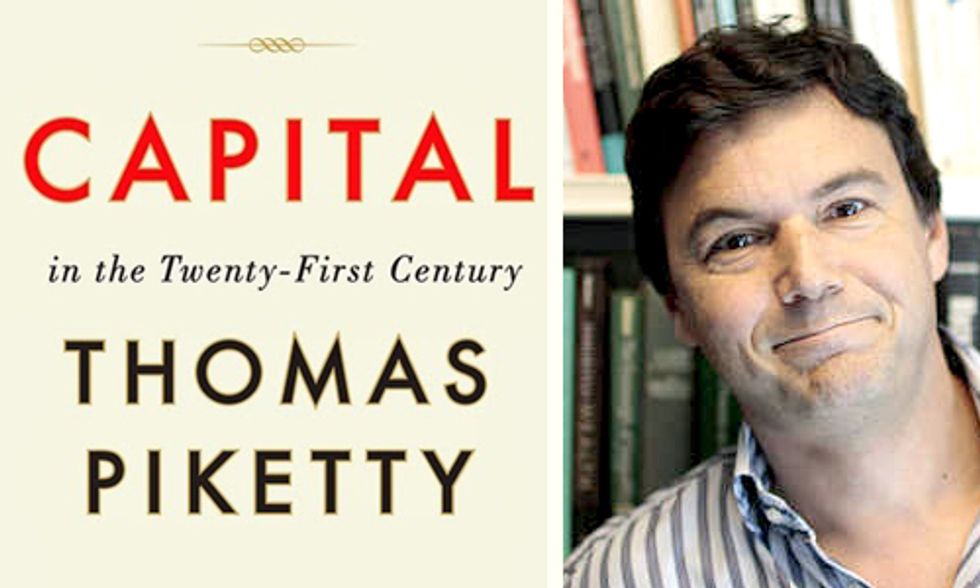 However, the trouble is far deeper than what the media is currently hyping. While it is true that the long-term dynamics of unequal wealth distribution are indeed unsustainable and unconscionable as Piketty highlights in Capital in the 21st Century, a reality much less obvious, and yet more "terrifying" (to use a Piketty expression) is buried in the data of those 700 pages.
In the concluding section of his book, Piketty calls r > g the "central contradiction of capitalism," where r is the return on capital invested and g is the economy's growth rate. The latter, Piketty suggests, is what determines wage growth rates. The central contradiction, he elaborates, is that since returns to capital exceed returns to labor is hard-wired into the system, so too is rising inequality, absent wars or depressions.
I for one fail to see how this is the "central contradiction of capitalism." Piketty's discovery, out of his exhaustive search and analysis of the data, is that Nobel prize winning economist Simon Kuznets and his hypothesis of a "Kuznets Curve" was wrong. Income inequality does not, Piketty asserts, first increase as a country develops and then reverse course and decline along some inverted U-shaped curve as Kuznets suggested.
Turns out "the rich just keep getting richer" after all.
Has this ever really been a subject for serious debate? Nothing in my adult experience on Wall Street and the decade since contradicts the "rich get richer" hypothesis. But the story goes beyond r > g. For example, Marisa Meyer's $200mm worth of stock options value (thank you, Dan Loeb, thank you, Alibaba, sorry Yahoo! shareholders) on no initial investment and little tangible progress turning around the operations of Yahoo! is another important part of the story.
I'm delighted to see Piketty reinvigorate the serious discussion on inequality that the Occupy Movement began but didn't know what to do with. But as is typical of mainstream economists of all political stripes, Piketty misses the true contradiction of capitalism (and socialism for that matter), which is the assumption that exponential growth can continue forever on a finite planet. It is an assumption that is based on the flawed theory, in direct conflict with the laws (not theories) of thermodynamics, that the economy is somehow separate and apart from the biosphere. How is it that we continue to ignore the expanding literature on this obvious contradiction, even as accelerating climate change events are now everyday front-page news?
Actually, Piketty unwittingly and indirectly helps to illuminate that fundamental contradiction in a chart that reports the concentration of "slave capital" in the south when slave labor was the "energy source" that powered that region's dominant agricultural economy.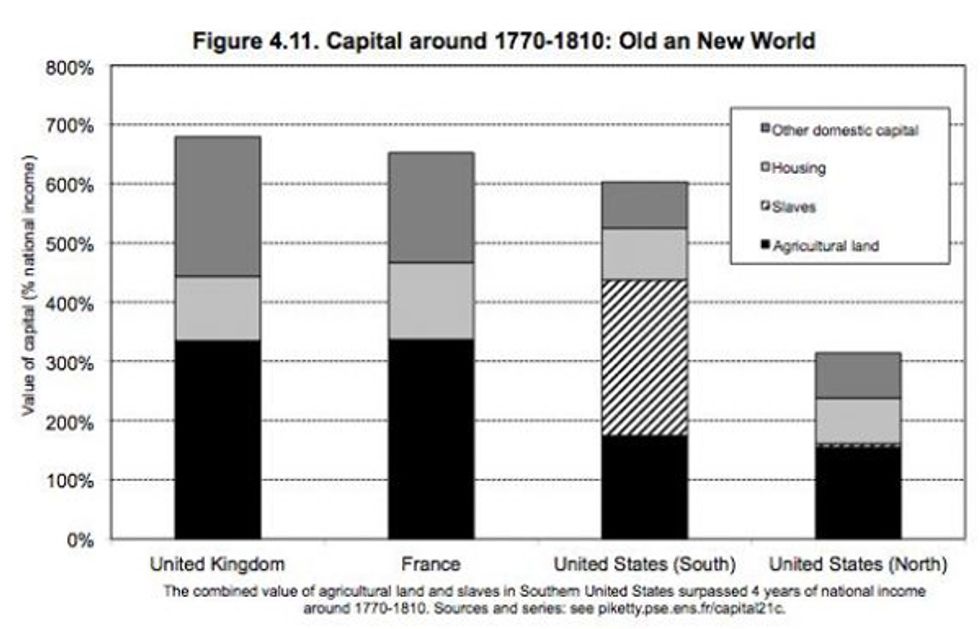 According to Piketty's data, it was neither land nor financial capital but slave capital that comprised the largest share of all wealth, a stunning 40 percent of it. Not surprisingly, that wealth was highly concentrated. If we ignore for the moment the obvious ethical implications of what Piketty's chart reveals—inequality driven to its most violent extreme—we see through to another deeply troubling revelation. Just as the growth of the South's agricultural economy rested on the exploitation of slave capital, as if there would be no negative consequences to the health of the whole, so our current economy's exponential growth depends upon our exploitation of fossil fuel assets and the over taxing of the Earth's resources and waste sinks as if there would be no consequences to the health of the whole. The former violated the requirements of a healthy social system; the latter violates the requirements of a healthy planet.
Fossil fuel assets, in particular, are the modern day equivalent of slave capital. Previously, I estimated that we are facing a $20 Trillion Big Choice, the ethical challenge of our era. The assumption of ever-expanding use and abuse of numerous material resources (including fossil-fuel-based energy), and the overuse and pollution of the Earth's natural waste sinks as the core operating characteristic of our economic system—this is the real central contradiction of our modern capitalist system.
Facing a loss of 40 percent of their "capital assets," the South fought a horrific Civil War. It took the immense courage of a moderate Republican president to see our nation through that moral and economic crisis.
Where is our modern day Abe Lincoln?
——–
YOU ALSO MIGHT LIKE
Realities of Shifting to a Sustainable Economy
Dark Money Documentary Exposes Koch Brothers' Spending Secrets
Harvard and Brown Fail Moral Leadership Exam
——–
The International Energy Agency (IEA) released today a major new report warning that nothing short of an energy sector revolution is required to protect the world from runaway climate change and a global temperature rise beyond two degrees Celsius.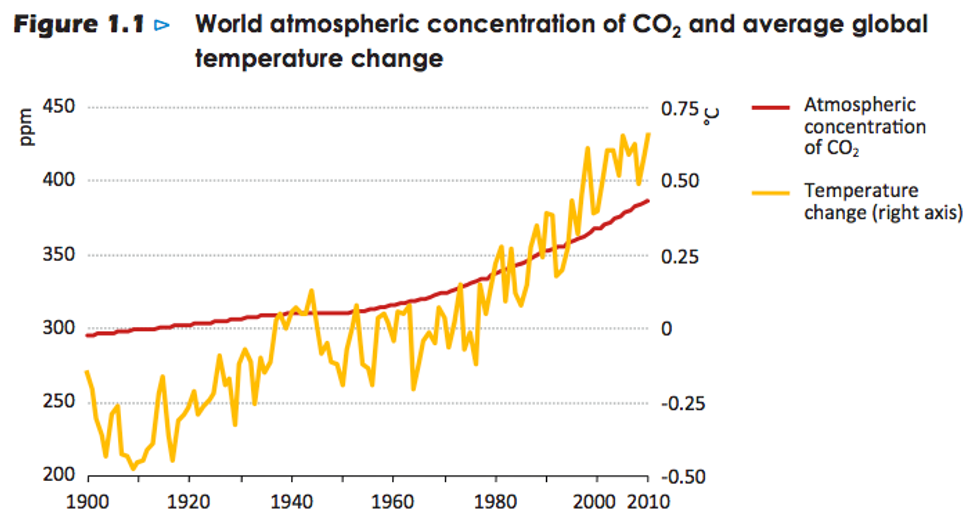 In what is the IEA's most urgent call for climate action yet, the World Energy Outlook Special Report 2013: Redrawing the Energy Climate Map advocates a "reorientation of an energy system currently dominated by fossil fuels," and proposes near-term action to clean up the power sector and halt the increase of global emissions by 2020.
It also calls for "transformational" change in energy generation worldwide in the longer term.
IEA Executive Director Maria van der Hoeven said:
Climate change has quite frankly slipped to the back burner of policy priorities. But the problem is not going away—quite the opposite.

This WEO [World Energy Outlook] Special Report is a timely reminder that climate change must remain a permanent and prominent item on the policy agenda. It seeks to outline the intensive action which we need to start implementing today, without waiting to 2020 or later for a global agreement to take effect.
Compared to 2011, energy-related carbon dioxide emissions in 2012 have increased by 1.4 percent.
A new global agreement aimed at meeting this target will not emerge before 2015 and is not likely to be implemented before 2020.
Meanwhile, the world is drifting further towards dangerous levels of average temperature rise and runaway climate change; the IEA projects an increase of 3.6 to 5.3 degrees Celsius by the end of the century. Scientists warn this level of warming could threaten civilization as we know it.
In its "4-for-2 degrees Celsius" scenario, the report proposes four near-term "pragmatic and achievable" measures to put the world on track to limiting warming to safer levels and could reduce emissions by eight percent on levels otherwise expected by 2020 without harming economic growth.
Targeted energy efficiency measures in buildings, industry and transport would account for nearly half of these savings by 2020 while limiting the construction and use of the least-efficient coal-fired power plants could deliver another 20 percent of these savings—while helping to curb local air pollution.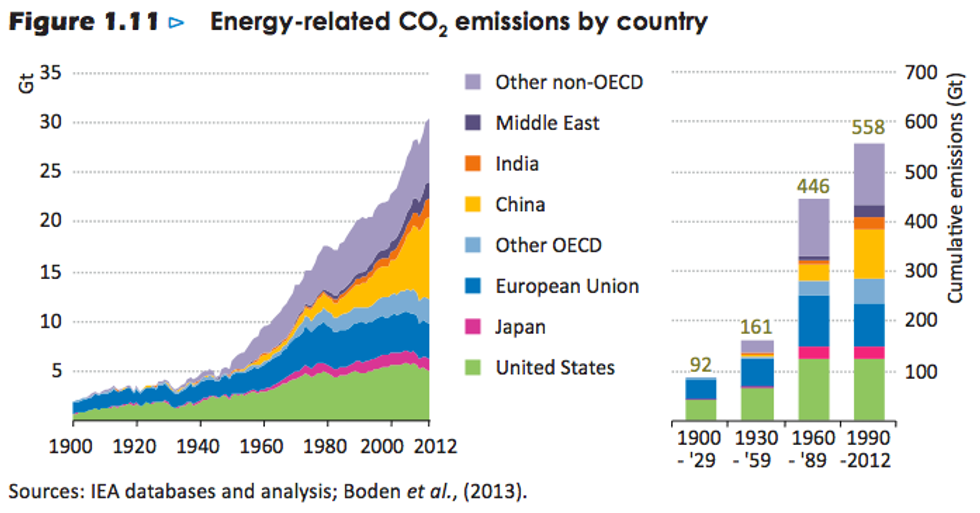 The report estimated renewable energy generation would increase from around 20 percent to 27 percent over the same period to fill the void created.
Halving methane releases from flaring in the oil and gas industry could provide another 18 percent of the savings and implementing a partial phase of out fossil fuel consumption subsidies would account for 12 percent, according to the report.
The IEA also makes the economic case for avoiding a looming 2017 lock-in for long-term warming above 2ºC. While delaying climate action across the entire energy system till 2020 would save $1.5 trillion, the report estimates that an additional $5 trillion will be needed in low-carbon investment after this date.
Fossil fuel power plants have long life cycles and are therefore exposed to serious risks in a carbon-constrained world, facing early and costly retirement or retrofitting, or even becoming "stranded assets."
In a report last year, the IEA warned that—to stay below two degrees Celsius—about two-thirds of proven global fossil fuel reserves have to stay in the ground. Yet companies spend vast amounts not only digging up known fossil fuel reserves but by looking for and developing new fossil fuel reserves.
A recent report from the Carbon Tracker Initiative found that the financial industry invested $674 billion in such projects last year alone, and warned that $6 trillion could be pumped into a "carbon bubble" over the next decade.
In response to this dire outlook for carbon-intensive utilities, the IEA promotes a strong global carbon market and carbon capture and storage (CCS) technologies as possible ways to avoid problems and to create a role for fossil fuels in the future energy mix of a carbon-constrained world.
However, in the same report the IEA also warns that the use of CCS "remains distant" as the technology has yet to be deployed at scale, and it could still be many years before the power sector could rely on it, if full-scale deployment ever becomes a reality.
Greenpeace also warns that power plants fitted with the technology require 11-40 percent more fuel and thus boost dependence on fossil fuels even further.
While generally welcoming the IEA's call to action, environmental groups have upped the stakes.
Samantha Smith, leader of the World Wildlife Fund (WWF) Global Climate & Energy Initiative said:
This is a welcome intervention by the IEA, particularly the focus on energy efficiency standards for lighting, cars and appliances as well as cutting methane losses in oil and gas production. Unfortunately, the other policies are incomplete, not ambitious enough or regionally biased. With the world on track for catastrophic levels of global warming, as the IEA says, these stop-gap proposals simply don't go far enough.
Building on IEA arguments they argue that the IEA should set a target to cut emissions from coal power 20 percent by 2020—targeting all power stations.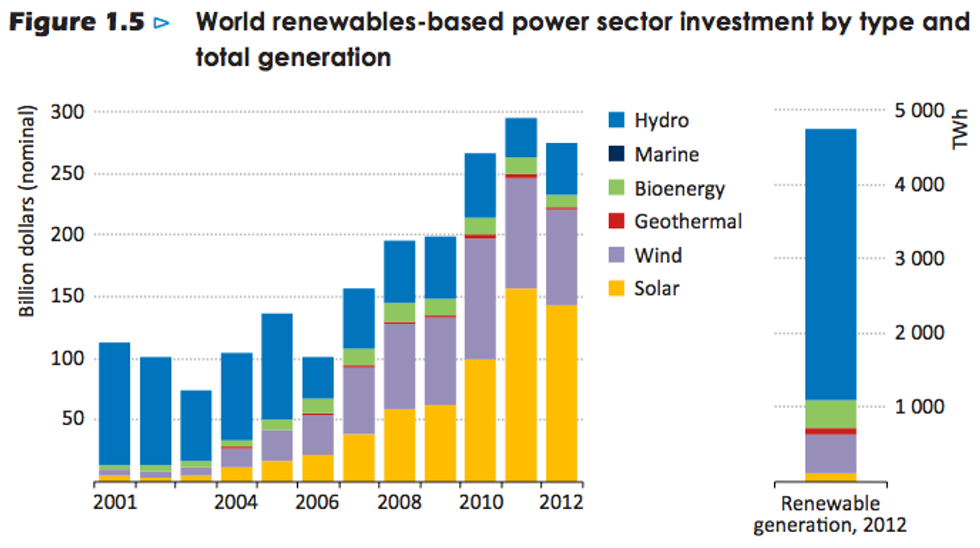 They also call for deeper cuts in fossil fuel subsidies, phasing out both consumption subsidies and production subsidies—those providing incentive for exploring for new reserves—in both developed and developing countries.
According to the IEA, $523 billion was spent globally in 2011—up 30 percent from 2010 and huge in comparison to the $88 billion spent on subsidising clean renewables.
WWF says governments should instead use taxpayer money to boost renewables and fight energy poverty.
Visit EcoWatch's CLIMATE CHANGE page for more related news on this topic.
——–
Click here to tell Congress to Expedite Renewable Energy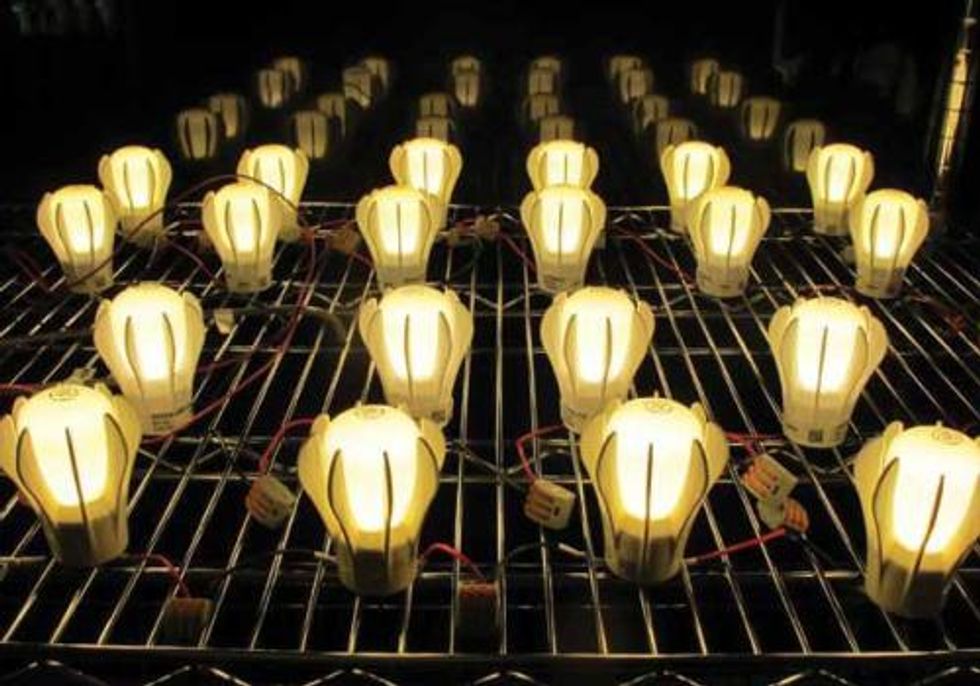 A century after the seeds for the development of the incandescent bulb were planted in Ohio and GE began operations in Nela Park, a new report shines a spotlight on the state's burgeoning advanced lighting industry that is leading global energy efficiency innovations. With more than 4 billion screw-based bulbs being transitioned to new technologies in the United States alone, Ohio's economy stands to gain significantly from the companies leading the change. The state already boasts 1500 manufacturing jobs from the industry with potential for many more to come. The new report Better Bulbs, Better Jobs, released today by the Natural Resources Defense Council, highlights the potential with case studies of large and small job producers across the state.
"If you weren't watching, it might be a surprise to learn that Ohio is a world leader in developing energy efficient lighting," said Dylan Sullivan, staff scientist at the Natural Resources Defense Council and a co-author of the report. "There is huge potential for this industry, but we need to retain Ohio's smart policies to secure future growth. Rolling back the policies that strengthen the market for these innovative products means rolling back jobs just starting to come online all over the state."
The report outlines federal and state policies that are helping to create a market for advanced lighting technologies and includes seven case studies of Ohio companies driving the industry. TCP Lighting in Aurora (near Cleveland) has been central to the development of CFL bulbs, and is now poised to open a manufacturing facility in Ohio. Cincinnati's LSI LED created the fixtures used to light New York's landmark George Washington Bridge. Smaller companies like J&M Electrical Supply and J's Lighting Services, both in Cambridge, are helping manufacturing businesses reduce costs and stay in Ohio by making the transition to more efficient lighting.
In Ohio, the state's existing energy efficiency standard has been hugely impactful. The technologies put in place in 2009 and 2010 as a result of the efficiency standards will save customers over $350 million over their lifetime. And the transition to advanced lighting offers huge benefits outside of Ohio too. The nationwide transition to more efficient lighting means:
• Electric bill savings of more than $12.5 billion per year
• Energy savings equivalent to 30 large power plants
• Reduced pollution, including a 60 percent reduction in mercury emissions from power plants and prevention of approximately 100 million tons of carbon dioxide pollution per year
For more information and to read the full report, click here.
--------
The Natural Resources Defense Council (NRDC) is an international nonprofit environmental organization with more than 1.3 million members and online activists. Since 1970, our lawyers, scientists and other environmental specialists have worked to protect the world's natural resources, public health and the environment. NRDC has offices in New York City, Washington, D.C., Los Angeles, San Francisco, Chicago, Livingston, Montana and Beijing. Visit us at www.nrdc.org.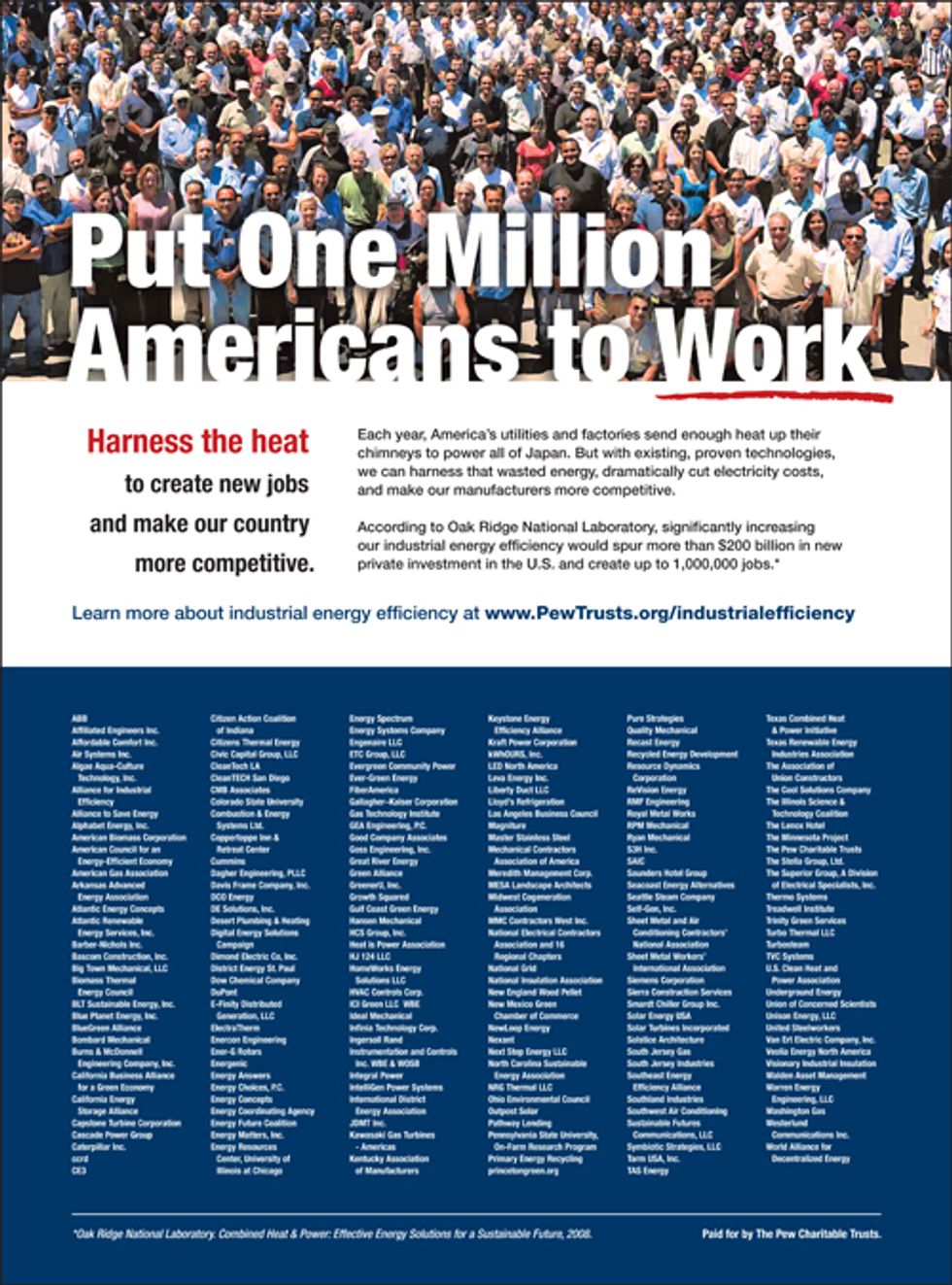 As energy is expected to play prominently in the State of the Union address, the Pew Clean Energy Program and more than 200 businesses and trade groups are touting the economic benefits of increasing industrial efficiency in a full-page advertisement Tuesday, Jan. 24, in the Hill, Politico, and Roll Call. Signers include Caterpillar, DuPont, Dow Chemical Co., Siemens Corp., American Biomass Corp., American Council for an Energy-Efficient Economy, Master Stainless Steel, Los Angeles Business Council, Texas Combined Heat and Power Initiative, and the U.S. Clean Heat and Power Association. The ad reads:
"Each year, America's utilities and factories send enough heat up their chimneys to power all of Japan. But with existing, proven technologies, we can harness that wasted energy, dramatically cut electricity costs, and make our manufacturers more competitive.
"According to Oak Ridge National Laboratory, significantly increasing our industrial energy efficiency would spur more than $200 billion in new private investment in the U.S. and create up to 1,000,000 jobs. Harness the heat to create new jobs and make our country more competitive."
To see the full size ad, click here.
Many manufacturers, hotels, campuses, and utilities across the country already recycle their waste heat—a process known as cogeneration, or combined heat and power (CHP). But much more can be done. The Oak Ridge lab estimates that the U.S. has the potential to double industrial energy efficiency, providing impressive economic benefits. Rising energy prices affect companies large and small. Using wasted heat and recycling energy can dramatically reduce costs and give businesses the flexibility to invest those savings elsewhere. Click here for more information.
Three bipartisan bills in the U.S. House deal with industrial energy efficiency, and a bill authored by Rep. Charles F. Bass (R-NH), which seeks to double CHP, has been drafted. A Senate bill authored by Jeanne Shaheen (D-NH) and Rob Portman (R-OH) on efficiency includes a CHP provision. Sens. Jeff Bingaman (D-NM) and Olympia Snowe (R-ME) are expected to submit a bill soon that also will address industrial efficiency.
And Capitol Hill will soon have its own CHP project. The Capitol Power Plant is developing a design for producing 18 MW of electricity through improved energy-efficiency processes to heat congressional buildings. The improvements will help Congress reduce energy use by up to 30 percent.
Although installation requires an initial investment, companies recoup their costs and start to see savings within a few years. For example:
The Penn England Farm employs CHP to produce electricity for its dairy operations.
The Cox Interior Inc. manufacturing plant in Campbellsville, Ky., operates a 5-MW system that saves the company $4.5 million a year. It also produces more electricity than the company needs, so Cox Interior sells about $50,000 worth of power back to the local utility.
The Sierra Nevada Brewing Co. in Chico, Nevada, installed a 1-MW system that will save the company $400,000 a year and pay for itself within five years of operation.
Lorin Industries in Michigan has recycled its wasted heat since 1943 and expanded capacity in 1990. The system saves the company $540,000 a year, and the newest addition paid for itself in just four years—largely due to the significant decrease in the company's need to purchase more costly peak electricity.
For more information, click here.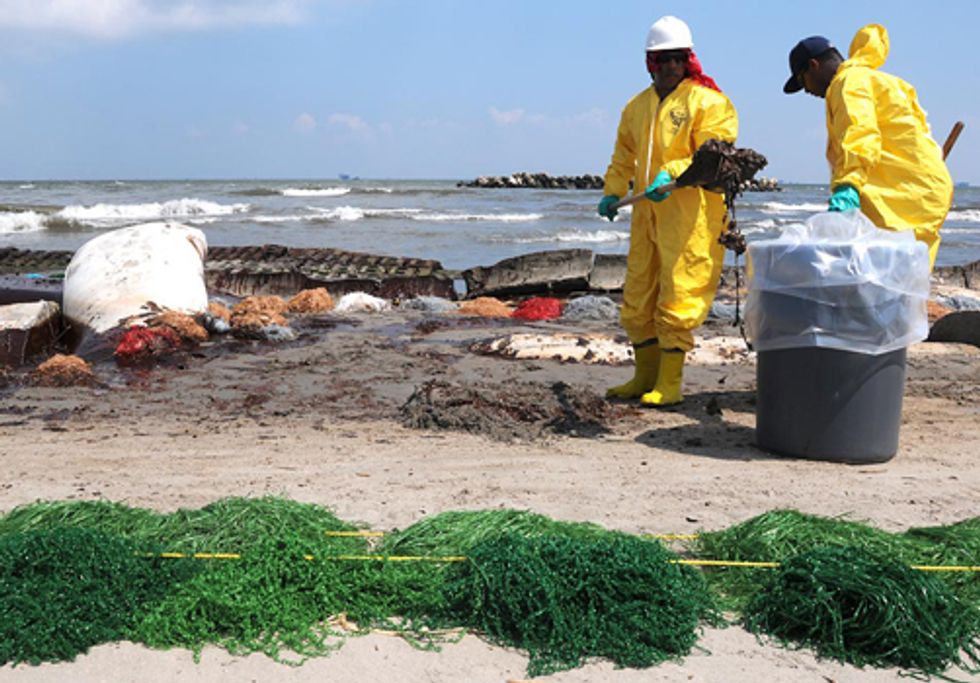 By Tammy Herrington
During the summer of 2010, the nation watched in horror as gallons of oil spewed into the Gulf of Mexico. While many outside the Gulf region are hearing that we are back to normal, we continue to find tarballs on our beaches, mats of tar beneath the surface of local waters and fish with lesions, leading to questions about long-term impacts.
The RESTORE Act, or Senate Bill 1400, was introduced by Gulf Coast Senators as an effort to send 80 percent of the fines BP will pay from this disaster back to the Gulf Coast for environmental and economic recovery. It has passed through committee, but we now need it to pass a vote of the full Senate. Sending this money to the region that suffered can make a huge impact on Gulf economies and make the area more resilient to future disasters. The Gulf produces nearly half of the U.S. domestic energy supply, holds seven of the nation's ten largest ports, and produces two-thirds of the nation's shrimp and oysters. The health of these resources truly impacts the entire nation.
What we need from you:
Mobile Baykeeper, in conjunction with the Women of the Storm, needs friends in non-Gulf Coast states to fax and/or phone their two U.S. senators. Ask for the staffer on environmental or governmental affairs, and urge the senator to support the RESTORE Act. You can find the names and contact information from Senators in all 50 states here. Our goal is to make contact with Senators by Feb. 3, 2012.
Message:
The Gulf Coast provides energy independence, commerce, ecotourism, and national security to the entire nation. Restoration of Gulf resources is critical for the region as well as the nation.
If most of the fine dollars are not designated to environmental and economic recovery of the Gulf Coast, they will disappear into the federal budget. Applying BP fine dollars to Gulf restoration will create thousands of jobs and make the area more resilient to future disasters.
When a disaster of this magnitude strikes, the entire nation must support the affected area. The Gulf Coast's environment, economy, and communities bore the brunt of this disaster, and these fines should go back to the Gulf Coast to fix what has been broken. The next disaster could be in that Senator's state. We would want citizens of that state to get fair and reasonable support.
Sample content for fax or phone call:
"Senator (NAME), I support the RESTORE Act because I know the importance of the Gulf Coast to (Senator's state), the U.S. and around the world. I hope you will support it too." Then add a version of the message points above.
Feedback:
Email me at therrington@mobilebaykeeper.org the states in which you have made contact with friends to call their senators and the information you and your friends have received about senatorial positions on the RESTORE Act so we can keep track of our activity. Thank you for your help. We are grateful to have your support and hopeful that we can work together to pass the RESTORE Act in 2012.
For more information, click here.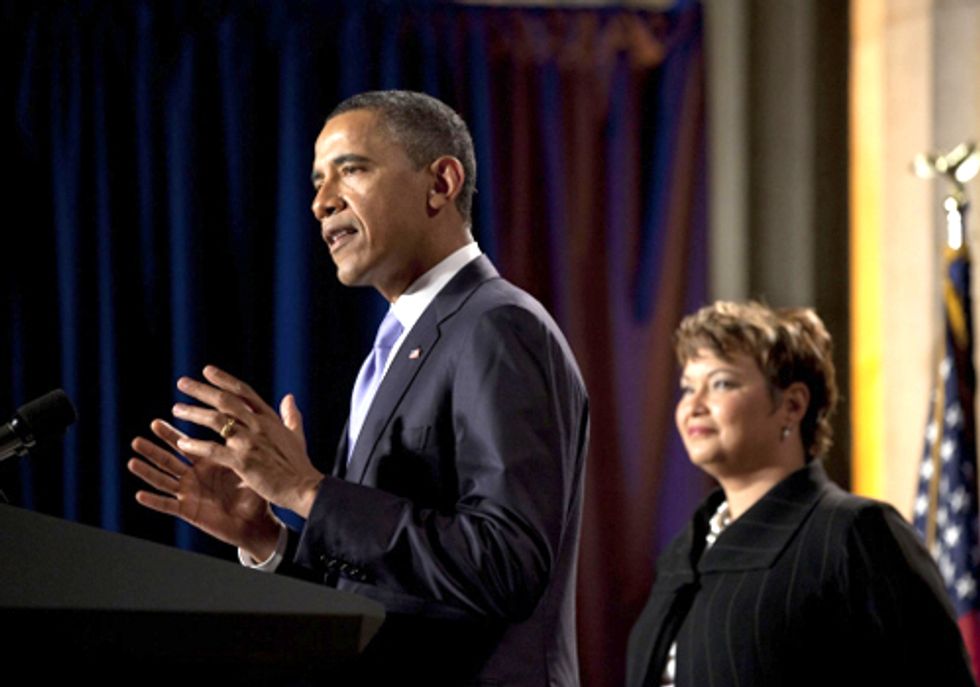 On Jan. 10, President Obama applauded the U.S. Environmental Protection Agency's (EPA) work to protect the environment and human health. As Republicans ramp up attacks on federal oversight of the natural environment in order to gain influence in the Republican primaries, President Obama's speech praises the EPA's work while attacking the notion that vital environmental regulations stand in the way of a robust economy.
Read the complete transcript of President Obama's speech below:
President Obama:
Thank you! Thank you, EPA! (Applause.) Thank you, everybody. Thank you so much. It is wonderful to see you. It is great to see you. Thank you, thank you.
Now, everybody can have a seat. I know Lisa is making you guys all stand up. (Laughter.) But you can all relax.
It is wonderful to be here with all of you. Thank you so much for all the great work you do. I want to first acknowledge your outstanding Administrator, Lisa Jackson. (Applause.) She has done an extraordinary job leading this agency. But here's what I want all of you to know: Not only is she good on policy, not only is she tough and able to present the EPA's mission so effectively to the public, but she also has your back. (Applause.) She is an advocate on behalf of all the people who work so hard here at the EPA. And so you should know that your boss loves you, even if she doesn't always show it, I don't know. (Laughter.)
The main reason I'm here is simple: I just want to say thank you. I want to say thank you to each and every one of you, because the EPA touches on the lives of every single American every single day. You help make sure that the air we breathe, the water we drink, the foods we eat are safe. You protect the environment not just for our children but their children. And you keep us moving towards energy independence.
And it is a vital mission. Over the past three years, because of your hard work, we've made historic progress on all these fronts. Just a few weeks ago, thanks to the hard work of so many of you, Lisa and I was able to announce new common-sense standards to better protect the air we breathe from mercury and other harmful air pollution. And that was a big deal. (Applause.) And part of the reason it was a big deal was because, for over 20 years, special interest groups had successfully delayed implementing these standards when it came to our nation's power plants. And what we said was: "Enough." It's time to get this done.
And because we acted, we're going to prevent thousands of premature deaths, thousands of heart attacks and cases of childhood asthma.
There are families that are going to be directly impacted in a positive way because of the work that you do. Because you kept fighting—and some of you have been fighting this fight for a long time, long before I was here and long before Lisa was here. And so your tenacity and stick-to-itness is making a difference.
Because of you, across the board, we're cutting down on acid rain and air pollution. We're making our drinking water cleaner and safer. We're creating healthier communities. But that's not all. Safeguarding our environment is also about strengthening our economy. I do not buy the notion that we have to make a choice between having clean air and clean water and growing this economy in a robust way. I think that is a false debate. (Applause.)
Think about it—We established new fuel economy standards, a historic accomplishment that is going to slash oil consumption by about 12 billion barrels, dramatically reduces pollution that contributes to climate change, and saves consumers thousands of dollars at the pump, which they can then go spend on something else.
As part of the Recovery Act, you cleaned up contaminated sites across the country, which helped to rid neighborhoods of environmental blight while putting Americans back to work.
We don't have to choose between dirty air and dirty water or a growing economy. We can make sure that we are doing right by our environment and, in fact, putting people back to work all across America. That's part of our mission.
When we put in place new common-sense rules to reduce air pollution, we create new jobs building and installing all sorts of pollution-control technology. When we put in place new emissions standards for our vehicles, we make sure that the cars of tomorrow are going to be built right here in the United States of America, that we're going to win that race.
When we clean up our nation's waterways, we generate more tourists for our local communities. So what's good for the environment can also be good for our economy.
Now, that doesn't mean that there aren't going to be some tensions. That doesn't mean that there aren't going to be legitimate debates that take place. That doesn't mean that it's not important for every single one of us to think about how can we make sure that we are achieving our goals in the smartest way possible, in the most efficient ways possible, in the least bureaucratic ways possible, in the clearest ways possible. That's also part of our mission.
There's not a federal agency that can't get better and be smarter in accomplishing our mission, and we have an obligation every single day to think about how can we do our business a little bit better. How can we make sure the taxpayers are getting every dime's worth that they're paying in order to achieve these important common goals that we have?
But I believe we can do it, and you've shown me that we can do it over these last three years. So I could not be prouder of the work that you all do every single day as federal employees. I know the hours can be long. I know that sometimes spending time getting these policies right means less time at home than you'd like, and you're missing birthday parties, or you're missing a soccer game, and the spouse is not happy with you. I know a little bit about that sometimes. (Laughter.) I know these jobs are demanding.
But I also know what compelled you to enter public service in the first place—and that's the idea that you could make a difference; that you could leave behind a planet that is a little cleaner, a little safer than the one we inherited.
And I have to tell you that part of why I get excited when I see some of the work that you're doing is because our next generation is so much more attuned to these issues than I was when I was growing up. I can tell you when I sit down and I talk to my kids, probably the area where they have the most sophisticated understanding of policy is when it comes to the environment. They understand that the decisions we make now are going to have an impact on their lives for many years to come. And their instincts are right. So your mission is vital.
And just think of what this agency has been able to do over the last four decades. There's so many things we now take for granted. When I hear folks grumbling about environmental policy, you almost want to do a Back to the Future—(laughter)—kind of reminder of folks of what happens when we didn't have a strong EPA. The year before President Nixon created the EPA, the Cuyahoga River was so dirty from industrial pollution and oil slicks that it literally caught on fire. In my hometown, the Chicago River—you probably could not find anything alive in there—(laughter)—four decades ago. Now it's thriving—to the benefit of the city. Today, because of your work, 92 percent of Americans have access to clean water that meets our national health standards.
Before the EPA was created, our cars were spewing harmful lead pollution into the air, with all sorts of impacts, especially on children. Today, because of your work, air pollution is down by more than half, and lead pollution is down more than 90 percent from a generation ago.
So all of you, and all of those who served before you, have made a difference. Our environment is safer because of you. Our country is stronger because of you. Our future is brighter because of you. And I want you to know that you've got a President who is grateful for your work and will stand with you every inch of the way as you carry out your mission to make sure that we've got a cleaner world. (Applause.)
So, thank you. God bless you. God bless the United States of America. Thank you. (Applause.)
For more information, click here.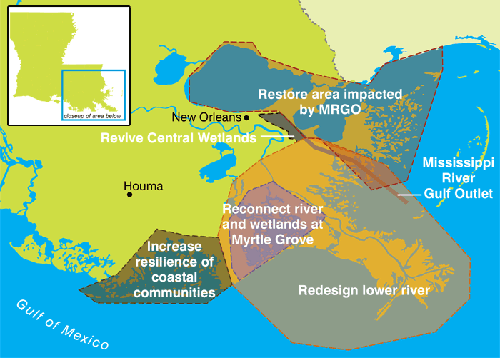 By Seyi Fayanju
People living in Alabama, Louisiana and Mississippi, which lie at the core of the five-state region bordering the Gulf of Mexico, are far more likely than average Americans to have been born and raised in the states where they reside as adults, according to an article published last month on The Atlantic's "Cities" blog. Data from the 2010 American Community Survey showed that an estimated 78.8 percent of Louisianans were born in the Bayou State (by comparison, only 58.7 percent of adults in the U.S. as a whole were born in the states where they presently live), and although Alabama (70.0 percent of adults born in state) and Mississippi (71.9 percent) also ranked high for the relative rootedness of their residents (10th and 6th, respectively), they both placed lower than Louisiana, which ranked 1st among all states.
Sedentary Center—In 2010, Louisiana, Alabama and Mississippi ranked 1st, 10th and 6th, respectively, for the proportion of residents born in state, making the mid-Gulf region one of the least transient sections of the U.S. By contrast, Texas (25th out of the 50 states, with 60.5 percent of residents born in state) and Florida (49th out of the 50 states, with 35.2 percent of residents born in state) ranked much lower due to heavy influxes of Americans from other parts of the country and immigrants from abroad, to fast-growing metropolitan areas like Houston and Miami (Sources—The Atlantic, U.S. Census Bureau)
While some observers have lumped the central Gulf states together as the tail end of a socioeconomically stagnant "Stuck Belt" stretching from the Upper Midwest to the Deep South, it would be fairer to say that the entrenched settlement patterns of the mid-Gulf region have had both good and bad economic consequences. On the one hand, the region's distinctive cuisine and culture, nurtured and preserved by its long-established residents, serves as an important driver for the central Gulf Coast's multi-billion dollar tourism industry. On the other hand, the fact that area residents are disproportionately likely to depend on familial support networks tethered to the Gulf economy means that mid-Gulf staters are especially vulnerable to location-specific shocks like hurricanes and oil spills if and when they hit the region. Furthermore, when one considers that the central Gulf Coast, already one of the poorest regions in the country, has seen stable to increasing unemployment at a time when jobless rates have been falling in much of the rest of the nation, it becomes clear that there is a real need to do something about generating local jobs and making the mid-Gulf economy more resilient to ecological and economic stress.
One way to do this is to pursue a sustainable development strategy along the central Gulf Coast that provides opportunities for area residents to restore regional ecosystems. This would create immediate work for people living in counties recovering from the British Petroleum oil disaster, and it would improve the long-term prospects for habitat-dependent industries like tourism and commercial fishing that have been affected by years of wetland loss and industrial disasters.
There's encouraging news that a comprehensive restoration program could be implemented in the near future. Earlier this month, the Gulf Coast Ecosystem Restoration Task Force released its final report outlining strategies for reversing the deterioration of the Gulf Coast's ecosystem, a transformative course of action that could help the mid-Gulf states emerge stronger from the present crisis. However, any progress on that front is contingent on congressional action to commit oil spill penalties from last year's disaster toward environmental work, a move that would help the central Gulf Coast to remain a well-loved (and well-lived in) place for future generations.
For more information, click here.