This website uses cookies to ensure you get the best experience while browsing it. By clicking 'Got It' you're accepting these terms.


The best of EcoWatch, right in your inbox. Sign up for our email newsletter!
iStock
By Danielle Corcione
I thought I knew what garbage looked like. Then I arrived in Bangalore, the third-largest city in India.
There was trash almost everywhere you looked. Plastic bottles, food packaging and other waste that could've potentially been recycled contaminated the landscape, even in people's front- and backyards. When I'd ride into the city from the ashram where I was staying in the countryside, I'd inhale toxic fumes of garbage piles burning and observe wild animals rummaging through fields of trash.
A plastic bag ban went into effect this month in Morocco, the second-largest plastic bag consumer after the U.S. But, officials say, its going to take some time for shops and retailers to get used to the new law.
Morocco's ban on the production and use of plastic bags went into effect July 1 after the plastic ban bill was passed by parliament in October 2015. As the July 1 deadline approached, shop owners scrambled to find and collect reusable bags. Green campaigners, AlJazeera reported, say consumers may need years to fully comply with the ban.
"It's a big cultural shift with that type of broader law," Jennie Romer, a New York-based lawyer," told AlJazeera. "As long as the government has the motivation to really enforce that. There is a lot of potential. The government entity that is implementing it has to be completely on board in order to make that really happen in practice."
Morocco uses about 3 billion plastic bags a year, according to the Moroccan Industry Ministry. The U.S. uses about 100 billion a year, according to the Earth Policy Institute, and 1 trillion are used globally per year.
The North African country has been working on banning plastic bags for years. A ban of the production and use of black plastic bags was put in place in 2009, but the bags were still being produced.
This time around, officials hope to prevent that situation by providing alternate solutions. Moulay Hafid Elalamy, industry minister and initiator of the bill, tweeted that bags made of paper and fabric will be made widely available.
Yassine Zegzouti, president of Mawarid, said changing consumer habits will be the toughest part.
"The formal sector will need four to five years to comply with the new law," Zegzouti said. "But the use of plastic bags is anchored in [consumer] habit. All actors need to change these habits to not have any damage in the future."
Morocco is ranked one of the world's greenest countries, along with Costa Rica, Bhutan and Ethiopia. The country's biggest achievements come in cracking down on carbon emissions and production of solar power. It is considered a green leader among developing nations.
EcoWatch Daily Newsletter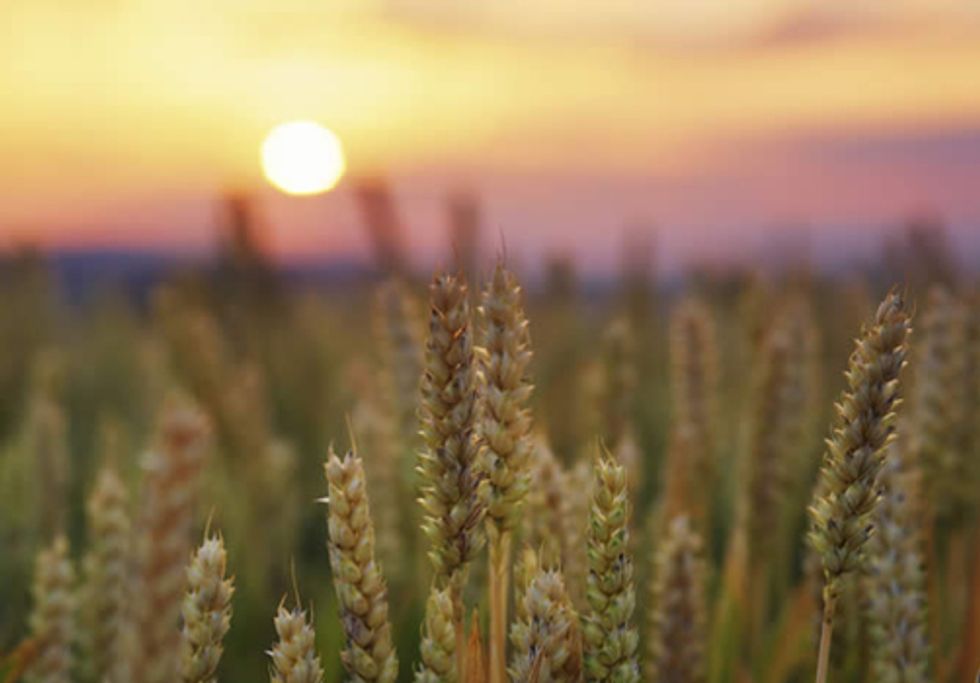 By Brigid Fitzgerald Reading
The global economy grew 3.8 percent in 2011, a drop from 5.2 percent in 2010. Economists had anticipated a slowdown, but this was even less growth than expected, thanks to the earthquake and tsunami in Japan, unrest in oil-producing countries, the debt crisis in Europe, and a stagnating recovery in the U.S. As richer economies struggle to recover from the financial crisis of 2008–09, poorer countries are facing high food prices and rising youth unemployment. Meanwhile, growing income inequality and environmental disruption are challenging conventional notions of economic health. 
The total value of goods and services produced worldwide in 2011 was $77.2 trillion, twice as much as 20 years ago. The global economy expanded by an average of 4 percent each year in the decade leading up to the 2008 slowdown and the 2009 contraction. Industrial economies typically grew by about 3 percent annually in the 10 years before the recession but only 1.6 percent in 2011. Developing economies, which grew by an average of roughly 6 percent annually in the decade before the recession, grew by 6.2 percent last year.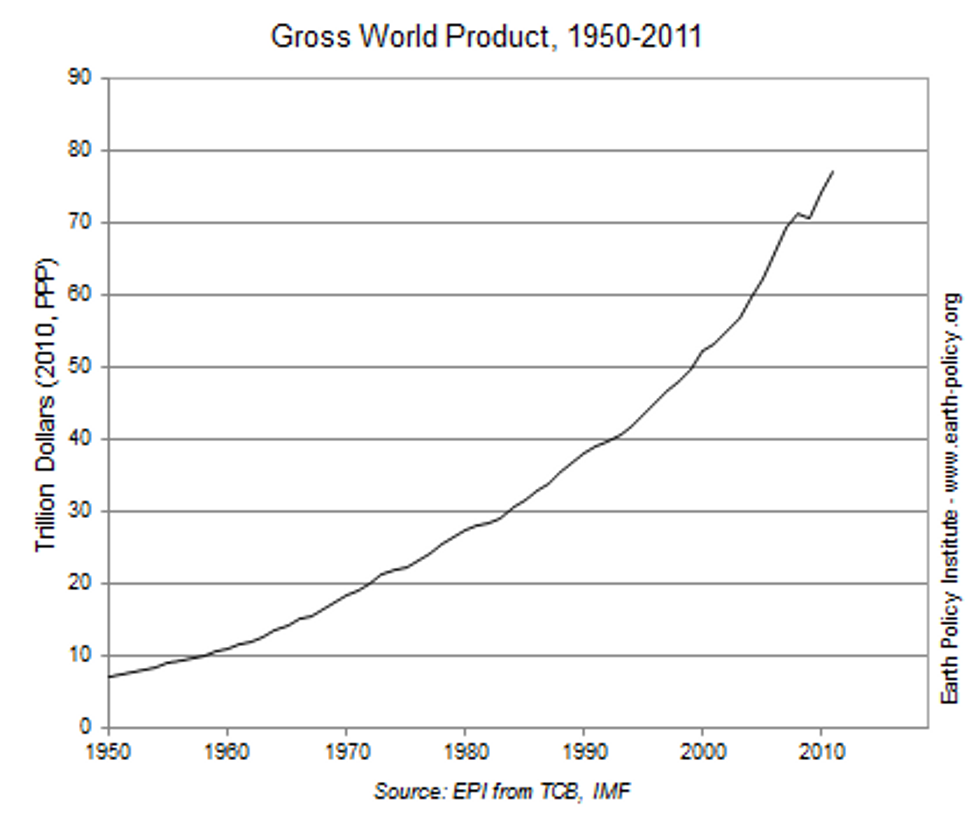 Developing Asia was responsible for 25 percent of global economic output in 2011. China's economy, the world's second largest, grew 9.2 percent in 2011, producing $11.1 trillion in goods and services. Yet this was a much slower expansion than its pre-recession rate of 14 percent in 2007. India, whose gross domestic product (GDP) grew by 7.4 percent to $4.4 trillion in 2011, surpassed Japan to become the world's third largest economy. (See data.)
The 2011 growth in developing Asian economies was dampened somewhat by the disaster in Japan, which disrupted global supply chains in automotives, electronics, and other sectors. Japan's economy also took a hit, contracting by 0.9 percent to $4.3 trillion in 2011.  
Many industrial countries are still struggling to recover from the Great Recession. Economic output in several of them, notably the U.S., the United Kingdom, and Russia, was some 10 percent lower in 2011 than it would have been without the crisis, according to International Monetary Fund (IMF) estimates. The 2011 slowdown in industrial countries also decreased the flow of wealth to developing economies. 
An intricate web of borrowing among European Union members set the stage for a debt crisis, which made global financial markets more volatile in 2011. A few countries, notably Greece, have racked up debts they are unable to repay. Lending countries, especially Germany—the world's fifth largest economy, with a GDP of $3.0 trillion in 2011—have been reluctant to bail them out. Europe's troubles continued into 2012 when credit rating agencies downgraded 10 countries, including France, Italy, and Spain, in January and February.  
The U.S. remained the world's largest economy in 2011 with a GDP of $14.8 trillion, but economic activity was weaker than expected as government stimulus spending was insufficient to boost private demand. The U.S. is one of a few rich countries where unemployment rates were still higher in 2011 than before the recession, and families' income expectations were extremely low. Standard & Poor's fueled concerns about U.S. fiscal health when it downgraded the country's debt rating in August, and uncertainty about how policymakers would address these challenges strained global financial markets. Slow growth in the largest economic power dragged down the global economy as a whole. 
While not hit as hard by the Great Recession, developing countries faced challenges in 2011 from youth unemployment—which has been on the rise globally in recent years—and high food prices. Bad weather, low grain stocks, and high oil prices helped raise the cost of food, a particular burden on poor families who spend a large share of their incomes on it. High food prices can contribute to global food insecurity and poverty; the World Bank estimates that high food prices in late 2010 pushed an extra 44 million people into extreme poverty. These factors likely helped trigger the revolutions that swept across the Middle East and North Africa. That unrest contributed to high oil prices, which slowed consumption in industrial economies. Oil prices spiked to $120 a barrel in April, but had declined to around $100 by August.  
Qatar, where more than half of the nation's income comes from oil and natural gas, has the world's highest average income—almost $103,000 per person. The U.S. and China have average incomes (as measured in GDP per person) of $48,000 and $8,000 per person, respectively. The Democratic Republic of the Congo, a failing state plagued by government corruption and violent conflict, has the world's lowest average income, at less than $350 per person. Thus the world's highest national average income is now almost 300 times the lowest. 
In December 2011, the Organisation for Economic Co-operation and Development reported that the gap between the rich and the poor has widened in many industrial countries in recent decades. For example, in the U.S. between 1984 and 2008 (the latest year for which data are available), incomes among the richest 10 percent of households grew almost 4 times faster than incomes of the poorest tenth. China has also grown more unequal in recent years despite booming economic growth. Remarkably, Brazil has reduced inequality and poverty simultaneously over the past decade as it raised incomes among both the rich and the poor. 
When income distribution is very unequal, social mobility is limited and economic growth contributes less to reducing poverty. High income inequality also threatens political stability and endangers the economy as a whole. A 2011 article published in the IMF magazine Finance & Development found that increased income equality is even more important for sustaining economic growth than openness to trade, democratic governance, foreign investment, competitive exchange rates, or external debt. 
Our current economic system requires continued growth to keep governments and families afloat, but the natural systems that support our economy cannot sustain endless consumption. GDP tallies economic output but does not reflect environmental limits, sustainable yields, or how today's environmental damage undermines future prosperity. And it fails to distinguish economic growth that alleviates poverty and strengthens society from that which pollutes the environment, endangers health, or disproportionately enriches large corporations and the very wealthy.
Several indices offer more nuanced measurements of well-being. For instance, in 2011 Norway topped the U.N. Development Programme's Human Development Index, which incorporates life expectancy, years of schooling, and average income. The U.S. ranked fourth and China came in at number 101 out of 187 countries. The U.S. performs less favorably on indices that deduct for negative environmental impact. 
The Global Footprint Network (GFN) calculates humanity's Ecological Footprint, comparing the consumption of resources to the earth's ability to replenish them. If the earth's natural systems are like an endowment, then its annual regenerative capacity is like interest earned—the amount that can be spent each year without depleting the principal. GFN found that by 2007, humanity's ecological footprint exceeded the earth's yearly "interest" by 50 percent. Together, the U.S. and China consume almost half of what nature can sustainably provide. 
In our current growth-based economic system, rising affluence and population growth mean increased consumption, environmental destruction, and waste production. This western model of development is failing—if everyone on earth shared the lifestyle of the average American, we would need more than 4.5 planets to sustain us, according to GFN. Without a more comprehensive vision of economic health and better ways to measure it, we are flying blind on a path to economic decline and collapse. 
For more information, click here.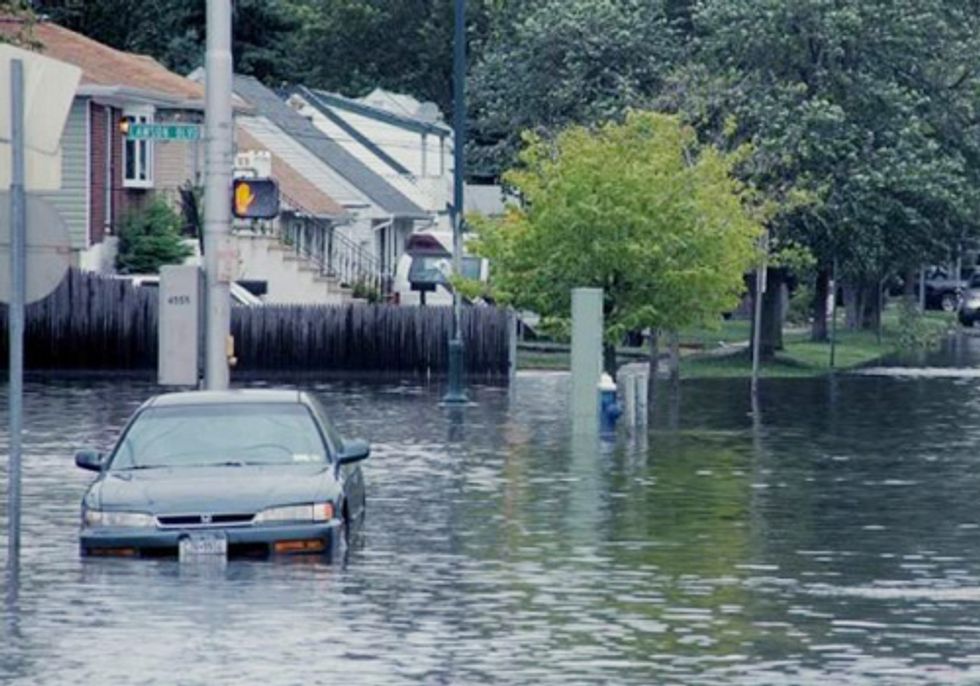 By Janet Larsen and Sara Rasmussen
The global average temperature in 2011 was 14.52 degrees Celsius (58.14 degrees Fahrenheit). According to National Aeronautics and Space Administration (NASA) scientists, this was the ninth warmest year in 132 years of recordkeeping, despite the cooling influence of the La Niña atmospheric and oceanic circulation pattern and relatively low solar irradiance. Since the 1970s, each subsequent decade has gotten hotter—and 9 of the 10 hottest years on record have occurred in the twenty-first century.
Each year's average temperature is determined by a number of factors, including solar activity and the status of the El Niño/La Niña phenomenon. But heat-trapping gases that have accumulated in the atmosphere, largely from the burning of fossil fuels, have become a dominant force, pushing the Earth's climate out of its normal range. The planet is now close to 0.8 degrees Celsius warmer than it was a century ago. Hidden within annual averages and expected variability are startling instances of new temperature and rainfall records in many parts of the world—weather extremes that would once be considered anomalies but that now risk becoming the new norm as the Earth heats up.
Worldwide, 2011 was the second wettest year on record over land. (The record was set in 2010, which also tied 2005 as the warmest overall.) Heavier deluges are expected on a warmer planet. Each temperature rise of 1 degree Celsius increases the amount of moisture the atmosphere can hold by about 7 percent. Higher temperatures also can fuel stronger storms.
Brazil started the year with the deadliest natural disaster in its history—in January, a month's worth of rain fell in a single day in Rio de Janeiro state, leading to floods and landslides that killed at least 900 people. That same month, flooding in eastern Australia covered an area nearly the size of France and Germany combined. Overall, it was the third wettest year in Australia since recordkeeping began in 1900.
The most expensive weather disaster of 2011 was the flooding in Thailand in the second half of the year, which ultimately submerged one third of the country's provinces. At $45 billion worth of damage—equal to 14 percent of Thailand's gross domestic product—it was also the costliest natural catastrophe the country ever experienced.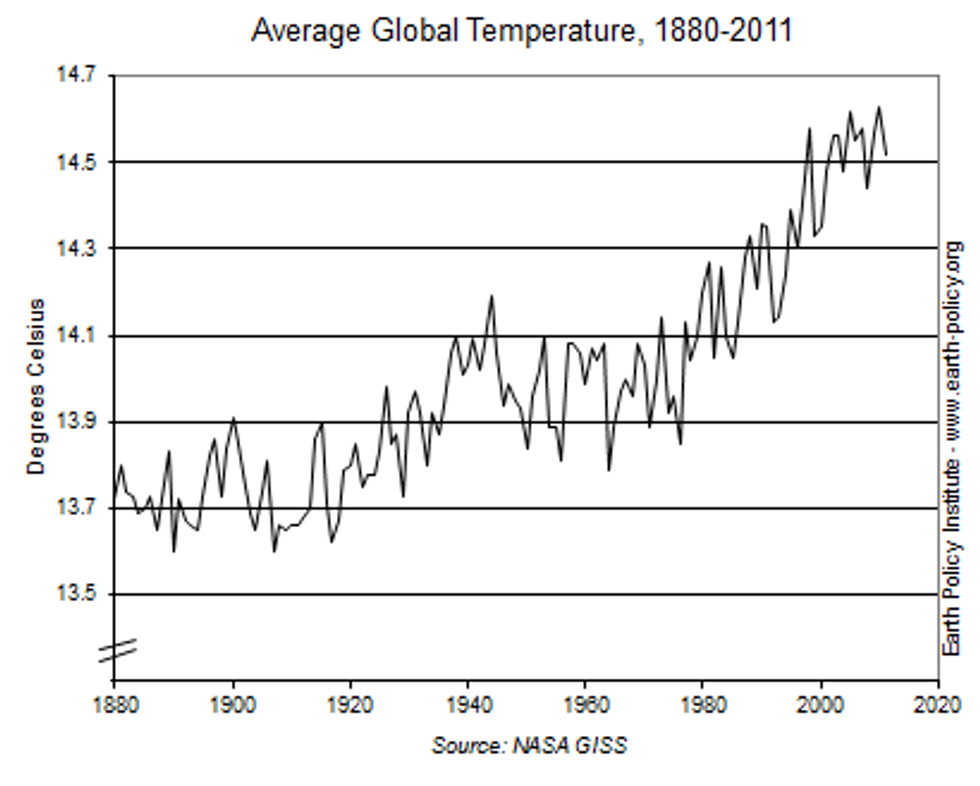 In October, more than 100 people died as two storms—one from the Pacific and the other from the Caribbean—pounded Central America with rain. In western El Salvador, nearly 1.5 meters of rain (almost 5 feet) fell over 10 days. And in December, Tropical Storm Washi hit the Philippines, creating flash floods that killed more than 1,200 people.
The 2011 Atlantic hurricane season had 19 named storms. Hurricane Irene brought extreme flooding to the northeastern U.S. in August, with total damages topping $7.3 billion. The year was the wettest on the books for seven states in the country, while it was among the driest for several others. Although the extremes appear to balance out, making for a near-average year, in fact a record 58 percent of the contiguous U.S. was either extremely wet or extremely dry in 2011.
Indeed, as is expected on a hotter planet, while some parts of the globe were overwhelmed by rain in 2011, others were distinguished by dryness. A severe drought in the Horn of Africa that began in 2010 devolved into a crisis situation in 2011, characterized by crop failure, exorbitant food prices, and widespread malnutrition. Exacerbated by chronic political instability and a belated humanitarian response, the death toll may have exceeded 50,000 people.
Back in North America, a drought that began in late 2010 and worsened over 2011 led hundreds of farmers from northern Mexico to march to that nation's capital in January 2012 to draw the government's attention to their suffering. Nearly 900,000 hectares of farmland (some 2.2 million acres) and 1.7 million head of livestock were lost due to the dryness—the worst in Mexico's 70+ years of data collecting.
Scorching heat, drought, and wildfires across the U.S. Southern Plains and Southwest caused farm, ranch, and forestry damages that exceeded $10 billion in 2011. Wichita Falls, Texas, experienced 100 days over 100 degrees Fahrenheit—far more than the previous record of 79 days set in 1980. Oklahoma and Texas had the hottest summers of any states in history, breaking by a wide margin the record set in 1934 during the Dust Bowl. James Hansen, director of NASA's Goddard Institute for Space Studies, writes that the likelihood of such extreme heat waves "was negligible prior to the recent rapid global warming." Texas also had its lowest rainfall on record. Invigorated by the heat and drought, wildfires burned across an estimated 1.5 million hectares (3.7 million acres) in the state.
For the continental U.S., summer 2011 was the second warmest in history. Nearly three times more weather stations hit record highs than lows in 2011, in line with a trend of increasing heat extremes. Whereas in the middle of the 20th century there were close to the same number of record highs and lows—as would be expected absent a strong warming trend—in the 1990s highs began outpacing lows. In the first decade of this century, there were twice as many record highs as record lows.
Worldwide, seven countries set all-time temperature highs in 2011—Armenia, China, Iran, Iraq, Kuwait, Republic of the Congo, and Zambia. Interestingly, Zambia also was the only country to experience an all-time low temperature when it dropped to -9 degrees Celsius (16 degrees Fahrenheit) in June. Kuwait experienced the year's highest temperature, with thermometers measuring a searing 53.3 degrees Celsius (127.9 degrees Fahrenheit), the highest temperature ever recorded on Earth during the month of August. Even more threatening to health than daytime highs are extra hot nighttime minimum temperatures, which do not allow any respite from the heat. The world's hottest 24-hour minimum ever—41.7 degrees Celsius (107 degrees Fahrenheit)—was recorded in Oman in June 2011.
Even the Arctic had a notably warm year, with the 2011 temperature a record 2.2 degrees Celsius (4 degrees Fahrenheit) above the mean for 1951–80. Barrow, Alaska, the northernmost U.S. city, spent a record-breaking 86 consecutive days at or above freezing, far more than the previous record of 68 days set in 2009.
In fact, over the last 50 years temperatures in the Arctic have risen more than twice as fast as the global average, melting ice and thawing permafrost. Arctic sea ice has been shrinking more rapidly, falling to its lowest volume and second lowest area on record during the 2011 summer melt season. With the summertime ice loss outpacing wintertime recovery, Arctic sea ice has thinned, making it increasingly vulnerable to further melting. Scientists expect a completely ice-free summertime Arctic by 2030 or even earlier.
As the reflective ice disappears, it exposes the dark ocean, which more readily absorbs solar energy, further warming the region. This sets forth a climate cascade, accelerating ice loss both in the ocean as well as on nearby Greenland, which contains enough ice to raise global sea level by 7 meters (23 feet) if it completely melted. The warming also thaws Arctic permafrost, releasing carbon dioxide and methane, further accelerating global warming.
Even without fully incorporating such climate feedback, models show that continued reliance on fossil fuels could raise the global temperature by up to 7 degrees Celsius (over 12 degrees Fahrenheit) by the end of this century. Such an elevated temperature would amplify temperature and precipitation extremes enough to make the weather events of recent years look tame in comparison. Only a rapid, dramatic reduction of greenhouse gas emissions can hold future temperatures in a range bearing any resemblance to what civilization has known.
For more information, click here.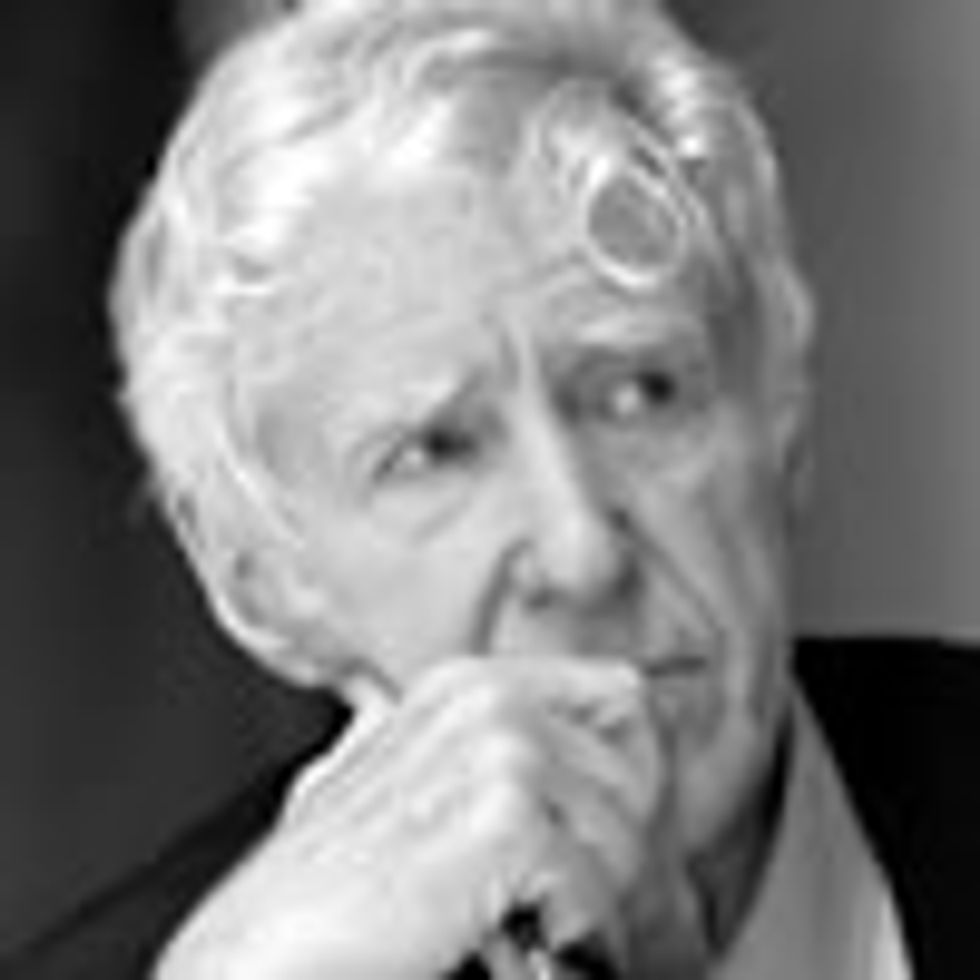 We distort reality when we omit the health and environmental costs associated with burning fossil fuels from their prices. When governments actually subsidize their use, they take the distortion even further. Worldwide, direct fossil fuel subsidies added up to roughly $500 billion in 2010. Of this, supports on the production side totaled some $100 billion. Supports for consumption exceeded $400 billion, with $193 billion for oil, $91 billion for natural gas, $3 billion for coal and $122 billion spent subsidizing the use of fossil fuel-generated electricity. All together, governments are shelling out nearly $1.4 billion per day to further destabilize the earth's climate.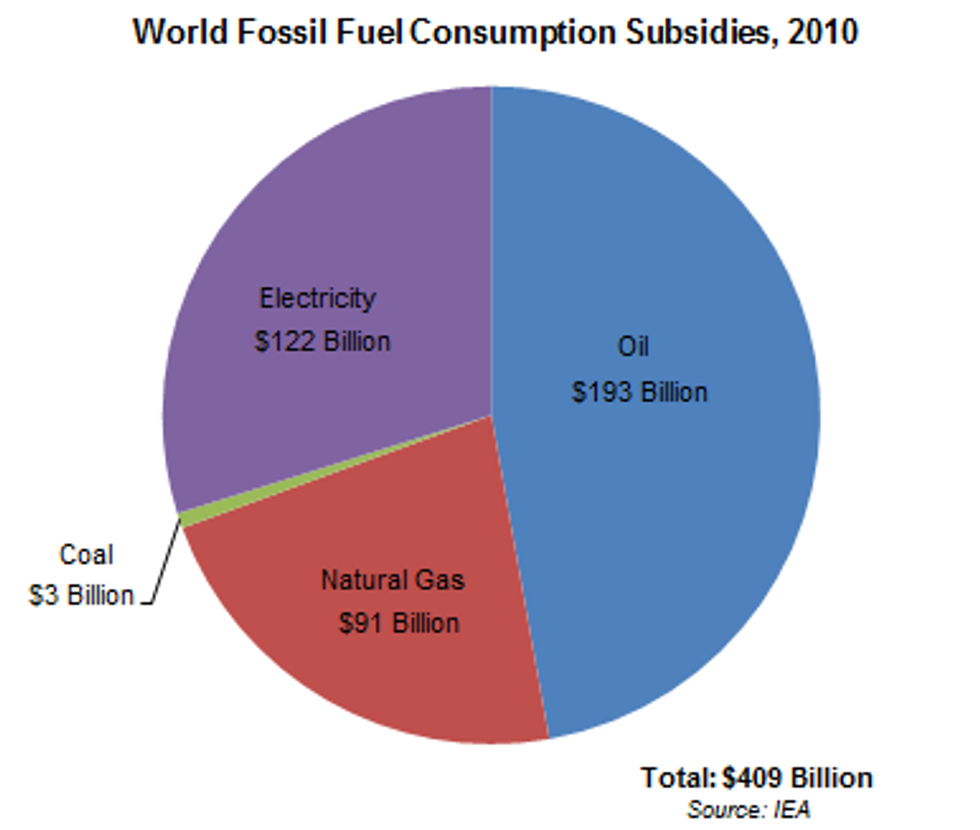 The government of Iran spent the most on promoting fossil fuel consumption in 2010, doling out $81 billion in subsidies. This equaled more than 20 percent of the country's gross domestic product. Saudi Arabia was a distant second at $44 billion. Rounding out the top five were Russia ($39 billion), India ($22 billion) and China ($21 billion).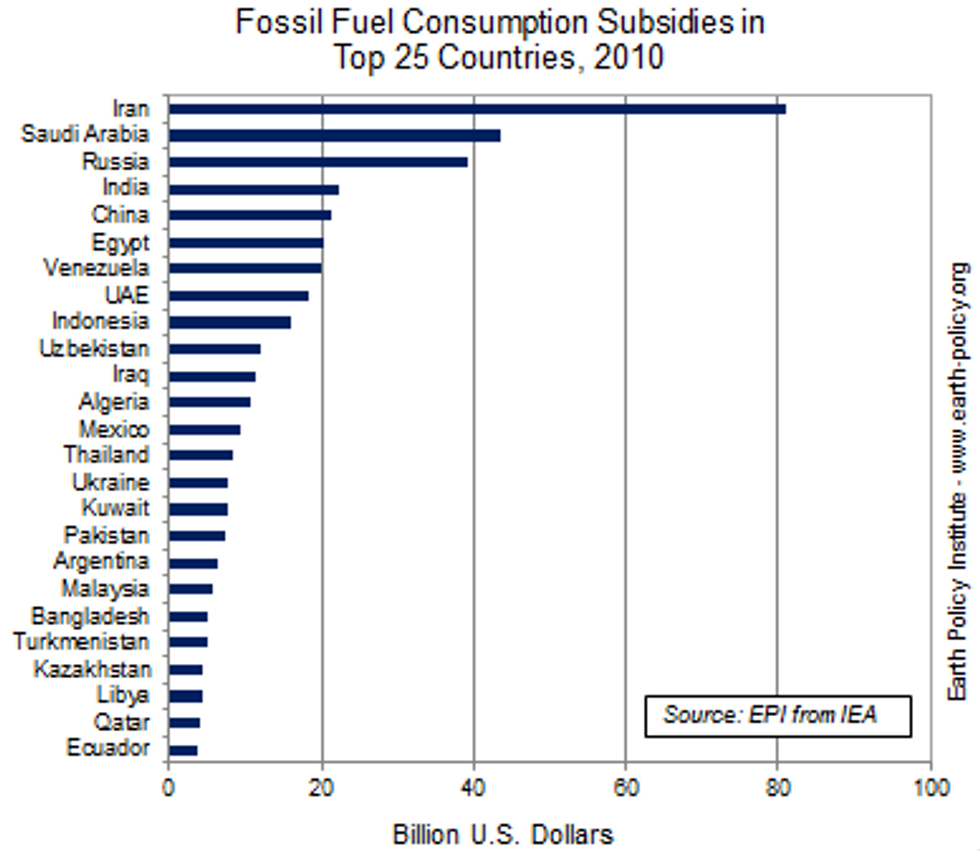 Kuwait's fossil fuel subsidies were highest on a per capita basis, with $2,800 spent per person. The United Arab Emirates and Qatar followed, each spending close to $2,500 per person.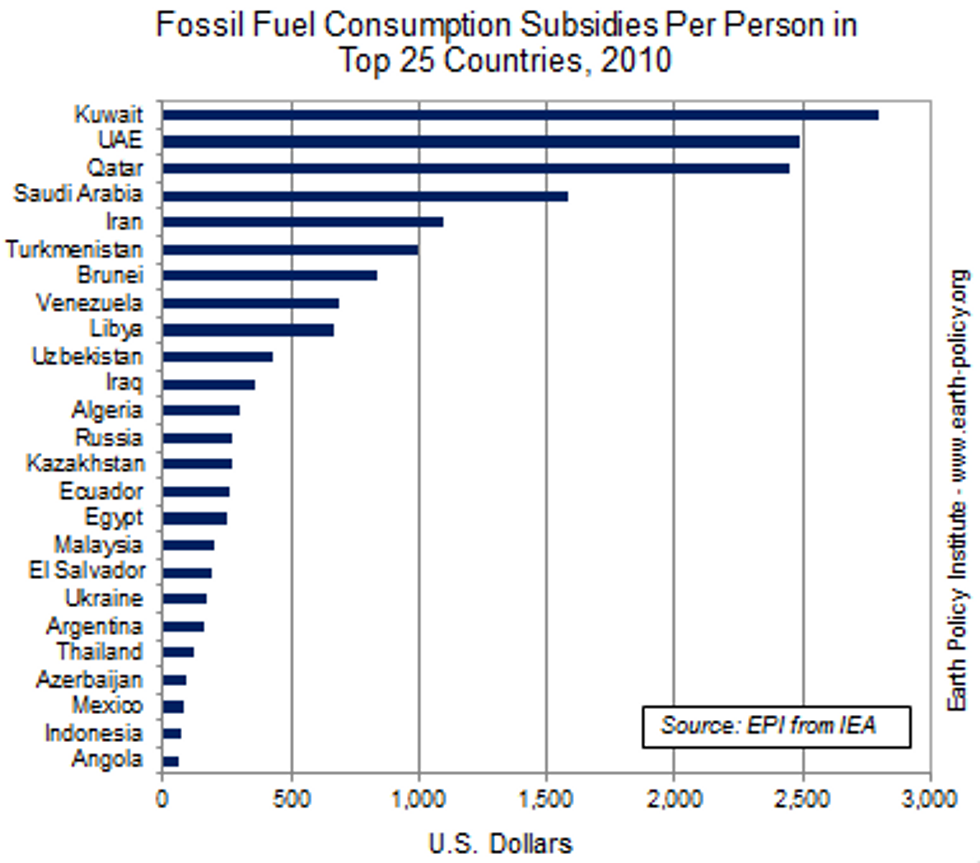 Carbon emissions could be cut in scores of countries by simply eliminating fossil fuel subsidies. Some countries are already doing this. Belgium, France and Japan have phased out all subsidies for coal, for example. As oil prices have climbed, a number of countries that held fuel prices well below world market prices have greatly reduced or eliminated their motor fuel subsidies because of the heavy fiscal cost. Among those reducing subsidies are China and Indonesia. Even Iran, which was pricing gasoline at one fifth its market price, dramatically reduced its gasoline subsidies in December 2010 as part of broader energy subsidy reforms.
In contrast to the $500 billion in fossil fuel supports in 2010, renewable energy received just $66 billion in subsidies—two thirds for electricity generation from wind, biomass and other sources, and one third for biofuels. Not only do fossil fuel subsidies dwarf those for renewables today, but a long legacy of governments propping up oil, coal and natural gas has resulted in a very uneven energy playing field.
A world facing economically disruptive climate change can no longer justify subsidies to expand the burning of coal and oil. The International Energy Agency projects that a phaseout of oil consumption subsidies by 2020 would cut oil use by 3.7 million barrels per day in that year. Eliminating all fossil fuel consumption subsidies by 2020 would cut global carbon emissions by nearly 5 percent while reducing government debt. Shifting subsidies to the development of climate-benign energy sources such as wind, solar and geothermal power will help stabilize the earth's climate.
--------
This data highlight is adapted from World on the Edge by Lester R. Brown. For more data and discussion, see the full book at www.earth-policy.org.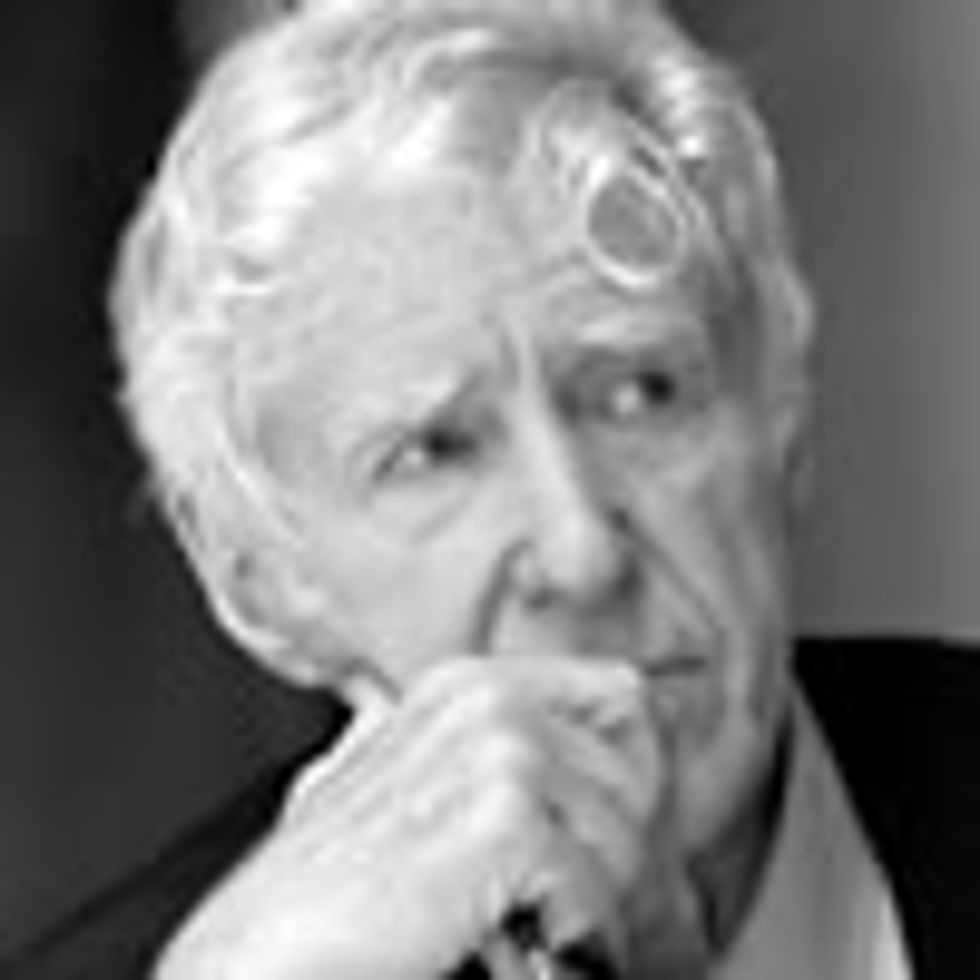 The pace of solar energy development is accelerating as the installation of rooftop solar water heaters takes off. Unlike solar photovoltaic (PV) panels that convert solar radiation into electricity, these "solar thermal collectors" use the sun's energy to heat water, space or both.
China had an estimated 168 million square meters (1.8 billion square feet) of rooftop solar thermal collectors installed by the end of 2010—nearly two thirds of the world total. This is equivalent to 118,000 thermal megawatts of capacity, enough to supply 112 million Chinese households with hot water. With some 5,000 Chinese companies manufacturing these devices, this relatively simple low-cost technology has leapfrogged into villages that do not yet have electricity. For as little as $200, villagers can install a rooftop solar collector and take their first hot shower. This technology is sweeping China like wildfire, already approaching market saturation in some communities. Beijing's goal is to reach 300 million square meters of rooftop solar water heating capacity across the country by 2020, a goal it is likely to exceed.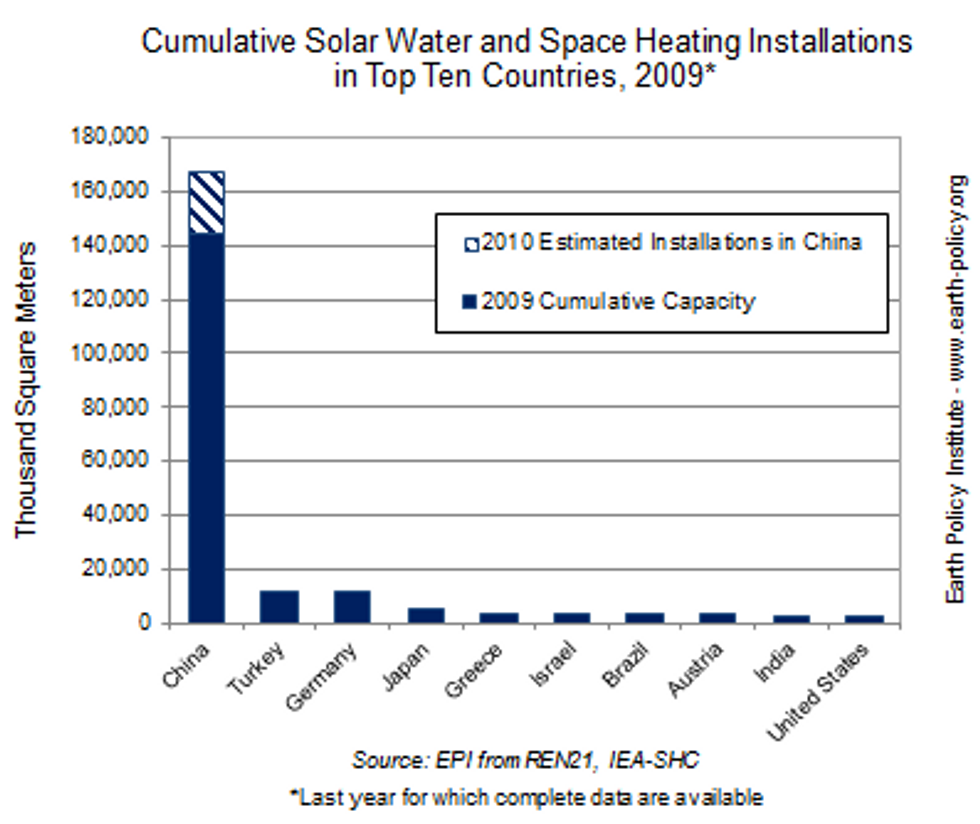 Other developing countries such as India and Brazil may also soon see millions of households turning to this inexpensive water heating technology. Once the initial installment cost of rooftop solar water heaters is paid back, the hot water is essentially free.
In Europe, where energy costs are relatively high, rooftop solar water heaters are also spreading fast. In Austria, 15 percent of all households now rely on them for hot water. Germany is also forging ahead. Some 2 million Germans are now living in homes with rooftop solar systems. Roughly 30 percent of the installed solar thermal capacity in these two countries consists of "solar combi-systems" that are engineered to heat both water and space.
The U.S. rooftop solar water heating industry has historically concentrated on a niche market—selling and marketing more than 9 million square meters of solar water heaters for swimming pools between 1995 and 2005. Given this base, the industry was poised to mass-market residential solar water and space heating systems when federal tax credits were introduced in 2006. Led by Hawaii, California and Florida, annual U.S. installations of these systems have more than tripled since 2005.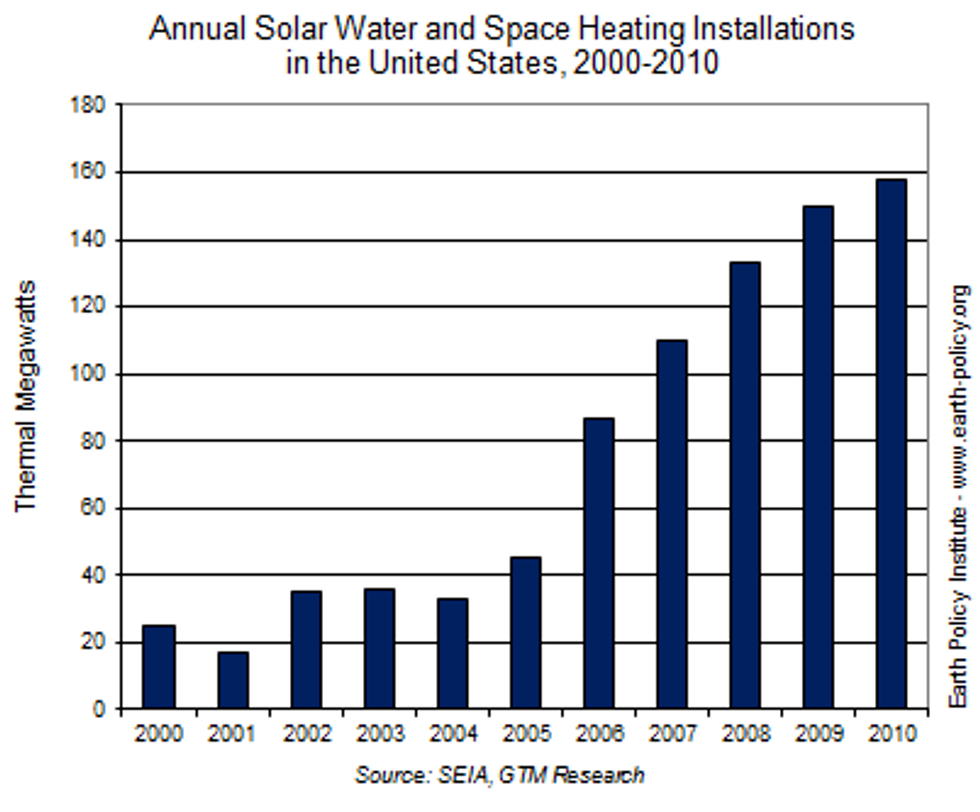 Despite the recent growth in U.S. installations, the country ranks 36th in installed capacity relative to its population, with just 0.01 square meters installed per person. Cyprus, on the other hand, currently leads the world in solar water heater area on a per capita basis, with 0.79 square meters per person. Israel ranks second with 0.56 square meters per person.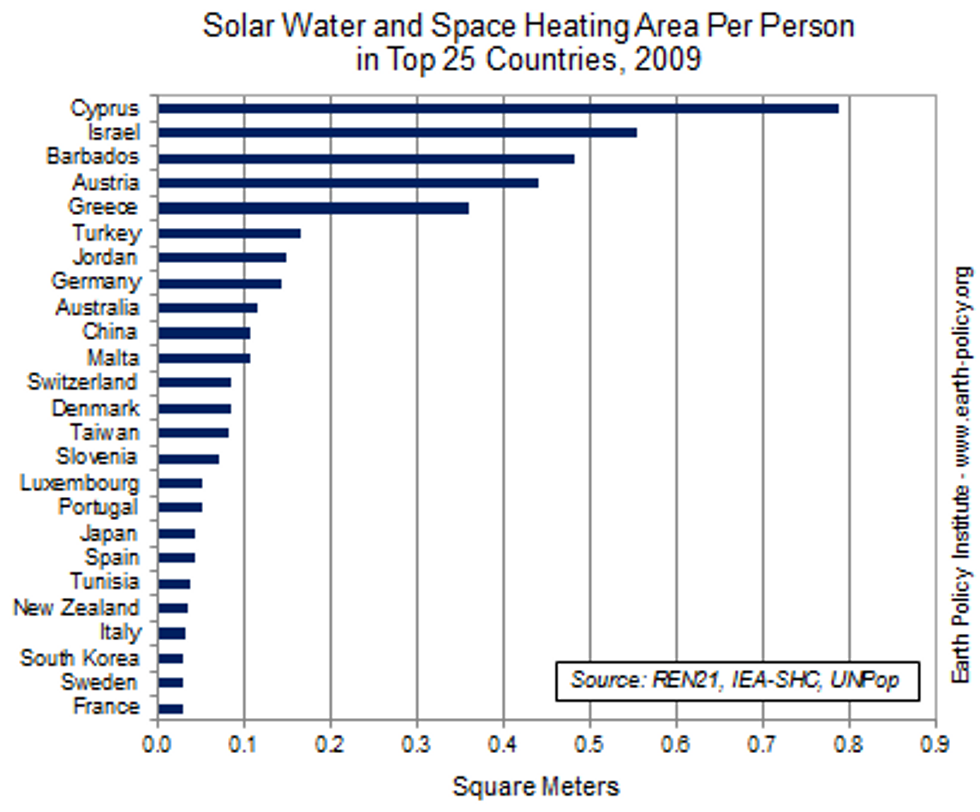 Inspired by the rapid adoption of rooftop water and space heaters in Europe in recent years, the European Solar Thermal Industry Federation (ESTIF) has established an ambitious goal of one square meter of rooftop collector for every European by 2020. Over the long term, ESTIF estimates that solar thermal has the potential to meet most of the region's low-temperature heating needs.
Numerous policies promoting renewable energy use for water and space heating exist around the world. Some governments have gone a step further, passing laws requiring solar water heaters in new construction. For a quarter-century, Israel was the only country to have a national mandate for solar hot water in buildings. Then in 2006, Spain began requiring that solar collectors be installed on all new or renovated buildings. Portugal followed quickly with its own mandate. In the U.S., Hawaii now requires that all new single-family homes have them.
Solar water and space heaters in Europe and China have a strong economic appeal, often paying for themselves from electricity savings in less than 10 years. With the cost of rooftop heating systems declining and more countries implementing favorable policies, the shift from fossil fuels to solar energy for heating water and space will likely accelerate.
For more data and information on the rapid growth of renewable energy worldwide, see World on the Edge by Lester R. Brown at www.earth-policy.org.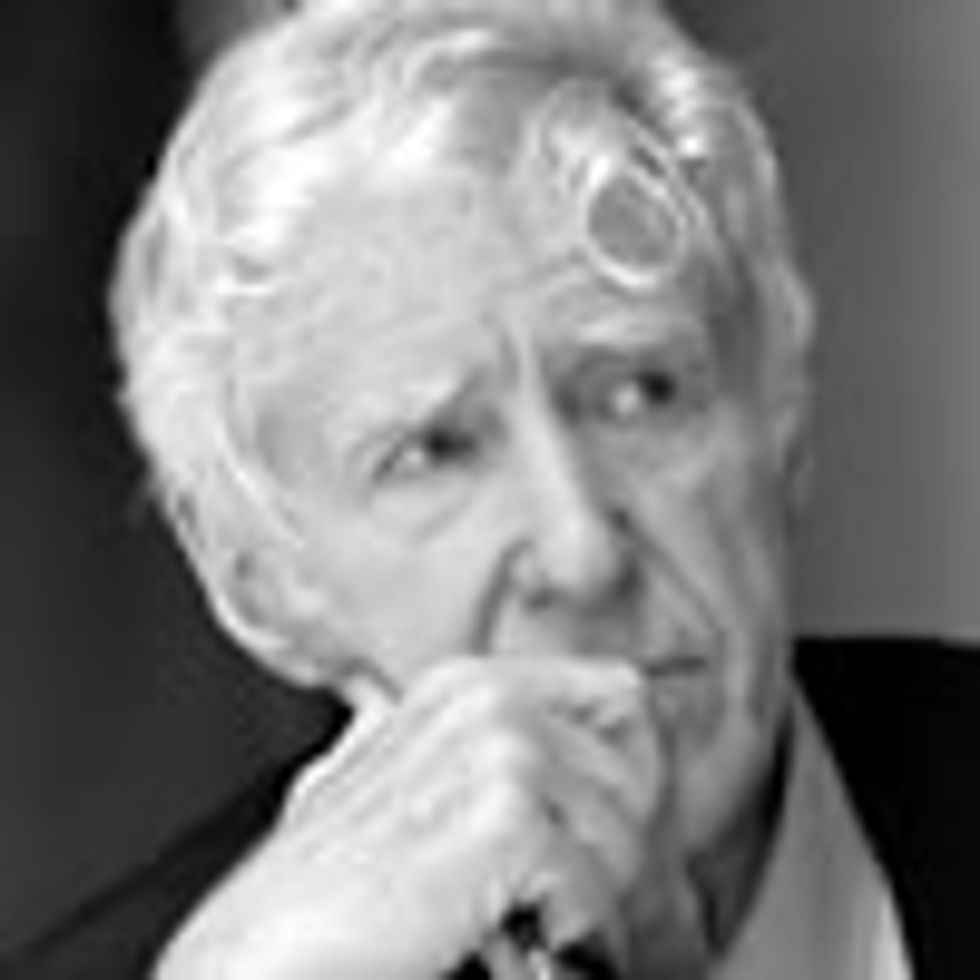 World consumption of animal protein is everywhere on the rise. Meat consumption increased from 44 million tons in 1950 to 284 million tons in 2009, more than doubling annual consumption per person to more than 90 pounds. The rise in consumption of milk and eggs is equally dramatic. Wherever incomes rise, so does meat consumption.
As the oceanic fish catch and rangeland beef production have both leveled off, the world has shifted to grain-based production of animal protein to expand output. With some 35 percent of the world grain harvest (760 million tons) used to produce animal protein, meat consumption has a large impact on grain consumption and therefore global food security.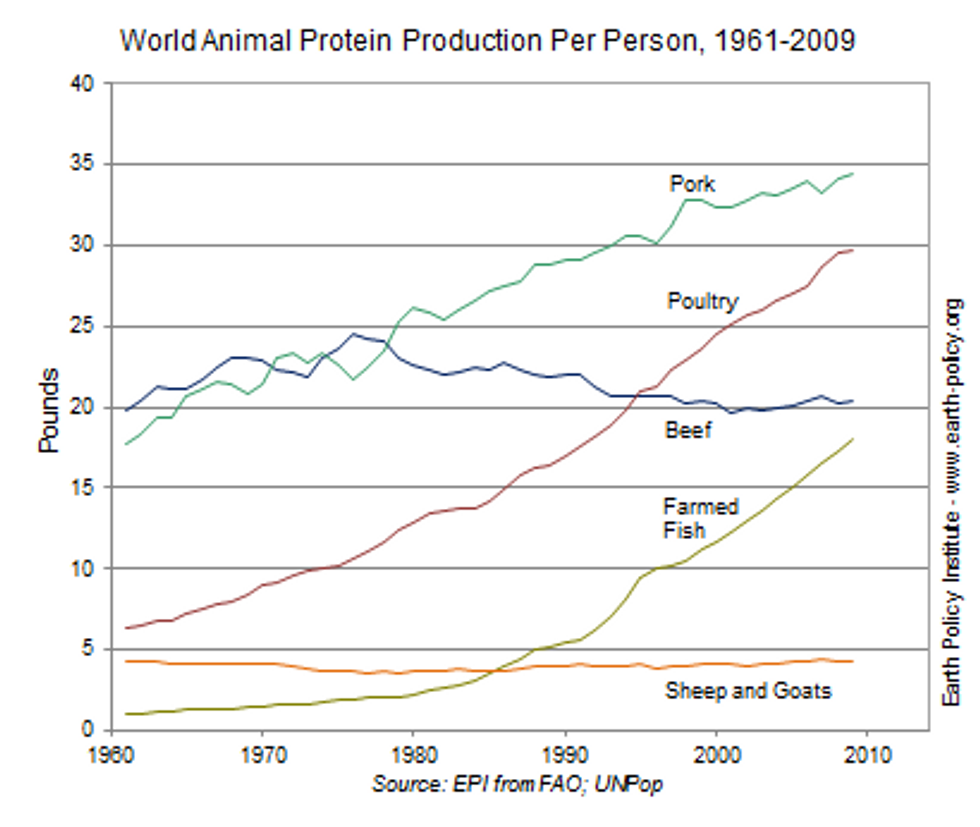 The efficiency with which various animals convert grain into protein varies widely. Grain-fed beef is one of the least efficient forms of animal protein, taking roughly 7 pounds of grain to produce a 1-pound gain in live weight. Global beef production, most of which comes from rangelands, has grown by about 1 percent a year since 1990.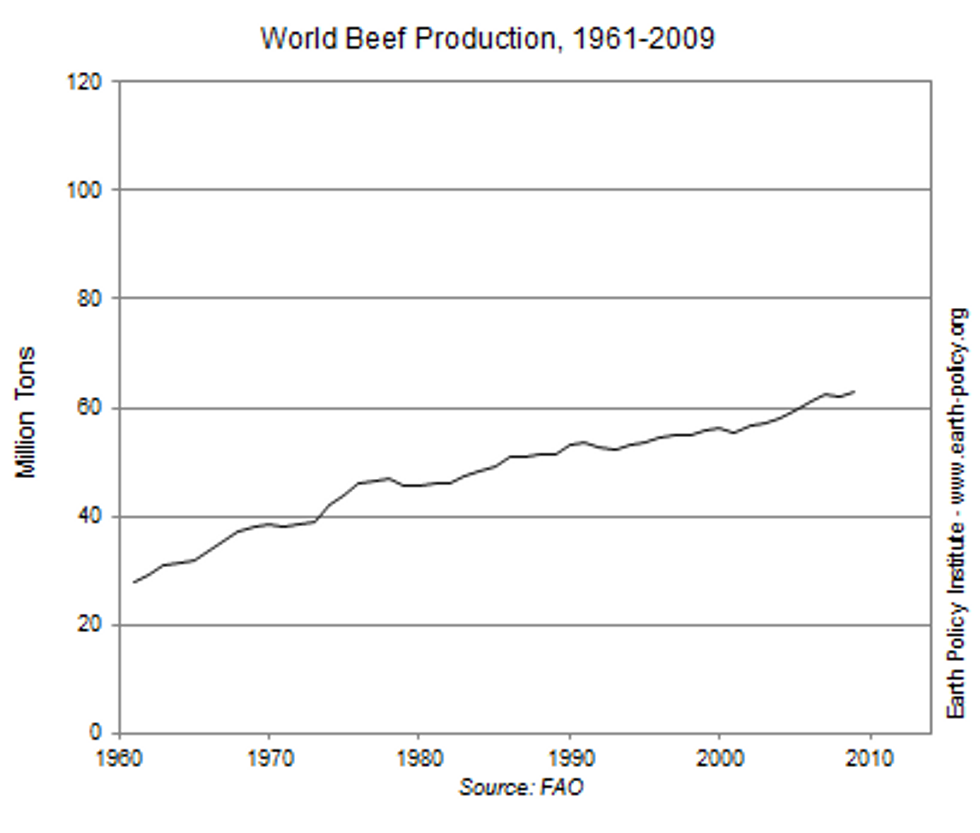 Pork production has grown by 2 percent annually since 1990. World pork production, half of it now in China, overtook beef production in 1979 and has widened the lead since then. It requires more than 3 pounds of grain to produce each 1-pound gain in live weight.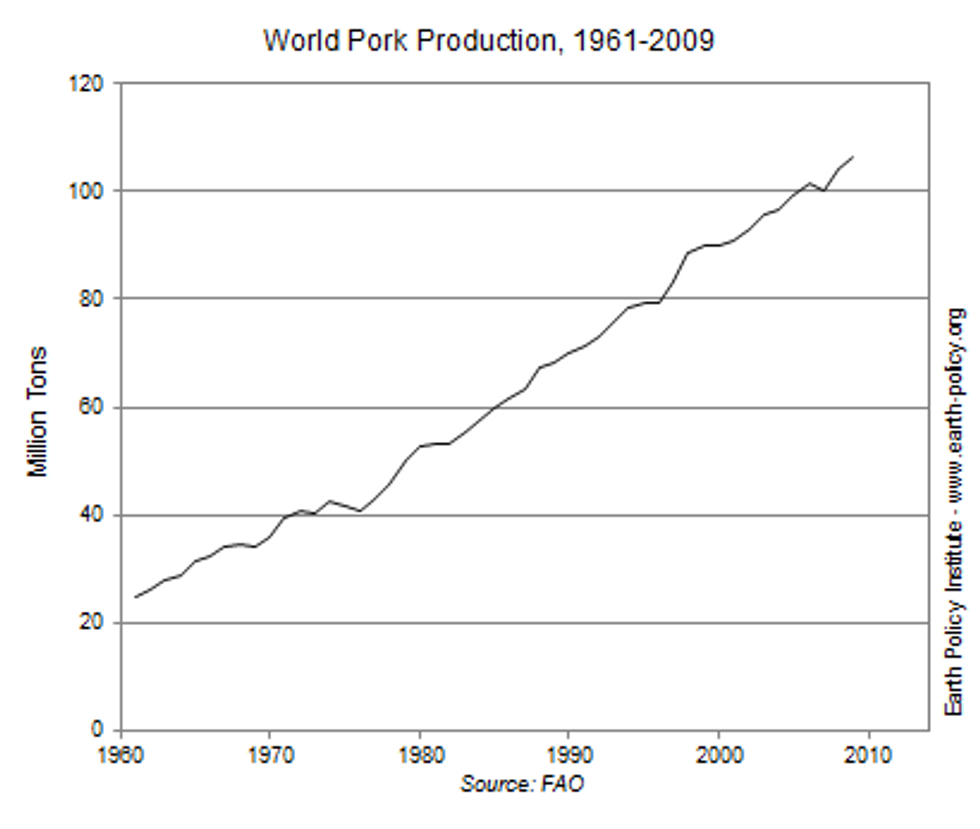 Poultry production has grown even more quickly: 4 percent annually in recent decades. It eclipsed beef in 1995, moving into second place behind pork. Poultry is even more efficient, requiring just more than 2 pounds of grain to produce a 1-pound gain in live weight.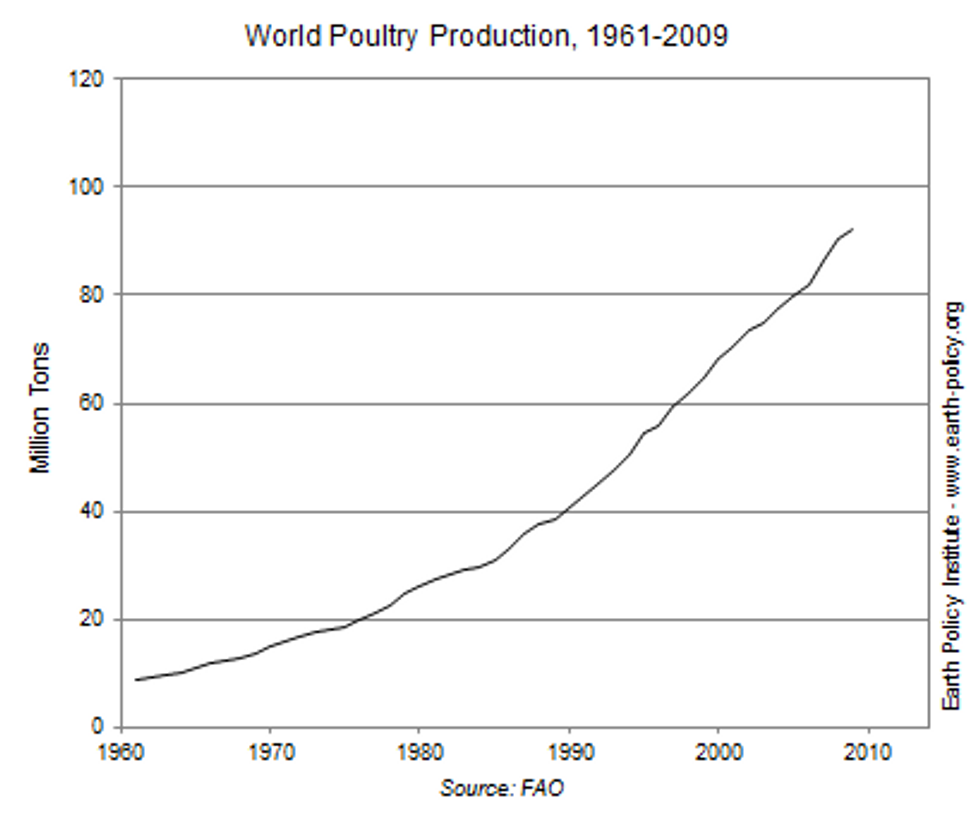 Fish farm output may also soon overtake beef production. In fact, aquaculture has been the fastest-growing source of animal protein since 1990, expanding from 13 million tons to 56 million tons in 2009, or 8 percent a year. For herbivorous species of farmed fish (such as carp, tilapia and catfish), less than 2 pounds of grain is required to produce a 1-pound gain of live weight. Although farming carnivorous fish such as salmon can be environmentally disruptive, worldwide aquaculture is dominated by herbivorous species. This represents great growth potential for efficient animal protein production.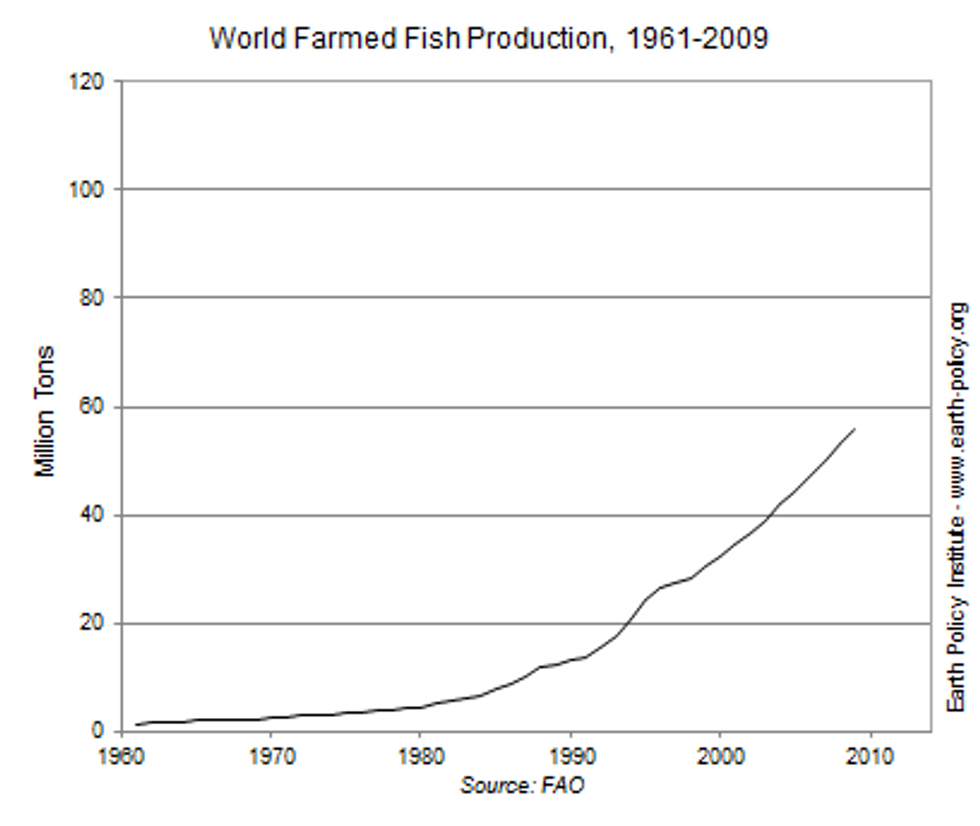 There are a number of ways to make animal protein production more efficient. Combining protein-rich soybean meal with grain dramatically boosts the efficiency with which grain is converted into animal protein, sometimes nearly doubling it. Virtually the entire world, including the three largest meat producers—China, the U.S. and Brazil—now relies heavily on soybean meal as a protein supplement in feed rations. Promising new livestock and dairy systems based on roughage rather than grain, such as India's cooperative dairy model, boost both land and water productivity.
Achieving food security depends on changes on the demand side of the equation as well as the supply side. Along with moving to smaller families to curb population growth, this means cutting individual consumption by eating less grain-intensive livestock products and eliminating waste in the food system. An American living high on the food chain with a diet heavy in grain-intensive livestock products, including red meat, consumes twice as much grain as the average Italian and nearly four times as much as the average Indian. By adopting a Mediterranean diet, Americans can cut their grain footprint roughly in half, improving health while increasing global food security.
--------
This data highlight is adapted from World on the Edge by Lester R. Brown. For more data and discussion, see the full book at www.earth-policy.org.